An Oral History of the Sydney Rave Scene, 1989-1994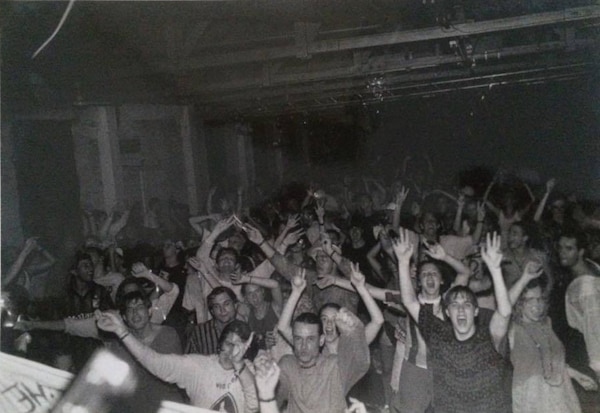 Two-toned flyers with party names like Flim Flam, Pie 'n' Mash and All in the Bubble of Yum. 0055 numbers. Massive soundsystems pumping Balearic beat and Belgian techno. Hundreds of baggy-jeans clad revellers going mental in dodgy warehouses in Alexandria or underground carparks in the CBD.
If you lived through those times in Sydney – or in similar manifestations elsewhere during the same era – the mere mention of these things is likely to make your palms sweat and your eyes glaze over with fond, if fuzzy, memories. If you didn't, no doubt you've heard wistful tales from your salt-and-pepper-haired rave elders.
For those who were there and those who weren't, we've compiled an oral history of the beginnings of the Sydney rave scene, gathered together from interviews with four of the key DJs and promoters – Sugar Ray, Ming D, Abel and Phil Smart – along with a number of punters whose lives were changed between the walls of those dirty warehouses.
What becomes clear from these interviews is how singular the Sydney scene was at the dawn of this movement. The massive Hordern Pavilion and RAT parties, the thriving LGBT underground and, of course, the famous laid-back lifestyle all combined to make Sydney a prime party destination for hedonistic travellers in the late '80s. When a wave of UK expats brought a new dance groove – and new recreational drugs – into this lively landscape, it triggered a musical and cultural explosion, harnessing this energy into a rave scene that was uniquely creative, spirited and rich despite its small size and relative isolation.
As this epoch – the start of which is now more than a quarter of a century ago – recedes into the hazy past of another millennium, it's standard to focus on the sometimes stark differences between then and now. The analogue technology; the cheaply printed flyers; the sometimes silly fashion – it's tempting to view it as a primitive time, and perhaps in some ways it was. Yet these stories also make clear that this scene was forward-thinking from its very beginnings: multicultural, technologically adventurous, futurist, musically eclectic and international in focus.
It's also easy to conflate those early years with the later excesses of happy hardcore and kiddie raves in football stadiums. But one recurring theme in this narrative is that there was a sharp dividing line in the mid-'90s between the raw DIY warehouse raves dominated by English expats, and the later Australian rave scene, which was younger, more popular and marked by harder and faster music. Yet the smaller expat party scene paved the way for the bigger Australian scene, and thus helped make possible the Australian dance music industry as we know it today.
Sugar Ray
One of the Cartel of pioneering rave DJs, founder of Love and Reachin' Records
SETTING THE SCENE
Sugar Ray
I started DJing in, like, '89. My family had emigrated to Australia in the late '80s from England... And I started going to clubs, predominantly gay clubs, in Sydney, like the Exchange and Patchs. They were the only places that were playing cool music, electronic underground kind of music. And the first house music was starting to break through then, and Sydney was having these massive Hordern [Pavilion] parties.
Phil Smart
One of the second generation of Aussie rave DJs alongside Abel
Phil Smart
I grew up in the suburbs on punk and indie music. But then I discovered clubs, electronic music and dancing and I just liked that more. So I kind of followed this path. None of my friends were into it.
Ming D
Sydney-born DJ and only Australian member of the original Cartel
Ming D
What you heard on the radio growing up [in Australia] was basically just crappy pub rock... And then all of a sudden there were touches of new wave, New Romantic, some synth stuff starting to trickle through. In like '85, '86, [a friend] started to introduce me to hip-hop through tapes. The hip-hop culture was starting to trickle down here, through Wild Style and Beat Street and all those movies. And I think because Australia had a mixed population – it wasn't just white people here, so to speak – a lot of the Islanders and people out west started to identify with hip-hop music. So I got into that, and then I started to DJ in the hip-hop scene. Then I got a job in a record shop called Disco City, and that got me access to all this music.
Phil Smart
I started [DJing] in 1987, but it wasn't for a year or two, maybe '89, that I started to play in the city – and firstly at this place called The Front, which was an infamous afterhours club. And I was green as. The thing about that place – it was the afterhours club at the heyday of the Hordern Pavilion parties. So I got dropped into this thing. I didn't really know much, and I didn't know many people, so that was my kind of initiation, properly, into club culture.
Ming D
On the weekends I used to borrow the speakers [from Disco City], steal my dad's van, and we used to do backyard parties around the place. I had a bit of a following from these backyard parties – I was 16, 17 – and there I could play hip-hop, electro and new wave records. And then house started to filter through, and I thought, "Wow, this is awesome." So then I started to mix it all up, and Australia sort of being [made up of different] groups of people, you could be a bit eclectic, you could play different styles, and everyone was into that new sound... You couldn't dance to rock music – you'd shake your head, drink beer and hopefully not get into a fight. All of a sudden you got this music which is designed for dancing and expression.
Abel
Australian pioneer of breakbeats and big beat
Abel
I became a DJ at the beginning of the rave scene, but I was a punter before that. And that was the late '80s, which was at the Hordern Pavilion.
THE BIRTH OF RAVE
Ming D
Sydney was quite hedonistic. This is, I guess, 1987, 1988. Sydney always had a big gay population from day one, and of course you know the ecstasy was knocking around then. It was legal – it wasn't illegal then. The gay scene had a good community, they had good music, and their DJs were tapping into what was happening over in the States with the house scene, the jack scene, the acid scene.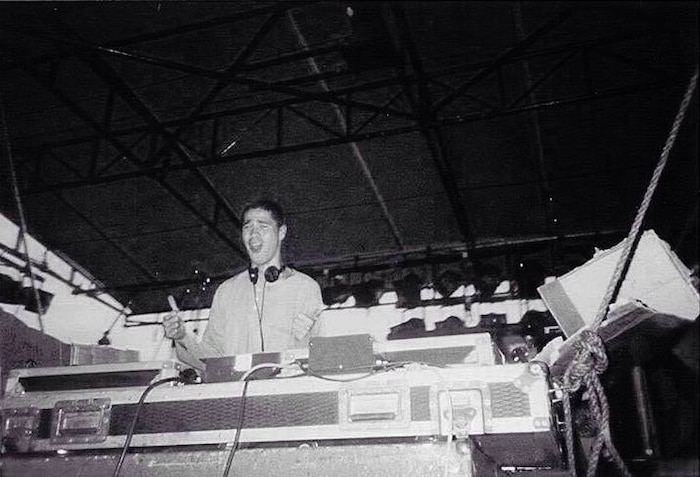 Abel
Before the rave scene, it was dance parties. It was a mixture of gay, straight, punk, gothic – it was everything – and each weekend, 5,000 people would get together and dance all night at the Hordern Pavilion. And in the late '80s, that's when the rest of the world was looking at Australia as a party destination. Because we had the Hordern Pavilion and the RHI [the Royal Hall of Industries], which could hold so many people in the one place at the one time. It was quite unique.
Phil Smart
Sydney already had this massive [scene]... 10,000-people parties happening. It was famous the world over for these – for the RAT parties and Sweatbox and whatever.
Ming D
And that brought together not only the gay scene, but it brought together people in the underground electronic scene... Just for the production and the spectacle and the emotions. And that attracted the English crew, who were coming out of the Summer of Love.
Abel
[The Hordern] was a bit of everything. It was a bit ravey, it was a bit disco, it was a bit house and it was very acid house. It was a real mishmash and it was just so wonderful because everybody got on.
Phil Smart
The gay culture in Sydney [was] really influential... There were so many mixed clubs, where it just didn't matter, gay, straight or whatever. And then, time goes on... They fracture and split apart. And now, these days, mixing the gay and rave, gay and straight scenes is not that common anymore.
Sugar Ray
Within the gay scene, ecstasy was popular. But within the straight community, ecstasy was still very much underground, and the music was very underground. They weren't playing those kinds of rave records at the big gay parties in the gay scene then, so the only place you could hear that stuff – you know, all the early Detroit stuff and all the early Kickin stuff, all the early English stuff – was at these predominantly English rave parties.
A lot of Australians had never had that experience, basically going from pub rock to the bombardment of these sounds through big speakers.
Phil Smart
So as that was coming down, that's when the rave scene kind of took over.
Degrassi (punter)
The City of Sydney really started cracking down on the Hordern parties in about 1990.
Abel
There was a period in the very late '80s, early '90s, when both things were happening at the same time – you had your Hordern Pavilion parties and you had your little underground warehouse parties. And I guess more people started raving when the Hordern was closed down around '91, because of local residents complaining... And then that's when party people looked for somewhere else.
Phil Smart
There was the Hordern scene and the Sydney club scene in the late '80s, and then the rave scene starts… There was this transition that it went through. When I was at The Front I would hear people starting to talk disparagingly about the English raves – "They're coming here and they're taking over and they're doing these parties" and whatever – and they were dissing it. But my ears pricked up and I was like, "Wow, that sounds really interesting." So I searched it out. The first ones I think were in late '89.
Sugar Ray
In 1990 I did two Love parties – that was the first kind of [rave in Sydney], in this film studio in Redfern, with another guy actually, named Rob Milton. He'd come over here from London where he'd been doing these parties called Dirtbox, which were quite legendary. And he kind of took me under his wing and passed on his musical knowledge, and so he and I did the first two Love parties. And then I packed up my record boxes and flew off to LA and London with the intention of just going to see what was happening over there. And when I got to England the whole rave thing had just kind of come to an end. Thatcher and the police had managed to sort of completely close it down. But it was still an amazing time – the record shops, and the music that was coming out, and the buzz and everything. A year later I came back to Sydney, and there were all these people – that couldn't rave in Britain anymore, I guess – who had gone travelling and ended up through Thailand and Asia and made their way down to Sydney. All of a sudden you had all these expats – English, Scottish, Irish people, all arrived in Sydney.
Phil Smart
It ended up being very influenced by Goa and Ko Pha Ngan as well, because a lot of them were coming through the Asia trail. They'd leave England and they'd go to India for a while, they'd go through Southeast Asia, full-moon parties in Ko Pha Ngan. And they would end up in Sydney to do their two-year visa. There were a lot of people doing this trail, so that's why it definitely flavoured the whole beginning of the scene here.
Ming D
It was the ecstasy trail... They had this circuit where they would bring the ecstasy and the acid from the Summer of Love... Everyone sort of dropped out, and even from the '70s, set up their own little utopia culture. So they were doing the circuits. There'd be these wild cats coming from England, India, the Dutch were coming through with their techno. And Australia was a place to come – they'd heard about it – to hear the music, to go to the big parties, and to spread the Summer of Love and do business.
Phil Smart
It still spins me out how influential the English were in so many of these places, like in California there was a big English influence. I find that really interesting.
Sugar Ray
And this whole rave scene, it just kicked off... And I just jumped straight back in.
Ming D
There were a lot of good underground clubs knocking around Sydney, and Oxford Street was wild. There was no property development, so we had warehouse parties, we had underground clubs that went all day, all night. The music was at its peak, and Sydney was a happening place. Very happening.
THE CARTEL
Phil Smart
The English rave scene just started right under everyone's noses. And it took a while for it to be infiltrated by Aussies. When I started going there were only a few Aussies.
Sugar Ray
The Australians, they hadn't realised – they didn't know it was going on.
Abel
It was 80% expats, 20% locals, all together in a dusty warehouse. And I remember a lot of the locals would start learning a lot of the English lingo like "bollocks" and "nutter," and everybody was on the same vibe.
Phil Smart
Most of my friends were English for a good long time there – that's why I still have a lot of English words in my vocabulary and I can easily, you know, lapse into a bit of an English twang. Because that was my world for a few years.
Ming D
They called it the Cartel. The big DJs were Sugar Ray, Robin Knight, Joe 90, myself and Sheen. That was the big five. Sheen was British, Joe 90 was British, Robin Knight was British, Sugar Ray is British. I'm the Aussie.
Phil Smart
They were the five who dominated the music and DJing in those early years.
Sugar Ray
I'd play for Sheen, Sheen would play for me, I'd play for Robin and Joe, so we would just all end up playing for each other. We all got on really well, we were all real good friends, I'd say.
Abel
There weren't many DJs back then, you know? Now everyone's a DJ. [laughs] But back then there was only a handful.
Ming D
I was part of the Cartel. Flim Flam were the big [parties]. [Sugar] Ray was doing Love parties, they were big ones. Robin Knight was doing the Light parties. There were five or six main parties that would go on every month, and we respected each other – "OK, we'll do it this week, someone else do it the next week."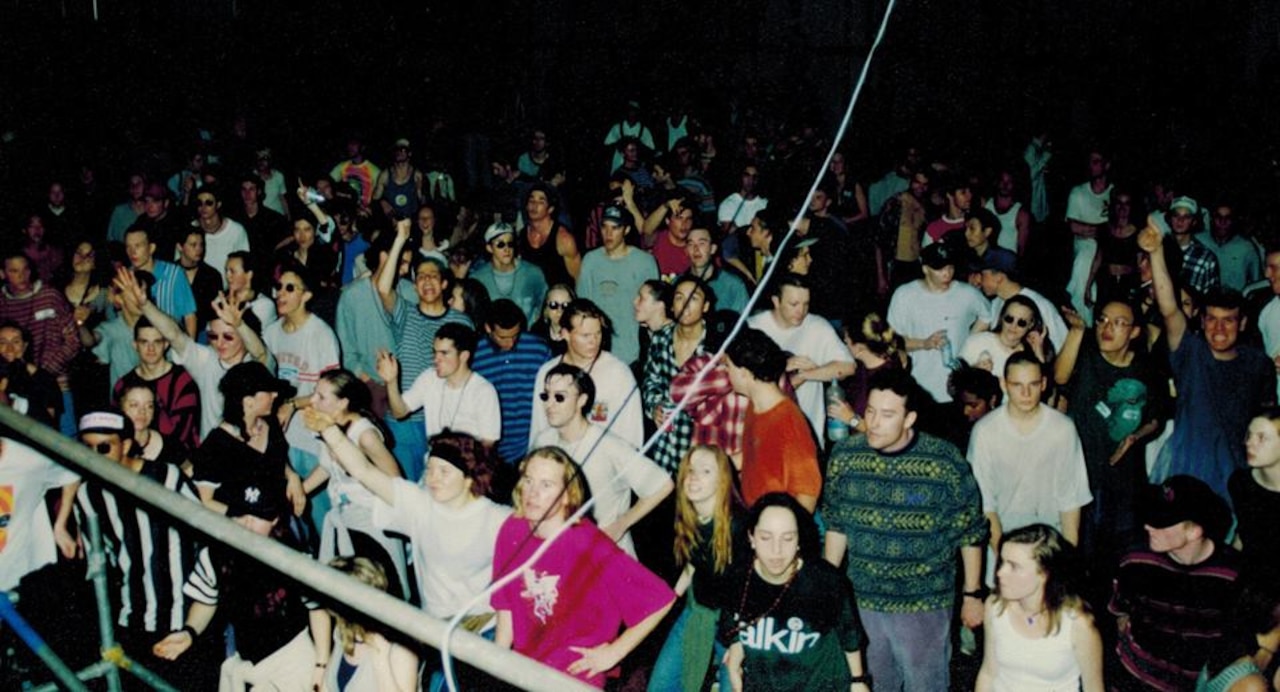 DIAL 0055 R-A-V-E
Abel
In those early days, I was a punter. And what drew me towards the rave scene was its mystery. It was like, what is this? You've got to ring a 0055 number to find out the venue – it was so underground.
Leo (punter)
You'd have to pick up a cheap photocopied flyer at a record store, then call the 0055 number for directions on the night. They were never advertised in the street press at first... There was definitely that feeling of being part of something quite secret and underground, something that hadn't existed before. Although clubbing and big Hordern parties had been around for years, the early raves seemed like the start of a new subculture.
Degrassi (punter)
I loved not even knowing where you'd be going until a couple of hours before the party started.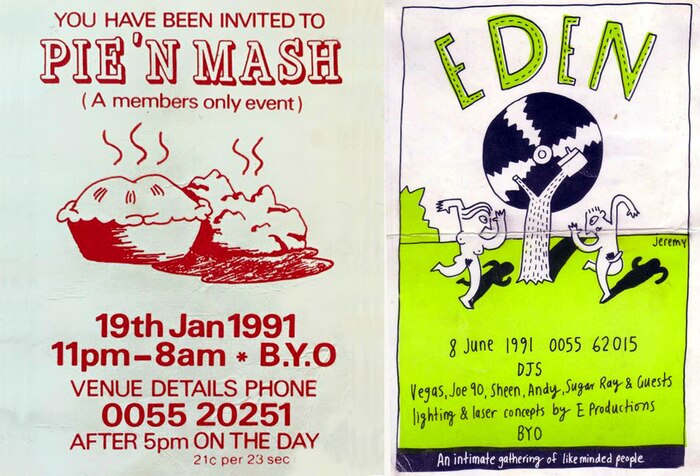 Abel
Because in the early '90s there was a recession in Sydney, a lot of the warehouses were empty. So you could go to the real-estate agent and say, "Look, I want to put on a party." And he'd say "Yeah, look, no worries, give us a couple of grand, here are the keys. [laughs] It's yours for the weekend."
Sugar Ray
I'd print up all these tickets, put a 0055 number on there, and sell them through record shops. I'd invite the other guys to DJ, and then we'd have like a thousand people turn up at these really mad, crazy parties in the most amazing venues. I think I got a couple of film studios – there was even an art museum that I got once. And the other guys were doing them in underground carparks. You'd just turn up in the middle of Alexandria, before it became all apartments and stuff.
Phil Smart
Back in the day, no one ever went west of the city. You'd be hard pressed to get anyone to actually leave Oxford Street, but the rave scene pushed people out. Alexandria opened up, so that was where a lot of them were, in warehouses in Alexandria. The Inner West wasn't a thing, really – nothing really happened there. I remember a few parties out in carparks out in the city, just odd little venues.
Sugar Ray
It was really exciting, because you'd get this number and then just turn up at these amazing venues and there'd be a thousand predominantly British people in there with all their baggy jeans and tie-dye T-shirts, and a strobe machine and smoke machine, and just listening to this amazing music that was really sort of exciting and fresh. There'd never been music like it, it was amazing.
Degrassi (punter)
There was a real DIY aspect to it, which put the focus on the music and the gathering of like-minded people.
You'd hear everything from a Tears for Fears track to a Derrick May track to some old whatever it might be. Just a real mixture of music.
Ming D
That was the warehouse scene. You know, "Green lasers – whoa, what's this?" And we had great production – I saw my first fractal on a bank of TV sets. Some English guy had got hold of 20 TV sets and hooked up fractals on video – it's like, "What!" So the technology, the music, all of that was cutting-edge, and people basically got their mind blown with the sound. A lot of Australians had never had that experience, basically going from pub rock to the bombardment of these sounds through big speakers.
Degrassi (punter)
The first rave I remember going to was All in the Bubble of Yum in the middle of 1991. What struck me was how completely and utterly unpretentious the whole thing was, and I loved it. People were so welcoming and accepting. Of course, I'm sure the prolific use of pills had a lot to do with that, but it was more than that. At that stage, there were only a few hundred regular ravers around Sydney, so there was a sense of community.
Leo (punter)
The best of those parties that I went to was definitely Sweet Science, held in a warehouse or studio by the water in Balmain. This was early 1991. It was simple, nothing fancy, just one or two lasers and a strobe in a huge dark warehouse, but incredible music all night. This was before rave culture had splintered off into subgroups, so the music was still very eclectic.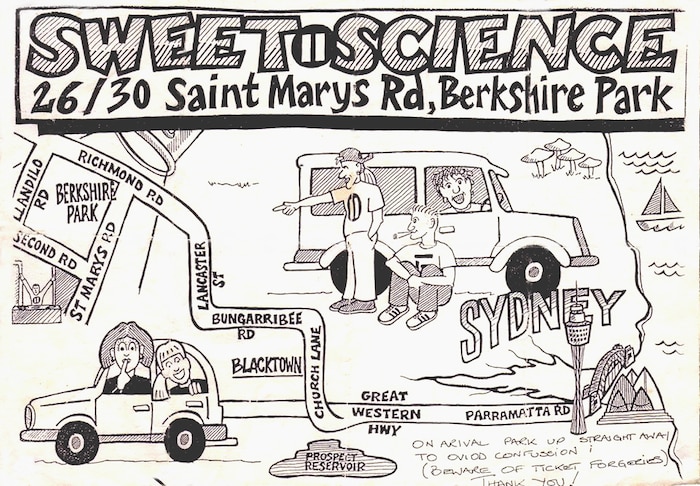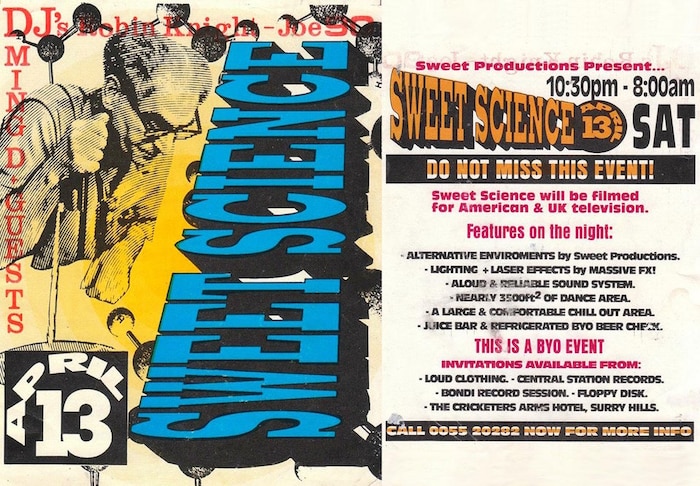 MUSIC IS THE ANSWER
Rob (punter)
My sister took me to my first rave when I was 16. Still, to this day, I remember seeing a guy dancing – it was weird because he wasn't dancing in a circle, but dancing, as far as I could tell, at the speakers, and sort of at the DJ. I watched and watched and listened and realised what he was moving to – which parts of the music moved his feet and his hands and how very in the music he was. It was pretty transformative. It marked a pretty big turning point for me – letting the music in. Letting it move you.
Abel
Back then it was predominantly Balearic – it was a lot of piano, a lot of vocals, very Balearic, and Sheen and myself, we'd sort of try and go a little bit more techno.
Phil Smart
[Ming was] an amazing DJ – really, really talented, really various and crazy, and I always liked it because I liked something a bit weird or different. He was the one who played stuff like Jesus Jones, or he would play Talking Heads, or he would play the fuckin' Oompa Loompa song, and then drop a beat underneath and then go somewhere else. He was incredible... He would climb up on the DJ booth and just go nuts. He was amazing.
Ming D
Sheen was techno, Robin Knight was Balearic, Joe 90 was a bit funkier. Me, I was a mix between – they put me on in the morning a lot, because [my music] was kind of uplifting.
Abel
There definitely was a flow, everything worked with each other and everybody got a good two-hour bracket.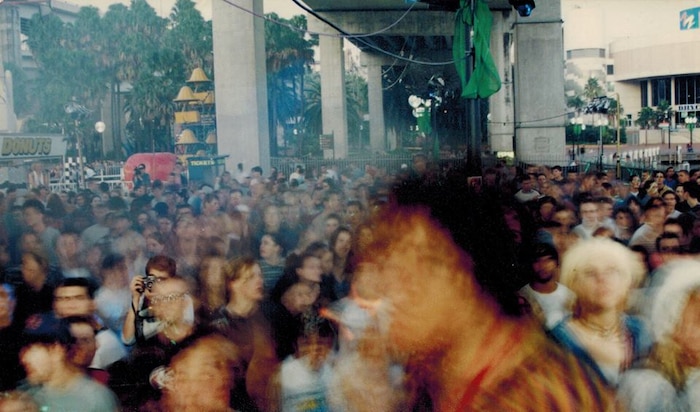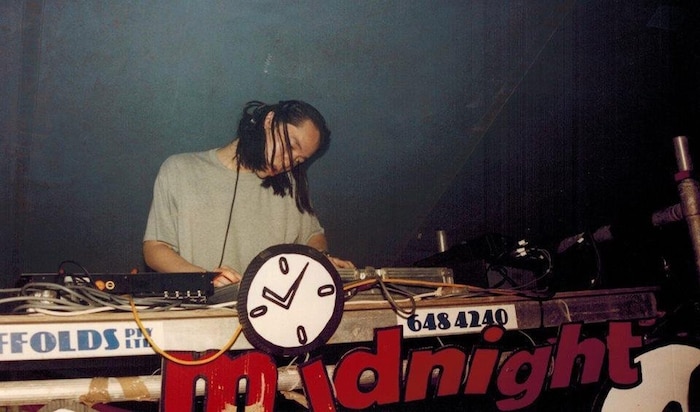 Degrassi (punter)
Music at a single party could be so incredibly diverse. You could hear a pretty commercial vocal track get mixed into a really underground hardcore track. The music wasn't homogeneous as it is now.
Sugar Ray
Every DJ had their own different style. But it worked, you know – you put them together over a night, you had this amazing journey, and you'd hear everything from a Tears for Fears track to a Derrick May track to some old whatever it might be. Just a real mixture of music.
Phil Smart
Given our position in Australia, in the world, we were in a unique position to take all these influences from all over the place.
Sugar Ray
It was taking all these influences from around the world and giving it its own spin, and with the Sydney vibe as well. It was unique in the fact that there were these five DJs who would be playing every week at these parties, and you'd get a thousand people coming to see them, whereas now everyone wants to see the overseas guy and the local guy gets the warm-up slot. But back [then], there was no internet... It was us, and people came to hear us play.
FUCK 'EM AND THEIR LAW
Rozie (punter)
Some bad things: undercover cops posing as ravers. Parties being closed down and kids having nowhere to go and getting into trouble.
Abel
Every party would go all night. Unless it was shut down, which came later – parties did start to get shut down in like '93, '94, because they started to get too big, and that's when the police started stamping down on it. But in the early days, it would just go all night – start at 10 PM, and go till 8 AM.
Phil Smart
What I remember always is the morning and the sunrise, you know, the sun coming up through the warehouse, those high windows. That's the kind of stuff I remember.
Sugar Ray
The police back then just didn't have a clue about what was going on. You know, they'd turn up – and I had a guy be on the door, doing security for us – and they're like, "What's going on?" And we're like, "We're making a music video." And they're like, "OK" – and they'd just like drive off, and that was it. And there'd be a thousand people inside just going absolutely nuts.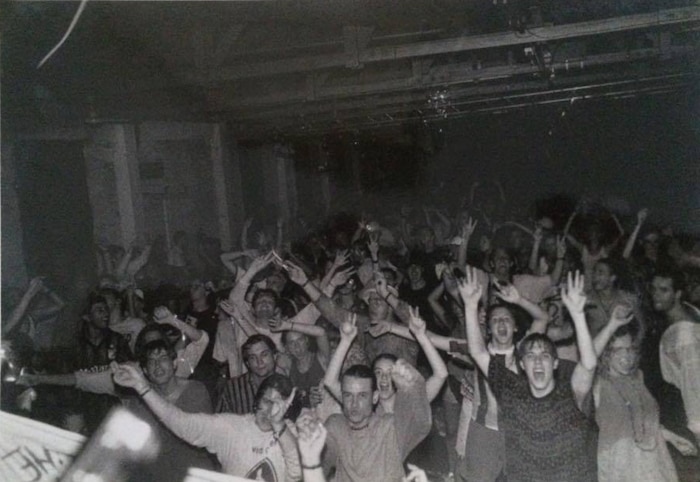 Abel
It didn't matter where you were from, whether you were gay, straight, punk, gothic, English – everybody got on. There were no incidents, there were no police. [laughs] Police came, they came for five minutes, and then they'd say, "everything's fine," and then they'd leave again.
Phil Smart
I don't know if I'm supposed to say this on the record, but I know for a fact, from people who actually had to do it, that the police used to get paid off. It should come as no surprise that the police are corrupt – but a brown paper bag deposited at a prearranged location could mean that your party went all night.
THE COMMUNITY
Degrassi (punter)
Someone posted some pictures [of a rave from that era], and I couldn't get over how late '80s so many people looked. It was definitely a transitional period where Sydney clubbers were getting introduced to the kind of Madchester way of dressing that so many of the British backpackers brought over with them. Realistically, it made a lot more sense to be wearing big, baggy overalls and long-sleeved T-shirts if you're going to be sweating and sitting in piles of unknown waste all evening.
Rozie (punter)
In the early days, girls and guys dressed the same; rave fashion was unisex and very comfortable. Later on this changed.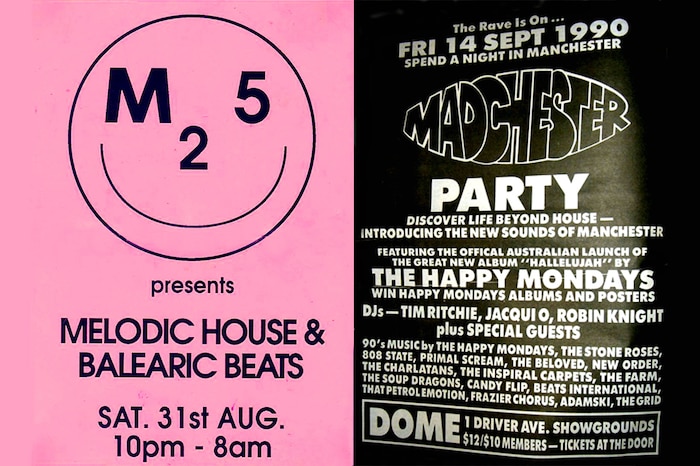 Phil Smart
You would get your English, your baggy ravers – you would get that for sure – but also there was a big hippie vibe coming through Goa and Thailand, and that influence.
Dave (punter)
I think there was a lot of crossover from the DIY punk scene into the feral acid rave scene at this time. The music, same energy as punk; the DJs and punters were like us, too. The crowd and vibe were not that different to the punk crowd: crusty, feral, hardcore, friendly, edgy, like-minded and loose.
Abel
More locals started to catch on – again, it was about that self-expression, everybody was on the same vibe.
Degrassi (punter)
Raves were still really underground, so only a few hundred people were going to the same parties each weekend. You might not have spoken to someone, but if you saw them in the street, you'd usually recognise them and give them a knowing nod: me in my school uniform, someone else in a shirt and tie and someone else in tradie gear, all having something in common. Raves were like this incredible social leveller.
Phil Smart
When I discovered the rave scene it was like something opened up. It appealed to my community spirit, because it was much more like you were part of something. It was like a club. It was the Summer of Love stuff, and everyone was obviously all on the same chemical vibe as well. [laughs]
Ming D
As promoters and DJs, we couldn't dabble in it, we didn't want to touch that. It was an ingredient in the whole party landscape, but to be a DJ you had to be above it... You had to put the parties on, you had to play, so that was your job.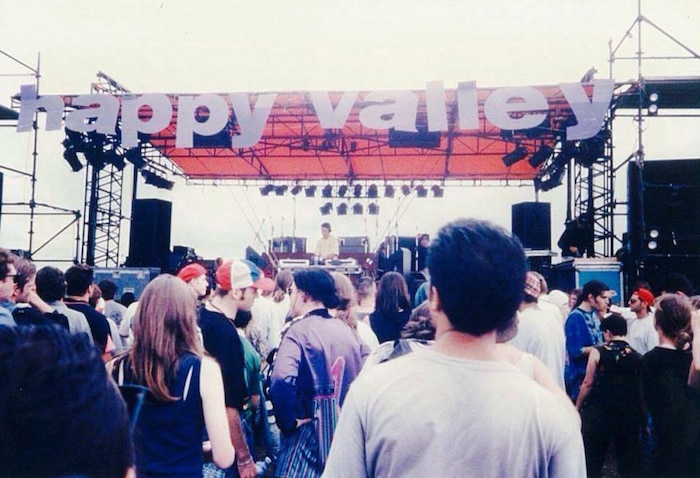 OUR GENERATION'S WOODSTOCK
Ming D
Then I decided, OK, we're going to take this outdoors. And I met Abel when I was working at another record shop – I reckon this would have been early '90s, 1991. We found this place up in Wisemans Ferry and did all the production, and we dropped a party there. I would say that was Australia's first outdoor rave... And we got six or seven hundred people there, which was big then.
Sugar Ray
There was a party called Hall of the Mountain King out on this farm. There were about six or seven hundred ravers out on this farm. That was pretty amazing.
Phil Smart
Robin Knight did a Light party out on a farm – this is one where we actually travelled out. And a lot of stuff happened – we almost died on the way back in a car accident, all sorts of stuff – and I remember this guy was juggling oranges. He invited me to play, to juggle as well, throwing them at me and juggle them back. And that has really stuck with me all these years, because that just didn't happen in any other kind of space, but at a rave where there was the actual physical space, things to play with, people were loose – there were no bouncers, there was no authority, it was just free. That's probably one of my biggest memories – the freedom of it.
Ming D
It's the whole thing about seeing the people – you'd drop a track, the sun's coming up, you're outdoors, you're in beautiful nature. It's just that buzz, it's that physical buzz of the sound just humming away. The movement of air and everyone having a good time. You could look across and see someone having a good time, smiling, and you could have that connection... You don't have to say much, it's just that kind of knowing – OK, we're here at this place, right here, right now, you know?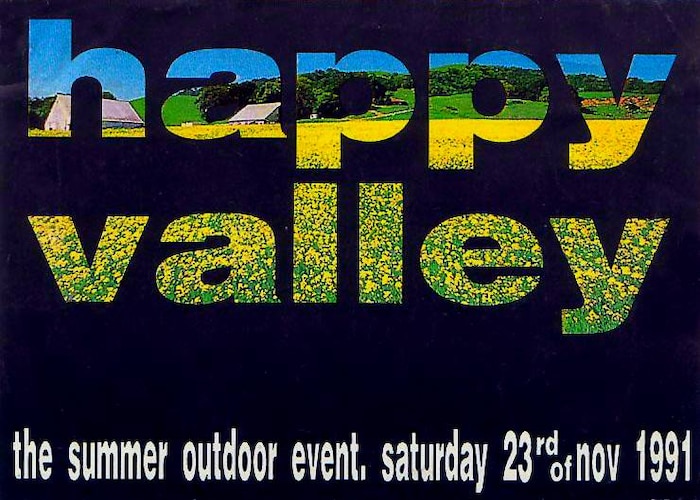 Abel
The first Happy Valley, in '91, was our generation's Woodstock. What they experienced at Woodstock, we experienced the same thing at Happy Valley. It was the Summer of Love, the same self-expression, all the same elements coming together as one. We had 2,000 people outdoors, and that was triple what warehouses were getting at the time. So it was really big numbers for us. It was a big deal. It was completely outdoors, so if it rained, we would have been shithouse, it would have been like a mudbath... We had a massive Cerwin-Vega soundsystem designed for the outdoors, and we had lighting. It was just magic. The big outdoor stage, all set up in the middle of a paddock. And it was actually a valley. You had to drive down for quite a while to get to it, and it was just beautiful, it was lush.
Degrassi (punter)
One special moment that stands out for me was sitting on the hill looking down over the dancefloor at the first Happy Valley. I was with an old friend and his girlfriend as the sun was coming up and they were playing Candy Flip's cover of "Strawberry Fields."
Abel
I'll never forget it. Everyone united, it was just... Really, you had to be there.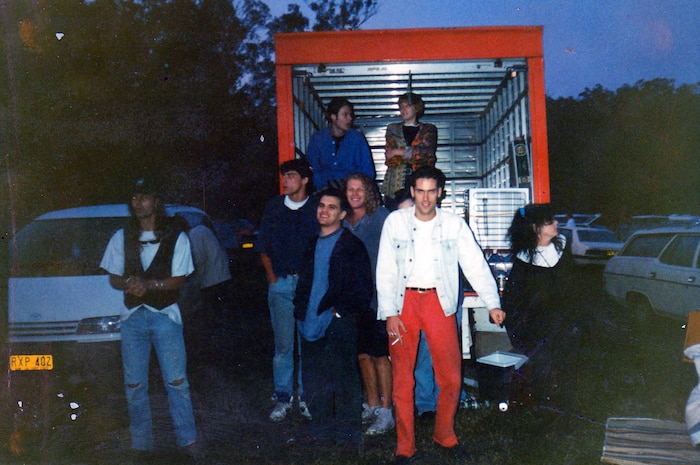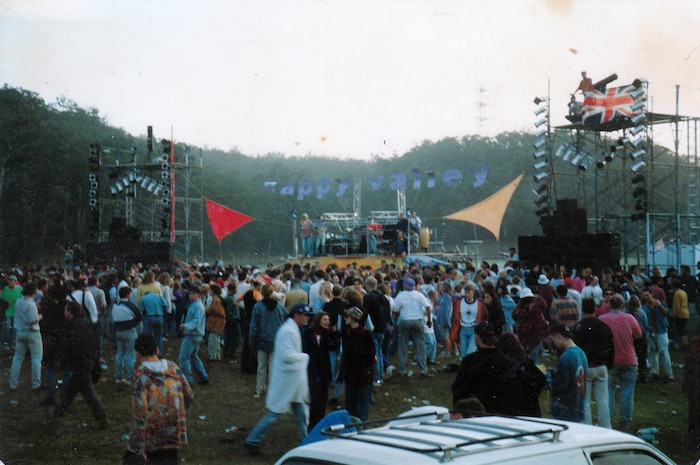 THE RECORD STORES
Ming D
Records were important because it was the exchange – it was this physical exchange. You held the record, you held the music, and people couldn't get that music, so it gave you the drive and motivation to express your music.
Phil Smart
There used to be places like Central Station and Disco City. There were a few shops in the early days.
Abel
Central Station Records, when they were on Pitt Street. Floppy Disc Records in Wynyard were good with the American stuff – the Nu Groove label, a lot of the American, Detroit stuff that you wouldn't find at Central. Central would get more of the European stuff. But I didn't mind shopping at places like Redeye – just to try and find obscure stuff, because all the other DJs were shopping at the same places you were.
Phil Smart
There was a clothing store called Risk, and Ray had started importing records, and he'd just get a couple of crates and sell them at the shop. And he'd ring you up, ring up all the DJs, and say, "Hey, I got a shipment in," and they'd all go there and buy him out.
Sugar Ray
I was a DJ, I was a junkie and I needed my fix. So I decided that I was going to import records. It's the same as putting on parties – I wanted to play to people, so the only way was to put on parties. You could get away with it, it was a real DIY kind of [spirit]. You want to open a record shop, you do that; you want to throw a night, and you know you can do it.
Phil Smart
So then Ray was the first to open a rave-specialist record shop in Sydney – Reachin' Records.
Sugar Ray
There happened to be a little tiny indie rock record shop on Crown Street, and they were closing down and I went in there. I was paying $200-a-week rent, and all of a sudden I started importing records and set it up from there, really – it just kind of all fell into place.
Phil Smart
I think it must have been '92, '93 maybe, I started working there.
Sugar Ray
[Phil] came to work for me in my record shop.
Phil Smart
And that was the nexus, a real help for the rave scene... Because it was the only rave shop – you could still buy records at Central and whatever, and they still got good records, but this was a rave-specialist shop. This was in the days when you were still selling tickets and all that kind of stuff. So that's where you got your flyers, that's where you got your information, got your tickets as well as your records.
GOD IS A DJ... BUT HE ONLY WARMS UP FOR SASHA
Sugar Ray
The first time Sasha came to Australia there was all this hype over him – he was playing at this massive rave out in Homebush. He came to Australia, and [he] did an in-store at Reachin'. So Sasha turns up, and the shop is just packed. We closed the door, locked the door, all these guys just start lighting up and passing around spliffs, and Sasha just does this two-hour set in front of all of us. Thirty people inside this record shop, and just absolutely blew us all away [with] his mixing. It was the first time I'd heard a DJ mix in key.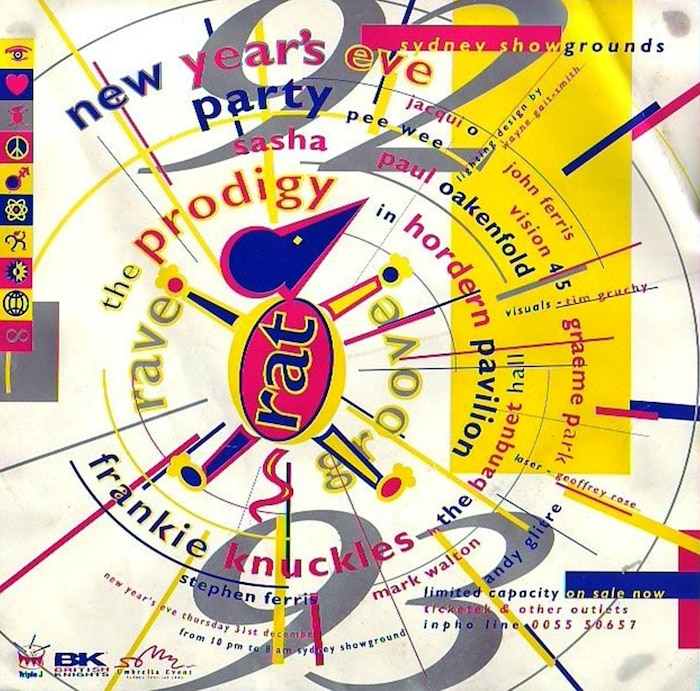 Phil Smart
You know Australians – the cultural cringe – they always wanted to know what everyone else thought of us. Very self-conscious. So that's why when you got internationals, it was a massive deal. Now it's like a dime a dozen, everyone [brings out] internationals. But at the time, we waited for ages for Sasha to come, and when he came it was an absolutely massive deal for Sydney.
Sugar Ray
That would have been about '93, '94. And the funny thing was, then he went out to play at this big rave at Homebush, and that was one of the first kind of Australian ones, and they put him on in the middle of the night. And I just remember everyone standing around on the dancefloor because they just didn't understand his music. They just wanted bang bang bang, and he was playing this amazing, melodic house.
THE SCHISM
Phil Smart
It pretty well flew under the radar for quite a while, but then there started to be some hassles.
Sugar Ray
I think by the time [the police had] caught on, I'd started to move away from the rave scene. As the kids started to come, the Australian kids started to get involved, I started to lose interest. And I moved into clubs, started DJing in clubs and putting on legitimate events.
Degrassi (punter)
As wonderful as the first Happy Valley was, it really was the beginning of the end for me in terms of the golden era of Sydney raves. It was an amazing rave, but what it did was introduce raves to so many more people and the scene necessarily began to change as a result.
Phil Smart
After a while there was just too much risk, there was just too much heat, and that's when it started to head back to the clubs.
Ming D
I'm not going to name any promoters; some of them just did it for the money. They would put a shitty soundsystem in a shitty venue, and then they would try to hire the DJs, but then you got to a stage [of saying], "I'm not going to play for these guys again."
Degrassi (punter)
I think some more dodgy promoters started up and took off with people's money. I can't remember which party it was, but I recall a whole heap of tickets were sold to a party and when people called the 0055 number on the night, there was no recording and apparently someone had skipped off with all the money.
Abel
Around '94, '95, that's when the sound really changed on the rave scene. It went faster, harder and younger. I mean, I can't talk, because I started raving when I was 16, but, in '94, '95, you used to see kids as [young] as 12 and 14, and that was a bit strange.
Phil Smart
As the Aussie rave scene took off that became more... It never quite got like the candy ravers did in America, not quite that way, but the more fluoro, more of that kind of stuff is what the Aussie scene became as it got bigger. The music got faster and harder, and it became more mainstream.
Sugar Ray
From about '93, after us, it was all Nik Fish, Jumping Jack, those boys – I'm good mates with them and I used to play with them a lot as well. But that was their generation.
Phil Smart
The original English rave scene went back to the clubs, and then the Aussie rave scene started to get bigger – you know, basketball courts and small-stadium style, and they went off on their own tangent.
Ming D
The football stadium stuff was not the music that I was into – that was happy hardcore, kiddie-core, so that was not my scene. There was money, I was offered to play, and I said, "Nah." I was never in it for the money, I was in it for the music, and the people and the culture.
A lot of people I've talked to say they didn't realise it at the time, but I knew this was something special.
Abel
I would still get booked for those things, but I would knock a lot of them back again sometimes. They'd even put me on the bill without asking – they'd advertise your name without actually booking you.
Sugar Ray
It just wasn't my thing – the music was just too fast, it was too hard, the vibe was dark. When those first English raves started off, everyone got to know the tunes, and as soon as someone dropped a tune with a big piano or a big synth line in it, the whole place – you know, hands in the air. It was just a real loved-up vibe. And I think later on, that kind of got lost. I guess it just evolved and changed and became a little bit darker.
Ming D
People were hearing about it [ecstasy] more, so they were taking more. There were unscrupulous dealers out there who were giving you different crap. The ecstasy might have been [mixed] with speed, so you get more aggressive and the music needs to be harder, faster.
Sugar Ray
Me and Phil both made a move into clubs and sort of slowed it down a little bit more.
Ming D
Look, it's progress. I'm a believer in progression... Things move forward and that's just life. I was having a great ball, I was having a great time and I still believed in my music.
Abel
I was always looking for something new. I started with electro and the breakdance era in the '80s, because that was fresh and new. And ever since then, I've always been [playing] new electronic sounds. It's just a continuation of that, it's a progression of that.
Sugar Ray
[Phil and I] ended up becoming best friends and brothers on the decks, travelling around the world and putting on parties.
Ming D
Those guys, Phil and Ray and all them, they went [to the] clubs. I liked the adrenaline, I liked the excitement, I liked the vibe of the production, I liked the anti-establishment of it all, so I went into bush doofs. Basically started the doof scene, and we did outdoor psychedelic trance parties and they were magic.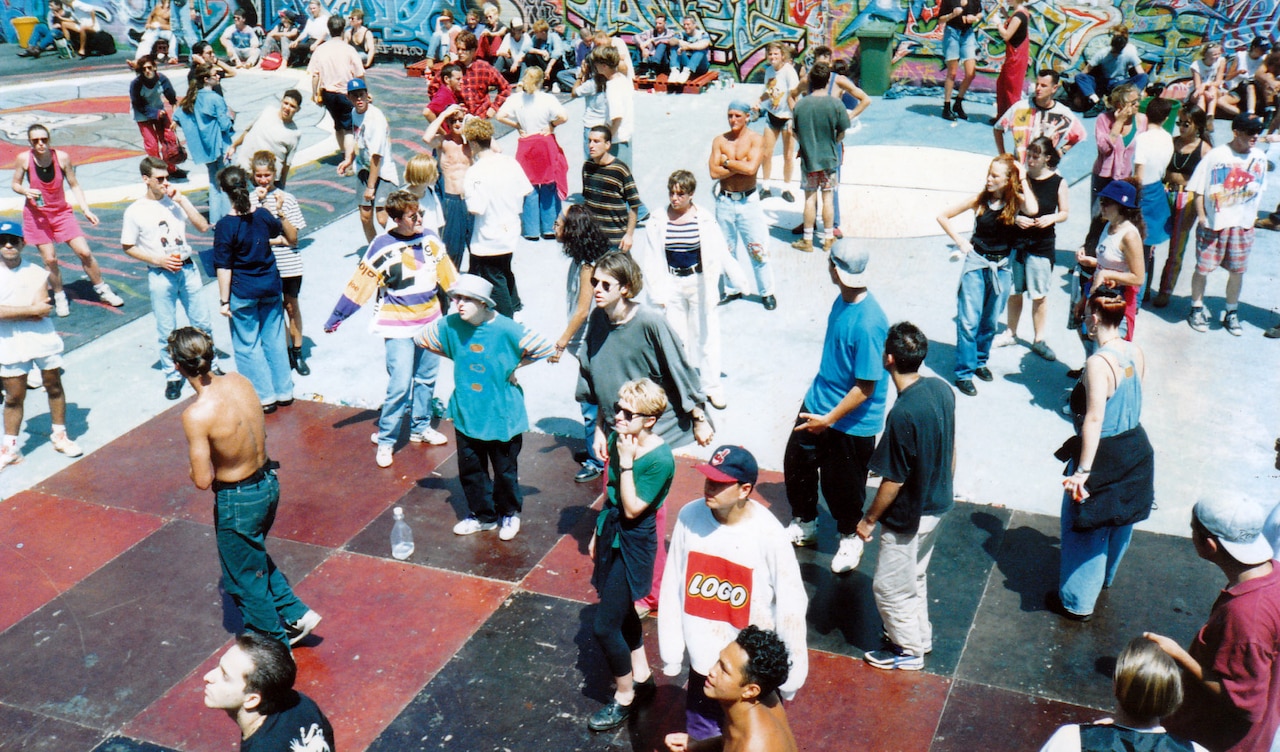 THE LEGACY
Phil Smart
A lot of people I've talked to say they didn't realise it at the time, but I knew this was something special. It was amazing what was happening, and how fresh and new it was. And to discover the rave scene – it changed my life, and it just became what I wanted to do.
Rob (punter)
You could live your perfectly normal life and never know of what went on in the warehouses, and of the adventure of going to find out, and of what it meant to find people and a place away from the main track who just wanted to dance. The relationship with a DJ who could make that happen – the anticipation and release of the perfect drop.
Ming D
Now the music is so accessible. I believe in the power of the music and the emotions, and I'm still a believer in that... Twenty years ago, you had to physically go out, there were no mobile phones, there was no internet. If you wanted to talk to someone you had to literally pick the old analogue phone up and ring. So the music was the common thread, and when you got there, you had the buzz of the music, you had the buzz of the people, and you had the buzz of communication. That was such an important thing in the '80s and '90s. You could get out of your house, and in that environment you could express your ideas, talk about crazy stuff, and that interaction was amazing.
Sugar Ray
It was pretty amazing. Just happened to be at the right time in the right place.

To hear a taste of the music that was played in Sydney during this period, tune in to an archival cassette of rave white labels mixed up in 1991 from Sugar Ray below.
Header image © Charlie Phetean