Teddy Abrams and the Revival of the Louisville Orchestra
A young conductor has brought a distinctive sense of community engagement to the local institution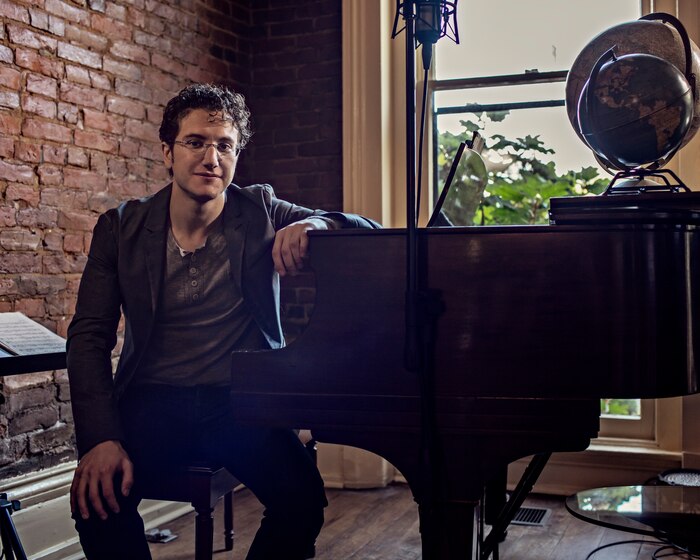 Teddy Abrams isn't your average conductor. In fact, he's not even a very normal human. Abrams, who grew up in the Bay Area, started playing piano at age three. He never went to middle or high school, instead taking classes at local junior colleges as a young teen. Abrams received his bachelors from the San Francisco Conservatory of Music at 18. Later, he was the youngest student ever accepted at both the Curtis Institute of Music and the Aspen Music Festival and School. When he became Music Director of the Louisville Orchestra at 27, Abrams was the youngest conductor of a major orchestra in the United States.
There's this image of a stuffy or an almost religious formality to the experience of going to a concert. That's so ridiculous on many levels.
This remarkable story has made the skinny, bespectacled 29-year-old the darling of the American classical music community. Young composers of his stature are a rarity in a musical genre that's often associated with old-fashioned sounds and values. When Abrams moved to Louisville from Detroit to lead the orchestra in 2014, he was dead set on changing this perception. "There's this image of a stuffy or an almost religious formality to the experience of going to a concert. That's so ridiculous on many levels," he says over a phone call. "That's not the way Mozart and Haydn and Beethoven would've experienced music. [Classical music] concerts were far more similar to jazz and indie rock shows than to a modern concert experience." In his own work, Abrams is known to blend genres like hip-hop and folk into standard classical fare.
Abrams believes his role as Music Director extends far beyond selecting music for the orchestra and conducting the majority of their concerts. "It's a kind of 'Mayor of Music' job, as I often say," Abrams told me. "The ultimate goal, of course, is just to play great concerts for as many people as possible, but the only way that you do that is by creating a paradigm where the orchestra is a vital part of the society." For Abrams, making the Louisville Orchestra accessible is not just a way to promote his programs, it's activism that he hopes will better the whole community.
A lot needed to be done in order to bring the Louisville Orchestra up to this utopian standard. When Abrams arrived, the institution, which was known since the early 20th century as a champion for new composers, was flagging. Four years before Abrams joined the orchestra, they filed for Chapter 11 bankruptcy. In 2012, the orchestra celebrated its 75th year, but almost never performed.
Abrams has tried a dizzying array of experiments, from putting on concerts in his home to creating programs that he hopes will engage the community in unexpected ways. A PBS video series followed his move to Louisville, and watched as he built a unique concert space in his home. "People have this idea that they're very far away from the art," Abrams says. With his new Louisville Orchestra, Abrams hopes, that won't be a possibility. The plan seems to be working: After cutting salaried members and contract lengths during the orchestra's hard times, the last few years has seen an increase in contract lengths, inching them back up to where they were before the financial collapse.
These kids have a relationship with the orchestra that's going to last forever.
One major way Abrams hopes to engage the Louisville community is his work with the MakingMUSIC program, which was created in 1940 by Louisville Orchestra founder Robert Whitney. MakingMUSIC brings Louisville Orchestra ensembles into public schools and puts on orchestra concerts designed for 4th and 5th graders year-round. One of the more creative projects sponsored by MakingMUSIC is the Landfill Orchestra, a program that teaches 4th and 5th graders in Louisville schools music basics by giving them the opportunity to build their own instruments from recycled garbage. The Landfill Orchestra program is now in its second year, and growing rapidly. The first year, one school was involved, with Abrams personally teaching the program. This year, more than seven schools participated.
The Landfill Orchestra program, along with MakingMUSIC, lays a foundation for musical education that starts with sound and acoustics and works its way up to composition and instrument building. "We start with a big conversation about what is sound, what is the difference between sound and music?" Abrams remembers. "From there, very, very quickly, these kids start absolutely blowing my mind."
"[Our programs] are not just to provide information, [they're] to provide an experience that's unforgettable," Abrams says. "These kids have a relationship with the orchestra that's going to last forever." If we can't motivate our educational system to care about the arts, Abrams believes, a bleak future awaits some of the most vulnerable students in the system. "The people who can afford to get really great instruction will do that and it will create a class divide in access to arts," Abrams says. "That's certainly already there. Our whole thing is we want to remove that."
Abrams is nothing if not ambitious. "We have over 90 schools that come every year to the orchestra's MakingMUSIC concerts," he says. "My ultimate goal is to get every single one of them engaged in the program." He believes deeply that encouraging connections to the arts can change the community's very DNA. "I'm always saying that we get it right when the orchestra is a pathway to creating a better community, a stronger community," he says. "That's why I really love this program, because it does just that."