What's In a Name?
Paul Thompson ponders the importance of Young Thug and Jeffery – and the difference between an album and a mixtape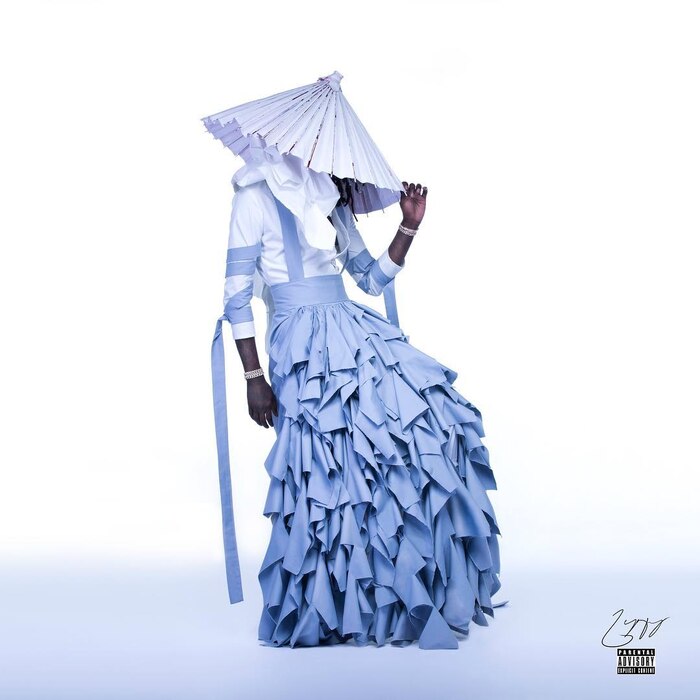 A little after 11 PM last night, Young Thug dropped a new record called No, My Name is JEFFERY. His Wikipedia page calls it a "commercial mixtape," same as Barter 6, I'm Up or Slime Season 3 (but unlike Slime Season, Slime Season 2 or 1017 Thug, which are merely mixtapes, not available on subscription streaming services).
The lead single, a beautiful cut that features Wyclef Jean, is named "Pop Man" on Apple Music, though Thug's Instagram calls it "Kanye West." When it was released in advance of JEFFERY, it was alternately called "John," "Elton" and "Elton John." It's not to be confused with the song "Wyclef Jean," which kicks off JEFFERY and does not, in fact, feature Wyclef Jean.
One point of certainty: JEFFERY is the best of the Atlantan's three efforts so far in 2016. That Wyclef collab sounds like a Danny English song soaked in lye for a decade and a half. It's tucked near the end, behind the absurdly triumphant "Webbie" and ahead of "Pick Up the Phone," the latter song irresistible in the sense that its beat sounds sourced from The Little Mermaid. That song, which cracked the Billboard Hot 100, has Quavo from the Migos coin the word "discriminize" and Thug rap, "Mama told me 'Don't hate on the law' / 'Because everybody got a job' / 'Because everybody wanna be a star,'" which just might be the most succinct summary of law enforcement in this country.
Do we read albums differently from mixtapes? (Should we?) What does it mean if a very visible, yet reserved artist drops his purposefully vague moniker for his government name?
There are thrilling moments littered throughout JEFFERY. On "RiRi," he breaks format, slurring through passages like: "I know I'm a Blood, I'm a gangbanger / I know where the bitch, but I'm still singing / Motherfuck the rest if they ain't really banging / I got the real hitters with me and they dangerous," where the last few words of each phrase unravel as soon as they hit oxygen. "Future Swag" sounds like you've made it to the final level of a video game where Young Thug gets to fight his A&R.
Speaking of which, there's the vague notion that after a series of false starts, Young Thug might finally land a release date for Hy!£UN35 (pronounced HiTunes), the "debut album" he and his labels, 300 Entertainment and Atlantic Records, have been teasing for almost a year and a half. (The press release for Barter 6, which came out in April of 2015, set a release date for August of that year.) Lately, Thug's been publicly toying with the idea of dropping his stage name in favor of Jeffery, or the full phrase No, My Name is Jeffery. That point was driven home by an affecting promo video released earlier this week, in which Thug is interrogated by a series of white police officers who refuse to call him by his given name.
Young Thug seems to be on the precipice of true commercial stardom, mulling the best move forward. As he and those invested in him try to navigate the next phase of his career, how much do these questions of semantics matter? Do we read albums differently from mixtapes? (Should we?) What does it mean if a very visible, yet reserved artist drops his purposefully vague moniker for his government name? And just how famous is Jeffery Williams going to be?
Last April, someone I'd never spoken to before sent me an email that was one line long and came with three attachments. The files were then-unreleased Young Thug songs: "Guarantee," "Flaws" and "Love Me." I replied, but never heard anything in return; it looked to be a dummy Gmail address anyway. The sender, whoever they were, had written, simply, "i think there's more coming."
By that evening, a Twitter search turned up a handful of confused references to the songs I'd received, but the only Soundcloud links I could find had already been vaporized (presumably by Atlantic). I sent the songs to two writers I knew. One said that someone had approached her on Twitter, DMing her a link to "Flaws" and offering to sell other tracks for $80 apiece. The other writer hadn't been similarly solicited, but had the same reaction as me: "Holy shit, is HiTunes gonna be like his Pluto?" Future's rambling debut album from a few years prior had melded genres and was anchored by earnest songs about love and loss – and turned him into a major star.
That's a question we still can't answer. Not only does HiTunes not have a release date yet, it doesn't even have a single; "Pick Up the Phone" is a major hit, but it was pilfered by Travis Scott. But where Barter 6 was sly and restrained, those first three songs were expansive, evocative – big, sweeping melodies, "In a house full of grown folks, baby, I love you," "If you got AIDS I want it." They gestured at something bigger.
At first, Thug and his camp scrambled to organize the litany of leaks – more than 100 songs spilled out online in the weeks following that April email – into a digestible format. In September 2015, he followed up Barter 6 with Slime Season, comprised in part of those leaks. It was released exclusively through LiveMixtapes.com. At present, it's not available on Tidal or Apple Music; an incomplete version has been uploaded to Spotify, though the copyright holder there is listed as "HNHH."
Slime Season was, by some measures, Thug's best solo work to that point. It isn't as carefully constructed as Barter 6 – there are few overriding themes or unifying qualities to the beats, and even the styles of mixing vary wildly from song to song. But "Calling Your Name" could have been the theme song for coke-fueled club kids in late '80s Manhattan, except for Thug's bizarrely open, totally earnest writing: "When I hit the club them strippers smile, I give them hope." (On the hook, he warbles, "She calling me Jefferrrrrrrry.") By contrast, "Udiggwhatimsayin" is sly and sarcastic. He strips Atlanta trap down to its core elements ("Quarterback") then comes unhinged with Bad Boy abandon ("That's All"). Taken as a whole, Slime Season bolstered – or should have bolstered – Thug's reputation as rap's greatest stylist, and one of its most eccentric, entertaining writers.
The tape also spawned "Best Friend" which, unlike Slime Season itself, is available across streaming platforms. Its video has been viewed more than 150 million times on YouTube alone; the RIAA certified "Best Friend" platinum last month.
Six weeks later, Thug dropped a sequel. Slime Season 2 was more cogent and coherent than its predecessor, and while the songs aren't quite as singular, he rapped effortlessly, at an extraordinarily high level throughout. And there are memorable moments: "Raw," "Pull Up on a Kid" and the three-song run of "Don't Know," "Thief in the Night" and "Hey, I."
In the wake of the first Slime Season, Google searches including "Young Thug" fell sharply; SS2 did little to induce a rebound. Not only had the prospective dates for HiTunes passed, but interest had bottomed out too.
In February of this year, Thug started promoting Slime Season 3. At the last minute, he pulled a bait-and-switch: I'm Up featured nine songs, including vital work like "King TROUP" and "For My People." I'm Up was made available on streaming services and entered the charts at #22.
Also in February, Thug was a guest at the Madison Square Garden launch of Kanye West's latest fashion line and his new album, The Life of Pablo. After West played the record for the tens of thousands assembled, he passed the aux cord to Thug, who played a demo version of "With Them."
A few weeks after Pablo came out, as Thug was dangling the actual Slime Season 3, advance footage from a documentary surfaced online. In it, Lyor Cohen, who co-founded and runs 300, implores the rapper to bear down and take his recording more seriously. Cohen says Thug leaves potential hits in the ether "like little orphans"; when he insists Thug go back and revisit them, Thug says he doesn't have to revisit his old work, because critics do that for him, which, well, point taken.
When it came out in late March, Thug's most cultish fans noted that Slime Season 3 included several tracks that had been previewed on Snapchat and were rumored to be potential singles for HiTunes. Like I'm Up, SS3 was given a positive, if muted reception, nothing like the critical fervor that had accompanied some of Thug's pre-leak work. It entered the charts at #7.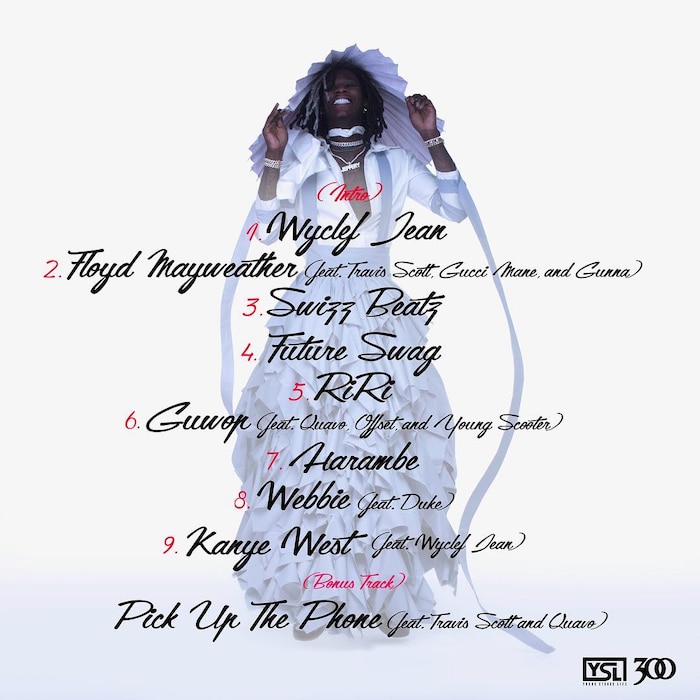 A cursory glance at Twitter should tell you that JEFFERY is on pace to perform at least that well, possibly better. Is it as simple as the cumulative effect of having projects readily available on Apple, Tidal and Spotify? Is "Pick Up the Phone" keeping Thug's name – at least his old one – in the front of people's minds? Or is JEFFERY simply better than the records, be they mixtapes, "commercial mixtapes" or something in between, that came before it?
It's probably all of those things, plus a promotional campaign that's lasted for longer than any of those other recent efforts. Ironically, rap fans have been debating for the last decade over which musical characteristics marks the line between "album" and "mixtape," but it's become obvious that rappers should try to release as much of their music as possible (even music that they planned on giving away for free) through commercial streaming channels. Not only does it yield revenue, it builds measurable momentum.
As for that name: In addition to the obvious limitations the name "Young Thug" puts on a mainstream marketing campaign, it seems as if the trademark Jeffery Williams holds on the name is in the process of being cancelled. But beyond that, whether Young Thug follows through with the switch to Jeffery or No, My Name is Jeffery, the discussion raises compelling questions of race and of the artist's agency over his own work.
Each song on JEFFERY is named after a person Thug admires, be it the legendary Louisiana rapper Webbie or the world champion boxer Floyd Mayweather Jr. The tracks themselves generally have little to do with their namesakes, but it's an interesting comment on a celebrity's claim to his or her own identity. For good measure, on "Floyd Mayweather," Thug name-drops Ron Artest, the famously volatile basketball player who later changed his name to Metta World Peace, and in the next verse Gucci Mane pays homage to Prince, who changed his name to an unpronounceable symbol as a form of protest against his record label.
Now look back to that promo video, the one with the cops, set in the interrogation room. Look at Williams's face when the men continue, over his protestations, to call him "Young Thug." In some senses, "Young Thug" has more in common with "Mos Def," the former rap name of Dante Smith, than with "Cassius Clay," seeing as Williams chose the name when he embarked on his rap career. Still, a young black man being referred to as "Young Thug" against his will is an image that's hard to strike from your consciousness. Maybe that was the bait-and-switch all along.

For purposes of this article, Williams is referred to as Young Thug due to the fact that he has not changed any of his social media accounts to reflect a name change, and due to the fact that No, My Name is JEFFERY was distributed with his stage name still intact.