"Militantly Naughty": Grace Jones and the Compass Point All-Stars
After a string of disco records, the iconic artist went to an island and finally found her true sound
Early in 1980, as disco's death knell was sounding across the United States, Grace Jones arrived in the Bahamas to record the first of three albums she would make at Compass Point Studios.
A fashion model of ambiguous age, self-described "art groupie" and mother to a weeks-old baby boy, Jones had released three disco records by the time she showed up at Compass Point, the nerve center of Chris Blackwell's Island Records. Her music, classic disco with instrumental breaks, long intros and a four-on-the-floor beat, was danceable and meticulously produced. Songs with over-the-top string arrangements and tongue-in-cheek lyrics like "I Need a Man" and "Send in the Clowns" had become gay nightlife anthems. Jones was a regular at Studio 54 and temples of the burgeoning house scene, like the Paradise Garage, where she danced until sunrise.
For years, disco culture was the perfect home for an irrepressible, otherworldly singer like Jones. Even in the 1970s, when Andy Warhol oversaw a "factory" for weirdos and the drag queen Divine ate dog shit on film, there was no one like her.
Female, but masculine; unhinged, but always in control; hair closely cropped, while bright red lipstick and iridescent eyeshadow gave her the look of a fashionable banshee. People were afraid of Jones. "I can just sit there, though, and people get really scared just to come up and say 'Hi.' They think I'm some kind of witch or something," she once told Andy Warhol and Andre Leon Talley. During live performances at the Gallery nightclub she would slink back and forth in a cloud of dry ice, or wear nothing but paint applied by her friend, the artist Keith Haring. She once rode a motorcycle onto the stage at Studio 54. These were expressions of "animalistic energy that was part disco, part theater of cruelty," according to I'll Never Write My Memoirs, Jones's archly titled 2015 autobiography.
At Compass Point, Jones finally became "the me I had worked so hard to be."
It wasn't just the whips, handcuffs or temper tantrums that made her intimidating, however. It was the way Jones embodied freakishness without being consumed by it. She controlled this image, and so it became a sort of jujitsu. A powerful, outspoken black woman was baring her mind, body and spirit onstage. If people were freaked out, well, that was their own problem.
Disco had nourished this freedom to experiment and self-style, but by the late '70s the thrilling amalgamation of soul, funk, gospel, show tunes and rock was slowly but surely becoming a "corporate monster." Jones would not let it devour her.
"I wanted to run naked onstage!" To be seen as "an impossible original beast, only possibly from this planet, a voracious she-centaur emerging from an unknown abyss and confronting people's fears," she wrote of her need to break from the disco world. People tried to drag her cosmic glamour down to earth, comparing her to white women like Lauren Bacall, Marlene Dietrich or even Marilyn Monroe. "It struck me as being a way for critics to take the me out of me," Jones wrote.
In order to make her mark as a singer, Jones would have to shatter the disco ball. She joined forces with Island Records founder Chris Blackwell, who liked that she could scare audiences without frightening them away. Blackwell rallied a diverse group of session musicians and hung a portrait of Jones on the wall of Compass Point Studios. Pictured in black and white, arms folded across her chest, her sleeves stuffed to form pillowy biceps, Jones is a coiled spring, seething with restrained power.
At the Compass Point Studios, three strange, funky, beautiful dance records gave this image the sound it deserved, and Jones finally became "the me I had worked so hard to be."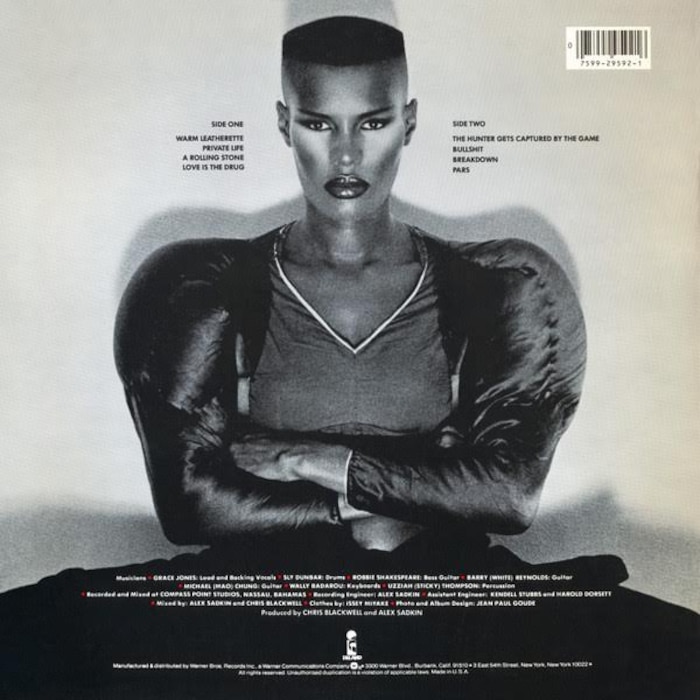 During the '70s, rock & roll – anti-pop, white, male-dominated and allegedly countercultural – was critically revered and imbued with intellectual and artistic value, while disco was derided as corporate, unsophisticated and void of larger cultural significance. But some of the antipathy towards disco among rockers and critics had as much to do with who was creating and consuming disco music as it did with the genre's perceived corporatization. The disco, a world of dancing, extended instrumental and bass drum-driven mixes and debauchery, "broadened the contours of blackness, femininity and male homosexuality," according to Alice Echols, sociologist and the author of Hot Stuff: Disco and the Remaking of American Culture.
Jones found this space for marginalized people to mix, mingle and create intoxicating. After moving to New York City in her 20s to be a fashion model, she shaved off her hair, took a lot of Quaaludes, had her first orgasm thanks to a celebrity hairstylist named Andre and went dancing as often as she could. However, casting agents passed her over for jobs because of her blackness or her masculine look and so she fled for Paris, where she rightly guessed the fashion world would embrace her look and attitude.
The prospect of turning into a "Vegas" act "was a little like my mother asking me to marry a preacher."
Dressed in bones and a "shred of a skirt," she and her roommate Jerry Hall haunted discotheques and gay clubs, where they could dance without getting hit on by entitled, drunken men. Jones reliably found a way to be the center of attention – cracking a whip, hula-hooping topless or wearing towering headdresses. "I belonged in these places, places where you went to perform, to watch others perform – I picked up a lot of the signals that would go into my music," she wrote. Great nightlife, she learned, required the perfect mix of people – gay and straight, celebrities and intellectuals, hustlers and socialites.
Jones craved a stage. Modeling was never the ultimate goal. A song she recorded in Paris attracted the attention of agents for DJ and record producer Tom Moulton. Moulton, a former "Marlboro Man" on billboards, had produced Gloria Gaynor's "Never Can Say Goodbye," "Do It Till Your Satisfied" by B.T. Express and numerous other hits. He was one of the first DJs to remix a record for a club, extending the groove so that the songs would run together seamlessly. Though vocalists like Gloria Gaynor complained that the demands of the dancefloor sublimated the singer in favor of the rhythm section and instruments, these mixes dominated in the clubs.
Jones moved back to New York City and made three disco albums with Moulton, but they didn't share creative control. "Disco was producers' music, not something that emerged more or less organically from garages, basements, street corners, and bedrooms," writes Alice Echols. Listening today, the tracks on Portfolio, Fame and Muse sound like Donna Summer or Candi Staton, soul singing under a slick, funky beat.
Other divas were cashing in with staid dinner shows in resorts and casinos. But the prospect of turning into a "Vegas" act "was a little like my mother asking me to marry a preacher," Jones wrote. A sequined, floor-length gown, coiffed, expansive wigs and the same show night after night would break the spell she had cast on crowds of fellow misfits.
And Jones, smoking cocaine with Marianne Faithful, painted by Keith Haring, drawing inspiration from high fashion and porno shops, was far too magnetic and complex to submit to the demands of Midwestern families on vacation. Her lover, artist Jean-Paul Goude, had been making sharp, hypnotic portraits of her that presented not a woman, or an entertainer, but an idea. Jones quietly arranged to have one published in New York magazine.
In the image, Jones holds a microphone, her body glistening and barely concealed in swaths of red fabric, with one leg lifted impossibly high behind her. Indisputably objectified and exoticized by her lover's camera, the photo, "put me inside my very own fantasy," Jones wrote. It was all "fabulously naughty," and after the world saw that image, there was no way anyone would ask her to wear a floor-length sparkling gown in Las Vegas.
When Island Records founder Chris Blackwell saw the portrait, he didn't know much about Jones's records with Tom Moulton. He didn't care about models, or fashion. But what the man responsible for bringing Bob Marley and the Wailers to American and European audiences did know, was that Jones was Jamaican.
Chris Blackwell gave us some of Grace Jones's records to listen to – to this day I haven't listened to any of the records.
"Chris Blackwell invited us to his apartment, says he wants to do a session with this Jamaican model," famed Jamaican drummer Sly Dunbar told me. "He gave us some of her records to listen to – to this day I haven't listened to any of the records."
While it was true that Jones was Jamaican, she'd moved from the island to Syracuse, New York when she was 12, and had vowed never to return. In Jamaica, Jones had been under the control of her family's extremist Pentecostal church and her grandmother's violent husband, who regularly beat Jones and her siblings and forbid them from playing outside. "The church ruined Jamaica for us," she wrote.
As a teenager in Syracuse, Jones experimented with afros, makeup and fashion. She snuck out of the house, drank and chased bad boys before moving to Philadelphia to join a summer stock cast. There, on a three-day, physician-supervised acid trip, she "became a naked winged woman perched at the prow of a ship... guiding the ship to safety." The point was to "get rid of that old person, but not completely, only the part of me that was under the control of other people."
Now, Blackwell wanted Jones to embrace Jamaican music and musicians. Largely strangers, with no time to rehearse, Blackwell hoped that with the help of Alex Sadkin, a producer revered for his ability to capture live sound, the group would make music "that sounded like you really were" Blackwell told Jones. "All that international input, the different energies, but at the heart of it, very Jamaican."
The rhythm section would be Dunbar, Robbie Shakespeare, a bassist who'd played with Dunbar since they were kids, Mikey Chung, a back-up guitarist for Peter Tosh, and percussionist Sticky Thompson. Dunbar and Shakespeare, known as Sly and Robbie, also played with Tosh and had been gaining attention outside Jamaica for their sound. Dunbar admired Blackwell because he'd produced "My Boy Lollipop," one of the first Jamaican-made tracks to become a hit in the United States and the UK.
Wally Badarou, a French-African funk and jazz-fusion keyboardist who Blackwell had heard on M's iconic track "Pop Muzik," had a knack for inventive and playful keyboards that evoked nature and outer space. In an email, Badarou told me he was "fed with funk music" like James Brown, the Ohio Players, Herbie Hancock, Chick Corea, Weather Report and George Duke. He knew Jones as a disco diva, but he despised disco and hadn't heard any of her recordings.
"Me and my brothers in arms in the '70s believed disco was the exact antithesis of funk. Funk meant hard work, underground and sweat, when disco meant easy money, mainstream and glitter," he says.
Guitarist Barry Reynolds was "a bit drunk" on his birthday when Blackwell called to ask him to come to Compass Point. "I thought he said Gloria Jones, Marc Bolan's old girlfriend. I had to call up again – it was really embarrassing – and ask 'Who?' I didn't really know who she was. I put on a disco album Grace had done and remember hearing some string arrangement. I just thought, 'What the fuck was that?' It was so awful."
Surrounded by a bright, blue ocean and little else, dullness was part of the reason Blackwell chose the location.
Reynolds signed on because he wanted to play with Sly, Robbie, Mikey and Sticky. He had co-written songs for Marianne Faithfull's comeback album, Broken English, and played a sparse, screaming guitar for the record. Blackwell thought Reynolds' guitar and Badarou's keyboards would bring a mid-range to the band. In Broken English, especially on the title track, Reynolds quietly drives the song forward and occasionally injects what he describes as a "weird guitar sound." Clearly a rock musician, the mood of those seemingly random but perfectly placed screeches worked in funk and dance music, too.
They assembled at Compass Point Studios in Nassau, "such a dull island," according to Reynolds. "The sea is beautiful, you can go swimming, but there's really nothing to do." Surrounded by a bright, blue ocean and little else, dullness was part of the reason Blackwell chose the location. Because it was a "blank slate," the island was "a very good place to go and work, if you have done all your own creativity where you live," Blackwell told Caribbean Beat magazine.
Even after the musicians arrived "there was no communication" about the project, says Reynolds. Because of the Jamaican rhythm section and the fact that Jones was Jamaican, most assumed they were making a reggae record. But if so, why were Reynolds and Badarou there?
At first, Reynolds couldn't understand the Jamaican patois and says he and Sticky Thompson almost fought after he accused the percussionist of stealing his cigarettes. But for Dunbar, not knowing what to expect from a session was normal. "Some of the artists we work with, we don't know them, they present the song. We just going to play and set the groove," he says. The band listened just once to the songs they were covering before running the track themselves and "carving out rhythms," according to Dunbar.
First up was The Normal's "Warm Leatherette." Blackwell chose the song because it was big in the gay clubs and the theme – sex and car crashes – resonated with Jones's image:

A tear of petrol is in your eye
The hand brake penetrates your thigh
Quick, let's make love before you die
On Warm Leatherette


That forbidding character leered from the picture on the wall as Jones sang about breaking glass and crushing steel. The band lands on the word "warm." As the note fades, Sly and Robbie hold everything in place. "It fit me like a bloody glove," Jones wrote of the Compass Point All-Stars' sound. She had given up trying to sing as a soprano. "Now that I had lowered my voice I didn't need anything sweet around me," she wrote.
That the group was only as good as its ability to play together live is clear from the spontaneous and excited outbursts of Reynolds' guitar, or the discordant melodies that Badarou inserts into the groove. The musicians fit together like puzzle pieces, but they could just as easily have fallen apart.
The oppressive religious upbringing, and the abuse Jones suffered because of it, had shaped her in some surprising ways. While she was headstrong, independent and free-spirited – determined to never let anyone hold her back – whenever things threatened to veer out of control, she was able to step back from the edge. You can hear the power of this restraint in these recordings: her unwavering monotone, her refusal to break character or devolve into weirdness when the music gets freaky, and the originality of the covers.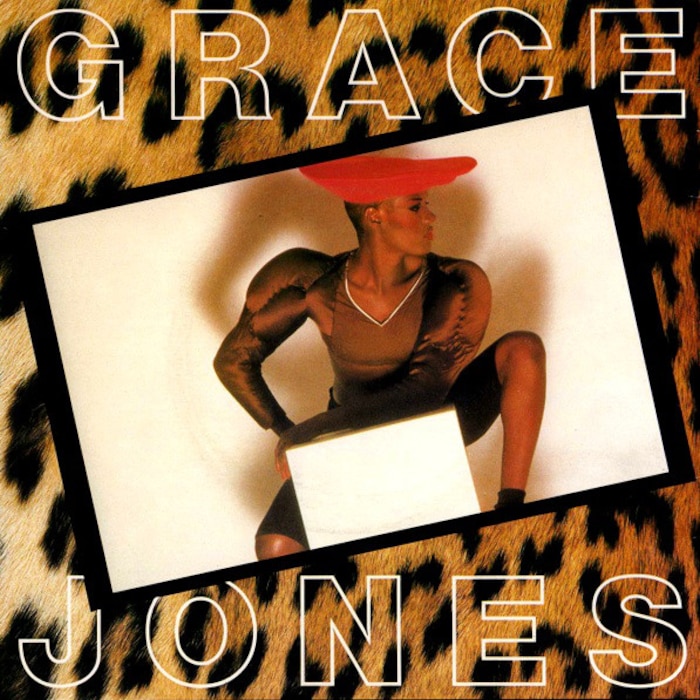 The second song of the session was the Pretenders song "Private Lives." Badarou plays an eerie, chirping keyboard line – like a samba in outer space – on his Prophet 5 organ. Jones's monotone vocals are menacing and unimpressed. "I'm very superficial / I hate everything official" she speak-sings, with a touch of a European accent. Sly and Robbie, again, anchor the song.
"Something strangely beautiful and larger than us was in the fabrics," says Badarou. Like all good funk, it's open and economical at the same time, precise without sounding produced.
"Wow, this is wicked," Dunbar says he was thinking as the group would build up a groove. "Everyone is smiling, Chris Blackwell is smiling. Everybody could sense a sound forming."
Keeping the band uninformed meant each member contributed his own individual sound. "There was a tension between each faction in the group that gave the music both its tightness and its looseness," Blackwell told Jones. "Everyone was responsible for one's own arrangement, improvising and perfecting it throughout the takes," says Badarou, and that difference was by design, giving the music dissonance. It sounds scary, the way Grace Jones is scary: simmering, unpredictable and otherworldly, rather than shocking or traumatic. A smooth kind of creepiness that is funky and exciting. "I remember looking up and Mikey was playing some rhythm and I swear I saw stars coming out of the strings," says Reynolds.
The Compass Point All-Stars recorded all the songs for the Warm Leatherette and Nightclubbing albums in a week. The portrait of Jones that had hung in the studio became the Warm Leatherette album cover. These are not disco records – they're too experimental and new wave. But a song like "Pull Up to the Bumper" wouldn't exist without disco fever. It oozes with innuendo. ("If you think the song is not about parking a car, shame on you," Jones has said about the lyrics.) With its four-on-the-floor beat, and, like so much of the music the All-Stars made, some truly masterful cowbell, it is the Bee Gee's "Night Fever's" cool older cousin visiting from out of town. "Pull Up to the Bumper" is heterogeneous, ambitious and bossy. No matter how unsettled you feel, you never stop dancing.
Grace Jones writes of discovering "a weird sort of community, sharing excitement, enthusiasm, and one another" in the discotheques of Paris. At Compass Point, urged on by the same impulse that brought Jones into the disco world, another "weird" community gathered to create records that transcended it.
As a writer, "Grace is very abstract, almost like, throw everything up in the air and they land and make sense," Reynolds says. When Jean-Paul Goude called Jones an "art groupie" during a fight, she and Reynolds wrote a song with that title:

Some people like to be used
I've been used and amused
But that's the way I see me


She chucks her status as object and muse back at her detractors – it's her name on the records, after all.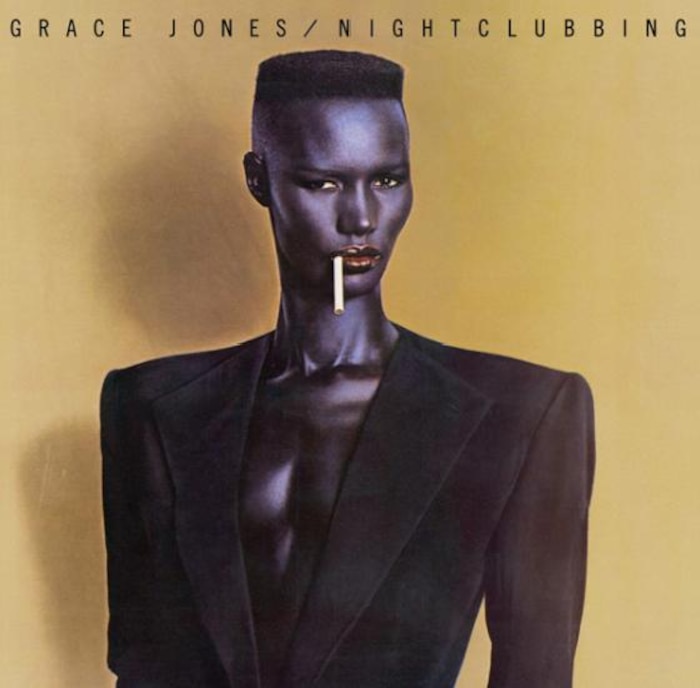 A sound like this needed an image strong enough to carry it. Jones had the image. "Grace is the one up front," says Reynolds. "If anything goes wrong she will get all the flack. If anything goes right she'll get all the praise. But without the band, she wouldn't have done what she did. She would have done something else, and maybe it would have been good."
To some, a woman building her life around her body, her skin color, her proportions and her unconventional beauty might seem retrograde. But there is great power in knowing how you look to the outside world, and taking control of the image. Especially if you're a black woman, a masculine woman – even more so a tall, smart, funny and wild woman.
Because Jones wasn't born in the United States, she says that she was slow to recognize the way racial discrimination was affecting her life. Police regularly arrested her for prostitution when she was riding in a car with her white boyfriend, and casting agents passed her over for jobs, but she still felt free. "I didn't have to ask permission to do anything," she writes. Life in America was full of possibility.
For the recordings at Compass Point to succeed, Jones had to be at the center of the music, signing off on all these weird, wonderful songs. Though this was still dance music – the title song of the second album is "Nightclubbing," after all – the minimal, creepy sound of Compass Point, of ghosts and stalkers lurking in dark corners, defied disco. The music was the perfect stage to showcase the strength, anger, style and humor that Jones had accrued over decades of pain, sex, drugs and fashion.
The All-Stars, "set up the groove and worked out the beats," Jones wrote. "I got in the chariot – but I was out front, leading the procession." Flying back to New York City after the recording sessions, Badarou says Blackwell told him, "I think I have the best band in the world."

Header image: Living My Life cover
Header image © Island Records / Jean-Paul Goude, Rob O'Connor