Where Have All The A Cappellas Gone?
The '90s hip-hop mainstay has all but disappeared, writes Zilla Rocca. Does it need to come back?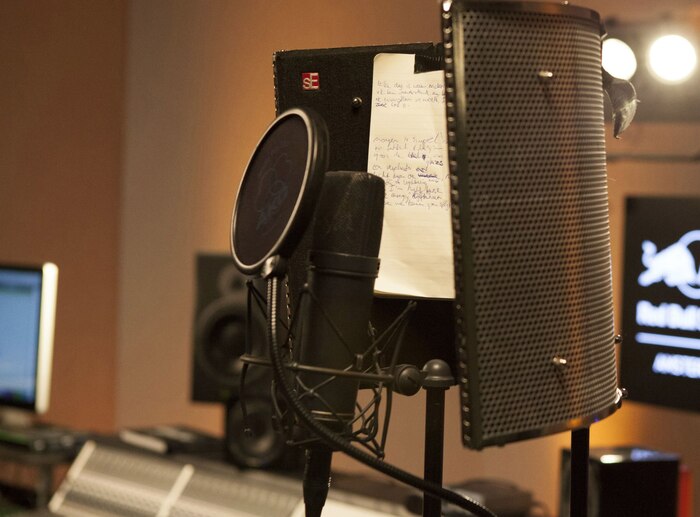 Remember hip-hop a cappellas? You'd be forgiven if you don't. Even though "vinyl is back!", rappers haven't gotten the memo and started issuing 12"s again. With SoundCloud just a click away, you can't blame them. It's a shame, though, because rap was the only genre where labels used to provide a full track of isolated vocals on a regular basis. What started primarily as a tool for blend tape DJ's became a requisite for any producer looking to add punch to a track: Back in the day, you probably weren't able to afford Nas, but you could quickly and easily swipe a bar from the street's disciple for a chorus or an intro.
One of the first hip-hop producers to manipulate a cappellas was Marley Marl, who sampled vocals of his own productions on MC Shan's "The Bridge" and Eric B & Rakim's "Eric B for President." Biz Markie took it even further on "Nobody Beats the Biz," a track that inspired DJ Premier to build choruses strictly off vocal samples.
Gradually, isolated vocals became a staple in rap production. There are plenty of classic examples: Madlib and J Dilla played double dutch with the rowdy and rugged vocals of Billy Danze and Lil Fame's classic jewelry jacking anthem "Ante Up." Lyrics from Mobb Deep's "Shook Ones Pt. II" spun-off dozens of choruses and songs titled after the grim, nihilistic Queensbridge rules of engagement like Godfather Don "Stuck off the Realness," DJ Hype "Closer to God" and Brother Ali "Think It Through." Nas' vocals from "It Ain't Hard to Tell" have been sampled 95 times alone according to WhoSampled.com.
"Labels would offer up dirty and clean versions, the instrumental, and the a cappella," DJ House Shoes told me. "The instrumentals were originally to be used for music beds to talk over on radio, and the a cappellas for remixers and, later, for DJs to create their own versions over different instrumentals on radio mix shows." Another creative spin on a cappellas were blends and mash-ups. "In the mid-'90s, I was a DJ before I was an MC," says Blueprint, who has put out records for close to 20 years. "We would use those a cappellas to do live remixes, which would later be called 'mash-ups.' The mash-up DJs that took off in the 2000's were the natural progression of that."
At the time, a cappellas also helped refine a producer's approach. This was before you could shake a tree and find 50 rappers falling to the ground with bars on deck. "When I first started producing seriously, a cappellas were essential. Rappers were usually so unreliable, it was the only way to hear people rap over your beats," says J-Zone, the longtime producer/rapper/drummer.
The file trading boom of the late '90s/early '00s unlocked access to a cappellas previously only held by vinyl collectors, DJs and serious producers. "When everyone was finally online 24/7 via DSL/cable modems around 2002, there were numerous message boards and online communities that began to share them," says Dart Adams. One of the savviest moves Jay-Z ever made (and rarely talks about) was the release of The Black Album a cappellas in 2003. What followed was an onslaught of early internet remix projects. The number of remix albums built around Jay's vocals went into the triple digits. It launched the career of Danger Mouse into the stratosphere, solidified the standing of a young 9th Wonder and rekindled interest in longtime underground producers Kev Brown, Kno of Cunninglinguists and K-Def.
That moment marked a tipping point for rap a cappellas. So did the (first) death of wax. "By 2004, it was super rare to see one on vinyl," says Dart Adams. Most rap singles eschewed a cappella tracks altogether by the mid-'00s. "It really came down to adding non-album bonus material or more alternate versions of the main song, and the artists who were still pressing vinyl in the early '00s usually chose the former," explains J-Zone.
The other driving force behind the demise of the a cappella was the hunger for more instrumentals, a growing market boosted by the thousands of aspiring rappers empowered by early social media outlets like MySpace, Soundclick, and IMeem.com. "Instrumentals became far more sought out by MySpace rappers and bedroom MCs than a cappellas, making them all the more scarce," says Dart Adams. From a DJ's point of view, House Shoes says, "I would much rather buy a record with two or three tracks with instrumentals included than to buy a 12" with only one song [and a cappella]."
A cappellas aren't exactly scarce these days. People are still trading files on message boards, but it's rare to find someone on SoundCloud or DatPiff offering up an a cappella of a track. That means that producers are looking elsewhere for additional vocal material. "Around 2011, I started learning how to make a cappellas from scratch," says DJ Critical Hype, the blend tape specialist who has melded newer artists like Danny Brown and Kendrick Lamar vocals over classic instrumentals from Wu-Tang Clan and A Tribe Called Quest. "They are called DIY a cappellas. For the most part, I use the studio version of songs. A lot of tips and secrets I've learned the past few years have made my [DIY] a cappellas a lot stronger."
Since most producers aren't able to replicate DJ Critical Hype's isolated vocals from scratch, they have done the next best thing: ripping rap battles from YouTube. Rap battles are a time-tested source of liberated rhymes. One of the most famous battles ever, "Basketball Throwdown" by Cold Crush Brothers and The Fantastic Five, has popped up on records by Jurassic 5, Sublime, Gravediggaz and Shaquille O'Neal since it first appeared in the 1983 film Wild Style.
Today's battle rap circuit has sired hooks for artists such as Westside Gunn ("Chine Gun") and Knxwledge ("Mywordk[blurri][TWRK]_"). Kanye West and Jay-Z referenced Eli Porter's infamous battle from 2007 on Watch the Throne's first single "H.A.M." Vex Ruffin, meanwhile, took it a step further with Stones Throw cigar splitter Koreatown Oddity's "Fuck Dinosaurs" by sampling the GZA spazzing on a fan at a live show off of YouTube.
Nonetheless, it's clear that the days of a clean, isolated vocal offered up for free is gone. Sure, we have a cappellas on stage and on video, but when will we start to hear more rappers putting them in their next DatPiff zip file? Where have all the a cappellas gone?
"Even though vinyl has recently made a comeback, the a cappellas haven't been included in that resurgence. I would love to see them come back," says Blueprint.
If labels and artists continue to ignore the demand of a capellas, producers and DJs will keep clawing around for the tools they desire because no bassline or hi-hat can convey the joy, anger or menace like the raw emotion of the voice. The same way James Brown ad-libs accentuated nearly every beat of the late '80s/early '90s with his grunting "Good Gawd!" is what drew people to Young Jeezy's cavernous ad-libs of "Ha ha!" in the early 2000s. DJs and producers want these recordings of a rapper's voice on their beats because hip-hop has always been guided by voices.