The Machine and the Poet
Jean Sauvageau was an instrument inventor, Claude Péloquin a fiery poet. The two combined to make one of the weirdest albums ever
If you stepped into the Youth Pavilion of the 1967 Montréal International Expo, you might not notice the exits locking behind you. The innocent-looking young man with curly hair and glasses named Claude Péloquin didn't seem all that scary anyway, standing there, microphone in hand. But then all hell broke loose. Insanely loud electronic space sounds came from a machine made of keyboards, wires and oscillators from the powerful speakers surrounding the room. And Péloquin's angel face turned to demon as he harassed the crowd with tales of laser-beamed mutants and space-age poetry laced with expletives. Suzanne, a beautiful scantily-clad dancer, gave a performance while video feedback was broadcast on the walls. It was a happening, and it hit the peace-and-love visitors of the Expo with full force.
The theme of the Expo that year was Terre des Hommes, Man and His World. The futuristic electronic space sounds and music heard on site was the work of a 22 year old musician named Jean Sauvageau and a machine he nicknamed, aptly, Machine. "I was young and the only one to have easy access to sounds [like that]. We started working on the Expo music in 1963 and there was nothing around that could provide electronic music and sounds in such quantity. The Machine I built became famous then," recalls Sauvageau.
We were not political. We were planetary. We were beyond the revolution. We were about consciousness.
It's difficult today to fully understand the impact of the 1967 International Expo on Montréal. For the flower children of the time, most of them raised under a strict Catholic upbringing, the entire world literally came to their doorstep. When the doors to the Expo opened on the 27th of April 1967, on Canada's 100th birthday, 250,000 people flooded its gates (twice more than expected). In the next six months, more than 50 million visitors would set foot on the man-made islands. It was the most successful expo of the 20th century.
Sauvageau didn't start out as an obvious synthesizer pioneer. A percussionist, he started his own band at the age of 12 with his friend Tony Roman. (Roman was to become a musical powerhouse in Québec, later releasing the albums of Jean-Pierre Massiera.) Performing at weekend dances, the band started to attract attention and Sauvageau was soon hired to play drums for free jazz bands, even replacing Tony Williams. "Herbie Hancock told me: Don't try to play fast, play slow," Sauvageau reminisces. His frequent car trips to New York's Village Vanguard fueled his taste for the avant-garde. "The jazzmen also introduced us to weed. We were all crammed in the bathroom trying to get a hit of a joint." To perfect his musical skills, Sauvageau started to study with Pierre Mercure, a Québécois pioneer of Concrète and Serial Music who performed at Fluxus concerts in New York.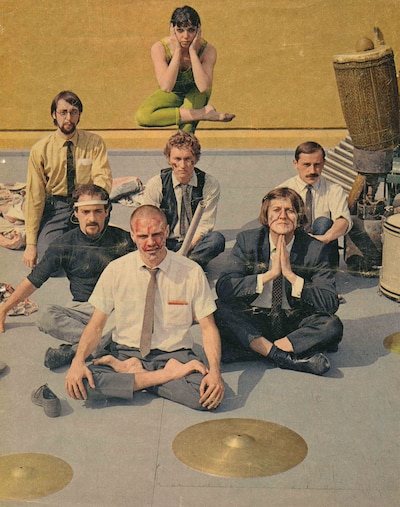 Meanwhile, in the bars and taverns of '60s Montréal, painters and poets were coming together to stage Happenings. A group of avant-garde artists named Le Zirmate were wreaking havoc in the bars of La Belle Province by creating performances uniting painters, dancers, poets and musicians, Sauvageau among them. The group was led by Claude Péloquin, Québec's poet wild child, a cross between Bob Dylan and Charles Bukowski. "When I first met Claude, he was in a bubble bath, drinking those little beer bottles. He drank just half so they would float around. He found that very funny," remembers Sauvageau.
The performance group made headlines when, as guests on a children's TV show on the Canadian Broadcasting Corporation, they completely destroyed a long piano, scaring the children and the host. "We were not political. We were planetary. We were beyond the revolution. We were about consciousness. We were closer to the Fluxus group, and to people like Ferlinghetti. We liked to shake things up," says Claude Péloquin.
At the end of the '50s, fascinated with the possibilities of electronic music and frustrated with the costs and rigidity of the available gear of the time, Sauvageau started building his own Machine with oscillators and electronic parts shipped from Britain and Germany. Eventually, Sauvageau began to perform with this machine the size of a kitchen. Université de Montréal's faculty guest Karlheinz Stockhausen was among those who took notice, spending every evening of his week-long visit in dark basements, listening to the electronic bricolage of Sauvageau.
Sauvageau's Machine used a Compact Farfisa Organ as its base. Connected to the keyboard were a wide range of self-fabricated objects. "The Farfisa was what I could afford back then, so we ripped it apart and connected it to other oscillators. I once had more than 30 oscillators in sequence, each controlled individually. It was the only thing at the time that enabled us to play chords. Moogs couldn't do that." Sauvageau started using the machine not only to create electronic sounds but also change the tonalities, pitch and waves of instruments' inputs during live performances, a feat in an era when most electronic machines were capable of producing one sound at a time. Essentially, Sauvageau's Machine was a modular programmable polyphonic synthesizer.
"Moog was an engineer, so was Hugh Le Caine, none of them were actual artists in need for a tool aimed at stage performances," Sauvageau explains. Nonetheless, Robert Moog heard of Sauvageau's Machine and even visited his basement. Impressed by Sauvageau's accomplishments, made by a man alone in his studio, Moog invited Sauvageau and Péloquin to his Trumansburg, New York facility. "I was curious but I also went there looking for a Crystal Oscillator. It was on September 17th, 1971. I remember it well because it was the day of the Attica Prison riots, which was in the next town. Border officers were nervous, especially with Péloquin in the back of my Triumph TR-6!" recalls Sauvageau.
Claude Péloquin was the bad boy of French-Canadian poetry, known for his stage antics and first published at the age of 19. In 1968, he penned the lyrics to "Lindberg," a song by rising star Robert Charlebois. The song's immense success in Québec propelled them to Canadian stardom, and is still considered the seminal song in Québec's musical coming of age.
In 1970, Québec city's newly built Grand Theatre ordered a massive artwork from Catalàn sculptor Jordi Bonet, a mural of 11,000 square feet. Bonet, a controversial artist, asked Péloquin to carve some of his poems in the fresh cement of the gigantic mural. Among them, the line "Vous êtes pas écoeurés de mourir, bande de caves. C'est assez!" ("Aren't you fed up of dying, bunch of assholes. It's enough!") created immense controversy. An aging writer of the day, appalled by the vulgarity of the quote, raised a petition of 8,000 names to remove the offending line. Despite the debate, the sentence remains – to this day – etched in concrete.
The duo of Péloquin and Sauvageau was an odd one, personality-wise. Péloquin, hot-headed and wild-eyed, Sauvageau, measured and technical. But the collaboration made sense when they came together for the Expo and live performances of Le Zirmate. Eventually, they decided to record an album. The first track they worked on together was "Down the Drain," one that featured in their Expo performance. They knew they had something, however, when they composed "Monsieur l'Indien."
Recorded in one take, "Monsieur L'Indien's" haunting loops were created using an analog/mechanical hybrid: small motors rotated an arm equipped with magnets which triggered pre-programmed sensors featuring snares and bass sounds, like the Wurlitzer Sound Man. Péloquin's contribution was a haunting spoken word piece about civilization slowly taking over First Nations by building high voltage electric lines around Monsieur l'Indien's house. It was a slap in the face of Québec's government, who had nationalized hydro-electricity some ten years earlier. "Frontiers are the hemorrhoids around a nationalist rash," says Péloquin.
The album, which would eventually be titled Laissez-Nous Vous Embrasser Où Vous Avez Mal (Let Us Kiss You Where It Hurts), only got stranger from there. "Emiliano" featured a conversation between Péloquin and a man named Pepinn, playing two seemingly absent-minded drunk terrorists. The two clowns are looking forward to blowing up a train with dynamite but, as more beers are imbibed, the train passes and the dynamite is later used for fireworks rather than revolution. The entire track, with beers opening up and trains passing in stereophony, is reminiscent of Pink Floyd's "Alan's Psychedelic Breakfast." It's also a nihilistic look at that decade's social upheaval and quests for revolution. For Péloquin, there was "only one revolution and that is the one against death."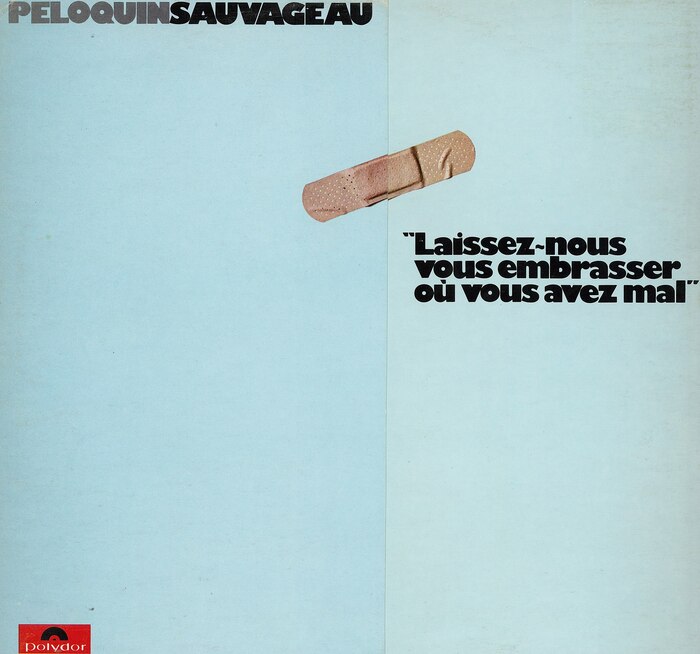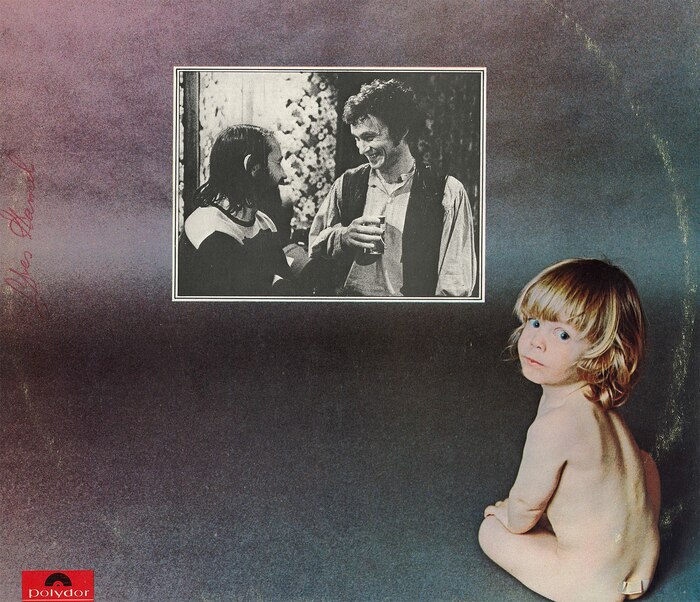 "Mama Vagina" was little more than a repetitive string of toilet talk spit out in a loud, maniacal frenzy, accompanied by a rough fiddle tune and EQ-filtered electronics bloops. "Sterilization," a topic that Péloquin was well acquainted with (he undertook the process at the age of 24 as a radical artistic gesture), was delivered in English – a heresy in '70s Québec, where protection of French language was upheld as the highest moral value. "Juan Rodriguez, a FM disco jockey, played the entire album and got fired the next day!" laughs Péloquin.
Even the album cover was controversial, featuring a Band-Aid tying the cover together. On the back, the Band-Aid covered the butt crack of a young child, looking plaintively at the camera. The scatological signature of the concept art is also reprised when you see the name of Side A of the vinyl version (Fesse, the French word for butt crack).
If he were to have had access to financial backing, Sauvageau's Machine was a serious contender to become the first mass-market polyphonic synthesizer.
At the time of its release in 1972, the album was lauded by critics and panned by audiences. It was re-released in France in 1977 with the modified title of Monsieur l'Indien (now simply credited to Claude Péloquin) where it sold nearly 20,000 copies, but the album's failure led Sauvageau to retreat to his studio and dedicate himself to composing for commercial ads, films and avant-garde theater.
Péloquin went on to record at least four LPs with different groups. He also provided more lyrics to Robert Charlebois in the '80s, albeit with a very toned-down attitude. He's still very much a provocateur and eccentric poet even today, though. In 2009, he got into a very public fight with an old friend, Guy Laliberté. The eccentric Cirque Du Soleil CEO had commissioned a poem to be recited during the millionaire's voyage into outer space. Péloquin refused to sell the rights, eventually reading it in a Montréal bar – a sad turn of events for a free spirit obsessed with the cosmos.
The soft-spoken Jean Sauvageau lives today in Outremont, his demeanor calm and his memory staggering. Although he doesn't crave attention, there is a sense that he missed an opportunity with the Machine. If he were to have had access to financial backing in those days, Sauvageau's Machine was a serious contender to become the first mass-market polyphonic synthesizer. What remains is a single album – a fantastical moment when two creative minds came together in a city bursting with possibility – that deserves to be rediscovered.
Header image © Jean Sauvageau