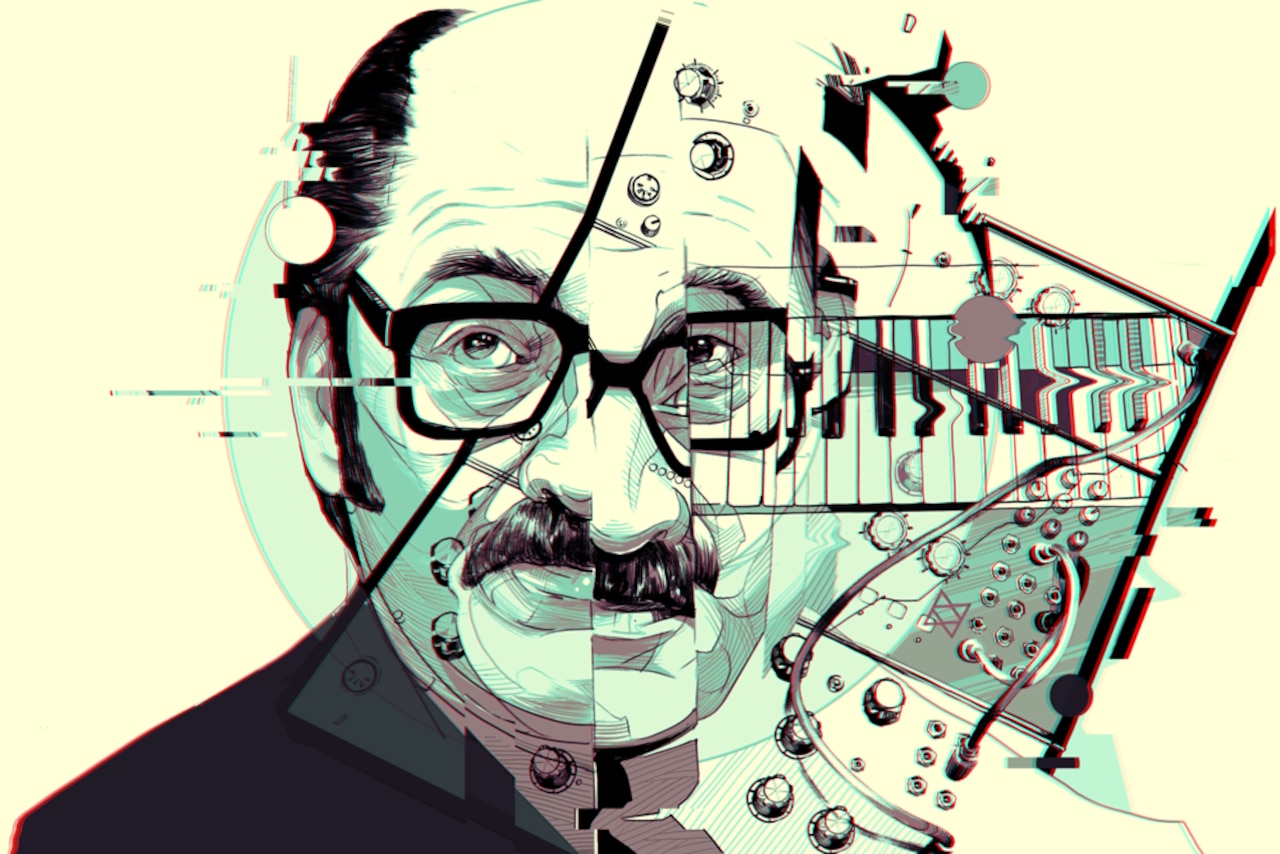 Mort Garson
Sophie Weiner breaks down the varied works of Mort Garson, the musician who helped make synthesizers the sound of the future
It's hard to imagine now, living in an era when every computer and telephone comes with the ability to make electronic music, but a mere 50 years ago access to synthesized sounds was rare and expensive. In the late '60s, very few of these complex new machines called synthesizers (or often just "Moogs") had been sold. Even fewer were in the hands of actual musicians.
But there were exceptions – and Mort Garson is one of them. Little talked about today, Garson was one of the most important early electronic music pioneers. He was responsible for the first album ever recorded using a Moog synthesizer on the West Coast, the composer of countless jingles and TV themes and the man behind strange, obscure records with names like Black Mass Lucifer and Plantasia. Perhaps more importantly, he soundtracked the Apollo 11 mission and inspired one of the most well-known pieces of video game music ever written.
Yet Garson isn't a household name, even among those-who-know names like Wendy Carlos or Jean-Michel Jarre. It begs the question: How was Garson's music so ubiquitous while the man remained so under the radar?
Garson is often referred to as a Canadian musician, but that's only technically true. He was born in 1924 in the city of Saint John in New Brunswick, Canada, to two Russian Jewish refugee parents. While Garson was still young, the family relocated to New York City, where he spent most of his formative years. He picked up the piano around the age of 11 and from that moment was single-minded in his pursuit of a career in music. He studied at Juilliard and began working as an arranger and pianist during World War II, before serving a brief stint in the army.
Returning from the war, Garson threw himself into composing. He quickly ascended through the ranks of studio arrangers, working with artists like Brenda Lee and Cliff Richard in the late 1950s. His big break came in 1963, when his arrangement of "Our Day Will Come" by Ruby and the Romantics' hit #1 on the Hot 100 Billboard chart and sold over a million copies.
"Right after 'Our Day Will Come,' we packed up and moved to California," Mort's daughter Day Darmet remembers over the phone from her catering business in San Francisco. "My dad immediately started exploring everything to do with movies and commercials. He started working with Doris Day. It was just a totally different ball game."
Through the mid-'60s, living in Los Angeles, Garson worked with dozens of pop artists, arranging The Sandpipers' massive hit "Guantanamera" and the strings on Glen Campbell's "By the Time I Get to Phoenix." Synthesizers came into the picture in 1967. Robert Moog, the creator of the revolutionary Moog modular synthesizer, came out to Los Angeles that year for the Audio Engineering Society's West Coast convention. Garson and Moog met at the Hollywood Roosevelt Hotel, where the gathering was taking place, to talk about the possibilities for commercial music using the synthesizer.
By then, Garson was already working on his first synthesizer album, which ended up being the first LP using a Moog synthesizer recorded on the West Coast. The Zodiac: Cosmic Sounds was a psychedelic mixture of standard rock & roll and orchestral instruments, synth lines and groovy astrology-themed spoken word, released on Elektra Records in May of 1967. (The Moody Blues would later write that it inspired their iconic album Days of Future Passed.) While in Los Angeles, Robert Moog attended a recording session for the album, which Garson arranged with future Moog West Coast sales reps Bernie Krause and Paul Beaver. Attending the sessions helped show Moog the synthesizer's possibilities as a commercial instrument.
Around that time "Bob [Moog] was thinking, 'Is it worthwhile being in this business?'" says Trevor Pinch, co-author of Analog Days: The Invention and Impact of the Moog Synthesizer. "[Seeing the session] gave him hope for the future."
Millions of people across the country watched humans take their first steps on an alien surface soundtracked by the future: the Moog synthesizer.
Not long after, Garson bought his own Moog, making him one of only 28 musicians who owned one of the machines by 1970, according to Thom Holmes, musician and author of Electronic and Experimental Music.
"I wouldn't call [Garson's music] experimental, but he invented sounds on the Moog," Holmes explains. "He was working in a time when no one really knew what direction to go in [with electronic music]." That meant that anyone who owned one of the $15,000 instruments (the equivalent of about $90,000 today) was a de facto pioneer of what the Moog sound would become. "The Moog did not come with an operator's manual, literally," Holmes says. "People would work with little sheets of paper that would show where the patch cords went. They would draw those and keep them and refer back to them."
After purchasing his Moog, Garson became an extremely prolific writer of jingles, television and movie soundtracks. "I don't think anybody can overstate the value of getting the music into the marketplace in the very clever and understated way that Mort did," says Chris Geissler, Moog Music's Modular Production Manager. "The jingle work he did got the sound of the Moog into radio and television. The sound became more familiar and recognizable. People kept saying, 'Oh I've got to have one of these things, because now in order to make jingles, I have to be able to make these sounds.'"
"[Robert] Moog himself said that the jingles were important because they domesticated the sound," Pinch says. "Once you're hearing it in a jingle, it's like wallpaper... It's everywhere, but it's not really noticed."
In 1969, the Moog sound took another step towards ubiquity. Garson was asked to compose a six-and-a-half minute piece to be played alongside the footage of the Apollo 11 crew's first moon walk. Millions of people across the country watched humans take their first steps on an alien surface soundtracked by the future: the Moog synthesizer.
"The only sounds that go along with space travel are electronic ones," Garson told the Los Angeles Times before the music aired. It was a self-fulfilling prophecy: Garson's composition helped to cement the connection between space and the sounds of electronic music in the minds of the American public.
The day of the moon landing was also Garson's 45th birthday. "We always did a party on my dad's birthday," Darmet said. "So he had all of his musician friends gathered around the TV... I think at that point I could see some different kind of importance for my father."
After 1970, Garson continued his commercial work – on jingles, game shows and soundtracks – while on the side he released stranger projects. Darmet believes that these synthesizer albums, which include several occult-inspired records and Plantasia, an album meant to be played for plants, were a creative outlet for her father, who felt a responsibility to make enough money so his family could lead a comfortable life.
"He was always just about the music. He was never really about the money," she says. "My mom was about the money. My mom wanted to have the check on the table. My dad was about the adventure of writing it, the challenge of writing it. I don't think that he was inspired by the fame of it. Then, at a certain point, he had made a chunk of change, and he needed to keep making money just to keep that lifestyle. When he started getting involved in the electronic pieces, my mom did not really see that as a money-making venture. Actually, she was kind of right."
The result is that Garson's most heard work is also his most anonymous. None of his sound effects for TV game shows like Gambit or Battlestars are available to buy. His jingles are also largely lost to time. It's the esoteric albums that have lasted, even if the audience for Moog covers of songs from the musical Hair or a hip parody of The Wizard of Oz called The Wozard of Iz is probably even smaller today than it was at the time.
Though the basic facts of Garson's life and output are available online, filling in the details of what kind of person he was – or what drew him to create music using tools that almost no one at the time had access to – is difficult.
Garson's most heard work is also his most anonymous. None of his sound effects for TV game shows like Gambit or Battlestars are available to buy.
"One of my favorite things that I know about Mort was that he would be wandering, going out for a daily walk or something out in the streets and he would just start singing these melodies," Geissler said.
Bob Moog, for one, was impressed by Garson's work, particularly when reflecting on the soundtrack to the moon walk. "We would talk about things like this and [Bob] would tear up, because he was so humbled that the thing that he made would have that much of an impact," Geissler says.
After the '70s, Garson's work became more obscure. Darmet's older brother, who was a successful fashion designer, contracted AIDS, became sick and eventually died in 1984. She and her parents moved to France for several years to get through the difficult time. "I think that there was no other focus in our family [at the time] other than that we had had a tragedy," Darmet says. "There wasn't a lot of art that was going on. There wasn't a lot of anything going on. I mean, we were trying to get through it."
But she says her father never stopped writing until his death in 2008. "He still kept his studio, he wrote every day," she says. "He never stopped. We have boxes and boxes and boxes of my father's music. Because I don't understand music, I don't read music. I have tons of music that could be really important, but I don't know what to do with it."

Pour lire la version française, cliquez ici.

Header image © Oliver Barrett