A Permanent State of Partying
Jean-Yves Leloup explains why the house and techno scene in the French capital is stronger than ever
While the New York Times and its French counterpart Le Monde were pre-emptively writing its eulogy just a few years ago, it's now clear that Paris' nightlife was merely hibernating. In fits and starts, promoters were turning their backs on the stalwart venues and old tricks, choosing to go back underground – quite literally in some cases. With a slew of parties now happening in all sorts of venues, from warehouses and squats to catacombs and bunkers, we decided to go spelunking with some of Paris' most fearless new collectives.
A Tour of Paris
A Saturday-night rendez-vous at Gare des Houilles, a commuter train stop in an unremarkable residential patch beyond the former industrial areas located beyond farther still the 9-to-5 district of La Défense. Soldiering on through a monotony of quiet villas, we walk for 40 minutes until we reach some sort of informal dumping ground. Escalating a mound of construction debris reveals a corridor of greenery leading to a disused mushroom farm. As we adjust to the brusque change in climate, we survey a suite of immense chalk-colored rooms. "The best part of throwing a party here happens before you even hear the first kick drums," says the Chant De La Machine collective's Thomas. "Setting up in the dead quiet is always a contemplative experience."
"The one I remember most fondly is our second edition – the one we had in the Catacombs," recalls fellow collective member Hadrien. "It was without a doubt our most irresponsible and thrown together party. We started planning a week in advance and just sent people a little map with an X marking the spot, a sewer grate on the street. The actual location was a 15-minute walk through the labyrinth with nothing but a flashlight. Most of the guests had never even been down to the 'official' Catacombs."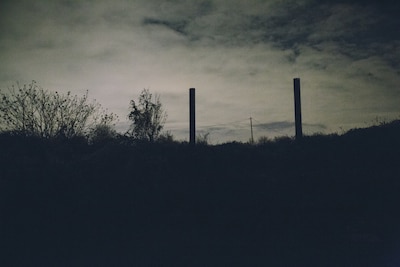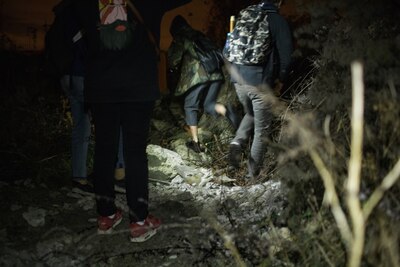 Later that day, we head to a cavernous concrete space located under the Périphérique ring road, close to Porte de la Villette, a roundabout generally populated by refugees, the homeless and a few strung out partiers. Inside, the middle of the room has become the unlikely host of what looks like your typical vegan co-op, with its mismatched thrift-store furniture, crockery and dishware. But the Freegan Pony is more than just a café: it is also a nighttime haunt, which on this evening looks like a scene straight out of Fellini. On the walls, blow-ups of Jacob Khrist's photos documenting some of the venue's most debauched parties look down over the dancefloor's polysexual crowd, their silhouettes cutting through a cloud of luminous dust and cigarette smoke. That this is happening a few meters away from the strict ballet of the highway that coincides with the city's limits underscores the Freegan Pony's role as one of corporate, big room-saturated "intra-muros" Paris' last den of clandestine nightlife.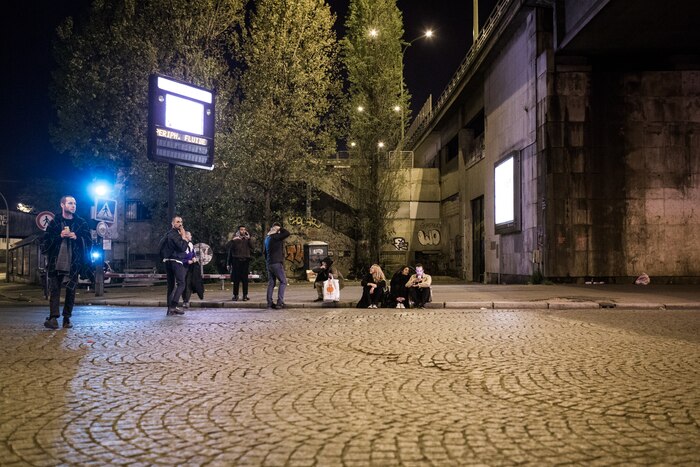 A few hours later, we migrate once more to a sort of no-man's-land located somewhere between Paris and the former industrial suburb of Pantin, where Champs Libres has set up its headquarters in a non-descript building. The former sweatshop's basement is composed of two rooms, whose cinderblock walls echo an equally dark and brutish form of techno. The first has been fashioned into a sort of lounge, with wood pallets and throw pillows strewn about, while in the other a dancefloor throbs with an androgynous crowd of art students, artists and other freaks, whose black, minimalistic uniform evokes the early days of goth. Surprisingly, the atmosphere is warm and relaxed, almost familial.
Flash forward to the next afternoon. While Champs Libres' founders haven't yet fully exited their teenage years, Microclimat's are well into their 40s, and – some will say accordingly – they have elected a clearing in the Bois de Vincennes' wilderness as the site of today's event. On this sunny summer's day, we find a gaggle of kids playing alongside novice clubbers and old-time burnout ravers, in an atmosphere that goes from block party to pastoral rave as the sun sets.
The common thread between these seemingly disparate collectives? They are all trying to reinvent the city's party scene by exploring greater Paris, looking for the ideal spot in which to host mystical events.
Come Together
Paris' electronic music scene (some would say France's at large) has evolved drastically since the dawn of the decade. The 15-to-24 demographic has embraced the dancefloor as more than a mere space, but as a generational signifier, giving way to the success of pioneering events such as We Love, Concrete and Weather, and to the multiplication of inner-Paris clubs – not to mention the now-innumerable festivals.
It's entrepreneurial, in the more positive sense of the term: rolling up one's sleeves to cooperate on new projects.
And as in all subcultures, there is a contingent of early adopters with a burning need to keep things moving. Reacting against the bigger clubs' overly-mercantile ambitions, overpriced drinks and paranoid security, not to mention the lopsided DJ star system and the scene's overall stasis, they took the path cleared for them by early ravers and free party agitators, in search of a new ethos – a party utopia perhaps, where a new type of conviviality (verging on communion) and the unhindered pursuit of pleasure combine with autonomy and thrift, with formerly unexplored spaces as their new homes.
Starting in 2010 and cresting around 2013, countless collectives and promoters came out of the woodwork: Otto10, Alter Paname, Fée Croquer, Souk Machines, Le Camion Bazar, Order, Off, Drøm, Le Chant de la Machine, 75021, Berlinons Paris, Die Nacht, Beat X Changers, La Mamie's, Cracki, La Dynamiterie – to name but a few – each with its stated aesthetic and demographic, resident DJs, modus operandi and chosen territory. Some finance their parties with more official activities such as record labels or booking/event planning agencies, while others, donning the cloak of anonymity, capitalize on volunteering and resourcefulness to squeak by from one event to the next.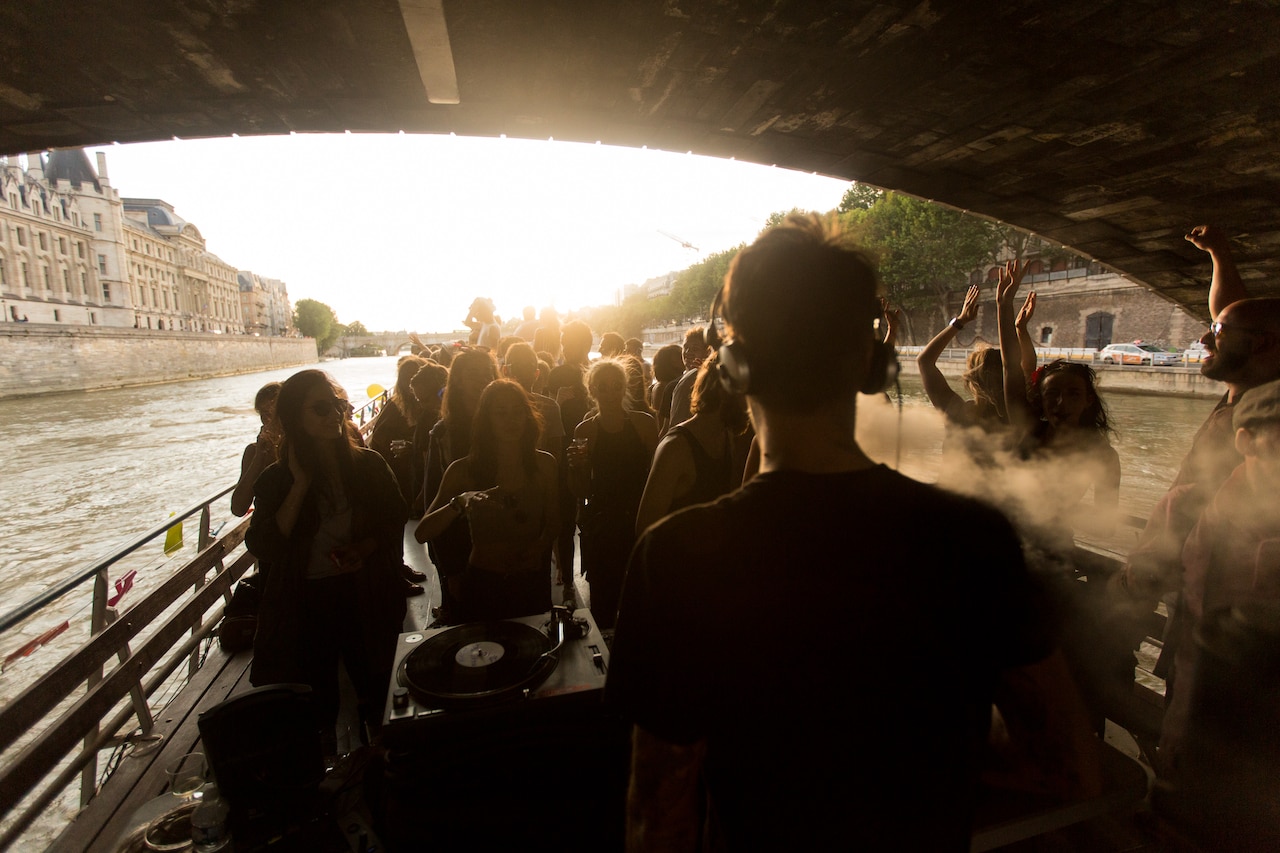 On the flipside of the mega-clubs and festivals, their events retain a more human scale of no more than a thousand participants, dancing past the dusk into broad daylight over (mostly) electronic beats. And while the genre's multitudes inform a continuation of the rave ideal, music often takes a backseat to the magic imbuing a given space, expressing a desire to transform the codes of nightlife, instead shining a spotlight on camaraderie, cooperation and solidarity – as if techno remains but a soundtrack to the era rather than its embodiment or ideal.
According to Julien Haguenauer, a producer/DJ who founded label Dement3d, a common spirit pervades all collectives from the more professionally ambitious to the most utopic. He defines this new culture as "entrepreneurial, in the more positive sense of the term: rolling up one's sleeves to cooperate on new projects," a sort of micro-capitalism presenting a more humane face, which "even the most anti-liberal among us" have opted in, realizing that this economic microcosm is what allows them to sustainably continue putting on their events.
One of the first phases of this mutation was the revival of Paris' warehouse culture, following in the footsteps of the Berlin scene, which, starting in the early 2000s, had begun reclaiming immense disused industrial spaces – perfect canvases for an alternative scene, and ideal echo chambers for powerful, industrial techno. "Berlin's club community, with its bohemian ideals and its trashy, sweaty aesthetic has indeed influenced the French clubbing psyche," admits Julien Haguenauer. "I believe the trend is predicated on a sort of nostalgia for a lost past. Techno is no longer like it was when it was coming up in the 1990s, this sort of futuristic spaceship that was shuttling a new generation into the future, fueled by a utopic vision of man and machine merging. Nowadays, it's more of a romantic holdover, evoking an allure of decay. What a large proportion of those parties' guests seek is an experience, not so much an all-star line-up. What they want is a sense of freedom, a sort of magic, and if the space has that 'it' quality, then it all comes together."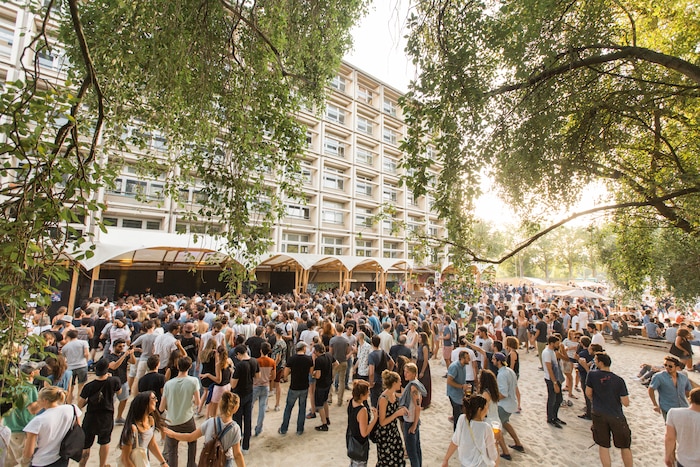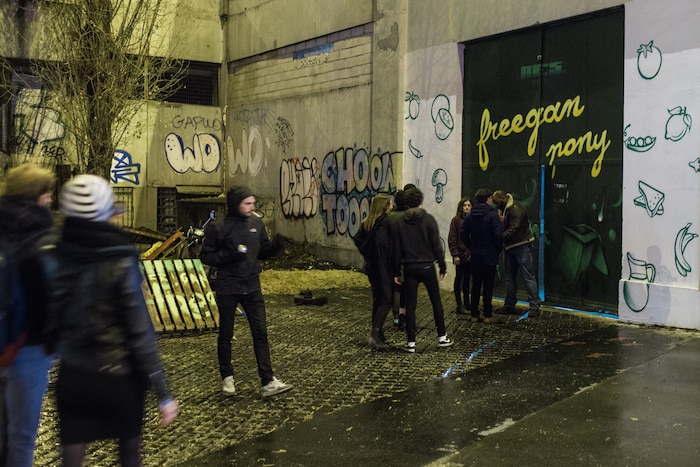 This Must Be the Place
Souleiman Bouri, founder of electronic music web site Phonographe Corp and its namesake club night at La Rotonde, tempers this enthusiasm: "current warehouse parties attract a very young audience, which is seeking this sort of ersatz rebellion. This audience isn't so much concerned with musical innovation, which I wouldn't say is unique to the Parisian scene."
A closer look reveals that techno parties are far from being bound exclusively to the warehouse ideal: Microclimat's parties, which have been organized by old-time ravers on a purely volunteer basis since 2012, are upholding the values of a simpler time – the 1990s. The collective aims to eliminate all restrictions, claiming public spaces and operating outside of the system with the goal of bringing back rave's values of love and respect.
I feel proud when I realize that women feel comfortable enough in a space to go topless. It means the atmosphere is just right.
Aladdin Charni, who claims to be overwhelmed with boredom every time he sets foot in a club, decided to focus on making revelers feel welcome under the aegis of his Poney Club, Pipicaca, or his nights at the Freegan Pony: "I often tell people that from this point on, they've left Paris, they can take off their mask. That this is an alternative dimension, a bubble of freedom. But that freedom does not equate 'let me just piss wherever I want and tag walls,' as often happens. The space must be respected. Once that's agreed upon, everything is fair game. I feel proud when I realize that women feel comfortable enough in a space to go topless. It means the atmosphere is just right."
Beyond even this quest for freedom, the parties thrown by Otto10, Microclimat, Champs Libres, Mamie's, Alter Paname or the Camion Bazar call for a renewed sense of participation from their guests, reclaiming the place of ravers as the center of the event, in the days when the show was on the dancefloor rather than in a circle around the stage or the DJ. Some of them even deploy large-scale interventions within their spaces, such as performance artists, street theatre and circus performers, insisting on adding a participatory dimension to their events.
The themes of Otto10's parties ironically co-opt the political notions of statehood, nationality and gender lines, mixing gay and straight alike; Microclimat seek to bring generations together, from toddlers to the 50-plus set, among which were the first ravers in France; Fée Croquer's events serve as food drives for the homeless; Aladdin, who has years of squatting under his belt, has turned the Freegan Pony into a sort of soup kitchen by proposing a waste-free pay-what-you-can menu.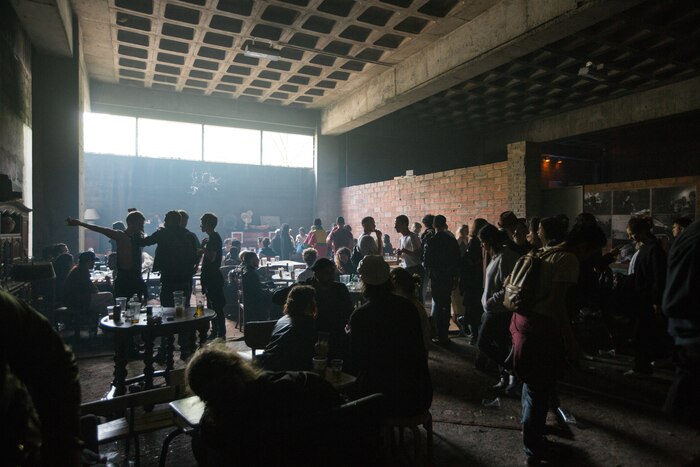 Living in the Present Tense
In spite of its inherent escapism, nightlife is always a response to its given era's political, economic and social context. The hundreds of parties that lay claim to abandoned spaces within Paris and in its surrounding suburbs seem to reflect the stated aim of the Grand Paris urban planning project. The government scheme, which endeavors to "transform Greater Paris into a great European and global metropolis for the 21st century," has concretely so far done less than the various collectives' events to bring to life the dream of a capital that is unabashedly spilling out of the Périphérique's limits. The city halls of Paris and its surrounding communes, sensing the economic and public relations benefits of being host to such manifestations, have gotten on board – rubberstamping less-than-legal squats for example, such as St Denis' 6B or Nanterre's La Ferme du Bonheur, or allowing parties to take place on municipal property, thereby animating abandoned buildings and blighted areas. This represents a sea change in Paris, which has long suffered from its reputation as a museum city that shuts down when the sun sets, providing it with an opportunity to elbow its place under the spotlight hogged by London, Barcelona and, of course, Berlin, as a world destination for alternative culture.
The thousands of parties and festivals scattered across France and its capital are also an act of resilience in the face of recent violence. "I see two possible responses [to the recent terrorist attacks]. The first is what is happening in Israel, namely, learning to live with fear by always being in a state of readiness," philosopher Yves Michaud recently said in a Monde interview. "The second scenario is what happened right here in France under the Directory – a reinforced hedonism. In our current context, it makes that much more sense that our society is turning towards pleasure and leisure, at least in the cities, the idea being, that considering the risks, we should further enjoy the present, by plowing ahead and keeping the party going."
Under a State of Emergency that is making things hard for the feistiest of collectives – even the most guerilla of which report increased police intervention – what is clear is that the omnipresent threat of violence, the repression of social movements, the appeal of political extremism and a youth at grips with a weak labor market are no dampers on Parisians' desire to dance into a better future.
Header image © Jacob Khrist