With 1-800 Dinosaur Calling, Grime MC Trim Strikes a Pose
On his long-awaited debut album, the avant plays with his own power and weirdness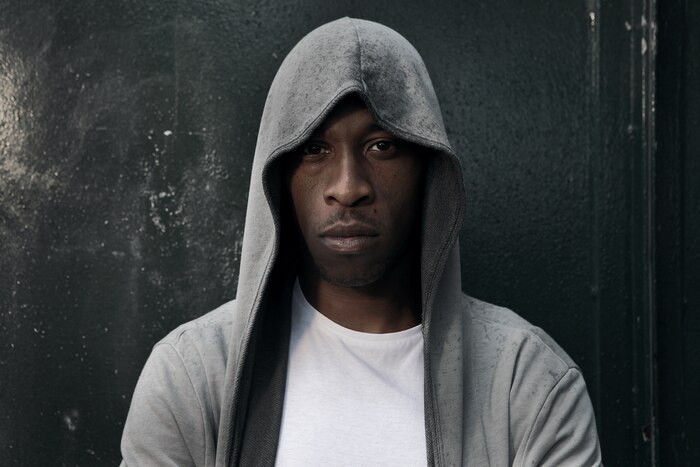 In the late 2000s, Trim was looking increasingly alone. The East London grime MC was notorious for his battle-cry bars, slewing pretty much everyone with a caustic wit and rapid, melodic flow. His rumbling elasticity, most widely recognised on 2004 white label "Boogeyman / The Lowdown" and on Roll Deep's 2005 single "When I'm Ere," became his signature. But after beefing with fellow Roll Deep member Flowdan – allegedly over a non-fight with N.A.S.T.Y. Crew's Marcus Nasty, in the grime scene's playground of raves and rumors, Ayia Napa, a beef best captured in 2008's "The Low-Dan" – that battle seemed to leave Trim with a scar deep and wide enough to make him fall back.
Gradually, Trim distanced himself from the scene and chose to record and release independent mixtapes with outlier producers. On the second volume of his Soulfood series, released in the summer of 2007, he broke from his design of laconic pars stitched through abstract beats to deliver an acapella. "Confidence Boost" is an encouragement: Life is tough but fuck it, do you. Without a beat or beef to ricochet off Trim gives way to the weight of the sentiment, catching his breath in licks as he insists, over and over, "Look, strike a pose." It's light bending around a dark figure: the man called Javan St. Prix, from E14; the gifted and prickly MC, who some say only had himself to blame for being pushed into the corner in a room full of crews.
"Confidence Boost" remained an acapella until 2012, when James Blake (as Harmonimix) produces a beat for it and Belgian rave label R&S releases it on 12" under the name Trimbal, one of Trim's many characters. Blake gives the MC the de facto grime tempo of 140 BPM but abandons the rhythm and corrodes the melody – car sirens fold into hissing pipes, down-tuned pianos and dub-echoed signals – as Trim's leaden lines keep insisting, "Look, strike a pose." Blake may be guiding the sound, but he's not the one looking you dead in the eye. That's Trim, his strangeness pulsing.
2012 was also the year that Trim signed a deal with Rinse FM's label, Rinse Recordings, for his debut album Crisis. One year later, Rinse agreed to release him from the contract due to what he's since described as a lack of resources and faith in his ideas. Even though he spent the better part of a decade releasing dozens of mixtapes on his own terms, Trim remained deep in the cut rather than rising to fame, and some fans were still craving an album.
It's September 2016 and Trim walks into the middle of an empty room, tall, steady and quiet. There's little to show that he's "the MC most love to swerve," since he's polite to the point of apology. (He's only 10 minutes late, but that's seemingly enough to warrant concern.) Trim's keen to be seen. He's made his debut album and he teamed up with Blake, Blake's close collaborators Airhead and Dan Foat and peripheral yet like-minded producers Klaus, Happa, Bullion and Boothroyd to do it. Coming in at 33 minutes long, with no guest vocal appearances and a blacked-out profile for the artwork, 1-800 Dinosaur presents Trim frames Blake and his fellow producers as the supporting cast to Trim as Renaissance man.
I need to be challenged. Anybody who was successful in rap was a battle rapper first, and I felt that I needed to learn how to battle before I could learn how to write songs.
That's a title Trim's more likely to use to describe Blake than himself, though. He met Blake face-to-face for the first time on the set of the "Confidence Boost" video: sharing deep cuts of dub, reggae, dancehall and rap; nerding out about RZA's 1998 album Bobby Digital in Stereo, one of Trim's all-time favorites. Eventually, Trim grew to trust Blake. "I've never worked with people that are so honest and down to earth as the 1-800 guys," he says. "It threw me off at first, though, because James is a massive character."
How so? "It took me a while to write some lyrics," he admits, "because I was worried how James and his world would take to some of what I had written. But when I spoke to him about it he said, 'Fuck that, man. I like you because you're you.' When I met up with him and Airhead," he recalls, almost laughing at his own ego, "I was being big. Like, 'Oh, you guys, I don't know if you, like, know this, but this is the world I'm from' – but they schooled me! Don't think that you can stop James Blake and surprise him on music. He will shock you."
An understanding between the solitary talents informed the process of writing and conceptualizing the album. Trim wrote lyrics alone and sent acapellas of his verses to Blake and Airhead. After considering the raw flow, these acapellas were assigned to producers and they waited to see what music came back. Lacing bars to beats, back and forth, the album was built. This was a different process to Trim's normal way of working, but it was also a relief.
"It was less stress on my head because I didn't have to worry about where I was taking the track," he says, "because I already had it in my head, lyrically. I love grime, but I don't spit rhythmic bars over 140 BPM tracks anymore." Why is that? "There are only so many ways that you can say what you want to say through grime. It doesn't really challenge me now."
How does the album sound to him? "I know a lot of the tunes aren't that rhythmic or have much of a melody, to some ears," he reflects, "but it's a story all the way through. I was focused on what could I say that would represent this time of my life, and I think I done well with that. I nailed everything that I was going through." In "Among the Living," he says that "I was so reluctant / It's like I knew the substance that I was missing / But in my own circumference I lost myself, and I'll admit it." What happened?
He sits forward. "When [the album] was finished, even I was surprised by it. It captures the hardest part of my life." To talk about now, we have to go back, almost to when he said he wasn't scared of the boogeyman and gave us the lowdown. "The things that I say have always got me in trouble," he admits. (One of the more personal exchanges came in the Christmas and New Year's period of 2009-10: with Wiley, in the form of Wiley's "Now Hear Diss" and "Last Freestyle of '09," and Trim's "Dat 1" and "First Freestyle of '10." He and Wiley no longer speak, to put it mildly.) "I need to be challenged. Anybody who was successful in rap was a battle rapper first, and I felt that I needed to learn how to battle before I could learn how to write songs." Why? "Because of the situation I was living in." He holds a long pause.
Before the album, I was in a place where I needed a shoulder. I needed a friend. All I wanted was to make music and have a roof over my head, and I didn't even have that.
"I don't think I'm the most handsome guy, we never had much money, times were really hard – and things got harder because of the people I clashed." His eyes flicker from side to side, drawing maps in his mind of friends and foes. "Some of them became successful, while others had friends that wouldn't work with me. Some of them were crews and so I'd have to clash whole crews. I was defending people that I was in a crew with, but then the same people you're in a crew with decide to be friends with the people you're clashing. You end up with a circle of people who push you out, like you're the bad guy."
Was he the bad guy, though? Trim has a laugh that wheezes out mid-sentence, breaking his conversational stride but allowing him to plot analogies. "It's meant to be a sport. I've got a job and I have to be confident in that job. If you work in Sainsbury's and I ask you where the oranges are, and you're all shaking and stuttering and the boss sees you, and man's like, 'Wait, man's been working here for years and man doesn't know where the oranges are?' – you're just shit at your job, aren't you?"
He flips the mood again, in his elastic way. "Because I was good at [battling] and because it affected some people's careers, they looked at me for the worse. The more I wasn't accepted the more I'd fight back. I've heard Jay-Z say, 'Where you're going, or where you're aiming to go, you're not going to be bringing all these people with you,' but the aim of these [grime] guys is to get out of the hood and bring everyone with them."
He insists that it wasn't just the beefs that made him retreat. Other figures have long lingered in view. "I had to right myself and make sure that all the bad shit and poverty that I was going through could never be used against me," he says. "I have a son, and a mum who was really ill, and I found working on music so hard because it was just me." He details a reclusive life of staying indoors, writing lyrics, comics and film scripts, having stopped going raving at just 17-years old because "we'd already made such a bad name for ourselves that going places was tricky." Staying in wasn't easy though, either. He didn't have a stable place to live and where he did live, too many faces passed through for his liking. He did make Crisis, actually, but didn't want to release it because of everything that was happening around him. "God, I can't even get my words out," he confesses.
"Before the album, I was in a place where I needed a shoulder. I needed a friend. All I wanted was to make music and have a roof over my head, and I didn't even have that. That's why, in 'Before I Lied,' I open with 'Like I didn't make it hard enough / They had me in a corner, trying to paint me with a tarnished brush.' I delved into worlds that I didn't need to be a part of, and then I had to get out of them to get this music out."
When he was figuring out how to evolve, Trim developed more characters and the voices ascribed to them. He reels some of them off: "Javan, Trimvan, Taliban, Tali, Trimothy, Trimson, Trimmel, Shankvan, Trimetheus, Trimlets," and wheezes out a laugh. "I used a new one the other day: Optrimus Grime." Which of his characters are most prominent on the album? "It comes down to the style of the delivery," he says. "Lord Sith is my dark side: he's the one who says, 'Yo – listeeeeen,' and won't go too fast because he wants you to hear every word. Trimski, he wants to run and fly past you, like when I say on 'Man Like Me,' 'You don't like the vibe I get on, can't take me for a ride like get on / They're not bad so we don't get on, please check the nerves I get on.' Taliban straight raps and Trimetheus is more poetic, like spoken word."
1-800 Dinosaur Presents Trim is an endearing feat of structural engineering. Without beats to write bars to, Trim had to look inward. The result is that his syntax has become more conversational and his pauses more deliberate. He learned how to battle a long time ago, so now he's writing songs. His need to be challenged has shifted from fighting with crews to working with his own: a crew weird enough to understand and match him, beat for bar. And yet, even with seven producers backing him, his paranoid grudge-holding feels so pronounced and at odds with the aspirational collectivism of the contemporary grime scene – an arc of progress that has MCs headlining mainstream British festivals, topping the iTunes charts, collaborating with fashion brands and winning the Mercury Prize again – that 1-800 Dinosaur Presents Trim sounds utterly alone.
That's what's always made Trim so compelling to listen to, though. He's honest about feeling anxious, unwanted and angry, which forces him to admit that he's human. But he also pushes his battle-hardened confidence to the point of self-righteousness and burns bridges with a smirk because, after all these years, he knows that he still sounds like a tank rolling through the room when he gets on the mic. "I'm confident in the way that Zlatan Ibrahimović is confident," he says. (He's a diehard Manchester United supporter. With their legacy of superstar players, it seems apt that he'd draw this comparison.) "He says that he loves himself all the time, and if people look at it the other way [in terms of arrogance] then it's their fault for judging him."
After all of this stress and isolation, did he really never lose faith? "It's a case of loving what I do and I love myself in doing it," he says. "When I was growing up, I always thought that it was weird when people said that they wanted to be just like someone else. We all did the Michael Jackson moves and Will Smith jokes, but I never grew up thinking, 'I want to be like that guy over there.' I grew up thinking, 'I want to make my mum happy for once.' I didn't get a chance to be arrogant. Where I'm from, you can't be. We're all human, so it's just about getting into your field, killing it and tapping into your own genius."