Wiley Considers the New Ways of Grime
The godfather of grime breaks it down with Elijah of Butterz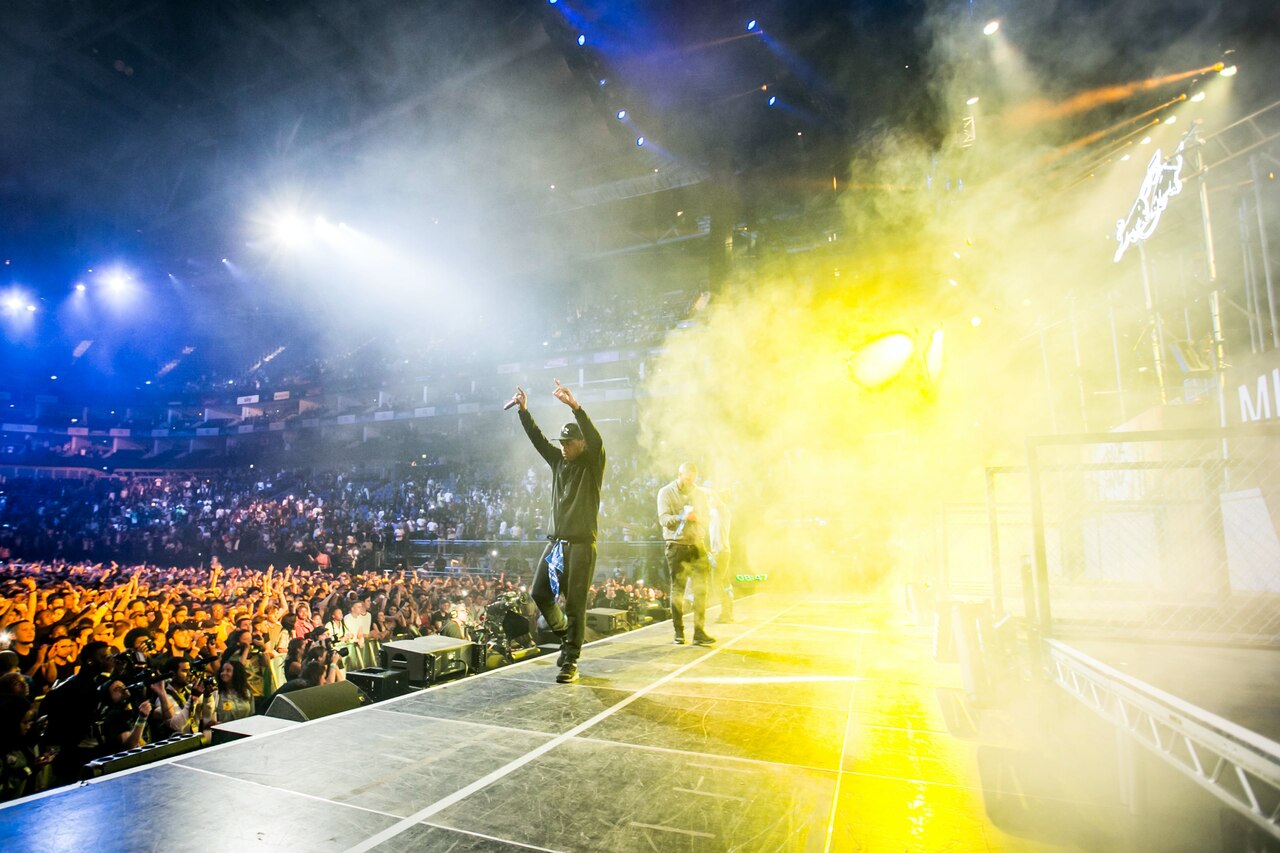 As a member of foundational garage crew Pay As U Go Cartel and the founder of pioneering grime outfit Roll Deep Crew, Wiley has ten albums under his belt and hundreds of hours of mixtape verses, leaked tracks and riveting instrumentals. In this excerpt from the ice-cold, two-hour long, 100% Wiley special of Elijah & Skilliam present Locked on RBMA Radio, the often-elusive grime king talks about losing beats, leaking music and the problem with his Eskimo Dance event.


Elijah & Skilliam present Locked airs the first Monday of each month, at 4PM EST, on RBMA Radio.
Do you feel like you've been asked for too much by everyone?
Maybe I've offered my service [to others] too much. I'm like, "Yeah, I'll do it for you," out of the kindness of my heart, but how many people do you want to help? Or, how many people can you help before it takes a toll on you?
And you feel that it has?
Definitely. Bro, you can't imagine how tired I am. I have made myself tired. I'm not tired onstage when I'm doing music, though. I don't mean in the studio. I mean as a human being, you know?
I saw you perform at XOYO with Slimzee recently. That's the first time I seen you together in the club since –
Ages.
I haven't seen you do a set like that for ages. What's made you link back up [with Slimzee] again like that?
We always link back up, it's just whether we would've gone on the radio or not. He brought me in. I don't forget people.
Do you feel like you're revisiting your past, or have you come to take Wiley into the future?
It is, but I've never actually stopped doing radio. I don't do it every day, or as much as I used to, but I'll always rock up one day and do a two-hour set. I'll always let you know that I can spit bars for two hours.
A time will come when I say, "You know what? Man need to do nuff-nuff radio!" It's like football training, bro.
Do you remember the turning point when you actually had to stop doing it every week? And now [you don't do as much radio] because you're busy with other things?
Well, I'm getting older. There's youth coming through. I got my own children; I'm just growing into a man. Obviously, a man is not going to do what he was doing as hard as he was doing it at 14, 15, 16-years old at 30-years old. Do you know what I'm saying? You've got to prioritize differently. I wish I could go do radio every minute. I really do.
The thing with me is [is that] I can always just switch it on, anyway. If I want to go to the radio a lot and practice I actually can, so it's not like I've been barred or anything; it's just, a time will come when I say, "You know what? Man need to do nuff-nuff radio!" This is just one of them, innit? It's like football training, bro.
Do you find it hard to switch off and make music? You're doing [a new album called] The Godfather now, was it hard to go through the process of recording without any distractions?
I was doing it anyway. When did I do Snakes and Ladders? That's 2014. Since I did that I "went quiet," but I didn't really go quiet; I was always making music. Or, I tried to. I live inside the laptop more than any other MC or artist. I do every single thing. My laptop's open now. Everyone's laptops are open now.
In terms of you producing beats, is that something that's going to come back? In terms of you being a prolific producer? You went through nearly 10 years of constant Wiley productions.
I make beats all the time but I can't be Eskimo again. I can make better songs and beats, but I can't be "Wiley Eskimo! Oh my God! 10,000 white labels!" That's not going to happen. With Eskimo, there's other people making it, too (which is quite good still, so I haven't lost that). I just haven't gone round all the current MCs and flooded them with rhythms so that they just bust up all the rhythms, you know what I mean?
Productions-wise, do you feel like you had a best time period? For me, as a fan, Eskimo doesn't even feel like your best.
I know, I know. It's just what they know me for. If I didn't make that, and that song didn't become a thing, then there would be no trail of cold names. I probably wouldn't have gone on a mad one down at the pressing plant with the vinyl, you know? That actually sort of kicked it off a bit.
In terms of production, where do you feel like your best work was? The Playtime's Over times?
Definitely. The thing is that producers, the people who live in their computers, sometimes lose things. I've lost some monstrous beats before with hard drive crashes. I've lost lots that way.
Was that part of the logic when you did the Zip Files?
No, I gave them away because I was in dickhead mode with the labels at that point. I was like, "If I do these meetings and I'm showing them all this music, and they don't care, I'm just going to leak it." There are three reasons why people leak music: because you want to become known, as marketing, or in panic. You think no one likes it, so you just leak it because you're panicking. That is the par.
So is that last reason why you leaked it?
Yes. It was, "You know what, just drop back." Because somewhere down that line, someone's going to hear one song that they do like and they're going to say, "You know what? Wiley's not dead. Wiley's not washed."
People say whatever but what you do as a human, you have to have the power to ignore them. They're going to say it. It's floating past. Let it go past because if you jump into it, you're just entertaining it.
Say if you run into me one day and say, "Listen, Wiley. I don't think it's worth you doing all this because basically you've done this and you've done that, you've done your 'Heatwave' and you really need to just do a 'Rolex' because all these kids now, they're not going to perceive you as a grand don." Just say you said that to me.
Is that something that's been said to you before? It sounds familiar.
Exactly. If I listen to you, as a friend, that's fine. At least you're not a yes man. If my don is gonna be honest with me and he feels that way. That's his opinion and that's fine. I'll respect him still. But, if I listen to him, that's going to fuck me up. Your aims and your goals are what you want to achieve. Along the way, people will give opinions on how they feel towards it, but if you just keep going and know how to hear what's been said – don't take it to heart, rise above, ra-ra-ra – then you'll be fine.
Who are your confidants, then?
This is the thing. I got along in life. I think things. I realize things. I start to say, "I'd like a time to figure things out here," and try to come up with the answer to whatever it is that I'm trying to know. You know what I'm saying?
Yeah, but sometimes you need the clarity – just hearing it from another voice.

You do need clarity. Sometimes I'll go to someone different, like Skepta, and he will help me realize something like this, "Wiley, people are gonna say everything. It's gonna go by. Which one do you pick? You don't have to take it all on." He'll come from a different angle. Different people will tell you different things, but sometimes people tell me stuff and I'm like, "Aw, man, I'm ready for that," or "I already knew that," or "I've already done that. Why did I even ask you?" You know what I mean?

With Bedford and the Dizzee Rascal

View all show – what happened there?

It was good. We didn't get to talk, but we went in there. I was in my dressing room, they were in their dressing room and we were just chilling. Everyone was just getting along with it. We done our thing and they done their thing and then we just went, bro. Not gonna lie.

Was that underwhelming for you, in terms of what you could...

Nah, because I knew that it wasn't because he tweeted, didn't he anyway?

Yeah, still...

I've done one thing. I fought shit. I'm supporting. Then I had an interview, though, with some person that must have turned it sour. He tweeted that stuff, we done the show and now it's over. To be honest with you, you know that's my guy. You know that's my don. That's my Boy in da Corner, not the boy in the corner. He made the grand Bible of an album. I'll always respect him but right about now, with grime coming back around? Bro, that's what I'm happy about. I wish it had come back around sooner, but it doesn't matter. Grime has gone into a commercial position that it's never been in before.

That's what I think, too. I'm seeing people headlining festivals, doing this 10,000-cap thing. This has never been done before, right?

Exactly.

What do you think of the comparison to Stormzy and Skepta to what So Solid did back in the day?

So Solid sold a million records, though.

It was a different time...

I know, but a million albums took you into a different zone. I think that So Solid were very big as a collective. Stormzy and Skepta are my dons, bro. I look into their careers to obtain energy and knowledge and it's all love. These are my dons, but I think that Dizzee Rascal and So Solid have been there before.

Yeah. I look at it differently because I've grown up with you guys out there. We've had 15 years of Wiley and that's not what we got from So Solid. I guess that's why I think of Skepta in a different way. I think of Skepta from "D.T.I." to now, but I know that's not the general perception.

Because you're a real fan. Most fans are singing "Shutdown" and thinking, "They've just turned up, haven't they?"

Yeah, but we might have them for another 15 years. If they've only clocked it now, this Godfather album will be their first Wiley album.

This is what I'm saying, bro. It's more about what you did now, isn't it? Before I started to think positive, I was even sitting there thinking, "Aw, my God, it's a new generation. What am I gonna do? What do they like?" You know before you're gonna sell something that you just check up, yeah?
No one clashes. No one's on it like that. Everyone just wants a reload and no one wants to rip another MC's head off.
Yeah, of course.
I was a bit lost. I'm not gonna lie. Not lost in the fact. I knew what I could do, but I didn't know immediately. If I would have tried to release [this album] any time before now, I might have made the wrong decision.
Do you think that Eskimo Dance has helped bring everyone together, even when it's blown up, as a way to show people that these people know each other? That tese people are connected to and through the music? [Artists like] Bizzle, Kano and Ruff Sqwad turn up, and you bring it all together. Do you think that's still important?
Yeah, definitely. What I don't like about Eskimo Dance is that it's not the same as before. No one clashes. No one's on it like that. Everyone just wants a reload and no one wants to rip another MC's head off.
I thought that's what you didn't like about it before?
No, what I didn't like about it before was people trying to kill each other in there. Then the police are holding me back for four hours after chatting shit. I do like the clashing element. I don't like when it turns to drama, we're going to get arrested and there's going to be a body, you know what I mean? I think if you let the people who know how to battle [do it] because it's a sport, but man want four or five grand to battle and all this now, so it's different day, isn't it?
Yeah. In a digital era it would be taken so much more seriously.
Exactly. It's a new day, though,and that's the thing. That's why Eskimo Dance has to move with the times. It's not actually in tune with today. It's in with today's side of the entertainment. People want to go nuff-nuff. They want to go because they're going to be able to see any artist, but what about going and seeing some fucking entertainment, though?
You think that needs to be set up prior?
It doesn't need to be. It's going on. MCs aren't the best mates. MC confrontation should exist, and that's why Eskimo is a bit boring. No one's going at each other.
How can we change that?
Listen. I went to [a clash] the other day somewhere in Birmingham, and Seth One reminded me of what it was like in the first place. I was there then but this is their time now, know what I'm saying? Seth One reminded me that I am Wiley. I'm Wiley, bro. I go on the stage. I set a bar after you and get a reload on you. You've learned that from me, and you can do it back to me now because I'm a nice guy now.
All of the time that I'm being a nice guy, you're just mugging me, bro. It's a game. You go on the stage, get the mic and set your bar, trying to get a reload. Someone else comes in after you, and they're trying to get a reload, too. If they're good enough and it's more hype, or if the right tune drops in at the time, they will [get a reload]. They've mugged you and you want to mug them back. It's a game but no one wants to actually play it properly anymore.
Do you think that brought the best out of you as an MC?
It did, because it didn't just make me battle. It made me do all sorts of stuff. If I had a battle, I might go crazy making beats: give some away, use one for the battle; I might write some crazy bars that take me a level up.
What do you think is your best one of those War Dubs?
I don't know. They say "Nightbus."
I say "Nightbus."
They say "Nightbus," but I've done a load of different ones. That's what I'm saying – I ran up with them and they ran up with me. All of that stuff is missing now but I'm not telling you to bring it back either, because it might be dangerous, you know what I'm saying? It's just different now. I think that Eskimo Dance as a brand needs to embrace the new way that's coming on because it's not actually my way, is it? It's a new way.