Instrumental Instruments: Buchla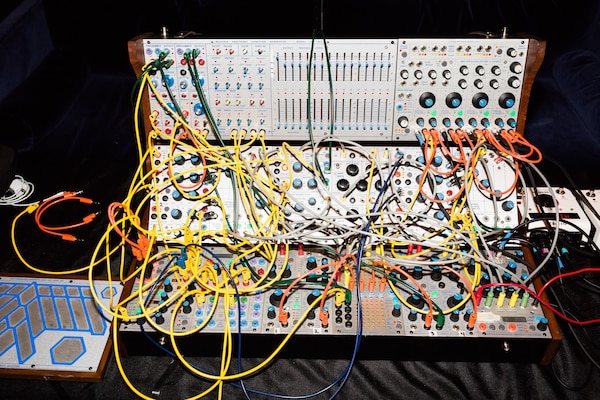 Our series on important music-making devices continues with the influential synthesizer designer
Before Don Buchla began manufacturing a machine that would revolutionize electronic music, he was trying to send chimpanzees to Venus. Buchla's work at NASA wasn't limited to interplanetary primate transport – at one point he was building computers meant to withstand cosmic rays – but in any case, that sort of consultation was only a money grab. Based in San Francisco, Buchla's true calling was the LSD-optimized pursuit of new philosophical pathways, as a full-fledged participant in and sound designer for the freak-outs of the Grateful Dead and Ken Kesey's Merry Pranksters. Buchla – and the vastly influential instrument that bears his name – were even name-checked in Tom Wolfe's Electric Kool-Aid Acid Test: "The music suddenly submerges the room from a million speakers... a soprano tornado of it... all-electric, plus the Buchla electronic music machine screaming like a logical lunatic."
Buchla's own logical lunacy manifested not only in feats of engineering but compositions as well, becoming relatively well-known for his experimental tape recordings. It was the latter that had first brought him to the San Francisco Tape Center, a community of creators co-founded by Ramon Sender and Morton Subotnick that served as the nexus for electronic experimentations of the era. It was the early 1960s, and Subotnick and Sender wanted to build a new instrument, one that transcended outdated notions of design and performance. They didn't have the technical knowledge to achieve that themselves, but they did have a sizeable grant from the Rockefeller Foundation. Earmarking a small portion of the money for this as-yet unbuilt instrument, they placed an advertisement in the paper for someone with the engineering prowess to make their dream a reality.
Buchla didn't know about any of that. He enjoyed the concerts hosted at the Tape Center, and he especially enjoyed playing around with the recorders the Tape Center had at the time. When he showed up for one of these sessions, though, Subotnick was under the impression Buchla had come in specifically in response to their ad. He launched into a long spiel about their intentions, and Buchla, up for the challenge, readily agreed to the commission. The result, in 1964, was the Buchla 100 series Modular Electronic Music System, an analog synthesizer and the first in a series of expensive, erratic, addictive, beautiful alternative instruments Buchla would design over the ensuing half-century. It would transform electronic music forever.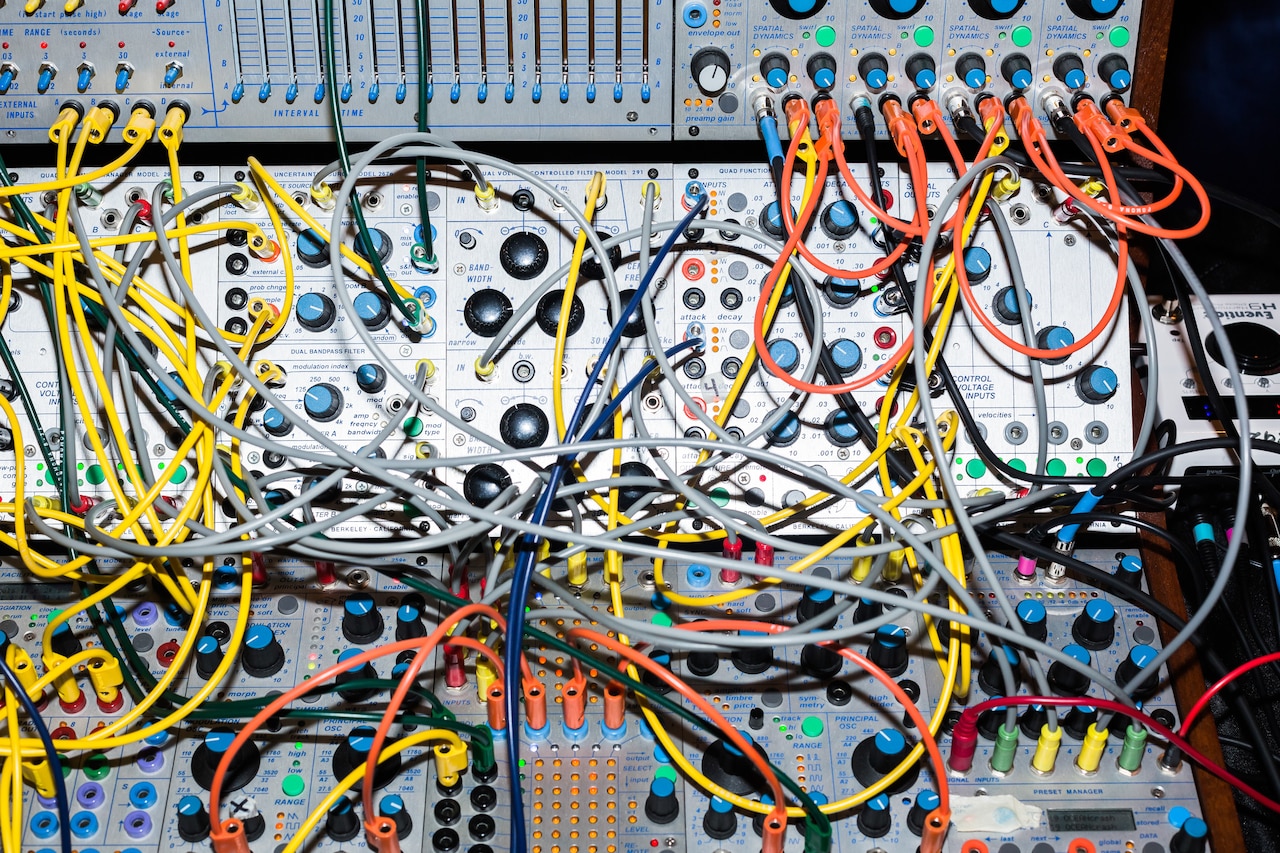 The 100 series represented an epochal shift in instrument design, rejecting traditional signifiers of playability. There was no obvious sequencer or keyboard, only an abundance of brightly-colored knobs and pressure-sensitive metal touch-plates. "This was an argument that Don and I had from day one," said Morton Subotnick in a 2016 interview with RBMA. "He wanted to make a musical instrument. I said, 'This is not a musical instrument. This is, at best, an instrument to make instruments. It's to paint.' He didn't understand the nature of an instrument."
"That's why I didn't want a keyboard," added Subotnick. "I didn't want to reproduce the old way to make music, which was pitch-based orientation. I wanted it to be gesturally-based."
The prototype for the Buchla 100 series was initially produced in 1963, with Subotnick and Buchla working together for almost a year before the design was finalized in 1964. Fitted into blocky wood cabinets that were next-to-impossible to transport, the 100 was a modular system of multiple units that formed an occasionally impenetrable tangle of patch cords connecting filters, sawtooth oscillators, ring modulators and too many other units to list in their entirety here. All of these elements were connectable via patch cables to create endless combinations of unearthly sounds. There were three sequencers, two with eight steps and the third with 16, and an AFG, or Arbitrary Function Generator, that could be used as a form of pitch control. The real-time processing power was unparalleled for electronic instruments at the time, but it was not an easy machine to use, even for its creator.
"I did both Silver Apples and The Wild Bull on the 100," says Subotnick. "To this day, I'm not quite sure how I did it." Silver Apples is 1968's Silver Apples of the Moon, a spidery and playful album that is the first audible instance of Buchla's 100 series on record.
The Buchla 100 series wasn't necessarily meant for performance, or even composition, but was more a tool for unbridled experimentation. Still, there were plenty of other artists orbiting Buchla who pursued the possibilities of the instrument to performative ends. One of these was Suzanne Ciani, the "Diva of the Diode" and legendary sound artist whose initial encounters with Buchla defined her life path. She was in Berkeley in 1968, persistently tooling around with the 100 series that had ended up at Mills College, where Subotnick was a professor. "I'd stay up there all night, every night," remembers Ciani. She found it difficult to get Buchla's attention – a recurring theme among his devotees – but still ended up working for his burgeoning company.
"I think that awareness of the future for me being a composer as a woman, and when I met Don and I entered this room of walls of toys and all those things, it just crystallized right there that this was my path," remembers Ciani. "I could be independent, I could do it, I didn't need anybody else, I didn't depend on the political system, I didn't have to please anybody. All I had to do was make enough money to get one of those things."
Ciani says her history with the instrument, once she got it, was uniquely intimate. "From the moment that I was able to actually get my hands on one, that was my sole possession. I had a Buchla, I didn't have anything else. That went on for ten years. It was my constant companion. It was on all the time. I never shut it off. It was like a living being in my space." The results were wondrous – Ciani's work with the Buchla appeared in advertisements for Coca-Cola, on seminal album Seven Waves and via innumerable sound design commissions for major companies such as General Electric, as well as a disco version of the Star Wars theme, which led to an appearance on Late Show opposite a pleasantly perplexed David Letterman.
Buchla's efforts as an instrument designer didn't begin and end with the 100 series. The 200 series, the original of which was funded by CBS and now lives at Mills College, was first developed in 1970. It was another modular system, but with each potential parameter controlled by external control voltages. A less arcane but no less welcome change was the color-coding of patch cables for easier use. The 200 was quickly followed by the 500, which was the first analog synthesizer with the capacity to be digitally controlled, and the Buchla Music Easel, released in 1972. The Music Easel was a portable modular system which was actually possible to transport for a gig. The Music Easel could also store patches for future recall, a first for Buchla's instruments, tracking switch and knob positions on individual cards for each patch.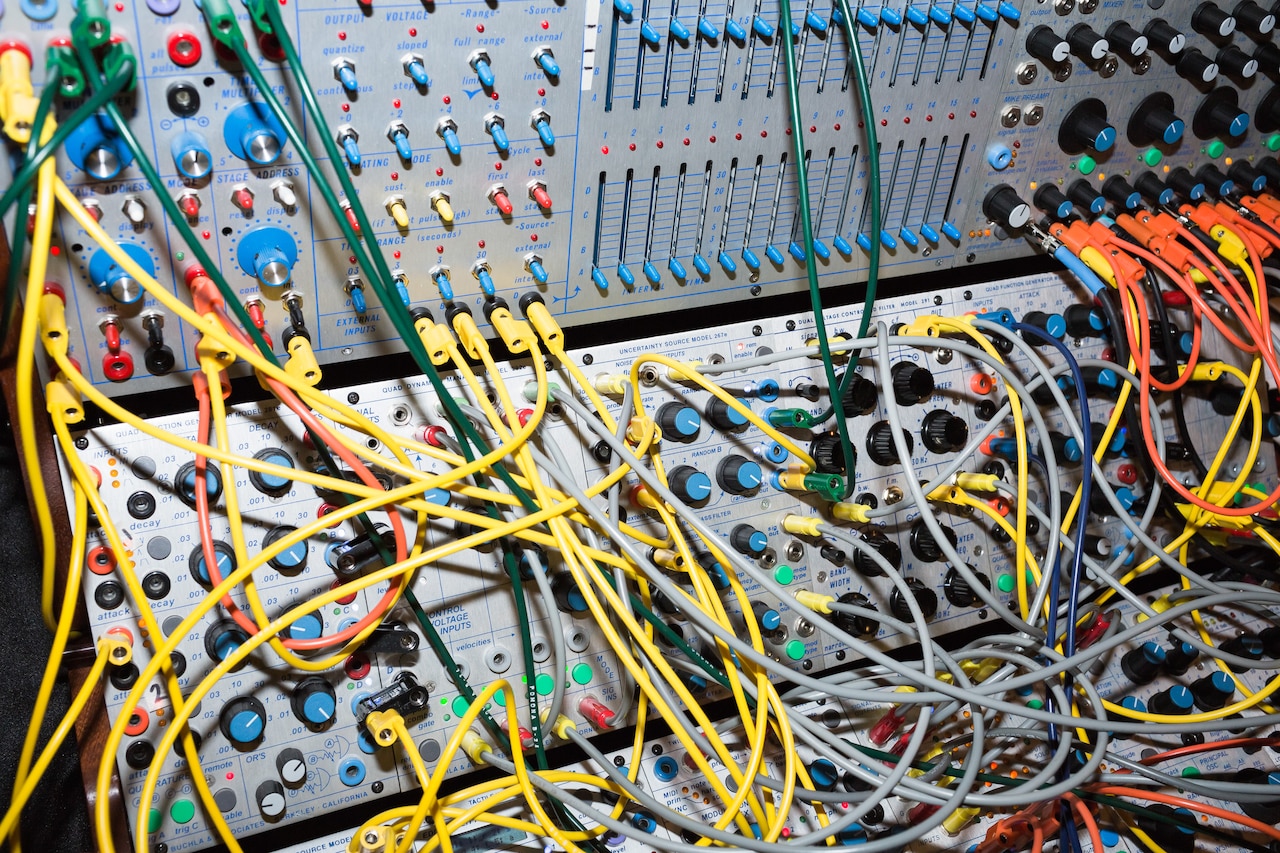 Slowly but surely, Buchla's electronic music machines achieved a certain popularity, especially in avant-garde communities. However, certain designs remained maddeningly rare, and the machine was consistently overshadowed by the Moog, whose comparative familiarity made it the workhorse of choice for complicated prog rock and bottom-heavy funk throughout the '70s. Still, the cult of Buchla continue to grow in line with the release of the Buchla 400 in 1982 (featuring a display screen) and the MIDI-compatible Buchla 700 in 1987.
"I've always looked at [Buchla] as a very innovative, forward-thinking designer," says Richard Devine, the master modular user, experimental electronic musician and celebrated sound designer now based in Atlanta. "It's been very forward-thinking. Sometimes a little bit out-of-the-box. He's definitely an acid tripper, for sure…That's what I love. I like designers and people who design instruments who are kind of a little bit on the outer fringes of normalcy, you know what I mean?"
Being on the outer fringes of normalcy sometimes means that the machine is hard to control. For many modern acolytes of the Buchla, however, that's a positive feature. Alessandro Cortini and Kaitlyn Aurelia Smith have embraced the Buchla's unpredictability as a creative force.
"I still perform with Buchla, but at the end of the day, I know that it's like a candle that burns very bright," says Cortini, the electronics wizard for Nine Inch Nails and vaunted composer in his own right. "You're going to get so much from it, but probably once it's dead it's going to have to go in and be repaired. That applies to a lot of instruments. Especially the digital ones. He only made a few and they're not really stable." That perceived limitation is at least partly due to Morton Subotnick's initial instructions to Buchla regarding stability, which came after he timed a friend playing violin to see how long it could stay in tune: "I said, 'Listen, if this guy's got an $800,000 violin and it goes out of tune in ten minutes, if you can make an oscillator stay that long... I don't want it to go completely out of tune, but it doesn't have to be that stable."
Smith, whose first exposure to the nontraditional instrument came via a chance encounter when she borrowed it from a neighbor, was inspired so much by the machine's unique capabilities as reflected in those oscillators that it changed her relationship to sound. "It taught me how to listen to music because it only had two oscillators," she recalled to RBMA in early 2016. "I would just turn them on and hear how they pulsed against each other. It taught me what two notes can do over a long period of time if you can just leave them."
The logical lunacy of Buchla's namesake creations continue to influence electronic music to an impressive extent. Buchla machines have been heard on releases by artists ranging from Aphex Twin to Nine Inch Nails, while individual players like Cortini, Smith and Donnacha Costello have made it central to their musical focus. And although it's predominantly used by electronic musicians such as madcap experimenters Matmos or Keith Fullerton Whitman, the Buchla has managed to surface in some strange places, including on releases by Maynard James Keenan's Puscifer project and – somehow – Christina Aguilera.
I try to design in such a way that things are pretty wide open. There's no way of saying "That sounds like a Buchla synthesizer."
In 2004 Buchla updated the 200 series, now known as the 200e, making a version of what Morton Subotnick once referred to as Buchla's "Stradivarius" available to a new generation of music-makers, albeit limited to those with especially deep pockets. Sales ticked along until 2012, when, while undergoing treatment for multiple myeloma cancer, Buchla sold the Buchla & Associates company to Audio Supermarket Pty. Ltd, who retained Buchla as an employee but later fired him. The relationship, already soured, took a further turn for the worse when Buchla sued the company for wrongful termination and unpaid fees from the original sale. In the 2015 lawsuit, Buchla also blamed a stroke he suffered in 2014 on fallout of the ongoing legal stress.
On September 14th, 2016, Don Buchla passed away from complications of cancer. He was 79. But though Buchla is gone, his machines – and their impact – live on. These creations travelled an enviable cultural path from oddity to icon, from the Furthur bus all the way to the Library of Congress, and Buchla himself, a gruff conversationalist concealing a merry soul, was around for all of it, witnessing his machine transcend experimental circles en route to becoming an essential device in electronic music's world-conquering journey.
Throughout it all, the defining feature of Buchla remained its limitless range, which Buchla himself continued to assert as one of the defining reasons for the instrument's longevity and popularity amongst such a wide range of musicians and styles. "I try to design in such a way that things are pretty wide open in a modular system," he said in 2007. "I don't expect any compositional style, and when people ask me for a sound bite or a sound clip or whatever I say: 'If I did something it would not be representative of the range of the instrument.' There's no way of saying 'That sounds like a Buchla synthesizer.'"
Header image © Dan Wilton