Montréal Rave: An Oral History
Montréal may not have had its own Second Summer of Love, but the ripples sent across the pond by the UK rave revolution of the late '80s turned into tidal waves by the time they reached the shores of Canada's cultural capital. In the early '90s, raving constituted the coming-of-age for a generation of youngsters who would gather at the corner of Milton and Clark, a now-mythical meeting point for rave buses, to embark on intense and wild experiences involving futuristic music and some yet-unknown drugs.
These parties sowed the seeds for the careers of some of Montréal's most well-known techno ambassadors, created vocations for the city's most incredible DJs and implanted a love affair with anything slightly illegal and free that, whether knowingly or not, still informs Montréal's underground scene today.
Once world-renowned as disco's second city in the late '70s/early '80s, Montréal's music scene had fallen off the radar by the time the decade had ended. The club scene was nevertheless still shaped by the glitter and fame of the '80s: post-disco Hi-NRG reigned in its gay quarters, with new and darker waves coming from northern England and Belgium and the rising garage sound emerging from New York City.
This slow evolution came to a head in the early '90s, when a bunch of locals and transient students from McGill University decided they wanted to experience something different and new, and that it was time for Montréal to catch up with the global movement that was sweeping all across Europe and part of the US. That movement was rave.
LOOKING FOR A FUTURE BEAT
Emerging from the economically depressed '80s with the prospect of another sovereignty referendum around the corner, Montréal's club scene in the early '90s was made up of house music, gay clubs and the heritage of disco-era door policies. That scene had locked out a new crowd, still small but fervent, that was hungry for a darker sound as well as a freer and more inclusive way to party. Techno was timidly making its way into established clubs, championed by the likes of Robert De La Gauthier and a very young Tiga but otherwise largely disregarded by most as primitive and unsophisticated. However, something changed across the span of a few months at a semi-official club called Crisco.
G'nat
Co-host of a radio show with Tiga; part of the Bus Company, co-organizers of Montréal's first rave
G'nat
At that time [1990-1991], techno was still pretty obscure. Montréal was dominated by house music... I remember the first thing we went to was a techno night at Bar Lezard, on Saint-Denis. I'm pretty sure it was Robert de la Gauthier playing. I remember the night was a revelation. I was like, "Wow!" It's dance music but it's not cheesy. It's not commercial. It's not disco. It's kind of trippy. It's kind of psychedelic. I remember thinking, "Man, this is a good idea. Trippy dance music."
Mateo Murphy
Before the record shopping scene really grew here, a lot of the stuff came from New York and there was a lot of house, basically. A lot of those DJs, that's what they were playing.
Christian Pronovost
Co-founder and owner of the first record shop for DJs in the city, Inbeat
Christian Pronovost
Techno back then was quite extreme. Quite fast.
G'nat
Back then, you had to have a whole lot of passion to even find that music. The credit, though, has to go to Christian Pronovost, who was running Inbeat Records. Inbeat was primarily a house music shop, which was Christian's passion. He was a very open-minded guy. He would always order other stuff. He'd order techno, and more importantly for me, he'd order jungle, which nobody cared about at all at the time.
Tiga
DJ, promoter, radio show host, founder of DNA record shop and co-founder of Sona
Tiga
For me, Robert de la Gauthier and Chris Pronovost were big influences. Chris owned the record store Inbeat and that was probably my first exposure to DJ culture and music of that kind. They were a bit snobby, but also they were kind of supportive. They liked me, but I think they also thought our parties were a little bit of a kid thing and the music I liked was, compared to what they were all into, not as sophisticated. It was just different, but they were big influences for me personally as friends.
Krista
Instrumental to the success of Montréal's loft scene
Krista
There were two camps. Those of us who came from an alternative/underground/bands scene that was grungier, and then there were the Crisco kids. We knew about Tiga and those guys, but we didn't actually do anything with them until after the Crisco parties.
Tiga
I guess Crisco opened in '92, and it was the first ecstasy place. That was probably the big dividing line. It introduced me to that feeling. Crisco and some of the parties that were happening in Montréal at the time in warehouses were very special. For me and my kind, that was Montréal.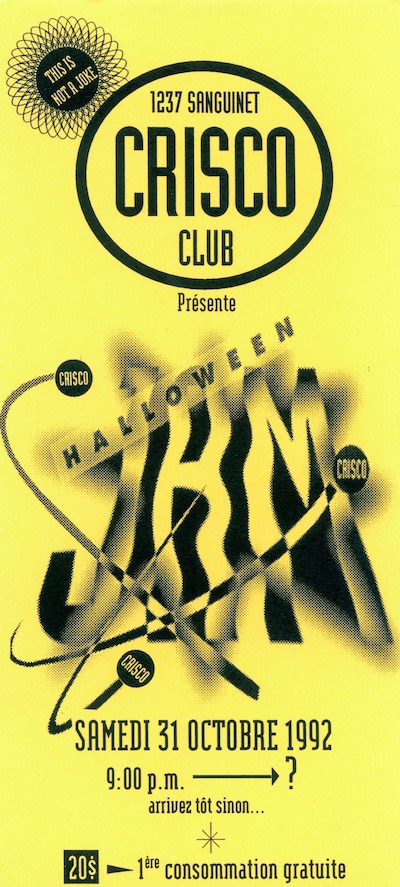 Christian Pronovost
Crisco was very short-lived. One night, somebody got ecstasy. To open, I always played basically the same thing: Brian Eno, then Manuel Göttsching E2-E4. I played that for half an hour. [That night] they were super high [because of the ecstasy]. Then I start, and that first song I play, like, the first beat I play, people exploded like I've never seen in my life. It went from being kind of a quiet night to packed within two weeks.
G'nat
The first party that Tiga and I did that had any sort of success was called the Rites of Spring. It was at a club called Crisco, which was essentially, as far as I can tell, an illegal club. We did it in February. We brought in Richie Hawtin. There were several hundred people there. That was probably the first time that it became obvious a techno night or a techno party could do very, very well and attract a bunch of people.
Fred Everything
I was living in Québec City at the time. There was already a burgeoning scene there. I was going out to clubs. I remember we were avidly looking at the UK music magazines and reading about this movement. I was a big fan of KLF as well. DIY Crew in England was doing free parties. We tried to do the same thing in Québec City with the little knowledge that we would collect. We would throw events. I had a little business doing smart drinks. We had these powders and you mix with water and it's this thing that's supposed to keep you up all night. Often, I would have my smart bar, and I would also be playing live in another room. I think at one point at a party I DJed, I had a smart bar and I played live all in the same night.
Krista
We started throwing parties, and we would bring some more underground DJs up from New York and stuff like that. We also did a party where Josh Wink played in our loft, and we had Autechre play in our loft.
Fred Everything
DJ and producer, owner of Lazy Days Recordings
Fred Everything
One of the big influences was coming to Montréal for the first time. That was in the early days when Tiga was really involved in throwing parties. I remember this one party at Métropolis where Cybersonik (which was Richie Hawtin and John Acquaviva live), Moby and The Prodigy played.
Tiga
Back then, rave had a lot to do with being a kid. You were born into your own and rave had different aesthetic ideas about what the flyers should look like, what the names of the parties should be, how we would dress. Also, the energy level – it was a different movement then.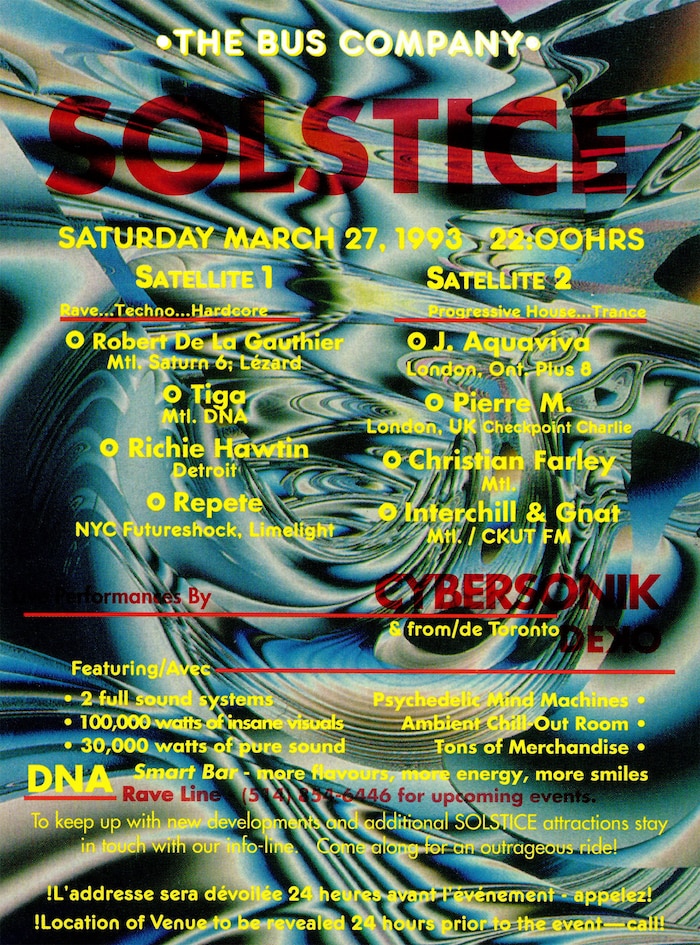 SOLSTICE
Memorable parties and eye-opening experiences at Crisco inspired the first proper rave in Montréal, which took place in March 1993. Organized by the Bus Company, Tiga, G'nat and a few other friends, Solstice not only changed the life of some of the few thousand people who attended, but also changed the course of the electronic music scene in Montréal for the years to come.
Christian Pronovost
Tiga was growing at Crisco. He and the people around him were really instrumental in putting on the first big party, the first rave.
Tiga
Solstice was the first big rave we did. We had Richie Hawtin, John Acquaviva. That was in '93. All the other players in the city, the old club owners, everyone had to notice. Party-wise, we were actually much more modern and sophisticated. The production value was much higher and things like our promotional techniques and strategies were much more developed. The budgets were much bigger, and the numbers were just much bigger. I think Solstice was maybe 3 or 4,000 people. It's impossible to relate how big a deal that was to have 3 or 4,000 people dancing at nine in the morning.
Jeff Waye
DJ, promoter, founder of Ninja Tune North America
Jeff Waye
I did a shit ton of drugs and went to Solstice. Before Solstice, there was all these warehouse parties. I had friends going out and we would just end up at these after-hours type places, but they were clearly much more of a sort of gay house scene. It was a much older demographic, it wasn't super raved-up kids.
DJ Luv
I moved to Montréal in 1991. I went to McGill for two-and-a-half years and then dropped out to party. I discovered the rave scene. I was a rock dude, listening to jazz and a little hip-hop. The first party I went to, I think it was the 23rd of March, 1993, and it was called Solstice. It was put on by Paul Johnston, Tiga and the Bus Company. It was in a museum space that was no longer a museum. It was a big space. Huge giant ceilings.
Tiga
Back then, It was a bit more of a cottage industry. There weren't any agents or managers. With Richie Hawtin and John Acquaviva, Plus 8 had done a small party at Crisco a year before where they all drove in their car. It was mostly word of mouth and it mostly had to do with a lot of the information that would flow through record stores or with the phone numbers on the back of records. It was mostly really young people, telephones, fax machines, cash. It was just the beginning of that whole spectrum. It was mostly personal networks.
You felt like you belonged almost to a secret club. It was a different world.
Fred Everything
It was nothing like today, where this music is accepted and is known, where you can get 10,000 people at Piknic Électronik. I don't think Solstice had more than 2,000. I think at that time that was the most people you could get. It was very hush-hush. You had to call the rave line, which was run by Tiga since it was his party, to know where this was going to happen.
He changed the message every day, and that's how you knew how to get there, to the party. You felt like you belonged almost to a secret club. It was a different world. You had to go out of your way to be a part of it. It wasn't coming to you, you had to go to it.
G'nat
After Solstice, the parties started coming fast and furious.
Fred Everything
Solstice was the real beginning. Just walking and dancing, seeing all these kids wearing all the same outfits, the Freshjive stuff. It was a completely different culture. It makes you wonder what happened, sort of overnight. That was definitely an eye-opener. I organized a bus from Québec City to Montréal for that. That was the time when we organized buses to go to different cities.
Solstice started about a five-year part of my life where I did a shit-ton of ecstasy and acid and went out every weekend.
Jeff Waye
I'd already been to The Blue Note in London, I'd gone to Metalheadz – those things around that same year that I'd already done. But Solstice was the local moment where it clearly broke open. There were people that I knew but hadn't met. I didn't know Tiga or G'nat at that time. I sort of had some vague, friendly ties to some people, but that was the first night I met a lot of those people. That basically started about a five year part of my life where I just did a shit-ton of ecstasy and acid and went out every weekend. That was fantastic. I regret nothing.
G'nat
The older established DJs looked at us with curiosity more than anything. A year or two into it, even at Solstice, you'd start to see that kind of crowd show up at the rave, later in the night. You'd see some of the DJs that you associated with that scene [older, pre-rave club DJs]. I think they were obviously kind of impressed that you'd have a couple thousand people showing up at these parties. You know, for any DJ, you're like, "What are those guys doing?" I never felt like there was any negativity or anything.
DJ Luv
I wanted to check this out because I thought it was going to be a fad thing, but I wanted to experience it. It was the first time I did acid, and it kind of changed me that night. That was the night I met my wife. It was a life-changing experience. I met friends that I still have. I met a guy who was my boss for 12 years. After going to a few of these, there was this group of people. It wasn't a scene. It was basically all the people that kind of didn't fit in anywhere could fit in here together. You had me, the rock guy; and you had Plastic Patrick [local drag, DJ, musician, performer legend], who was this dude in fucking 18" elevator shoes and tight spandex; and then there was West Island kids, and there were university kids. French and English. Ladies, dudes. They were all curious enough to want to check out a new thing. It was awesome.
Tiga
Actually, the cliché of the unity and the mixing up, it is true. It was true at that time, you know? I didn't even know any French people. I had grown up in Montréal my whole life. I never even knew any French people – none, zero. It's crazy now when I think about it. At the beginning there was a bit of tension between English and French in the rave scene. Because they were, basically, different groups. There was my group, which was mostly English. We were upper-middle class. And there was a slightly more underground French side, maybe a little grittier. I think it was kind of healthy, in a way, because there was a bit of competition. There was a little bit of edge to it, which I think was good, actually.
It was all homegrown, "Let's piece this event together and hope to God the cops don't show up."
Fred Everything
The rave scene was, I think, mainly Anglophone at the beginning. There was Anglophone and Francophone DJs, but it was definitely very cliquish. With more people getting involved, obviously it diversified a little bit, but I think at first the people that were doing events here were Anglophones.
There's always going to be some sort of tension, even if they are unspoken sometimes. It's just a reality of having two communities living side by side, and often the two feel discriminated against for certain things. The province of Québec is a very unique place in North America. It's important to live side by side and respect each other, but it's also very important to hold on to our language.
Jeff Waye
A lot of people were just passengers in those scenes, but there was clearly a core of people that were really into music and really passionate about it. It reminded me exactly of the '80s super DIY punk rock. It was the exact same thing in those early days. It was all homegrown, "Let's piece this event together and hope to God the cops don't show up." It's kind of a shaky, slightly shitty soundsystem, and slightly dodgy warehouses that are actually fucking disgusting when the sun comes up.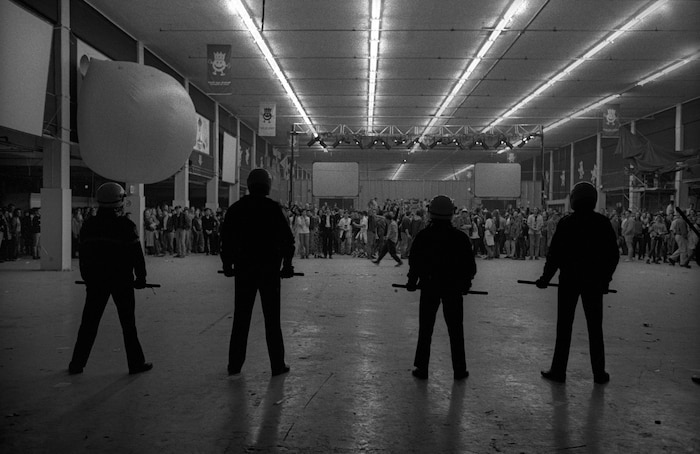 H2O
After Solstice, the thirst for more raves was enormous. It was quenched a little over a month later in the form of H2O, a party arguably as important as its predecessor, creating memories just as vivid. But this time, those memories were not of hedonism, togetherness and escape in music and dance. H2O marked the start of a conflicted relationship between raves and the Montréal authorities.
DJ Luv
The next big rave in Montréal had one of the biggest impacts. It was called H2O. It was thrown by these guys called Bug and Jam, who were just a couple of raver dudes that were like "Okay, we're going to throw parties." They threw a bunch of good parties. Ben and Laz were their names. They threw a party at the space where the Grande Bibliothèque is now at Berri-UQAM, back before it was even a skate park. It was just a big warehouse.
G'nat
The parties started coming fast and furious, although not without problems. The next attempt at a very big party was called H2O. Bug and Jam, at the time – Lazarus and Ben Walden – were definitely doing their best to throw huge parties, and they did, and they succeeded on a few occasions. But H2O didn't go so well. That was shut down by Montréal's police force in brutal fashion. There's nothing like police oppression to bring people together.
DJ Luv
At 3 AM, lights go on and the police is there. They're saying, "We're going to shut down this party," which sucks, but whatever. The people didn't have the right permits. But the police kind of screwed it up a bit by sending in riot police. They probably thought we were going to be all violent or something. That's not where we were at all. But at the back of the space was a crew of riot police with shields and helmets and batons.
Jeff Waye
I was just cresting on some really good acid. I looked up and there was just that row of riot police. I remember somewhere in my head just thinking, "Well, that's fun they have a whole theme." Then they did that riot thing where they take one step and bang the shield. At that point I also just realized that the entire floor was littered with drugs because everyone had dropped them all. Part of me was just like, "Yeah, let's scoop this shit up." Then I was like, "Wait a minute, that's a terrible idea."
A lot of people tuned in and were like, "What is this all about?" and then went on to look for the next rave they could go to.
DJ Luv
A friend of mine that was at that rave worked for CBC [Canada's national public television] and he was filming. He was doing a report on energy drinks, but what he ended up doing was getting footage of the police. They showed it on the news. It was really quite messy, but I think that experience really solidified it because we were like, "We just wanted to dance." I think for a lot of people in Montréal it helped us all sort of bond together.
Fred Everything
After H2O, I know that people got a little scared, so I think there was maybe a short time where people didn't do any big events. I think it hurt the police more than it hurt the rave scene, in a way. We're not in the States where, you know, police always go out killing people and nothing happens. Here, there's a little bit more damage control when there's a PR disaster like that one was.
Jeff Waye
I think it probably had a twofold effect. One, it made it a hell of a lot harder to throw a party. But I think the knock-off of that is a lot of people tuned into the local channel news that night, saw that and were like, "What is this all about?" and then went on to look for the next rave they could go to.
Fred Everything
As it gets popular, you'll get more people wanting parties, and then some people also doing it for the wrong reasons. How many dodgy promoters were out there trying to do events? I remember this one guy did this big flyer, putting a bunch of names on it. Most of these people weren't even aware of the date, they never got booked, and this guy was going around and posting flyers at record stores, and he basically had to disappear. That rave never happened.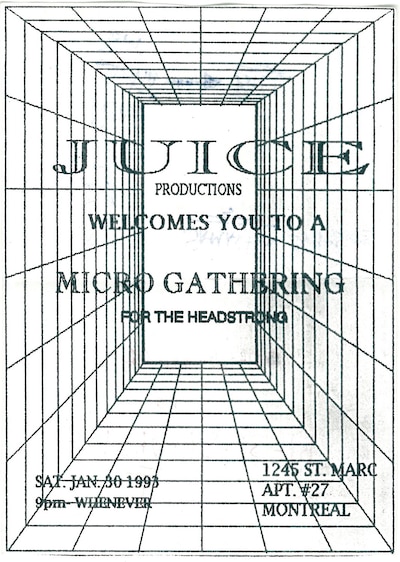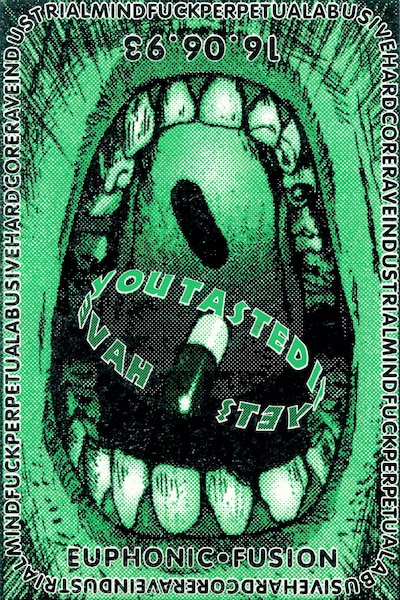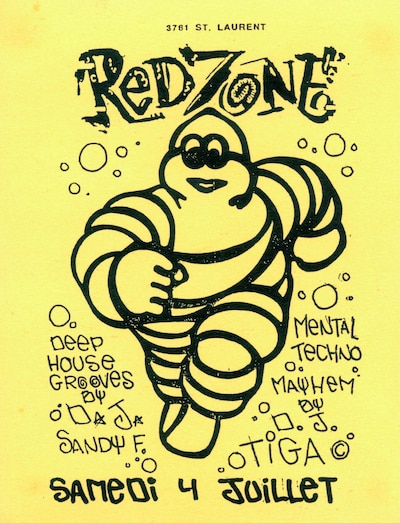 Jeff Waye
After a couple years, you had a lot of pretty serious amateurs trying to throw parties. So many stories of a dude who moved here from Saskatoon with enough money to go to university for the year, then decided to spend it all on a rave and was crying in a corner because he lost all the money.
DJ Luv
Everybody got a little bit older. If you were a lifer, or a person that was going to be into this for a long time, you started your own labels, you worked with distributors, you did radio shows, you tried to make it almost more legit, in a sense. I do think that is the maturing of the scene, the maturing of the people in the scene. People going, "I really do like this, but I can't necessarily just get by selling weed and going to parties, I've got to do something else." It's sort of the same thing as settling down but wanting to keep being related to that music.
BACK TO THE CLUB
Once the excitement of the original underground events spread to a wider audience, the growing number of people wanting to organize their own events created an increase in shady and fairly chaotic events. The unpredictability of the scene's operations and quality control led to the need for more stable, consistent environments. A string of new after-hours clubs – Playground, Sona, Stereo and Aria, to name a few – emerged around that time.
Christian Pronovost
After rave happened, some people started throwing house raves. Cox and Playground, big-scale clubs, began doing after-hours parties, but it was a rave. The gay scene was still really healthy and really progressive in Montréal. Rave became a big thing, and that fed the after-hours parties [in clubs].
Tiga
Looking back on it, the rave years were actually only two or three years. The transition to clubs was the end of that innocent period. It was the normalization of things. Things started to definitely get more business-oriented, more organized, with taxes and payrolls.
Christian Pronovost
Tiga and a bunch of people, they opened Sona. They're like, "Okay, we're too old to rave, we're going to open a club." If you throw raves and it works, what else are you going to tell yourself? Open a club.
Tiga
The real reason we wanted a club was because it was very difficult to do the parties on a regular basis. Find locations, deal with the police, the fire department. It was a bit dodgy and risky. At the same time you had more and more music, more and more DJs, more and more people, so you wanted something regular. You wanted a home where you didn't have to stress so much. The problem with the club, we realized, and the rave kids realized pretty quickly, was if you're trying to fill a place two nights a week, every week, forever, there's compromise, you know? In general compromising usually involves either politics or money.
Mateo Murphy
DJ that came of age during the early days of the rave explosion
Mateo Murphy
The way I saw it, as a DJ, was a sort of quality control. Because I played some really bad parties. Warehouses in the middle of nowhere, in the middle of the winter without any heat, and we're wearing gloves and there's, like, 20 people. Then there were places that were super hot, sweaty and dirty. It was interesting to play at a club, because you had a guaranteed quality set-up, a guaranteed crowd. You had these longer sets, you had three or four artists, rather then a bunch of kids playing an hour each. It just felt like a step up in every way. But it lost a little bit of its charm in terms of its underground nature
Christian Pronovost
Then Stereo got built. It was basically Angel Moraes coming to Montréal. Angel played a couple of times at Playground and loved the city. Eventually, he's like, "Okay, let's do a club here," Mark Anthony being his contact. Mark was always playing better music than most of the DJs in gay clubs. He was the underground gay DJ. Too underground to play in a good place, not ready to do the real compromise. He didn't want to play certain sounds. He wasn't interested, so he got lost there. That's why, I think, Stereo happened, with Angel being from New York, having that background of underground New York gay scene. Mark, after that, took that sound, that bass-heavy sound, moody – gay-friendly, too. Very Sound Factory.
G'nat
By that time, I think the clubs figured out that early '90s house sound – which was a lot of vocals, a lot of organ, a lot of piano – it wasn't really bringing people in. They had to adapt, and that's when the after-hours club happened and it started moving into the clubs. At the same time, the sound got harder – the house sound got harder. Hard house became quite popular – drum-heavy hard house, techno house. In that sense, I guess the techno scene influenced the sound that became popular at those places, as well. By the time you got Sona, it had changed quite a bit. It didn't quite have that crazy energy. It was a little bit more the cool thing to do.
Christian Pronovost
Aria was opened in an old theater by these guys from Québec City who had a club there called Le Dagobert. They had tons of money. They did two rooms. One main room downstairs. Upstairs, they did a room called the deep room. Aria was my answer to what Body & Soul was in New York, playing very Joe Claussell, Afro-centric, a bit of François Kevorkian kind of more technical music, soulful disco edits. Danny Krivit played, DJ Spen, Karizma.
Even if you do everything right, after a few years you're old and people want something new.
Tiga
It was the beginning of clubs competing against each other. With that there was a little bit of a darker period there. Also, not every type of person can survive in that climate. It's much more cutthroat. It's much more business. A lot of people faded away, you know? A lot of people didn't make that jump to the next phase.
Fred Everything
At that time, there was fewer raves, and things shifted to clubs, things got a little bit more corporate, you know, more organized. I played at Playground when it became Storm. Then I was playing at Sona for a long time in the bar.
Mateo Murphy
The after-hours were a response to raves, I think. There was a panic in a lot of club owners when rave started happening. There was the competition – maybe the after-hours club mentality was a sort of, "If we can't beat them, we'll join them, or at least compete on their turf."
Tiga
Even if you do everything right, after a few years you're old and people want something new. Montréal for a few years, mid-'90s to late '90s, had probably one of the biggest club scenes in the world. For the size of the city, we had probably three or four full-size after-hours plus really big events all the time. There were only a few cities in the world that were at that level at that time.

Pour lire la version française, cliquez ici.
Header image © Jean-François Leblanc