A History of Album Promo Stunts
From the ill-conceived, to the poorly executed, to the downright puzzling, Maura Johnston recounts just a few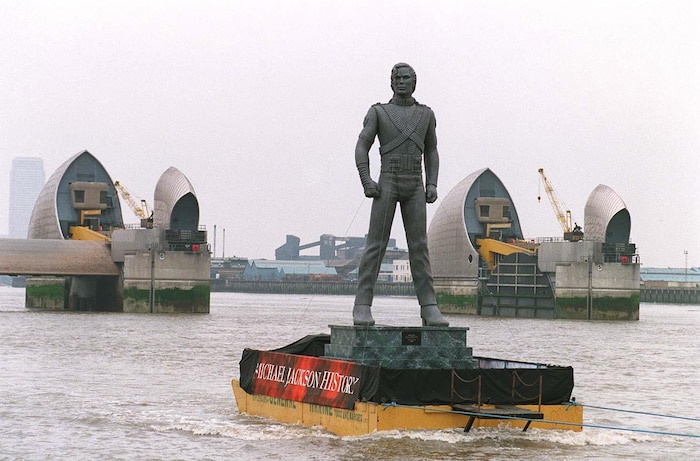 While an old adage might claim that there's no such thing as bad publicity, PR stunts do exist on a bit of a continuum. (The precisely calibrated launch of Beyoncé's Lemonade holds down one end; the smoking carnage of Comiskey Park's Disco Demolition Night is its polar opposite.) Here are a few stunts that didn't quite work out as planned for anyone – including audiences.
Lady Gaga Debuts the "Flying Dress"
Lady Gaga's Artpop was one of those admirable failures – Gaga was deep down her own rabbit hole, making a record that didn't make up for in hooky riffs what it overcompensated for in flabby songwriting and overbearing "I'm an art-eeste" posturing. Perhaps the best illustration of the project was the TechHaus Volantis, a contraption that she debuted at the Koons-studded launch party for Artpop in 2013.
Billed as the world's first "flying dress," the Volantis looked like an elaborate chandelier with a person attached at the center, and it propelled Gaga about a foot off the ground during its brief "beta test flight." "I hope today marks a change in pop – not just for me," Gaga said to the crowd of journalists gathered for the launch. Artpop would go on to have a soft landing, and Gaga would eventually engage in pop penance by ditching the robotics and dueting with Tony Bennett.
U2 and iTunes
When U2 was readying its 2014 album Songs of Innocence, it was looking for a way to make a splash. Unfortunately, their decision that all 500,000,000 users of iTunes be "gifted" with the record – through a mandatory download – backfired big time for the band and for Apple, who received flak from users unhappy with being force-fed MP3s.
Apple quickly set up a software tool allowing users to remove the offending files from their hard drives, while Bono apologized: "I had this beautiful idea and we got carried away with ourselves," he said during a Facebook chat. "Artists are prone to that kind of thing: [a] drop of megalomania, touch of generosity, dash of self-promotion and deep fear that these songs that we poured our life into over the last few years mightn't be heard. There's a lot of noise out there. I guess we got a little noisy ourselves to get through it."
50 Cent Teases Retirement
The 2007 sales showdown between Kanye West's Graduation and 50 Cent's Curtis, which were both set to be released on September 11, was a big enough deal to garner a Rolling Stone cover where West (then in his Daft Punk phase) and 50 faced off. But 50 stepped in it when he bet on his own career: "If Kanye West sells more records than 50 Cent on September 11, [2007], I'll no longer write music. I'll write music and work with my other artists, but I won't put out any more solo albums," he told the hip-hop site SOHH a month before the showdown. Graduation wound up handily winning the battle, selling 957,000 copies to Curtis' 691,000, but 50 didn't quit; his next album Before I Self-Destruct would come out only two years later, and in 2012 he would admit that his mouthing off was merely a marketing tactic.
Rihannaplane
Rihanna's seventh album Unapologetic was promoted with a numerological strategy – she took a bunch of journalists to seven cities on a Boeing 777 for the creatively named #777Tour, which promised at least a glimpse of the glamorous life. But what started off as some innocent continent-hopping turned into a situation where journalists felt trapped and – most crucially – low on material thanks to the star attraction being mostly M.I.A. after a trip-opening champagne party.
Tweets from the plane increasingly resembled "HELP ME" notes, and reports after everyone had returned home had a tinge of PTSD about them. "Please don't misunderstand: we were mostly all VERY excited to be a part of this," an anonymous #rihannaplane rider wrote on Gawker. "But this was work for a lot of us, and one person was basically responsible for not only regularly keeping us from doing our jobs, but from sleeping or eating or going outside or even using a bathroom."
Cash Rules Everything Around Shkreli
In 2014, the Wu-Tang Clan decided that they were going to distribute Once Upon a Time in Shaolin in a new way, redefining the notion of an "exclusive" release. "We're about to put out a piece of art like nobody else has done in the history of music. We're making a single-sale collector's item," Wu-Tang's RZA told Forbes in 2014. The 31-track record, which was packaged in a hand-carved box and accompanied by extravagant leather-bound liner notes, wound up selling for a figure "in the millions" in 2015 – and the buyer turned out to be villain-of-the-moment Martin Shkreli, a former finance-industry wunderkind who had earned the public's ire after word got out that he'd jacked up the price of an anti-parasitic drug by 500 percent. Sure, Shkreli claimed inspiration by the Wu-Tang's acronymic slogan "C.R.E.A.M.," but his price-gouging and childish behavior, which included him using the album's box as a coaster while livestreaming, didn't stop Donald Trump from calling him a spoiled brat and others envisioning scenarios where Bill Murray jumped in to save the day. (And now, due to Donald Trump's triumph in the US presidential election, we can hear some of it for ourselves.)
Garth Brooks Goes Undercover
In 1999 Garth Brooks, then selling country albums by the boatload, decided to turn to rock – and to flip his persona. Dubbing himself Chris Gaines and giving himself a goatee and a grunged-up sound, he went so far as to play Gaines as musical guest on a Saturday Night Live episode that he (as Brooks) hosted. While the album The Life Of Chris Gaines went double platinum, that total was barely what a plain old Brooks album would sell in its first week, and Brooks returned to his cowboy-hatted roots.
"There is a ton of Garth in Chris, once you start to get familiar with Chris's music," he said in 2012. "But one of the things that still will never settle easy with a lot of people, including my dad, is how this kind of face, that looks like this and has for a decade, sings a song that goes [falsetto] 'There's no more waiting.' It's very strange to see that coming out of this face."
The Brinsley Schwarz Hype
Pub-rock act Brinsley Schwarz (in which Nick Lowe played bass alongside the eponymous guitarist) was surrounded by such high expectations, it snagged a New York gig where they opened for Van Morrison and Quicksilver Messenger Service early in their career in 1970. Their manager Dave Robinson decided to fly a planeload of UK hacks over to cover the gig, a strategic move that proved fateful – not only did visa problems result in the band getting to the gig late and having to use rented gear, the writers' plane was late enough for all of them to get completely soused pre-flight. The show was roundly panned, and the bad feelings persisted all the way through Brinsley Schwarz's first album cycle.
Michael Jackson Immortalizes Himself
Michael Jackson crowned himself King of Pop in 1989, but that was nothing compared to the honorific accompanying the release of his 1995 album HIStory: Past, Present, and Future, Book I and that album's accompanying tour. Sculptor Diana Walczak created a 40,000-pound statue of Jackson, in full military regalia, in 1994; 30-foot, 20,000-pound replicas were created for dissemination around the globe, with drop-off points including the Los Angeles outpost of Tower Records, the former Stalin Monument in Prague (where the HIStory Tour kicked off) and a boat that subsequently sailed down the Thames River in London. Despite the raised eyebrows that accompanied its release, one still stands in the parking lot of a McDonald's in Best, the Netherlands.