Leroy Burgess on the Reinvention of Black Ivory
The acclaimed songwriter explains why walking away from the band was the hardest (and best) decision he made
Leroy Burgess' stellar career began on the court – when he started playing musical basketball with his buddies, shooting hoops and singing. Luckily, they decided to form a group, and in 1968 soul vocal trio The Mellow Souls was born. A short time later, having been discovered by producer Patrick Adams, they became Black Ivory and went on to record ballad-focused soul hits for nearly a decade.
But this was only the beginning for Burgess. With his signature warm baritone voice and tension-building keyboard riffs, Burgess went on to contribute to the success of many different projects in the disco era – with Aleem, Fonda Rae, Intrigue, Inner Life, or Conversion and Logg, amongst other pseudonyms. In this excerpt from his interview with Dâm-Funk on the monthly RBMA Radio show Glydezone, Burgess explains how walking away from Black Ivory was the hardest decision he ever made – and led to their biggest hit.

Listen to Dâm-Funk presents Glydezone on RBMA Radio here every third Friday at 4 PM EDT.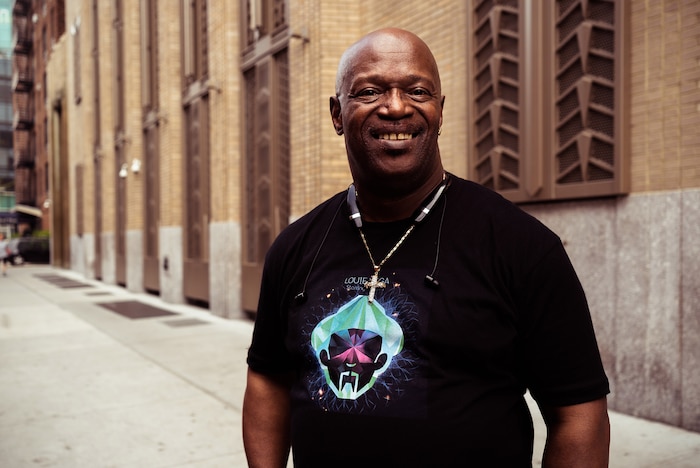 Black Ivory was my teenage years, you know what I'm saying? We're talking about the late '60s into the early '70s, when Smokey Robinson and Delfonics, Eddie Kendricks [was] part of the Temptations, all those beautiful high voices and wonderful ballads pervaded the music market. At that time, I'm like 14 going on 16, 17, right? I've got this young, high falsetto voice, the training from my mom and the training from my lifetime.
I went into Black Ivory, that was my first group, and the genre that we worked in was slow jam R&B, stuff like that. High voice and stuff like that. I was their lead singer from ... Oh God, our first record came out in 1970? Don't Turn Around, and I stayed with them until 1977. Did four albums at that time with them. Pretty much in the slow jam, drum and stuff like that.
Once you lock into a particular genre and you become well known for it, if your musical creativity takes you somewhere else, often you'll find your fans resistant to it. They'll be like, "No, no, no, you don't need to do nothing, dude. Just do another one of those slow jams…" Musically, all musicians, all artists, they have to expand. They have to grow. At that time, it was changing in terms of the scene, from slow jams and all of that, Smokey Robinson and all that, into the O'Jays and Teddy Pendergrass, and Harold Melvin & the Blue Notes.
The beats were picking up and stuff like that, and if you're typecast into being a slow jam group, your fans... Even though you're trying to do some nice stuff uptempo, they're like, "Oh man, but that's not really the Black Ivory sound" and so on and so on. Then you try to explain it to them, and say, "Listen, I want to grow up. I want to move and expand my consciousness," and your fans will actually staunchly lock you in. They'll be like, "No! No! Don't do that! Don't do it."
I know I need to expand and not just be Leroy Burgess of Black Ivory, but find out who Leroy Burgess is.
The funny thing about it is I actually had to step away from Black Ivory. I had to actually, and this was a real tough decision, one of the hardest decisions I ever made, was to step away from a successful working group. To embark on my own, which is a ... You don't know what's going to come. You're just like, "I know I need to do more things, I know I need to expand and not just be Leroy Burgess of Black Ivory, but find out who Leroy Burgess is."
After that, I broke into dance music, right? Starting with the record "Weekend" by Phreek, right? Then "Fire Night Dance," and stuff like that, then "Hooked on Your Love," with the Fantastic Aleems, and all the time I'm putting down these uptempo dance beats and singing now in my natural voice.
Around 1979, my two partners who were still singing in Black Ivory, they were working on what would be the fifth album. They were looking for great songs for the album, and they came to me. Lenny Adams, God rest him, their manager, our manager, came to me and said, "Do you have something?" I had three songs: "Get Down (Comin' Down)," ["Hustlin' (You Gotta Be Dancin'"] and the third song was "Mainline." For the first time, we got back together, in 1978, '79, to record that. This was the first songs after starting in 1970 that the fans finally accepted Black Ivory doing some uptempo jams. Let alone it being the record that it has become in terms of its longevity, and everything like that. It took them that long to say, "Okay, Black Ivory, you can do a fast song, let's see what you got."
It ended up being big all over the world. It's amazing the responses that I get when I perform it these days, either with Black Ivory, who I'm still performing with... I did rejoin the group in 1995, and now we continue together, along with whatever my solo pursuits are. Every time we perform it, the reaction of the audience, when we get to the, "Nothing is the same, ever since…" When we get to that part, they just go nuts. It's great watching the audiences sing along and vibe into every part of the song.
It took almost ten years to crack that particular nut of Black Ivory doing a fast song. I think that my being a solo artist in the fast genre kind of opened that door a little bit. Where they began to accept me, but they didn't know I was the guy from Black Ivory. I'm this guy, Leroy Burgess, who's this guy singing all of these songs, writing all of these songs, "Weekend," "Fat Rat," all of that. Then here comes Black Ivory, back in the mix, and I end up doing that song for them, and it becomes the most recognizable song.