Australian Experimentalist Oren Ambarchi on the Early Encouragement of John Zorn
The multi-instrumentalist discusses his first exposure to and the influence of free jazz
There's no easy way to sum up the music of avant-garde multi-instrumentalist Oren Ambarchi. His works are hesitant and tense, extended songforms that reside in the cracks between several schools: modern electronics and processing; laminal improvisation and minimalism; hushed, pensive songwriting; and the physicality of rock music, slowed down and stripped back to its bare bones, abstracted and replaced with pure signal.
Born in Australia to an Iraqi-Jewish family, Ambarchi's first musical endeavors in the 1980s revolved around free jazz, originally as a drummer and later as a guitarist. His musical worldview was broadened, however, by a stint studying Jewish mysticism in New York, during which time he encountered experimental artists like John Zorn. After returning home, Japanese noise music became another major touchstone, even though his debut solo album, 1998's Stacte, found him exploring calmer, more meditative sounds. Since then, Ambarchi has issued a seemingly endless stream of releases, both solo and collaborative, appearing on labels such as Touch, Southern Lord, Editions Mego, PAN, Kranky, and Tzadik. In this excerpt from his Fireside Chat with Hanna Bächer on RBMA Radio, Ambarchi discusses his first exposure to free jazz and the gracious encouragement of John Zorn from his early days in New York City.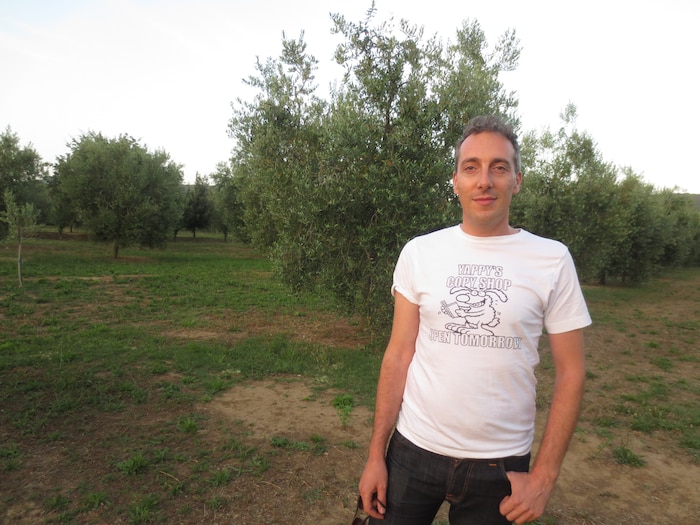 When I was 13 or 14, I got heavily into free jazz. I was super into Hendrix, and his drummer influenced me a lot, Mitch Mitchell, and I wanted to know who he was listening to, and he was listening to Elvin Jones. Then I looked into Elvin Jones and he was John Coltrane's drummer, so I bought a John Coltrane record and became absolutely infatuated with John Coltrane's music and impulse-style jazz. I already had quite a big rock record collection and I sold the entire collection, except for the Hendrix records, to buy as many John Coltrane and Cecil Taylor and Albert Ayler records as I could get my hands on. I was completely infatuated with that. My first live experience in Australia was playing free jazz when I was about 17. That was the beginning of live playing.
There was a scene [in Australia], but most of my teenage years I was in my bedroom listening to records, really, and I wasn't aware of the history of what was going on. SPK and lots of things were happening in my hometown and I didn't know about it at the time. I asked around, and a lot of people saw those shows, and you'd meet people who were aware of all that stuff who were at these shows. Then when I was starting to play free jazz I discovered this alternate scene. People like John Murphy, who actually just passed away. He was a very interesting artist from Melbourne originally, but he worked in Whitehouse and Death in June and all kinds of different groups. I used to go and see him play all this weird experimental stuff while I was involved in the free jazz scene. There was a lot of stuff going on, but you had to dig a little bit.
In my late teens I would go to New York quite often. I kind of lived there for a while and saw loads and loads of music. A lot of the people that I was listening to I could finally see live. Eventually, when I was 21 or so, I think around 1991, I saw Keiji Haino play solo. Experiencing a solo performance by him was so different and so otherworldly that it made me rethink what I was doing as a musician and what I wanted to do. Up until that point I was playing free jazz on the drums, and I slowly started to add electronics. I started to add tape loops and things like that, and I became more and more interested in electronics. After seeing him play, I thought, "I want to play the guitar." I came back to Australia and booked a gig playing guitar and everyone thought I was crazy, because I really didn't know what I was doing. That was the beginnings of that.
A good friend of mine, Robbie Avenaim, and I started a festival called the What is Music Festival, inspired by what we saw in New York. We went to Japan as well, and worked with a lot of noise musicians such as Masonna and Solmania, and people from Boredoms. We were very inspired, so when we came back to Australia we started this festival where we presented a lot of underground music from Australia, from the noise scene, from the free jazz scene, from the new music scene, and eventually it became international and we had it in Sydney, Melbourne and Brisbane, in three different cities, five nights a week, about five nights per city with a lot of stuff.
We brought Keith Rowe, and Fushitsusha, and Whitehouse, and Pan Sonic, and all kinds of stuff. We did a Mego showcase in 2000, so we really introduced a lot of that stuff to people in Australia for the first time.
Robbie Avenaim and I grew up in Sydney. He was a drummer and I was a drummer. We went to the same school and I was a year above him. We used to talk about music all the time and ended up playing together a lot as teenagers, and got into jazz together, and noise, and all kinds of stuff. We had a noise punk band called Phlegm in the early '90s which went to Japan twice, and we played in New York as well. John Zorn was very encouraging and liked what we were doing and eventually he released a duo CD of ours. We've played together for, I don't know, 20 or 30 years.
She opened the door and I looked and John Zorn was asleep on the couch and Yamantaka Eye from Boredoms was asleep on the other couch.
We both played with Zorn in 1993. Zorn invited us to play at his 40th birthday celebrations at the old Knitting Factory. Initially he invited us to do our thing. I remember we were packing up and he said, "Why are you packing up?" We said, "Because we're finished." He said, "No no no, leave your stuff here because you're playing with us tomorrow night." I looked at the bill for the next night and it was Zorn and Fred Frith and Ikue Mori and Arto Lindsay and all these people. We were pretty excited – we were 21 or 22. The next night we played with all those guys. Then I went home and then the next morning I got a phone call at like seven in the morning, "Go to the Knitting Factory, you need to learn this piece of mine. I need you to play guitar."
He was super encouraging because he really didn't know what we did. He'd never heard what we did. This is before email or the internet. Someone introduced me to him in New York, this woman called Stephanie Stone. There's a club called The Stone and it's named after Stephanie and Irving Stone. She was this older Jewish lady that was at all the hip gigs in New York. Like, every gig that was cool, she would be in the front with her husband. He would walk outside and smoke a joint and then come back in. They were just always there. One day she said to me, "I see you at all these gigs, have you met John before?" I said, "No." She said, "You've got to meet John." She kind of dragged me upstairs into this dressing room.
She opened the door and I looked and John Zorn was asleep on the couch and Yamantaka Eye from Boredoms was asleep on the other couch. She started saying, "John, John, wake up." I said, "Don't wake him up." She woke him up and we ended up having this hour-long or two-hour-long conversation, which was really fun, and we really got along. He wrote me a list of all these records that I should look for. About six months or a year after that I was back in Australia and I faxed him about something and he said, "Why don't you come and play at my festival?" I said, "You haven't even heard what we do." He's like, "That's okay." We just went and did it. Pretty amazing the way a lot of older musicians in those days were very gracious and open to younger people, and very encouraging.