Kraftwerk in India

In 1981, Kraftwerk were at the height of their powers. Their long-awaited album, Computer World was the capstone of a five record run that included Autobahn, Radioactivity, Trans Europe Express and Man-Machine – one of the most incredible streaks of any band in the world. The wait between Man-Machine and Computer World was a long one by Kraftwerk's standards (to that point, at least). Some of the time spent in the studio during the composition of Computer World was to ensure that the group could easily tour the album.
The result was a worldwide jaunt that took in numerous countries, both known and unknown. India was one of them. It was a gig that came together almost by happenstance. Promoter Vikram Singh had gone to London, looking to book musicians for gigs in India. He found a former Beatles manager, John Sherry, who guided him through the ins-and-outs of the business. Once Singh got back to India, he received another call from Sherry, with some news about this group from Germany that wanted to put on a gig in India. Singh had no idea who they were. But "Sherry convinced me to try it since they were coming with everything, the airfare, the equipment, the technicians..." Why not, thought Singh?
It would be nice to say what happened next changed everything in India. But that's not exactly the case. Electronic music in India by 1981 was rare, sure. But it wasn't completely unheard of. Indeed, the Germans were known throughout Mumbai by sound, if not by name. In the late '70s and early '80s. Ashim Ahluwalia first heard Kraftwerk on India's national television channel Doordarshan. Being "government TV in a socialist country, in the pre-cable era, there were no ads," he says, so a hand-painted slide asked viewers to wait for the next broadcast, typically kids programs like Magic Lamp (English), Kilbil (Marathi) and Santakukdi (Gujarati). The music that accompanied the frame for the ten second break? Kraftwerk's "Neon Lights."11In fact, throughout India, ads on television, radio and in cinemas had electronic music soundtracks. Ahluwalia recalls being taken to the movies when a 90-second commercial for Thril, a local substitute for cola drinks, came on screen. "That was an incredible ad," he says. "It was a Star Wars rip off. Everybody was in spaceships and there's a laser battle. They had a desi version of R2D2. An Indian model played Hans Solo."

The Indian advertising world's conveyor belt of cutting-edge music in the '70s and '80s was Western Outdoor Advertising, and the young buck at the helm of many of these types of ads was Daman Sood, an electronic music enthusiast enamored by Pink Floyd, Isao Tomita and early Moog evangelist Rick Wakeman. By 1975, Sood had picked up a MiniMoog for nearly $7,500 today, fashioning all manner of effects for jingles on the synth.
Before the group could play, there was the small matter of actually getting their gear set up. Remembers Singh, "[Kraftwerk] came with about 12-14 people. I was still zapped when I saw so much equipment. It was literally trucks and trucks of equipment. They arrived at 2:30 AM with all the 52 tons [*ed. note: it was actually seven tons] of equipment. I didn't know what to do." The group around Kraftwerk took care of the set-up, eventually, dealing with an onslaught of rain that Singh – prone to hyperbole – claims was the highest amount Bombay had received in the preceding 15 years. (To be fair, the concert did take place at the end of monsoon season.)
Singh had little idea how the event would go over with audiences. "I was totally surprised [that the show was sold out]. At that time, nobody had heard electronic music [live]." But when they opened the doors, there was a 2,000 strong crowd ready for the show. When the curtains opened, four men were revealed on stage in red shirts, black pants and thin black ties. Five minutes later, with the lights brightening slowly, they remained still. Fifteen minutes in, the music kicked in and it became obvious, finally, that there were in fact looking at dummies. Four men, dressed exactly like their mannequins, quickly stepped out on stage to take control.
For Faredoon "Dodo" Bhujwala, Kraftwerk's costuming was a vindication. The then 21-year-old had convinced a friend to wear identikit Man-Machine outfits to the show. "I was like, Yeah! We know it! We're on top of it. We got it!" Kraftwerk's set list read like a greatest hits compilation. They performed "Autobahn," "Trans-Europe Express" and "Showroom Dummies," with Dodo and his friends humming along. They were itching to get on the floor. "We were all really stoned," he says. "We screamed and jumped like we did at other concerts. But you couldn't do that because it was an auditorium. I was up front in the aisle, getting pushed around and getting yelled at to go back to my seat."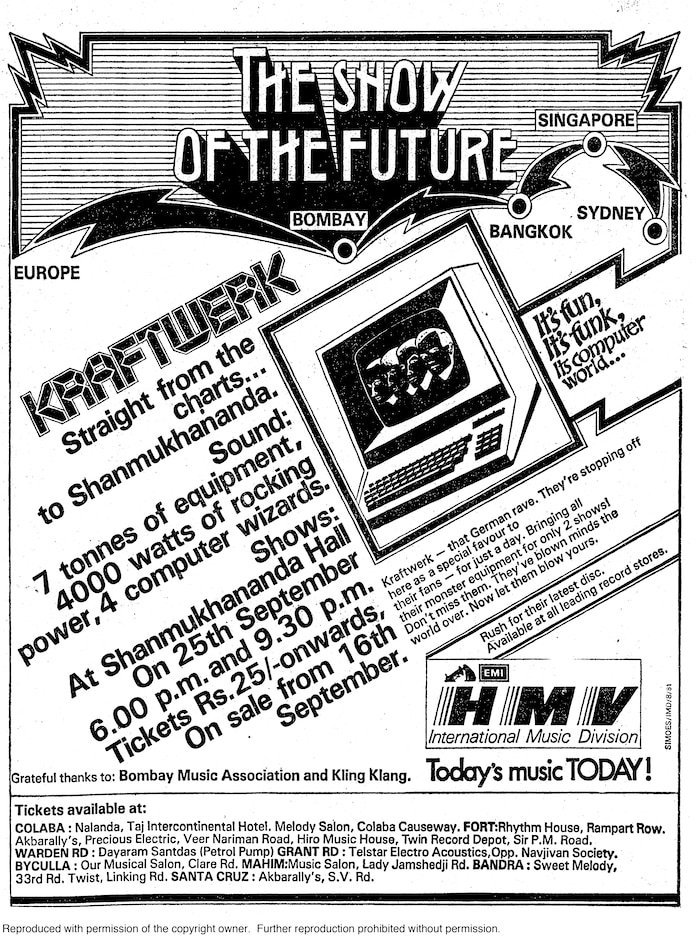 Rajiv Kenkre and Shudeep Banerjee, 21-year-old collegians along with their friends, who included Farrokh Chothia (today, one of India's most famous fashion photographers) took matters into their own hands. Like Dodo, they couldn't afford the premium stall tickets (Rs 25). They were also seated on the second floor of the auditorium and quickly tired of the comparably lower quality of sound on their level. And the duo were even more annoyed when they peeked below to find the vibe almost funereal, "like a classical music concert." Half an hour into the gig, they decided to inject some life into the proceedings and headed up front.
Kenkre recalls that he was initially intimidated to "see all these guys standing stiff. But the groove was so hypnotic that we couldn't stop moving," he says. "They were so cold; it was actually hip that they were so straight." He references the anecdote from Bill Brewster's Last Night a DJ Saved My Life about Kraftwerk. Leonard Jackson, the sound engineer, who travelled to Dusseldorf to mix the Man- Machine album was so dazzled with "their ability to create dance pressure from stark, rigid beats" that he "confidently expected Kraftwerk would be black."
The highlight of the night for Kenkre's entourage was when Kraftwerk performed "Pocket Calculator." One of the band members handed Kenkre the Dubreq Stylophone to trigger the sounds "paa – poo – pey" from the synthesizer. For Bombay youth who were more accustomed to faulty telephone landlines that regularly broke down in the '80s, it was a minor miracle. "This was way before wireless and all that," says Kenkre. "At least in India we had never heard of this, MIDI was still a few years away, so it was a revelation."
Kenkre also remembers spotting a guitarist from a famous college band named Toys. "The rock & roll guys poo-poo-ed disco," he says. "When I saw this guy grooving, he looked at me and said, 'Fucker, don't tell anybody that you saw me here.'"
The stage set up resembled the inside of a spacecraft. There were stacks of synths.22More specifically, there was a Sequential Circuits Prophet 5, a MiniMoog and Polymoog, Texas Instruments Language Translator machine and Pocket Translator, a Roland MC8 MicroComposer sequencer, custom-built 32-step analogue sequencers by Matten & Wiechers and Dubreq Stylophone and a Mattel Bee Gees mini-keyboard. And for the first time at a gig in India, custom-made projections on loop as visuals for songs. For a nine year-old Ashim Ahluwalia, it was like someone had live-animated his comic books. "It looked like a set of a sci-fi film with all these buttons blinking," he says. "As a kid, I was really into it. I remember a back-screen projection, like of railway tracks and power lines, and it blew my fucking head off."
Once they concert ended, crowdgoers were blown away to see how welcoming the German group was. Perhaps sensing how unusual this situation was in India, Kraftwerk invited people on stage to interact with them and the synthesizers. Samir Shah was one of the 15-odd people who took them up on the offer. "They had put some music on a loop and I banged on their instruments," he says. "I didn't know how to play anything, so that didn't help. But it was amazing."
Shah had been turned on to Kraftwerk earlier than most. Hand-me-downs from his brother who was 12 years older included Kraftwerk, which his cousin brought back from a business trip to Germany in 1972. Nine years later, at 19-year-old, he was at the edge of the stage throughout the show with his camera, snapping up pictures of their live performance. "It was a very friendly concert," he says. "They didn't mind if you took photographs."
Parag Kamani, a 21-year-old cub journalist, who had only recently joined Business India magazine as a trainee, was equally amazed at how the event ended like a jam session. Kamani had his own moment to savor after the show when he went backstage to meet with Kraftwerk. He handed over his business card to the management who returned minutes later with the news that the artists weren't available. They even returned his credentials. When Kamani flipped his business card, he saw that he'd been handed his first valuable piece of memorabilia. The band had all signed off their names with musical notations.


Kraftwerk certainly didn't introduce electronic music to India. There had been plenty of curious musicians working with synthesizers before them. But it's clear that the group sparked the imaginations of the creative class. Over the next year, RBMA will be highlighting some of the fascinating electronic music to emerge from India in the wake of this gig – and some of the pioneers that emerged even before it. To read more, check out our electronic music in India page.
Header image © Times of India / SaReGaMa