A Spacebomb Roundtable on Race: Being Black in America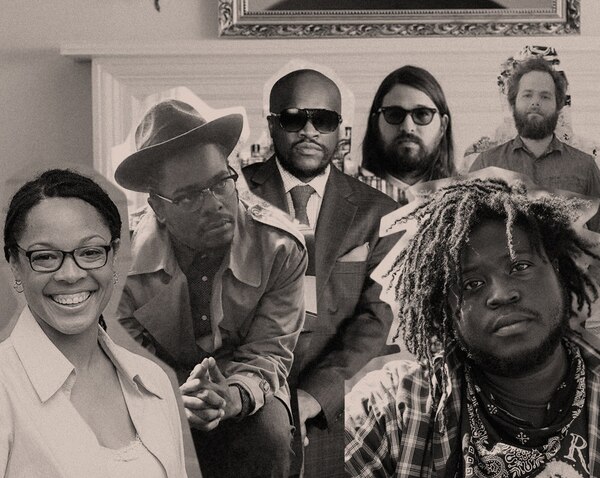 In the turbulent wake of a fraught election, intensifying racial tensions around the world and recent local events, Matthew E. White and the Spacebomb Sound brought together members of Richmond, Virginia's community for a discussion about what it means to be black in America on RBMA Radio.
This excerpt from the chat shows a complex, sobering and at times hilarious back-and-forth between Tiffany Jana, co-founder and CEO of TMI Consulting, co-chair of the transition team for Richmond's Mayor-Elect Levar Stoney; Reggie Pace, trombonist and percussionist for Bon Iver, Sufjan Stevens and co-founder of the No BS Brass Band; Kelli Strawbridge, drummer for the Microwaves and singer for KINGS and the Big Payback; multi-instrumentalist and producer Devonne Harris AKA DJ Harrison; and Cameron Ralston, touring bassist for Foxygen and Matthew's bassist of choice.
Matthew E. White
Tiffany, just to open things, how do you define racism?
Tiffany Jana
Racism is a phenomenon that occurs when a group has bias, prejudice and power. One of the challenges that people often have with the literal definition of racism is, "Well, black people can be racists, too." Technically, no. We can be prejudiced, we can be biased, but because we don't have the social-cultural power to affect large-scale change on people who are not like us, we can't actually fit that definition of being racists.
You have to have a prejudice that is based on race, which is a social construct – and that's a whole other part of the conversation – and you have to have the power to allow your behavior to influence the outcome for people in a negative way.
Matthew E. White
How do you guys see racism in your life? How does it happen in big ways, in small ways? I just think that is important to hear.
Tiffany Jana
Personally, I have been the beneficiary of a great deal of privilege around the area of race. I can name a few isolated instances where it was very clear that people treated me negatively because of race, but by and large I think the larger stuff... There was a time when I applied for a job at a very large, local company and I was told that I was not a cultural fit. I do think that if I had been a blonde-haired white woman, I probably would have been a better cultural fit, so things like that.
There's racism and there's also colorism. The people who are fairer-skinned are statistically more likely to have a better way in the United States. I'm a very fair-skinned woman, and this country by and large has given me a really good go, so I see more than I experience.
Reggie Pace
It's kind of the same for me, but with an opposite effect. When people know me I'm a pretty warm guy, but not knowing me I can come off really menacing, which is confusing to me at times. If I'm in a restaurant with a group of people I'll get treated this way, but if I'm at that same restaurant by myself it's like, "What's up with you?" It's like a different look that I would receive, but that's a very small thing.
I think the main thing is just feeling like your opinion doesn't quite matter as much as everyone else, regardless if you have experience in the subject or not.
Situations have rules, and I don't necessarily know what those rules are when I walk into a room. Then I'll say something that might catch ... It sounds kind of like it's coming out of left-field a little bit, and I think it just weirds people out or something. All of us, we all hang out with each other all the time and you see brown faces all the time, but it's easy to mistake that to be how everyone experiences the world.
Lots of times I'm the only black person some people know. A lot of white people can't really relate to that. So many times I walk into a building in which I'm the only black person there, which is not the case for everybody. How often do you walk into a room where you're the only white person in the building? That is nonexistent.
It's always been that way because of my interests. I'm a musician and an artist. At first I was sticking with the sports kids going through high school, and then when you switch over to art you just end up in this other community. Then if you're good, people will be like, "Oh, that's cool." If not, you just feel super alone in this art world and you're trying to figure out who to talk to, and so it can definitely feel a bit isolated. You feel isolated in your own space all the time.
Tiffany Jana
I've always been the only African-American in all-white schools for the most part until I went to Virginia Union. [When I got there] it was like, "Whooo!" Before that, when teachers and students saw me, the assumption was always that I was the new girl and I was going to be the lowest performer because I was black, and it took me 13 seconds to prove the absolutely inverse. Do you get that sense that when people see you in a situation they're just going to assume that you're less than? That you're going to be less talented, less capable, less intelligent?
Reggie Pace
Yeah, and it's changed throughout the years. When I was a teenager, absolutely, until I started talking and they'd be, "Oh, wait a minute." Now they assume I'm some sort of musician or something, like "Who is this guy?" No one assumes I have a 9 to 5 when they see me. I feel like it's definitely gotten looser as I've gotten older, but that could just be me. That could my confidence in my skin, you know?
Tiffany Jana
Yeah, you develop a thick skin after a while. People respond a certain way over time. I feel like you become immune to it. I think the dreadlocks help, too.
Reggie Pace
Definitely.
Tiffany Jana
I own my company so I could wear what I want, but I remember being told, "You're talented and you're capable, but you'd have to cut your hair if you want this job." My hair had nothing to do with the job.
Matthew E. White
Who told you that?
Tiffany Jana
The hiring manager. Specifically, like most black girls, I went out west to ski for a year. I used to race slalom and giant slalom; I loved to ski. It was a ski resort and they wanted me to, in order to be employed there, cut my dreadlocks, to which I wrote this treatise where it was like, "Doctors, lawyers and Indian chiefs have dreadlocks. If your concern is that it's unhygienic, let me to talk to you about white people dreadlocks versus black people dreadlocks. This is actually more hygienic, and you as my employer can't tell me that I can't have long hair and you also can't force me to chemically process my hair. If you don't like my dreadlocks, then are you going to prefer my four-foot afro? Because I'm going to have long hair." They were like, "Oh, we're sorry. You're hired."
Matthew E. White
Did you feel like that was a healthy conversation in a way?
Tiffany Jana
I had to educate them. A lot of times the deal with prejudice is often people are coming from a place of ignorance. Sometimes it's willful, sometimes it's just a lack of exposure, so one of the roles that I try to have is to have grace and understanding for people who just don't know better, and at least give them to opportunity to know better. Some people know better and don't really give a you-know-what.
Matthew E. White
How about you, Kelli?
Kelli Strawbridge
I have similar experiences to Reggie, as well. I grew up in a mostly all-white school in Harrisonburg, Virginia. When you grow up in that kind of situation it can be interesting, because when you're familiar with being around a lot of white people, that can be kind of a little bit of a power play that you can use.
This is something that happens with other black people – the racism that I experienced, most of the time, was with other black people. It's funny, but it's very low-key, very interesting. If you're around a lot of white people in certain parties, certain functions and I'll see another black person there that I don't know and we're both in the same vicinity, it'll be like, "Okay, wait, who do you know? Do you know who I know?" Because we always–
Tiffany Jana
"I thought I was the token Negro, what you doing here?"
Kelli Strawbridge
Yeah, completely. He said, "What do y'all talk about? Y'all talk about what we talk about?" Then that becomes all of a sudden a strange competition and you don't even understand why you're doing it. That happens a lot, especially in small towns, I think. What I love is that lately that has been changing; there's a lot more collaboration with everyone. I think growing up feeling like I was the only one... That isolation feeling that Reggie was talking about is something that I think I've experienced and tried to get out of.
I'm an only child, so I like having the feeling of having friends and brothers and sisters that are like me and like-minded, as well as my Caucasian brothers and sisters, obviously, but I love all of it. I don't want that kind of feeling when I have to move around socially and networking-wise, as well. Business is just something that I'm still learning and I don't like when those kinds of cards are played.
Imagine if I wasn't an artist and there wasn't some magical thing I can do to change everyone's perception of me in a room. Being an artist allows you to do that, and that's not the case for everybody.
Matthew E. White
Do you feel that comes up in your business?
Kelli Strawbridge
I'm not sure if it does as much right now. I think there's times that I've missed it. I would miss it because I try not to believe in that, so sometimes I think I'll miss it and then later I'll be like, "Oh, damn. Wait a minute. Really? Is that what happened?" Yeah, I think for me sometimes it can go over my head.
Reggie Pace
I think it's interesting what you said. There's a certain amount of your identity that you don't get a choice in. Even not just the way you look – it's just how you dress, how you talk, what you'll listen to. "Why are you listening to that? What kind of shoes are those?" There's a certain amount of cultural identity that you have to either accept or not as a black person. It's tough when you're in a place with not that many black people. Like Kelli was saying, you feel like, "Am I the only person? I can't be the only person that likes Jimi Hendrix and–"
Kelli Strawbridge
"I can't be the only person that's talking like this."
Reggie Pace
But you feel like it.
Matthew E. White
How about you, Devonne?
Devonne Harris
It's funny, you guys talking about the whole energy thing. How everybody kind of looks at you when you come into a room... You don't even have to look up from what you're doing, you could just feel this burning energy is coming from beings.
I tend to get that when I go to a lot of my friends' gigs at these bars sometimes. I walk in there by myself, just checking out the show, I might have a drink or something. Then immediately people look at me like, "Is he in the wrong place? Should he be here?" Like you said, "Who does he know here?" It's funny because at most of those gigs people are calling me up on stage to sit in, and then when you sit in and play in front of those people and you see everyone's eyes light up. It's like, "Oh, he actually knows how to do something."
It's one of those things where it's happened to me so much I kind of get a thrill out of it. I want to see like, "Alright, who's going to change their demeanor in the first minute of us playing music?" Then I get off stage and everyone's like, "Hey man, you sounded great." It's like, "That's funny, because 20 minutes ago you gave me the meanest eye." Sometimes you walk in and you never know if they're going to come at you and say the wrong thing. You never really know.
Tiffany Jana
That's why bias is a crazy thing. You see somebody, and within six seconds you have made all kinds of judgments about their intelligence, their background, their class, their interests, where they fit. It's like, "We must organize and classify things or we're uncomfortable."
It's until you give the person the opportunity to show you something different, and that's one of the things that we have to... In my line of business we actually do teach people, like "Recognize that this is what you do, but then move that aside and allow this person to be who they are." The folks who have had more exposure to different kinds of people are better at not letting that get in the way of how they act towards people.
Reggie Pace
And we're lucky because we are artists. Imagine if I wasn't an artist and there wasn't some magical thing I can do to change everyone's perception of me in a room. Being an artist allows you to do that, and that's not the case for everybody.
Just like you're talking business, I might pull my hair back when I go to this place. Not because I'm ashamed of my hair, but because I'm trying to get some work done and I don't want to deal with the hair question, I want to deal with the work. I don't want to deal with where I'm from. I want to deal with how we going to make money together.
Kelli Strawbridge
That's your dad's voice coming in the back of your head.
Reggie Pace
Is that what it is?
Kelli Strawbridge
It's your dad's voice saying, "Put your hair up, boy." Because my dad is... He's '70s racism. He knows about the '60s and '70s racism, so for years he would tell me, "Don't grow a mustache because people think you're in a gang."
Tiffany Jana
What? Wow.
Reggie Pace
That's so specific.
Kelli Strawbridge
That's what it was like back then. He said they thought you were a Black Panther or something if you had a mustache. It's reflective in the arts as well. You look at the Temptations in the '60s, and they were all clean-shaven until about '66 or '67 when everybody started growing hair on their face.
Matthew E. White
When did you become aware that you were a minority or that racism is a thing?
Tiffany Jana
When I came to [Virginia] Union in 1996, and I was the only black person in all those white environments. My parents didn't really talk about race at home. What they did was, they didn't handicap me with it. I was raised like a middle-class white girl. My parents were like, "This is America. You can have whatever you want. You can do whatever. You can be whoever you want. You can do whatever you want. You just make sure it's legal and God ain't going to be upset with you, but work hard, get that," and that's how I was raised, and I believed that. Walking through the halls of these white schools, I sound like I sound, so it was not like I was passing a mirror all the time and no one made a thing about me being black; my negritude was not a thing.
I actually didn't want to go to Union. I transferred to Union and they gave me a full scholarship. That's when I realized I was black. I was like, "Not only am I black, but this is amazing!" It was so fantastic.
Being in Richmond, discovering and understanding the history, just sort of how it all fits in the context of the world, I started to get a very firm grasp on, "Holy shit. I've been so privileged." I have not had to deal with what so many people have. That's part of the reason why social justice is just where I live, because I want to use the privilege that I've had in service of the people who don't have it.
Matthew E. White
How about you, Pace?
Every time I see blue lights I'm just like, "This could be the last time I see any kind of lights."
Reggie Pace
Always, always. My parents always taught me to be aware, really. I think I found out in elementary school. I came home and told my mom that some kid didn't want to be my friend or something. She was like, "He ain't got to be your friend. I'm your friend." My mom is really funny.
She's from a small town in Mississippi. She didn't have any options other than excellence in order to leave, so she made it really clear to me that I had options. Like, "If you want to be somebody, you can. You don't have the same pressure that I had, but you do have to work hard, because I already worked this amount of hard essentially for you. So you need to work ... You start from this point. You start from here and you go forward."
I don't think I felt a racist situation until maybe middle or high school or something. It's always out in the streets, just like people getting weird. It was like a "get the fuck out of this neighborhood" kind of situation.
Kelli Strawbridge
I can't remember how old I was, but when I was eight or nine my father started telling me, "Don't forget that you are always black." He always just said, "Don't forget that when you're in certain rooms, you are judged by a different standard." He never told me that in a hateful way, not in that kind of way, but it was in a way that I needed to be aware of that.
They definitely sheltered me from certain things, but also my dad came from a family that was dirt poor, with 15 other brothers and sisters in a very small house in Glasgow, Virginia. So, very humble beginnings. He said, "Just don't forget that, because some people don't want to see you succeed. Not everybody is thinking in your best interest and you have to be aware of that."
Matthew E. White
Devonne, how about you?
Devonne Harris
Elementary school. Up until about 5th grade I went to school and I grew up in Petersburg, Virginia, which back in the '90s was definitely the black majority. Our house kept getting broken into. We were just in a super-rough area, so my mom decided to just move out of town. We moved to Chesterfield and that was just a huge shift.
I remember my mom was driving me to school for two weeks because she was like, "Devonne, you got to watch yourself around your new people, your new friends. You got to watch what you say, watch what you do." She was afraid. She was literally afraid to have me get on the bus and have somebody tease me or beat me up. She wasn't happy, and then finally I got on the bus and everything was fine, everything was cool. Even at that young of an age you just feel like something's not right here.
The one thing I took from Petersburg is just have this whole hustle mentality. Then my mom came at me and when middle school came around she was like, "You got to work... I don't care how hard you work, you got to work twice as hard as everybody else, because you don't want any reason for them to look at you funny because they already look at you funny," right? "You just add another reason to the list. You have to be far superior than what you think you want to be."
Matthew E. White
Reggie, I remember you telling me a story about getting pulled over once? It was an eye-opener to me.
Reggie Pace
Oh, yeah. Occasionally, if I have a white friend in the car and a cop's nearby, I'll drive with a hoodie up. The cops slow down, just driving side-by-side next to the car. Then I took the hood down and kind of lean back and once they see there's a white person in my car, they drive by. If I was in the car by myself, I would have gotten pulled over. It also depends on what kind of car you have.
My dad gave me a Dodge Integra, but it was a new one. I used to get pulled over all the time in that car. It became a problem and it was essentially a situation where it was like, "You just don't look like you supposed to be in this car.
Tiffany Jana
Oh, I have the opposite. I won't drive anything but a luxury car, because if I drive anything less than a shiny, fancy car I will get pulled over. My husband is white and likes to live small. He feels like he's got too much privilege as it is, so he drives his little Honda Fit and don't ever wash it. If I drive that car with a crooked license plate, I will get pulled over every time. When my car's in the shop, I drive a Mercedes and I have to.
There's an intersectionality with sexism and racism, so these gentleman have a different experience because they are black men, which is the most threatening thing on the planet. Because of sexism, people don't really see me as much of a threat, so I'm kind of a ninja in there. Once I open my mouth, I'm the threatening black woman who is overly aggressive. But by and large I'm not seen as a threat, so I get treated very differently.
Reggie Pace
I got pulled over walking a couple months ago.
Tiffany Jana
Oh, God.
Reggie Pace
I could see my apartment from where I was standing. I was just walking to 7-Eleven or something. Something super normal. A cop car pulls up and is going the speed of me walking. It's dark, so I'm just like, "Oh, snap." I just keep my head down, walk forward.
He gets out the car and he's like, "May, I help you, man?" I'm just like, "What? I'm just walking out here." He's like, "You got an ID?" I was like, "I have an ID, but what is going on?" I'm not about to... When cops get out of their car, they put one hand on top of the gun. He popped the clip. I'm just like, "I'm about to stick my hands in my jacket to get this wallet, man."
He was just like, "We heard about some suspicious activity around these areas," and boom, a second cop pulls up. Then a third cop pulls up to the other side, so now it's like flashing blue, on my block, and it's just, first of all, embarrassing. And then I'm just standing there terrified, like "Oh man, I'm about to be a hashtag."
I was like, "Okay, man. Alright. Do you want my wallet? You can take my wallet or I can get it." He's like, "You can relax, man. You can relax. We don't bite. We don't shoot people." I was like straight up, "You all shoot people all the time. Here's my ID." He took my ID, he looked at it and it looked like he wrote something down on a piece of paper. Then he gave me it back and then, boom, they were just all gone. It's just so menacing.
I put it online because it was at the time in which a lot of death was happening in America. I was scared to put it up. I called my mom and said like, "I'm going to talk about it, this is what happened to me." She's always cool, she's like, "Be careful." I talked to my father and he was just like, "Be careful." I'm just like, I still want to live on my block, I can't have it. I'm not going to make enemies with this police force, not personally.
There were tons of people just like, "Yo, man, you should file a report, you should blah, blah, blah, blah." It's like, "You don't understand. I am in danger in a very hands-on way." This is not some behind-the-computer-screen, yelling at the... When you get pulled over and you see the lights in your rearview, it's like, "Oh, okay, well, the cops are coming." As one of us, it's "I could die right now." If you live in "the land of the free," you shouldn't feel that. The cops are there to make you feel safe, but because of all of the recent events and all the things going on right now, it's just another threat to me. I know I'm not going to do anything wrong, but when you got cops out here planting drugs, changing off reports, disabling camera footage... It's like, how you supposed to be fair when they're not playing fair? Every time I see blue lights I'm just like, "This could be the last time I see any kind of lights."
Devonne Harris
I know man. That's very real. It really does feel that way in your gut.
Tiffany Jana
I feel nervous every time a cop passes me. I immediately have this visceral response like, "I did something wrong." But I haven't had nearly as many experiences like that. I don't see blue lights or see a cop and feel like, "Oh, safety."
Matthew E. White
Have you always felt that or has that increased in the last three years?
Devonne Harris
Definitely increased.
Reggie Pace
It's definitely gotten scarier.
Tiffany Jana
It's gotten worse.
Reggie Pace
It's got scarier. It's always been the case – I've been getting pulled over for no reason since I was 17 – but you just kind of... That's a bad thing to get used to. You shouldn't get used to that.
I've only gotten five infractions, five actual summons, but I've been pulled over at least 20 times. It's usually "This car has the description of a stolen vehicle." It's like, "You have my license plate, why can't you just run it?" It's mostly: "Your tail light is out. Your car's making too much noise, your rearview mirror is crooked." They will find any little thing just to see if he's hiding something big.
I literally have never talked about these issues so much since the day of the election.
Matthew E. White
On the certainly highly-privileged end of that, I have, several times, been driving my shitty Toyota Corolla through a mostly black neighborhood and been pulled over for a really small thing. They come to the car, they see it's a white dude and it's like, "How you doing, man? Go ahead." My distinct feeling is, "I'm being pulled over because they're just trying to find something wrong."
Tiffany Jana
That's the two Americas. We are living side-by-side in one country and we are having two parallel experiences that are completely different.
Kelli Strawbridge
I literally have never talked about these issues so much since the day of the election. The day after the election I feel like the world changed again and people couldn't go a day without talking about it. I've talked about it more with my family, close friends, people that aren't really close friends. They want to talk about it and I think that's the best thing that you could ask for right now, so I'm happy to strengthen my circle and keep it with the people that I feel are trying to push each other forward and not stay stagnant.
Tiffany Jana
I think that education is everything, which can be personal narrative and getting to know people and hearing their experiences. This is why everything that's happened in the media and on the national stage is so important, because people are having their eyes opened. They're seeing and hearing and understanding the reality of this dual nation that we have and they're able to talk about it. In the work that I do, the number of African-American people I come across who are not aware of the fact that race is a social construct... Are you guys all aware of this?
Race is not real. It's not based in science. You can't take a blood test, a DNA test, a skin test that will tell you somebody is black and someone's white. That's some stuff that we made up a long time ago.
There's something else that we did that is uniquely American that is feeding this problem in a way that just is incredibly singular. Slavery was not new to America. Slavery had existed from time immemorial. If you lost a war, your people might be enslaved. If you couldn't pay your debts, you might be enslaved. This was all over the world. What America did to make it unique was assigning flavoring to skin color, and they created a permanent underclass. You cannot escape skin color, so all of the negative attributes that we have assigned to this people who have been marginalized since we were brought to this nation are permanent.
There is something that exists in the psyche of the collective that makes us inferior forever. We are one of the least socially mobile nations. Where you were born is where you are likely to retire, in terms of social strata. There's just a lot of things that people don't know and don't understand, and if they had a little bit more awareness that would go along way.
Reggie Pace
I feel like that is getting better, because people have been seeking me out after the election. They want to talk about it, because this is such a huge L. Everybody's taken such a huge L on this like, "We are all so right about who was going to be president." All these people were profoundly wrong. You can't be that wrong and then the next day be right about how to fix it. You got to be wrong for a second. You can't really grow and learn without taking on new information. Now is the first time I feel like people are trying to hear an opinion from someone that's not like them. It's just like, all of a sudden, they realize they've been talking to themselves for years.
I think it's positive when talking about solutions to mention technology. I'm a futurist – I love technology, and it started in with Rodney King. That was the first time regular people had access to a video camera that was cheap. Then you had cellphone cameras. Now, it's streaming straight to the cloud.
Tiffany Jana
It takes [these things] out of the abstract.
Devonne Harris
Yeah, it's, "How could somebody do this to someone's child and someone's brother or sister?"
Reggie Pace
Those people back then were aware of that. They did not want black people to read. They were aware that having access to information would cause some of these things to change. That's the main thing: I think that really needs to be talked about. Everybody in America does not want things to change.
Tiffany Jana
Oh, no, this system has been optimized to achieve these exact results. People are always like, "Oh, once these old racist people die off, then the children will fix it." But right now, our schools are more segregated now than they were in the height of legal segregation. Because that's what we designed. Why are we worshiping in segregated houses of worship? Why do we live in neighborhoods surrounded by people like us? It was all planned. We have accomplished it and now we got a big ol' mess on our hands.
Matthew E. White
I'd like to jump in here with a quote I wanted to bring at some point, and this is a letter from the Birmingham jail by Martin Luther King. "I've almost reached the regrettable conclusion that the Negro's great stumbling block in the strive towards freedom is not the white citizen's counselor or the Klu Klux Klanner, but the white moderate who is more devoted to order than to justice. Who prefers the negative peace which is absent of tension to a positive peace which is the presence of justice. Who constantly says, 'I agree with you in the goal you seek but I can't agree with your methods of direct action.'"
I think as somebody who grew up in, certainly, middle-class white America, that I have rarely encountered someone from the KKK. Actually, I don't know that I've ever had an encounter with somebody like that, or rarely encounter somebody who identifies as a white supremacist or anything like that, but I am surrounded by a culture, or grew up surrounded by a culture, that certainly falls into the category that prefer order more than they prefer justice. As I've grown older I think I just become more aware of it, and you see what it is and see how deep the harm it's causing. I wanted to talk about racism in that sense, that sort of a spectrum. I think sometimes it's an out.
It's certainly an out for white culture to say, "Hey, I'm not in the KKK, I'm not a white supremacist, blah, blah, blah." Racism is much more than that. Do you have any comments on that, Tiffany?
Tiffany Jana
I think that the best example of it is what just happened with our election. We had somebody who ran on a platform of racism, misogyny, xenophobia and this person – he who shall not be named – stood up and just put all that nasty vitriol on blast. That was the platform. I do not believe that every person who voted for Voldemort is in fact a racist, but I do believe some of them are.
Everybody who voted for that man put their interests first. They said, "Oh, it's going to suck if you're a Muslim, but I'm not, so that's okay." "Oh, he says real racist stuff, but I'm not black, so that's okay." The thing is, I have questions about whether misogyny or racism is bigger in this country. I feel like people could put a racist in before they could put a woman, because we are just that sexist.
If you voted for him and you have ears and a brain, you know what you supported. But it wasn't going to affect you, so you let it happen. I do not absolve anyone who voted for Voldemort.
Reggie Pace
I have some friends I'm trying to love. The people that actually believe in him are the ones that are really going to feel it. My people already understand that this is the way this place is.
We've all seen infomercials, right? America is more of a brand nowadays, marketing its freedom.
Cameron Ralston
I think Matt and I can probably speak for those with white, suburban upbringings. There's a quiet, passive racism that permeates it. I still get emails from a family member that show remains of... No matter how often I respond or say, "Take me off of this," or I want to respond with vitriol or education or anything, I still get them. I got one yesterday.
Tiffany Jana
They think they're educating you, sweetheart.
Cameron Ralston
I feel like I'm not rare. I guarantee you, every single white friend we all have gets this stuff, has it in their family, sees it at Thanksgiving. Hears the guy say, "Oh, they have a black quarterback. They're usually not good at that. They're usually better fit for running back and wide receiver."
Tiffany Jana
Do you say anything?
Cameron Ralston
I do. I used to not, but now it's...
Tiffany Jana
This is what we have to do.
Cameron Ralston
I have a six year old son and he goes to a charter school which is majority black. It's quite diverse and his teacher is an African-American woman and she's amazing. He's growing up in a much different circumstance than I did and most of my friends did. I'm doing my part to educate my children, and we talk about Donald. He hated Donald, and that's just from hearing me and my wife talk and listening to the radio. You hear a six-and-a-half year old kid in your backseat say, "So, he doesn't like my friend Carlito because his face is brown?"
Tiffany Jana
It's never too early to have those conversations, and it's so wonderful that he can say that and you can eloquently respond.
Cameron Ralston
It's beautiful and inspiring, and it's challenging for me to figure out how to talk about it.
Reggie Pace
You don't want to give him baggage.
Tiffany Jana
There's lots of wonderful children's books on this stuff that can help you. I get a lot of calls from parents who portray themselves as the middle-class white parents that are just like, "How do we have this conversation?" There's a lot of literature out there because it's hard.
Cameron Ralston
I try to go at it head-on and say, "This is real." It's about respect and trying to teach what that word means and that, no, Donald's probably not looking out for all of your friends.
Tiffany Jana
The other missing piece, I think, more and more people are starting to talk to their children early, particularly majority people. The other thing that we need to teach the children to do is be allies in the moment, because it is that need for comfort and order that prevents people from speaking out when racist Uncle Bob says those things. We just roll our eyes and let it go. We have to stop letting that pass and we need to empower that next generation to say when somebody says something about somebody that's not nice because of the color of their skin. You need to stand up for that person because that is the right thing to do. It's the silent complacency that has gotten us into this mess.
Cameron Ralston
You're right. I feel like that is one of the great challenges.
Tiffany Jana
That's how you leverage your privilege and your power in service of the people who don't have it. That's how we restore that balance. If your child is a leader and your child is a white person who the other white people see and he says that, he might be able to influence one other person's mind to think a little bit differently. The terrible thing is that adults aren't having these conversations actively.
Reggie Pace
Try to think about the positive things that could happen without all this racism baggage.
Tiffany Jana
Oh, my gosh.
Reggie Pace
Just think about all the money America's not making because we have to deal with all these crazy police problems and people mad about this and mad about that.
Matthew E. White
Reggie, how do you feel about about America as a concept? Do you feel hopeful about it? Do you feel distant from it?
Reggie Pace
Alright, this is going to go left-field. We've all seen infomercials, right? America is more of a brand nowadays, marketing its freedom. You see words like "life, liberty, and the pursuit of happiness" and "liberty and justice for all." You see all these things about America, but then you actually go and buy the product and it doesn't do what it's supposed to do.
If what we communicate to other Americans and to all Americans is that we are all American – black, white, green or polka-dotted – we could actually do something, but it's got to be deliberate.
Tiffany Jana
Amen.
Reggie Pace
This system that's been in place for the past 200 years ensures that people can buy into this brand – and all the people that control the brand are benefiting from it. They don't see how the brand is actually working in the streets.
It's a weird double-edged sword, you know? Because the side effects to everything, even when people are trying to do right... Like the projects. The projects were a positive thing in their head: "We're going to make safe housing for these people." And the side effect was–
Tiffany Jana
Concentration of poverty.
Reggie Pace
Right. But that was a side effect from someone probably trying to do a nice thing. That's what gets it weird, because we can't see the future. We really can't. We can try – we can take our past and have educated guesses – but no one saw this coming.
Tiffany Jana
Except for The Simpsons.
Reggie Pace
Now, since we're all talking, maybe we're more equipped to handle how this is going to go and have some control over what our situation is. I think the whole point is just being decent to each other. If we can get to a place where people are just decent... You don't have to like black people, but can we not have laws that are fair? It's not about stealing someone's identity or stealing someone's heritage away from them. It's just, "Can I also have autonomy?" That's really what's up. I want autonomy too.
Tiffany Jana
No extra or more.
Reggie Pace
I don't want my autonomy to make your life worse, and it shouldn't.
Tiffany Jana
I'm always going to believe in "America the Beautiful." I don't know how you curated a roomful of incredibly optimistic people, well done. We're going to believe in the power of the good. I think that's important. Holding onto that optimism is important, but that should not be paralyzing. I've long said that if I had the resources to give everybody in America something that I would think would be life-altering, I would get everyone off of the continent and give them the opportunity to see how other people live, to see what the rest of the world is like.
It's very difficult comparatively to see America as remarkable. It was a great experiment – we did some things horribly wrong, but we've also, like I said, created the America of our design. None of this is surprising. Even what just happened with this election really is not surprising based on the work that we've left unfinished. I think that maintaining a firm grip on that vision of what we believe America should be and can be, we are... We have far more power than we realize, the lot of us do.
We cannot be complacent anymore. What happened in the national stage was an experiment in democracy. What? 49% of the population came out and voted and how many died so that we could have the right to do that. Like, people just opted out. We can feel sorry for ourselves for a little while, we can sit back and be shocked, but I think that we all have a collective responsibility to wake the fuck up.
Reggie Pace
That's right.
Tiffany Jana
Take some responsibility and do everything that we can. Like you said, if everybody took their personal sphere of influence and did the absolute most that they could to be responsible and be thoughtful and be proactive in that space, it would make a huge difference. I think that we also need to collectively articulate and redesign this nation. What we have now is what we designed. It's what our forefathers and mothers created, so we need to get back together, we need to come back to the table and we need to say, "Look, what is this America thing? What is this thing that we all believe in?"
The whole idea of whiteness was created as part of the branding strategy, because the powers that be saw that the Irish were fighting with the Italians were fighting with the Germans, and so one day they decided, "Alright, let's just make them all white."
If they can all immediately, instantaneously be part of something greater, they'll stop fighting, and we can leverage them to create more resources for the capitalist system. We need to do the same thing. Trump actually has an opportunity with all of that crazy rhetoric. If he believes what he's saying about America, and if he gets into office and he unites us as Americans and gets off that other stuff, there's actually something that could happen there. If what we communicate to other Americans and to all Americans is that we are all American – black, white, green or polka-dotted – we could actually do something, but it's got to be deliberate. We can't sit around and wait for anyone else to do it. We can't wish and hope and pray; we have to act.
Header image © Collage by Maxwell Schiano