Stretch Armstrong on No Sleep: NYC Nightlife Flyers 1988-1999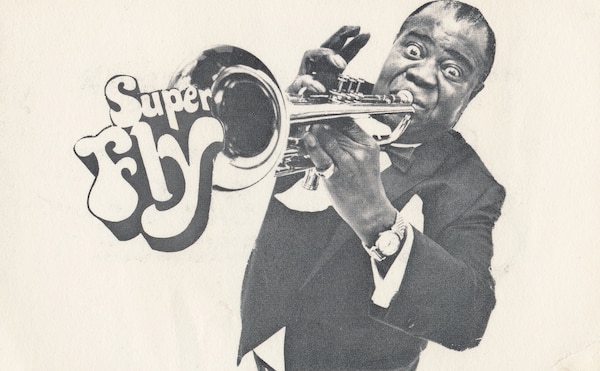 Stretch Armstrong has been a guiding light for New York's music scene for almost three decades, best known as a DJ and co-host of the Stretch & Bobbito Show, which ran from 1990 – 1998 and is widely considered to be one of the best hip-hop radio shows of all time. Recently, Armstrong has been looking back at these halcyon days, culminating in the release of No Sleep: NYC Nightlife Flyers 1988-1999, a visual history of flyers from a musical era in New York that might never be matched in terms of scale, independence and sheer creativity. To celebrate the release of the book, which was co-authored by Evan Auerbach, we asked Armstrong to share some memorable stories of notable parties from this period, a humorous and insightful first-hand look at the era from one of its key players.
MacDaddies – Irving Plaza – 1995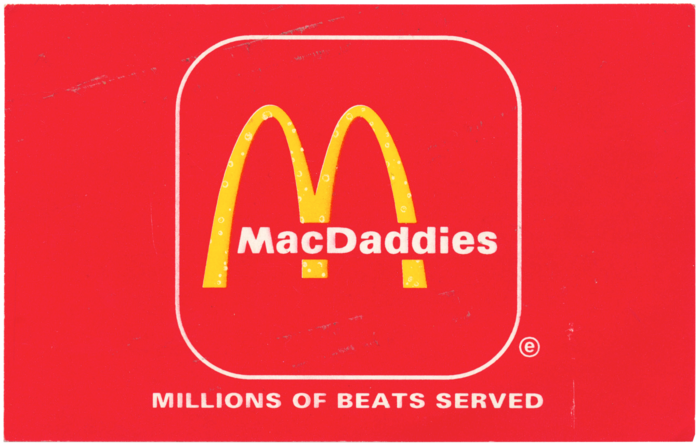 MacDaddies was the greatest party that basically never happened. It was a reunion of sorts, with me DJing and a promotion team headed by my friend Bill Spector. By 1995 I was an established DJ, having earned a degree of notoriety from my radio show on WKCR-NY, and Bill was spearheading a number of parties at many clubs, both big and small. To satisfy the natural desire for many to hear hip-hop DJs, clubs would designate a smaller room to fulfill that need. Despite never considering myself a "hip-hop DJ," I understood why people had that perception, and it made no sense to fight it.
So, when Bill approached me about doing a new party at Irving Plaza, a very large concert hall, I was excited to impose my musical sensibilities on a crowd that was likely to exceed 1,000 people. As a DJ, I was used to being relegated to the "hip-hop room," which was a result of a consistently racist club policy that saw clubs refusing to book hip-hop nights until everything else they tried to do ran out of steam.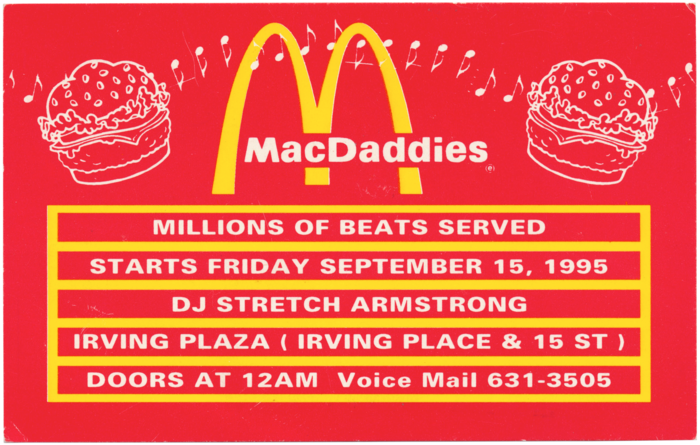 Sometimes when a party is young, it takes more than one week to reach the point where the word of mouth is so strong that it promotes itself. This party was different. Everything was in alignment, and by 1 AM the place was rammed and the atmosphere was electric. We immediately understood that we created something that would rival anything else happening in nightlife in terms of size, variety of types of people and a hard-to-describe excitement.
Maybe it was too good to be true. As fate would have it, things turned for the worse rather abruptly. The last sound you want to hear in a club is a gunshot. Believing that's what they heard, the entire crowd scattered in absolute panic, and within minutes the place was empty, save for employees and some fearless knuckleheads. With the lights on, we saw the remains of a skateboard, the cracking of which made the sound that freaked out everyone. Without getting into it too deeply, it turns out the melee involved a friend of ours and Sean "Diddy" Combs, which then escalated into downtown kids vs. Puffy. Harold Hunter was even in on the action. The next day there was a peace brokering between them, attended by the involved parties and a contingent of our friend's very large Samoan brothers.
To this day, when we reminisce about that night, we say "grand opening, grand closing."
SuperFly – MK – 1989-1990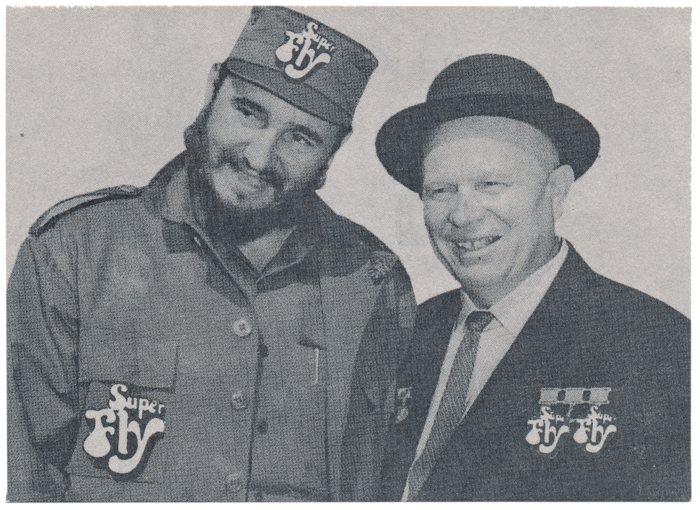 MK was the first big club I ever got to play. I don't remember exactly how it came to pass, but I can't overstate how momentous it was for me to finally have the opportunity to stand behind those turntables rather than in front of them. My dear friend and fellow Columbia University student Tamer El-Shakhs and I had been throwing really great parties for our friends from school uptown on 125th Street, and in the dorms, but as those got too big and the word spread to non-students, we took the parties downtown; first to Big Haus in Tribeca, and then when we outgrew that, MK. Tamer became a professional promoter and I, a professional DJ. We did Thursday nights and I branded the night SuperFly, which now seems kind of lame, but at the time it worked.
I designed the flyers using the iconic SuperFly film logo. With scissors, glue and a copy machine, I juxtaposed the logo with non-sensual images, like nuns, Fidel Castro and Khrushchev, James Cagney holding a pistol, a screaming Asian man, Louis Armstrong blowing his horn and an atomic bomb mushroom cloud. I was just trying to make a flyer that grabbed your eye, so that even if it was in the floor, it might grab someone's attention.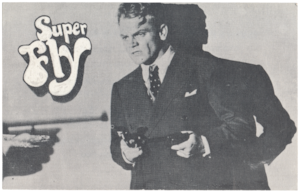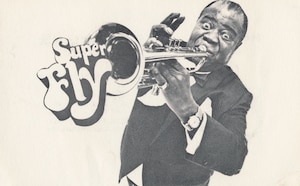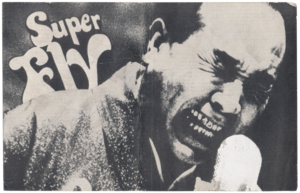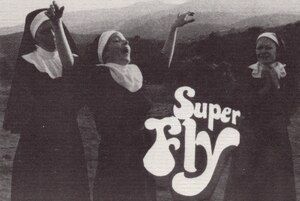 Milky Way – The World / Irving Plaza – 1988-1989
Milky Way was one of the candy bar parties that was engineered by Patrick Moxey and Chuck Crook. It started at The World, which had been primarily a dance music club with mostly house music. Milky Way would eventually move to Irving Plaza, where Duke of Denmark would DJ. Having ESG play at Milky Way would have made sense at The World because the crowd was so mixed and open-minded. By the time the party moved to Irving Plaza, it had morphed into a much more hardcore scene - doo rags, track suits, dookey rope chains, etc....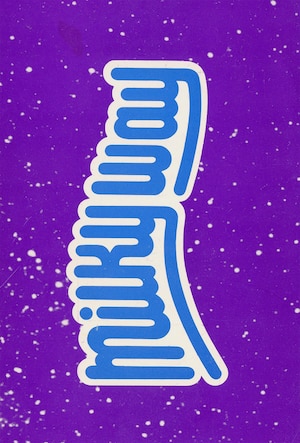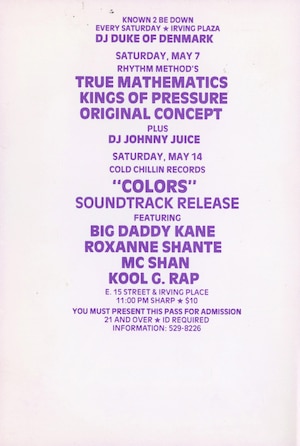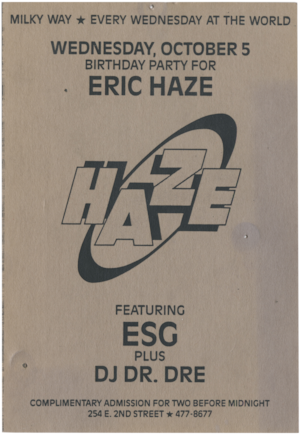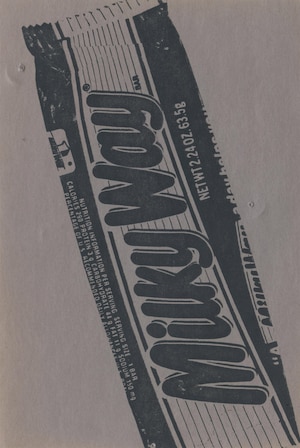 MARS – 28-30 10th Ave – June 26th, 1989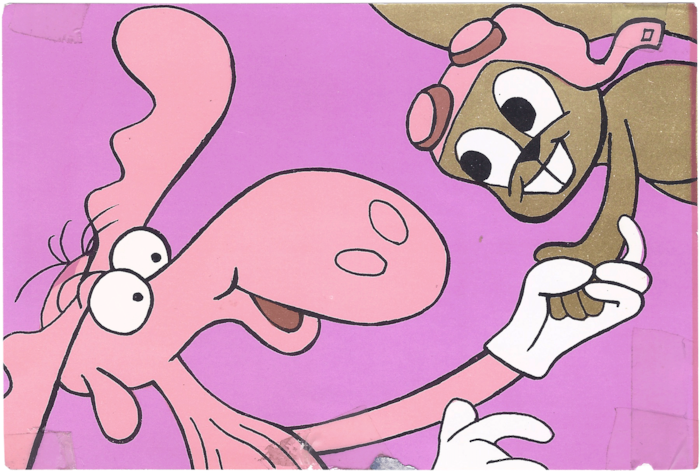 Mars was one of those places that had so much going on within its five floors (which included a roof deck) that for a while, it was not uncommon to find yourself there on three nights a week or more. The club, programmed by Yuki Watanabe, featured the best DJs from NYC's house, hip-hop and dancehall scenes, all under one roof, in addition to reputable DJs from Chicago and Europe. It was normal for New York DJs to play abroad, but from '89-'91, importing DJs from overseas was truly novel. It didn't always work, since local DJs knew how to play to a New York crowd, but it was still cool to have that international flavor.
One of the most memorable nights at Mars was their Tuesday party called Trip, which took place on the second floor. Duke of Denmark was the DJ and The Almighty Kay Gee of the legendary Cold Crush Brothers was the MC. On this night, they pulled the DJ equipment out of the separated confines of the booth and set Duke up on wood blocks, so he and Kay Gee were above the crowd but in the crowd. The crowd was young and thirsty for hip-hop, and dancing was taken really seriously. Duke would smash 'em with classic breakbeats which Kay Gee would flow over, and it was never a surprise to have heavyweights like Chuck D, KRS-One and Grandmaster Caz touch the mic, unannounced, without a spotlight, barely visible in the glow of the exit signs, rhyming over raw breakbeats like it used to be done before rap was put on wax. One night, Duke started cutting up "Seven Minutes of Funk" and Kay Gee passed the mic to LL Cool J, who got busy for ten minutes or more, freestyle rhymes. Amazing.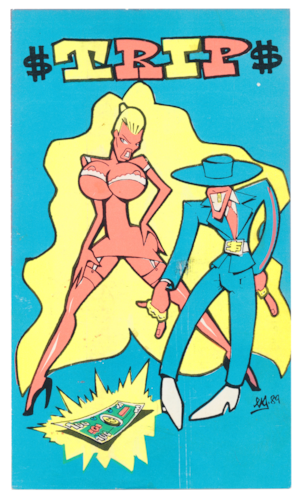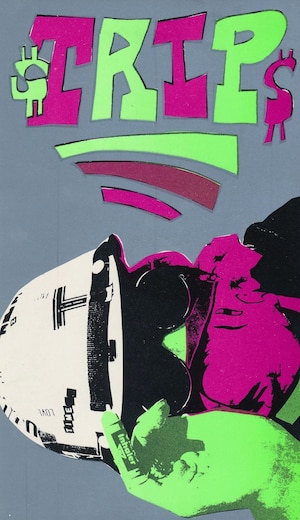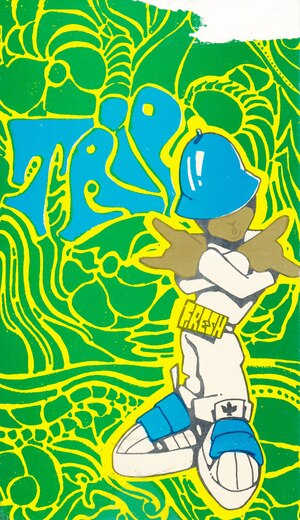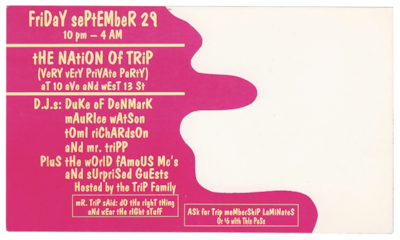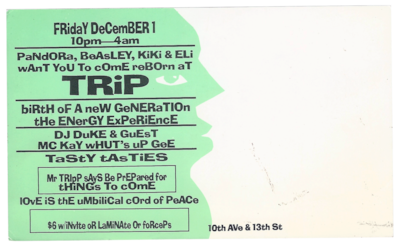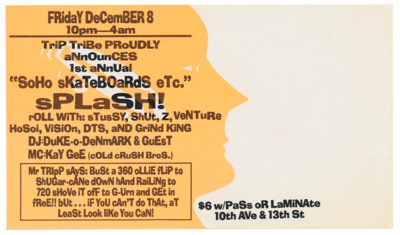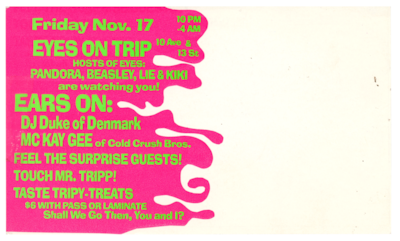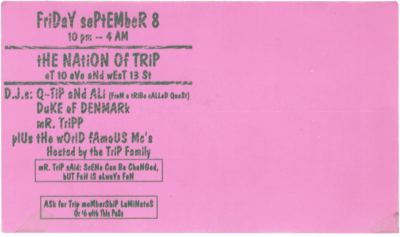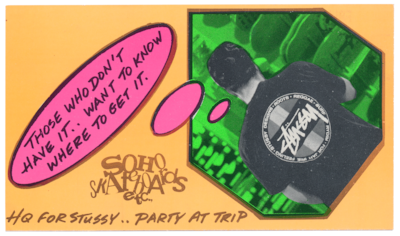 Sheets & Pillows – Roving – 1991
While DJing at MK, I met a barback named Bill Spector. We hit it off and decided to throw our own parties. The name Sheets & Pillows was an inside joke. When a girl would ask Bill or one of our friends where the next party was after MK was closing for the night, they'd answer "sheets and pillows" and she would be invited to the next spot, which would end up being one of their apartments. Kind of creepy, but funny.
Sheets & Pillows is one of those parties that seems to have meant a lot to the people that attended it. They still talk about it fondly to this day. We did that party anywhere they'd have us - restaurants, clubs, event spaces. It was a totally unpretentious family affair, made up of skaters, hip-hop heads, graff writers and the girls who loved them. We were all so young.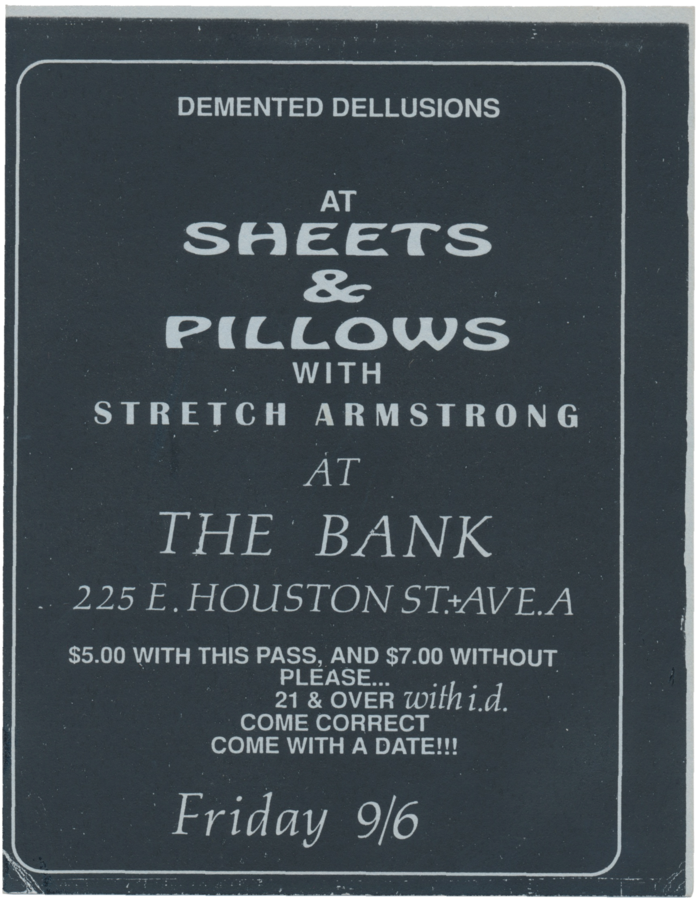 Outlaw Party – Roving – 1991
The Outlaw parties were designed for the spectacle, to get busted and make the news, or at least to be on people's tongues. Anchored by various club promoters, scenesters and club owners, and largely attended by Michael Alig's club kids, these events entailed hundreds of club heads, dressed outrageously, arriving simultaneously at an unsuspecting location – sometimes a particular subway platform, a fast food restaurant or an abandoned piece of real estate. They'd get busted within an hour but were outrageous and hilarious, a real middle finger to squares. They were the only instances of nightlife in which people showed up on time!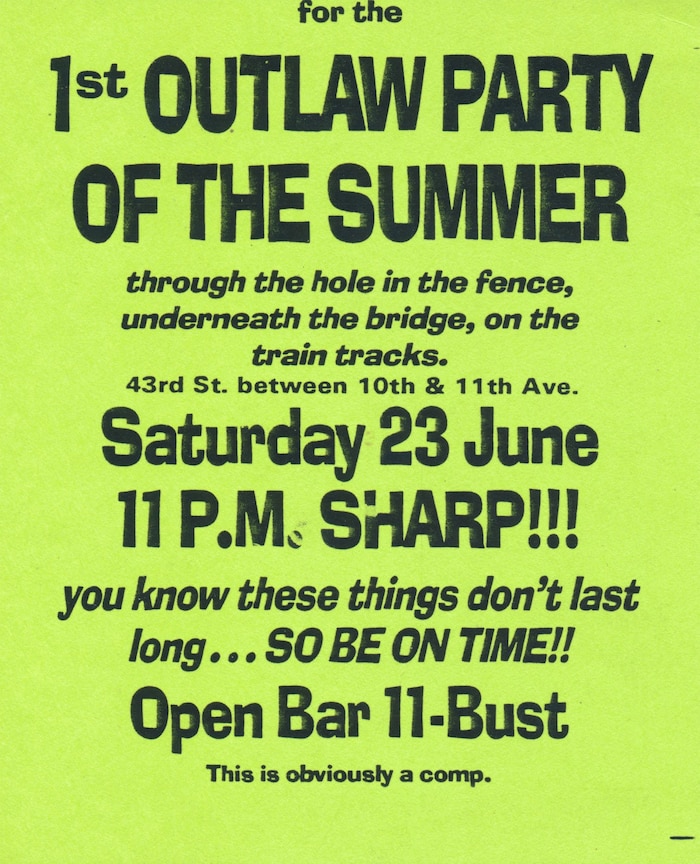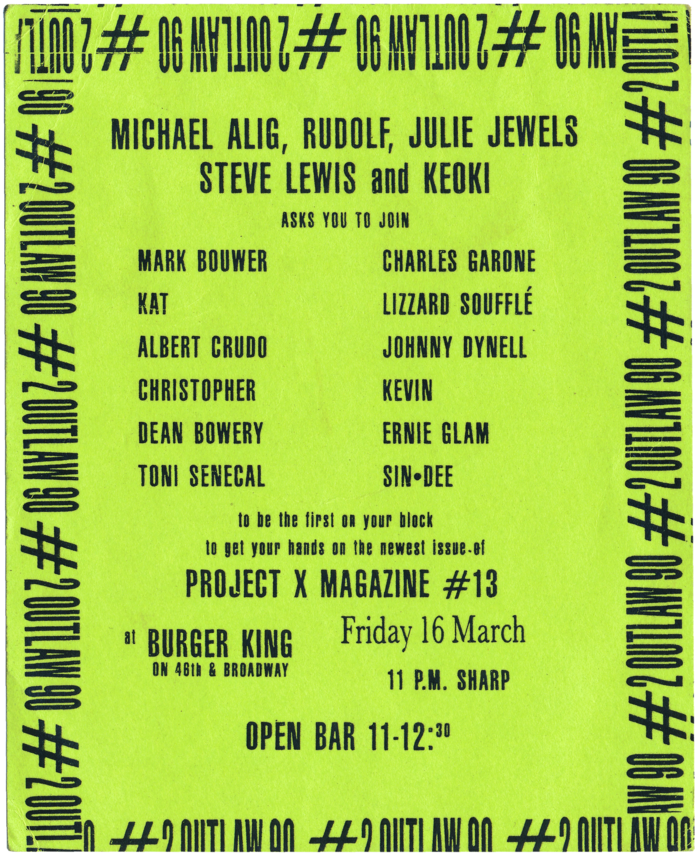 The Building – 51 West 26th St. – 1991
Building was a massive power station converted to a single room behemoth of a club. It was a stand out in that from day one it didn't shy away from hip-hop. Instead, it featured it. Building had these elaborate elevated pathways around the club, making it possible to walk the entire circumference of the club while looking at the dancefloor. There was also a second floor that, compared to the size of the footprint of the entire club, was very small, perched high above the ground floor. Jessica Rosenblum was promoting at the club and Nickle Bag Lounge was one of her nights, an attempt at doing something that was more exclusive and intimate, a place for friends to hang out and even partake in the greenery. Keep in mind this was way before Dr. Dre and Cypress Hill and the mainstreaming of marijuana.
The invite was an actual dime bag with the small card inside, accompanied by some oregano to simulate marijuana. You had to wait to get inside to get the real thing. Though if you ever copped weed nearby in Washington Square Park, you might have ended up with an actual bag of oregano. To my knowledge, Nickle Bag Lounge was a one-time affair.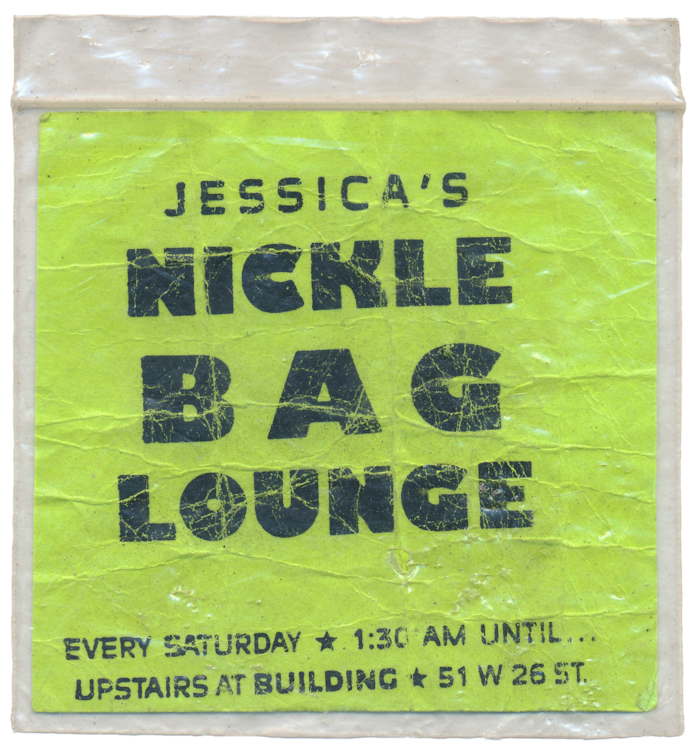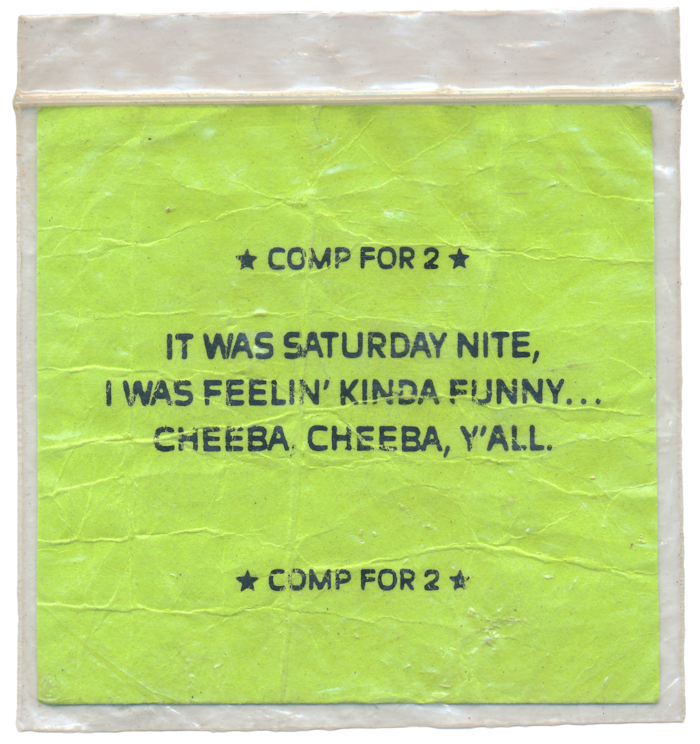 Thang – Island Lounge – 1992
Thang was a party that could have only been a success in a pre-gentrified NYC. It took place in the Island Lounge on the Bowery, which had been one of the last vestiges of West Indian nightlife in Manhattan. It had a massive soundsystem, a bare-bones interior that consisted of some very old, dusty posters from reggae shows that had happened years prior and some seriously intimidating security.
The team consisted of me, DJ Jules, record producer/A&R executive/troublemaker Dante Ross and Albee Ragusa, the head of marketing at Tommy Boy Records. We struck a deal with them and Thang, which was affectionately dubbed "white boy Wednesdays" by our African-American female friends, was born. DJ Jules and I DJed together, playing a lot of island tunes, but hip-hop and funky soul as well.
Each week we changed the theme, which was sometimes just for the flyer but sometimes for what we did. One night was "Bong Thang," and I wondered if a bong-themed party would work. The Island Lounge was no stranger to ganja smoke, but I was still surprised when at least twenty people showed up to the club with bongs and proceeded to use them throughout the night, in plain sight. Contact high for everyone.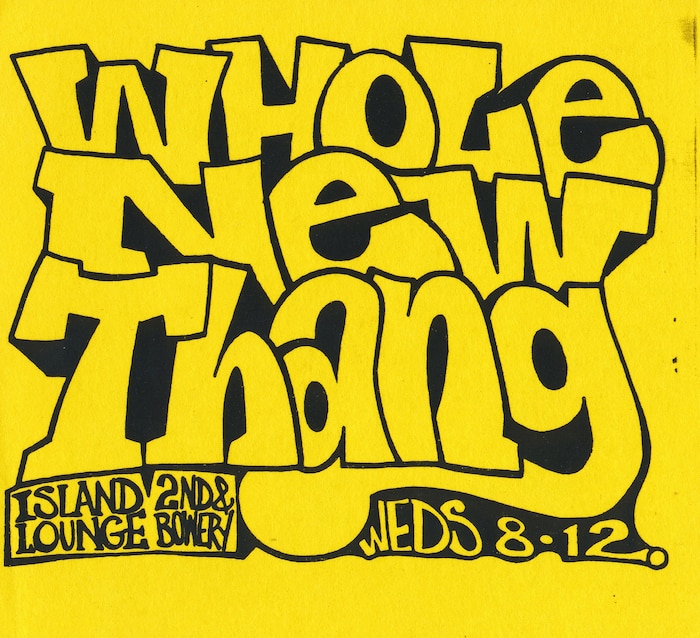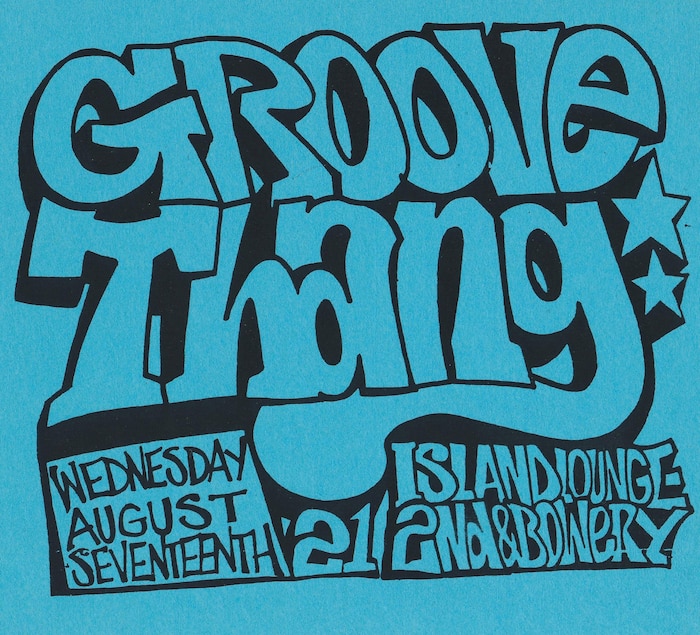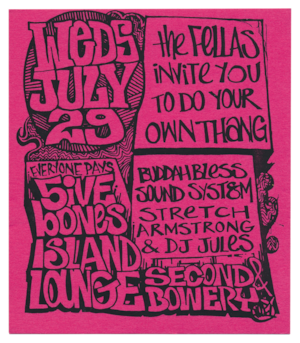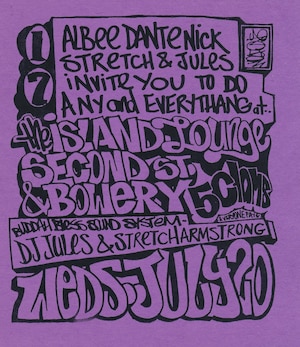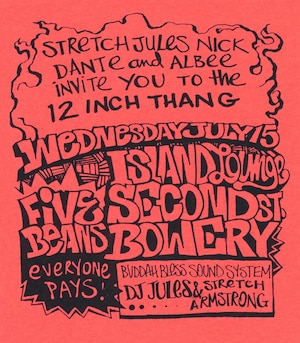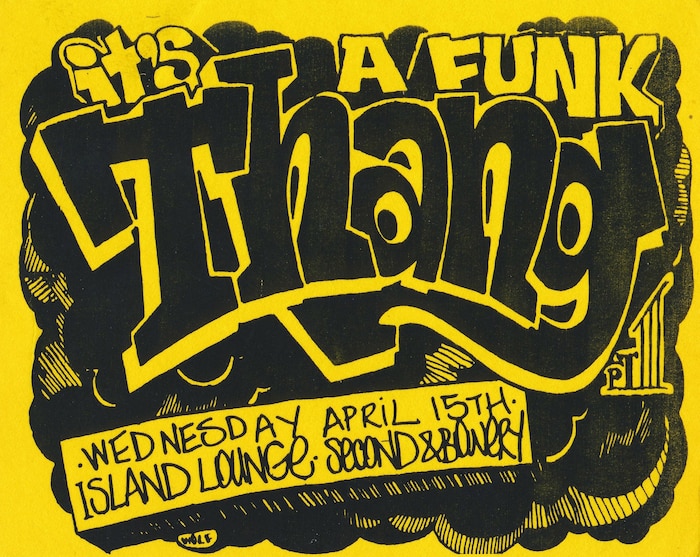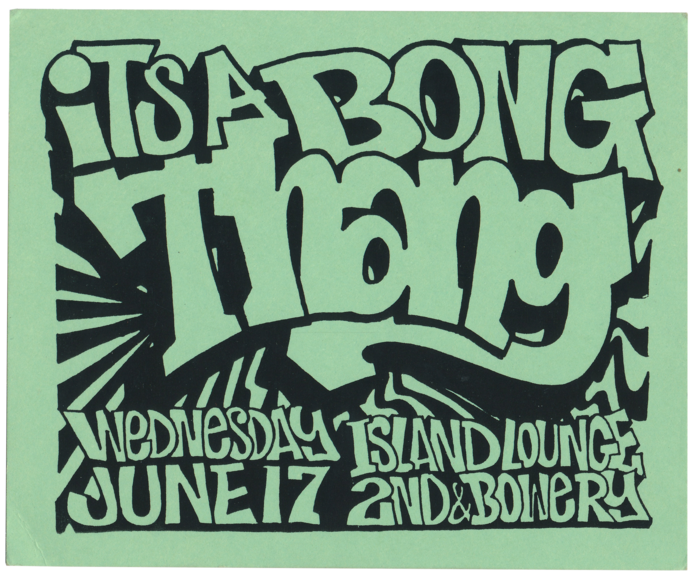 Header image © Stretch Armstrong