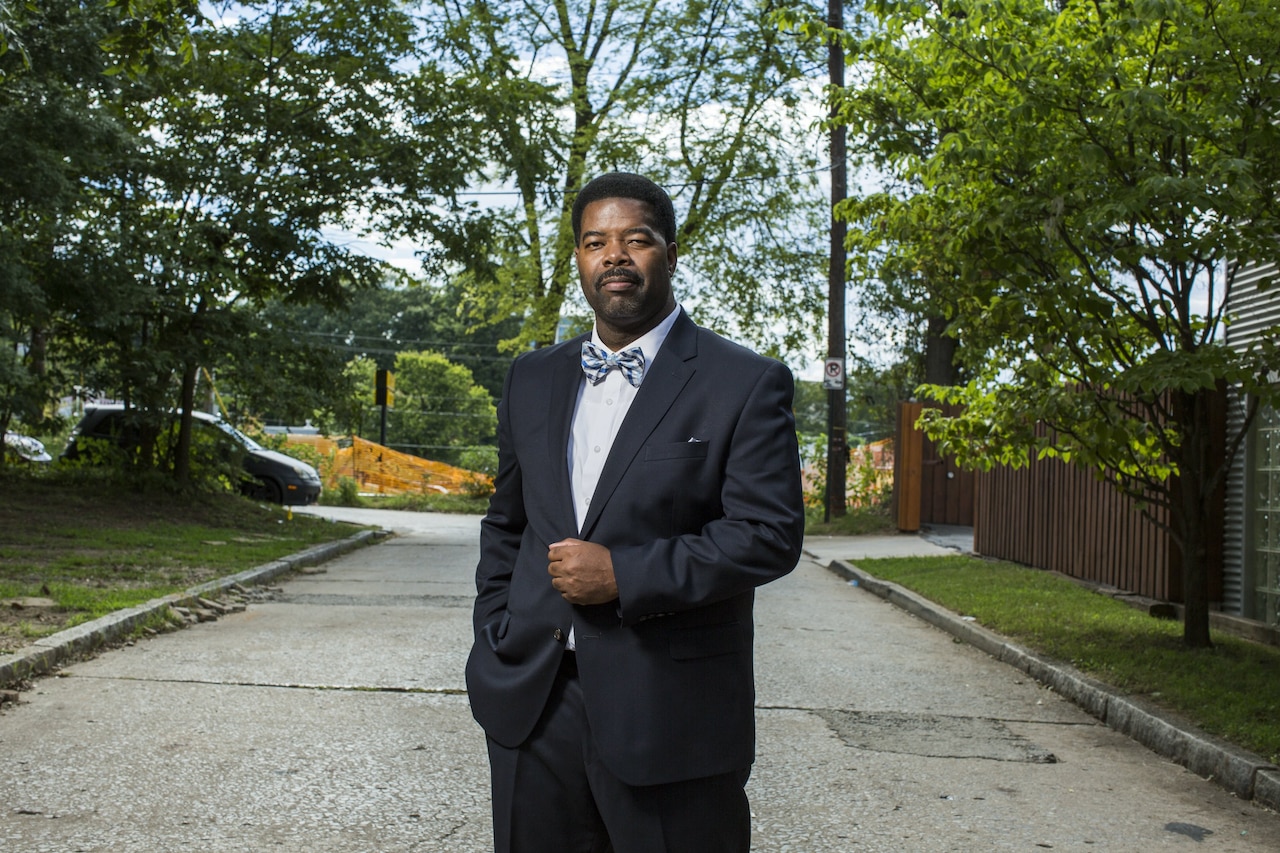 The Chitlin' Circuit Still Exists
And artists like Raheem The Dream are living proof of the continuing power of this Southern tradition
How did Raheem the Dream become a superstar in Atlanta? The Southern hip-hop pioneer conquered the perimeter, and then worked his way to the inside. Back in the '80s when Raheem was just starting out with songs like "Most Beautiful Girl in the World," he consistently gigged in towns within a 50-mile radius of the city.
"We was just trailblazing, so we didn't see no one else," Raheem says. "When they say, 'Where you been?' I say, 'On the road.' And they say, 'On what road?'"
For Raheem, this meant dropping music off at barbershops and beauty salons. He used to perform at nightclubs, roller rinks, dive bars and picnics. Once, in Albany, Georgia, he arrived at a residential area filled with cars. "I'm like, is it a club in the middle of a neighborhood? They say, 'Kinda,'" he says. The "venue" ended up being a duplex.
"They charging at the door and stamping people's hands like they're going to a real club," Raheem says. "The line is down the sidewalk and out the driveway. The guy says, 'Come with me. You VIP.' I'm like, 'What does that mean?' We go in through the washroom door – not through the living room or the front door, but the side where the washroom connects to 'VIP.' They say, 'Y'all need anything to drink? Anything to eat?' We sitting next to the washroom with the TV on, eating some Kentucky Fried Chicken. They say, 'Alright, it's time to bring you guys on. Let's get your hands clean. Cut down this hallway. Go this way.' Here is a huge crowd. There's no furniture in there. This is their party. This is their sold-out concert."
This is the modern day chitlin' circuit, what began a century ago as a network of tour stops off the main streets of black business districts. And with reportedly dozens of booking agents still involved, the circuit continues, sustaining the careers of independent hip-hop artists, particularly in the South and outside the mainstream music industry's purview.
"It's one of the reasons why so many artists wait so long to sign [a major label deal]," says Orlando McGhee, who now manages the Dungeon Family. "By the time these deals come into play, they're millionaires."
When B.B. King bought Club Ebony in 2008, he wasn't just purchasing a venue, he was also preserving history.
The chitlin' circuit initially formed in the 1930s in segregated American cities. Pit stops included dozens of black-owned nightclubs, dance halls, roadside shacks, juke joints and theaters, in small towns scattered around the East Coast and Midwest but mostly concentrated in the South. (The circuit gets its name from chitterlings, or pig intestines, a soul food delicacy.) It was through this safe space where countless artists – Big Mama Thornton, Bobby "Blue" Bland, Aretha Franklin, Jimi Hendrix and James Brown among them – introduced themselves and genres of modern day black music were born. When B.B. King bought Club Ebony in Indianola, Mississippi, in 2008, he wasn't just purchasing a venue, he was also preserving history. (Not only had he performed there frequently, but he grew up watching bandleaders Louis Jordan and Jay McShann thrive there, too.)
Historic markers at stops like Summit Street in McComb, Mississippi, suggest that the network's heyday is now history, best read about in textbooks. ("[C]ommerce in areas such as Summit Street began to decline when much of the African American trade dispersed to other parts of town after the coming of integration in the 1960s," the Summit Street sign read.) Preston Lauterbach's book The Chitlin' Circuit and the Road to Rock 'n' Roll claims that the 1956 Federal Highway Act, which led to black-owned businesses giving ground to America's first interstates, was a key element in its decline.
By the '90s, the circuit was declared dead. "The current state of affairs is a far cry from the days of the 'chitlin' circuit,'" Billboard wrote in 1995. Steve McKeever, the CEO who helped launch Jill Scott's career at Hidden Beach Records, echoed that sentiment a decade later. "While there's a lot of venues available in the rock world, [black music's] chitlin' circuit is gone," he said.
For others, however, that wasn't the case. In 2005, Clifford Gillard launched the bi-monthly hip-hop showcase Capitol City RapFest in Austin, Texas – specifically, at chitlin' circuit haunt Victory Grill. While he was previously unaware of the venue's history, Gillard told The Austin Chronicle that he sees RapFest as part of a "continuum" where "we probably go through the same issues they did back then... We're dealing with underground things."
That same year, Hustle & Flow won an Academy Award for providing Hollywood with its first glimpse into a post-blues Memphis. Director Craig Brewer soon considered a sequel, where Terrence Howard would reprise his role as Memphis pimp and drug dealer-turned-aspiring rapper DJay. That film never came to be. But Gillard, among others, would have surely understood why its working title was The Chitlin' Circuit.
You don't come through there and promote, you might look up and your radio spins are down in Augusta or Athens.
In the early years of hip-hop, local artists didn't see the rap airwaves in Atlanta as a viable option. V-103 only played hip-hop on Friday nights, 10 PM to midnight, and initially Raheem the Dream's songs weren't included. In 1986, the hype he created via the chitlin' circuit led to him becoming the first local rapper to get Atlanta radio play, via competing station KISS 104. Radio veteran Mitch Faulkner – its program director at the time – was taking cues from smaller stations in Albany, Newnan, Macon and Columbus, where Raheem often performed. Soon he was getting 40 spins per week on KISS alone.
This symbiotic relationship between artists, venues and radio still exists today. "If you're known for coming through Athens or Augusta, and all of a sudden you've got a new album coming out and you don't come through there and promote, you might look up and your radio spins are down in Augusta or Athens," says Marlon LaTodd King, who tours with T.I. as DJ MLK. "They're like damn, we've been rocking with you since you became who you are."
He should know: By 2000, the population of Washington, Georgia, located 110 miles east of Atlanta, was 4,295 people. Nonetheless, early in their careers, Jeezy, Killer Mike, OJ da Juiceman, Migos and Scotty ATL all stopped by MLK's hometown, creating a loyal fanbase via $5-10 gigs.
A decade ago, a typical work week for Lil Boosie, for example, included a nightclub birthday party in Nashville for $15,000. His least glamorous gig was at a fairgrounds in Fort Pierce, Florida. But even after a mix-up with a promoter that resulted in a canceled show, Boosie still earned $47,500 in just seven days.
Raheem used to take artists he discovered (DJ Drama, The-Dream, Dem Franchize Boyz) with him on the chitlin' circuit; he taught Mr. Collipark to do the same with Ying Yang Twins. The chitlin' circuit is how Three 6 Mafia, UGK and OutKast met before recording "International Players Anthem (I Choose You)." It is where Yo Gotti built his decades-long career long before "Down in the DM," how Killer Mike and 2 Chainz crossed paths before becoming household names. Screwed Up Click toured small towns in Louisiana and Arkansas, extending DJ Screw's influence beyond his native Houston.
For newcomers, the economics of such a tour make sense. "Lil Jon, Lil Scrappy, Trillville, Crime Mob and Future. Future's career is a direct result of that chitlin' circuit market," says Orlando McGhee. As Future's former manager, McGhee used to accompany him to $20,000 nightclub gigs. For three months straight, he saw Future draw 1,200-person crowds to 800-person venues, only for fire marshals to shut them down – hence one of his many alter-egos, Fire Marshal Future.
The chitlin' circuit is attractive because it's a cash-only operation; artists receive half their pay upfront and receive the other half before they step onto the stage. The only downside, says McGhee, is that its venues don't report their ticket sales, which can make it hard for artists to get noticed by the mainstream music industry.
"Most Southern artists are looking at you crazy," he explains. "'I just made a million in six months. If I'm getting $50,000 a night in a nightclub, you mean to tell me to go do a hard ticket venue, I'm going to take $7,500 – why would I do that?' That's an argument every legitimate manager ends up having with an artist: when it's time to go into hard ticket dates."
Today, there are other signs that the chitlin' circuit may not be as revered as it has been. Before he announced his signing to Epic a few weeks ago, 21 Savage wanted to avoid it at all costs. "I can go in the building, shake white people's hands and get 'em to get me millions of dollars," he said.
While wishing him "the best success," Barry Howard is quick to object. As founder of the Atlanta-based Pro.Motionz, he used to book $5,000 nightclub shows for 21 Savage. Now Pro.Motionz works with Lotto Savage, a member of 21's crew Slaughter Gang.
"What happens if he doesn't make it successfully with the millionaires?" Howard says. "He's going to have to come back to the chitlin' circuit in order to keep doing his trap craft. It's going to be even harder for him to make money because he overlooked them on his way up."
Young Dolph, who was crowned one of Forbes' Hip Hop Cash Princes last year, is an example of how the circuit can still work. The Memphis-bred rapper tours nightclubs in Tennessee, Alabama and the Carolinas, in cities like Little Rock and Pensacola, Florida, stacking up to $72,000 a week. "The nightclubs – that's how I broke 'Preach,'" Dolph says. ("Preach" was his first song to chart on Billboard's R&B/Hip-Hop Airplay, before O.T. Genasis' "Cut It," on which he is featured, also cracked the Top 40.) Last year Dolph embarked on his first hard ticket-selling venue trek, the 17-date Royalty tour.
On a late September afternoon, Raheem the Dream sits with Dr. Zakiyyah Raheem, his mother and manager, on a Starbucks patio in southwest Atlanta. He's wistfully reminiscing about the chitlin' circuit, where he used to sell 3,500 CDs in a trip around Atlanta's outskirts at mom-and-pop stores alone, before music got digitized. As he talks, a man walks up to him and hands him a CD. He introduces himself as Jamal Phillips, of the short-lived Philadelphia rap duo Illegal. If only Phillips had heard what Raheem said earlier – how he has seen too many rising artists "start out trying to hit Atlanta first. They don't know, man."
"When you go to the small markets, you are the biggest thing," adds Dr. Raheem. "You bigger than the next movie that's coming to their theater. They're waiting for you. Then if you have a show there, everybody's coming to the show. You don't have to go to a place like Philips Arena and expect a sold-out audience when you get maybe a fourth of that, when you have to rent half of the facility as opposed to the whole. You go to one of those, they're filled to capacity. That's encouraging to an audience to see that it's filled – that they can't even get on the parking lot because it's so many cars."
Such success sounds modest, sure. But when Phillips approached Raheem, he recognized the Atlanta hip-hop originator immediately. That may be because Phillips is a music lover. But it's also telling. Raheem hasn't released an album since 2002, yet he tours as far west as Dallas, through parts of Florida and South Carolina, and all over his native Georgia. He still arrives at venues with their parking lots at capacity. Raheem the Dream isn't retired – he is anything but.
"That's what blows a lot of artists' minds," he says. "They say, 'Man, you know what? I got friends in this city and this city, and they saying that they just saw you or you're coming to town.' They say, 'Raheem, you know it's 2017. When's the last time you dropped an album?' 15 years ago, and I'm still getting three or four shows a month in different cities, different states. They be like, how can somebody do that?"
Header image © Brian Hall