Redshape Harnesses the Magic of Live Techno
Marking the 10th anniversary of his masked techno moniker, the Berlin mainstay talks to RBMA Radio's First Floor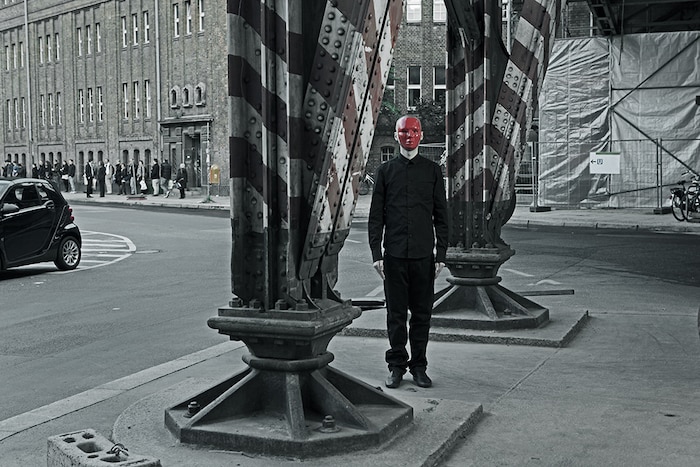 German producer Redshape has been making techno records and playing live shows for a decade now, so in 2016 he decided to celebrate his anniversary by embarking on a special project – a series of EPs entitled Best of Live, to be released across a range of labels. The first in the series, Best of Live Vol. 1, was released on Gerd Janson's Running Back label in 2016, and Best of Live Vol. 2, to be released this January, sees Redshape return to Dutch label Delsin Records with more of his lo-fi, dark techno sound. In this conversation with Shawn Reynaldo for RBMA Radio's First Floor, Redshape details the concept of the series and how his improvised live set has developed over the years.

Listen to First Floor on RBMA Radio here every Thursday at 1 PM EDT.
After ten years, you're still putting out records and playing shows on a regular basis. Do you ever regret the decision to put on that red mask?
Good question – no, basically not. The reason why I still put [the red mask] on, why I still have it on, what it was and what it is now all comes down to the fact that we live in the moment. It is my alter ego, the thing I am on stage. If I don't wear the mask, then I'm not Redshape. At first, I put the mask on because I thought that nobody should know who I am, but it's developed into an onstage persona and I'm fine with that.
Do you have a stockpile of the current design of the mask at home? Do you order them in bulk?
I have two left. One mask breaks every year, or something like that. I definitely need to make new ones this year.
Have you ever turned up to a show and realized that you left the mask at home?
No. I've thought about that – what I would do if that happens – but thank God, it's never happened. I look at my suitcase every time like, "Do I have the mask? Do I have the mask? Do I have the mask? Okay, I have the mask." Everything else is replaceable for a show – my laptop, my MIDI controller, whatever – but the mask is not and so I really care about having it with me.
On a more serious note, how do you feel that the Redshape project has evolved over the past ten years?
The Redshape project was like a hat I decided to put on my head ten years ago. If something has changed, it's me, not whether I think that Redshape is or is not good. It's more about how I listen to music and what I want to do. I think about how I could fit a sound or idea into a Redshape release without shocking people too much. If I look back on how I started out, discovering people like Larry Heard and '90s Detroit stuff was a really big thing for me. Nowadays I'm listening to a lot of pop, hip-hop and rock & roll stuff. My ears got better over the years, so I hear production techniques that I want to [pick up] as a musician and then convert into Redshape tracks. That's the easiest way to describe it.
You've been putting out fewer records in recent years. Back in 2012 and 2013, it felt like there was a new Redshape record every two or three months. Has something changed in your approach that's made you want to slow down a bit?
With time, I've gained more knowledge about mixing and tuning. When I started, I only cared about the synths being in scale, but then I started tuning drums and that slowed down things a lot. I don't have a "musical education" – I learned to do everything by myself – so there was a lot of trying and failing and I cared so much about mixing and tuning that I kind of overworked certain tracks and didn't put them out because of it.
Can you explain the concept behind the Best of Live releases?
It means a lot to me that I've been doing a live show for ten years. There have always been tracks in the live show that were live-only edits which I had to arrange and rearrange live all the time. Some of them were rocking and I always looked forward to playing them. Often, I would plan a special moment in my set where I would drop one of these parts.
So many people have asked me what these tracks are, so with the 10th anniversary of Redshape I thought that I would take those unproduced parts of the live show and make tracks out of them for a release. I thought that it would be a nice way to thank all the great dancers who have supported me.
I've recorded every live show that I've played. I looked back through all the sets and picked a special moment, each from a different city where a particular edit worked best, then more or less copied the live arrangement into the sequencer so that the track sounds close to how I played it that night in that particular club. That's why the tracks are named after cities – Tel Aviv, Rome, Paris, London.
How improvisational is your live show?
It's totally improvised. Most of the time I only have four-bar loops prepared. I don't have one track with five elements of percussion on it or anything like that. I have clap only, hi-hat only, bass drums, snare only, bassline only – all single tracks of four- or eight-bar loops. I have to start, stop, fade and filter all of that all of the time to make it sound like a track. Like many people in the '90s did when they were producing techno, I have a big mixing console that has all the hardware wired to it for the arrangement of fading and mutes. That's how I do the live act.
Do you feel like your creative process is different when you're doing the live show than it is when you're sitting in your studio, constructing something from scratch?
It's totally different. I would love to bring more of that live vibe into my production vibe, but I'm such a perfectionist that I just can't do that. I have to really control what I'm doing in the studio. I can generate some really nice moments while playing live without thinking about what I do in terms of arrangement, but in the studio it's a lot harder to make something like that. I'm still thinking about how I could improve that.