Larry Heard on Making His First House Tracks
The Chicago house innovator remembers the spontaneous recording process of his early hits and the formation of Fingers, Inc.
An early progenitor of house music, Larry Heard AKA Mr. Fingers played an essential role both in seeding the genre in Chicago's fertile musical soil and bringing the sound to international renown through writing some of the most essential and emotional music ever to grace dancefloors. As a 17-year-old rocker, Heard played drums in the group Infinity but became frustrated with the limitations of that instrument, deciding instead to acquire a drum machine and synthesizer to record his first classic, 1984's "Mystery Of Love." The scene-shaking "Can You Feel It" soon followed, as did a vastly influential collaboration with Robert Owens and Ron Wilson as Fingers Inc. Over the thirty years since, Heard earned global acclaim and a major label record deal while churning out more hits than you can count, but in this excerpt from his Fireside Chat with Shawn Reynaldo on RBMA Radio, the producer remembers the stories behind his spontaneous early tracks, providing insight into his humble path towards stardom.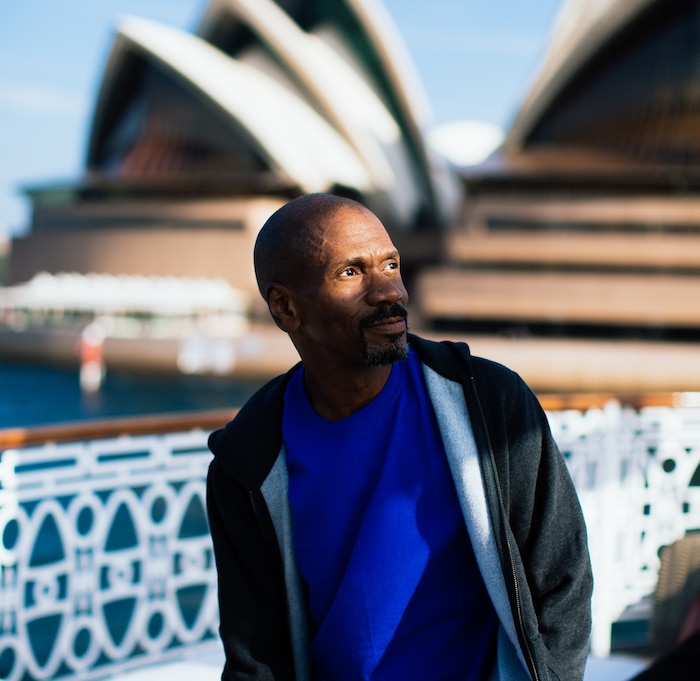 When I first started making music, I had no clue what was going to happen. The thing that I had to draw from up in Chicago at the time was the Hot Mix 5 radio program that had DJs mixing on the radio – we would hear a lot of the early electro music, the '80s electro music from over in Europe like Kraftwerk and Telex and things like that, Giorgio Moroder. That was the music that we started to draw from, because house was nonexistent at that time. We're talking about 1984. [Juan] Atkins had a release in '83, but it wasn't exactly a house record. It was more a hip-hop-y kind of beat with the Cybotron thing, hip-hop electro. We really had no template to draw from like people have now. We used disco and the early electro music as our pattern, with the four-on-the-floor drum beat, and you just kind of wing the rest of it. You had to utilize your ingenuity.
"Mystery Of Love" pretty much came out of the blue, because it's actually one of the first recordings I did once I left the bands I was in and got a synthesizer and drum machine. That actually happened on the first day – "Mystery of Love" and "Washing Machine" were created on that first day. Maybe it was just something that was sitting in my psyche waiting to come out, because I don't recall specifically attempting to do anything. It just kind of flowed out of me and it sounded good, so I went with it.
With regards to "Washing Machine," I think it was me starting to get a little more crazy. "Mystery of Love" is more conservative, flowing, kind of a jazzy vibe, and "Washing Machine" is just bubbling, percolating. I can't even say what it was doing, because I was playing around with the arpeggiator on the synthesizer, and I think I did some sort of weird connection of cables. I'm just turning knobs while it was running live – that was pretty much it.
"Can You Feel It?" would be another one where you're just dabbling on the synthesizer until something comes to you. Maybe I came up with chords and then constructed a bassline alongside that. That was done very low-tech. I had two cassette decks and I recorded a pass on one and then recorded to the other to overlay some more elements that I wanted to add to it. Not exactly state-of-the-art, but effective.
As far as the mash-up versions of "Can You Feel It," I think the concept really started with the Hot Mix 5. The guys like Farley, sometimes when they had instrumental selections they would put a capellas on top or sound effects, and "Can You Feel It" always ended up with a Martin Luther King or Malcolm X speech on top. That concept stuck over time. We did one with Jack Trax that had Martin, and we got permission from the King Foundation to do that. There was another version that had this guy Chuck Roberts speaking on top of it – it's the one that says, "This is Jack and this is my house." I had nothing to do with that one – they just used the music bed and constructed this other a capella alongside of it.
Before "Mystery of Love" was pressed on vinyl, Frankie Knuckles and Ron Hardy and a few other guys around Chicago were playing the songs off of cassette tape, because it was originally done on a cassette. You make duplicates. I had a friend in the neighborhood where I lived who was more familiar with some of the clubs playing party music than I was. He was saying that this would sound good at the Warehouse. I didn't know what the Warehouse was. I just assumed it was a club. I was working nights at the time, so I wasn't able to participate in that.
They were playing the songs, and obviously they were getting a good response. I was just trying to find a day when they were open when I didn't have to work, to come down and research and find out how what was going on. Once you finally did see the crowds reacting to the songs and dancing to them, it was very encouraging. It was a shot of motivation where you said, "OK, well, I'm doing something people are understanding and relating to." It's definitely great for motivation to see people enjoying what you're doing creatively.
I met Robert Owens at a party he was DJing at. I had been invited to check out a party and he was one of the DJs on the bill. He happened to play "Mystery of Love" while I was there. I came up to thank him for playing it, and we got to chit-chatting. He mentioned that he sang and wrote lyrics. I think he was in a situation where he wanted to do something creative. He had people around him, but they didn't really understand his vocal style. For me, it sounded great.
We recorded something the first day we got together – I think "A Path" was the first thing we came up with. It was just a natural flow. It was effortless. There was very little discussion – just me playing a track, and then Robert would sing some words. He would do it so passionately that it would be a perfect fit for the feel of whatever music I put before him. He has a great talent and gift for doing that.
I think Fingers Inc. started when we met. We discovered it as we went along, because again, it was just such a effortless venture of my putting music before him and him putting lyrics to it. I was already doing releases – the next sensible thing was to release something with his voice on it. We did a re-recording of "Mystery Of Love" and that was what came out on DJ International the year after the original release.
["Bring Down The Walls"] is a pretty short story because we did a live take. He did it right on the spot. It was recorded in a flash. The only funny or quirky thing was someone rang my doorbell while we're recording, and that doorbell is on the record, because it was a one-take kind of thing. When we did the A side, he just sang through it. Then we did the version that was on the B side, he sang through it and we were done. It was just that quick.
We got to the point with Fingers Inc. where we decided to do an album project because we were stockpiling a lot of material between myself and Robert, and he's prolific as far as lyrics and I was very quick as far as writing music. It kind of ties into the reasoning behind some of the monikers that I was using like the Mr. Fingers, Disco D, Gherkin Jerks, House Factors, all that. I was kind of doing a George Clinton thing with all the different music that was being put together – we were finding an avenue for each one. As we started to do the album, I thought having an additional person would make it feel more like a group, because we were more a duo than a group. A trio was closer to a group. I worked with Ron Wilson, and I knew that he danced, but I wasn't aware that he sang until I went to a play that he was in where he had to sing a song. I said, "OK, he can sing – maybe he's the third person to be in this group, and he can do steps since he's a dancer, too. He can have some choreography." We were multitasking even back then.
I think Robert Owens was our inside connection, because he was the one that was already DJing and knew Frankie Knuckles and Ron Hardy and all these local DJs around town. I wish I could get to his tape collection right now and see what things are there that I lost track of over the years. He was our inside person as far as connecting with all the DJs. I just started to visit clubs, just see what was going on, getting more of a feel for what everybody's dancing to and take note of what kind of things people really react strongly to. It's just stored into your mental banks – you see if you can construct things that work and make the people dance and have a great time.