The Carry Nation and New York's Gay Big Room Boom
Marke B. traces the evolution of New York's big room parties through one of the gay clubbing scene's long-established DJ duos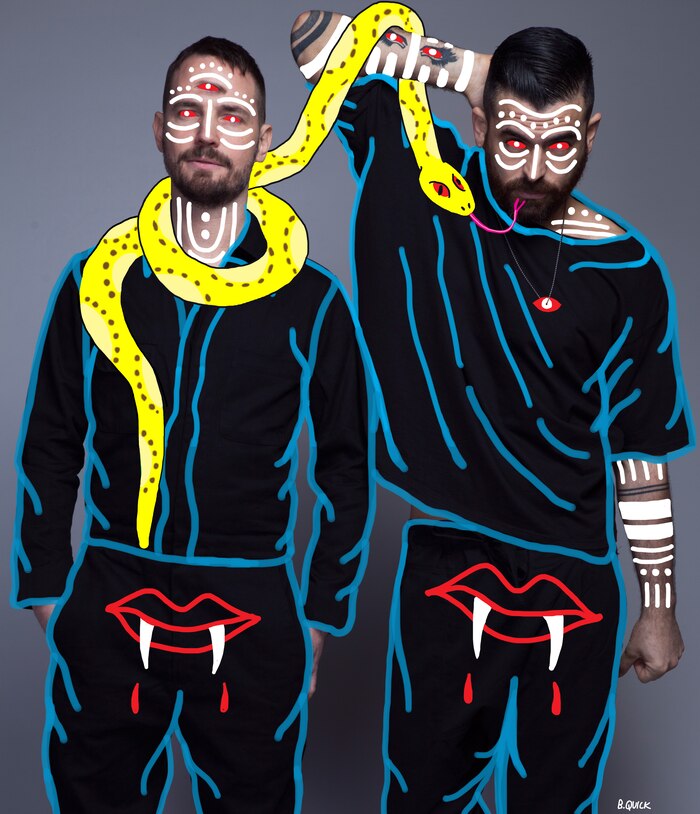 The well-worn narrative of contemporary New York City gay nightlife goes something like this: Once in the Go-Go '90s, everybody was wild, free, creatively made-up, shit-faced and often pantsless on the dancefloors of giant clubs like Palladium, Limelight, Sound Factory, Tunnel, Twilo, Vinyl, The Roxy, Red Zone, Shelter and Club USA. But then the 2000s approached, with soaring real estate prices, Mayor Giuliani's heavy-handed crackdown on dance clubs and an exodus of artists and party people to Brooklyn. One by one the cavernous Manhattan dance palaces shuttered, the club kids went into rehab or media, legendary party hostess Susanne Bartsch hung up her bejeweled platforms and the "big rooms" vanished in a poof of stale strawberry-scented fog, slated for conversion into artisanal markets or tech incubators. The party was over.
Along with the big rooms, so too vanished that famed New York big room sound, the beats-heavy, forward-thrusting rush that swept up clubgoers at the door and drove them hard through the night into dawn. No more weekend-long ragers of Danny Tenaglia pumping his Tourism tracks, no more Junior Vasquez transmuting Aphrohead's "In the Dark We Live" or DJ Pierre's "Atom Bomb" into 40-minute journeys through the wormhole. No more David Morales ripping off his shirt, his sets a booming conduit between Ministry of Sound and the Sound Factory.
"When Giuliani decided he wanted New York to be more 'family friendly,' it was almost as if nightlife came under martial law," longtime NYC DJ and producer W. Jeremy said. "He was using these arcane cabaret laws to shut down the huge clubs, and there were times when the lights would suddenly come on and armed police would literally storm the dancefloor. It was pretty crazy.
The new generation is reviving the old feeling, with diverse sounds and queer sensibility.
"That, along with all the expensive condos going up, the whole bottle service thing and the kinds of drugs that were then being consumed... Well, it all combined to kill off the big room nightlife of the time, and then there wasn't an established place left to go hear that music in a purely gay setting, with that same feeling," Jeremy said.
Of course, the big room sound never truly died – mostly it just went on tour, hiding out with "superstar DJs" in Ibiza or squeezing into smaller venues like storied Latin club Escuelita or storefronts like Diesel. Its goofier, more carnivalesque side kept the huge gay circuit scene going, while its deeper side kept to the floor of the voguing ballroom. And the story of gay big rooms is reaching a happy ending: Right now, there's a renaissance of the old spirit, as clubs like Output, Analog, Schimanski and, on the smaller side of the spectrum, Good Room, host huge gay flings. There may be no specifically "gay" big club at the moment, but Wrecked, Honcho, Honey Soundsystem and other mutually supporting crews of the global queer underground are filling NYC's larger floors with ease at regular parties and one-offs. The new generation is reviving the old feeling, with diverse sounds and queer sensibility.
At the forefront of this development is the Carry Nation – the NYC duo of Nita Aviance and Will Automagic whose high-energy, New York house-rooted sets and releases and monthly residency at Brooklyn's Good Room embody the current scene. They've been spinning, producing and partying since the Giuliani era, and the individual paths they've taken tell a history of New York's gay underground nightlife from the '90s to the present.
"The response to the closures was we had to make spaces where we would play and hear each other play the music we wanted to hear," Automagic said. "If you try to squash it, it won't go away. We create our own demand for these things, and if you won't let us do it, we're just going to make it ourselves."
Aviance told me, "When I got to New York in the late 1990s, I immediately found myself embedded in [premiere vogue house] the House of Aviance, performing and spending a lot of time at Twilo, Vinyl and Body & Soul – kind of the last of those big room spots.
"As that sort of fizzled out, it was basically just small bars left. A lot of the places were failing unless you were playing pop music, which is really a tough sell for of us as DJs. Plus, we were still fighting the cabaret laws. That fear of being shut down carried through for a long while."
Automagic met Aviance around 2005 at Mistress Formika's Opaline party, Aviance's first big gig. "The parties then were still feeling like they were coming out of the previous club scene," Aviance said. "But we still didn't play house – it was mostly dance classics and '80s hits, which was what it felt like people wanted. It wasn't until Mr. Black opened that we felt we could really open up and go to the places we wanted to musically."
[Mr. Black] was a true underground dance den, and all kinds of debaucherous – you can read police reports of what went on there.
Manhattan gay club Mr. Black moved three times and survived a spectacular bust, but from 2006 to 2008, and for some years afterwards in various incarnations, it was the Holy Grail for clubgoers and DJs who longed for bigger sounds in a dedicated gay space with an underground vibe.
"Mr. Black was a venue that was open every night of the week at first, and it had top-notch DJs every night that were the freshest shit," Aviance said. "That was one of the first spots that started bringing the queer community back into the fold of modern, cool dance music. It was a true underground dance den, and all kinds of debaucherous – you can read police reports of what went on there. So that was there for the new generation to discover as well."
Along with DJ Gant Johnson, Aviance started the Sunday Tubway party at Mr. Black, which quickly blew up with a diverse crowd and a growing family of DJs interested in moving gay club music forward. At first, Tubway showcased a more soulful, classic house vibe. But when Mr. Black moved into larger space Rebel and Tubway moved to Saturday nights, the sound expanded to feature hard-hitting, vogue-ready tracks by the likes of Kevin Aviance, Le Le, Hugg & Pepp and Nita himself, and the party filled the Mr. Black floor for several years. "It became a bigger room thing, with more production values, and we could hire a lot of artists and performers from out of town," Aviance said.
At the same time, W. Jeremy, Christy Love, Ana Matronic, Seth Kirby and Honey Dijon were also hosting and playing parties like Stank, bringing in their own versions of harder, louder sounds to Mr. Black. Elsewhere, DJs Ryan Smith and Ron Like Hell launched roaming party Rockit, later called Wrecked, which added a deep-crated, connoisseur-like twist to the growing gay interest in quality dance music. In 2008, a new big club called Santos Party House opened and started to book gay DJs for its wilder parties – it would absorb some of Mr. Black's energy and become a home of sorts for those seeking a larger, mixed crowd and deeper house sounds into the next decade.
Will Automagic, meanwhile, was blazing a different trail back to the big room. His Spank party, with Sean B and Jason Roe, started in 2007 in various Manhattan lofts. "As more and more expensive condos were being built, we would start getting noise complaints and then get shut down," Automagic told me. "So it was our idea to find some big spaces out in Brooklyn. We definitely weren't the first ones to have that idea, but in our gay world and our group of friends... Well, it was the first time our friends in Brooklyn had a party they could walk to because it was three blocks away. It was exciting for them. I'd been living in the East Village at this time, and my commute now became one of going to Brooklyn to work as a DJ."
"Obviously there had been things going on in Brooklyn," Automagic continued. "Larry Tee did his electroclash thing in the early 2000s, for example. But as far as queer warehouse stuff, Spank was on the cutting edge. So much began to develop around that time. There was the Cheryl party in warehouses in Brooklyn. Arts venue the Spectrum was born in Williamsburg and was definitely a space that was a big influence for us. Mister Saturday Night was a straight collective but tons of gay people would go to that party.
"And vice-versa, tons of straight people were coming to our parties for the music," Automagic said. (Nita added: "And the dick.")
Spank slowed down and Tubway ended, and Automagic and Aviance, who had guested so many times at each other's parties they felt they were already a duo, decided in 2012 to team up and make music as The Carry Nation. They began to throw parties at the Spectrum, which added a more queer and arts-oriented atmosphere to their now-recognizable driving sound.
Soon they were hopscotching all over Brooklyn, throwing warehouse parties where they could. "We were the epitome of DIY," Automagic said. When they outgrew any spaces they could find – and tired of sweeping floors and hauling in their own ice – they found a new monthly home at Good Room, a large (but not too large) licensed venue that allowed them better technical backing, unfettered creativity and time to make more music and tour.
By this time the new energy was coming into full swing. Suzanne Bartsch was cranking up the club kid machine in Manhattan and would soon be throwing the kind of parties, like Boom at the Standard with W. Jeremy, that Cher dropped in on. Larger venues caught wind of the hype and started booking gay crews in prime slots. Wrecked has moved to Analog. Ladyfag now hosts Saturday nights at new big room Schimanski (the former Verboten), and her Battle Hymn fills the cathedral-like Flash Factory every Sunday. Even the annual Black Party, the 36-year-old behemoth New York City circuit party, has started booking queer DJs whose sound is more associated with the underground movement.
Anyone who hadn't caught wind of the emerging big room boom certainly found out when the Carry Nation's acid-tinged banger "This Bitch is Alive" became a hit. Now the mortal crush at parties like those featuring queer Londoners Horse Meat Disco at Output can feel downright scary. In many cases there's room to grow even bigger.
"I feel we're all part of the larger revival of the New York scene. New York is doing great right now," Automagic said. "There's still DIY options, but now there's licensed venue options as well. Our nightlife is now respected as a necessary part of the city in a way that it wasn't before.
"And that's very refreshing – because we need it."