Diamanda Galás on the Personal and Political Impulses That Define Her Singular Career
The radical composer, singer and activist on her first vocal experiments and lessons from an unpredictable career
Diamanda Galás began her creative journey at 14 years old, playing solo piano in symphonies and accompanying her father's choir. She went on to collaborate with a broad spectrum of avant-garde composers and popular artists such as Erasure and John Paul Jones of Led Zeppelin, while shaping and redefining an utterly unique and genre-defying sound. Born in San Diego, California to Greek Orthodox parents, Galás studied classical and jazz music early on but dramatically expanded her repertoire to include art forms such as opera, poetry and literature as well as subjects such as sexual identity, mental and physical disease, violent historical events and radical philosophy. Her sociopolitical ideas are deeply woven into the fabric of her art, whether playing the role of a Turkish torture victim in French-Slovenian composer Vinko Globokar's 1979 opera, Un Jour Comme Un Autre, or her late '80s trilogy of recordings, The Masque of the Red Death, which dealt with the AIDS crisis in relation to Biblical scripture.
Galás remains uncompromising in her personal aesthetic and artistic vision. In this edited excerpt from her Fireside Chat with Harley Brown on Red Bull Radio, the fiercely individual performer shares stories from her early entrance into free jazz, lessons from collaboration, researching and writing about unlikely subjects and the sense of mortality that drives her output.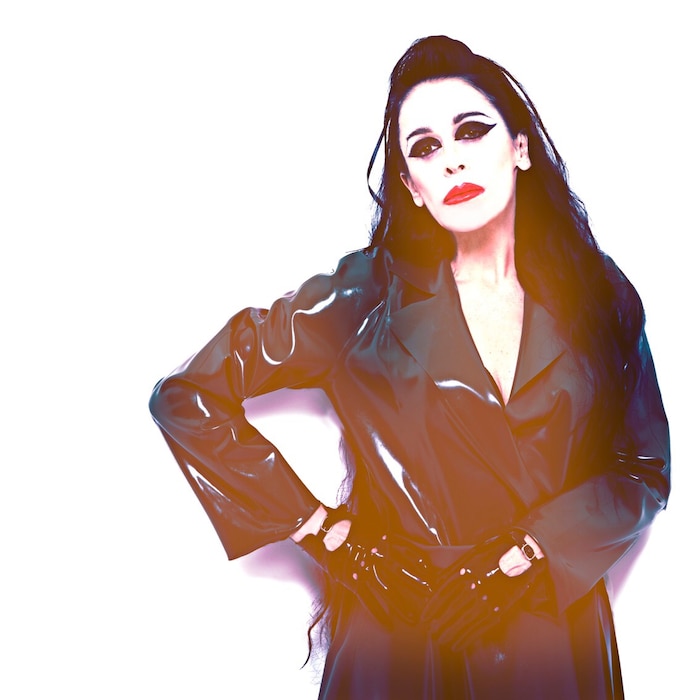 How did you and your brother discover Edgar Allan Poe and Marquis de Sade?
I was raised as Greek Orthodox American. In the '50s and '60s I spent a lot of time, as I do now, by myself. In this time that I'm alone I do a lot of research. I'll go on the internet and I'll say, "Let's see what the sound of the fornication of two fruit bats sounds like," because I have this feeling that it sounds a lot like my voice. Lo and behold, I'll be right. These are the things you follow, your instincts about things. The earlier that you do it, the more close to money you get, probably. That's the kind of thing I would do because I had a lot of time. If I wasn't in school I would spend the time playing cello, playing piano, playing violin, doing research of different kinds.
My brother and I eventually started this magazine dedicated to de Sade. Actually, it was called Masochisia, so more sadomasochist. We did it because we wanted to have a good time and we liked to make jokes. We also liked to do research on subjects that were unpopular, certainly unpopular among those our age. I, in particular, didn't have any friends my age... I'm so glad it was that way, because it continues that way for me now. I spend the luxurious moments of the day generally doing research, because there's so much to do. There's so many things that interest me. There's so many analogies to be drawn from the things that we hear that there's no reason I can't wait. I jump out of bed sometimes just running to the computer to find out if something I'm thinking might be true, if the connection might be true. That to me is the "Hallelujah Chorus" right there, these connections.
Going back to your childhood, how often were you playing the piano?
All the time. My father sat me at the keyboard at three years old, and I think from what I've heard and from photographs I was on the piano quite a lot. In any case, in the culture I come from women were discouraged from opening their mouths. They were encouraged to do things maybe with their hands, but not with their mouths. To be a pianist is to be a perfect artist: You don't hear her talk. She has no opinions. She's just playing the piano and we know where she is. Until I got into the free jazz thing and that happiness ended for the family, because then it got, "She's playing that violent music again? She clearly wants to drive me out of the house," which wasn't the truth at all.
How did you get into free jazz?
I got into free jazz because of being an improvisor before that for so many years. Then I met Mark Dresser and my friend Jim French, and I met a lot of different people: David Murray, Stanley Crouch, Butch Morris, Bobby Bradford – who was my teacher – Henry Kaiser. I was called up to improvise at the piano. I enjoyed doing that a lot, until the piano clearly had become, as far as a band is concerned, of very ancillary importance. What was happening was that you were hearing things like Ornette [Coleman] playing with just drums and bass, and the piano was really laying out to the point in which it wasn't there.
That was my band – my voice in many different shapes, with the dramatic idea that perhaps they were talking to each other.
The singing started when you were still at UC San Diego?
I think it was a little after that. I was back and forth to the University of California San Diego different times. I did different careers during that time. I found it uninteresting to be hanging out in the university for that long, long period of time. I went in, got my taste of what I wanted to find out, and then would leave and come back. That I think is a good way to do things, because life is much more complicated than sitting in a classroom listening to someone's opinion – unless this person is not venturing an opinion but just giving you facts that are interesting to you. If you ask the guy's opinion, that's one thing, but usually it's unsolicited. The work that I did outside of university was very complicated. Some of it [was] not subjects I probably want to talk about in this interview, but others of it was playing with different kinds of bands.
Eventually I got fed up with just doing the piano bit and I decided to do solo voice. This was solo voice without electronics. Eventually it became as if it were a band, because I was doing quadraphonic sound using a lot of delays, including remodulation, square wave modulation and then just different lengths of delays, parallel and serial processing. We're talking old-time stuff here. That was my band per se – my voice in many different shapes, with the dramatic idea that perhaps they were talking to each other. The truth is, that sounds like more of a thing you'd write in a masters thesis than the truth. I said in an interview recently that what it is is, you close your eyes and you throw down, or you expand like a bat and there you are, and that's it. Because at that point you're really living. You can't do that unless you have a technique to do that.
That would bring me to a very, very important part of tutelage, which was studying with a great master of the voice, Frank Kelley. I heard him give a friend of mine who's a great singer and composer, Debbie Kavasch, a voice lesson. She was singing Ernani and then she was singing "Queen of the Night," which I can't sing at all. High F's – I can't do those. I heard this and I heard the legato, which is basically a string of notes that are more connected than a pearl necklace. They are brought together by the breath, the consistency of the timbre, of the dynamic range, brought together as if they were indivisible, as if they were the same note, as if they are the same note. I heard that, I said, "Mm-hmm."
I went to the teacher and he said, "Sing some Mozart for me." I said, "Some Mozart?" He gave me some music and I looked at the Mozart and I started singing. He says, "Well now, that's nice." I said, "What do you mean?" He said, "If you can't get through a phrase of Mozart without breathing, how do you think that you're going to be on the front lines of the music you're trying to do?" That is the most intelligent thing any teacher has ever told me. My teacher now says the same thing, but she didn't know that he had said it previously. The truth is that if you can't do that, then how can you go singing the long lines, for example, that saxophone players who emulate vocalists do? How can you possibly? You can't. A singer is supposed to be able to just keep breathing – extrovert the energy, extrovert the sound, fast breaths, extrovert the sound. You can't do that unless you know how to breathe.
I started working on Mozart, and then I was working on Cherubini and Bellini and Donizetti and everything in the first six months, and people were really quite shocked by that. People were advising against it because a lot of the roles were for a very dark voice, and I was quite young in doing the work. I didn't start singing professionally until I was in my late 20s, 28 or so. Before that it was piano, then within six months I had these very difficult roles in Paris, avant-garde operatic roles that were really hard to do. I had to take advantage of this study really quickly, and then the work of Berio and Stravinsky, but nothing was as hard as the one I had to do in Europe, which was Vinko Globokar. He'd do pieces like "Limits" – that tells you everything – for violin, "Limits." János Négyesy was a Hungarian violinist, and he would say, "I keep telling Vinko, can't you make this somewhat playable, eh? I have to kill myself every time I do this piece."
A lot of these Eastern European composers went to Hollywood and that's why their compositions would show up in the songs of Doris Day. You've talked about her legato before.
Doris Day would have had to sing the songs written by Eastern European composers, that's for certain. It started with Joseph Kosma, who'd studied with Franz Liszt. We're talking about legato – I wouldn't say he was the biggest proponent of legato in a lot of his work, but in others he was... The people that went to Hollywood and were successes were these people who had studied this Eastern European tradition.
A lot of them had trained in this school that incorporated music. Let's say Shchedrin, Rachmaninoff, and then you have the Austrian and the Hungarian. You have so many composers that were writing very complex pieces with chord changes that just ran by like screams in the night. They were very dramatic. Then you have to write a song for a movie. What does a person want you to do? Write a I-IV-V. I don't think so. I mean, I-IV-V is fine, but not for a whole movie. Maybe one part in a bar or something.
Let's say you write a really sophisticated I-IV-V; it's still just a fucking I-IV-V, all right, or I-VI-II-III. What the fuck is it now? III-V-I. Now we're talking – I-III-VI-II-V-I. That's still a simple chord change next to the things that these guys were doing, where they were writing something that would go suddenly to one, five, seven, minus 9, plus 11, 13. That's drama... These are chord changes, and these are the history of theater on the screen.
So many of these movies that were so famous in the '50s, black and white films, have these soundtracks which were as compelling. For example, Bernard Herrmann, who comes from that tradition – have you ever seen Sisters? That was a major work. That film is alarming by virtue of the fact that the guy had all these changes going on in the orchestra and he was the supervisor of the sound effects. He used Moog synthesizers with the orchestra, pairing them with particular frequencies – as I talked about earlier, fruit bats that I paired with my voice because they were in the similar frequency spectrum and timbral spectrum. He was in charge of all these things as well as other aspects of the sound.
Today you have your sound effects guys who are, more than not, taking stuff from old sound effects that were laid down by certain vocalists who had done it for an earlier film ten years ago and are using it for their stinky-ass film now. In the past, you had a guy who was smart enough, in the case of The Birds, like Bernard Herrmann, to go and find a machine in Germany that played sounds that sounded like a thousand birds. There was not bird sound in the whole film, unless he put it there as a cameo and put his own face on it. It was a machine that just had bird sounds.
This is the stuff I'm impressed with, people with real educations that understand that those songs – the saxophone players and trumpet players who played over those songs – were really musicians. Because to play over those kind of changes... You really better know be-bop. Be-bop and counterpoint are related. These arbitrary separations of music based upon race come from ignoramuses, people who are tone deaf and people who have an agenda to promote, but they don't have anything to do with music, nothing.
I've learned that being a professional is sometimes a bloody waste of time, and it's professional by somebody else's definition of professional.
Do you remember when your father saw you sing?
One of the first things he ever did when he saw me sing was ask for a curtain to be drawn in front of me, so he couldn't see me sing. In my household – especially with him, a Smyrnaic Greek – this kind of activity could be done by men but not by women. It was an act of obscenity for me to sing with him watching me. The pain was enormous for me to do it, psychologically. I couldn't do it. I was able later on to do it a little bit – my mother insisted on bringing him to concerts here and there – because I was sitting to the side playing the piano and I was facing the piano, not the audience. Otherwise I wouldn't have been able to do it. It's a very deep rooted, cultural thing, and it's not just Greece. I think if I were to ask my Persian colleague, she would understand. Perhaps not in her own family, but generations before.
Speaking of that sort of tableau, of how you're oriented towards the audience, what kind of a connection do you feel with the audience when you're performing?
When I'm performing, if I'm doing my job correctly, then I feel connected with something beyond myself, as I think of myself in the sense of, my brother would say, a parlor room personality. I'm connected with someone who's giving me a gift for nothing. In fact, the gift is given to me, because I have practiced and I've worked and I understand the song and how to sing it. At that moment, I can feel a connection with the audience, because I have something to bring them. If I haven't done all that work before, I feel no connection. As a matter of fact, I feel an extraordinary hatred for them, because they are the visitors of me in an extreme state of humiliation.
Fortunately I've only been through that a couple of times. One of the first was singing Jacques Brel in England, when I was singing for Jacques Brel aficionados and I had no interest at the time in singing, learning or connecting myself with Jacques Brel. My father had just died and I wasn't interested in anything other than that. I should not have done the concert. I was trying to be a professional. Since then I've learned that being a professional is sometimes a bloody waste of time, and it's professional by somebody else's definition of professional. Often, "professional" tends to mean "Yes, his mother was dying and he left her deathbed to make sure that he'd be on time for his gig." I don't call that professional. I call that being a goddamn, cold-blooded careerist. I'm not interested in that.
When you were performing Plague Mass with this audience, did you have a similar sentiment as you did performing after your father's death?
No. In the case of performing Plague Mass or Masque of the Red Death, I was then performing work I was obsessed with, had been working on every day, because it was directly connected to my life experience as a witness to the horrors that I saw around me. I wasn't exactly exempt from these horrors in a physical sense, because I had Hepatitis C at the time (which I later experienced the bad sides of through the different clinical trials I had to take). Very bad news, but they worked eventually. It really is quite different. If you're invited to something and you accept, but at the time your heart isn't in it, that's the time to say no.
It often takes many years to be able to do things like that. To learn how you best acquit yourself musically, emotionally and so forth. Will you work on something that at the moment doesn't interest you? I haven't made that mistake very many times. A few times, but every time I've made it, it's been a major mistake. I've alienated certain people, probably for life, because of it, but on the other hand I'm not a very good collaborator. I tend to want to run the show.
Then why did your collaboration with John Paul Jones work so well?
Because we're both bastards. Because we would both tell each other what we thought all the time. We both were very open about saying exactly what we did or didn't like about what was going on in music. I would play Arthur Brown and he'd say, "Arthur? What are you listening to that stuff for?" I said, "Are you kidding? Because it's a great genius. By the way, have you ever heard of Black Sabbath?" And then he would just say, "You bastard." We had a good time in this regard. But the main thing is none of that shit matters if you don't hit the music as soon as you stand up. As soon as we stood up and started playing it was like, "Bam." Just as we knew it would be, because I had listened to him play for years. I didn't know Led Zeppelin – I just knew that I liked the rhythm section.
I said to my cousins, who were the ones that played [Led Zeppelin] for me in Arizona, "Who is that band? That's the kind of rhythm section and that's what I should be doing," because my first gigs making money were playing blues gigs with my father's New Orleans band. So I knew this music, and John at the same time, unbeknownst to me, was asking about Litanies of Satan. "Who did that?" His wife was a fan before he was and she said, "You should listen to this." So his wife is the one that connected us, and it was as if we discovered each other at the same time. [Some have said] this was an obvious trick to try to get into a commercial world, and I'm thinking, "Really? Did you hear Schrei x?" Which I recorded right afterwards.
Daniel [Miller] was very angry about that. He says, "I don't see why you would do something with John Paul Jones and then do Schrei x." I said, "You don't? Why not? Why would I want to do the same thing twice?" John felt the same way. Why would I want to do the same thing twice? It's because we don't have to do the same things twice. It's because we have a gigantic repertoire. We hear lots of things. We will probably, I hope, play together again, but if we don't, we will have done it once, which is more than most people get to experience. I mean, why wouldn't I want to play with so many people – whose names I've forgotten at the moment – but there's many people.
The problem is that my own projects have to take the first rung, and it's because I don't know how long we're all here. I don't know how long I'm here for. I didn't know how long I was here for when I was 18. I've always said I must do my own projects first and whether people like them is completely irrelevant, because life isn't forever. If you were forever then I could say, "Well, maybe I'll do a little of this for about three years as a laugh and make some money, and then put it in the bank and blah, blah, blah." Maybe, but probably not. I think I'm probably too selfish to do it. I would probably do something else – be a burlesque queen. That's not much money these days. No, probably not that.
There's a certain propulsion, a certain momentum that happens in a live performance.
How do you prepare for recordings? How do you get into the mind space of something like Litanies of Satan for example?
If there's a melody I hear in the middle of the night, if I have a piano there I will sit down and be able to play it. That will get me going in composing a song, like anybody else. Unfortunately I've been staying in a place that doesn't have a piano right now, but the main thing for me usually is a melody that just will not leave my brain. I like to get that thing out, then comes the text. We're talking about songs that I write, not songs in which the text is already written by a poet for whom I have great respect and with whom I feel great empathy.
I'll try to get those things down really quickly, just so I won't forget what the essence of it was: the basic chord changes and the basic few verses. Then I'll begin to work on it more and more. When it comes to recording it, as I have generally been recording in the last several years onstage, all I can do is prepare as well as I can. The first performance is, let's face it, rehearsal. I mean, it's a rehearsal after one rehearsal or two rehearsals, and fortunately I've been doing music for so many years that I can pull it off.
There's times in which me pulling it off is less successful than me pulling it off better. But there's a certain propulsion, a certain momentum that happens in a live performance. The necessity of getting it right the first time can put you miles ahead of sitting in the studio, starting the goddamn thing and then after ten bars saying, "No, I could have done those better," and stopping. "No, those bars are crap." "No, the first seven were great."
How do you take care of your voice?
When I'm taking care of my voice – and oftentimes I'm not – I'm drinking plenty of water. That usually only happens about four days before the show. I have to confess, I'm very bad at that. I'm very bad at the things you're supposed to do, except around the show time. I don't smoke and I drink very little. Right now I'm hoarse because it's been very cold and because I've been talking, doing this interview, which I find harder than singing, any amount of singing. I don't live a wild lifestyle. People think I do. I don't. I do in my mind, and that's where it counts for me.
I just get very bored by the promise of what's in front of me, whereas by myself I can look up whatever I want, anything that I'm actually interested in, and find it really quickly or put the pieces together that I didn't know really belonged together. For me it's much more exciting making a discovery than it is going to something, seeing something, that has already been discovered. It's just a truly narcissistic thing. Again, it refers to the amount of years we have on this planet and how do I want to spend them? Well, that's one: to be narcissistic. That's my choice.
In Defixiones, when you're talking about a genocide that happened in the past, do you have a goal towards activism in some way, or is it more making people aware of this?
In the case of Defixiones it was imperative for me to do it, because this work was something whose subject was completely unknown by most people. By most, I mean more than 99%, far more than 99.9% and far more than 99.99999%. [No one] knew about the Armenian, Pontic Greek, Smyrna Greek, Anatolian Greek, Assyrian Yazidi, Armenian Chaldean populations that had been the victims of genocide between, for example, 1914 and 1923. Nothing. Some knew about the Armenians that had been genocided but not the rest of populations, and I said, "This is ridiculous. This was the first Indo-European genocide of the century and it's not being discussed. This is very odd."
My father had told me about it since I was a young child, and so the more and more I knew about it, the more I felt it was imperative for me to study the music, to study the literature written at the time, to study literature that was written, let's say, in other countries that was absolutely parallel to it, to study the literature that was written in Cyprus in the later genocides and [by] the Turks. As we know, it's half occupied, more than that, by the Turks, and they're not going to leave. They have no plans on leaving.
These are things that were inescapable every day, just as inescapable as so many of us are suffering knowing that this moron, this utter moron, has now taken the presidency, and the days that have led up to his presidency have been a kind of torture, like a water torture in which so many people have to keep writing... This is the problem. When you know something about someone or something and you do or can do nothing about it temporarily, it's excruciating. I can see why our population is so devastated by this, because we've learned so much over the years, and then suddenly comes in this hillbilly asshole, ignorant miscreant, and he's sitting there at the throne with no clothes on. My God, he couldn't be more obvious.
With Defixiones it couldn't be more obvious, and people were refusing to discuss this genocide. They were discussing their own, and they were refusing to discuss the one that my people had been part of. I said, "No. No. It's not just 'my' people. Do I own them? No. They're not 'my people.' Let's talk about a group of people, several groups of people, whose genocides were being dismissed." This had to be discussed, and so I became a fellow at Princeton in the Greek Studies department. I was allowed to go through a lot of literature there, but I ended up mainly in bookstores. I chose ten pieces of literature in nine languages, and there was maybe one language that I didn't speak, which was Assyrian. But I worked on the Turkish, I worked on the Arabic – certainly the Greek – I worked in Italian, Spanish, other languages. English, obviously, but primarily Greek and Armenian.
My reward for this was to do it in New York, to do it in Australia and England, and to hear that I subserved my audience by not doing the Greek poets in English. In fact, these were such great poets – Seferis, Ritsos, and the great writer Kazantzakis – how dare I not do it in a language they could understand? I said, "You're not listening to me. This is a genocide of the Greek people (among others). Why would I do it in English?" This has continued throughout these countries that are English speaking. They don't understand. They don't understand because they don't have to, but they do when enough people say something. It's the Armenians who have been heard the most. The Greeks have been equally vocal. Perhaps they have not been heard as much and that's unfortunate.
The Assyrians and the Chaldeans have the disadvantage of being right now the victims of having to escape Iraq. They may not be so interested in discussed a genocide that took place precisely 100 years ago, and that is why if we decide what relevance does it have to the present, I would say, "It's 100 years old, this genocide, and the very same thing is happening."
It's the same thing happening today, exactly the same. As a matter of fact, in Syria the people that have been having to flee are Greek Orthodox or Arabic Greek Orthodox or Arabic Orthodox or Palestinian Orthodox or East Indian Orthodox. No one talks about that. They're all Eastern Orthodox Christians. Nobody wants to talk about that. All they do is show pictures of Assyrian Orthodox rituals and they say, "Oh, these are the interesting Muslim rituals from Iraq." It's Newsweek magazine that did that. I screamed.
Was there ever an experience when you're singing in a different language in which, rather than just expressing the sounds, the meaning of the words hit you?
The fact is that when we refuse to do other languages, to learn other languages, we cut ourselves off from thousands of emotions that we could otherwise feel, experience, express, digest. That is why you cannot take a German poem by George Heym, or a Greek poem by Yiannis Ritsos, and just do it in English. It doesn't make any sense. It's just an approximation of what might be, an ancillary part of an emotion that the poet may have had after writing the poem. We can never think that Americans can know the German mind. Therefore, when we learn a language to the best of our abilities and we say it to the best of our abilities, we enter a space that we would never have inhabited before. It's like going to Mars – my ambition, of course. If we say, "Oh, it's not in English, I'm not interested," it just says what we are.