The Making of Electro Zajal
The Lebanese producers featured in the Electro Zajal documentary series discuss the collaborative experience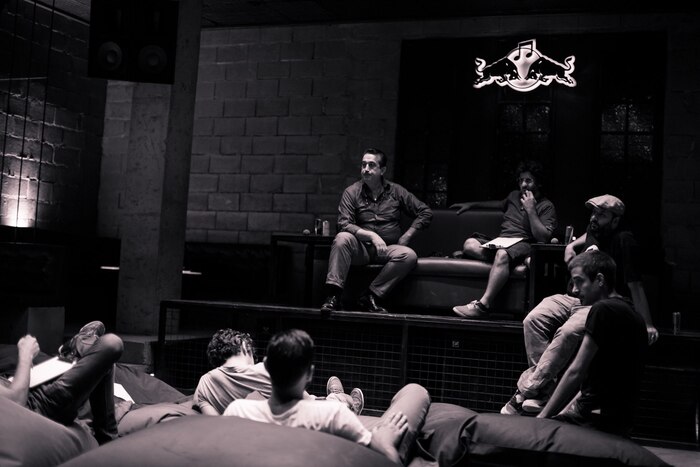 RBMA's Electro Zajal documentary series explores the marriage of zajal, a traditional form of performance poetry, with contemporary musical styles in Beirut, bringing together six Lebanese electronic producers and a master practictioner of zajal for a live performance and EP.
The result of their collaboration, now available to stream below, indicates a surprisingly sturdy connection between the sometimes flamboyant, traditional zajal performance style and a variety of modern electronic sounds, with a seamless interplay between generations and genres. Featuring six Lebanese producers – Rajul Al Hadidi, Jad Taleb, Arabia Fats and Munma, as well as 2016 RBMA Montréal alumni Etyen and 2006 RBMA Melbourne alumni Zeid Hamdan – the Electro Zajal EP highlights the potential in bringing a traditional form such as zajal further into the future. In this interview, the six participating producers spoke with Red Bull Music Academy about their personal relationship with traditional zajal and the future possibilities of the collaboration.
What was your knowledge and opinion of zajal prior to participating in this project? Did you have any interesting personal experiences with the form?
Al Rajul Al Hadidi
I mostly knew zajal from watching numerous performance broadcasts on TV since childhood – I always found it curious and amusing.
Arabia Fats
My family comes from a small village in the north of Lebanon, and it was very much a present feature in my surrounding folk/popular culture. In middle school and high school we used to memorize and recite the racier/sillier zajal lines we knew, just like we would tell jokes every once in a while. I've always been a fan of the tradition.
Jad Taleb
When I was a kid, my family used to host parties at my grandparents' place in the mountains. They used to dance and sing to the tunes – amateur zajal music [with an] oud and darbouka.
Munma
I knew very little about zajal, and it happened to be a very pleasant discovery.
Etyen
I had little interest or rather was never really exposed to zajal in my life. I grew up listening to music mainly from the West. Funnily enough, a few weeks before I was approached by Red Bull for the project, I happened to be in a cab in Beirut and the radio show the cab driver was listening to was of zajal.
Zeid Hamdan
I had vaguely heard of it, but never had the opportunity to meet a zajalist and understand precisely the different forms and technique.
How do you see your own music fitting in with or actively rejecting Lebanese musical traditions?
Etyen
Although my music strays far from Lebanese music traditions and is very much influenced by Western music, I have experimented in the past in fusing together elements of folkloric Lebanese music with electronic music, using instruments such as the oud and vocal techniques that relate to Arab music.
Jad Taleb
My sound is a merge between the old Arabic classics and new wave electronic music, so it's somehow fitting in by exposing the old culture's sounds to the emerging youth.
Zeid Hamdan
I think it fits in quite well. Since I came back to Lebanon in 1992 I've tried to reconnect with my culture through my music, remixing and sampling traditional Lebanese music .
Al Rajul Al Hadidi
I tend to have a preference for instrumental music regardless of genre, and Lebanese traditional music, like many other forms of traditional music, is most often centered around the human voice and lyrical content – the "story," in a way. I prefer a more abstract kind of storytelling.
Munma
I think there are many traditional influences in the way I write my melodic parts, but the actual sound palette I use differs greatly.
Arabia Fats
It fits in rather snugly, as it can be considered a local progenitor and close cousin to hip-hop music and other forms of "competitive" poetry and storytelling.
What were considerations you had to take into account in terms of incorporating the zajalist into your new creation?
Arabia Fats
It was an easy fit and match for my style, since the tempo of the a capella I got was in the mid-90s BPM-wise and was 4/4 – pretty typical for a boom-bap hip-hop song. The verses were a little short, but I think the hook sounded nice, so I focused on that. I added a bit of distortion to the main vocal that the zajalist didn't like too much, but I think it made it sound a bit scrappier and fit the subject matter.
Munma
The lyrical content had a direct influence on the structure and my choice of sounds. I tried to create a general feeling that matches the melancholy and daydreaming aspects of the vocal track.
Al Rajul Al Hadidi
The song that was assigned to me contained an evolving melodic structure, with near-perfect pitch. Rhythmically, however, the possibilities were wide open. Finding the tempo that best fits the vocal track was the most important step, in my opinion, and in a way it was directly determined by the content of the lyrics. After many rounds of trial and error, I opted for the arrangement that felt most natural when combined with the voice.
Jad Taleb
I worked a lot on detuning and filtering his sound. I kind of multiplied his vocal layers on my DAW to create this chaotic and reverbed vocal outcome. His voice was dissected and spread all over the composition – I sent a few layers to the back and used some clips for transitions and hits, but I also kept a main front layer for him to sing it in the live performance, which added an interesting taste to the whole composition.
Zeid Hamdan
I had to edit his vocal a lot for it to fit my tempo. The rest was okay – it fit quite easily. The lyrics didn't affect so much my production, mostly groove and flow of his vocals.
Etyen
I think starting the track was the most challenging part for me. At the beginning I was wary of not giving the zajal poem its justice. It would've been really easy to just sample bits and pieces and make something like I always do. My particular zajal poem was very powerful lyrically and that inspired the music with it. The poem was telling a story and in the moment where the poetry was referring to beauty and tenderness, I tried to parallel that in the music. In the parts where the story gets dark I took the music in that direction. So I think the poetry was very much leading the music.
It's a bit of a stretch, but one could go so far as to argue all Lebanese hip-hop is slightly unmelodic zajal.
How did this experience of translating your musical tendencies into unforeseen stylistic territories affect your collaborative philosophy, if at all? What were notable unexpected challenges or positive cross-over points of the collaboration?
Zeid Hamdan
I had remixed a lot of Fairuz, Asmahan and Wadih El Safi before, but it was the first time I worked on zajal. It opened a lot of perspective, especially in that zajal is sung in a Lebanese dialect which is really unique to our country. It inspired me in the way I write Arabic, for sure .
Munma
Perhaps the main challenge was finding a way to incorporate zajal into my own style of minimalistic electronica sounds.
Etyen
I would say I am now more interested in the fusion of my native musical traditions with my music. I think a very important cross-over point was reaching the moment when I was like, "OK, the music and vocals are really speaking to each other now and each is given its justice." It didn't feel forced, and for me at least, didn't feel like two foreign elements but rather a coherent whole.
Al Rajul Al Hadidi
I always welcome a good musical exercise, and from the moment I was approached with this project I knew it was something I had to try at least once. Building the final track went smoothly, with no major hurdles. The greatest challenge was the live performance itself; as zajal is an emotionally charged form that relies heavily on improvisation and spontaneity, I had to adapt my set just enough to keep up with the variations, without deviating too much from the original work.
Arabia Fats
It was an easy fit, really, though it was perhaps a little more melodic than the usual vocals I tend to deal with as an Arabic hip-hop producer. But it wasn't much of a departure. I hope our collaboration served to highlight the vast common ground and organic synergy between Arabic rap music and zajal.
Can you see yourself working with zajal as a form sometime in the future, or has this experience inspired you to seek out alternate musical traditions in Lebanon or elsewhere you're interested in merging with your own music?
Munma
I suppose so, but I think that for a genre as lyrically rich as zajal, an approach with more studio and rehearsal time would lead to much better results.
Al Rajul Al Hadidi
I don't see why not, if another interesting project of the sort came along. But having already tried it once, I would be more interested in other types of fusion experiments that perhaps haven't been tried yet.
Etyen
I definitely feel like I want to discover more about my own country and have realised that it is our duty as Lebanese musicians to shine the light on our beautiful musical traditions that have been lost with each new generation.
Zeid Hamdan
Sure, I could collaborate with zajalists in the future, but I wouldn't find any platforms to expose it. Zajal is a disappearing tradition and even indie Lebanese music is disappearing – bands are turning to English music and are finding it easier to develop. So, I guess as is the case recently, my experimentation will continue but be more and more unnoticed.
Jad Taleb
This experience inspired me to work on alternate musical traditions. Working on this cultural merge for a while now, it became part of my music identity. Now I'm releasing my upcoming EP Transitory and it's a merge between old Arabic classics and techno.
Arabia Fats
We've done a bit of experimentation with zajal forms several times in our band (Fareeq el Atrash) before, and it's possible to do more in the future. It's a bit of a stretch, [but] one could go so far as to whimsically argue that all Lebanese hip-hop is slightly unmelodic zajal.