The first Chicano R&B heartthrob to emerge from the heady early days of low rider rock culture in East Los Angeles wasn't actually Chicano at all
There are many legends about Little Julian Herrera, the first Chicano R&B heartthrob to emerge from the heady early days of low rider rock culture in East Los Angeles. One says Herrera was murdered in LA's Elysian Park. Another goes that he's alive but not well, hanging onto a job at a gas station in National City, California. But the strangest tale – that his name was not Julian Herrera and that he was not Chicano – is the only one that we know is true.
Most people have never heard of Little Julian Herrera, but in certain circles, the man is infamous. Josh Kun, who studies music and race at the University of Southern California, explains. "Every time I would talk to a musician, every time I would talk to a collector, no joke, within the first minute or two of our conversation, they would say, 'Hey, you ever heard of Little Julian?'" Kun calls Little Julian Herrera "the Bigfoot of Chicano music." And just as people have tried to spot Bigfoot, there's a search on for Little Julian.
Little Julian's Los Angeles story starts in Boyle Heights, a predominantly Latino neighborhood east of the LA River. (He is said to have hitchhiked across the US from the East Coast to LA when he was 13.) Not knowing anyone in Boyle Heights, a family with the last name of Herrera took him in. Julian decided to stay and took their last name.
A few years later, Julian was hanging around Whittier Boulevard, a scene where kids would cruise on Saturday nights under high street lamps. In the 1950s, Mexican American music was starting to emerge with an identity all its own. Julian might have grown up hearing Don Tosti's "Pachuco Boogie," or the father of Chicano music, Lalo Guerrero. Julian met a few people, started performing, and soon he was recording his own songs. Local record collector Gene Aguilera vividly remembers hearing Julian's voice come through the radio.
"I went, 'Wow. This guy is a Chicano guy.' He's playing all the venues here, El Monte, Whittier Boulevard. I could relate to him. He was one of us, ya know?"
Julian sang with swagger. "Lonely, Lonely Nights" was his biggest radio hit, but other songs like "I Remember Linda," "Here in My Arms" and "Symbol of Heaven" highlight his confident, romantic sound. The songs embodied the emerging low-rider culture of East LA, and the social nights at clubs along Whittier. Julian became a celebrity in his own neighborhood.
There aren't many people left who actually knew Little Julian Herrera. One of them, Gil Rocha, lives in a tidy house in Lancaster, about an hour north of Los Angeles. In 1958, Rocha was the first bandleader to hire Ritchie Valens. Beyond the entryway to Rocha's home, on the wall in his living room, is a Valens shrine complete with awards, notes and photos.
Valens and Rocha were from the more suburban San Fernando Valley, but in the late '50s Rocha would head to East LA several nights a week to get a piece of the action. As he tells it, the East LA crowd would party all night long, and insist that the band keep playing. "A lot of times I was so tired and these people I didn't even know said, 'Hey, come on over to my house. You can stay overnight with us.' And I did, and the next morning the mother would come out and make tortillas and breakfast for us just like I was one of their sons. And that's how good the people in LA really are," Rocha said.
The people in the audience – they had never seen anything like it.
One night, Gil Rocha was playing a gig at the Calypso Inn in East LA when an unexpected guest walked through the door. It was Little Julian. "He grabbed the mic, said 'I'm gonna sing you a song,'" Rocha explained. Everybody stopped and looked, since they recognized him, and Julian jumped off the stage and started dancing. "The people in the audience – they had never seen anything like it, a singer-dancer taking over the dancefloor."
Rocha says it was even wilder than Elvis "because he used the whole floor to dance around. He'd wave at people, and they'd wave back. The girls were really impressed. It was different for that era."
Rocha pulled out a black-and-white photo he took of that moment. Little Julian is standing alone on the dancefloor, with the band backing him on stage above. The photo is a little blurry, but Julian's facial expression is ecstatic, almost hypnotized.
"When he'd spin around, he had this big smile on his face and his big eyes looking around, making sure everyone was enjoying what he was doing," Rocha said. "And they were."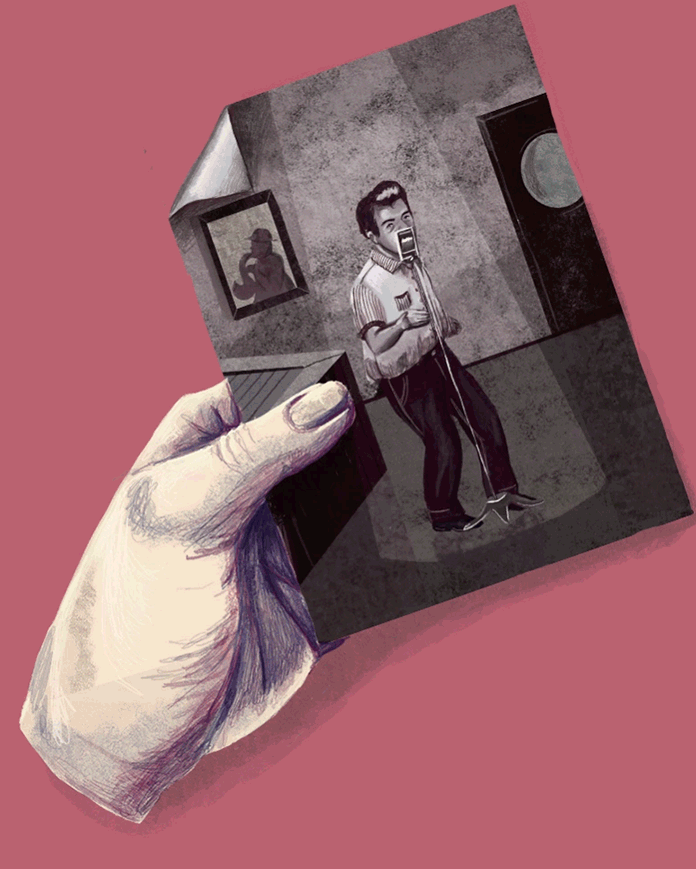 That same solo and dance routine happened three or four times at the Calypso Inn while Rocha was playing. As much as Julian enjoyed the stage, he loved to party. After the wild show was done, he'd reap his reward. He jumped into the crowd and started shaking hands. "He was getting free beers from this. I think that's what he was really doing," Rocha said.
DJ Art Laboe, who was hosting near-weekly shows at the El Monte Legion Stadium, has similar memories of the era when Little Julian was coming up.
"I used to bring him over to the microphone with me and say, 'Hey everybody, here's Little Julian Herrera.' The girls would start screaming from the front row. He would smile from ear to ear and wave... I remember one day, as he was walking or dancing away, I noticed there was a pint of booze in his back pocket in his jeans," Laboe said.
In the middle of this period of fame and partying, a cop showed up at the home of Julian's record producer, legendary R&B musician Johnny Otis. The cop was looking for a Caucasian-looking man named Ronald Wayne Gregory. The photo he showed Otis was of Little Julian Herrera. His alleged crime: rape.
Herrera was in fact Gregory, a Hungarian Jew from the East Coast. LA court records with any amount of detail pertaining to the incident are confidential. But here's what we know: Gregory was convicted, along with two co-defendants, of a rape that took place in Griffith Park. The victim was 17 years old; Julian was 19. The co-defendants were convicted of statutory rape. Julian's crime was forcible rape. He was sent to jail, and took a long break from the stage.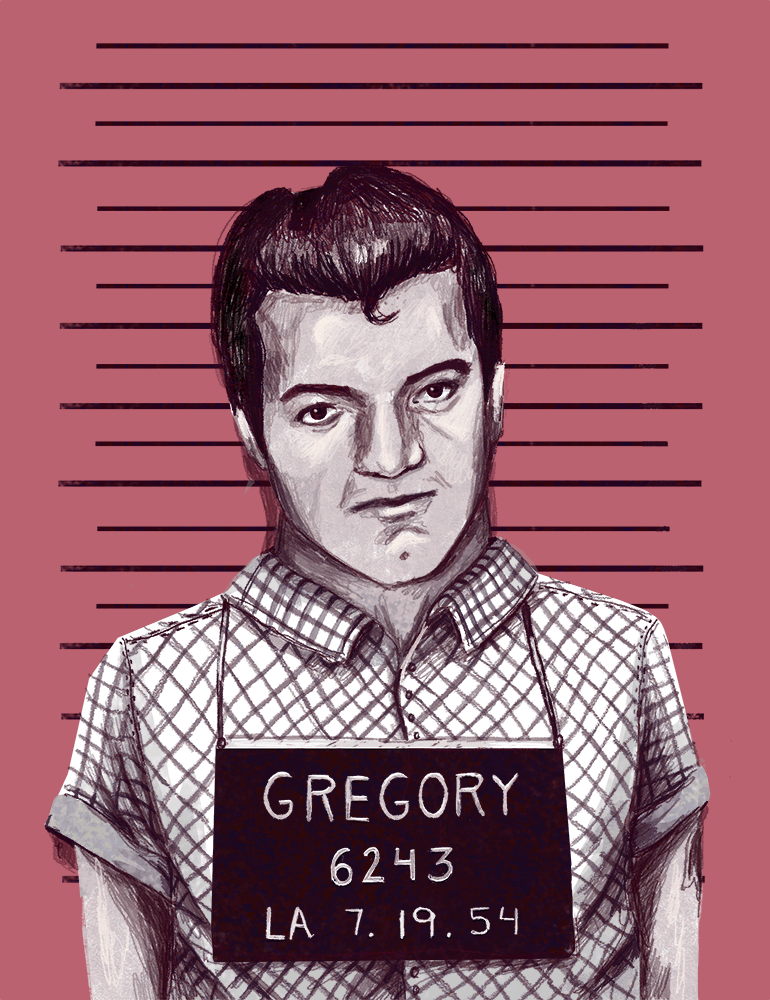 Little Julian's arrest provided the first real crack in the identity he'd created for himself. But even before that, there had been hints that something wasn't quite right. Laboe remembered that he was never very well anchored. "He didn't seem to have a job or anything. He was a little hard to find, didn't have a phone number. You'd see him when you'd see him," Laboe said.
Herrera was bouncing through life, but on a much deeper level than Laboe imagined – he was bouncing through cities, through families, through identities. Gayle Wald, a professor at George Washington University, has studied racial passing of this kind, and she saw Julian's identities from a couple of different angles.
"One is the geographical journey away and another is a young person leaving his family… Often we find instances of racial passing where someone is not just escaping a past, but reinventing themselves using the cultural materials that they see as available to them," Wald said.
He told me he had some legal problems and he had to get out of town for a while.
We don't know what pushed Ronald Gregory as a teenager to leave his family on the East Coast and head to LA. But Wald says that taking on a new identity has deep psychological impacts and motivations.
"For some subjects who could choose whiteness, the claiming of a minority identity can feel empowering," she said. "It can seem like inhabiting that space of the other makes you feel disruptive in a way, makes you feel powerful because you're associated with an identity that you imagine to be socially or culturally disruptive."
Of course, as a kid, Little Julian may have just gone where he could find love and support, and that happened to be in the community of East LA. And he did find love of a kind, when adoring crowds screamed his name from beyond the stage.
As unique as Little Julian's experience seems to be, cultural passing has happened fairly frequently in the music world. Mezz Mezzrow was a Jewish jazz musician who married a black woman and famously declared himself a "voluntary Negro." In LA, during Little Julian's era, well-known DJ Huggy Boy was Caucasian but blended into the Latino community. Even Julian Herrera's own record producer, Johnny Otis, mixed two cultures: he was born Greek but lived comfortably in the African American community around LA's Central Avenue. Where Julian lived – 1950s East LA, and Boyle Heights specifically – was a uniquely diverse melting pot. It was one of the earliest Jewish communities of Los Angeles, and also one of the first Chicano and Japanese communities.
Before his arrest, Julian was just getting comfortable trying on another race. This process took place in a wider context that frowned upon such mixing. At the time, there were age restrictions on attending concerts in the city of LA, and these laws became tools for keeping different groups of kids apart. Teenagers had found a haven at the El Monte Legion Stadium, which was within LA County but outside the city of Los Angeles, placing it outside the purview of the LAPD. Whether you were white, black or Latino, you could meet in El Monte and listen to music together. It was such a special time and place that Frank Zappa and the Penguins wrote a song about it called "Memories of El Monte." James Brown, the Grateful Dead and the Righteous Brothers all played there, and so did Little Julian.
While kids were enjoying meeting people different from themselves where they could, Little Julian took the cultural mixing a step further. He hid something. In most of Julian's songs, when he sings in English, he seems to have or use the accent of a Spanish speaker. In a song called "You Will Cry," he goes for it, and sings in Spanish. Even people who were close to him had little notion that it was not his native language.
I met sax player Bernie Garcia at a diner in West Covina, where he called me "sweetie" and shared what he knew about Little Julian. Though Bernie and Julian were friends, it was news to him when I explained that Julian Herrera's name was not actually Julian Herrera. He also had no idea that Julian had spent time in jail. I asked him if he knew anything about Julian's family.
"Nothing," Garcia said. "I never heard him talk about much except a few girls here and there. That was it."
I asked Garcia if he kept to himself.
"Yeah, I think he kept to himself," he answered. " 'Cause most musicians are open about stuff like that and for whatever his reason was... It was personal to him."
After he got out of jail, Little Julian sought out the adoring crowds once again. He played shows, recorded new songs. But things did not go well. There are rumors that Julian was drinking and violent, that he slept several nights in the basement of the El Monte Legion Stadium. One day in 1963 Julian called up Garcia.
"He told me he had some legal problems and he had to get out of town for a while," Garcia recalled. "I said, 'Yeah, makes sense.'" Julian had set up a series of gigs in Tijuana and asked Garcia to join him. Garcia said yes. After a wild week of performing and partying, he decided it was time to head home. He didn't know it at the time, but this exchange would be the last confirmed sighting of Little Julian Herrera.
"After I left the gig, he called me up and asked me if I wanted to reconsider. I said 'I'm gonna pass, pal.' And that was it. Haven't heard from him since." Garcia added with a sigh: "I thought he was gonna make it as a big R&B singer and I thought that's what his ambitions were. I bet I was right, too. I bet I was right."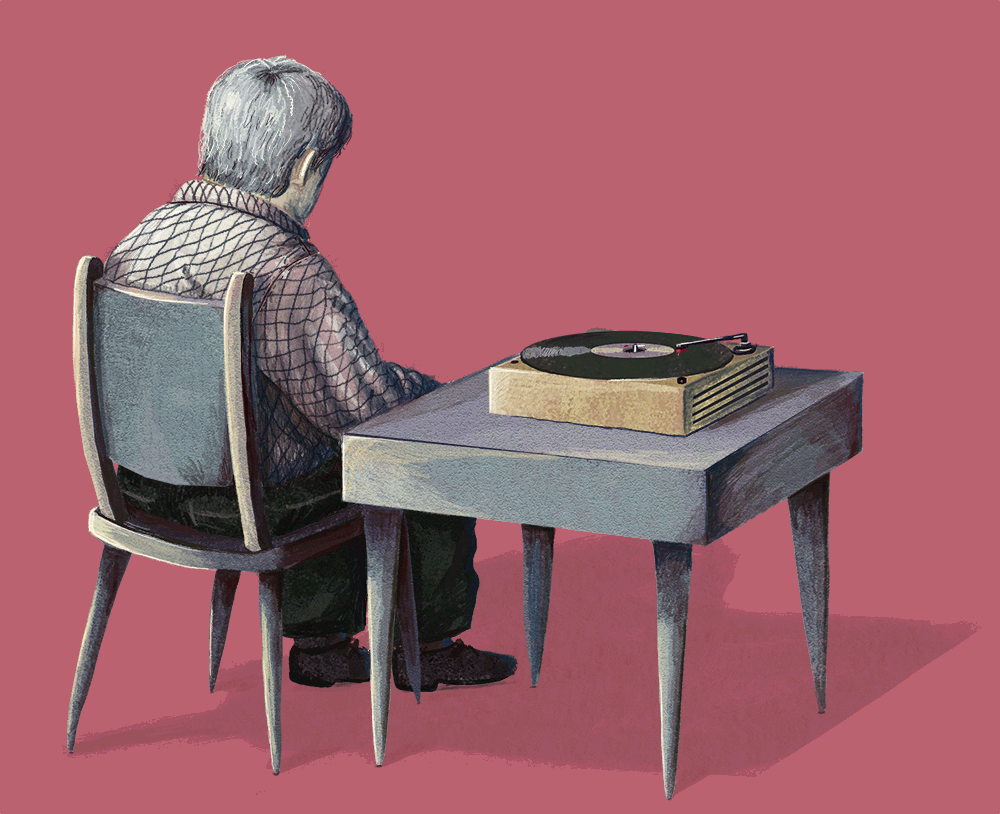 But Little Julian never did become a huge star. A few people I talked to were downright confused as to why I would even be asking about him – Art Laboe, for one. Laboe admits that Julian was talented and innovative. But he's seen plenty of talented people who never made it.
"A lot of times people say, 'He didn't get his just due," Laboe explained, "But he may not have worked as hard as he could have. In other words, I don't know if he was ambitious enough, or what. There wasn't a lot of show business fire in his belly that he wanted to be that successful. He liked the fame, he liked to be known. He was able to make a name for himself and he liked that. But he didn't seem to be able to get it into second gear, ya know?"
Getting into second gear must not have been easy without family support systems, a home, a phone, a hidden identity and serious legal problems. Then again, after he got out of jail, Julian did try to make a comeback. So why didn't it work out then? Laboe theorized that by the time Julian got out of jail it may have been too late. "By then it was time for the Beatles. You had the whole English Invasion, and that period would not have been a very fertile time for someone like Little Julian to make a big impact."
The documentary Searching for Sugar Man features a musician who seemingly disappeared, and the folks looking for him. In that film, the artist, Rodriguez, is eventually located, and it turns out he has a huge fanbase in Africa that he never knew about. The stories we're told about talented people getting their just due are affirmed. But Little Julian's story isn't at all like Rodriguez's. It's a lot more like the sad ending in The Great Gatsby – someone comes from nothing and pushes hard to make it big, only to have those efforts come crashing down. By the time Julian disappeared, most folks didn't notice he was gone.
We may never fill in all the puzzle pieces of Julian's life story. So the first Chicano R&B heartthrob was not actually Chicano. Does it matter? Whatever he was running away from when he was 13 years old, maybe he found a home on the day he turned up in Boyle Heights, in one of those East LA households that treats a stranger like a son. He might have started out a Hungarian Jew, but he became a part of LA Chicano history. If he's still out there somewhere, he'd be 76 years old. A handful of people continue to search.
Header image © Katty Huertas