Nightclubbing: The Bronx's Warehouse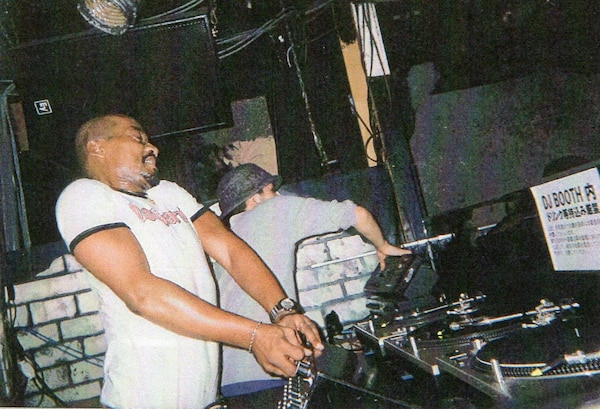 The unlikely success story of a black gay party in the Bronx in the late '90s to rival New York's most famous clubs
Better known as the birthplace of hip-hop, in the late '90s the South Bronx became home to a club to rival Paradise Garage and New York's other influential black gay parties. Located on East 140th St. in Mott Haven, the Warehouse was the brainchild of promoters Mike Stone, of Studio 54 fame, and Charles Jackson of Sound Factory Bar, who took inspiration from places like The Gallery and Better Days. And for those that made the journey uptown to party in the raw, huge industrial building, Bronx-born DJ Andre Collins deserves his place in the pantheon of greats like Nicky Siano and Tee Scott, helping the Warehouse create its own myth which is only now coming out of the shadows of its downtown counterparts.
Andre Collins' life on the dancefloor began as a teenager, when he would slip out of his home in the Gun Hill projects of the Bronx and into Manhattan with his older sisters. "They used to take me to this place called Le Martinique," he recalls. "I was underage but I was a good dancer, and my sisters used to like to show me off. That was my first real exposure to this culture." But it was a more intense underground club in Manhattan that would really blow the mind of the teenage Collins. "When I went to The Gallery everything changed," he says. "I would stand there by the booth watching Nicky [Siano] play. I had never heard it put together like that and I was mesmerized. I mean, they were mixing it well at Le Martinique, but Nicky used to paint pictures with his music."
Collins found in The Gallery a sanctuary where he was free to express his sexual identity amongst friends. "I had been brought up in the projects and being gay there was hard," he says. "The Gallery allowed me to be around older gay people and to hear music that was telling our story." Nicky Siano was known for his love of female vocalists and for weaving together songs with a message, and Collins was transfixed as Siano peaked his frenetic crowd under a canopy of brightly coloured balloons. "I used to listen to the words in the songs and think, 'How does he know that I am going through all these things?'" he recalls.
Collins started to amass enough of a record collection to start DJing himself at mobile discos in his late teens, and as he entered his twenties he got his first big gig in a Manhattan club. "I had played a few spots here and there but still had not got myself on the map, but this promoter called Carl Lewis had heard me DJ and asked me if I would play for him," he says. "I was 21 at the time and the night was called the Marc Ballroom, on 15th Street and Union Square. That was the first time I had played somewhere like that and on that scale – basically a room of 5-700 gay black men. I used to get really deep and soulful in there with records like Inner Life's 'Moment Of My Life' and The Fantastic Aleems' 'Hooked On Your Love.' By the time I got there I think I was ready for it. I had learned a lot of things and had met some important people at all the different parties."
One of those he had met was Charles Jackson, who would go on to promote nights at Chelsea's Tracks and Sound Factory Bar. "We met on the dancefloor at Paradise Garage," says Collins. "Then we became close friends and we used to go everywhere together. Places like The Loft, Buttermilk Bottom, The Chase, The World, as well as Mike Stone's parties like Fantasia and Club Tomorrow. That is where I met Mike and we became good friends."
Inspired by David Mancuso's Loft on Broadway, Mike Stone held his first party, called SoHo Place, in 1974, in the loft apartment of esteemed soundman Richard Long. With resident DJ Larry Levan and guests like Nicky Siano, Frankie Knuckles and Tee Scott playing through Long's bespoke soundsystem, SoHo Place established Stone as one of the big names in Manhattan's underground party network. He went on to become one of New York's most well-respected promoters, best known for Studio 54 and Bonds International.
Charles Jackson had known Mike Stone since the early '70s. "He took me everywhere, to all these parties like The Gallery and The Loft. Oh my God, we went to so many places together," says Jackson. "We became really good friends and then he started having these amazing loft parties with Richard Long. As he became a big promoter I would always hang with him and watch what he did. So I had always really admired what he was doing and wanted to do something similar."
Collins and Jackson soon started talking about doing their own parties. "I actually did the first party with Charles and another DJ Frankie Paradise in a place called the Taino Towers, a huge glass building in Spanish Harlem. They had built these luxury apartments but nobody wanted to live there as it was a drug-infested area, but Charles had managed to get hold of one of the apartments," says Collins.
"I was staying there with my friend Junior and he had this big living room, and we decided to do a party there one Saturday," says Jackson. "We only invited like 30 people, but over 100 turned up and that was our first party together. We took what we had learned from places like The Loft and The Gallery and transformed it into our first function together."
For the gay crowd, having the Warehouse was like having the Garage or Better Days back.
Another of their regular hangouts was Better Days, where Collins would stand by the booth watching and learning from resident Tee Scott, just as he had with Nicky Siano at The Gallery. "I finally got the nerve to introduce myself to Tee and next thing I knew he was taking me under his wing. It was amazing to be hanging out and learning from one of the people I idolized," says Collins. "When I finally got to play there it was amazing for me to be on the other side of the console after being on the floor so many times, looking up at Tee. You had to be really on your toes playing there and had to always be on point. It was a whole other level at Better Days to what I had experienced before, and an incredible atmosphere: pretty much a black crowd, with a lot of the ball kids there"
Collins had been introduced to the ballroom scene at Harlem's Elks Lodge and would spin for the Houses in the early '80s. He played for the House of Omni, whose founder Kevin Omni (a future host at the Warehouse) he had met while a resident at Midtown 43, at a night called Boystown USA promoted by Charles Jackson. Midtown 43 also became known for its drag shows. "These were like the femme queens, [who] were taking their skills and artistry learned at the ballroom and utilizing them to get the same recognition as the white drag queens," says Collins.
Many from that ballroom crowd would follow Andre once he moved back uptown in 1997 to take on his most famous residency. "The Warehouse was actually Mike Stone's idea," says Collins. "He had found this space in the South Bronx, a building that was actually owned by U-Haul. They were renting out the building to these people that Mike knew who were doing these straight functions, but they weren't getting the crowds in. So they called Mike and asked him if he would be interested in doing something there."
Stone and Collins headed to East 140th Street between Grand Concourse & Walton Avenue one sunny afternoon in early 1997. "Mike showed me the building and as soon as I walked in I was like 'Wow, this is ovah.' I immediately thought of the Garage. It was the closest feeling to a space that big in the city at the time. There was no other room that had the same kind of vibe," says Collins.
"There was something about the fact that it was an old warehouse and it had that nostalgic feeling like the Garage. Sometimes rooms just have their own atmosphere. The main room was huge, with these high ceilings and wooden floor. We gave the room a little more flare and a bit of cosmetic work, but that old raw feeling was still there, like it was at the Garage and The Gallery, The Loft and all of those places." Mike Stone would come up with the name the Warehouse not out of reverence to its Chicago namesake, but because of the industrial feel of the cavernous space he had found. "It was a perfect fit," says Collins.
Being this big, raunchy, raw, out-in-the-backwoods place in the Bronx that hadn't seen a big gay black party like this before, I thought the Warehouse could create its own mystique.
For his new club in the Bronx, Stone wanted to bring in another veteran of New York's gay black clubs. "Mike was doing parties downtown and at the time I was doing The Sound Factory Bar," says Charles Jackson. "The Sound Factory Bar was going to close, and at the last party Mike was outside. He said to me he had this place in the Bronx and would I come and look at it with him? I said sure, and I went up and I really liked it."
To view the Warehouse, Charles Jackson took his old friend Michael Haynes, from The House of Ebony. "At the time the big clubs in Manhattan were becoming harder to attain," says Haynes. "There were small taverns but no really big clubs for gay black men. The only real spot was The Octagon on West 39th Street. It was really hard to find a big Saturday spot downtown, so when Charles asked me what I thought, even though this place was up in the Bronx, I said 'Do it.'"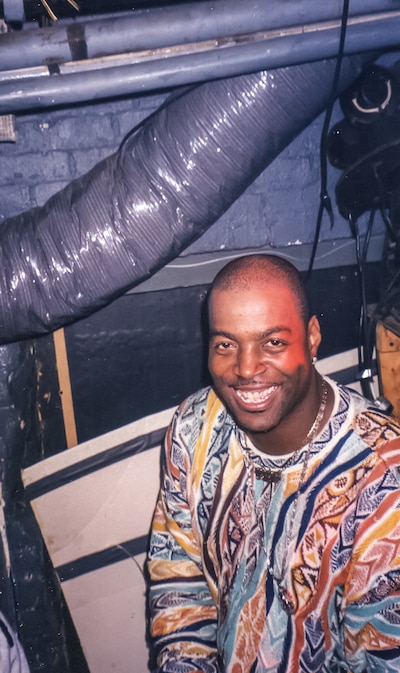 Soon after his first visit, Jackson installed the soundsystem with Mike Stone's cousin Tim and a friend T-Bone. "They were really good at building speakers, and we set like four stacks around the dancefloor. The sound was incredible, almost like the Garage but maybe not quite as intense," says Jackson. "Then we got Carlton, who had been the light man at Sound Factory Bar, to bring his light system in. He wanted to try his new lights out with us and that's what he did, and it was unbelievable. Things started to really sound and look good."
This was well before the seeds of gentrification had been sown in the South Bronx. "The area was pretty desolate at the time and there was nothing around at all. It was very industrial, with a couple of gasoline stations, but there were no residential buildings," says Collins. "So we knew we would be left on our own to do what we wanted. We wouldn't disturb any neighbours because there were no neighbours to disturb. And because of where it was we knew we could carry on until late morning, whereas a lot of clubs had to close at 4 AM.
The first party they held at the Warehouse was a Better Days reunion on Memorial Day weekend, 1997. "We didn't know what sort of crowd we would get but everyone came," says Collins, whose tribal mix of house and disco was a perfect soundtrack for the surroundings. "That first night was absolutely packed and straight away I thought the Warehouse had a lot of potential," says Michael Haynes. "I always feel like to survive a club has to have its own identity. Being this big, raunchy, raw, out-in-the-backwoods place in the Bronx that hadn't seen a big gay black party like this before, I thought the Warehouse could create its own mystique."
The reunion gave them the confidence to hold another party the following month as they made plans for a weekly Saturday night. "We had our next party on Gay Pride weekend in June and brought in DJ Sedrick from Washington D.C. as a guest DJ to play with Andre, and had maybe 800 people there," recalls Jackson. Word soon spread across the country thanks to the promotion of Jackson and his staff. "I had a huge flyer team that would go to Pride weekends all over the county," he says. "They would take the Warehouse flyers everywhere there was a Pride, so D.C., Atlanta, Chicago, Philadelphia, and people started coming from all over. And when they heard Andre play and saw how crazy our crowd went they were always going to come back."
DJ Donna Edwards, a close friend of Andre Collins and a regular at Better Days, went to the Warehouse from the very early days. "As soon as I went to the Warehouse I knew it was something special. I walked up those stairs into that huge room and it was ram packed. There must have been 2,000 people in there, and it was crazy. The only clubs that I had seen that packed and intense before were the Garage, Tracks or Better Days. It really was on the same level, a real underground dancers place." The commute uptown also didn't matter to the crowd. "They didn't care," says Edwards. "It was the first ever club on that size and scale in the Bronx – before that people really didn't venture up there. But when the Warehouse started people would come from all over. Most of their clubs had closed down and they were looking for a new home. And that's what the Warehouse became. I think for the gay crowd, having the Warehouse was like having the Garage or Better Days back. The real down hard, soulful gay kids had kind of scattered since those places had shut, so once the Warehouse opened they could come all come back together again."
Being schooled on Nicky Siano's storytelling and Tee Scott's gospel intensity, Collins strove to create similar connections with his own crowd. "I always knew that music could have a message but I learned that if linked together, even with an instrumental, you can reach an emotion in people and really touch their soul. You can inspire people and they can leave your club in a different frame of mind, and that is what I always tried to do at the Warehouse," says Collins. "I always remember my first night at Better Days, and towards the end of the night I was just about to play "Ain't No Mountain High Enough.' I got on the mic and said: 'I never thought I would play here. As a young gay black man being brought up a Jehovah's Witness I was told there was no hope for me. I just wanted to say to everyone here, believe in your dreams, because they can come true.' So when I played at the Warehouse I always thought about the effect my music could have on the crowd."
With nearly 20 years behind the decks and even more as a dancer, Collins' musical selection crossed the many corners of house and disco. "I've always played across the styles, but the most important thing at the Warehouse was I really knew my crowd and would program the music around them," he says. "To this day people will say 'I love this record, it's a Warehouse song' – things like [The Noize Boys'] 'The Chant of Voodoo' became a huge Warehouse track, as did [Basement Jaxx's] 'Fly Life.' I would also mix in old disco classics like Donna McGhee's 'It Ain't No Big Thing' and 'Can't Nobody Love Me Like You Do' by General Johnson.' But in the peak hours the energy had to be really high, so I didn't mess around with anything that was too cute or pretty. It used get really tribal, with a lot of percussion. It was like madness in there when it reached a peak."
Charles Jackson had seen a lot in all his years partying in New York, but nothing more intense than the crowd at the Warehouse. "When Andre was beating the floor down with his mixes people were going crazy in there, ripping their clothes off," he recalls. "Andre was a phenomenal DJ. He had the crowd going wild in there, oh my God – he turned those kids out."
Donna Edwards compares Collins to her musical hero Tee Scott: "Andre was the closest to Tee's style, I think. His knowledge of a wide spectrum of music was similar and he introduced us to so much different music, from gospel to disco to house. But the way he played was incredible. I remember him playing 'Fly Life' one night for 30 minutes, editing it on the fly live. I had never heard anyone play it that well... He had great skills – he was a house DJ but played like a hip-hop DJ."
Michael Haynes, who had also followed Andre Collins since Better Days, expresses a similar sentiment. "I remember one night the place was packed. It was one of those days when I wasn't in the best of spirits, but Andre went into Inner Life's 'Moment Of My Life' and the way he played it was just incredible," he says. "He was such a master of taking the background out and going just with the words. Then bringing the music in, dropping the bottom, then going to the top. He had the crowd in such a frenzy then he just stopped the music. The room was pitch black with just a spotlight on the floor and then he started playing that synth intro of Larry Levan's mix of 'Ain't No Mountain High Enough' for about five minutes. The crowd went crazy – people were stomping so much I thought they about to break through the wooden floor. He brought the place to such a crescendo it was like a sexual experience."
It wasn't just the sound and lights that regulars remember – the Warehouse also had its own smell. "I used to burn sage and incense, so that is the smell I remember," says Collins. "That was my ritual at the start of each night. I would light it up and then go around the floor with it and then go back into the booth and I'd have the smoke coming out of the booth. I wanted people to feel welcome in the club, and I knew sage neutralizes negative energy so allows people to feel at ease. There was a real heady atmosphere in that room." Michael Haynes would often take a break from dancing and join his friend in the booth. "Andre is such a spiritual man, and with all the incense and sage burning it would be like a temple in there," he says.
As well as spinning on Saturdays with Collins and regular DJs Fred Pierce, Vince Kerpens and Ken Terry, Donna Edwards became a resident on Friday's Ladies Night. "I had been working with promoter Tracey Pridgen of Trey's Productions since 1991 and had become one of the resident DJs at her parties, so when she was asked to do the Warehouse she took me along," says Edwards, who would spin alongside DJs Trini and Missy B. "The crowd on Friday's came from the same sort of background as Saturday nights, so ex-members of the Garage and Better Days. And although we didn't quite have the same numbers as Saturdays, we had around 7-800 dancing to soulful underground house, and that was unheard of for a Ladies Night. But it was also mixed, and so some of the guys would come on Friday nights and then me and Andre would mix and match and play at each others' nights."
The Warehouse not only gave us the music, the crowd and the dancing – it gave us a feeling.
From their friend Junior serving his hot pot food in the lounge and outdoor patio to door host and head of security St. Lawrence welcoming guests on the door, the Warehouse was built around a sense of community. "That's the family we had right there and the love we had for each other," adds Kevin Omni. "We really extended ourselves as family. The Warehouse not only gave us the music, the crowd and the dancing – it gave us a feeling. And New York City had lost that feeling that you had at places like Better Days. When the Warehouse opened I really thought of it as a Better Days for the '90s."
The Warehouse also became the place to hear some of the great DJs in a big room atmosphere. "We were one of the most powerful clubs in New York, and Mike and I thought we should invite guests to play so they could bring their following to mix with our crowd," says Jackson. During its eight years many of Andre Collins' own DJ idols appeared at the Warehouse. "I got to play with Louie Vega, Kenny Carpenter, Teddy Douglas and Danny Krivit – there was a whole bunch of them," recalls Collins. The club also welcomed many live acts onto its stage, including Colonel Abrams, Taana Gardner, Barbara Tucker and Kenny Bobien, as well as balls hosted by Kevin Omni.
Soon after the Warehouse opened, Charles Jackson had the idea to open a hip-hop and R&B night on the ground floor with resident DJs MK and Unknown. "Me and Mike had an argument because when we opened the ground floor he wanted it be a second house room," says Jackson. "I said that doesn't make sense, because hip-hop was building in the gay community at the time. I said it would bring in a new generation. That's what we did, and it meant the crowd kept changing and getting bigger and bigger. I have to give thanks to my right-hand man Michael Haynes for that; he was really important to the success of The Warehouse when Mike Stone got sick."
At the time hip-hop and R&B was becoming ever more dominant on the black gay scene, and soon the ground floor was packed. "That room got really crazy," says Haynes. "We were cramming, like, 300 people in a space for 60. You really couldn't breathe in there, and to get from the front door to the stairs to go upstairs could take you ten minutes. This was a real young crowd who brought with them a new energy and style with all their urban wear."
As a sign of the changes, Kevin Omni remembers that one of the biggest nights at the club was when Lil' Kim performed. "There had to be over 2,000 people in there that night because she was very popular at the time," he recalls. "I got a chance to sit with her backstage before I brought her out. She said, 'I love the gay kids.' She was really interested in what I had to say and I told her there were people there that night I hadn't seen for 15 years, because they were really sick. That night when I brought her out they were screaming."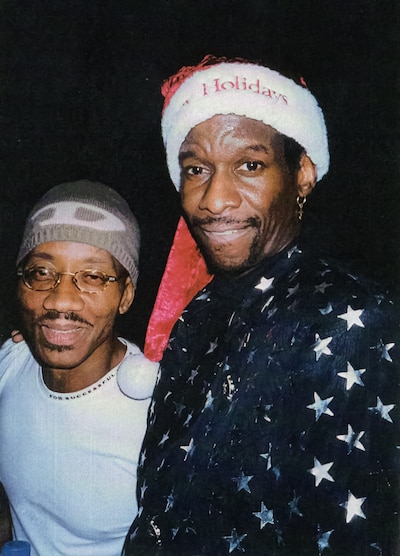 Despite the queues around the block every Saturday night and the younger generation bringing a new energy to the party, The Warehouse closed in 2006 after they lost the lease of the building. "There had been nothing like it in the Bronx, and when it closed it was sad because we really loved that place," says Omni. The year after it closed, Mike Stone passed away. "It was really hard when we lost Mike because he was the father of it all," says Donna Edwards. "If it wasn't for him the Warehouse would never have come about, so we have to give him a lot of respect and props. And may he rest in peace."
It had been more than ten years since Mike Stone first envisaged that a house party in the Bronx on the scale of the Warehouse could actually work. During that time a lot had changed on the gay black club scene, and the Warehouse would provide an important bridge between the old and new generation. "That was the most important thing for me and is the real legacy of the Warehouse," says Michael Haynes. "Mike Stone, being from Studio 54 and Bonds International, had brought an older set with him, then Charles came in with his younger crowd from Tracks and Sound Factory Bar. Then you had the new, really young hip-hop kids coming in, and you always had a lot of the Houses there. I think that blend was what really made the club different. It was such a combination of all the different parts of the culture. But every generation has its voice and outlet, and for this generation I think the Warehouse was the Garage."
Whatever their age or musical preferences, for those that made the journey uptown every Saturday night, the raw intensity of the Warehouse will never be forgotten. "I guess the most important thing was that we were holding this huge party for gay black men in the Bronx," concludes Andre Collins. "Many people told us to our faces it was never going to work. They said 'Nobody is going to come up there.' There had never been anything that big uptown. So we are very proud of what we did, and if we go tomorrow we can say we did something that nobody else did: set up a gay run black club in the Bronx for 1,500 people. We did something special."
Header image © Charles Jackson