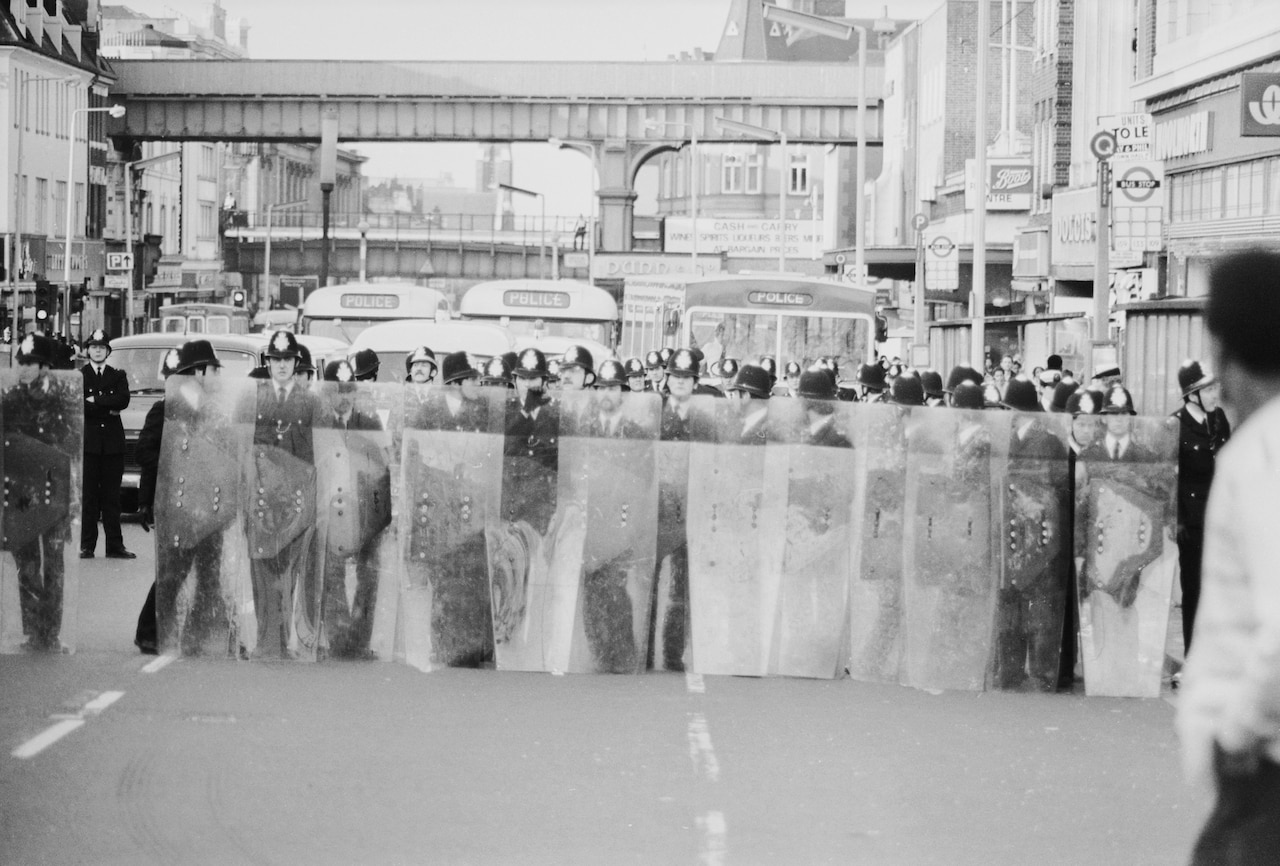 The Brixton Riots and Music
The multi-day insurrection in 1981 was the unfortunate inspiration for some of the greatest music ever created
Brixton in South London is the kind of area estate agents describe as "vibrant" when they mean something else. It's also the kind of area that has long been genuinely, well, vibrant: an exciting place to be, with an energy and conviviality that elevates it above being just another London suburb. I grew up 15 minutes down the road, and Brixton was the first place I went to a proper gig and moshed (Hole at Brixton Academy, aged 13), went out dancing until the small hours (hip-hop and funk at The Dogstar, aged 16) and took things I probably shouldn't have (redacted).
Brixton is known for many things, but three stand out above all: firstly, as a home to Britain's Afro-Caribbean communities. Secondly, as a thriving musical hub, across decades and genres, in gigs, in clubs and in the streets themselves. And finally – though the memories may be fading – as home to the 1981 riots, when rising social tensions caused by police racism, an active far-right in the form of the National Front and soaring unemployment, set the streets of Brixton ablaze. If we might add a fourth, more recently Brixton has come to represent the rapid gentrification of London – rents have soared, and market stalls, takeaways, dive bars and other small businesses (and more importantly, people) have been forced out and replaced with gastropubs, cupcake shops and such agents of change as the "destination" food market Brixton Village and the shipping container pop-up hub Pop: Brixton.
It's hard to comprehend the scale of the transformation in the decades since the riots. There are some vivid accounts of life in Brixton back in the late '70s – local author Alex Wheatle describes in detail a world of "ramshackle terraced housing" (now worth millions), reggae record "shacks" selling vinyl from Jamaica, squatters, small-time drug dealers, guys in fake silk shirts and leather berets, fried dumplings and fish fritters, and house parties and sound clashes blaring reggae and lovers rock out into the South London night. It's easier to find these accounts than it used to be: the Black Cultural Archives in the centre of Brixton have partnered with Google's Arts and Culture platform, and some of their archive is now online. YouTube is full of interesting footage. A short film showing legendary poet Linton Kwesi Johnson talking to local school students in 1979 – he was born in Jamaica and raised in Brixton – gives a nice flavour of the time.
Culture and especially music were inextricably linked to the period's social and political tensions. During this period, the National Front were a serious and dangerous presence in British cities, and had tried to infiltrate the punk scene with some limited success. The music scene also went some way toward defanging the Front via the organisation Rock Against Racism, formed in 1976 with the aim to "make anti-racism cool," putting on hundreds of events across the country in which white and black music – and audiences – could come together, culminating in one of the punk/reggae era's proudest moments, the Carnival Against the Nazis festival in London in 1978. These victories mattered at the level of grassroots youth culture, but the social problems that were flourishing thanks to government inaction did not go away. Unemployment rose significantly (and disproportionately by race) in the late 1970s and early 1980s – legislation prohibiting racial discrimination had been introduced in previous decades, but was not always enforced – and was as high as 50% for black men in Brixton.
There were riots in some British cities in 1980, and the noxious atmosphere intensified during early 1981. In January that year, 13 young black South Londoners died in a fire at a 16th birthday party only a few miles away from Brixton, in New Cross. In the aftermath, there were rumours that it had been a racist arson attack (it would not have been the first in the area), and the British media's silence worsened the situation, leading to a community protest, a "Black People's Day of Action" that drew up to 20,000 people.
Racial tensions had long roots, but in the short term, the spark for the riots was the infamous police operation Swamp 81 (a name based on Margaret Thatcher's statement that British people feared being "swamped by people of a different culture"). Ten squads of police arrived in Brixton in early April and stopped and searched almost 1,000 people in six days, operating under the hated "sus" law, short for "suspicion" – the cops, whose racist attitudes have been extensively documented since, did not need any evidence to harass who they wanted. Most of those searched were young black men – even though only 25% of the local population was Afro-Caribbean. Following rumours that a young man had been left to die at the hands of the police, on 10 April, rioting erupted on the streets of Brixton, leading to numerous injuries, arrests and devastation of the local area.
To find out how the riots looked and sounded, the documentary The Battle For Brixton is a useful starting point – but the disturbances, and the time that produced them, had a soundtrack too. The overlap between punk and reggae in the late 1970s and early '80s remains one of the most intriguing relationships in 20th century British pop, and both genres are intrinsic to understanding the time.
In his book There Ain't No Black in the Union Jack, Paul Gilroy describes punk's evolving fascination with reggae, and with the black British struggle against an old, nationalist white establishment whom they resented. Indeed, Gilroy points out that punk's year zero moment, the summer of 1976, coincided with the rioting at that year's Notting Hill Carnival, when young black Britons fought with an overwhelmingly white police force that contained more than a few supporters of the National Front: "The street carnival, with its bass-heavy sound systems pumping out the new militant 'rockers' beat of reggae as the half bricks and bottles flew overhead, demonstrated to the punks the fundamental continuity of cultural expression with political action." Black militancy in this period was "a source of envy and of inspiration" to the punks, Gilroy writes, a spirit famously exemplified in The Clash's 1977 anthem "White Riot," with its key line "black people got a lot of problems, but they don't mind throwing a brick." (It is also worth remembering that punk was never simply "white" music, either – as the great collection of writing, White Riot, explores.)
Read more about The Clash's "Guns of Brixton" here
It was a much more dub-influenced Clash anthem, "Guns of Brixton," that has became a kind of unofficial soundtrack to the resilience of the neighbourhood, and to the riots themselves – often erroneously thought to be about them, despite being written two years earlier. You could make a whole playlist of prophetic songs that seemed to describe the simmering urban tensions ahead of the riots. "Babylon's Burning" by The Ruts, another punk band who became increasingly enamoured of reggae, is high up this list.
The most famous of them all, The Specials' ska-pop anthem "Ghost Town," is an eerily perfect piece of zeitgeist-appropriate songwriting; in its dystopian, maudlin atmosphere, but also its impressively succinct lyrical summary of urban Britain in the midst of its Thatcherite malaise: "Government leaving the youth on the shelf, no job to be found in this country, can't go on no more, the people getting angry." In fact, the recording sessions for the song that would define 1981 took place a week either side of the riots in Brixton – its timeliness was "just a weird coincidence," Terry Hall told The New York Times later that year. "Ghost Town" was written with an eye on the riots in Bristol the previous summer (as was The Selector's "Bristol and Miami," which also came out in 1981), but was also a reflection of the band's experience of touring up and down the country and seeing, as the song describes, cities with shops shuttered up, and poverty visible on the streets.
When reporting on England's 2011 riots, and their relationship with music, I was amazed at how quickly the London grime scene produced musical commentary on the events – there were several songs written, recorded and released online within a few days of the trouble starting. Although the turnaround time in 1981 wasn't quite that fast, reggae reportage was a real thing – especially with precious few other outlets to put the case from the streets, as the British media joined with the government in doubling down in condemning "black criminality."
One key 12" stands out for its documentary sense of purpose: Raymond Naptali and Roy Rankin's "Brixton Incident," referencing high unemployment, black pride and youth defending the "front line" (as Railton Road in central Brixton was known), by "fling(ing) stone and battle pon di wicked tabernacle." It was released later in 1981, backed with another highly relevant track, "New Cross Fire." Reggae soundsystems were the sound of the moment, to the point that even the NME ran a cover story on "The Big Sound System Splashdown" in February that year, introducing its readers to many of the big sounds – including south-west London's Sir Coxsone Outernational – along with a directory of them by region, and an introduction to the world of the "shebeen."
Read more about Linton Kwesi Johnson's "Five Nights of Bleeding" here
Perhaps the greatest musical response of all was, perhaps inevitably, from that same local poet legend, Linton Kwesi Johnson. His track "Five Nights of Bleeding," about violence on the reggae sound-clash scene in South London back in 1974, was followed after the riots by "Di Great Insohreckshan." Even framing the riots as an insurrection was a powerful move, to restore a political sentiment to violence that the white establishment was trying to frame as innately beastly, criminal and apolitical – and its participants as therefore less than human. "When we mash up the Swamp 81, fi what? Fi make deh ruler dem understand, that we nah tek no more of dem oppression," Johnson declares. The track was re-released as "Insurrection" on the 30th anniversary of the riots in 2011, with a 21st century dubstep soundtrack by Hiatus, but the original, with its brass-led reggae swagger, is the version that captures the musical spirit of the age.
Read more about Eddy Grant's "Electric Avenue" here
Eddy Grant's "Electric Avenue" is the most famous track written about the riots (named after a central street in Brixton), albeit written from a more ambiguous point of view, and with a curiously upbeat, poppy tone to it – it hit number two in the charts the following year. There is a host of others, most of them on a dub-reggae tip: Chrismic Youth's "Brixton Riot," Abacush's "Suffera Style (Brixton Riot)," Angelic Upstarts' "Flames of Brixton," Lorna Gee's "Brixton Rock," Sugar Minnot's "Riot inna Brixton." The riots have become part of a lineage of righteous black resistance to white rule, in Jamaican poet Mutabaruka's "Dis Poem" listed alongside (Jomo) Kenyatta and (Patrice) Lumamba – later sampled in Bobby Konders' deep house anthem "Poem."
Martin Luther King Jr. once said that a riot is the language of the unheard. But the disaffection in London was also voiced musically before and after the great insurrection on the streets of Brixton – disaffection that came from a variety of places, against racism on the streets and in schools and workplaces, from politicians and people in uniforms (even, indeed, from musicians); and also against poverty, against social exclusion and against a mean, nationalist vision of British society that alienated young white musicians as well as black ones.
The period is all the more remarkable for the fact a movement like Rock Against Racism could channel the power of music to make a lasting political impact – not in some happy-clappy way, teaching the world to sing kum-ba-yah in perfect harmony, but by bringing soul, reggae, punk and ska kids together, and forging new musical bonds as well as social ones. The fact that the musical ferment of early 1980s London reflected the social world it came from is not unique – intentionally or not, all music tells part of the story of the age it was created in. But rarely have tough times aligned so perfectly with tough music.
Header image © Keystone / Stringer / Hulton Archive