The Musical Legacy of Gay Bathhouses
From the Continental Baths to Steamworks Chicago, Marke B. explores the evolution of the sexy sounds of the gay sauna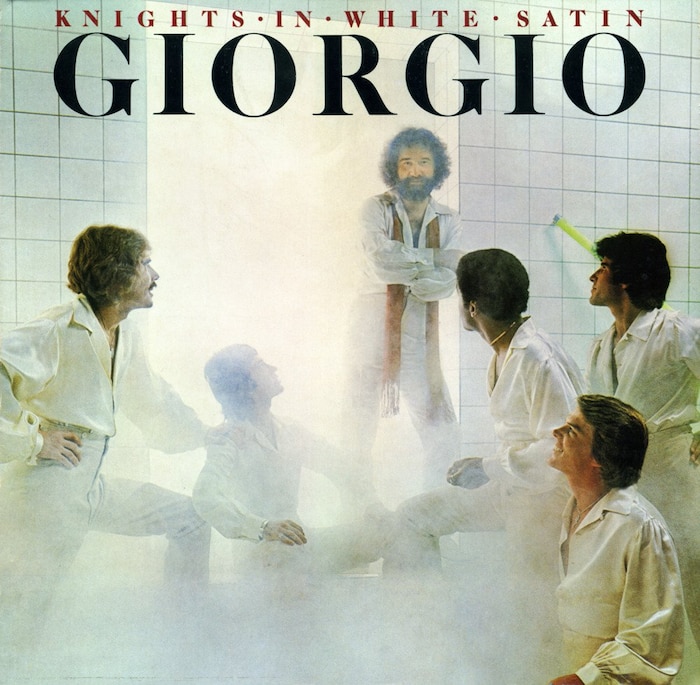 Sex usually comes with its own soundtrack, natural or synthesized, but the music of gay bathhouses, saunas and sex clubs in the 1970s has had an uncommon pull on contemporary dance music. Dropping its little terrycloth towel at the intersection of classic disco, extended funk jams, smooth vocal R&B, spacey jazz and early electronic experimentation, and now streaked with the nostalgic gleam of outlaw sexual liberation, the cruising culture of the post-Stonewall, pre-AIDS gay era has become a free-floating metaphor of sorts for unfettered physical communion, subcultural freedom and wild, wild nights. When gay men steamed up, society's shackles slid off.
The free-spirited transcendence and sexually charged imagery of retro homo sex clubs and dancefloors have penetrated the world of straight dance music producers, popping up recently in DJ Hell's muscle-bulging "I Want U" video, a collaboration with the Tom of Finland Foundation, and director Pete Fowler's ecstacy-engulfed clip for Joe Goddard's "Home." Before he died, George Michael was working with Australian bathhouse DJ duo Stereogamous on bringing that spirit to a new record. And gay bathhouse-themed parties like DJ Bus Station John's The Tubesteak Connection party in San Francisco and the intrepid musical archeology of gay DJ collectives like Honey Soundsystem have helped keep original bathhouse music from slipping into obscurity.
Although it was decimated by AIDS and sexphobic politics, an actual bathhouse scene still exists in America.
Although it was decimated by AIDS and sexphobic politics, an actual bathhouse scene still exists in America. One bathhouse chain, Steamworks, with locations in Chicago, Berkeley, Seattle, Vancouver and Toronto, has been actively working to reconnect the bathhouse experience with its nightlife roots, through adventurous programming and regular DJs like Harry Cross, of Chicago party crew Men's Room, who can easily slip from bathhouse booth to underground techno club.
In their 1970s heyday, bathhouses were spots for gay men to hook up, dally around communal hot tubs or saunas and rent small rooms if they felt like some privacy. Dimly lit and with a convivial atmosphere, many were open 24 hours and featured live DJs at peak time. Almost every major city in America and Europe had them, meaning gay men could rely on meeting others during their travels. But not all bathhouses were alike. The legendary Continental Baths in New York City, for instance, was considered grand, and hosted live, well-produced cabaret acts, including Patti LaBelle, Melba Moore and Bette Midler with Barry Manilow on piano. The Baths also launched the careers of Frankie Knuckles and Larry Levan, and were frequented by future disco legends like Nicky Siano of the Gallery, creating the musical mixing grounds that gave rise to New York's disco and house scenes. (On their first visit together in 1973, Knuckles and Levan reportedly spent two weeks there.) San Francisco's Ritch Street Health Club modeled itself more after ancient Greek baths, keeping things classical and casual. Others went for Orientalist or all-American fitness club themes, while many more were simply anonymous, wet hole-in-the-walls.
"The bathhouses were definitely part of a bigger scene back then that included the sex clubs and the dance clubs," said Steve Fabus, a longtime San Francisco DJ who often played and partied at all three types of venues in marathon weekend sessions. "But in the bathhouses, you could get a lot more experimental with the music, it was much more free-format and relaxed. People were in a state where they were literally open to anything, if you know what I mean," Fabus laughed.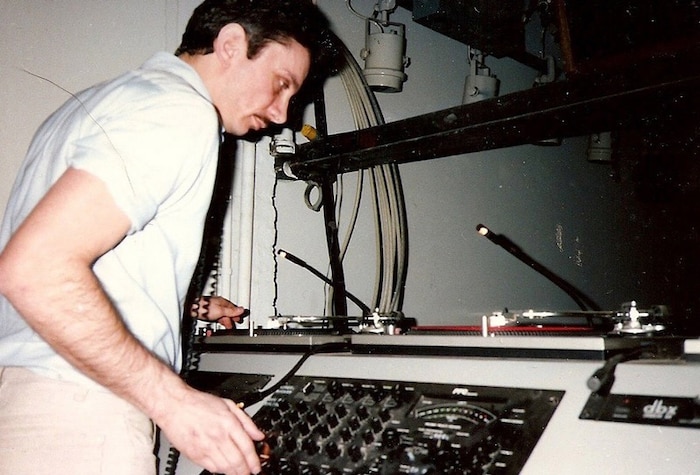 "That doesn't mean the music didn't serve a specific purpose – ultimately, you were there to get laid," Fabus continued. "But it was a different vibe than the sex club. For some people, the bathhouse was also a kind of recreation center, a social place. Some had full service cafes and stands where you could buy cock rings and poppers. There were places to just have a conversation without feeling you had to shout over the music."
The bathhouse was a social space where lust could mix with camaraderie – and even spark romance. "A lot of sex happened there," said Fabus, "But these were rare places where gay men could come together freely, so a lot of relationships started there, too. With the music, you could get intimate, you could get spacey." BPMs could linger in the 90-100 zone, and 10 minute tracks were common.
Through his DJ stints and experiences at SF bathhouses like the Hotel, Bulldog Baths, Club Baths and Ritch Street Health Club – and his travels among bathhouse capitals NYC, SF, LA, and Chicago – Fabus helped develop the "sleaze" genre, also known as "morning music." Sleaze mixed soaring vocals with expansive funk, cosmic disco and early electronic grooves into mellow yet energizing sets just right for a bathhouse soak between nighttime fisting frolic and early afternoon parties at the clubs, called tea dances, with friends.
One mainstay of the genre was Giorgio Moroder's first big record, a cover of "Knights in White Satin." ("When we saw the picture on the cover, of Giorgio in the steam room, it was like a direct message to us," Fabus recalled.) Other classics included Gregg Diamond's "Hot Butterfly" with Luther Vandross, Chuck Mangione's "Land of Make Believe," Kebekelektrik's "War Dance," Tim Buckley's "Sweet Surrender," and Toto's "Georgy Porgy" with Cheryl Lynn.
"Female soul vocalists were huge, too – Esther Phillips, Minnie Riperton, Denise LaSalle, Candi Staton," Fabus said. "Of course, the Patrick Cowley stuff. And anything with double entendres, like Loose Joints' 'Is It All Over My Face.' You could even bring some novelty into things. For instance, the Bulldog Baths actually had a truck cab in one of the rooms that you could fool around in, so some country standards were fun to hear."
Then came AIDS and the bathhouses began to shut down, with owners disappearing as fast as patrons: Bathhouses were among the first businesses openly owned by gay people, and formed a vital part of the local gay economies now being shredded by the disease. The music at the remaining gay baths, sex clubs and nightclubs started to become more tribal, faster and louder, taking its cues from the roaming gay circuit party scene (and perhaps its harder drugs) that was starting to dominate in the '90s.
"The psychedelic, laidback vibe started to disappear," Fabus said. "I think people began to want a more seamless, 'big party' vibe from venue to venue, so the pounding tribal beats that were coming out of New York were replacing the soulful, jazzy stuff. It may have been that people were looking for something they didn't have to think about as much. It was that kind of time." (The last stand of classic sleaze music was during mornings hours at the huge, gay '80s NYC club The Saint.)
By the time the mid-2000s rolled around, music had taken a backseat at the bathhouse. Most remaining US bathhouses piped in prerecorded mixes from big party DJs, full of unrelenting beats and increasingly generic tracks, or played pop diva collections. To young gay men coming of age, the thought of discovering diverse or surprising new music at the sauna was all but unthinkable. But the deliciously salacious vintage imagery of "peak bathhouse" and rumors of a once-thriving subculture of sexual freedom and expression remained. Eventually, these began to inspire curious younger promoters to start their own bathhouse-themed parties in an attempt to musically reconnect with a fascinating past obliterated by AIDS.
Sometimes when the music goes hard in the bathhouse it feels forced and throws people off. You want to create an atmosphere where they can relax and explore.
The movement to revive the classic bathhouse spirit in the US started in San Francisco – in spite of, or perhaps because of, the fact that bathhouses had not existed there since the city's public health director notoriously ordered most of them to be closed in 1984, with the rest following suit thereafter. In 2004, DJ Bus Station John began decorating tiny, gritty dive bar Aunt Charlie's with old bathhouse signs and pictures from vintage gay porn magazines for his weekly party, The Tubesteak Connection. He limited his music to the bathhouse era heyday, mainly 1974-1983, much of his vinyl inherited or sourced from gay men who had died from AIDS. The term "bathhouse disco" got attached to his style, and his parties now draw visitors from around the globe. Along with gay London DJ quartet Horse Meat Disco, whose popular excavations of the disco sound brought a wave of old school charm to larger dancefloors, the bathhouse disco movement encouraged a wave of fledgling gay crews in cities across the US to embrace the pre-AIDS past.
While many of these "new queer underground" crews forego a purely bathhouse disco sound in favor of cutting-edge techno, classic and acid house, they utilize vintage imagery and throw parties in historical gay spaces and current sex clubs, like Honcho's Hot Mass parties beneath the Club Pittsburgh sex club, Honey Soundsystem's parties at gay strip club Tea Room Theater and former Febe's leather bar in SF, and Men's Room's farewell party to gay porn movie house Bijou Theatre during Chicago's International Mr. Leather Weekend.
In a contemporary queer context, the bathhouse revival does come with some caveats, according to ethnomusicologist and specialist in queer dance music Dr. Luis-Manuel Garcia: "It's super-important to remember that bathhouses [originally] were by and large exclusively male venues. Some larger cities offered mixed-gender nights, but otherwise the only way that women and trans folks found their way into these places was as service staff. This should give some pause, as we look back nostalgically to bathhouse culture; if present-day dance music events are going to take inspiration from bathhouses, promoters should be aware of the gender-exclusivity that was at the heart of most of these venues.
"In any case," Garcia continued, "I've noticed over the past few years that more and more promoters and venues are building multi-purpose event spaces, where dancing mixes not just with sex, but with other kinds of socializing. For some promoters, the community-building aspect of this is quite explicit, while in others the goal seems to be simply creating a sort of utopian 'garden of earthly delights,' where different modes of partying can coexist and combine."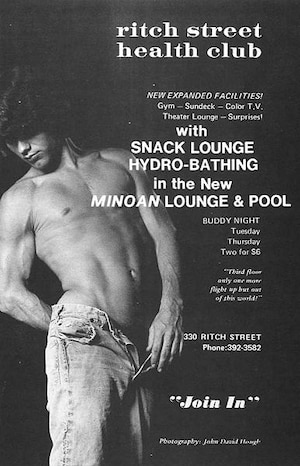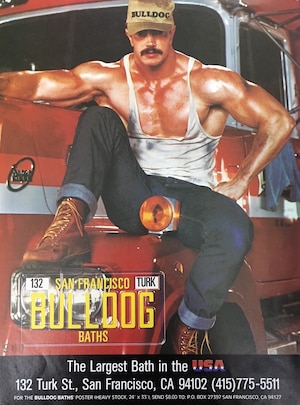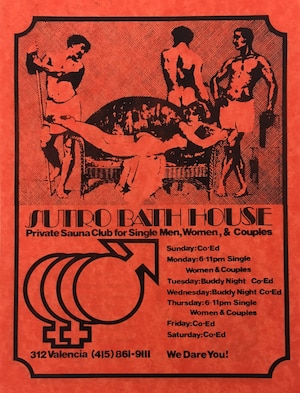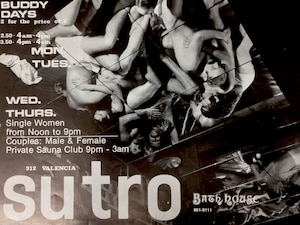 Bathhouse chain Steamworks has been revitalizing the bathhouse experience, partly in light of renewed interest in the hot tub glory days, and partly to combat the allure of mobile hookup apps by drawing more cruisers into a party-like atmosphere. The chain revved up its SoundCloud presence, instructed its DJs to play deeper and more diverse tracks (songs about shopping were highly discouraged) and began to foreground elements of sound and lighting along with the sexytime. Berkeley Steamworks programmed disco on Saturday nights and manager Brian Short and promoter/DJ Robbie Martin set out to "hybridize the bathhouse and nightclub experience," turning it into an almost a full-fledged nightclub, with light rigs, fog machines, intelligent lighting systems, even giant faux stained-glass penis windows for its Sunday Service afternoon party.
Meanwhile, Steamworks Chicago hired DJ Harry Cross directly from the new queer underground in 2013 – as part of the Men's Room monthly party crew, he's been instrumental in expanding the musical range of gay clubs there, and his lengthy sets (another longtime hallmark of bathhouses) on Friday nights mix contemporary techno, trippy electronics, plenty of acid and early house, New Wave instrumentals and even some throwback Hi-NRG. Tracks you may hear in the bathhouse now (going by Cross's list of favorites to play) include Mike Dunn's "Dance You Mutha," Marc Pinol's "Clef III," Pete Shelley's "Witness the Change," Zenker Brothers' "Mount Eleven" and "Incognito" by Red Axes and C.A.R.
"To be honest, before I started spinning at Steamworks I had never really been to a bathhouse," Cross said. "But I did know the myth of it, and how it felt in my imagination. I did most of my research online: Honey Soundsystem podcasts, Dark Entries Records releases, DJ Harvey, the Hugo Ball parties at smartbar." For Cross, the expanded musical vocabulary of contemporary bathhouse revivalists was just as relevant as the original '70s sounds in perpetuating the steamy vibe. "I looked for a mixture of spacey vocalist disco and a funky leather bar feel, but with contemporary elements like deep Chicago house, a lot of acid and techno, cosmic disco. It's all very instinctual and I have to go with what's sexy to me. Sometimes when the music goes hard in the bathhouse it feels forced and throws people off. You want to create an atmosphere where they can relax and explore."
Although there's a lot of crossover between the Men's Room and Steamworks for Cross's sets, dancing in the bathhouse is still pretty much a no-go. In fact, success for a bathhouse DJ is the exact opposite of a nightclub one, as Cross points out. "It took a while to get used to, but when there's no one moving around in front of you, that means you're doing the job right. Everyone's tucked in a hole somewhere having fun."