Interview: Mike Pickering
From the DJ History archives: The Haçienda resident talks about the club that changed the world
For years the Haçienda was a glorious white elephant, opening as a state-of-the-art Manhattan nightclub, with a fancy-pants restaurant, in a town populated by glum students in raincoats. But when acid house exploded in 1987, suddently this immaculately designed glass-roofed shed made complete sense to everyone.
While London and the south were still flirting with house, not sure if it would outlast go-go, in Manchester there was no hesitation. Frsh from seeing how things worked in New York, Mike Pickering ripped the microphone out of the DJ booth and set to work.

An ex-punk and ardent football fan from the blue half of the city, Pickering helped build the reputation of the Haçienda well before all this. As part of Quando Quango, his records were championed in venerated clubs like the Music Box in Chicago and the Paradise Garage in New York (where the band also performed). Alongside Jon Da Silva and Graeme Park, he led Manchester into a new era. Pickerin's post-house band M People enjoyed great success as well, winning the Mercury Music Prize in 1994.
This interview took place place between Pickering and Bill Brewster over the phone in December of 2000, a few days after the contents of the Haçienda had been auctioned off in Manchester. Mike was the newly proud owner of some of the wooden dancefloor and two bricks.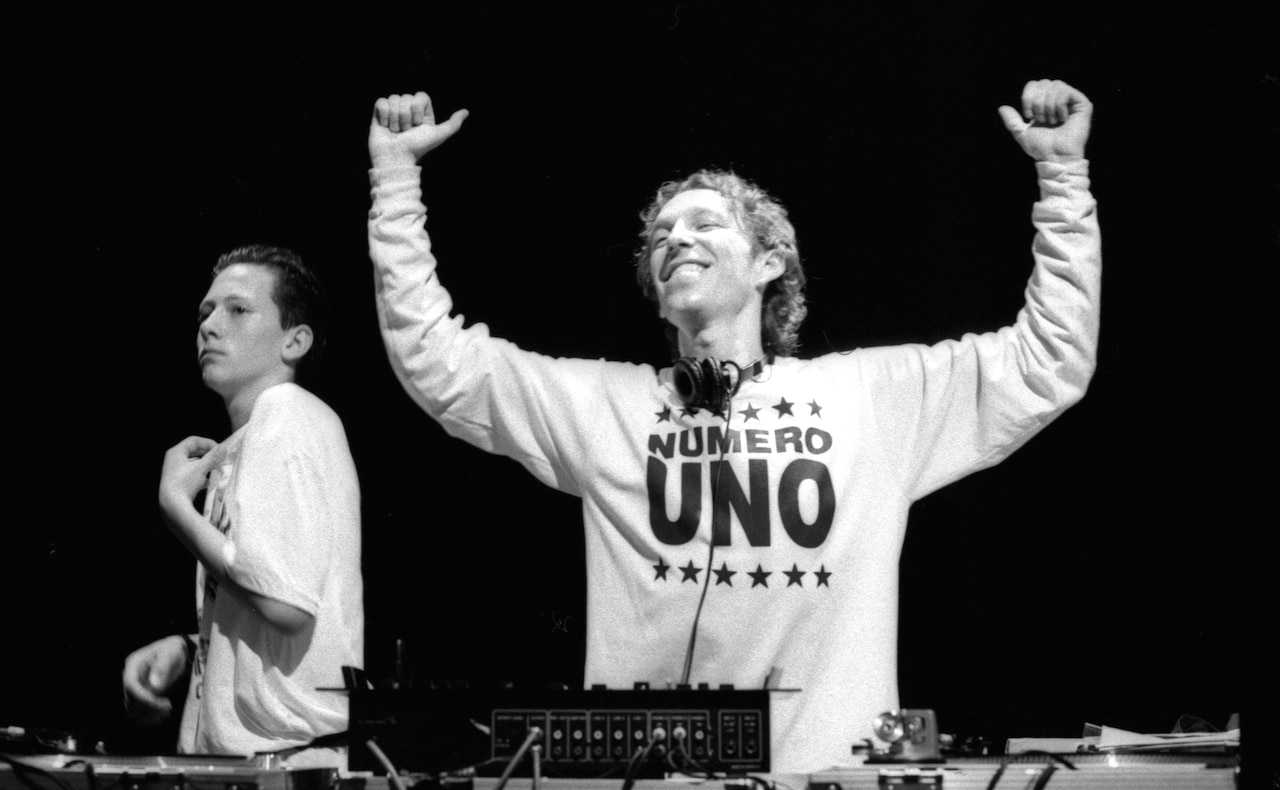 How did you come into the orbit of the Factory people?
I met Rob Gretton at 16-years-old. We were Manchester City supporters and we got chased by a load of Nottingham Forest supporters in Nottingham. I just jumped in a garden and hid behind a hedge and he did the same thing. That was it then. We were best mates. He managed Joy Division and New Order, though he was a DJ at the time.
What really happened with the Haç[ienda], I went through the punk times and then I buggered off to Holland and lived in Rotterdam. These people that I met, they squatted this disused water works with a tower. They said that they wanted to do something with this big hall. We cleared it all out and I just started DJing. I was into Chic and Stacey Lattislaw. It was called Rotterdam Must Dance and it became quite a big club night. We put bands on and I put on the second New Order gig after Ian died.
Rob saw it all, and said he was opening this club and he wanted me to help him do it all. I came back six months before it opened but it was just rubble, really. I used to book the DJs, lighting, bands, everything. At that time, I was always going away with New Order and Quando Quango, and we were often in New York. "Love Tempo" by Quando Quango was really big in the Paradise Garage. We actually did a PA there, when Larry Levan was DJing. I went to the Loft, and I was gobsmacked by it all, because I was just this little scally.
So I went back to the Haçienda and I was, "This is what it's got to be like." So I pulled out the microphone, this is the future, you know. The other thing me and Rob were into was no door policy (apart from keeping the knobheads out), to reverse what was the door policy at the time. I couldn't find a DJ. They all wanted to talk, they were all so programmed. So in the end, I just thought I could do better and started doing the Friday night. It was a real mélange of music at first, everything from salsa to electro to northern and it really took off.
How long did it take from you starting to really getting it going?
It only took about four weeks. I don't know why, but word spread, I suppose this was about 1985.
What about when the first house records started coming over?
That would have been about 1985 or '86. You know, stuff like Wally Jump Jr. and JM Silk. We had a lot of old northern soul boys 'cos it was all 4/4 and quite pacy. I used to do a swap in London at a club called Fever run by Simon Goffe at the Astoria. I got booed off. There were a lot of black guys there, and they were shoving notes into my face saying, "Stop playing this fucking homo music." At the Haçienda it was a really black night until ecstasy swept in. So I couldn't believe it. About six or seven months later I played for Nicky Holloway at the Trip, which was also at the Astoria, and they were all like bingo-bongo, smiley T-shirts and I was like, "Wait a minute…?'"
How did the night change from being black to white?
Ecstasy.
Really?
Yeah. Once it exploded, it was weird, you could watch from Friday to Friday and see the crowd change in colour. In those days, most of the black kids would smoke weed, but they weren't into chemicals. But then when ecstasy came in, it wiped it all out. It was so quick. It was over about four or five weeks. It was because it was so packed, and they couldn't do the moves, so they retreated to the smaller clubs. It was a shame in one way. In the long run, it was a shame.
Did it change the music you played and the approach you took?
Oh, it did.
How?
Before, I was playing everything, a much wider variety of music. As we all got swallowed up – actually that's the wrong phrase isn't it? As we all swallowed it up, it was all house.
I think everyone lost their head because it was so all-encompassing.
Yeah, well we used to come out of the Haç, get in the car and put the set on that we'd just done! Nowadays, I think, "Fucking hell, it must've been really boring."
When did ecstasy arrive in a big way then?
Early '88, I'd say.
What was the halcyon period for you?
I loved the year or so leading up to the ecstasy explosion. We only had a fire limit of 1,200 but we were getting 1,600, and the thing about it was they were complete music fans. We had some weird records that were big. JM Silk was really big. Stuff like "Jump Back." Then you'd get things like Whistle's "Buggin'" and "Was That All It Was" by Jean Carn so it was old and new.
Was go-go big?
No. We had Trouble Funk on, but it didn't take off like it did in London. 1988 and '89 were special times, but in different ways. It changed our lives, both personally and professionally. Everyone I know from that period, we all dumped longstanding girlfriends or boyfriends and met the loves of our lives! It was a wonderful wonderful time that period in Manchester.
What do you think of the Haçienda now it's long gone?
I'm glad it's gone and it wasn't taken over by anybody. I think it lived too long anyway. We had a ten year plan and at the end of that ten years, it was definitely finished. But it had a great ten years.
Something puzzled me about that period, why did you never run a sublabel of Factory for all of this stuff coming out of Manchester and the Haç?
A lot of people mentioned it when Factory went into receivership, and I was a bit embarrassed about it. I eventually became a junior director of Deconstruction.
Were you taking things to Factory and telling them to sign things?
Well, the real truth was Rob Gretton and myself went to Tony Wilson and said – in about 1986 or '87 – and Factory had always had this thing about a lot of us being influenced by funk and electro records. We said, "Look, we wanna start a subsidiary dance label." Tony said, "Dance will never happen." And, of course, two years later it did. That was fair enough, though: Tony wanted to stick with what he knew. But I signed Black Box, Felix, Guru Josh (for my sins) and of course M People.
What about "Voodoo Ray" and "Pacific State"? You must have had early access to them?
Well I got "Voodoo Ray" on the North album that I did on Deconstruction. It was a great souvenir of that time. Tony was really nice about it. He'd come in and congratulate me when another record I'd signed had done well. I was thinking, "But Tony, you could have had 'em!" It was another quirky Factory thing. There was a lot of wastage of money around that time.
But then, in a sense, without that wastage, the Haçienda would never have existed. It was a bit of a folly anyway.
To be fair, it would never have remained open had it had different owners. We didn't have a clue what we were doing. We were open seven nights a week with a haute cuisine restaurant! It was like an alien spaceship had landed in Manchester, and everybody was still in raincoats and listening to the Cure.
Was that one of the incongruous things about it, that it had been opened by Factory, but a lot of what was being played there was black music.
That even extended into 1989 and Madchester came on the scene. I remember sitting in a hotel room with Andy Weatherall one Saturday afternoon. It was like a scene from a film. There was Japanese, Canadian and American film crews all over the street. There must've been about 40 of them on the way from Piccadilly Hotel to Oldham Street. It was fucking hilarious.
Then I started doing interviews and this American guy asks me, "Mike, what puzzles me a little is how you find enough Madchester records with your club open so long?" He thought we only played Stone Roses, Inspiral Carpets and "baggy" music. So I said, "Well, we play records from Chicago and New York." He just didn't understand what was happening. I thought, "Oh God, is this the beginning of the end?" And it was, really.
What's your fondest memory of it now?
1988 and '89. The whole time was just great. Prior to that, on the Friday night, when I had Mantronix playing and then DJing with me, that was quite amazing. Anything during those two years was amazing. I'll tell you another thing, every year for the birthday party, we used to go really over the top: fairgrounds, pontoon bridges, everything.
When did you stop DJing?
Funnily enough, at one of the birthday parties in 1992. Both myself and David Morales got threatened. I'd said to David beforehand…. I'd been thinking of giving up and people were saying it was because of M People, but it wasn't and I was quite upset by that. People came up saying, "You're deserting us," and I had to tell them, "No, I haven't. It's because I don't want you to all get beaten up and mugged." I told David this and he said, "Yeah, I knew there was something." Blow me, at the end of the night, we'd both been threatened: him with a bottle, me with a knife. I thought, "I'm out of here."
I tried to carry on DJing after that, travelling all over the world, like the modern guys do, but it didn't work for me. I just couldn't do it after that. I'd only ever worked in the same place. I always like having my own crowd. I really believe to be a good DJ, you've got to have your own crowd. They come and respect your tastes, and you respect their tastes.
Do you still buy records?
I buy more now. I think you mentioned earlier about not listening to anything but house from 1988 onwards. Before that, I had really wide, eclectic tastes and I found my taste for collecting came back. Now, when I'm not in the studio, I live in secondhand record stores.
When they auctioned off the contents of the Haç, did you buy any of it?
I made the highest bloody bid. Even the DJ box went for about a grand. I bought a painting from the Shiva night, which was actually done by my wife, but that actually got up to £3,200. And then I bought a big bit of the dancefloor for £400. What I really wanted was an Anthony Blunt picture, but they'd all gone. I got some bricks. One of the bricks is for [Danceteria resident DJ] Mark Kamins. It's his Christmas present.

This interview was conducted in December 2000. © DJhistory.com