Preserved Instincts
Priced out of NYC, the iconic record store Dope Jams has re-opened in upstate New York with a new name and a new lease on life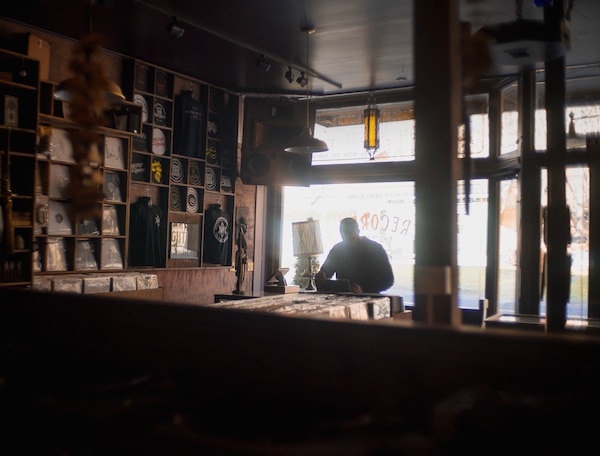 "The whole thing has always been like that Field of Dreams bullshit." Paul Nickerson is talking about Preserved Instincts, his record store in Oak Hill, New York, a hamlet in the northern Catskills with a population of 277. "Build it and they'll fucking come."
Preserved Instincts is the successor to Brooklyn's Dope Jams, which was once among New York City's best record stores and, for the sort of dance music obsessives who spend a lot of time on the internet, one of the most infamous. It was a place where you could browse for Sound Factory-approved New York house records – but also pull Gang Starr albums or classic rock obscurities or Loft mix CDs from the bins, or even cop a pack of incense, all while the clerks cracked jokes at your expense. The shop had a DJ booth and mammoth soundsystem, and a few weekends a year it would convert into as raucous and sweaty a party spot as you'd find in the borough. Dope Jams was also a record label – or, rather, a half-dozen of them pushing out everything from experimental techno epics to ultra-flamboyant pop remixes. When Nickerson and his business partner Francis Englehardt opened on Myrtle Avenue in 2006, they barely had any neighbors. Nickerson remembers their block, and practically every block past them toward Bed-Stuy, as a wasteland of empty storefronts and dilapidated tenements. Just half a dozen years later, they found themselves priced out.
Following one last epic party, they closed up shop. As they'd done with all the other setbacks and frustrations they'd faced through the years, they met fate with a razz: "Over 2500 sq ft. of strollers & pet clothing. Coming soon!" read a sign they left in the window. Nickerson and Englehardt could have found a new space further into the borough, but how many more years would that have bought them?
Gentrification in that part of Brooklyn tends to move east, and fast, so they drafted a typically unconventional plan for Dope Jams' future. Some months prior to closing, Nickerson had followed a girlfriend up to Oak Hill and fell for the tiny community's charms, where working-class families who'd been living there for generations commingled with artists and eccentrics who'd come up from the city over the last few decades. Nickerson rented an entire building on Main Street – for considerably less than he'd been paying in Brooklyn – and left the ground floor empty. When the time came, Englehardt would follow him upstate, and they'd reopen Dope Jams. There wouldn't be any foot traffic to speak of, but the location was all but gentrification-proof.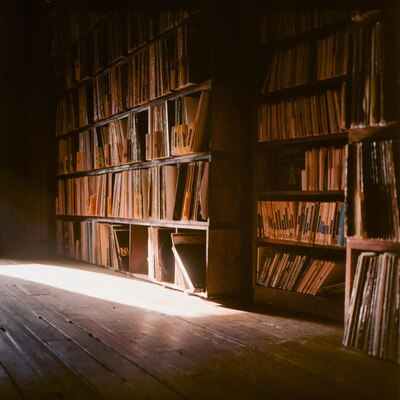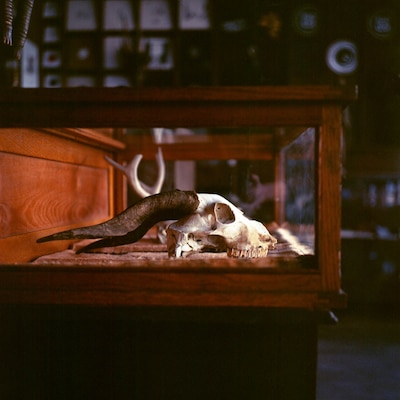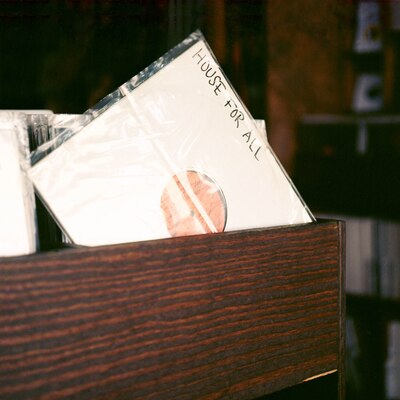 My story with the store began in 2009, when I was 23 and starting to write about music something like professionally. I had moved into an apartment a few blocks away, and Dope Jams became my local. Englehardt and Nickerson already had a reputation for ball-busting, but over the course of a few visits, I worked up the courage to ask for recommendations. For the next few years, I was treated to a surprisingly generous education in house music. I spent most Saturday afternoons camped out at the listening decks behind the techno section and more than a few Saturday nights sharing joints in the nominally finished basement they'd open up as a chill-out area for parties. I'd started to make a name as a dance music critic, and in 2012 I wrote a feature for Resident Advisor on the store, based largely on an interview I did with Englehardt on a long, hot afternoon, during what ended up being their final summer on Myrtle.
Dope Jams' transformation from outer-borough clubhouse to rural refuge unfolded for me entirely via Facebook feed: As Englehardt and Nickerson were packing up their stock, I was stuffing my earthly possessions into a couple of suitcases and setting off for Berlin, where I'd spend the next three years writing about dance music full-time. I popped in quite a lot of record stores around the world during that period, but I never saw one operate quite like Dope Jams.
Englehardt and Nickerson regularly posted damning reviews of their own stock, released bootlegged 12-inches of major label album cuts and spent their final months in Brooklyn engaged in a protracted war of words with deep house DJ and producer Jus-Ed, the result of which, the diss track "Dum Jams," has been a proud staple of their stock list ever since. I understood implicitly that the play-nice world of dance music needed these assholes, even if yuppified Brooklyn had no place for them anymore. It was comforting to know that even if my chances of ever making it by the store again were slim, their work wasn't finished. But a part of me also wasn't going to believe a record store could thrive in a town with fewer than 300 people until I'd seen it with my own eyes. I resettled in New York about a year ago, and late this winter, I finally paid a visit to Oak Hill.
Preserved Instincts is some 30 minutes off the interstate, through a tangle of ever-narrowing roads marked by double-wide trailers and vanishing cellular service. At some point, the buildings along the road started to look more antique, if not uniformly better maintained, and some semblance of a town came together. I passed one of Oak Hill's handful of other businesses, a health food restaurant run by the local Twelve Tribes outpost, and pulled into a muddy driveway next to a pickup truck with a DOPEJAMS vanity plate. Nickerson, a burly guy with a shaved head, clear eyes and a beard hitting just below his upper torso, met me by the trunk of my car with a package under his arm – he was heading to the post office, but he'd let me into the shop for a look around.
The interior of Preserved Instincts is a spitting image of the original Dope Jams but inflated like a balloon, with ultra-high ceilings, a spacious floorplan and a superclub-sized DJ booth at the back of the room. Dope Jams' four custom speaker stacks, over-the-top enormous in Brooklyn, hung from each corner of the ceiling, and it felt like the system had finally found its room. When Nickerson returned, he took me into a handsome back office lined floor-to-ceiling with his personal record collection, one large enough that he'd had to reinforce the floor from the basement to support it.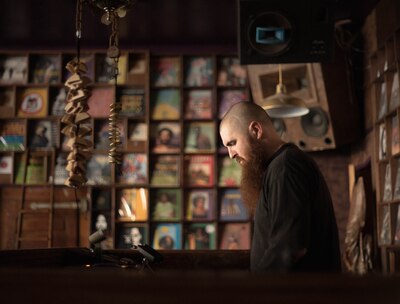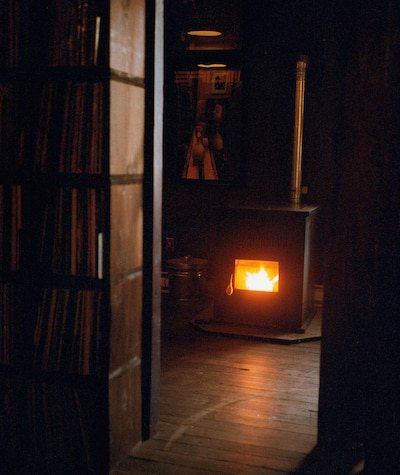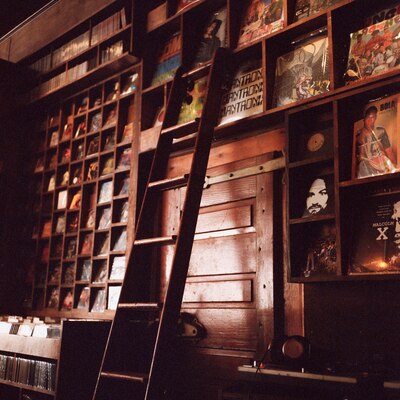 We went out the back and settled onto a picnic bench. The Catskill Creek, normally a trickle at the edge of the property this time of year, roared from early snowmelt. I'd heard the story of Dope Jams the first time around from Englehardt, but this time it was just Nickerson – Englehardt left the shop at the very end of 2015, and it's been a solo operation for a little over a year now. ("My midlife crisis was getting a job," Englehardt told me in an email. "I gave everything I had to the store and what we built together, but when there wasn't anything left in the tank, I had to hit the reset button.") Best musical friends for decades, Nickerson and Englehardt seem as closely aligned in their musical worldview as two people can get, but I was interested in hearing what changed since the shop in Oak Hill had opened.
As it turns out, certain frustrations remain the same. Exhibit A: stocking the shop. Whether in Brooklyn or upstate, Nickerson has never had an especially easy time finding brand-new music that reached his standards. "I'm sitting in front of my fucking computer 15 hours a week listening to all these new releases by distributors and finding two fucking records," he said, describing a routine he's kept since opening Dope Jams. "In Brooklyn it was like that, and we had all this financial pressure on top of us – so it's like you're so frustrated, and it just boils and boils and boils."
New York wasn't always such a pressure cooker for Nickerson. When he first arrived in 2001, inspired by his experiences at the iconic Body & Soul parties, he took a job with one of the three DJs behind the event – Joe Claussell – at his record label Spiritual Life. Interfacing with pressing plants, handling distribution, doing A&R – he learned the tools of the record trade, knowledge he'd later flex with Dope Jams' in-house labels. In addition to the nuts and bolts, Claussell taught Nickerson to hustle and strategize, critical strategies in an era where selling records increasingly looked like a terrible idea. "He really showed me the importance of having your hand in everything," Nickerson said. "You can't just be like, 'I'm just going to DJ and I want to network with people.' You have to really understand how everything works and make it so everything is feeding each other."
After Nickerson had left Spiritual Life, in 2004, he started buying and selling record collections through eBay. He noticed that one of his customers was spending some $500 a week with him, and he was purchasing some of the worst titles in his collection. "One day he was like, 'Where are you? Are you in New York? Could I just come over and look at [your collection]?' So he came over and he bought a bunch of shit, and we started talking."
The buyer was Steve Weber, a wayward scion of a Wall Street family, and he told Nickerson that he was considering opening a nightclub but wasn't exactly sure how to do it. Not long after, he bought a club on West Eighth Street in Greenwich Village and asked Nickerson if he wanted to come check it out. Nickerson bit, and when he and Englehardt came by the space, Weber asked what they thought. "We've always just been super honest with people, because there's no other agenda to it, and we told him, 'This place fucking sucks.'" The club needed a proper soundsystem, and the main room needed a lot of work. Weber put them on the payroll and tasked them with sorting out the situation.
The result was Club Love, an oddball underground dance music venue known known for its impeccable Gary Stewart soundsystem and bizarre decorative flourishes, including a water wall and a chill-out nook that could have been repurposed from Jim Henson's quasi-psychedelic children's show Fraggle Rock. (Nickerson took full credit for the soundsystem, but emphasized the interior design was all Weber.) The club played host to parties like Trouble & Bass and Dub War, and for a while during the 2000s was responsible for long lines of ravers running past West Eighth's t-shirt and bong shops late into the night.
You see us bashing people or getting bashed by people or whatever it is – you think that's what it was about. That's such a small part of what it was.
By 2005, Nickerson and Englehardt knew how to press a record and run a label, and they knew how to build out a club and design a soundsystem. They weren't sure they could stomach using that knowledge on someone else's pet project again. They were ready to be their own bosses. "We've been talking about this shit since we were little," Nickerson said. "So it was just like, let's fucking go for it. We're broke, we have no fucking money – what's the worst thing that can fucking happen?" Nickerson had been living in a loft on Emerson Street, around the corner from a Myrtle Avenue storefront. It had been vacant as long as he'd been walking past it. Figuring the landlord was desperate, he cold-called them: "We have no fucking money. We can't give you first, last – anything." He made no effort to hide the fact he wanted to open a record store, which in the mid-2000s would have amounted to telling your landlord, "We'll be out of business almost immediately." But Nickerson had sized up the situation perfectly. "Will you pay rent?" the landlords asked. Nickerson and Englehardt said yes, and that was enough for them to sign a lease.
They spent a year doing the buildout themselves with whatever they could scrape together. "It was like, OK, we've got enough money to pay the rent and buy six pieces of fucking plywood, so let's do that this month." Then, a few months before they were ready to open, they launched the website with a peculiar gimmick: each week they'd put up for sale five of the strangest, most obscure and super-limited records they could get their hands on, and at the end of the week they'd replace them with five more. The selections were tantalizing, titles no one in New York would have laid eyes on, often procured via Nickerson's Spiritual Life connections from as far away as Japan. By the time the brick-and-mortar was ready, they'd already built up a bit of notoriety – who the hell were these guys, and what was going on out in Clinton Hill?
When they were finally ready to open the doors, they hit the ground running. In-store parties started almost immediately, and Joe Claussell was one of the first guests to take the reins of the shop's rotary mixer and vintage pre-1200 Technics. Another early guest was Jeff Mills, who hosted a DVD screening and talk at the shop. Just as digital sales were beginning to become the dance music industry norm, Dope Jams offered an alternative reality, where the industry still revolved around vinyl records and crabby record store clerks.
So it's easy to see why, pretty much from the moment Dope Jams closed, Nickerson has been thinking about documenting all the parties, the in-jokes, the pseudo-controversies, the rag-tag crew of employees and the eccentrics who shopped there. "When I'm 70 years old," he said, "I want to look at that and remember it. That was a super important time in our lives."
Before they'd even left Brooklyn, they pressed the first of what they envisioned would be a three-record compilation encapsulating the sound of Dope Jams. Just as they did with the storefront, they worked on it when they had money and time. Nickerson wanted the centerpiece to be an exhaustive booklet cataloging the shop, so he threw himself into compiling photos and artwork. "That probably took the longest to do," he said, "A lot of it is fucking heartbreaking, because you remember those times, or certain people that you don't see anymore. I would go in and work really hard for a week and then just be like, 'Get this fucking thing away from me.' Not touch it for a couple weeks and go back at it again."
By the fall of 2016, all three records had been pressed and the booklet was printed, so Nickerson "kicked it out the door." The result is Dope Jams NYC Vol. 1: 2005-2012, as complete a picture as you could get of their loud, little world on Myrtle Avenue. It featured classic tracks and previously unreleased ones; a primer on the shop's employees, record labels and regulars; a catalog of their best parties; and other ephemera, like the transcript of an innuendo-laced email exchange between Nickerson and a distributor that I don't imagine did much for their professional relationship. ("The boss said we don't make any money by having records come back in, we need to have them go out. He said it's not like other things in life where things going in and out is okay, even pleasurable.")
Now at something approaching the other side of the project – Nickerson has continued pressing addendum EPs to the original release, with no real plans of stopping – he's come to see it as both an encapsulation of what they did at Dope Jams and proof that they were more than bootleggers and internet shit-talkers. "If you're some kid in fucking Norway and all you see is what's online – you see us bashing people or getting bashed by people or whatever it is – you think that's what it was about. That's such a small part of what it was."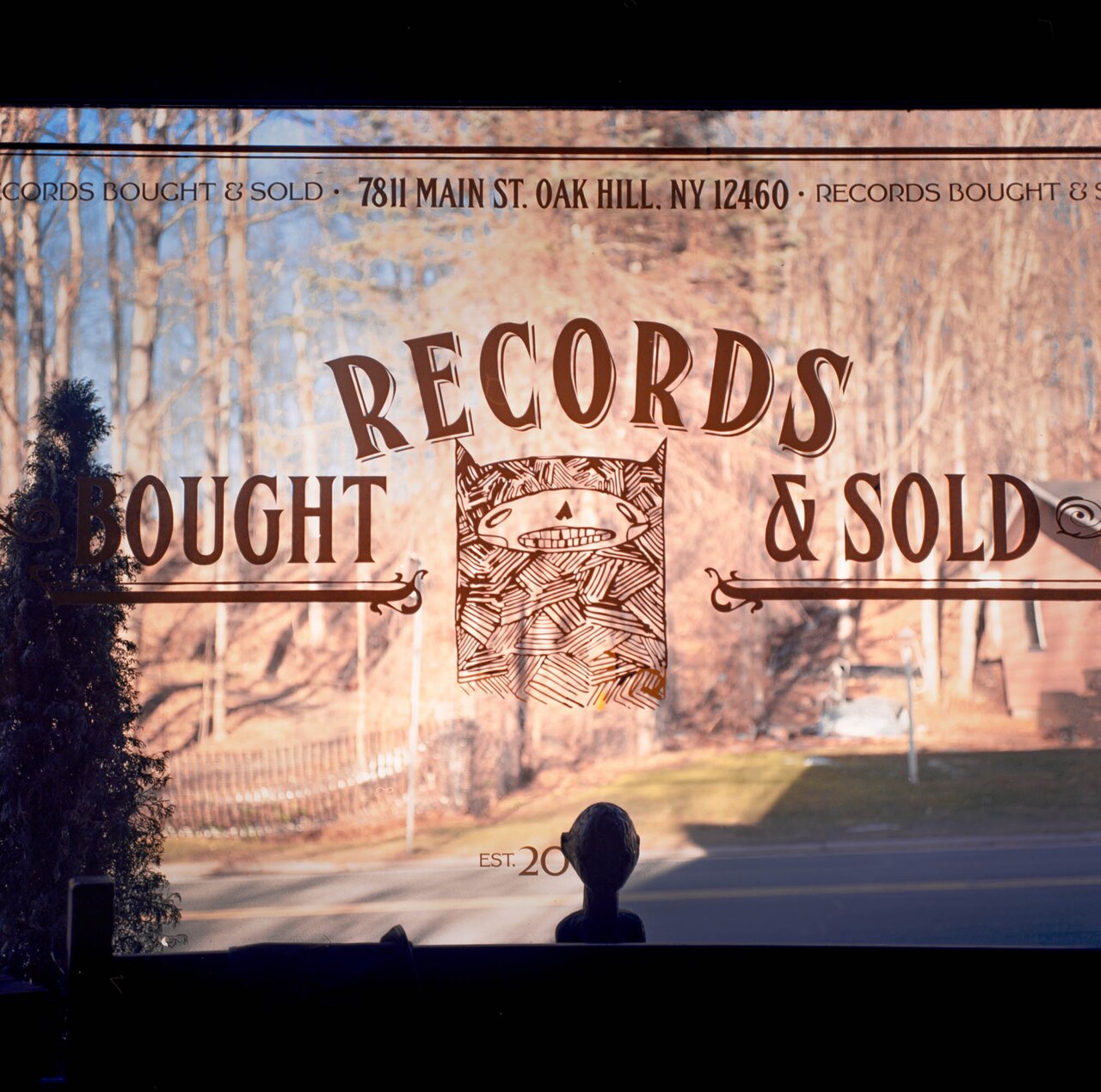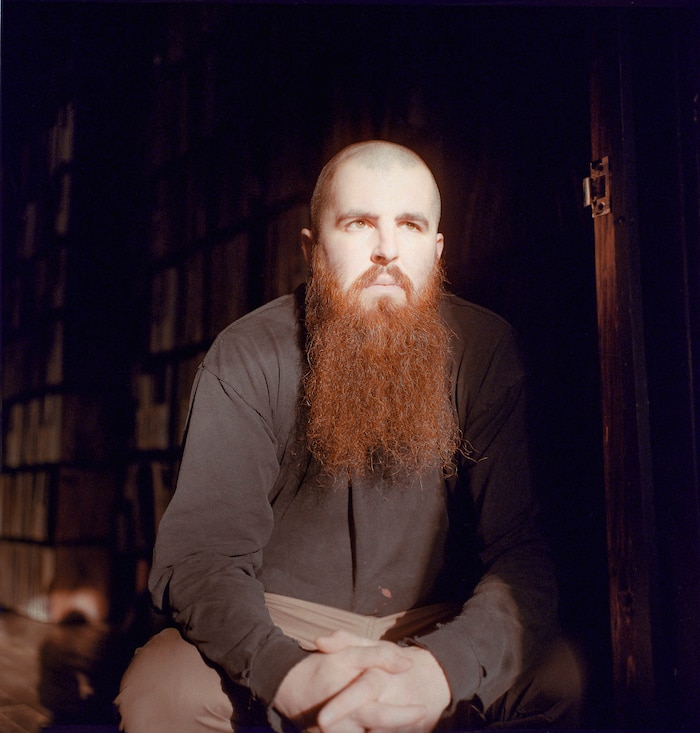 Other than sweating the rent, everything they did in Brooklyn has continued apace in Oak Hill – the parties especially. Rather than run deep into the night, they now run all day, beginning with a barbecue and dips in the creek, and, by nightfall, a dance marathon that spills out of the storefront and into the street. They attract a crowd fleeing New York and Boston who will often pitch tents out back afterward and wearily make their way home in the morning, and a crew of locals thrilled to come along for the ride. Noise isn't an issue – there's no official ordinance against it, Nickerson said. He told me that a state police officer once showed up at one party in response to a complaint and said, "We can't do anything. We'll sit here for a second, but you can keep playing the music as loud as you want."
It's weird to think of Dope Jams' progeny as the pillar of a community, but Nickerson has found someplace where that makes sense. With the sun growing low in the sky, Nickerson offered to take me on a tour of Oak Hill, which, from one side to the other, is maybe a ten minute walk if you're strolling. He pointed out the sites. A few doors down is the Assemblage, the storefront of the late neo-Dadaist outsider artist Norman Hasselriis. It's only open one day a year, on the town's annual Oak Hill Day celebration, so we look in the window to see what must be hundreds of Hasselriis' junk sculptures. We knock on the door of Matt Hausmann, a sculptor who's spent the last couple of years gut-renovating his historic home into a Merzbau-like installation just on the right side of being a livable space. Hausmann threw on galoshes and joined us to explore the adjacent property, an abandoned church dance hall that Michael Gallagher – a cult figure in the downtown New York scene known for his exhaustive collection of fashion magazines who'd moved up to Oak Hill some years back, fallen on hard times and was now convalescing from a stroke – was using to store millions of mildewing back issues of Harper's Bazaar and Vogue Italia. Up the road, another local named J. Kenneth Dean, a chessmaster and botanist, was in the process of building a temple-like structure made up of a series of columns, the realization of something he saw in a dream.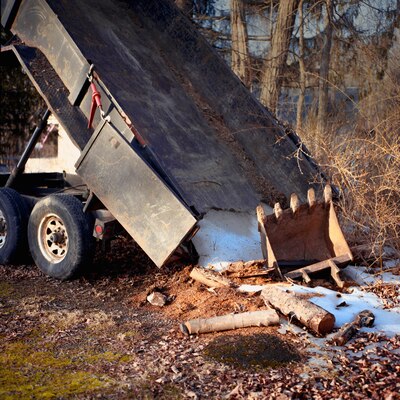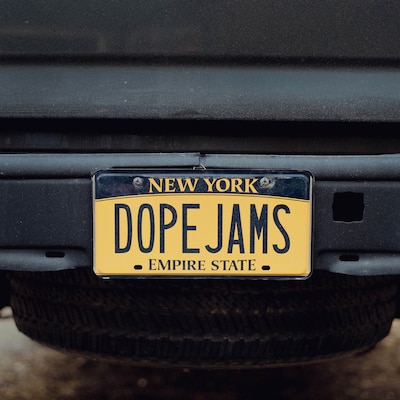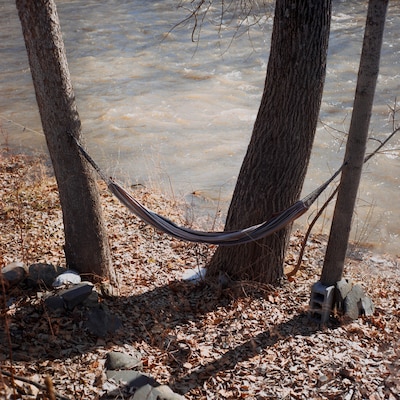 Oak Hill isn't only conceptual art projects, though. As we walked back toward Preserved Instincts, Nickerson pointed out the old barn where he got married; the beautiful old house he shares with his wife, two stepdaughters and young son; and a smattering of other cottages where average folks live and, to varying degrees, tolerate the eccentrics. A hundred or so yards from the shop, a middle-aged guy nursing a coffee cup and wearing a worn-out Celebrate LIFE t-shirt intercepted us and followed us back – a rare walk-in. Nickerson unlocked the shop and let him in for a browse as dusk settled on the hamlet.
Nickerson found the life, but he hasn't found stasis. "There's always things you want to do," he told me as we were wrapping up on the picnic bench earlier. "It just grows. That's the whole problem with it. Maybe that's part of why Fran[cis] left – it never ends. It never gets to the point where it's like, 'All right, we built the store out this much and inventory is this high quality.' You always want more. You always want to get it better. To be able to do that, you have to be broke. You have to not take anything for yourself. That's what it is. I don't see it ever ending."
He motioned to a clearing across the creek. "See that field right there? There's this bluegrass festival in that field once a summer. It's three days long, and they do 60,000 people. You start thinking like that. I'd love to fucking do something like that. It's always growing, and you're always trying to morph it into something else. I want to be here for the rest of my life. I have kids, we bought a house. I like the people around here. Unless, somehow, it turns into Woodstock or something, I don't want to leave. If that happens, I'm fucking out of here."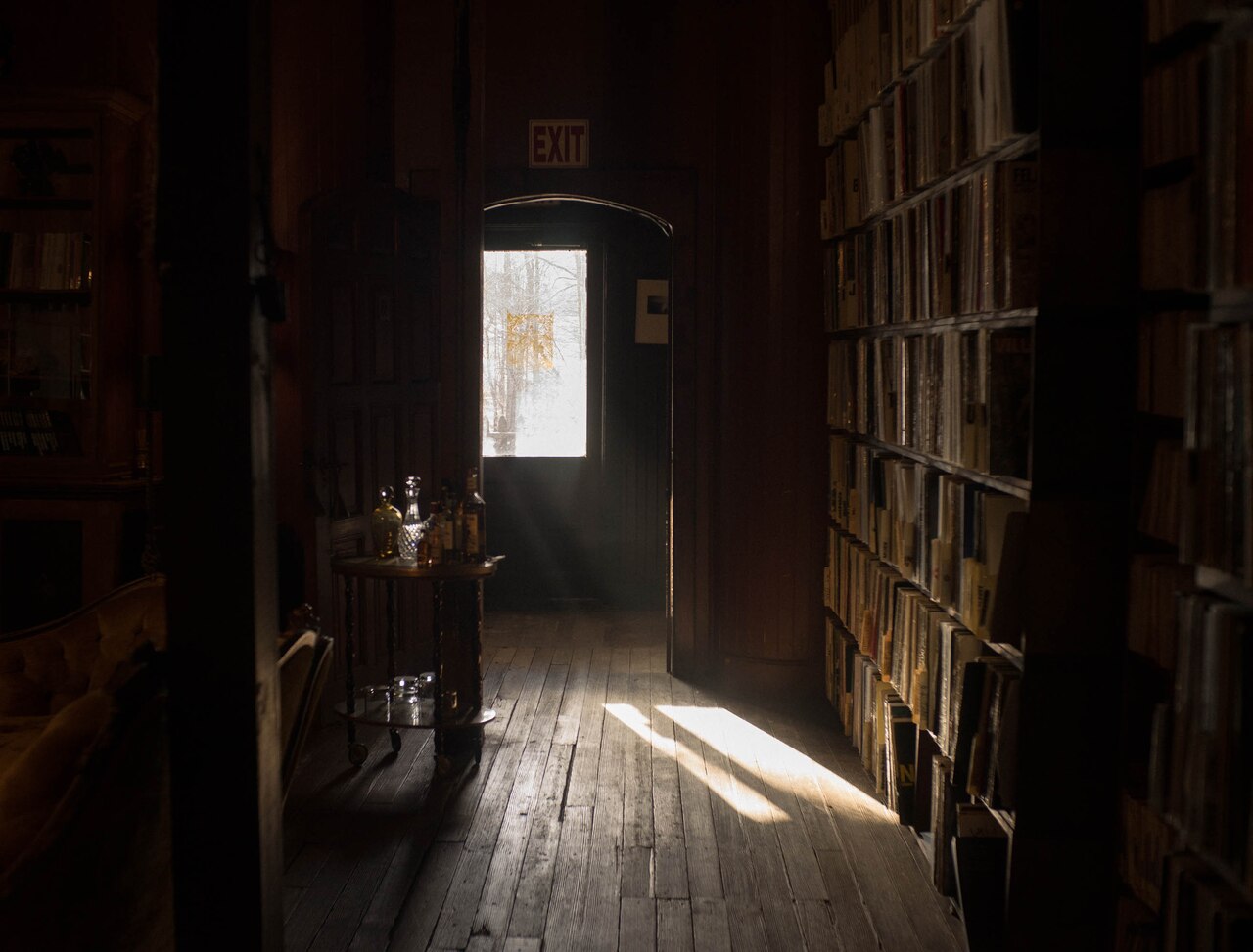 Header image © Tonje Thilesen