The Unorthodox Output of Black Smoker
Celebrating 20 years of one of Tokyo's most indispensable and cutting-edge collectives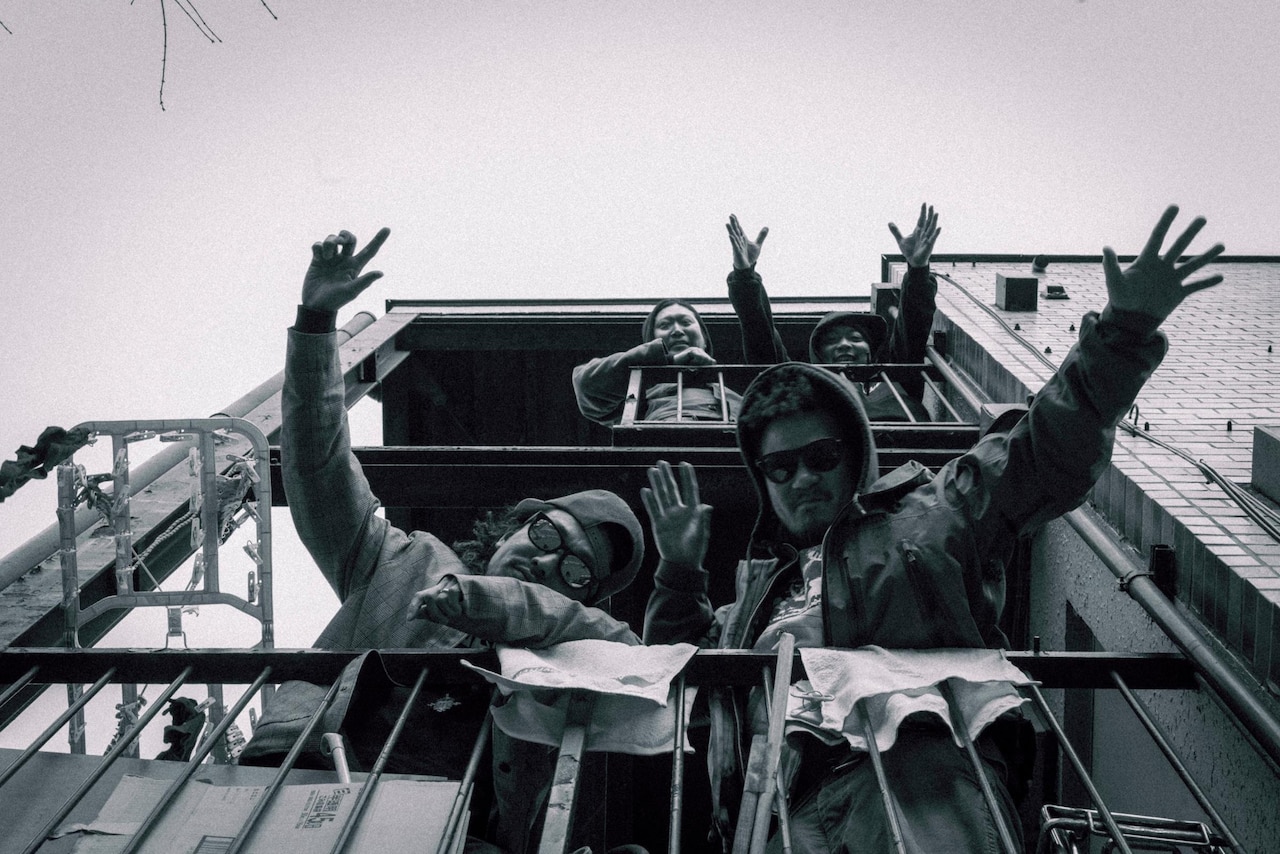 There were three performers onstage at Heavy Sick Zero, a small venue in the Nakano district of Tokyo. Standing daintily on the left was Isao Suzuki, a slender, 84 year old bassist with striking white hair and beard, playing a custom-made viola da gamba with unexpected agility and roughness. On the right was Toshinori Kondo, blowing his trademark sharp electric trumpet with a dire expression on his face. These are two musicians that anyone in Japan, even those without extensive knowledge of jazz, would know the names of.
To see these two sharing a stage was already quite special, but between them sat a large man leading this entirely improvised session: Killer-Bong AKA K-Bomb. He was holding a mic in one hand, delivering vocals somewhere between chants, rap and groans, while simultaneously banging out beats from a sampler or distorting them with effects. His lack of formal training was apparent next to Suzuki and Kondo, but he managed to match their strong visual and sonic presence, dazzling the hundred or so attendees packing the room. The tension in the air was almost as if we were all gazing at an uncontrollable vehicle driving at full speed, without knowing where exactly it was going. Were we listening to jazz, so-called experimental music, some advanced form of hip-hop? The clear answer isn't so important – only that this music was "YABAI (sick)," and it was the Black Smoker crew who made it all happen.
In Japan, Black Smoker events feature performers ranging from jazz legends and performance artists to hardcore bands, contemporary dancers, painters, rappers, techno DJs and authors, all united in their deviation from standard artistic norms. The full array of showcases includes the main series El Nino, the Black Terror party (produced in collaboration with DJ Nobu's Future Terror), visual art exhibition Black Gallery, the experimentally-inclined Black XXX, alt-jazz setting Jazznino and music/dance/theater mishmash Black Opera.
In addition to their ongoing events, 2017 marks the 20th anniversary of Black Smoker Records, which has been putting out an average of one release a month throughout the label's entire lifespan, an astonishing rate. Fiercely independent, the label is essentially run by one person, with the majority of their output released on CD and distributed independently. The label has just begun offering digital downloads, so only a tiny fraction of their past work is available on Youtube or SoundCloud, and their online presence in general is close to nonexistent. However, their physical catalog holds approximately 250 titles, which include DJ mixes, live recordings, mysterious edits and collages that span straightforward hip-hop, dub, techno, extremely abstract electronica, ambient, noise, jazz, reggae and exotica. On Black Smoker, anything goes, though that doesn't lead to inconsistent aesthetics.
What and who exactly is Black Smoker? There's very limited information available – in an era when we expect to be able to see and know every corner of the world, and despite the growing appreciation for Japanese music worldwide, Black Smoker remains mysterious and untouchable. This is not an attempt to present a comprehensive outline of Black Smoker's full history, which would truly be a fool's errand. Rather, it's an effort to let the world hear and discover the monstrous black mass of creativity called Black Smoker, which for so many years has been a magnet for mavericks and unorthodox prodigies in nearly every conceivable genre.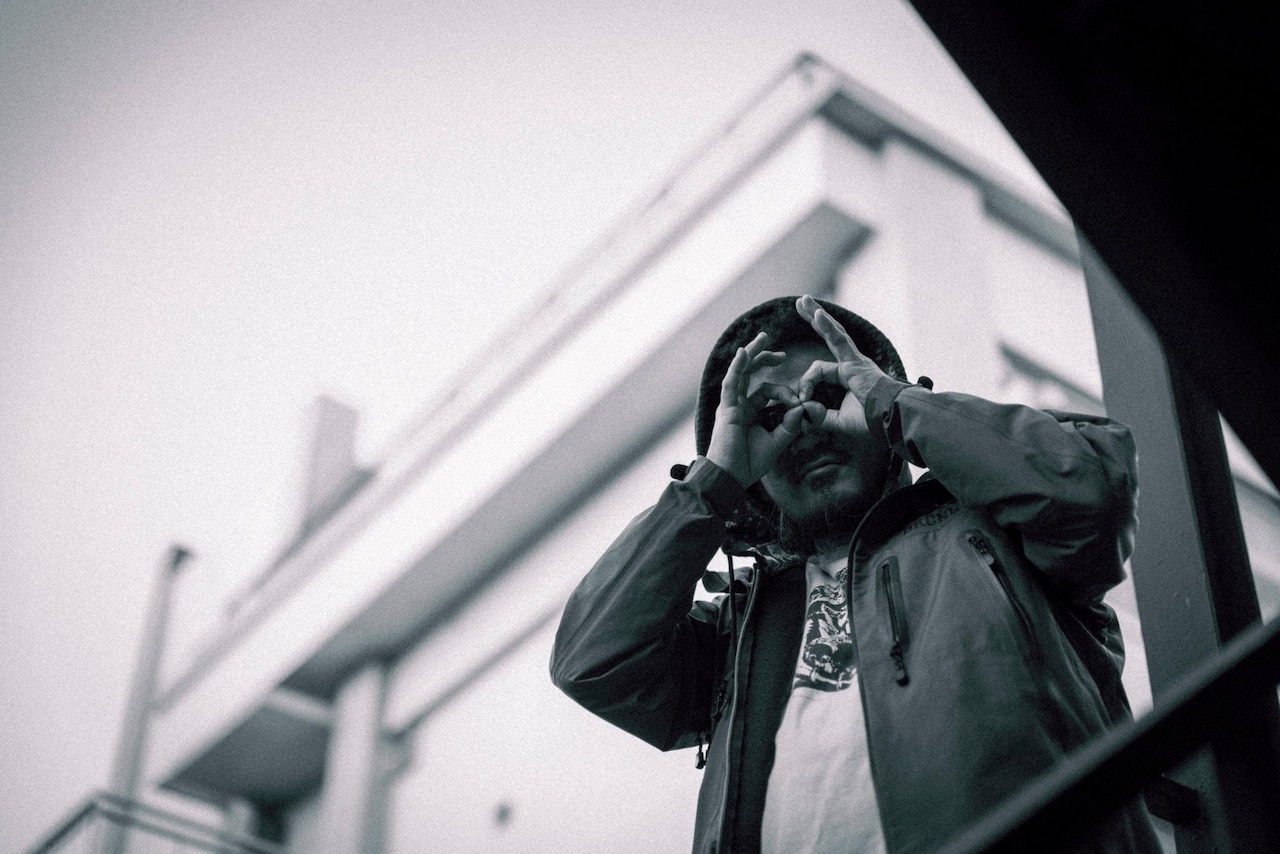 "I started Black Smoker Records when I was way too young. It goes back before we even formed Think Tank. I just knew that it was better to run your own than signing to another label in every aspect," K-Bomb explains about the initiation of the label. "So I released everything myself from the beginning. In fact, the label exists more than 20 years. Probably for 25 years by now." Jube grins next to him and continues: "It's been 20 years since we got together. Think Tank started 20 years ago, so we just decided this year to be Black Smoker's 20th anniversary."
Think Tank is a currently inactive hip-hop group that consists of four MCs – K-Bomb, Jube, Baba and Nox (D.N.A.) – plus the DJs Yazi and Wadake, and sax player/engineer Chi3-Chee. The group formed backstage at Space Lab Yellow in 1997, while Busta Rhymes was onstage. Jube, Baba, Yazi and Nox were already working together as a group called Shot Shell Click, and they had just finished performing as the opening act.
"Yazi went to high school with me and I've known him for the longest time. Then I got introduced to Jube by a DJ from a group called Naked Artz around '94, I think," says Baba. "By '96 we had a CD out as Jube+Baba, so that sounds about right. We opened for so many acts, like Organized Konfusion, Big L, Show Biz & A.G...."
"I remember one time I completely forgot the lyrics in front of about a thousand people" chuckles Jube. "I do remember that!" Baba adds. "We got Busta to say 'DJ Yazi' and recorded it, didn't we? He said it so many times for us. We must still have the recording." Baba looks hopefully at Yazi, who responds, "Oh, we never got around to use that," and the room of four friends breaks out in laughter.
K-Bomb, Jube, Baba and Yazi are the key members of Black Smoker, and have been since day one. K-Bomb is considered the founder, and Jube has taken the role of label manager. They are both active as MCs, and sometimes team up and perform together as The Lefty. K-Bomb is the most prolific of the bunch – he mainly uses the name Killer-Bong, except when he is rapping, and occasionally makes up aliases such as Lord Puff, Bmomk and Plantazia for his studio work. He also has numerous collaborative projects, such as Killer-Oma with Isao Suzuki and Killer-Damo with Damo Suzuki. Yazi is the only official resident DJ at Black Smoker, and he also maintains a live project alongside Future Terror's DJ Haruka. Baba is likewise a man of many talents – on top of his MCing skills, he produces and DJs under the name Blue Berry, leads a band called Skunk Heads, has a collaborative project called Dooomboys with Murochin of the band Wrench and also runs his own imprint called Black Mob Addict.
We were all gathered in their office in Tokyo, and beers and snacks were brought into the room, as if the quartet were about to start a house party. Baba was the last to arrive, but when he finally stepped into the room K-Bomb reacted with a joyous expression on his face and spoke out: "Baba became such a good human being, man. He's just the best. So great just to be around him. We're almost like a family. I feel like our relationship gets better and better over time." The group has experienced many dramas over their 20 years together, but it's rare to see so many grown-ups of their age who still share the same sensibilities, interests and aesthetics, able to gather and joke around like a group of teenagers.
Back in 1997, while Busta Rhymes was still singing "Woo Hah!" on the stage at Yellow, K-Bomb visited the group backstage and proposed the idea of teaming up. "At that time, K-Bomb was in a group with Dabo. We used to see each other all the time, but we were in a kind of rivalry," Jube discloses. Dabo is a well-known figure in Japanese hip-hop scene, who soon formed a large collective called Nitro Microphone Underground, and became the face of Def Jam Japan. Dabo and K-Bomb together called themselves Channel 5, but K-Bomb eventually chose a very different path from his former partner. "I got so many offers from major record companies but turned down all of them," he says. "I was very close to success as a rapper, but I wanted something more interesting. I asked myself, 'What would be the more exciting thing to do?' And I thought, 'Teaming up with enemies.' They can only be rivals because they are good. If they are not good enough, you wouldn't even consider them rivals. So I scouted all the interesting guys from other groups to form Think Tank."
The most unique and unorthodox group in the not-so-long history of Japanese hip-hop was born. "Because we caused problems to a bunch of people by forming this new group, we were desperate to establish something of our own and do everything by ourselves. That's how we started having sessions with artists from reggae or jazz scenes, and that gave us peace of mind and opportunities to discover. They were all friendly and nice people, too," Jube explains with a big laugh, as to why Think Tank swerved out of the sphere of standard hip-hop styles at the time. "Anybody can make catchy hip-hop tunes. So that's boring. Also, I always had trouble memorizing songs. I just can't remember the lyrics. I can't even perform my own songs," adds K-Bomb, in a way that's hard to tell how serious he is.
According to an interview K-Bomb gave in 2010, the name Black Smoker was inspired by a TV documentary. There is a term "black smokers" that refers to a type of hydrothermal vent in the deep sea, which contains high levels of sulfide, is extremely toxic to humans and turns black when it comes in contact with seawater. "It said that it's one of the causes of El Niño and deranging the whole world," says K-Bomb. "When I heard that, I felt like they were talking about me."
The group began their main event series, El Nino, in 1997, in a small haunt in Shibuya called Organ Bar. As Jube, the primary event planner, explains, "It used to be a weekly night where we DJed, rapped and got all our friends together. There was no real audience, so to speak. It was only after we moved to club Bed in Ikebukuro that it began to look like some kind of show, inviting various artists of different styles to jam with. We made so many new connections through the event. Then we gradually saw some cohesiveness among some acts, and this turned into a separate showcase called Jazznino, which took place for the first time at Yellow. Because we take our own risks to put on these events, we can do whatever the fuck we want. When people tell us we're going too far or too wild, that makes us want to go even further."
Each of us have our own world – a republic. So Black Smoker is like a federation.
For their first ten years of existence, Black Smoker was synonymous with Think Tank, with label releases limited to Think Tank and its members in solo or collaborative projects. For example, in 2002 Think Tank released their milestone Black Smoker album, and in 2004 dropped Jazz Nino, a recording of a freestyle session with Think Tank members, Japanese jazz musicians and a Senegalese percussionist. In 2007, the label began their mix CD series, the first of which featured Nipps, a former member of the hugely popular hip-hop group Buddha Brand, who had already launched his solo career. "Nipps was someone who was easy to approach, as I made a bunch of tracks for his album under a different name and I knew him well," K-Bomb explains. (He indeed produced the majority of songs on Nipps' 2002 solo album on Universal Music Japan under the alias Lord Puff.) "The initial idea was to put out DJ mixes of people who are not DJs, but then we met so many amazing DJs along the way, so we put them out, too." Meanwhile, the DJ mix CDs became their longest-running series, with over 70 titles and counting. More importantly, it broadened Black Smoker's musical spectrum, personal networks and audience. Award-winning novelist and noise artist Masaya Nakahara AKA Hair Stylistics, bassist Takeshi Akimoto from prominent dub group Dry & Heavy, avant-garde hero Keiji Haino and Californian beatmaker Ras G are just a few examples of the "DJs" featured in the series, with a contribution from Merzbow in the pipeline.
2007 was also significant for marking the first time Black Smoker released a project outside of their inner circle, the original album by hip-hop group Garblepoor! "As I grew older, I just became less reluctant to work with others. I used to hate people coming into my room. I absolutely hated interviews like this, too," K-Bomb observes. "We became more proactive to perform with others, people from all kinds of scenes around that time. We're a group of independent individuals. Each of us have our own world – a republic. So Black Smoker is like a federation," says Jube. "Until ten years ago, you had to deal with the whole federation to do anything with us, but now, we opened up and you can trade with individual republics, which means the possibilities quadrupled. The fact that we moved our HQ from Nerima to Koenji area changed things a lot, too."
Koenji is an area in Tokyo which has a unique and independent culture all its own. Lots of gnarly artists reside around here, including Kleptomaniac, who together with Killer-Bong has been responsible for building the visual identity of Black Smoker by providing most of the cover artwork. There are many little artist haunts in the neighbourhood, and Grassroots, a tiny DJ bar in the east side of the area, was one of them. Jube says that "It really opened many doors for us when we started going to Grassroots and got to know DJ Hikaru there. DJ Conomark of Garblepoor! was working at the bar, too." Yazi also testifies that "Hikaru was the resident DJ every Monday night back then, and Monday was still considered the end of the weekend, so we ended up there every week. That's where we met a lot of the people we work with now. That experience influenced the way I DJ, too. I was mainly playing instrumental beats and slow breakbeats up to that point. While I always went to all kinds of parties (including techno), meeting DJs like Hikaru and Nobu really changed the way I approach DJing. But at the same time, I had been experimenting on my own, trying to avoid the records any other hip-hop DJs would use to scratch with. I found myself buying Morton Subotnick and stuff like that." Yazi increasingly appeared to play at Grassroots, and even K-Bomb started DJing there. DJs Conomark and Hikaru would both go on to contribute to the Black Smoker mix series.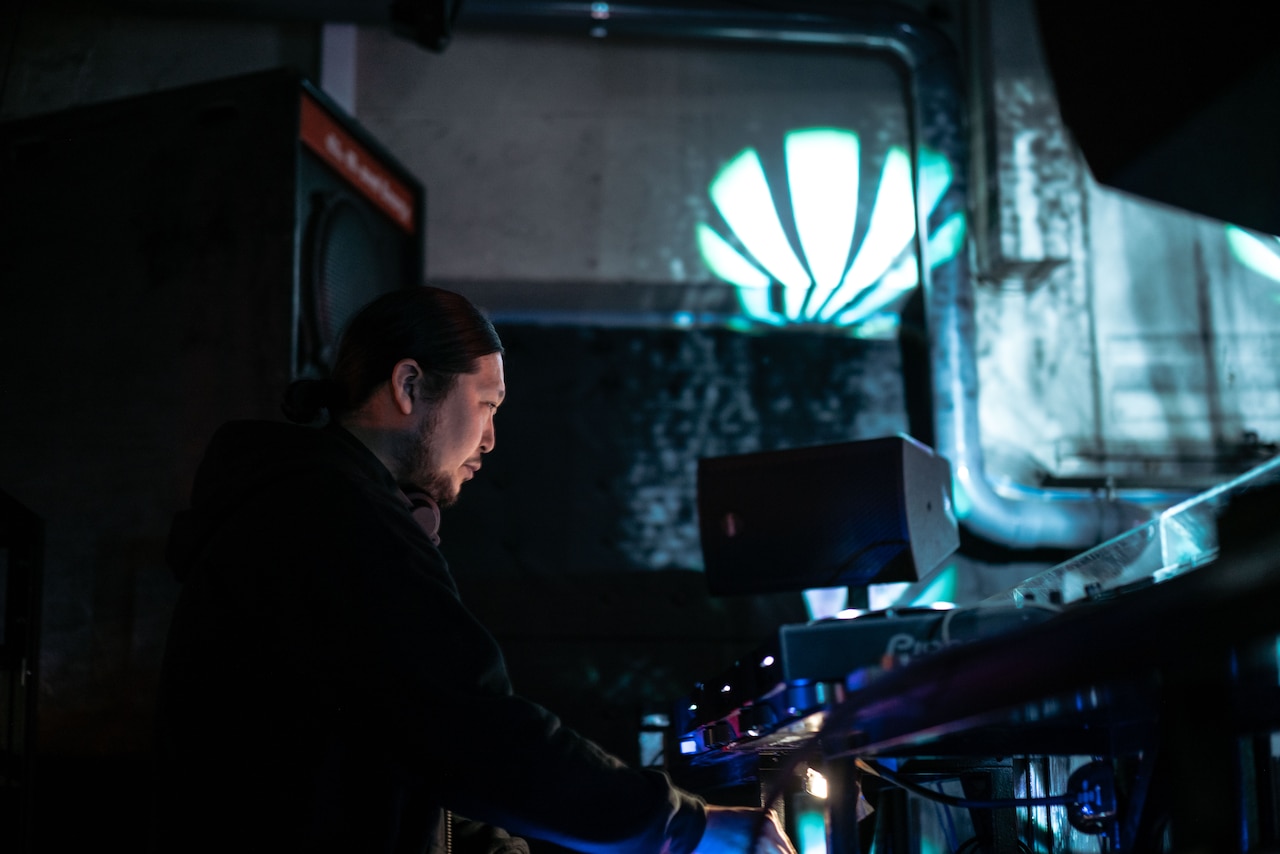 Atsuhiro Ito, who has previously collaborated with Carsten Nicolai's Diamond Version and is known for playing fluorescent tubes as a musical instrument, was another person that got introduced to Black Smoker through a Koenji connection. "I knew of Black Smoker for a while but had never met them," Ito says. "In 2007 or 2008, a Koenji-based contemporary dancer Yoko Higashino asked me if wanted to play together with K-Bomb at her show. Jube came up to me immediately after the performance and said 'Can you play at El Nino?'"
I can't think of any other labels in Japan that can bridge the academics and the street like they can.
"'Holy shit! We found a good guy!' That was my reaction and I just had to get him on board," says Jube, remembering his first encounter with Ito. They have been working quite closely on events ever since – through Ito, Black Smoker established a channel into the scene they never reached before, and through Black Smoker, Ito found an endless array of collaborators that would never leave him bored. "I thought it was just a one-off show, but then they asked me if I wanted to accompany the last Think Tank tour. So we did multiple shows together just before they stopped," says Ito. "I come from a very different background. In the early 2000s, I was involved with this gallery type of space called Off Site, and I had interactions with more academic, improvisational, jazz people or weird rock and noise people. But I was also feeling a little bored or enclosed in that scene at the time. I always enjoyed playing with someone fresh. That's probably why we got along. I had no idea how to play along with four rappers onstage at first, though. I can't think of any other labels in Japan that can bridge the academics and the street like they can. I don't think a collective like Black Smoker exists anywhere else in the world, to be honest!"
"I'm actually counting on Ito-san a lot," says Jube, and Ito is equally respectful of the collaborative nature of the project: "It's not just throwing anybody together in one pot. I try to think of interesting combinations. And when I can, I introduce the people I know to them. It's fun and I enjoy it myself, and that's why I continue to work with them. And I'm fascinated by their ability and speed to get their shit done! It's incomparable to the academics that take forever to even outline an idea. Black Smoker is mega fast! I have a complete trust in their speed and ability to catch every chance they come across."
As Ito points out, Black Smoker's extraordinarily rapid when it comes to planning and putting on an event, or confirming and putting out a release. They have something coming out pretty much every month, so they host a release party for it just as frequently, and on top organise El Nino and other showcases that feature a myriad of participants in different combinations. "I'm always asking around if anyone knows someone interesting," says Jube. "I go up to Ito-san and say, 'I know you are still hiding someone!' K-Bomb was invited to tour with Toshinori Kondo the other day, so I right away went up to him and suggested 'Would you mind playing with Isao Suzuki as trio?' I try not to miss opportunities like that. We engage all these people we encounter along the way, and keep rolling in all directions, towards the destination none of us even know. Black Smoker is just an odd snowball created like that."
Another notable thing about Black Smoker is how they attract such varied virtuosos. In addition to the aforementioned likes of Isao Suzuki, Toshinori Kondo and Damo Suzuki, Naruyoshi Kikuchi, Yoshio Ootani and Fuyuki Yamakawa have all joined the Black Smoker sessions in the past, artists who are not exactly the type to casually jump into a jam. Jube describes how it works: "Initially, I occasionally received inquiries asking K-Bomb to play with someone, sometimes from a complete stranger. K-Bomb never looks for a collaborator himself, but I'm always on the hunt. Most musicians, when they face 'giants,' try to shine themselves while making sure they give enough space for the other. K-Bomb is not quite like that. He doesn't rehearse. Sometimes he doesn't even talk to them prior to the show, just fiercely makes his presence known in the moment. Most experienced musicians find him intriguing because he is different. Isao Suzuki absolutely loves him. He tells me, 'K-Bomb and I are the sickest duo that ever existed!' all the time when we play mahjong games together."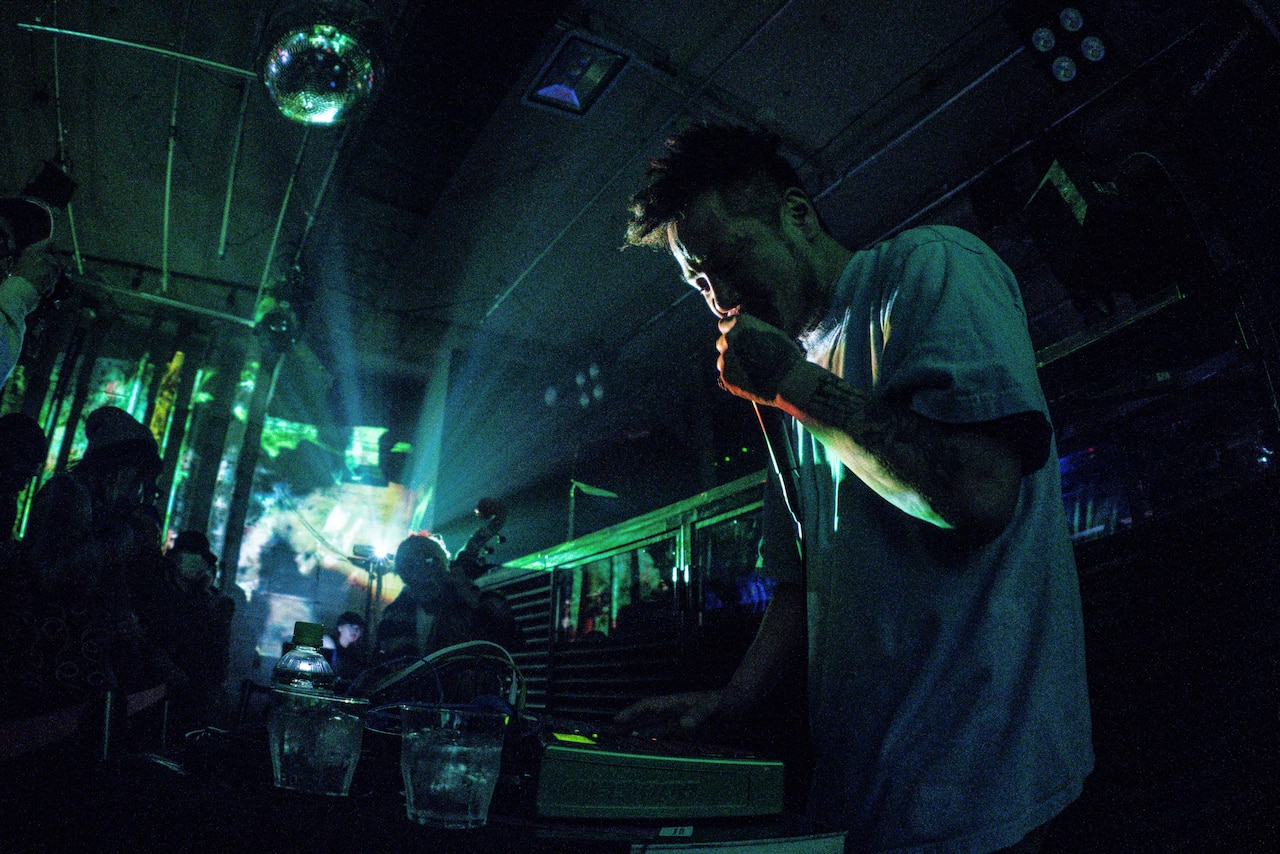 "I just love the flash of doing something new for the first time," says Jube of his continued attraction to experimentations. "I don't look back, or even stop. I just keep moving forward and draw the line by connecting the dots I see in front of me. I can't even control myself." This precisely explains why it's so hard to grasp what Black Smoker is all about. Keeping up with all their releases is a hell of a job, but even then, all the most advanced experiments take place at the events. Most of their releases are very rarely repressed, on the grounds that they have little interest in what they've done in the past or repeating themselves. They are constantly breaking the ground, so it's impossible to define their art at a single fixed point.
"When you keep doing the same thing, you become good at it. I can rap so ridiculously good now. So I want to do something I'm not good at. I want to produce rice, for example. Make fucking incredible rice!" That's K-Bomb again, possibly being sarcastic, but there's a kernel of truth in what he expresses. "One time, we did this experiment of making an album, mastering it, designing the cover and releasing it in the shortest time possible," he continues. "We did it in four days. I personally try to draw up and down curves with what I put out. When I release something uplifting, the next will be something daunting. When I make something intricate, the next will be totally crappy. Not having an objective to sell is an objective in itself. You get disappointed because you expect to sell a lot. Don't try to sell. Just decide on the quantity beforehand, then you have no pressure. That way you can put out stuff that's more valuable, I think."
Jube further outlines the label's dead-simple policy: "We just put out what we think is dope. We try to be the outlet of the creations from the most authentic people we come across. Stuff that makes us feel, 'Oh shit, this is sick, we need to put it out.' Regardless of what's 'in,' we only deal with timeless music. If people buy them, that's great."
There are few other artists or labels with a perspective and self-confidence to match Black Smoker. The universe they've built may not be visible to many, but it continues to fascinate and inspire those who see the light behind the thick black smoke. It's an experience they've maintained for twenty years so far, and perhaps another twenty years to go: "We started it all with insane ideas," says K-Bomb, "so we just continue plotting insane shit."