The Dark Side of Paradise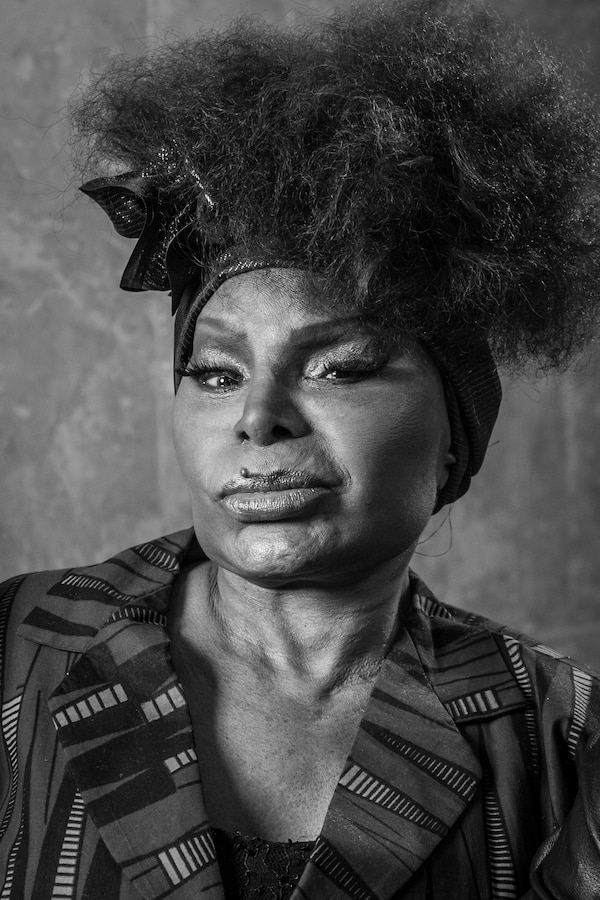 Elza Soares, the legendary Brazilian singer, has remained an unparalleled creative force in a life marked with tragedy
It was in order to buy medicine for her newly-born son that a young girl named Elza da Conceição Soares, at the tender age of 13, thought she would try her luck singing in a talent show on Tupi Radio, in Rio de Janeiro. She drew laughter from the audience when she took to the stage, her hair in a pair of dishevelled braids, standing inelegantly in a dress borrowed from her mother and covered with safety pins to better fit her mere 33 kilos. Little Elza wasn't supposed to be taken seriously; the teasing was encouraged by the host of the show, composer Ary Barroso, infamous for his cruelty towards the young participants.
But Elza Soares wasn't just any young talent, to be shooed off stage and stripped of her hopes and dreams by the hit of a gong. "What have you come here to do?" asked Barroso, to which Elza replied, "Sing." "And what planet are you from again?" the host insisted. That was when the graceless young girl left the audience speechless with her answer: "I came from the same planet as you, sir. Planet Hunger."
Elza says that at that moment, she thought of the bucket of water she used to carry on her head from a very young age, back in the favela where she lived, and the buzzing of the praying mantis she so adored. She would often sing to herself as she walked with the bucket, which is what she did on the Tupi Radio show: she sang her heart out the only way she knew how, that same young girl with the bucket of water on her head, that same young girl who was inspired by the sound of the praying mantis in the woods – which, incidentally, taught her all about scatting long before she had ever heard of American jazz.
The gong didn't ring out, Elza Soares sang until the end, and a transfixed Ary Barroso announced, over the roar of the crowd, that a star had been born before his eyes.
The Woman at the End of the World is above all a powerful cry from a woman and an artist who has spent over 80 years reinventing herself.
Seven tumultuous and glorious decades later, in 2015, Elza released her 34th album, A Mulher do Fim do Mundo (The Woman at the End of the World), taking home a Latin Grammy award in 2016. The songs are all new and were penned by composers from São Paulo's contemporary music scene especially for her, inspired by the larger-than-life figure. One songwriter, Celso Sim, described the album as "samba punk," yet one of the most fascinating things about Elza Soares is her refusal, even early in her career, to be pigeonholed by labels, as she pointed out in a conversation over the phone. She loves samba, jazz, rock and hip-hop, and feels completely at home in all these genres (and everything in between).
Perhaps the best description of her latest album comes from Audiograma: "When Elza opens her mouth, it's like a punch in the stomach." The Woman at the End of the World is above all a powerful cry from a woman and an artist who has spent over 80 years reinventing herself – her date of birth is also a hidden affair – and survived abusive relationships as well as many painful losses.
Elzinha, as she is fondly called by close friends, saw her career put in check at the height of her worst crisis, towards the end of the '80s, but it soon rose from the ashes, much like the phoenix tattooed on her calf. She demands only one thing, as she herself says in the verses of the latest album's title song: "I want to sing until the end."
A Saxophone in her Throat
Elza Soares was born in Moça Bonita favela in Rio de Janeiro, the daughter of a factory worker and a washerwoman. The family soon moved to Água Santa, in the same city. At the age of 12, she was forced to marry after a fierce brawl in the woods with a boy five years older than her. In her father's eyes, the fight was actually a rape. "I didn't even know what sex was – I just wanted to fly my kite," Elza says. But the wedding still went ahead and the children began to arrive soon after.
Her husband suffered from tuberculosis, forcing her to look for work very early at a soap factory. At 21, Elza was already a widow and had given birth to seven children, two of whom had died before being named and one who was given away.
Despite the pain and sorrow she had suffered, music was always by her side. Over the years, Elza has said time and time again that she would often sing to keep from going crazy. She started recording samba and bossa nova at the beginning of the '60s, on albums such as the bossa nova anthology A bossa negra. She would become one of the country's most important figures during samba's resurgence, staying with the Odeon label for 15 years.
For the 1962 World Cup, Brazilian music's newest star was invited to be the ambassador to the country's national squad, accompanying them on their trip to Chile. There she sang the national anthem and caught the eye of none other than Louis Armstrong.
Their fun afternoon together is still fondly remembered by Elza. After hearing the Brazilian singer onstage, Armstrong invited her to his dressing room and asked someone to tell her that she must be his "daughter" since she was such a natural at the difficult art of scatting, an art whose origins have long been attributed to him. Not knowing a word of English, the Brazilian singer heard them say "daughter," thought they had said "doutora" (doctor) and made it clear – "I'm no doctor, I'm Elza!" With the misunderstanding soon cleared up, she remembers that they asked her "to cuddle up to the huge black bear" and call him "my father." In Portuguese, these two words sound dangerously similar to "me fode," or "fuck me," and an embarrassed Elza decided against it.
Eventually, Louis Armstrong became a kind of spiritual father to her. It was he who said, while trying to describe her powerful, husky, raspy voice, that Elza had a saxophone in her throat.
Elza and Garrincha
At the end of the '60s, during a string of hit albums with singer Miltinho (Elza, Miltinho e Samba being a standout amongst fans and critics), Elza married the famous football player Manuel Francisco dos Santos, better known as Mané Garrincha, nicknamed after a common bird. The two had also met in Chile and had begun a secretive relationship.
Considered by some to be the best player of all time, Garrincha carried with him a history of poverty and deprivation. His grandparents were slaves and he had fallen victim to polio, leaving his legs bent to one side and his spine twisted (as a result of which Brazil named him "The Angel with Twisted Legs"); on top of all this, his father was an alcoholic.
Like his father, he had his own demons to deal with, something Elza wasn't aware of when they met. He was an athlete that drank a bottle of cachaça a day – including on match days – and eventually fell prey to cirrhosis of the liver. Even so, as the Uruguayan author Eduardo Galeano put it, "in the entire history of football, never has a man made so many people happy." He won two World Cups for Brazilian fans in 1958 and 1962; when he and Pelé played side by side, Brazil never lost a single match.
Women, it seems, were afraid of her – "Beware of Elza," they would say.
But happiness was still fleeting for Elza, married to the player for 17 turbulent years. She would hop between bars begging them not to serve alcohol to Garrincha. He was a child, she tells me over the phone. Her "little baby." And as the star had ended a previous marriage to be with her, she was accused of being a "homewrecker" by conservatives. Women, it seems, were afraid of her – "Beware of Elza," they would say. She incurred the wrath of fans of the Botafogo football team, where Garrincha used to play, for whom she was the "witch" responsible for his decline. She revealed everything in an interview to Rolling Stone: "Being free was difficult back then. And if my story with Mané took place now, when players make millions, I'm not sure I would be his wife. I met a Garrincha who was poor and our love was true."
Of the many tragedies the singer dealt with during this period of her life, the loss of her mother was perhaps the most difficult – she died in 1969 in a car crash. At the wheel was Garrincha, drunk. Elza also raised eyebrows amongst the heads of Brazil's military dictatorship after performing with Geraldo Vandré, one of the most vocal opponents of the regime, as well as recording a campaign jingle for João Goulart – in 1964, President Goulart was removed from office in the coup orchestrated by the Brazilian Armed Forces with support from the US government, setting a course for 21 years of brutal repression in the country. One fine day, military forces invaded the mansion Elza had bought in the upper class neighborhood of Jardim Botânico in Rio de Janeiro, and so she went into exile in Italy with Garrincha for a brief time, not knowing why she was being persecuted.
She is a force of creativity. She is a cornerstone of Brazilian music.
"My life has always been like this," Elza would say. "A new challenge every five minutes." According to her, Garrincha began to drink more heavily in Italy – he was depressed, having not been chosen for the national squad that went to the 1970 World Cup in Mexico, and watched the matches from his hotel room in Rome.
At the beginning of the '80s, the singer's career was being pushed to one side to take care of her husband and the couple's only son, Manuel Francisco dos Santos Filho, or Garrinchinha. Elza began to perform in circuses and even considered giving up singing altogether to work in a nursery so she could raise her child.
At this crucial moment in her life, when her faith in music nearly gave way, her friend Caetano Veloso came to her rescue, inviting her to record his song "Língua" (Language). Decades later, Caetano would tell the O Globo newspaper: "She is a force of creativity. She is a cornerstone of Brazilian music. From the moment she first appeared, she came with that unquestionable mark of talent, of personality, of a unique view of the world. That's not something you throw away."
But a blow which nearly knocked out Elza for good came in 1986, three years after Garrincha's passing. While coming back from his first trip to his father's hometown – Magé, a small town in the state of Rio de Janeiro – Garrinchinha, only eight years old, was killed in a car crash. Years after, Elza said that she lost 99.9% of who she was in that tragedy. She only managed to carry on out of fear – and out of her unconditional love of music. She left the country a little while later and spent nine years singing in the US and Europe, unable to live in Brazil following the loss.
Roses on her Shoulders
Her recording hiatus ended in 1997 when she finally returned to Brazil and released an album exclusively of sambas, Trajetória (Career). Soon after she released a live album, Carioca da gema (Pure Carioca). And lastly, she became internationally renowned after being voted singer of the millenium by the BBC.
During this period, she suffered an accident onstage in a Rio nightclub: blinded by a stagelight, Elza fell from two meters. This fall would later force her to undergo a series of surgeries on her spine, and she could only perform sitting down. Even so, she never again thought of giving it up. "My spine is one thing, my voice is another," she says proudly.
The album which capped off her triumphant return was Do Cóccix Até o Pescoço (From the Tailbone to the Neck), from 2002. With it came her first nomination for the Latin Grammys. Thanks to a fruitful partnership with her musical director José Miguel Wisnik, the album, according to Folha de São Paulo, "gave back to Elza Soares the throne that was always hers but which of late had become confused with that of forgetfulness: the throne of eccentricity." You can find a bit of everything on there – samba, funk, rap, tango – and Elza glides through the works of great Brazilian composers.
Today, Elza is enjoying her most glorious moment as an artist. On A Mulher do Fim do Mundo, she explores domestic violence against women (such as in the powerful "Maria da Vila Matilde," where she sings: "Cê vai se arrepender de levantar a mão pra mim" [You'll regret raising your hand at me]) and issues of race and gender. She's the self-entitled "queen of the gay community" and sings, on the beautiful "Benedita," about a transexual woman addicted to crack. Moreover, Elza "has never sounded so black," as Silvio Essinger from O Globo newspaper put it – the same singer who was once ignored by a label early on in her career because of her skin color: "It's a shame, she sings really well but she's black," she remembers hearing back then. She laments the fact that Brazil is still such a racist country. "Brazil and the rest of the world," she tells me over the phone.
Elza has no plans for the near future. "My name is now," she says. She doesn't mention any new projects, still basking in the glory of the tremendous success of her most recent album. Her wardrobe is still sexy, revealing, tight-fitting on her body; her hair ever-colorful and makeup heavy. From time to time, a new tattoo appears, such as the roses on her shoulders and back – a tribute to the great Brazilian composer Lupicínio Rodrigues, who once gave her a bouquet of roses at the Texas Bar nightclub in Rio de Janeiro (a young Elza didn't recognise Lupicínio at first and refused his bouquet). Her personal life has always been unusual and controversial, with boyfriends 45 years younger than her until recently, but today she says she's happy finally being married to herself.
Elza is the rebel Brazilian muse, a far cry from bossa nova's Girl from Ipanema who is wooed as she walks by at the rhythm of the waves. She is a creative force of nature, a woman in full control of her voice, her body and her life. If she has spent seven decades singing to keep from going crazy, the "punch in the stomach" this last album lands is a cry of sanity in a world that's gone mad.
Header image © Fabio Piva/Red Bull Content Pool