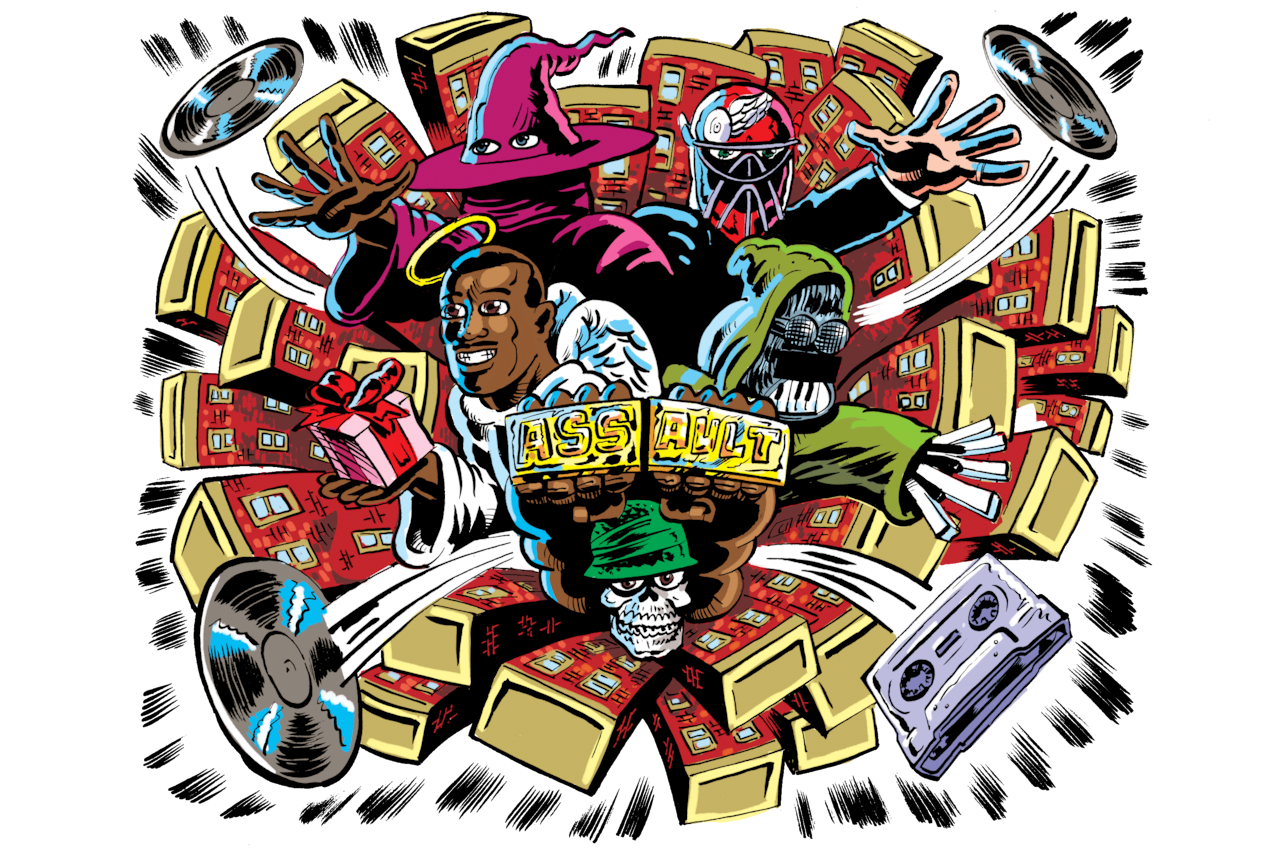 Ghettotech: An Oral History
The definitive story of Detroit's dirty little genre
When you think of music from Detroit, what comes to mind? Motown, Berry Gordy, techno, The Belleville Three, most likely. From the mid-'90s to the early '00s, another popular sound emerged – ghettotech. It was, as one artist and longtime resident put it, "the indigenous music of Detroit." Parties, radio mix shows, strip clubs, jit dancing, record stores and a TV show nurtured a complex musical ecosystem that went much deeper than the scene's evergreen calling card, DJ Assault's "Ass N Titties."
Before producer Disco D and journalist Hobey Echlin gave it an exportable label in the mid-'90s, ghettotech went by names that reflected how normal mixing Detroit classics with the latest dance sounds had become. (Tracks by Kraftwerk, Cybotron, 2 Live Crew, Egyptian Lover and DJ Godfather were staples of Detroit DJs' sets.) It was booty music, mix show music, tech shit. To many in Detroit, it was just techno.
It started with Jeff Mills. Enchanted by The Wizard's 30-minute mix shows on WDRQ and WJLB in the late '80s, DJs in Detroit began emulating the young Mills's extraordinary style. The records were pitched up, or played at 45 RPM – whatever made it faster. Each track, introduced after a zig-zag of scratches and beat juggles, was played for up to 45 seconds before Mills cued up the next. The mixing was mercurial and aggressive – and difficult to master. (This was in contrast to The Electrifying Mojo, whose hours-long, free-spirited shows on WGPR and, later, WJLB would let songs play out.) Other radio DJs – including Gary Chandler, who had a show after Mills on WJLB by the early '90s – followed The Wizard's example.
Ghettotech was a product of DJing. There are few genres in which that relationship is so inseparable.
Conversations around ghettotech usually circle around the anthems: "Ass N Titties," "Player Haters In Dis House," DJ Assault and Mr. De's "Sex on the Beach" and other tracks – from labels such as Electrofunk, Databass and Metroplex – that merged sped-up electro-funk beats with sing-song chants or rapping. These records were inspired by the way local radio and club DJs mixed, where 2 Live Crew and other rap records were tossed over accelerated techno and electro. Once DJ Assault and DJ Godfather realized these blends could work as standalone records, they made them.
Soon, it was everywhere. DJs played booty records on the radio, in warehouses, at cabaret parties, at family reunions, in strip clubs. Selectors were so hungry for fresh music that even tracks made for techno and house DJs were sped up – on Technics 1200 turntables modified to pitch records beyond the standard 8% limit. Underground Resistance's "Millennium to Millennium" and DJ Rolando's "Jaguar" became classics in Detroit at 45 RPM. Electro records from Aux 88, Mike Banks, Ectomorph and Drexciya added musical savvy and conceptual weight to these DJ sets.
As serious and sincere as DJs and producers were about their craft, ghettotech's immaturity caught the imagination. It's crass. It's offensive. It's hard to defend in polite company – especially if said company includes women. Why, then, is it party music that so many people love? In club spaces where morally dubious music meets an inebriated audience's desire for a good time, misgivings about sexist lyrics tend to give way.
Other explanations are simpler. Ghettotech spun the music of Detroit – shaped by years of adventurous radio and TV broadcasts – in a blender. Longstanding Detroit jams were reinvigorated by DJs playing the songs with speed and skill. Most dance music is made for DJs to play – ghettotech was, ultimately, a product of DJing. Even in dance music, there are few genres in which that relationship is so inseparable. The same could be said of ghettotech and Detroit. The scene thrived in the city – and later, internationally – as few others had. We asked the artists who were there, in their own words, to explain how.

Additional reporting by Ashley Zlatopolsky
ASS & TITTIES
DJ Assault
It was just some ill stuff to say in the club on the mic.
Mr. De'
When people try to talk about it, like, "What were you thinking when you made 'Ass N Titties?'" I don't know! It was just stupid shit we used to say in the club. It wasn't no deep thoughts. It was a record about ass and titties.
Rick Wade
That was universal; every city loved that track. Even if you weren't a ghettotech DJ, you needed to have that on hand, otherwise you'd get thrown off the decks. People wanted that track.
Gary Chandler
It was instant from the start. The record was so big in the city that Assault put a single CD out for it. It was probably the biggest Detroit record, as far as a Detroit artist to me, probably in the history of Detroit music.
DJ Assault
I put it up on YouTube two years ago. It's stupid. It does a million plays a year and it's speeding up. It's 2.2 million plays since November or December of 2014, and it's getting faster. I'm like, "What?" I don't know, man. I'm glad people like it, but... People were like, "Can you put the words in the description?" I had to write out the words for people in the description.
Waxtax-N-Dre
They still ask for it. They have a version for radio. It's called "Gel N Weave." If you're going to play ghettotech music you pretty much got to play either "Ass N Titties" or "Gel N Weave."
DJ Assault
Why do people like it? I don't know. The first version was really kind of messed up. It didn't come out well. People like the remix, the remix is what really caught on. It's a lot clearer. It's more straight to the point ... It start off with, "Ass, titties," you know, it starts off like that. The other one started off with the drum break. I changed the lyrics, too. I guess it's the lyrics. I changed them for the second time, the remix, to make them a bit crazier. That's the one my people know and remember, with all the "gel and weave" and "soap and water" and "ass and titties," it's kind of like multiple hooks. Because the parts are so ignorant, people remember them, because it's so crazy.
Keith Tucker
You know why the music is so popular and will always be popular? The women like it. Don't let them tell you otherwise. The women like to feel sexy and dance to that stuff. Whatever women do, men follow.
K-HAND
When I was playing the [Club Zippers] residency every week, it was majority women in the club, dancing. Women really enjoyed that [raunchy] style of music a lot. This was '92, '93.
DJ Godfather
People just looked at [ghettotech] as a certain thing, just a bunch of dirty records with swearing in it, when it's not about that. It never was. There are a lot of records that talk about that, but then there's a lot of records that talk about footworking and jitting and dancing. Doing different dance styles. And a lot of the records don't even have words in it.
DJ Assault
If it's offensive, you take life too serious.
Brendan Gillen
It's absolutely, positively designed to be offensive, and I think it's designed to be listened to while you're inebriated. What cuts through to your brain when you're inebriated and you're out in a social setting?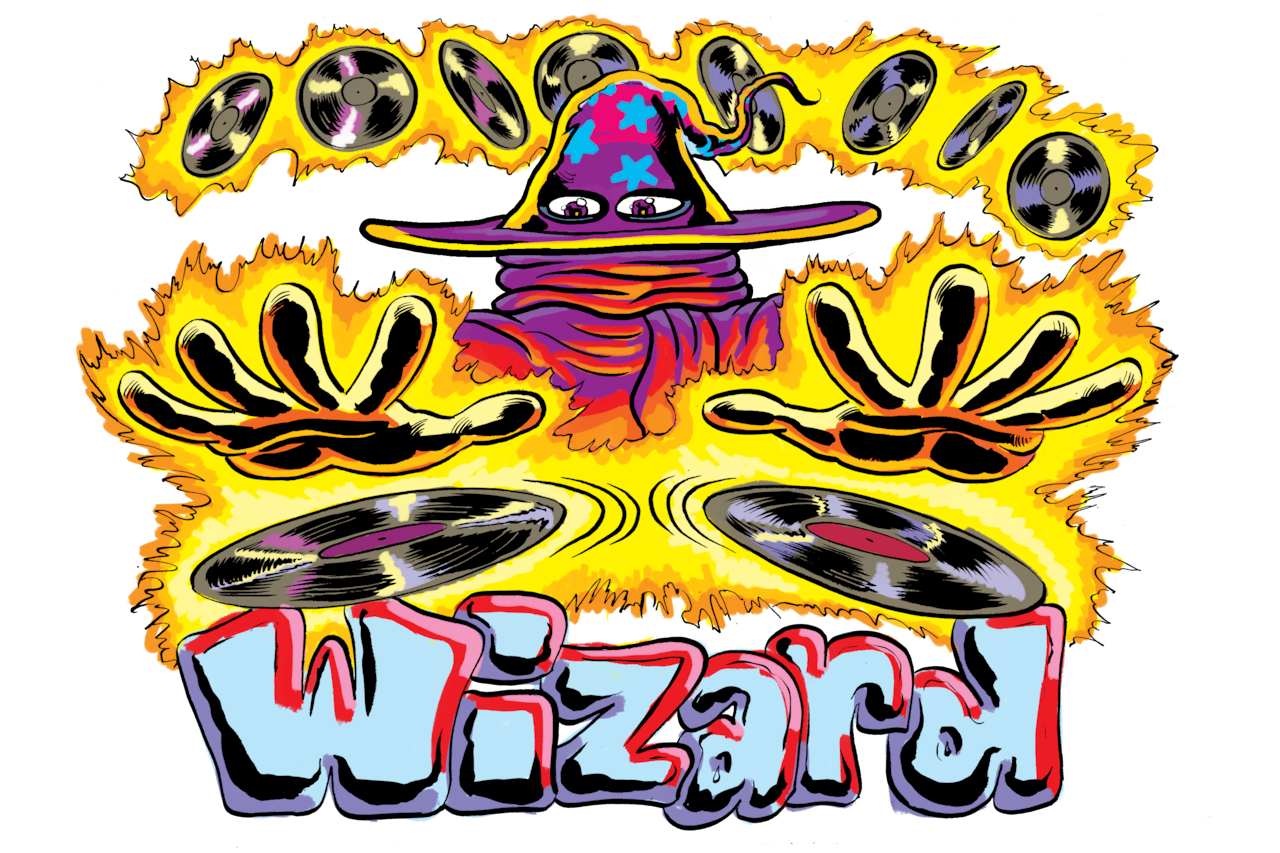 THE WIZARD
Waxtax-N-Dre
Jeff Mills, The Wizard. He started it all. He encouraged the whole of Detroit. I was listening to Jeff Mills since '83.
Gary Chandler
Jeff Mills was totally amazing. I used to go to the Nectarine Ballroom to check him out in Ann Arbor every Sunday.
Waxtax-N-Dre
I heard this guy on the radio and I'm like, "Man, it sounds like he has eight turntables or something!"
DJ Fingers
Every time we got a record from [local store] Buy-Rite, we'd take it home and it wasn't the same tempo as Jeff was doing. I said, "Jeff, what's going on?" He said, "Man, open up the Technics turntable. There's a blue button in there that says 'pitch,' there's a plus and a minus – go all the way to the plus."
DJ Dick
He was an absolute master at using tape machines and editing and splicing.
Mr. De'
Let's say the record naturally is 128 to 130 beats per minute. Detroit DJs will make it 150, 155. They would have to edit the turntable to get it to go that fast.
DJ Fingers
His radio show was only half an hour. So he had to play stuff a little bit fast, the stuff that he wanted to get through. But you've got to look at it this way: He wanted to be different than everybody else. Everybody had 1200s. Everybody had this stuff. It's the way you play it.
Gary Chandler
I came up listening to The Wizard and The Wizard would cut your ass into another room. Back in my day, if you wanted respect, you had to be just as good if not better than The Wizard for people to even respect you.
Waxtax-N-Dre
I remember seeing The Wizard play at a club, and somebody was running to the dancefloor to dance to the song, and by the time they got to the dancefloor he had changed the song.
Brendan Gillen
Nobody had ever witnessed that kind of energy. The way he was cutting up the records was like the atom being split or something. It caused problems all over. He had a residency in Ann Arbor, where I eventually went to school, and they had this racist law – because of how his nights had gone – that I called "The Wizard Law," where if there was X amount of black people together after 1 AM, they were going to be there and break it up.
Gary Chandler
The Wizard used to go to the record store. He didn't have to shop for records like us. Guess what Cliff [Thomas, Buy-Rite owner] had for him? A secret box. They give him secret boxes. He'd come in there, get the boxes and leave. He never had to stay in there. People didn't know what Jeff looked like, except the people that knew him. If I came in Buy-Rite, I'd speak to him, "What's up?" and keep it moving, because you don't want nobody to mess with him, talk him to death and all that. Nobody knew Jeff. Jeff, he got the secret boxes. It took a long time before we could get the secret boxes. Thanks, Cliff.
Keith Tucker
I didn't play a lot of Miami bass. I think those guys heard [Jeff Mills] playing it, and then all of a sudden, [Detroit DJs] started speeding everything up. Even DJ Stingray, I think he was one of the guys who, early on, was doing that before anybody else. He was playing the songs on 45 RPMs. I remember going to Buy-Rite and seeing them do that.
ORIGINS
Mr. De'
My grandmother taught piano for [the department of] Parks and Recreation here in Detroit. I trained classically until I was about 12. I could play most anything by that time. I would mime whatever I heard on the radio. Then I heard Kraftwerk and the disco, when disco started getting drum machines in it. I couldn't play that so much with the instruments that I had, so I asked my mother, "What made that sound?" She said, "A synthesizer." I said, "I need a synthesizer."
DJ Godfather
When I was 15, I had two really shitty belt-driven turntables. I had a bullshit Radio Shack mixer. I didn't know anything about DJing. When I met DJ Dick, he was an on-air mixer for 96.3 FM. He was playing Miami bass music on the weekends. He said, "No, you need to get Technic turntables."
DJ Dick
He bought a set of turntables from me that I had purchased from Jeff Mills.
DJ Assault
I was trying to do [the tricks] on the cheap turntables. The first guy I saw with [Technics] 1200s in Detroit was a guy named Leon Purse. He was a good friend of Jesse The Body, who did The Scene. Then it was renamed The New Dance Show.
Keith Tucker
The New Dance Show is an extension of Soul Train, but in a Detroit way. Anybody who's been to Detroit – even when you talk to people from another state who used to live in Detroit – you say techno or whatever, and they say, "I know what you talking about." The only thing that was played was the music that was playing here in Detroit, what people really danced to.
Mr. De'
You couldn't have DJ Assault if you didn't have The New Dance Show. You just couldn't. We wouldn't have existed. It cemented the sound to average, everyday people. Like this club thing, totally underground. If you didn't go out, if you didn't get high, you wouldn't have known about it. But The New Dance Show, little kids knew about it.
DJ Assault
I still remember [the intro]: "It's six o'clock and it's time to rock, we rock non-stop till seven o'clock. We don't stop, we won't stop."
Brendan Gillen
They showed [ads] on The Scene and The New Dance Show. Watts Club Mozambique. The highlight of watching the show was when these commercials would come on. Only in Detroit. It'd be guys in these crazy satin outfits, with [dance groups named] Black Cobra, Tokyo, Sexual Healing.
Mr. De'
Juan Atkins was a big influence for me personally, just his basslines and the way his mixes sound. I wanted my records to sound like Juan Atkins.
Anthony Shakir
Juan Atkins is the only guy who can stand on the street corner [in Detroit] and hear his music in somebody else's car. The rest of us can't do that.
Tommy Hamilton
Back when we were RX7, we started playing cover tunes. Back then we didn't have a sequencer. All we had was a drum machine and two keyboards. Basically I had to learn how to play [Model 500 and Cybotron] songs, basslines, and I played them live while we did the show. That's how I had to learn. We just so intrigued by the sounds and the basslines. I think that's what really I gravitated towards more was the bass sounds and the way the bass was being played, the funk behind it.
Rick Wade
A lot of people, including myself, would either sample or emulate a lot of Juan's old records. Like "Clear" or "Alleys Of Your Mind" or whatever. It was like that specific sound that he used in those, that was the sound everybody was looking for at that time.
Mr. De'
We listened to a lot [of techno], Derrick May, Mayday. Mayday for attitude, for intensity and attitude. Because when we made more techno foolish tracks, which ended up as our B-sides, it had to be dark! It had to sound like the end of the world. It can't be friendly. Because when things got friendly, it felt more European.
Brendan Gillen
Juan Atkins did a mix CD where he put "Sex on the Beach" on there. He does acknowledge this music form, because that music form acknowledges him.
DJ Godfather
I loved Cybotron. I was a big fan of "Technicolor," all that shit. I was a big fan of the records and music, but from one DJ to another, guys that I really liked [as DJs] were the guys that were doing what I was doing: Gary Chandler, DJ Fingers, DJ Zap, Waxtax-N-Dre, you know, guys like Leon Purse. These were all guys playing all that music doing what I was doing. I liked them because we were all close to the same skill level. We all had our things that we were better than each other at, you know? But these are the guys that kept me on my toes, that's what I cared about.
DJING
DJ Assault
I noticed DJs that were really good knew records really well. They knew the parts of the songs really well. They could be a lot more unique with how they mixed records because they knew all the parts of the records – all the breaks, where the break was, when the break comes.
DJ Godfather
When I first got my turntables, my Technics, all I did was practice. I was mixing with a bunch of guys. They were all just scratching and all of a sudden I got on. I was better than all of them at scratching because when you're 15, 16-years-old, you have nothing to do. I had eight hours a day to practice. That's all I did was put on a beat and scratch for months straight.
Keith Tucker
A lot of guys that people have never heard of – DJ Chainsaw, some of these guys – are in the bowels of Detroit, in the basements, bad as hell.
DJ Assault
A lot of DJs that really made this stuff popular don't even make records.
Keith Tucker
When I met Gary Chandler years ago, he used to get on my nerves. We'd go over to his house – that's all he did, [DJ], all damn day. I'd just be like, "Damn, you practice all day!? This is what you do all day?" That's what he was doing all day, and it paid off.
Gary Chandler
If you're a wack ass DJ, other DJs are going to go into your party and jump on your set and fuck you up. You got to have your shit together on the ones and twos. If your cuts ain't shit, you can get the fuck out the way.
DJ Godfather
I just learned scratches from listening to other hip-hop records. I'm like, "How's he doing that?" I would try to emulate it. I kind of taught myself. These guys are like, "Show us how you do that scratch. Come on. Show us how you do this. Show us how you do that." And they're like, "Come on, man. We know how to repay a favor. We'll owe you one." I'm like, "What am I? The Godfather?" I was like, "Yeah. Kiss the pinky ring, bitch." I was being a little cocky kid. And they're like, "All right, DJ Godfather."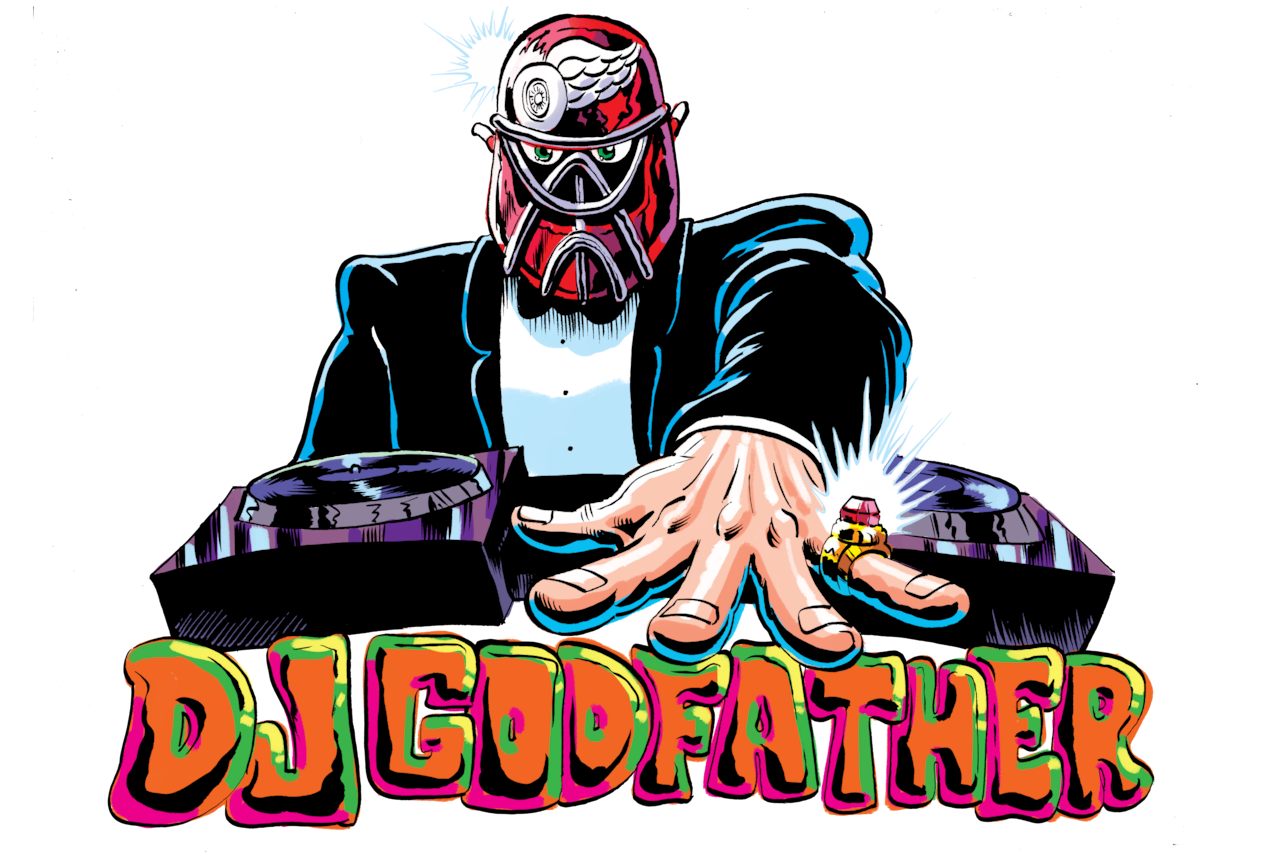 Rick Wade
Ghettotech DJs are all incredible DJs. Even if they've never played outside of Detroit, or even if they've never even played in a club, just in their bedroom, these cats can DJ. In the old days [as Big Daddy Rick], I could do all that stuff, because that's what you had to do. But nowadays, I'd look like some kind of clown next to these cats. Next to Gary Chandler, or Godfather, or somebody – no. I'll stick with my house and my disco.
Brendan Gillen
Godfather's such an amazing DJ that anybody who ever had him somewhere wants to have him back, because his skills on the decks were ludicrous.
DJ Assault
Honestly, I try to embarrass people when I play. I try to tear the club down every time.
Brendan Gillen
Assault was good as well, but he was a different thing. It's like, give Assault a mic because he's going to come up with some rhyme on the spot. He's another experience. It's closer to pure comedy because of his insane delivery, his sense of humor.
Keith Tucker
It's just reckless. Catching the beat, catching the rhythm. It's just reckless. That's why Mike Banks likes to see DJ Godfather and DJ Funk DJ, because when they play it's reckless. It's like, yeah, you going to hear a couple mistakes, but they throwin' down, because it's not planned. It's like, "Let me see, that mix with that. Let me go ahead and grab this. Let me go ahead and grab this." You'll never do the same thing twice.
DJ Godfather
To properly create that [ghettotech] sound, there's a lot of fast mixing and a lot of scratching and tricks and beat juggles and stuff like that.
DJ Assault
I'm saying this absolutely with no ego or nothing. The bigger booking agencies, when they put you in the lineup with some of their crème de la crème, top notch, super-duper headliners, I'll do them. It's several people I know that don't want to play a show with me. I do it for real. You're going to have a hard time outperforming me.
Keith Tucker
Most DJs out of Detroit, they play everything. A lot of guys don't do that anymore. "I'm a minimal DJ, I only play minimal."; "I'm a jungle DJ" – when jungle was hot – "I only played jungle." The true DJs in Detroit play a little bit of everything. That shit sounds so good. If you're playing a 4/4 beat, and then you throw in electro, then you go from electro to a 4/4 beat, it changes up the whole mood.
DJ Godfather
When I met DJ Dick, I was always into Miami bass, too. I just didn't think of it from a DJ aspect because at that time 2 Live Crew came out and it was, like, the first ever songs with cussing. Of course, as a young kid I loved it. He was playing a lot of Miami bass on the radio. I was hanging out in teen clubs, then I started playing at them. I knew I had to play more different kind of stuff, more of the party stuff. I couldn't just scratch the whole time.
Brendan Gillen
I first heard 2 Live Crew on The Scene. "Throw The D" – I had never heard an 808 with such decay on it. Then the hilarious lyrics and stuff – they were perfect. To me, that was revolutionary.
DJ Assault
A lot of people wouldn't remember 2 Live Crew's "Throw The D." It came to Detroit, and there was a girl group [Anquette] that did the answer to it ["Throw The P"]. Those two records were the first Miami records in Detroit. Period.
Brendan Gillen
2 Live Crew was such an influence for me. I got that tape when I was in high school. People from miles away would come to hear it, because their parents wouldn't let them buy it and they wanted to hear "We Want Some Pussy." This is before the internet, you know? People go nuts about it and I'm like, "No man, 'Get It Girl' and 'Throw the D' are the good ones." I'll still play those songs sometimes – in the right context it actually does blow people's minds. They are incredible. It's tribal, it's futuristic, it's funny.
Keith Tucker
I was playing all the electro stuff before we even called it electro. It was just fast dance music. That's what we called it. I was DJing when I was in high school, so '82, '83, '84, DJing and doing proms, dances, street parties. Tom [Hamilton, my partner in Aux 88] was in a group called the Devo Dancers, doing Detroit jit and pop-locking. When we're from, on the east side of Detroit, that's all they play. That's all they played at the parties.
Tom Hamilton
It's the highlight of the party when you're going to the fast mix.
Keith Tucker
Egyptian Lover. Freestyle. Cybotron. X-Men.
DJ Godfather
I started playing a lot of Miami bass, but then going to record shops, I was getting turned onto techno music and early electro. At first, when I would try to play a set of it at a teen club, they didn't get it. They like what's on the radio and that's it. I learned to sandwich a Miami bass record and a techno record, then a Miami bass record. I would layer them, so then they liked it that way. I was still 15 at the time when I was doing that [in 1991].
Keith Tucker
When you've got DJ Assault up there spinning, and you've got DJ Godfather, everybody tried to clone them. That was how the music got so popular. Every DJ that was playing, any little street parties, whatever, they went out and tried to imitate them, so they played everything they played.
RADIO
Hobey Echlin
In the '90s, you could drive around on a Friday or Saturday night and on any radio station, you could hear Godfather or Gary Chandler live from a warehouse or Legends [nightclub] playing just hour after hour of straight ghettotech mixing. It was beautiful because they would throw in electro, they would throw in Cybotron, they would even throw in jungle. The fact that you were hearing jungle from people like Aphrodite on urban contemporary radio, let alone in Detroit… it was unheard of.
Keith Tucker
You have to be from Detroit to know this. When I used to club back in the day – I don't do it anymore – what was cool about radio was when you were getting ready to go to the club you could get yourself hype if you turned the radio on. They started playing the music [from the club] before you get to the party so you're already like, "Oh, we're on our way to the club!"
Brendan Gillen
I used to listen to these live broadcasts on WGPR of [Gary Chandler and DJ Fingers] playing at the Dancery, in '93 while cruising down Jefferson and Belle Isle with DBX, absolutely insane. Reinforced picture discs and Metalheadz with Carl Craig's "From Beyond" into current Miami bass or a pitched up "No Way Back." The genre on record never matched those moments.
Brian Gillespie
Gary Chandler dominated airwaves – he was a god. He was the Jeff Mills of the '90s when Jeff got off of the airwaves.
Gary Chandler
After The Wizard [on WJLB] I was playing a lot of rap music, but I wanted to play all the Miami music that was out at that time. That's when you had the Splack Pack, you had Gigolo Tony, and Sir Mix-A-Lot was putting them on the glass, you know what I'm saying, so you had a lot of Miami. Of course Luke [Skyywalker] was like so, so big. He was taking his thing on the road, with the bus tours, and the girls and the chicks. But I wanted to do something a little bit different.
Hobey Echlin
Gary Chandler was like a rap king, he was a local hero.
Anthony Shakir
Gary Chandler was always a great DJ – he was a very tight, very neat, very skilled DJ.
DJ Godfather
Our whole thing was, get the white labels, get it to Gary, get it to Fingers, get it to Zap. When these guys would play it all over the mix shows, everyone wanted it.
Gary Chandler
Back then, the radio programmers trusted their DJs. The DJs that you brought from the streets, when you brought them to the radio, that made your ratings better. You got the hottest of the hot street dudes on your radio station; you got to trust them. Why the fuck did you bring them on the radio if you're not going to trust their judgment? I had the freedom to do me, so I made a choice: I'm going to do my city. I got to rep my city. "I'm not going to keep playing all these records from Miami when Miami got 30 artists. I got 22 here. Why not play all Detroit music and make it about my city, make my show about my city?"
DJ Godfather
You almost had to play them off each other. If I gave Gary a record and Fingers didn't have it, Fingers needed it. If I gave Fingers a record and he was playing on the radio, Gary would be like, "I can't believe you gave Chris that record, how come I didn't get it? What the fuck!?" I would almost – in a nice way! – do it on purpose.
Rick Wade
Those guys would be ripping it up every weekend, and back then, ghettotech ruled the airwaves.
Keith Tucker
Gary Chandler. Waxtax-N-Dre. DJ Fingers. Those guys, they made it instrumental.
Waxtax-N-Dre
105.9 WCHB was a new radio station that just came about [in 1996]. He's like, "I'm going to ask the guy to get you on." The owner of the club told me to come down and play some records at a party. The club was live on the radio. I didn't hear from him for a few days. I called my buddy to say, "Hey, you know, what did the guy think?" He called him on the three-way and said, "Hey, what do you think about the DJ Wax when he played?" And the owner was like, "You don't listen to our radio station? Turn the radio station on right now." So we turned the radio station on and it hit a commercial and it said, "Our newest DJ Waxtax-N-Dre is going to be at the skating party on such and such." I was like, "Wow. I got hired and I didn't even know!"
DJ Fingers
The Four Horsemen were me, DJ Zap, DJ Niko [Marks] and Rick Hines. We had a club called The Dancery. It opened every Saturday from 10 PM to 4 AM.
Waxtax-N-Dre
I looked up to DJ Zap. Then me and DJ Fingers got to be really good friends. Niko and Rick Hines were the other DJs [in the Four Horsemen]. They were instrumental in the booty music game.
DJ Assault
I would listen to DJ Fingers and DJ Zap and all of that on the live broadcast from the clubs and hear different rap stuff that they would put on 45 and I was like "Huh, I'm gonna flip that to a dance record."
Waxtax-N-Dre
Me, Gary [Chandler], Fingers – and I say our three names because we've been friends as well. We've been on the radio for years and we've never played any festivals. I think we've definitely been overlooked and we play just as good as Godfather and Assault do.
DJ Fingers
A lot of the ghetto stuff that Godfather really got from us was from parties that we DJed. We just be playing instrumental, we just be talking on the mic, and then he'd just come up with stupid stuff. Next thing you know, two weeks later he's coming out with it.
DJ Assault
The people that was in the streets, they were mad at me. But I'm an entrepreneur man, you should have pressed the record. That was my game plan. "How can I be as big as the DJs in Detroit on the radio?"
DJ GODFATHER, PT. 1
DJ Godfather
I started producing when I was 17. My senior year of high school, DJ Dick is like, "Hey, I want to start doing this. I got this track. I need to find some rappers. Can you help me out?" I actually knew some pretty decent rappers at the time. I was like, "Hey, it's DJ Dick from the radio." They're like, "Oh, yeah." So, of course they wanted to get involved. I got a little crew together and we started this group called The Bass Association. It was like a straight Miami bass kind of group.
DJ Dick
"Drive That Thing" was an uptempo bass song like Quad City DJs, very much in that vein. It had an Earth, Wind & Fire sample in it – "Let's Groove" – and we literally designed the song from the ground-up to be a radio hit.
DJ Godfather
While doing this record ["Drive That Thing"], I started learning. I was picking up things in the studio. I was also asking him to show me. I was like, "Hey, how do you use this sampler? And how do you take this sample and put it on this drum pad?" I was asking all the right questions. When he told me, "Here, you got to do this, this and this." I wrote it step-by-step in a notepad so I'd never have to ask him again.
DJ Dick
It seemed like everyone around us started as a rapper. I was in a little rap group and we were working on uptempo hip-hop tracks, but they didn't sound like any hip-hop tracks that were out [at the time]. We really didn't know at the age of 16, 17 years old if anybody was going to accept us. We'd go over to Jeff Mills's and he'd encourage us to rap over our records, but he was also introducing us to the whole techno scene.
Gary Chandler
Godfather was trying to get all the guys together, and he had it in his mind, "I'm going to make my label, and have artists, just like the Chicago guys do." He could have made records just for himself, but to have a label, that means you need labelmates, and you want to put guys down, and you want to expand the music and expand the brand. He was young and saw that.
DJ Godfather
The first [Bass Association] single actually made it to radio rotation on three different stations here. Now, I'm a month out of high school. I have a song on the radio, so I'm, like, the shit. I'm not even 18 yet. It got so much recognition in the city that Bellmark Records – the label that put out Tag Team, "Whoomp! (There It Is)" – wanted to sign it.
Brendan Gillen
[Godfather's] drums are some of the most imitated drums in this whole thing. He changed the rhythm. I don't think he gets credit for that. Usually, when you see him, he's such a flashy DJ – you're just going to talk about his DJing.
DJ Dick
He started taking drum sounds from just about everywhere, but the thing that he really, really loved to do – after he eventually got an MPC3000 – was he started to layer his drum sounds and create his own drum sound. He would layer two, three snares together and make his own snare out of it. Some of them were samples, some of them were 808, 909 samples, some of them were samples from other records. That's how he got his unique drum sound. He started making his own drum kits after that.
DJ Godfather
After we did the Bass Association album, I was playing a lot more techno and early ghetto and Miami bass shit. We were mixing it all together. A lot of DJs in Detroit were doing that. When I was producing records, I'm like, "I want to take this little Miami bass vocal and loop it and put a beat behind it." There's old stuff like Frank Ski, "There's some whores in this house," remember that? That old record. It was literally a vocal hook that was looping to more of a house beat. I started playing some of these records and I want to do this more but in a Detroit style – Kraftwerk, all of the old Cybotron stuff. All the old Splack Pack, which is more a Miami bass record. The early 2 Live Crew stuff. The early DJ Uncle Al stuff. That's how I started producing the records. Instead of making a record and structuring it so there's raps and choruses, I made it more of a DJ tool. That evolved into ghettotech.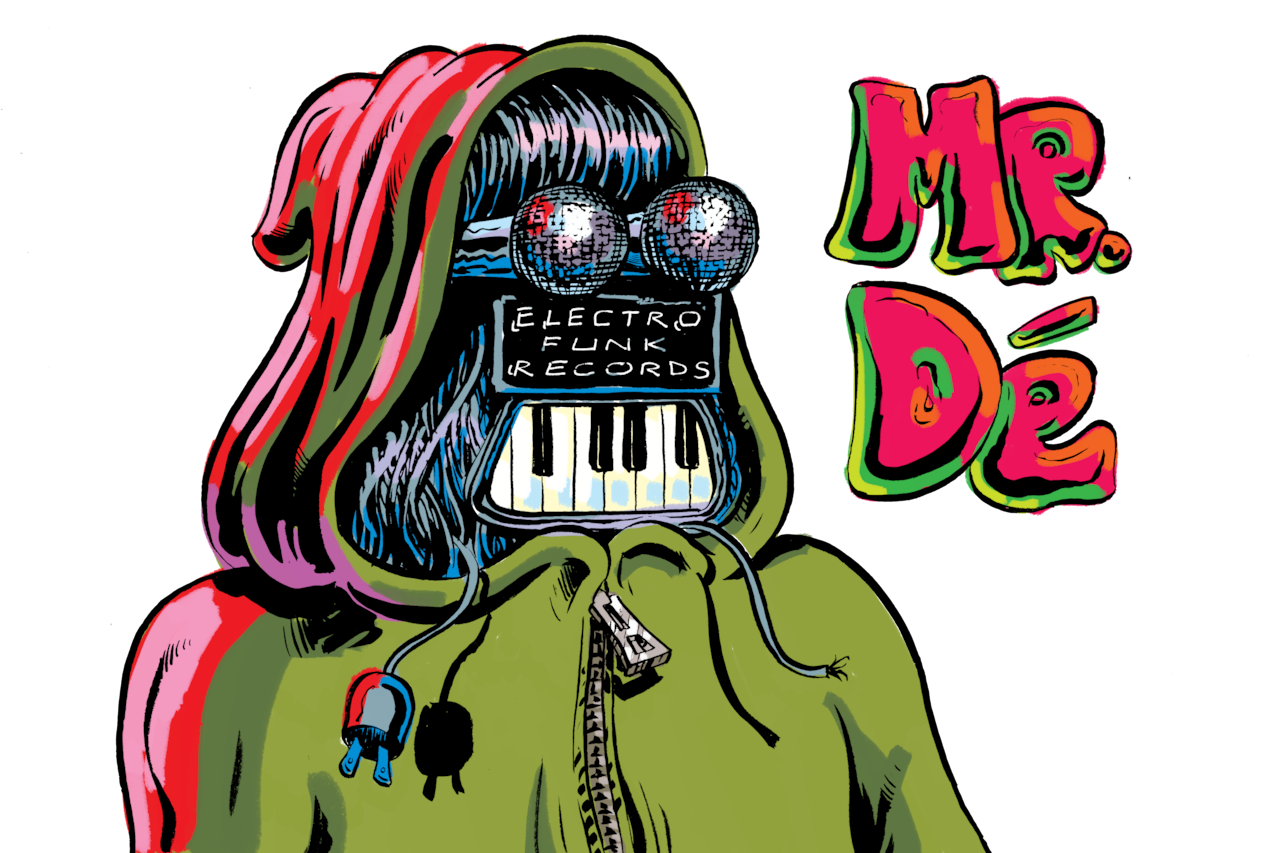 MR. DE' AND DJ ASSAULT
Mr. De'
So I was working for this producer RJ Rice, primarily producing whatever he told me to do. He made "Shackles." This is from 1991 to '93 or '94. We were producing – all kinds of major stuff – but the money wasn't coming in right. I made that clear. Cliff [Thomas from Buy-Rite] was making thousands of dollars a day. He had the most money on him at all times, than any other person I've ever met before. He would reach in his pocket and be like $17,000. So I'm like, I need to follow you! So I'm working for him and I'm learning the ropes. It was like a music school. I learned how to sell records there. Wholesale, retail, you name it. I met all the DJs there. And DJ Assault was a part of a group called Assault N Battery. They were a rap group and I couldn't stand them.
DJ Assault
I quit my other job at the end of '94 to work for Cliff in '95. The Assault N Battery stuff, it never came out, but in the process, we had dance records that did come out. 12" dance records, and it was basically me producing them, and that's when Mr. De' came into the scene, from some of the technical aspects of the music he was helping with, because he worked at Buy-Rite already.
Mr. De'
[Cliff] called me and said, "Well, Ade, what you think?" I said, "They suck." I said, "Do not sign them." Of course, he signed it, and of course I get stuck in the basement with Assault N Battery.
DJ Assault
He helped me a lot with playing notes, chords, for the most part, to some degree. He helped a lot with that. He redid all of my rap records. The ideas we had for Assault N Battery, he made the ideas better because he was like a real musician.
Mr. De'
He had an idea, I would technically do it. I would help him learn how to technically do it until he could technically do it.
Keith Tucker
Ade's name gets lost a lot in this. Ade is a musician. When [DJ Assault and Mr. De'] were together, I thought that was a very cool combination.
DJ Assault
When the rap stuff didn't work out, I was seeing how it was four 12" records [on Supply & Demand and D-Bass] that we had put out just in the store, and I saw each one of them sell like over 400 copies, and I was like, "Wow. OK, so I see this sells. This is just one store."
Mr. De'
We got in a shipment of Dance Mania records one day. Craig [Adams, AKA DJ Assault] said, "I have that record." I said, "What do you mean you have that record? You're a rapper. What do you have this record for?" He said, "I DJ." I said, "What do you mean you DJ?" He said, like "Yeah, I'm DJ Assault." He was DJ Assassinator. Assault was when he rapped. Assassinator was when he DJed.
DJ Assault
From those four 12" records, I was DJing the biggest high school party in the city, on Friday night, like at Grand Quarter. On a bad night, it was like 700 people.
DJ Fingers
What made DJ Assault famous, he was making mixtapes of his own music and selling them for $3. He did that to promote himself to make it where he is now.
DJ Assault
People laughed at me for those mixtapes, to be honest. I got teased by Detroit DJs. What they don't understand, it wasn't really for the street. It was for the clientele that I was playing in front of at the time, which was the high school party. When it was capacity, it was 1,200 people. I'm like, "They're at high school." It would be silly to try to sell something for $10. I was like, "If I sell the tape for less and still make money, it would sell more." The tape only cost $1 and my time, an hour. I was like, "I'll do a new mix every week." It will be different, so I could get people buying every week. I'm still making 200% profit at only $3 a tape, but they clowned it. "You can't sell your tapes that cheap." What they didn't realize was that in a year I was selling 10,000 tapes at $3. It got to the point where the promoter didn't really want to pay me so much. He was saying, "You're making all that money selling tapes." Detroit is a trip, man. I'm telling you. I'm like, "What does that have to do with DJing?"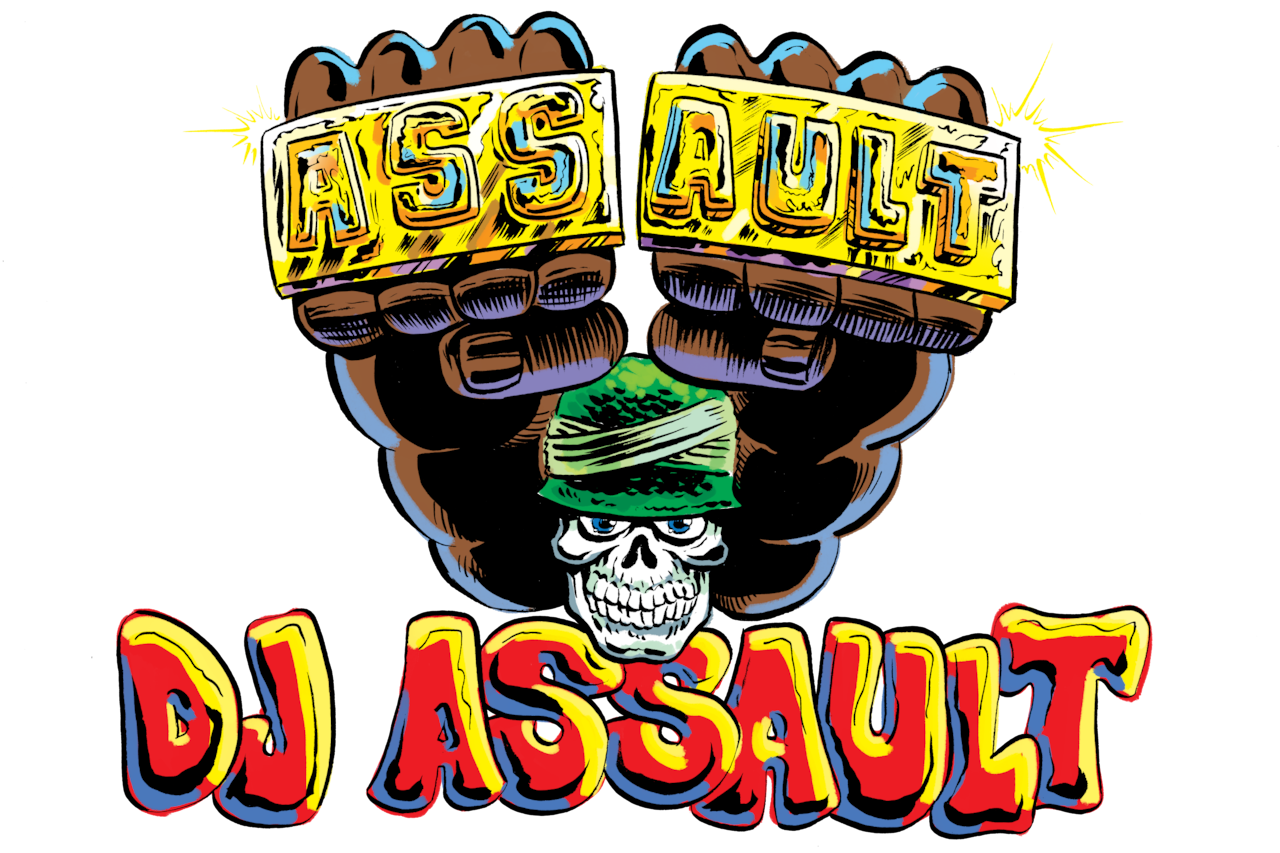 Mr. De'
So [Assault] gave me a tape. I hated dance music, except for to make money with it. I thought it was a lower life form, but listening to the way [Assault] played it, I'm like, "Man, you're great at it." He'd introduce me to it and it was him who taught me about all this Mayday stuff and all that. It was an exchange between us. I taught him how to work the equipment and he taught me, "Oh, this is what we do with the equipment." That's how we got really tight there.
DJ Assault
[Cliff Thomas] tried to pretty much just play everybody against each other. He liked a bunch of confusion and a bunch of drama between employees. Ade was [at Buy-Rite] long before me. I was from a different background. That's why it didn't work on me. I was raised in the suburbs. My family had a certain amount of money. I was used to stuff. I can't take somebody's crumbs.
Brendan Gillen
Cliff Thomas has a weird reputation within the Detroit techno industry. All those Express and Incognito [records] – maybe they blew up and people didn't get what they expected out of it.
Mr. De'
I just don't like change. It's just something in my nature. I believed in Cliff. I believed everything he said. He was another father to me. It was an emotional thing. I think from Craig's point of view, it was just simple business. From a simple business perspective, it was the thing to do.
DJ Assault
So, I was going to quit [Buy-Rite] and just do that because we weren't getting paid off the records. But when I quit, I had to drag Mr. De' with me. It took forever to convince him to quit. I had to pull him, like I was a dentist or orthodontist pulling teeth. It was so hard, man, to get him to quit. He didn't have an income the way I did from DJing and making mixtapes, so to get him to quit, I was splitting all of my money with him just to quit and do records. I was like, "Hey man, come with me," out of the kindness of my heart, 'cause I felt sorry. He was being used. I wasn't about to be used by Cliff for five dollars an hour.
Mr. De'
Tupac was about to release this album, All Eyez On Me. Cliff had a contact at Death Row Records. He was getting Death Row records early. I asked Cliff, "Can I get this at cost, I want to make some money off this." He said, "No problem De', whatever you want. You want cassette or CD?" I said, "Give me a box of each, whatever I don't sell I'll bring back." I could've took ten boxes of each because I sold out in two minutes at the [party venue] Light Guard Armory. Three months later, I don't get a paycheck. Cliff takes all of my money for All Eyez On Me that he didn't tell me what he was going to charge me for and gave me a pay stub. I ended up paying retail, not cost. That pissed me off. That's when I left Buy-Rite. That's the story.
DJ Assault
Every day, we worked. That's hard to find. That's why things got accomplished.
Mr. De'
We split everything like a married couple. If I made a stack for a dope dealer, I gave Craig half of it. If he DJed for a bar mitzvah, he gave me half of it.
Gary Chandler
Him and Assault made one of the best tag teams next to Michael Jordan and Scottie Pippen.
DJ Assault
I think it's them words. Once you got the hook, almost anybody can jump on the record with some verses. That's the important thing. It's hard for people to come by that hook. That's really the thing that I'm particularly good at. They like those records because the words stay so... It's like weaving a basket. The words and the music have to weave together to make it melodic. That's how people remember it or wonder why they can't get it out of their head.
Gary Chandler
They had records like, "Everywhere I go / I see the same hoe." Then he had another one that was, "Every night / I like to let them hoes fight / At the club / Saying now, what's up, what's up / I'm a mack / I like to hit it from the back / Everywhere I go / I see the same hoe, shaking that thing" and that was called "Asses Wiggling and Titties Jiggling."
Mr. De'
We had this club night we did every Friday called At the Grand Quarter, big club, mostly high school kids. One day, we would be playing this stuff and at the end of the night we would play a slow song and say, over the song, "Come back to the Grand Quarter next week, and we're going to have more ass and more titties. You're going to see more ass and more titties."
DJ Assault
It was a thing before it was a thing.
Mr. De'
Assault didn't do the lyric at first. The Ass and Titty Man did the song. That was his name. I think he was the picture man or something else. He took the photos, and we said, "Alright, Picture Man, come over here. Ass and Titty Man to the DJ booth, we're going to do the song." Every week we would perform this song, and the kids would go crazy, and after a while I looked to my partner and I said, "We need to make that record." And he said, "We're going to make the record." I said, "You got the Ass and Titty Man's number?" He said, "Fuck the Ass and Titty Man. I'm going to do this lyric!"
DJ Assault
I remember him. It was something that he was doing with me, he was singing the little chorus part with me. I think he tried to take more credit for it later on, way after the fact.
Mr. De'
That was high drama. For a while he would come to the club stalking us and shit, looking for his money, and it became a national record too, so he was pissed off. You know, fuck it.
DJ GODFATHER, PT. 2
DJ Fingers
The main ones that were really killing the market were Godfather, Assault and Ade. DJ Omega teamed up with Godfather, so of course Godfather was going to put his stuff out first, then DJ Omega. You get what I'm saying? All of them, they really teamed up with everybody. I did a couple of tracks with Godfather. But Godfather had the money to do that. Other DJs didn't.
Brendan Gillen
He had to make a choice in his life. He was going to be a professional athlete. He was on the minor league version of the Detroit Red Wings. He was a [hockey] goalie. I remember when I went over to his house and saw a photo of him dressed as a goalie in front of the goal in a Red Wings outfit and I'm like, "What are you doing in that?" He explained his whole history. He basically had to make a choice between being a DJ – because he's putting all his time into it – or doing hockey. It's obvious what the choice was, but that athletic aspect of it, that competitiveness...
Gary Chandler
Brian [Jeffries, AKA DJ Godfather] said, "I want you to come over and check out some of my music." I go over to his house – he was staying with his parents back then – and I met his mom, met his dad. Godfather's the coolest Italian dude you'd meet. Meet his parents, his parents are like, "You ready to eat?" He said, "Come on, Gary. Let's eat." The first time I'm over this guy's house, we're eating. I'm like, "Yeah, this guy is all right." His people are real nice, so sweet, such nice people. We go downstairs and we go down the stairs, make a left, make another left. Dude, it is equipment lined up from wall to the wall to the wall. I see seven or eight keyboards, three or four drum machines, compressors, limiters, amps, speakers. He say, "I want you to listen to some of the stuff that I'm working on." Now, I'm going in this basement and, no exaggeration, this 18-year-old kid had about $60,000's worth of equipment in his basement. He got the studio seats in there, too. The swivel boys where you sit down and do a spin and you just keep spinning.
DJ Dick
I was a mix show DJ on 96.3 FM somewhere around '90, '91. I was DJing at a teen club, and this kid came up to me. I was selling mixtapes back then. He said, "If you give me 20 mixtapes, I'll sell them all and I'll give you all the money next week." I'm like, "Really?" So, I gave him ten or 20 tapes, and sure enough, he came back the next week, and he paid me for them. I gave him a couple of bucks per tape. And then, he did it again and again and I realized, man, this kid's awesome!
DJ Godfather
I used to help [DJ Dick] sell his mixtapes to my high school friends. I think that's how me and him got tight because I was the guy bringing him $200 every week, selling $5, $10 tapes. I had the mixtape hustle on lock by the time I was 17. I used to sell tapes I made at different independent record shops and tanning salons. I was literally making $500 to $1,000 a week at 17 years old.
Gary Chandler
He pumped out a couple records. I'm like the music is loud, loud as hell. I'm like, "Man, you should turn that down, your parents ain't going to trip?" He's like, "Man, my parents are cool with this." The music is on club level, with 350 watt amps running through these speakers and it's about six or seven speakers in the basement, plus monitors. Crystal clear, banging. I'm like, this boy's sweet. He played some stuff that he was working on and some of the stuff that you guys eventually heard I heard for the first time. He played about ten tracks and all of them, I was like, "Wow. This kid is talented." You could tell he'd been putting the work in, and with that much equipment, you could tell that his parents were behind him.
DJ Godfather
A lot of the DJs were buying two copies for the beat juggling. That helped, but there were that many DJs and that many record stores here. I mean, we're selling out of ten, 12 record shops. We were literally making records for Detroit. Let's make another one, next month we'll have another one. My mentality was, OK, if I could sell a thousand records a month, that'd be great. It wasn't until the third and fourth record coming out, we started realizing other distributors from around the world were ordering our stuff through the distribution at Record Time. Record Time was the biggest record store in Detroit for years, and they had a distribution. They were exporting to overseas, so when we found that out, we started reaching out to distributors and we were giving them our first few releases because they [had never] heard them before and it was only a Detroit thing. We were treating them like they were brand new records.
Gary Chandler
You know what people may not know about Godfather? He's one of the smartest businessmen, too. DJ Godfather has the rights to all the Chicago music that was coming out back then. He bought everything so he can rerelease, redo those tracks.
DJ Godfather
A lot of people don't even know this story and how the whole juke scene that blew up. That came from us. Ray Barney [of Dance Mania] stopped releasing records. There were so many good records coming out of Chicago, and none of these guys knew how to release them anymore, because the only ghetto label, really, was Dance Mania.
Brendan Gillen
Godfather, fucking brilliant, buying up the catalogs of the Dance Mania artists after they left Dance Mania. He owns more Chicago anthems than you'd believe.
DJ Godfather
I've always wanted to release more artists, and I was looking for more artists outside of Detroit. A lot of people got left behind because they were only DJs in local clubs and radio stations, and, to me, I saw this music being a lot bigger than that.
DJ Fingers
To be real with you, Godfather's a good friend of mine, but they didn't really like [him] because of his color. How in the hell you coming up with all this ghettotech? He's not our color. So it's a race issue, but we accepted him because he was a cool guy.
Brendan Gillen
When people found out Godfather was white, that was... a big deal.
DJ Fingers
Other people that made records or whatever, they probably didn't like him. They were probably like, "How in the hell he coming up with all this?" Had to be somebody helping him – which there was – but Godfather had a business mind. He was smart about it. He'd pay you to get on his label. He putting out all the stuff on his label. "DJ Godfather presents DJ Omega," You get what I'm saying?
DJ Godfather
There's a lot of haters. Back then, I was probably considered the Eminem of DJing. I was the white guy that had to prove himself, you know? Back then I was dealing with a lot of that kind of shit. "Well, who the fuck is this white guy and blah, blah, blah," you know? Then I would have vocalists doing little four- to eight-bar raps and they would use the n-word and they're like, "Oh, why does this white guy have the n-word on it?" You know, and like, no it wasn't me, so I had to deal with all that shit.
Keith Tucker
I know DJ Godfather the best. Because he always supported us. He's always been the same. I will say that about him. He never changed at all. No matter how popular he got, he was always the same cat.
DJ Godfather
Assault and Ade, before they split up, only wanted to release their own music, which is fine – there's nothing wrong with that. They had a vision and they were just worried about themselves. I had a vision where if you have more artists doing this music, the genre's going to get bigger. I had people submitting demos from France, Belgium, Australia. I wanted to get other artists excited to do this music because then they would create a scene in their city.
Brendan Gillen
Godfather had a lot of other ideas, business ventures. Eventually, he's like, "You know about this footwork shit?" I'm like, "Nope, don't know nothing about it." He's like, "Check this out. Here's a bunch of guys playing acid at 150 beats per minute. If you slow it down, you can play it in one of your sets." He's like, "I know what you like, here it is!" He was really cutting edge on all the Chicago stuff.
DJ Slugo
Godfather is definitely the person [that] brought a lot of the newer Chicago producers and DJs to Detroit.
DJ Godfather
I started reaching out to the artists [in Chicago] and saying, "Look, I'll take over and I'll release your records." I started doing that with Deeon and Waxmaster and – god, there were tons of guys, DJ Clent. Clent is how I met [DJ] Rashad and [DJ] Spinn. They were the younger guys coming up. Clent used to drive to Detroit. He's like, "Hey, I've got some guys, can they come over with me?" I'm like, "Yeah, come on, let's go." Next thing you know, the second and third time they come out, they had CDs of tracks. I started releasing some of it, but there was so much music that we started [the label] Juke Trax. This is before anyone knew what juke music was. They just called it the new version of ghetto house. Next thing you know, you have all these other labels from England wanting to put out Rashad and Spinn. I guarantee they probably would have never even heard of that music if it wasn't for Databass and Juke Trax.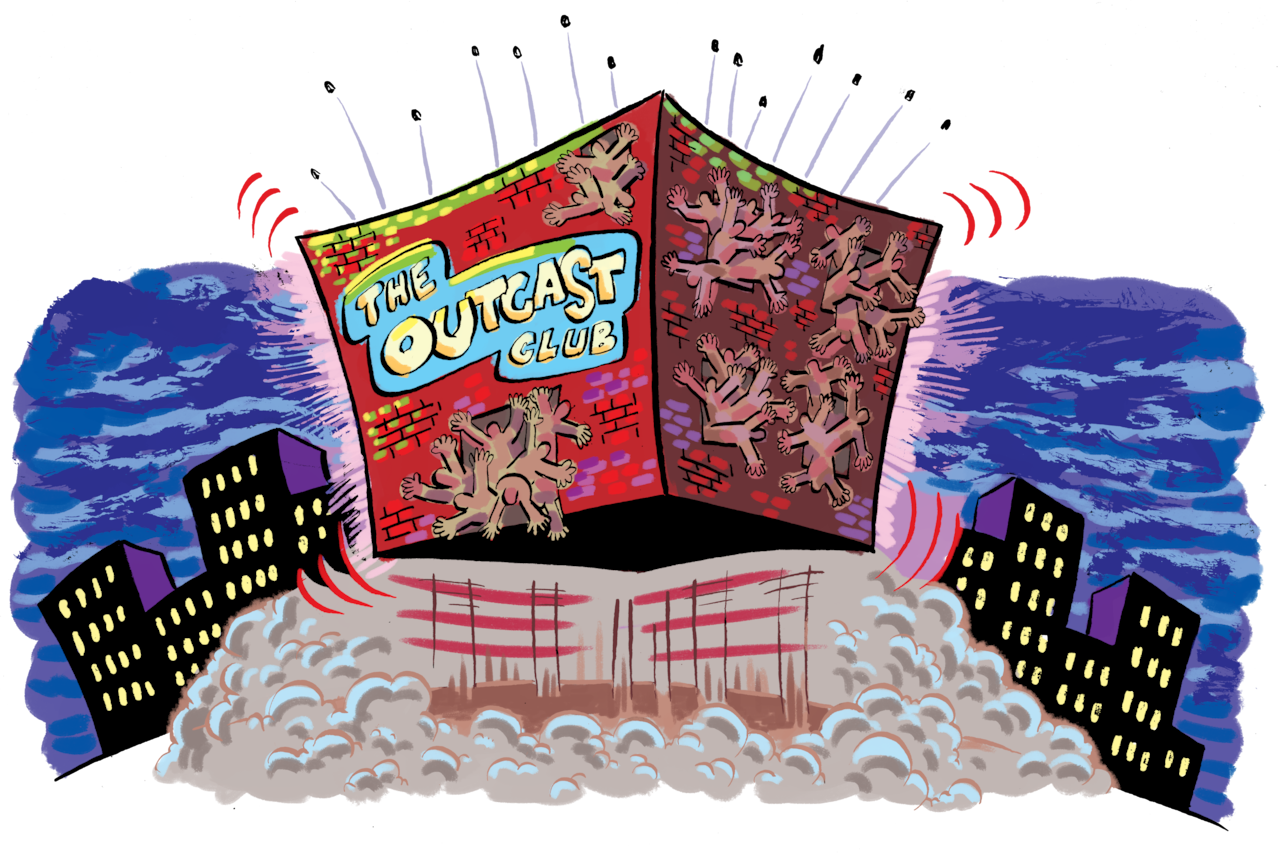 VENUES
Keith Tucker
Oh yeah, [ghettotech's] an east side thing. But Godfather took it and broadened it. Godfather was from the suburbs. He used to sell tapes around the schools. That's how it started spreading around in the suburbs, but it was more or less an east side, west side, grimy club [scene]. Any kind of grimy club or what we call after-hour joints and cabarets.
Tom Hamilton
Cabarets are just people throwing parties. They'll rent a hall and they'll throw a party from like nine to two. You sell tickets for this cabaret. That's where this music was really popular. The cabarets.
Keith Tucker
There might be some teenagers there. There might be some 20-year-olds. There might even be some 40-year-olds in there. A cabaret is derived from the old Cotton Club days in New York. They used to have cabarets. It's the same thing because they would tell you to bring BYOB, bring your own alcohol. People would come in there with bags, they dressed to the nines, set their stuff up on the table and the DJ [would be] reckless.
Tom Hamilton
Everybody showed up around 12 AM. They'd play hip-hop, then they'd go into some R&B. Some old stuff so people can ballroom. Then they'd play the harder hip-hop stuff. Then they'd go into the techno dance stuff. Then they'd go into the booty stuff. They close it out with the booty stuff. That's when the teenagers go nuts.
DJ Fingers
We played a lot of [ghettotech] at The Dancery. The Dancery was all red. You walked in: red stools, red carpet. A mirror, long around the dancefloor, so people watched themselves dance, stuff like that. We even played a lot of it at this club called Maxies.
Rick Wade
Legends was a big ghettotech club, too. I would play down there a lot with Godfather.
DJ Godfather
The Ritz, on the east side, on a street called Gratiot and 9 Mile. It was every Sunday, me and Leon Purse. And a guy named DJ Fila. That was every Sunday, and there were a thousand people.
DJ Fingers
The Outcast was, to me, the number one spot. That was the number one spot you heard everything. You had a DJ there named DJ Scott. He played it. Waxtax-N-Dre was there. I was there. That's all they wanted.
Waxtax-N-Dre
The Outcast was a motorcycle club that was popular for spinning ghettotech. You would hear "Whores in This House" – that was the number one record. Moodymann would DJ on Saturday and I would DJ on Friday. His name was DJ House back then. He was playing more house, house and ghetto house at the same time.
DJ Fingers
The Outcast was a very interesting and fun place to be. It stayed open from 2 AM to 7 AM. The Outcast building was so big it held at least about 2,500 people. Best believe there were about 3,000 people in there.
Waxtax-N-Dre
This was Luke Skyywalker's favorite club. He came here recently, he was still asking about The Outcast. When he comes to The Outcast, they would lay it out for him – there would be girls just lined up for him.
Mr. De'
He was in Detroit a lot. He partied in Detroit. He hung out in Detroit. He sold a lot of records in Detroit.
Tom Hamilton
Sometimes they'd lock the doors, too. You had to have the special knock.
DJ Fingers
They had the loudest soundsystem ever. It was 50,000 watts. Believe me, when you walked out, you couldn't hear nobody. It was that loud.
Brendan Gillen
Kenny Dixon [Jr.] told me stories about playing at Outcast. They'd shoot the ceiling, which meant that he had to start the record over – that was their rewind selector command. Bang!
Waxtax-N-Dre
There would be a lot of debauchery going on in the club. There were female dancers and they would have contests – they would have dick-sucking contests. In The Outcast there was anything goes – it wasn't no problem. If you were in the corner having sex, oh well! But you have to be respectful to the members. Now, if you disrespect the members, you would probably be beaten up, and thrown out, and probably chased. I'm serious, man. They would beat you up to your car, you get in your car, then they would chase you away.
DJ Fingers
Really, Outcast was Detroit's most dangerous motorcycle club, ever. They still hold that to this day, but they're all over now. Just like the Hell's Angels. Same thing, but the black [version]. They didn't bother nobody unless you bothered them. They just want somewhere to party. Just like everybody else, so everybody that came there respected everybody. If you came in there and started some stuff, they gonna get with you.
John Collins
It was everywhere. It was in backyards, in house parties. Listen, I DJed a wedding reception with two young people, and they said, "All we want is booty music for our reception." I'm like, "Are you serious?" Usually, at a wedding reception, you get the first dance with the bride and groom, or the father dances with the daughter. I said, "What about the first dance!?" "Booty music – the whole night."
JITTING
Mr. De'
The time I first saw the jit was at one of our club nights, and I used to think it was gonna be a fight. They were acting like they were about to fight each other and I was saying, "Security, we've got a problem." Next thing you know, they started dancing against each other, and it looked like they're having an epileptic seizure. I'm like, "What the hell are they doing?" "Oh, they're jitting. That's such and such. And that's so and so." I'm like, "Oh, wow. OK, it's like break dancing. Got it." Break dancing, but seizure-like.
Keith Tucker
[The difference between ghettotech and jit music] is just the tempo.
DJ Godfather
[Ghettotech is] anywhere between 140 BPM and 150 BPM. Some of the guys play a lot faster, which I don't personally like. There are a lot of records that are fast. When you play too fast, it just takes the funk out of it. Some of the guys play it for strictly jit parties, where it's an hour of just boom boom boom boom boom.
Tom Hamilton
Jitting is arm movements and a bunch of leg movements. The music has to be fast to actually dance to it. It can't be slow, it doesn't look right.
Keith Tucker
There's jitting and then there's pop-lockin'.
Tom Hamilton
Pop-lockin' is what my [dance] group Devo used to do. It's more like we're stepping to the beat and it's synchronized. Jitting you can't really synchronize because there's so much movement, it's hard to do a routine with that. Pop-lockin', there's like five of us and we're all doing the same thing at the same time.
Keith Tucker
Tick movements. Strong tick movements.
Tom Hamilton
[With the jit, there are] a lot of movements with the foot when you cross over. You take the leg and cross over to the knee. You just go back and forth. That's like the jit signature move. If you're not really doing that, you're not really jitting.
DJ Assault
It just kept getting more and more popular. I guess, you know, from the '80s, whatever dance music was new in Detroit, they would jit to the newest dance music. Once my stuff got popular in the mid-'90s, they would jit to that. But it was so fast. That's why I kept speeding up and speeding up. I don't know if I like that part of the history. I think it got too fast. Like, records at 150 [BPM] …
DJ Fingers
Say I've been DJing a party and a couple of [jit dancers] guys there. They form a circle or whatever, let them do they thing. It's still happening right now.
Mr. De'
I've never seen any women do it though. Oh, that's untrue ... I've seen one girl do it, and she was getting it. One female. Mostly guys, and I thought they were going to fight each other. They take jittin' seriously.
Tom Hamilton
Let me tell you – if you get on the floor with a classy chick, dance at a party, she will walk away. She will look at you like, "Man, what are you doing?" And she will walk away. If you go to a party or cabaret, you'll see that but still you wouldn't see a person actually jitting dancing with a woman. They would be by themselves. You may see a crowd around him dancing.
DJ Assault
I like the jit thing. I mean, I don't really jit or whatever, but it was good. It's another part of Detroit dance music. But I was into the girls. I wasn't making music for guys to dance to.
STRIP CLUBS
Mr. De'
Leon Purse played at the strip club and he played on the television, on The New Dance Show. He played both places. So I could catch up with him at the strip club. Then he would take the record to the TV show and we would hit two birds with one stone.
DJ Assault
We were looking for people on the street, that's really deep in the street, that we could get the records to. And the DJ in the strip club was one of those people. The rap labels at the time and those street promoters, I don't think they even hit the strip clubs to service the DJs. So they felt kind of special.
DJ Fingers
Back in the day when techno was hot, women in titty bars danced to that stuff, and they wanted it faster than what we played it. We would put it on 45 [RPM] and the beat was like 160 BPM. They loved it that way. That's where most of the fast stuff came from. You go to the titty bar, they would play that stuff fast.
DJ Godfather
A lot of times, I never sped things up too fast, personally speaking. A lot of records are also played that fast for some of the strip clubs in the city. There's girls shaking it that fast. It was crazy, but I never really played a lot in strip clubs.
K-HAND
Whether it's 120 beats per minute or 150, I think it sounds great both ways. It depends on what clubs you're playing at.
DJ Assault
The faster the music got in Detroit, it just localized it more and more.
Keith Tucker
Some of the guys I would run into, they'd say, "Hey man, I like y'all stuff but could y'all make the next tracks... all y'all tracks should be at tempo 135." What!?
Tom Hamilton
So they'd be easier to mix.
DJ Fingers
Drunken Master was one of the strip club DJs. DJ Flex was another. DJ Hen House was another. Basically that was it. Oh, DJ Mark G.
Gary Chandler
One of the DJs that used to play a lot of these records in the strip club was DJ Hardbody. Hardbody was at the Black Orchid. You know what's so funny? He was one of the first DJs with CDJs. He was just a T&A DJ. [Ghettotech] was universal through the strip clubs. Hardbody played a lot of it. He took a chance on it. Big Can played a lot of it [too].
K-HAND
The residency I had [at Club Zippers, in '92, '93], it eventually turned into – just about – a strip club. The manager there wanted me to play more of that [ghetto house] style of music. I didn't really want to fully, 100%, play that style all night. So then they got somebody else, or I ended up leaving. "I don't want to play this 24-7." People stripping in the club. That was just my thought at the time, like, "OK, I don't want to do this 24-7 in the club. I just want to play a few of these records." But they wanted to hear it all night.
DJ Fingers
Titty bar DJs didn't do tricks. They played the records. They played the records fast. They mixed other records in, but they didn't do tricks and stuff like we did. They could, but [the girls] didn't like that.
Mr. De'
Male strippers broke a lot of records for us, too. For me, personally, [ghettotech [records] broke, I think, in the male strip clubs before the female strip clubs.
DJ Assault
If you get the people on the street playing the record, everybody else would have to play the record. That's how I got on the radio.
Mr. De'
I could go to a topless bar at 1 PM and work a record, whereas in the club, I have to wait till nighttime.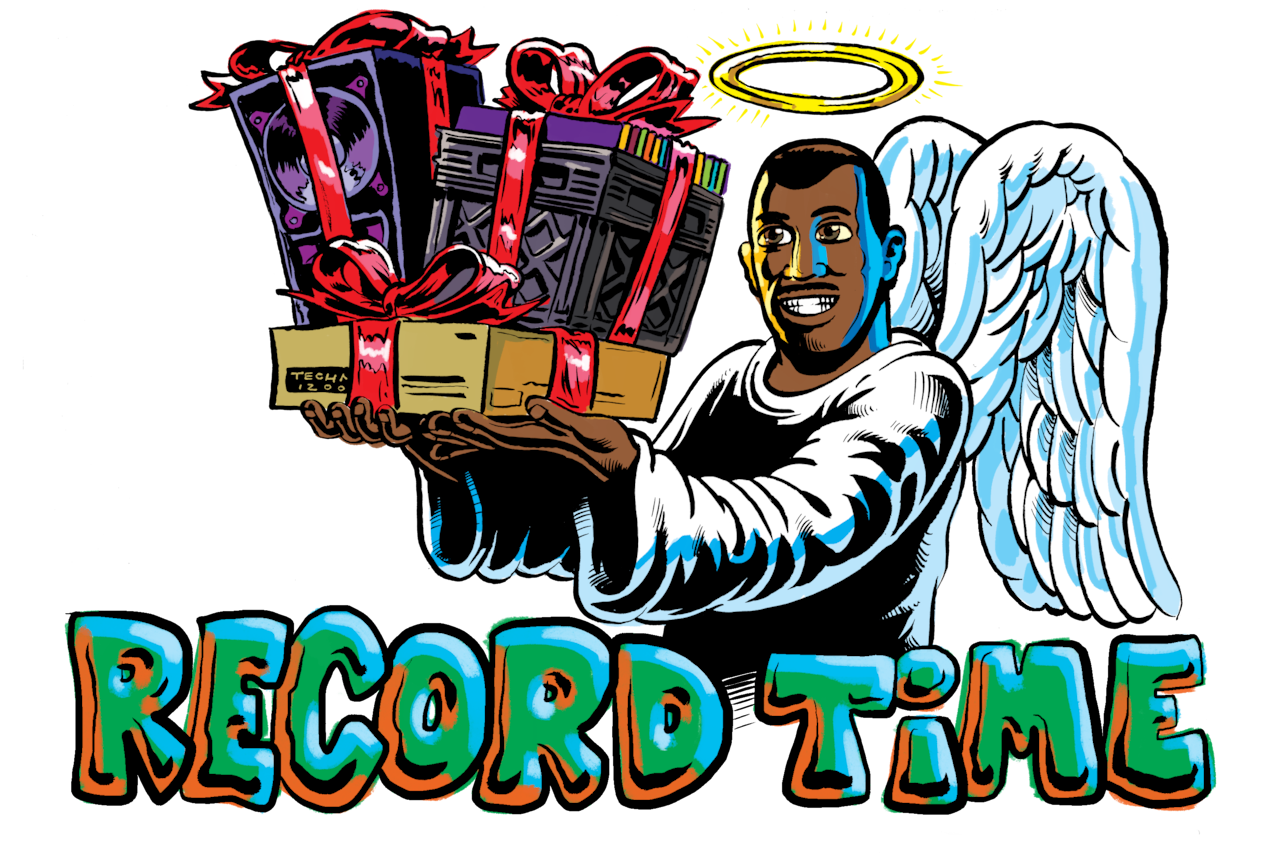 RECORD STORES
Rick Wade
I graduated from college in '91. I started off working in the cash register and in the tape section at Record Time. Shortly after that, Mike Huckaby was the manager of the dance room, I was the assistant manager, and Huckaby was in charge of all the techno, the house music – all that kind of stuff – and I was in charge of the R&B, the ghettotech, bass and hip-hop, so I would order the ghettotech records that came into the store. Jeff Mills wasn't on the air doing mixes any more. He was with Underground Resistance [in '93, '94].
Waxtax-N-Dre
I shopped at a few different record stores. I shopped pretty much at all of them. Professional Records, Buy-Rite Records, Memories and Melodies. I'm leaving out one. Who's the other one? Record Time.
Gary Chandler
You had about four or five places where you bought records. You bought records at Damon's, Damon's was on Plymouth and Evergreen. You had Buy-Rite, you had Memories and Melodies back then. Of course, you had Record Time. You had The Music Stop, which was the DJ store part of Kendrick's.
Mr. De'
We were selling the Straight Up Detroit Shit CDs and I was going to Shantique Records, who I love. Nobody ever mentions them 'cause they didn't sell vinyl. Shantique sold thousands of mix CDs.
Rick Wade
Ghettotech tracks were always the bigger sellers, flat out. Now, every so often, there would be the odd house track that would get really big, too. There was a time when everything was ghettotech.
Brendan Gillen
I worked at Record Time with Rick Wade, Mike Huckaby, Dan Bell, Claude Young for a period, Will Webb, Brian Gillespie, all these people. The music that sold the most from the room was stuff that worked for bass jocks.
DJ Godfather
At the time, we were only making music for Detroit and I think that's why [ghettotech] got successful. We didn't really care about the records hitting anywhere else. If you had a successful record in Detroit, you could sell over 2,000 copies of that record in Detroit alone. If you had a great record, you could sell it out of seven or eight record stores.
DJ Nasty
Record Time would have a Top 25 wall and we'd be selling more records than LL Cool J and Eminem there. 1-15 was all the Databass, Assault records – we owned that.
DJ Assault
I shopped [at Buy-Rite] since I was nine or ten. I knew [Buy-Rite owner] Cliff Thomas from shopping there so much.
DJ Fingers
Cliff was very cool. If he saw something in you, he wanted to help you. He was also a money machine. If you see something, he'll have you do your own stuff. If he like it, all right, let's press it out.
Mr. De'
He was everything to us. He had the hottest record store in the city. He gave us all opportunity. If you needed some money, he would put money in your pocket. He would put clothes on your back. He would give you gym shoes for your feet. Cliff was it for us. We were all 18, 19, 20. We were all young kids.
K-HAND
They were getting all the classic Chicago stuff, all the classic New York stuff. Actually, that was one of the primary locations that [late Detroit DJ] Ken Collier used to shop at.
Waxtax-N-Dre
There would be so much stuff at Buy-Rite. They would play a record and they had the music so loud you could feel it. You asked them what it is and they just point at it, "row 42, two down." It was a nice scene. And then if you knew the people, and you got in good with the people, they would hold the records for you.
Rick Wade
We had a lot of jungle stuff [at Record Time]. We basically couldn't sell it. I remember me and Huck talking and Huck was like, "We got to move these jungle records. We got to figure out a way to move them."
DJ Assault
A lot of Metalheadz, definitely that. Some Roni Size, but we loved the picture discs with the Reinforcers. Those were the main ones. It was several of them that was popular. It was a blue one. And a pink one.
Rick Wade
We had a DJ set-up in the store and that's what we would do was DJ in the store. We'd have contests, "no headphones mixing" is what we'd call it. I was doing that and there was some bass stuff and I grabbed a couple of the jungle tracks. It was a Reinforced picture disc, I remember. It had like a big pink [three] on it or something like that. I mixed that in. A lot of the jungle stuff you couldn't play, just because of the drums. It was the right tempo, but it didn't have the right feel. It was sort of this really old school drum feel and sound – Motown-ish drums, almost. This had the same sort of breakbeat pattern, but the drums were rougher, thicker. When I mixed that, one of the Four Horsemen, Niko, was like, "Man, what's that? What's that? Gimme that!" After that, I don't know, a few days later, everybody was in there buying those jungle records. That's how jungle got fit into the whole ghettotech family.
DJ Fingers
We used to take a trip to Chicago once a week to get records. We never knew about Buy-Rite. That was way back. When we found out Buy-Rite had the same stuff, we started going there.
DJ Assault
At first, Buy-Rite was the only store that got the Dance Mania records. I played a lot of Dance Mania and Chicago records, because it was different.
Keith Tucker
You never referred to it as Chicago. They just called it Dance Mania. I used to laugh because I would be like, "That's ghettotech. What are you talking about?" To me, it was always hard to tell who was from Chicago [and who was from Detroit] unless you knew the artist because it sounded exactly the same. I didn't find out that Slugo and people like that were from Chicago until I read about it. Everything that was coming off of Godfather's label, I always assume it was somebody here because there were always some guys in the street making some quick little beat and they knew Godfather would put the track out.
DJ Assault
I think Chicago was on its own thing. They're really about their own stuff. I think we play more Chicago than they play of our records.
DJ Godfather
Detroit was the only city that would play Chicago, Miami bass and Detroit records. Chicago wasn't doing that. Miami wasn't doing that. They didn't even know our sound. Actually, when I played in Miami a few times, they were looking at me like I was crazy at first. Chicago didn't understand. They were only playing their ghetto house records.
DJ Slugo
Chicago is a very finicky city. It's like, they don't like nobody. Chicago doesn't like anyone. That's why you don't see a lot of artists breaking out of Chicago, because it's real hard. You got to really be a superhero musically in order for them to adapt to you, you know what I mean? There's a lot of Chicago artists who don't get love in Chicago.
Rick Wade
The Chicago stuff was influencing the Detroit stuff, but I don't really think the Detroit stuff was influencing the Chicago stuff so much, because of how fast Detroit was playing the records; that was something exclusive to Detroit.
DJ Assault
I loved the DJ Funk records. I liked DJ Deeon. I liked DJ Slugo. I think that was the main three. Even Paul Johnson. What was the other guy? Maybe Gant-Man.
Mr. De'
"Dik-N-Ballz." I couldn't believe that they was really doing that shit, you know? It was like comedy. DJ Deeon. It was funny, like a Miami bass lyric, you know? It was full of machismo. "This is the baddest motherfucker. He can get all the women," you know. He does what he want to do. It just came off on the record, and they were so simple.
DJ Godfather
I used to work at Record Time. I was working in a record room and there'd be a lot of times where [DJ Assault] felt like his records weren't on the wall and mine were because I was working there, but you know, I felt the same about Buy-Rite. All that little shit turned into more dumb shit and then more dumb shit. I honestly couldn't tell you to this day, "Hey, I was mad at you for this reason and you fucked me and this," I still couldn't even tell you why. It was just a lot of dumb shit and a lot of built-up hype amongst other DJs that weren't producing records. It's just a lot of people stirring up the pot, too, I think.
DJ Assault
[Godfather's] not a rival, because it's hard to copy personality. That's something you cannot duplicate, my personality. I didn't see that, plus he only made beats. It was my voice on the record. It's not Godfather's voice on records. I guess if it was any rival, it could only be as DJs or something. I don't see it as competitive. People get it twisted, even rappers. Sports is competitive, you compete. When you compete in music, what does anybody gain? That's not a competitive arena for anything. Is it a prize, is it a Super Bowl, a rap Super Bowl? DJ Super Bowl? Who's really the best? I guess it's the DMC, if you're interested in a battle DJ. I never cared about that. Battle DJs don't even make people dance, you cannot dance to a bunch of scratching.
Rick Wade
The Top 25 wall was based on the sales in store of the records. That was how you earned your position on the wall. A lot of people didn't understand that. A lot of people thought that Top 25 was just [Mike] Huckaby's personal preference, but it wasn't like that at all. It was strictly based on the sales. People would be upset thinking their record isn't up there because we just don't want to put it up there. Or we made a deal with some other artist to put their record up there. Something along those lines. Conspiracy theory type of things. I told many a cat, look man, you stuff isn't up there because it's not selling.
Waxtax-N-Dre
There would be some politics over that. Definitely. I didn't really think too much of it then, but I was like, "Why is this record up here? This record is not even that good."
Mr De'
We had unfriendly rivalry [with Record Time]. It wasn't no friendly rivalry at all. The rivalry didn't become friendly until I left Buy-Rite and started Electrofunk. When I was at Buy-Rite Records, we hated them motherfuckers and we made no fuckin' bones about it. We called them everything but the style of God on a regular basis. I couldn't stand Rick Wade's ass until years later. I love him to death now.
Rick Wade
There were a lot of those Billboard people trying to bully their way into the Top 25. They had reps in the area who would come into the store and try to pressure us to put something in the Top 25. I always would think about it: you are in here hounding us to put something up there – at least offer us some money or something if it's that big of a deal. If it's that stressful for you that you have to make a special trip, a couple times a week to the store to question us about it. At least try to make it worth our while!
THE NAME
Brendan Gillen
It's the bastard son of Detroit techno that Detroit techno would like to pretend never happened.
Mr. De'
The basis of the sound is the ghetto side of techno – records that could be played in the inner city. Shake's records, some of Mayday, some Carl Craig, some Mike Banks. Anything that didn't sound too harsh, too European. It could be played in the hood. Then I think the layer on top of that would be Miami bass. Then hard, hard house records. Then the gel putting it together would be hip-hop.
Tom Hamilton
I didn't hear the term ghettotech 'till maybe '96 or something. At first, they were calling it just booty. It was just booty music. That was coming from the Luke Skyywalker stuff from 2 Live Crew. Ghettotech, that name came later on.
Mr. De'
I think it was like '98 when I first heard it, "ghettotech," you know. I don't know. It's somewhere around there that the sound started cementing. I think Godfather was better than us in seasoning a particular sound. He would get a particular sound he produced for, and he would produce it over and over and over again. We were more all over the place. We wanted to make these records that we could mix together, and we didn't want it to all to sound alike, so we were more of a mosaic in that way.
Keith Tucker
When you start saying "ghettotech," we didn't really have a name for it like that because we played it all together. It wasn't separated. It'd be like, we know the differences, but we called it booty.
DJ Fingers
To me, techno is techno. There's no such thing as ghettotech and just regular techno.
Keith Tucker
Ade didn't call it [ghettotech]. Ade called it electro funk. That's what he called it, that's why he created the label [Electrofunk].
Mr. De'
The style that was later coined as ghettotech was more of a feeling. That included Miami bass records, techno records, house records, hip-hop records. It was a hodge-podge of different kinds of records. Records like [Playskule, 12 Tech Mob, K.O.T.] were very important because they got played right along with all that other stuff. "Pick it Up, Pick it Up" by Home Team, that record got played a lot. They started here in Detroit. It was recorded on 8 Mile and Myers and ended up getting picked up by Luke [Skyywalker].
DJ Godfather
To my best knowledge, a writer named Hobey Echlin [helped coin the term "ghettotech"]. At the time he was writing for Urb Magazine and the Metro Times. He was the first journalist that supported it. Probably because he was from Detroit and understood it. For years, people never understood the music. They're like, this isn't straight techno. This is not Derrick May. This is not Juan. We don't get this. It was just different from the norm because it was techno-meets-house-party style. It was creating this big buzz and Hobey started writing about it and he came up with the name because it didn't have a name.
Hobey Echlin
Disco D [David Shayman] and I had this idea to call it ghettotechno, shortened to ghettotech. It made it sound a little less regional and more like something you could export.
Gary Chandler
Disco D is who came up with the [term] ghettotech. He was in my basement one day and we were talking. He said, "Man, what do you call this music that you play?" I said, "Me and my boy call it tech shit. We call it tech shit." He said, "But it's so funky. The only place this music is playing is in the ghetto." I said, "Well, what are we gonna call it? You gonna call it ghettotech?" He said, "This is what it is. It's ghettotech. It's hood. It's good. We're gonna call it ghettotech," and that's where it came from, right in my basement.
DISCO D
Hobey Echlin
Disco D was like the Eminem of booty. He was a little white kid from Ann Arbor, total prodigy. He started going to parties – house and techno weren't his thing, but he loved electro and he loved the futurism of it.
Brian Gillespie
Disco D had talent, he had vision. People saw it. He was heavily influenced by Godfather and Wax-Tax-N-Dre.
Waxtax-N-Dre
Disco D, he basically learned from me and DJ Zap, and maybe Gary as well. I took him under my wing.
DJ Slugo
The first person to reach out to me actually was Disco D. That was my first encounter with Detroit. I knew Godfather and all them, and I knew that they were playing a lot of the records that we were making in Chicago, but I didn't have an interaction with them. I did a record with Disco D.
DJ Godfather
Me and Gary Chandler were very close at the time and Disco D started hanging out with us. Gary is one of the guys. He would play a record on the radio and the whole city would want to buy it. Me and Gary would always talk shit playing 007 on Nintendo 64, shooting each other and shit. Disco D would be like, "C'mon. Let's DJ." We're like, "We're in the basement." At that time we're like, "No." We're doing other things and talking shit to each other, playing video games. Disco D would be in the background trying to DJ. I kind of gave him advice and kind of showed him some things. I was probably one of his biggest influences for ghettotech and getting him into everything he was doing.
Waxtax-N-Dre
Really good guy. Humble. Very humble.
Mr. De'
You want me to tell you the truth, or do you want me to give you some bullshit?
Gary Chandler
Disco D, he had a studio in Ann Arbor. I didn't even have a car at the time. Disco D would come from Ann Arbor to Detroit to get me and take me all the way to the studio. He was working on a couple records and his first record was "Freak That Trick Down, Freak That Trick Down."
That was one of his first records, but he told me that, "Gary, I got this other record that I'm working on. I want you to hear it and I'm going to finish it so you can play it on the radio." He usually let me hear everything he works on, but this time he was like the secret squirrel hiding its nut. Finally he calls me about 3:30 in the afternoon. He was at my house in about 25 minutes. He was like, "Bring your ass outside, boy," so I say, "OK." I come outside and I jump in the car and I hear: [beatboxes] "When it's hot / Do you need another drink? / What you think?" I'm sitting in here like, "Oh my God, this record is so sweet." We sat in the car and listened to it three times and we just went out and celebrated. I said, "Yeah, man. You've got a banger."
Waxtax-N-Dre
He just pretty much took off. Then he started going toward another direction toward hip-hop, I guess.
Mr. De'
I thought he was an absolute poser. When I met him, he was with Aaron-Carl. He was just kind of a sleazeball – kinda want to take something from you kind of shit, you know what I mean? A guy that was coming into a studio to see what equipment you using. He was one of those types. He would come here and I would instruct my people to leave him in the fucking lobby. I didn't want him to see or hear what I was working on.
Gary Chandler
[Disco D] did way more than ghettotech. Trust me when I tell you. If you guys pull up 50 Cent and listen to "Ski Mask," you can tell what type of music he could do. He was the next wave that would have took us from ghettotech to like... Disco D was talented enough to produce for Jay Z. That's why he moved to New York, because he was ready for that next level.
Brian Gillespie
He wanted to become big; he didn't want to be some local guy making records. He was young and he wanted to be on top.
Mr. De'
He did a record with Twista in Chicago. I mixed that record, and I distributed that record. I probably got about 700 of those motherfuckers right here. I did an interview with Hobey Echlin and he said, "Well, you hold on to 'em, because Disco D was great, and you're going to sell every single last one of those copies." Like he was fucking Elvis or something.
Gary Chandler
He could have did it. It would have been a Detroit producer producing mainstream music, which would have been crazy. Imagine Disco D doing an Usher record. That's where he was going with it, it was going that way.
Brian Gillespie
When he passed away [in 2007], it was really hard on us.
DJ Slugo
I didn't even know he was sick. From us hanging I never knew that he had issues, I had no clue. He hung out with me, went to all the dangerous neighborhoods and he's just walking around like, "Yeah, I'm cool, everything's cool, I don't care." I'm like, "Wow." Wasn't afraid or anything. Very good guy. Nothing but positive things to say about that brother.
Gary Chandler
He was loved. Everybody loved him. You could tell he was on his way, you know what I'm saying? You never know what people are going through. He was going through it, obviously. I was shocked. It shocked me to no end. It's still a little hard to deal with because that was my partner. When you meet a person and their spirit touches you, it's way beyond music. He was a great person, man. He cared more about other people than he definitely did his self, you know? If you were close to him, that was it. There's nothing that he wouldn't have looked out there for you. He was never selfish. He went to Europe one time and he sent me a bottle of liquor. I still have it, to this day, corked.
ANTHEMS
Gary Chandler
'97 to '03, man. That was a lot of music. I think in '96, '97 is where our Detroit music was really like, "come on, man."
John Collins
It took Detroit by storm. African-Americans, and eventually white people.
Brendan Gillen
Detroit still didn't care about techno – the genre that Derrick May plays, Detroit techno. Only later, when it gets played at 45, does Transmat Records end up in mixes. "Groove La Chord" by Aril Brikha is a totally standard 45 RPM jam. There's a ton of them – [DJ Rolando's] "Knights Of The Jaguar" was not a hit in Detroit on 33, but at 45 it was.
DJ Assault
"Chuck Chuck" [by Sole Tech] that record, man, I think that might have been the biggest record in Detroit, period, maybe. Unless in the '90s, you would have had to go back to Kevin or Juan or some of them people. Yeah, "Chuck Chuck" was selling cassette singles, even.
Brendan Gillen
One of the most interesting customers we'd get would be these guys in those dark blue suits – kind of like UR wear nowadays – with their name on it and a couple of tools in their chest pocket, with oil and grease-covered hands. They'd be like, "You have that record that goes like "chuck chuck," you got "Chuck Chuck?" I was like, "Of course" – that would mean "Sole Waves" by Detrechno.
Mr. De'
I think one of my all time favorites [that I wasn't involved in] was Sole Tech, "Sole Waves." That whole album was just brilliant. It might as well be a record, because I listen to the whole thing. It's awesome.
Rick Wade
Scott Grooves had probably one of the biggest records in Detroit, ghettotech history. Everybody called it the "Chuck Song." I'm pretty sure it was him. Scott Grooves is a pretty secretive guy, and the only person who had those records when they were brought into the store was him. He never copped to making that record for whatever reason, but I'm like, if you're the only one bringing it around, I'm pretty sure it was you.
Brendan Gillen
Jay Dee's "Plastic Dreams" became a big song in this genre because it got played fast and it was known as the "Gong Song." Some Maurizio records would cross over into this and become really huge sellers. Maurizio three – the Domina one – and then Maurizio four were also giant records in Detroit.
DJ Fingers
"Sex on the Beach." The one that sampled Floetry. I love that song, because of the way they did it. It's like what they did, they replayed that whole song. They replayed "Say Yes" to a faster tempo and they sampled Floetry on that. That was one of the best songs they ever did.
Tom Hamilton
I would have to say "Sex on the Beach."
Keith Tucker
Yes. That was the best.
Tom Hamilton
That was unique. Because he took the ghettotech, and the R&B, and he just locked it in.
Keith Tucker
"Sex on the Beach," that's the number one, to me. "Player Haters." Even Mr. De' [and DJ Assault] did a nice one, but it wasn't booty, he did a Erykah Badu [sample] off it. That EP [The Rowdy EP] was really nice.
Anthony Shakir
"Sex on the Beach" is one of the better records of that whole set. "Sex on the Beach" is one of the few that they made that I'll play in my set.
Keith Tucker
Godfather, I think his track was "Player Haters in Dis House."
Tom Hamilton
Yeah, that was like an anthem there.
GODZILLA
Mr. De'
"Godzilla."
Keith Tucker
The theme from Godzilla was another [anthem].
DJ Slugo
There ended up being a big hoopla about that record.
DJ Godfather
[Slugo] didn't even make that record. From what I understand – and I kind of understood this later – a guy named RP Boo made that record. It never got released because Dance Mania went out of business. It was an old record. It was a B-side. It was on a DJ Slugo record. Finally, I called him. I go, "Look it. I think this record could be big. Do you want to release it? I think this will definitely be a big thing in Detroit." He's like, "Yeah, we could release it."
RP Boo
Me and Slugo, we was real good friends. Even with "Baby Come On," "The Ice Cream Truck" and the other tracks, he was the type of person who would always try his best to look out for people. Dance Mania had just collapsed. We wanted to push this to get it out on other labels and give other labels an opportunity. What had happened was that... We didn't know that it took off, because I was at work. I didn't go to Detroit. I didn't go nowhere.
DJ Slugo
When I first started out, I was one of the ones in Chicago who had all the equipment before any of the other DJs. At the time, RP Boo was one of the people I was teaching how to produce, on a [Roland] R-70. I end up getting two of them. I loaned him one and let him use it to make beats. [Then] I needed it back because I sold the other one. So when he brought it back, it had the samples to the Godzilla record. When I heard it, I felt like he didn't chop them up right. It was too muddy, and the samples wasn't clean enough.
DJ Godfather
[Slugo and I] worked out a deal and then after it's released he kind of told me that RP Boo made it. I'm like, "Wait a second. Is there an issue here? What's going on?" He's like, "Oh no, he owed me a favor." He owed him money or a favor or something. I don't know. Slugo was owed something from RP Boo, so Slugo released some tracks. Or he gave Slugo the tracks. I don't know the exact story.
DJ Slugo
I went to the record store and asked them for [the original record], because I wanted to sample it from the record itself. So when I played them what I wanted, one of the guys that worked in the store was like, "Oh, that's Pharoahe Monch, that's off of the Pharoahe Monch album." So I chopped it up, did it the way that I want to do it. I actually never released it – I released it on a mixtape one time, and that was basically it. So then I meet Godfather, and then he asked me for a song. But the song he wanted was the "Where The Rats?" record. So we released that and then we needed a record to be an album filler, because I didn't have enough records that I thought were strong enough to give to him at the time. So I had ["Godzilla"] in the archive and I just threw it on there.
RP Boo
Word got back, it was, "Hey, Slugo, he's taking credit for your track that you did." I already knew that because Slugo asked me, could he do a remix. "Fine, no problem." I actually gave him my record so he could do it, chop his samples up. I was like, "Yeah, I know Slugo has a remix." Word got back like, "No, it's not the remix that he's claiming. It's the one that you actually did." When I saw the label, and I saw the print. It was DJ Slugo's remixes, but that wasn't the remix. It was the actual track. He was able to put out what he want because I had no access to Godfather. That's when it just went, "No, I can't do this no more." Slugo was not the only person that I had these problems with. I had problems with this with other people.
DJ Slugo
The reason I felt like I didn't care [about the track] was because of the samples. We'd never cleared the samples. So I was like, "I don't care, I don't want no problem from this record, you can do whatever you want to do with it." [Godfather] was cool with that, and the record took off. Then the big old thing came out where people thought I sampled RP Boo's record. I was like, "Well, all you gotta do is listen to the record, and listen to the record that I've done and you will hear that the production is the production I done." And then if you look at the record, I even gave Boo credit. I gave him credit for the original concept, because the idea was his. I heard it from him first. I was like, "Oh, I like that but you did it wrong. So I'ma do my version. And I asked permission when I didn't even have to.
DJ Godfather
The record started doing good but then I thought it could do better, so we did a remix record. I did a remix and a few other people did remixes. Then the remix I did was the one that got the most popular. Yeah. Story of my life: that had a sample in it and it could only go so far, because we got offered a lot of money to put it in a car commercial for an international commercial and we tried to clear the sample from the Godzilla people and they wouldn't clear it.
SAMPLING
Mr. De'
We'd, say, bootleg [a] record and do our own thing with it. It was still strictly speaking illegal. It was a sample, so you were liable. But nobody ever bothered and if you did, you would just sample something of theirs. You would have this kind of gentleman's exchange. I know we did it back and forth with Chicago all day long. Because [Dance Mania owner] Ray Barney and Cliff were good friends.
Keith Tucker
[Ghettotech producers] used to sample a lot of the Drexciya stuff and our stuff. A lot of the Detroit DJs who were trying to learn how to do the music – when the samples got popular and those first DJ mixes had the samples on 'em – that's what they used to do. They would sample Drexciya, or especially Dopplereffekt once Gerald [Donald] went solo. I didn't really dog it. I thought it was good, because I thought Assault and Ade' really did some stuff that was unique. You could see they had musicianship.
DJ Assault
With samples, there's no publishing. That was why the samples [in my tracks] decreased, when I saw how much money there was in publishing that I knew nothing about in the '90s.
Keith Tucker
I've run into people who tried to sample our stuff. How are you going to put that out without coming to us? That was what I was really mad about. I liked that people like Moodymann and Mike Banks put a stop to that, and the Burden brothers. Because they used to have these mix CDs that they put together. And they're out there in Belle Isle Park, selling them all, with all our tracks on there. That's what I didn't like about ghettotech. I can't blame all those guys, but a lot of them did that, and they were making a lot of money. They put a stop to that. People in Detroit are cold. Mike Banks has got power. Mike was like, "Man, y'all can't be doing this shit."
Tom Hamilton
You all need to take this record off. "But man, if I take these records off, it's not going to sell." "That's not our problem, you've got to pay us."
Keith Tucker
And they stopped. That's the power of some of the people here in Detroit.
DJ Godfather
I've had numerous artists sample me. I contact them, "Oh, well it's just on SoundCloud, so I'm not making any money off of it." "Yeah, you are." "Well, how do you figure that? If SoundCloud's for free?" "Because you took this record, it made you more popular, and you got gigs off of it. That's how you made money." The game has turned into giving out songs and getting gigs off of it. That's why there's so much grey area right now in music and sampling stuff.
OVERSATURATION
Keith Tucker
You had a lot of other people came up, like B. Calloway, DJ Omega, all these guys out of Chicago and stuff. But their stuff always had the same sound to it. At least Godfather could always pick a track that was kind of commercial. Him and Assault and Ade, they made songs that you could actually remember. Some of these other guys were just making stuff, whatever the phrase of the week was, that was the record. If I said to you, "Hey, you a bitch" – next week, that song was "Hey, you a bitch / hey, you a bitch." You know what I mean? "That's just my baby daddy," or...
Tom Hamilton
"...Let me see your check stub"; "Beat that bitch with a bat."
Keith Tucker
Yeah. "Ugly girls be quiet," it was all kind of just ... it got silly. They'd be like, "Did you get this one?" I'm like, "Man, it's the same beat, just a different phrase on the top." We kind of liked that because it was like, that's not going to last too long. I used to get so many, that's why I still like Ade and Assault, because they didn't just oversaturate everything.
Tommy Hamilton
Some of the same artists were putting out, I kid you not, two or three records at the same time. Which is actually killing yourself. Record labels have a system for how they release records. Techno followed the mainstream industry template. We're going to release this and we're not going to release another release until four months down the line. We're going to work this for four months. Now you have people that don't know that system, they're dropping a record, and they're dropping another record next week. Which actually killed the previous record.
DJ Assault
[There were] other little labels that were saying, "Do something that sound like Electrofunk stuff." I know this. I hear from people.
Rick Wade
I would say there's two parts to the ghettotech [era]. There's the golden era, where every mix show was ghettotech. It was on the TV, on The New Dance Show, every club was playing it. Tons of guys in Detroit were making it, bringing it into the store every time they had a new release. Then, things started to change. It was during that change when Godfather and Databass started to come up.
DJ Dick
Sometimes, when you're in the middle of doing something, you really don't realize how big it is. It was DJ Godfather, Brian Gillespie and myself. So it was the three of us. Paul Martindale had run the label for us for a few years. At that point, we had to start a distribution company, which I started running. Godfather was just pushing out product. We were distributing Keith Tucker, Erik Travis. We had distributed a whole bunch of labels, a whole bunch of records from a lot of great artists. We got the reputation that we could sell records and we would pay people on them. We had a little tiny office. It was a six foot-wide office by about 40 feet long. One whole wall was just full of records and product. A fax machine and two computers, and two people worked non-stop, 40 hours, just distributing records and pushing records out.
DJ Godfather
It was getting confusing with the distributors because they were like, "Is this an electro record? Is this one of these ghetto records that you're trying do?" We had to create a side label, Databass Records, because we were doing a lot of electro as well. We were like, "Let's have Databass Records to be the more ghetto sounding stuff, and Twilight 76 would be strictly electro." Everything – Databass and Twilight – was myself, DJ Dick and Brian Gillespie. To us, it was all Detroit music. It was all mix music to us. That's what we called it. We had to separate it for distribution purposes. Otherwise, I would have just put it all on one label and said it is what it is and if you don't like this record, you'll like the next one or whatever. Certain people are very particular to different sounds.
Keith Tucker
That was the thing about Twilight 76: the roster. It was like 30, 40 different artists on there. He was picking up DJ Deeon. Every week it was something different. I was amazed that I would get, like, this many records in a pile. It would be like, Erik Travis on there. Ade was on there once. Assault, Deeon, Omega, Slugo, B. Calloway was on there. DJ Di'jital was on there. I did an EP on there called When Metroplex Was Metroplex.
DJ Dick
There were four radio stations on the weekends that would play this music [in the mid-'90s]. It was extremely common for me to go from one radio station to the next, right after the other, in the same ten seconds, and we had either produced the record or it was on our label or we distributed it. It was an amazing time, because we had completely controlled the airwaves at that point.
Gary Chandler
Assault's getting bigger, Godfather's getting bigger. They slowed down on the music and they were traveling, going overseas. Especially Aux 88, they were doing shows, too.
Mr. De'
People in San Francisco know records. People in London know records. I'm shipping records in Australia. I'm shipping records to Austria.
DJ Godfather
I remember the first time I DJed in Brazil, it was like a Copacabana beach. They had never seen a battle DJ play dance music, and that's what kept our scene separate from techno. You were either a hip-hop battle DJ or you were a club DJ; there was nothing in the middle. And that's what ghettotech was – it was fierce DJing. Jaws would drop. People wouldn't even dance because they couldn't stop watching.
Brendan Gillen
In 1998, when Jon Layne, the Intuit Solar guy, was involved in this stuff, he organized a show for all of us – Ectomorph, DJ Godfather and DJ Assault – in San Juan, Puerto Rico. We did this event on a boat. It was really close to canneries, where they were canning tuna or something. The smell was disgusting. We played on the helicopter pad.
DJ Rap, the junglist, had come over because Intuit Solar was releasing her as well. Watching the competition between Assault and Godfather for her – priceless. There's this jet ski moment, where Godfather almost flipped his jet ski trying to impress her. Eventually, Assault tried to woo her with rhymes – he made up sexual rhymes for her. Godfather was one of those guys who would do that weird game, "Oh, I caught you looking at this circle, I'm going to punch you." You're like, "Dude, I'm over 20 years old. Why the fuck are you doing this game?" Assault was a little bit older and a little bit more mature, and he would just make up a rhyme about how stupid Brian was being. It was priceless. I have never been more entertained while travelling, ever.
Mr. De'
Me, Aux 88 and DJ Godfather were all booked by John Collins first, to go overseas. The very first place we played was at Mayday, for [techno and house producer] Westbam in Germany. That's the very first time that we took that sound overseas. That was in '98. It was huge. They had drum & bass. I didn't know what the hell a drum & bass was. I brought some of them drum & bass influences back. You heard them on my records after that.
Gary Chandler
All the guys that were making music for the last six, seven years are now artists that are traveling. That's when Erik Travis and these other guys were getting bigger, because they had time to stay in the city and make music.
DJ Assault
I played the Erik Travis records because it wasn't trying to be a DJ Assault record. I like that stuff.
Gary Chandler
Erik Travis was such a creative Detroit artist. He's such a good dude. He had a different sound and he had a different air. His music was very quick-paced, very fast, but had more drums and snares than the usual Detroit records and a different pitch on the drum line. One of his best records to me was "Rollin' Through Time." "Rollin' Through Time" is probably his biggest Detroit record.
Brendan Gillen
There's a Starski & Clutch record that was too futuristic to get released that is one of the strangest, most amazing records I've ever heard. I wonder what would've happened had they released it. It was super fast, and Todd [Osborne] was trying a new technique of pitching things up where he was making music for the super-fast thing. Some of the stuff that he chose to pitch up was super strange and super cool.
DJ Assault
I kind of took it for granted. I don't really know how to process it all. It was good – people were interested overseas, like Europe, Australia, even South America. I would go to those places, but I don't know what I was thinking. I don't think I really capitalized on people wanting you to go to all those places and play all those places. I really had no plan. You know, just going to play, come home. There must be a lot more to it – and to those particular markets – if people are flying you all over the world. But I'm just looking at it like, "Oh, this is fun."
Mr. De'
I recorded Electronicfunkyshit in 1999, and released it in 2000. A portion of it would have been a part of me and Assault's next album, so it would've probably been a DJ Assault album, at least half of it. But we broke up, and I'm like "Oh shit, I don't have an artist!" At the same time, it allowed me to have this freedom, this creative freedom. I said, "OK, I don't have to produce this, so it doesn't have to be as hip-hop, because he's a hip-hop performer."
DJ Assault
I didn't want it to end the way it did, to be honest. I'm not that type of guy 'till you push me. I never wanted lawyers or any of that stuff.
Mr. De'
I would have to talk to my lawyer to see how much of that I can even talk about, in terms of our split. I'm legally bound to only say that we split because of creative differences. I can't get into the details of that.
DJ Assault
At some points in time, I wish we could've kept going. I talked to him in 2012, but I don't know. I think we just passed the time. I don't think that it could ever go back to that. I think we missed it, although we agreed on a lot of things. I don't know. Some things just outgrow the situation. It's unfortunate. He taught me a lot, even from that. A partnership is similar to a marriage. I can't even imagine a man and a woman that's been married and then had kids and separated. The songs are kind of like kids. I think it matured me, man.
Mr. De'
I mean, we talk. We haven't spoken in about two years. We didn't speak at all for over ten. Then we started going back and forth a little bit, on Facebook. I miss being friends with him. We had a lot of history. A lot of stories.
DJ Assault
I honestly think I lost people with some of the [Jefferson Ave] stuff that I tried to pull off. Not everything, but some of the things that I tried to pull off, it was just too far from the core audience. It's a business and you have to be very careful what you do as an artist, because I don't really think you can be something different once you have a fan base.
Mr. De'
"Detroit Zoo" came out of that album [Electronicfunkyshit]. I've heard somebody say it was one of the first dubstep songs, and I wasn't trying to do dubstep. I was just able to do something different things.
Brendan Gillen
There's only so much you can do with this kind of stuff. Even the people that made it and were making a fortune from it got sick of it.
Mr. De'
The reaction was, "What the hell is this? It's not a DJ Assault album." "It's got this weird-ass cover." "I wanted to hear more ghettotech. I want some more ghettotech." "It's greatly produced, it sounds wonderful, but I'm not getting what I paid for." But on the other side, it opened up a whole avenue of a listenable audience for me. Now I could actually produce what I've been bred to do my entire career. I've always felt that I was producing with one hand tied behind my back [making ghettotech]. OK, I could do this in my sleep. This is not challenging at all.
THE END
Brendan Gillen
What was exciting about ghettotech is that it was outlaw. What, eventually, was boring about it was it was kind of hard to watch 90 minutes of it.
DJ Fingers
Techno was good till 2000, 2001. After that, people started doing hip-hop. Hip-hop took over the whole nation. We couldn't go to no party without playing any Jay Z, any Biggie, any 2Pac. None of that type of stuff. But you could go to a club, and you could play ghettotech and they'd look at you like you're crazy. "We don't do that stuff no more."
DJ Nasty
Instead of slowing it down, we were making the music faster and faster. We started making music at 140 BPM, then 150, 160, 170 – it became too fast. You'd have a couple tracks here and there that could cross over, like "Ass N Titties," but for the most part, we didn't evolve what was going on.
DJ Dick
[The music is] very stagnant right now, I'm just being honest. You're talking to somebody who saw the sales numbers and what was happening. I would never say anything is dead, but the release schedule has been a lot slower than it was back in the day when we were doing eight records a month.
Hobey Echlin
What was so perfect about ghettotech, but also doomed it, was how much of a Detroit phenomenon it was and how popular it was locally. It couldn't diversify.
DJ Godfather
That's why it kind of only went so far, because it's at its own unique tempo. There's only a handful of people doing it in Detroit, Chicago and around the world. I kind of want to take certain elements and slow it down. I have a lot of new stuff coming out that's 125 BPM. Picture kind of slowed down ghettotech stuff. I'm doing it to where it could cross over now more. I'm not just making the music for Detroit only anymore, because that era's kind of gone.
Brendan Gillen
The downfall of ghettotech, in my opinion, was that none of them were satisfied with making incredibly catchy, brilliant, short attention-span music. They wanted to switch to making formal hip-hop. They were like, "This is stupid, this is easy." What was so easy for them was hard for other people.
Rick Wade
Clear Channel started to come into town.
DJ Fingers
Clear Channel, what they did, they Xed out... Honestly, Clear Channel really didn't do anything, if you really think about it. It's the people that did it. They didn't want to hear it no more; it was done.
Rick Wade
Formats on the radio station started changing, from house and ghettotech to more R&B and hip hop. People weren't hearing house on the radio anymore, except for late night Saturday night. You could still hear ghettotech because they would still play that mixed in with the hip-hop and stuff, but not like it was before where it was just all ghettotech. Now it was 70, 80% R&B, hip-hop, 30% ghettotech, less than that. The ghettotech sales weren't doing like they used to do. This was early 2000s. By the mid-'00s it was a done deal. It was almost like Godfather and the Databass crew were the sole champions of ghettotech at that point. There was still a couple of guys still doing stuff, but in Detroit they were the ones really pushing it.
Mr. De'
After the radio stations hired all the DJs – Gary always had a radio job, but Waxtax-N-Dre didn't and Fingers didn't – they started bringing in this Atlanta-style program. It stopped being a Detroit thing and it started turning into an Atlanta thing. You started seeing less independent promotion in the clubs. It was mostly all radio stations, all corporate. At the same time, digital downloading came in. Napster and all that stuff that killed record stores. So the radio stations killed the DJs, killed the independent promoters. Downloading killed the record stores – and those were the two pillars of the time.
Gary Chandler
The music slowed down tremendously because we didn't have any artists. All our artists that were doing the music were now traveling, so they didn't have time to do the music. They might have did one record here or there, but for the most part they were traveling and the music scene for ghettotech took a major, major hit between 2003 and 2005, 2006. That hit so bad that the only resurrection that you can do with it is to play the stuff that was out before.
Rick Wade
That's why, if you hear somebody do a ghettotech set today, 90% of their stuff is going to be from the early '90s, mid-'90s.
DJ Assault
"Ass N Titties" is licensed by Sony. I just became smarter, and I concentrated on the publishing aspect – that's what gains the catalog kind of invisible value. 22 Jump Street, a lot of people really didn't know about that deal.
DJ Godfather
I've been licensing a lot of it to television and TV commercials. I'm on the newest Adidas commercials in South Korea.
DJ Assault
I do a lot of stuff behind the scenes where people don't really see the value of it. Maybe I don't DJ all the time anymore. Maybe I don't even care about that because I'm more into, "How do you make money off of music?" DJing is good, but you have to be... it's kind of like diversifying.
DJ Godfather
The single reason why I stopped putting out a lot of artists is because of the artists. They don't understand the business. They think if they hear a record in a mix show on the radio they're owed $1,000. They don't understand that. They think because you sell 1,000 records at $3.50 a piece that there's $3,500 to be made. Did you forget we had to master it? Did you forget we had to press the record? Did you forget we had to ship it?
LEGACY
DJ Assault
I think most people in Detroit – some of the older house and techno type of producers – hated what we were doing, to be honest. They might not say it, but they was like, "Why would you do this?" It didn't conform to anything, so it pissed some people off. It was on the side of the raunchy, ignorant type of stuff, but it was all for fun. People think, "You're like that in real life," but I just like to have fun, and house got ... I don't know. Nothing was exciting about it anymore.
Mr. De'
I always thought the Detroit dance music community always looked at us as the dumb, illiterate uncle. We never got the respect, man.
Brendan Gillen
What people eventually called ghettotech is a more blue collar music form. Detroit techno had been much more for middle class, upper-middle class people. Carl Craig, Derrick May, they weren't trying to appeal to the blue collar workers of Detroit – they wanted to elevate Detroit to this utopia.
Mr. De'
Alan Oldham was a big critic. He would call our records unintelligent and base. He thought Detroit was stupid for even listening to our stuff. We gave [techno] legs in a lot of ways. I think we gave records like Juan's catalogue life. We gave people like Aux 88 a place to be heard by their own people. If it were not for ghettotech, our own people – black, inner city Detroit people – wouldn't know our records, a lot of the techno artists.
Brendan Gillen
I took Sal Principato, from Liquid Liquid, to see [2 Live Crew]. I was in Miami with DJ Godfather, and we're like, "We just really want to go see 2 Live Crew do a performance." We're like, "We're going to do this! Sal, you got to come along, we're going to do this before we go see Larry Heard." "OK!" We go.
When we leave, he told me the five kinds of West African music that it was a fusion of. There's this spiritual dance of the ass. The woman has on a skirt that goes all the way to the ground, but the way she moves her ass, it's like a spiritual thing. It was deeper than what people said it was. Here's a guy who has actually spent a lot of time working with Caribbean music and African music directly, which gave me a totally different perspective on it. To me, it was all just naughty, or a strip club or something. It's like, you wouldn't play it in polite company.
DJ Fingers
Missy Elliot used "Clear" in "Lose Control." Sir Mix-A-Lot used "Technicolor" on "Baby Got Back." I was like, "Hey, wait a minute – what's going on here?" Perfect example are these years right now: Drake and Nicki Minaj, "Truffle Butter" – that's a house track, a lot of people don't know that. You see how hip-hop artists trying to come to the techno and house side? The new songs out now with Kanye West ["Fade"], he used Mr Fingers.
Brendan Gillen
You know "Player haters in this house / if you see 'em point 'em out"? Ends up on a Timbaland record.
DJ Godfather
You know what ghettotech is now? Dirtybird. Someone like Claude [VonStroke]. I've known Claude before he was even a DJ. Claude grew up on techno and ghettotech, and he put his spin on it. A lot of the Dirtybird stuff has a ghettotech influence.
Mr. De'
The only time they would know my R&B records was if it became a hit. They didn't know all the work I've done, but they know "Ass N Titties." They know "Sex on the Beach." They know "My A.U.X. Mind."
Brendan Gillen
It was the indigenous music of Detroit. The indigenous music of Detroit was not "Strings Of Life." It wasn't even "Shades Of Jae." It would be like [Mike Banks's] "X²," "I'll see you there in the night."
DJ Godfather
There's no other genre that created different dance moves. There's no other genre that created their own style of turntablist. When it was playing on three different radio stations and you could hear it for three or four hours straight at one time, that says something. That's a movement.
Header image © Benjamin Marra