Interview: ADULT.
The Detroit duo on a life merging dark arts and pounding hardware jams with caustic humor
Electro act ADULT. have been causing anxiety since the late '90s, with their soundtracks to the horrors of modern living. The Detroit husband-and-wife duo of Adam Lee Miller and Nicola Kuperus have earned themselves a reputation for revealing a dark underbelly of club culture, cataloguing themes of obsession and psychosis with black humor.
With EPs and albums on labels like Clone, Thrill Jockey, Kill Rock Stars, Ghostly International and their own Ersatz Audio, ADULT.'s mix of deadly DIY punk and eerie electro, multimedia artworks and performances creates an aesthetic that intersects between art and audio.
Their sixth album, 2017's Detroit House Guests on seminal dark indie label Mute, saw them collaborate intensely: inviting artists to live and work with them in their 4,000-square-foot living space in Detroit: Swans' Michael Gira, thereminist Dorit Chrysler and Nitzer Ebb frontman Douglas J. McCarthy, among others, joined them to create an unsettling yet electrifying body of work.
In this excerpt from their Red Bull Radio Fireside Chat with Harley Brown, the pair discussed the seminal casette tapes that molded their music tastes, and the experimental homestay nature of the Detroit House Guests project.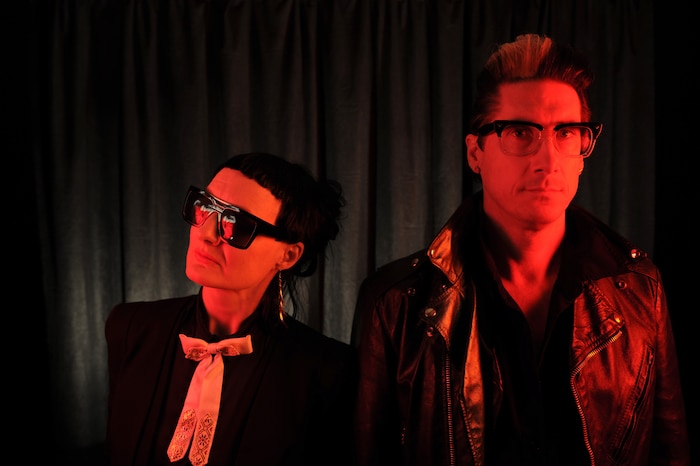 You've previously mentioned how "She's Lost Control" by Joy Division was a formative song for you. Could you talk a little about the music that you listened to growing up, and the point at which you decided to become a musician?
Adam Lee Miller
When I was 15, I started a punk band, then this friend of mine made a cassette of Depeche Mode's A Broken Frame and Black Flag's "Gimmie Gimmie Gimmie" or Everything Went Black. That was a big influence for me. I quickly got tired of the punk band, and decided that I would go take music classes to learn bass guitar, and the teacher asked me, "What song do you want to learn, and why do you want to learn it?" I said, "'She's Lost Control' by Joy Division, and I'd like to know the music theory for why the bassline goes with the guitar line." He figured it out, we played it together, and then he said, "This song breaks every music theory rule there is." I got up and I left the class, and I've never taken a class since, since there are no rules.
How about you, Nicola?
Nicola Kuperus
My route into the kind of music we make today came via a cassette tape. Before the internet, when it used to be really difficult to find music, especially if you didn't live in a major metropolitan area. I think the first cassette tape I had was PIL on one side, Dead Kennedys on the other side. When I met Adam, I really didn't know that much about electronic music. I didn't like electronic music, only punk. That kind of aggression level. Adam said, "Well, have you ever heard of Cabaret Voltaire, or Throbbing Gristle, or Fad Gadget?" It was a mind mint, like a burst of freshness. It was really exciting learning about all this new music.
Adam, how did you get from walking out on this music teacher to electronic music?
Adam Lee Miller
Once I went back to the punk band that I had started in high school, I decided I wanted to bring in keyboards, and then the band proceeded to kick me out. That's when I started learning about MIDI and drum machines. That's how I got into electronic music, being kicked out of my own band.
Then you had a number of solo projects before linking up with Nicola.
Adam Lee Miller
When I met Nicola, I had just started my record label, Ersatz Audio. The reason I started the label is I was supposed to be on Rephlex, but I was a very young man, and I didn't know how slow the music industry was, and so after six months, I called them up and told them that they were taking too long, that I was going to start my own label. It's really hilarious when I look back on that youthful arrogance.
When Nicola and I [first] hung out it was actually the record release party for the label's third record. This was 1995, it was in a café or coffee shop called Zoots, and at night there was a tiny stage. [It was] where everybody went. It was a really great time period. I had a solo project called Artificial Material, and a duo project called Le Car with Ian R. Clark, and Nicola quickly came on board with running the label.
What brought each of you to Detroit from your respective towns?
Adam Lee Miller
I moved from Indiana to Detroit in 1989 to go to art school, and when I opened up the weekly newspaper I was absolutely blown away with the amount of concerts, because in Indiana you had nothing. I think I was doing music more than visual work for a while at school, and then what really changed me was in 1992 when I met someone from Final Cut, the band that Jeff Mills was also in. Somehow I got this guy to sit in my car, and I played him a demo, and he said, "This isn't industrial music," which is what I thought I had been doing. He said, "This is techno music." I asked," What's techno music?" This was '92. He said, "Listen to Alan Oldham's radio show on Sunday night."
Nicola Kuperus
I moved to Detroit in '94 to go to art school. I think when I met Adam I was really ready, looking for something different and exciting. It's when hardcore music became jock music, and it was no longer appealing to go see shows and have a bunch of bros with their shirts off punching people.
Nicola's first live show in her whole life was in Berlin. Mine was in a dirty, abandoned laundromat in Indianapolis.
How and when did you start making music together?
Adam Lee Miller
August 6th this year will be the 20-year anniversary of our first concert together.
Nicola Kuperus
The way we started making music together was basically a joke. Adam got invited to play a handful of shows in Germany, and I was standing there when he got the call. He said, "Would you like to come with me?"
Adam Lee Miller
Well, first I said, "Can you play music?" And you said, "I took piano in junior high." And I said, "Good enough." Then I got back on the phone. It was Studio !K7 [calling], and I said, "There are two people in the band when I perform my solo work." They said, "Yeah. Makes sense. We'll send two tickets." Nicola's first live show in her whole life was in Berlin. Mine was in a dirty, abandoned laundromat in Indianapolis.
Did travelling change anything about the music that you were making, or what you were thinking about while making it?
Adam Lee Miller
When we went on our first tour through Germany, we toured with this DJ team, Georg Luttermann and Andreas Bolz, they ran a record store in Cologne called Formic. They were really the ones that opened up so much [to us], playing all kinds of fantastic music. They also had a studio that enlightened and inspired us on how to sync different kinds of gear and how to record.
Nicola Kuperus
The interesting thing at that time, traveling through Germany, was the presence of the 4/4 [beat]. It's kind of the history of our band, where we never quite seemed to fit into any particular category, so we're in Munich playing a very famous club called Ultraschall, and some guy comes up and goes, "When are you going to play the 4/4?"
Adam Lee Miller
Yeah. He said, "I drove a very long way to hear 4/4. I don't like what you're playing." I said, "How long did you drive to get here?" He goes, "Three hours." I said, "Well, I flew from Detroit. That's longer. I get to do what I want to do."
The two guys that we were touring with from Formic also had a record label called Electrocord, and they were like, "This is not your solo stuff anymore, you should release this," so they put that out [under the artist name Plasma Co.]. But it all happened really quick, and we quickly realized we didn't care for the name.
Nicola Kuperus
Plasma Co. didn't suit us. Oddly enough, we went to the other side of the street. The name came from a location on Woodward Avenue, which is the main drag that connects Detroit to the suburbs, and there was a building called Plasma Co.
Adam Lee Miller
Right across the street was a porn shop [with a sign] that said "ADULT" really big. We didn't even realize we had done that until we were driving down the street. We laughed.
Your record Resuscitation is a collection of your earliest releases. You move between different styles of music so fluidly, so how does it feel to hear or play older songs like "Hand to Phone" now?
Nicola Kuperus
That's always been the nemesis song for me, for 18 years. I think one of the hardest things about the kind of music we make is trying to figure out how you translate the album recording into a live version. There's certain elements you have to leave behind from the recording, and add certain new elements. It's almost like a new song, and I think that song in particular has taken several years to get it to a point where it's actually quite enjoyable to play it live.
Adam Lee Miller
About three years ago, we finally had the right gear and the right smarts to put together a version that we do enjoy playing live. We're now touring for our album, Detroit House Guests, and we really approached it more like remixes. Nicola really took a long time because she had preconceived [ideas of] what a song is, but she came up with some really fantastic interpretations of some of the songs that she can now do on her own.
Could you talk specifically about two guests and songs from the album, "Let Your Body Learn" with Douglas McCarthy, and "Forbidden Fruit" with Dorit Chrysler. What was it like having each of those artists in your house?
Nicola Kuperus
Adam and I have been big fans of Nitzer Ebb for a very long time. Working with Douglas, we obviously share some similarities in things like lyric content to sound palettes, so getting to have Douglas come and live with us and record with us was very exciting.
Adam Lee Miller
Every [album guest] artist had their own way of working, and Douglas said, "I want to focus on vocals. I don't want to have anything to do with writing the music." I said, "Fair enough," but of course quickly he was like, "What if we changed this here?" It was totally collaborative. [The album's collaborators] lived in our house, and we were together 24/7.
Dorit would get up every morning and rehearse in her bedroom. We would wake up to theremin going through our house.
Nicola Kuperus
With Dorit Chrysler, Adam and I were playing Moogfest 2014, and happened to serendipitously get to see Dorit perform. We were both immediately in awe of her sound and her presence. I mean, she's somebody that commands your attention, and she's incredibly talented, incredibly beautiful. She's truly a very talented musician, and kind of blew our minds in the studio. Like how she'd just walk across and be like, "This song is in the key of..." And run her fingers along a synthesizer.
Adam Lee Miller
She had that knowledge nailed down. One thing that was wonderful about having Dorit at our home was she asked if she could have an amp in her bedroom, and she had a second theremin, and she would get up every morning and rehearse in her bedroom, but she would only do classical. We would wake up to theremin going through our house, it was the best way to wake up.
I mean, I can tell a story about every [house guest], but Dorit was ready in four hours. She was like, "Well, let's get to work." We were like, "Let's hang out a little bit longer." She said, "OK, well maybe we could go to the studio and I can set up my stuff, and we can keep talking." Everybody has their own [method], and that's why I think Detroit House Guests is cohesive, because it has a lot of ebb and flow, but it's the two of us and it's our studio.
We had no idea if we could pull this record off. I mean, to bring in six different artists to write two songs with each, and then to try to have something cohesive at the end. We won the Knight Foundation grant to facilitate the creation of this record, and it was very specific in the contract that the monies were for a collaborative process, not for an album. Nobody had any pressure, but everybody we picked was so professional and driven that of course once there were two written with Douglas, Dorit was like, "Well, I'm writing two."
Nicola Kuperus
The challenge was on.
Adam Lee Miller
Yeah. We wouldn't let anyone listen to any of the other songs.
Going back to your earlier releases like Why Bother and Anxiety Always it seems like a lot of people assume these songs are autobiographical.
Nicola Kuperus
We like to speak about reality, real things and real issues, in a way that's a little bit more absurd, or maybe presented with a little bit more bleak humor. But they're all realities and topics that a lot of people struggle with.