Moodymann, Prince and the Black Artist Unbound
Thomas Chatterton Williams on the iconic Detroit artist's music and persona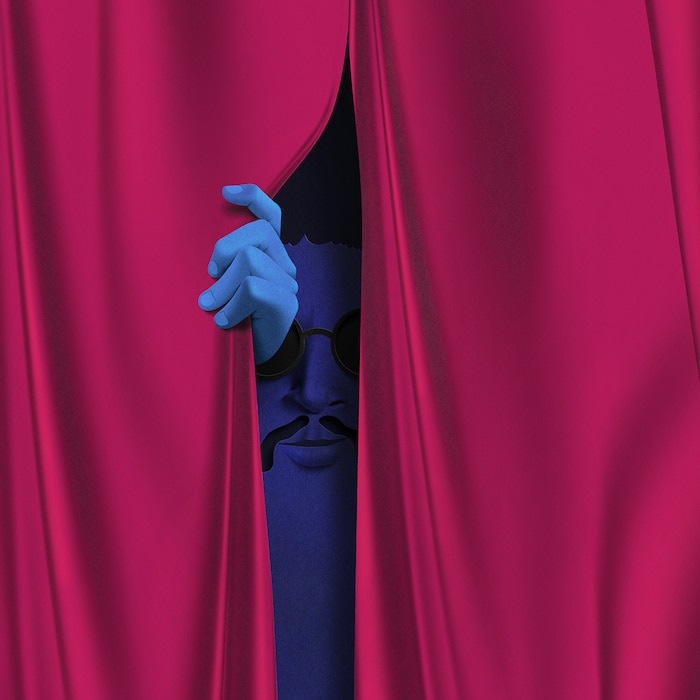 "I am not the hottest motherfucking DJ in the world. And I'm not going to play the hottest tracks in the world – but what I will do is give you the truth on them turntables." That's what Kenny Dixon Jr told the crowd at his now-legendary 2010 Red Bull Music Academy lecture in London, while sipping cognac and soda and having his voluminous afro plaited and braided.
I thought about this statement one Saturday morning in Rome when Dixon, better known as Moodymann, was putting that truth on full display. Dressed in a black Detroit Tigers t-shirt with a hairnet stretched over his face like a thrift store Margiela mask – and backed up, as is his custom, by two writhing muses whose job it was to take selfies – he commandeered the decks and proceeded to outline a thoroughly compelling, genuinely surprising litany of sonic connections. From DJ Cam's "Summer in Paris" and Aerosmith's "Come Together" (mixed into Ol' Dirty Bastard's "Got Your Money") to a remix of D'Angelo and Uptown Funk Empire's "Boogie," Dixon revealed a heterodox internal logic running through black music across genres and eras.
In the 20 years since Silentintroduction, his 1997 debut LP on Carl Craig's Planet E label, Moodymann has released over a dozen studio albums and EPs but granted just two proper interviews – in 2007, on Gilles Peterson's BBC Radio 1 show, and the aforementioned RBMA lecture from 2010. Nonetheless, as both a DJ and producer, his is one of the more discernible and coherent philosophies in electronic music – an unapologetically black and polyglot sound, at once universal and deeply specific, rooted in the physical space and history of his home city.
"It's only three things gonna happen in Detroit," Dixon told Peterson. "You either gonna sell or make cars, you gonna be a musician, or you gonna be on drugs." With car manufacturing no longer what it used to be, Dixon wisely gave himself over to the second option following an early brush with the penal system. The son of a musician, with a grandfather who owned jazz clubs, his métier came naturally. Moodymann emerged as a prominent member of the "second wave" of Motor City electronic artists making a name in the early and mid-'90s, following in the footsteps of Juan Atkins, Kevin Saunderson and Derrick May, three pioneers of techno.
In describing the development of his own aesthetic, Dixon is modest: "I didn't start off with four-on-the-floor music – just like everybody in Detroit, we all started with soul or church… I couldn't stand church… But the music was crazy… I got more into hip-hop in the '80s; on the side I would always do these backyard parties. It's simply home – we know no other way."
Hollowed out by decades of deindustrialization and white flight, Detroit nonetheless managed to give the world both Motown and techno, two monuments of black music. Though the former is as synonymous with the culture and people that produced it as jazz or hip-hop, the latter, oddly, is something whose black roots have grown far less visible. I can't help but wonder if this is part of the reason Moodymann's persona – a kind of performance art, really – can be redolent of black clichés to the point of ridiculousness. It is as if, in addition to the incontestable truth of the turntables, just to be extra safe, he wants to make sure we have a visual reminder.
I didn't have to have no game, I just had to put a Prince record on.
Perhaps such gestures are necessary in 2017. In a club packed full of Romans, before Moodymann appeared it was certainly easy enough to lose sight of the fact that in the early and mid-'80s there existed a moment when New York rap, Chicago house and Detroit techno – alongside uncountable other genres and subcultures – vied with each other more or less as equals, each as likely as the next to disappear or succeed, to shape and define the sound of the contemporary black experience.
Hip-hop won the contest to such an extent that for the past 40 years all mainstream black culture has been remade in its image, with earlier black forms, from funk to R&B to jazz, staying relevant to the extent they've remained in dialogue with this conquering aesthetic. Meanwhile, house and techno, no longer the main events in American inner cities, have found safe haven overseas, gradually coming to be seen as white music in the eyes and ears of non-aficionados.
In both appearance and substance, Moodymann levels as elegant and profane a refutation of this ahistorical misconception of electronic – and black – music as could be imagined. "Hell," as he put it hilariously, "I thought Kraftwerk was four ni---s." His DJ-Kicks mix from 2016 amounts to a tour de force distillation of the range and diversity of black sound (performed by blacks and non-blacks alike) over 30 tracks that span lush R&B, spaced-out psychedelia, transcendent deep house and folksy guitar strumming. It's music without boundaries, held together by soul.
That's why it makes so much sense that Dixon himself is a zealous devotee of Prince – the black artist unbound par excellence. He's not just any old fan, either, but a man who has taken advantage of his hometown's incredible real estate opportunities to convert a large brick house into a shrine for the late master, filled with records and memorabilia. There are purple drapes flowing out of every window.
Asked why Prince had such an impact on his sense of self, Dixon once told a journalist from Vice: "Girls. Women. I didn't have to have no game, I just had to put a Prince record on. It was easy. I didn't have to say nothing. They'll come to the car where I'm playing it loud, and they'll be like, "Can you turn that up?" And I'll be like, "No, you turn it up.'"
This is both an evasive and a deeply revelatory answer. Moodymann's brand of house music is the rare kind that is legitimately sexy, charged with and capable of generating eros. On a track like 2008's "Freeki Mutha F*cker," Dixon – who's blessed with a drawl that's equal parts syrup and solid gold – playfully confesses to an exhibitionistic neighbor that he's been spying on her through the back window:
I love ur bedroom shows at night
They better than cable tv
And the things U do 2 yourself
I wish u do 2 me
And no one really understands U
Not the way I do
Ur needs, ur wants, ur love,
the sex in U
I'll never take u away from ur joy
U know my game
Freeki movies, freeki clips, freeki people, freeki chicks
I have no shame

I still don't know yo name
I just lyk 2 look
U don't even lyk this song
U just dig the hook
It's the 21st-century love child of Prince's "Erotic City," a deep house track with a level of songwriting and wit not usually encountered in such precincts. And it's entirely plausible that Moodymann, an indefatigable producer just like his idol, recorded the music in his purple shrine on a whim. "A lot of people, after work, you go home, you take a bath," he explained in London. "A lot of people, you go home, you fuck your wife, a lot of people go home, you cut your grass. I go home and I fuck that motherfucking MPC all fucking night. You understand? I release probably ten percent of the stuff that I actually do. Just because I go home and I turn it on and fuck with it does not mean I am making a track for the next EP. It is just something I like to touch and feel; it feels good to me."
As part of the Red Bull Music Academy Festival New York 2017, Moodymann plans to channel his considerable powers and creativity into a funky, freewheeling all-night set comprised solely of Prince's music. We might not all be able to visit the real thing in Detroit, but for one night only Moodymann is throwing open the doors to the purple shrine inside his mind. It's an opportunity to act as artistic conduit that he clearly values – the reason he doesn't do interviews, Dixon told Peterson a decade ago, is because he finds his own role unimportant. "People pay too much attention to the damn DJ, the talent is sitting on the turntables." His job, as he conceives it, is to connect as many people as possible to that talent. "Whatever I'm playing up there at the particular moment, I might be at home in Detroit in my motherfucking Impala, playing the same-ass shit. So if people, promoters want to bring me to their spot, I'm there to share my environment, not to give you a part of your own."