Infinite Journey to Inner Space: The Legacy of Drexciya
A quarter century after their first 12" and 15 years since the death of James Stinson, the legacy of Drexciya is more enduring than ever
One evening back in May 2002, in the studios of Detroit public radio station WDET-FM, disc jockey and host Liz Warner was settling in for another edition of her nightly freeform music show when the request line rang. Warner, then known as Liz Copeland, answered the call, but was shocked by what she heard. "This is James from Drexciya," said a male voice. "If you want to we can do an interview."
"I wondered if it was a prank call," recalls Warner, who now lives in Los Angeles and presents a monthly show on internet radio station Dublab. "That doesn't happen, right? Drexciya just doesn't pick up the phone to offer a radio interview."
Warner knew instantly that this was the great white whale of Detroit techno interviews. While we now know that the electronic duo Drexciya is believed to have comprised James Stinson and Gerald Donald, two African-American producers from Detroit, at the time even their real names were a matter of considerable intrigue, their identities debated endlessly among electronic aficionados. The group had granted very few interviews since they first surfaced in 1992, and had established an almost impenetrable fog of mystery around their project.
Warner and the caller conversed and he agreed to visit the station the next day, but unsure of whether the call was legit, she refrained from publicizing the interview beforehand. Sure enough, a large man introducing himself as James Stinson arrived at the WDET offices at the appointed time, and the pair had a nearly half-hour conversation live on air.
That night, Stinson described the theme of Drexciya's music as "an infinite journey to inner space within, and to find the beauty that's inside and bring it out." He also explained the lengths he went to keep his work free of outside influences. "I don't enjoy myself, I don't go out to clubs or anything because I'm dedicated to what I do," he told Warner. "I guess you could say it's almost like a phobia. I don't want to pick up other people's ways of doing things and the music so forth because I don't want it to come into my world, into my music, and make it un-pure." To avoid that, he imposed an almost monastic rigor on himself: "Just lock myself away, don't listen to other people's records, don't listen to the radio, stay away from my friends, don't pick up none of their energies or vibes."
Underground Resistance had introduced a potent political subtext to the dancefloor, and to this Drexciya added a recurrent reminder of slavery, America's original sin.
Warner concluded the interview by asking Stinson if he had any plans to stop making music. "No, not 'til I die," he replied. "That's been a motto: 'Experiments must continue, even 'til death.' Well, even if I die next week or whatever there'll still be a lot of music left. I have a nice stockpile."
Stinson's sign-off turned out to be eerily poignant: A little over three months later, he was dead from complications of a heart ailment. Much as he prophesied, in the years following his passing further recordings have continued to be released and reissued, with more still being unearthed. This month, an EP of Stinson's recently discovered DAT recordings is being issued by Dutch label Clone Records as Laptop Cafe under the name Jack Peoples. Stinson's former partner Gerald Donald has been even more prolific, using the Germanophilic pseudonyms Rudolf Klorzeiger and Heinrich Mueller (the latter name shared with the chief of Hitler's Gestapo, the most highly ranked Nazi whose fate was never confirmed) to continue recording under such monikers as Dopplereffekt, Der Zyklus and Zwischenwelt, all while maintaining the wall of silence about Drexciya.
A quarter century after their first 12" was released, and 15 years since Stinson's passing, Drexciya's legacy is more enduring than ever. Thanks to a series of reissues, most of Drexciya's music – a funky hybrid of electro and Detroit techno – is now readily available to a new generation of fans. The group released a series of eight impeccable EPs on different labels from 1992 to 1997, bouncing from Detroit imprints Shockwave, Underground Resistance and Submerge to the UK labels Rephlex and Warp, culminating in the 1997 Submerge compilation The Quest, which was heralded as their final transmission. After a hiatus, however, three albums were released under the Drexciya name from 1999 to 2002, two on the German label Tresor and one on Clone, plus four more albums credited to a series of different aliases that were apparently linked to the Drexciya project by Stinson's concept of "Seven Storms."
But Drexciya's reach goes far beyond their musical output and into the realm of the fantastic. Through a series of clues and missives, the group's records introduced the sci-fi saga of the undersea civilization of Drexciya, whose water-breathing residents were the descendants of pregnant African women cast overboard in the Atlantic during the Middle Passage – a fable that writer Greg Tate calls a "revisionist look at the Middle Passage as a realm of possibility and not annihilation." Inspired by this provocative mythology of a so-called "Black Atlantis," wave after wave of artists, writers and filmmakers have spawned a fertile ecosystem of speculative fictions and imaginative interpretations that has flourished far downstream from electronic music circles.
In addition to the mythology underlying their artistic vision, there's considerable folklore about the genesis of the group itself. Secrecy and anonymity was Drexciya's modus operandi. Stinson rarely gave interviews and his partner Donald was even more circumspect, taking his avoidance of a public profile to lengths that fellow Detroit techno producer Daniel Bell terms "very surreal."
"Gerald never fessed up to being in Dopplereffekt, Drexciya, Elecktroids, etc..., even though I would see him a few times a week in the '90s," says Bell, who besides his own recording work also ran 7th City Distribution. "I pressed and distributed all the Dopplereffekt releases through my distribution company and even discussing business, I would always need to say, 'If you should speak to someone at Dopplereffekt, please let them know we should repress, etc...,' because he denied any involvement."
Exploring the murky waters of Drexciya is thus no easy task. With one member dead and the other unwilling to talk, it's difficult to impossible to now determine exactly who contributed what. Other musicians, including Dennis Richardson and Alex Lugo of the Detroit electro group Ultradyne, are thought to have possibly participated on some Drexciya recordings, or at the very least contributed to the Drexciya spinoff project Elecktroids, who released the album Elektroworld on Warp in 1995. Moreover, Drexciya worked with "Mad" Mike Banks of the Underground Resistance collective, and many of UR's concerns and themes – including messages of sonic rebellion and liberation, an emphasis on the music itself rather than the musician's personality and counterintelligence and coded secret knowledge intended "For Those Who Know" – overlapped with the Drexciyan dispatches. UR had introduced a potent political subtext to the dancefloor, and to this Drexciya added a recurrent reminder of slavery, America's original sin.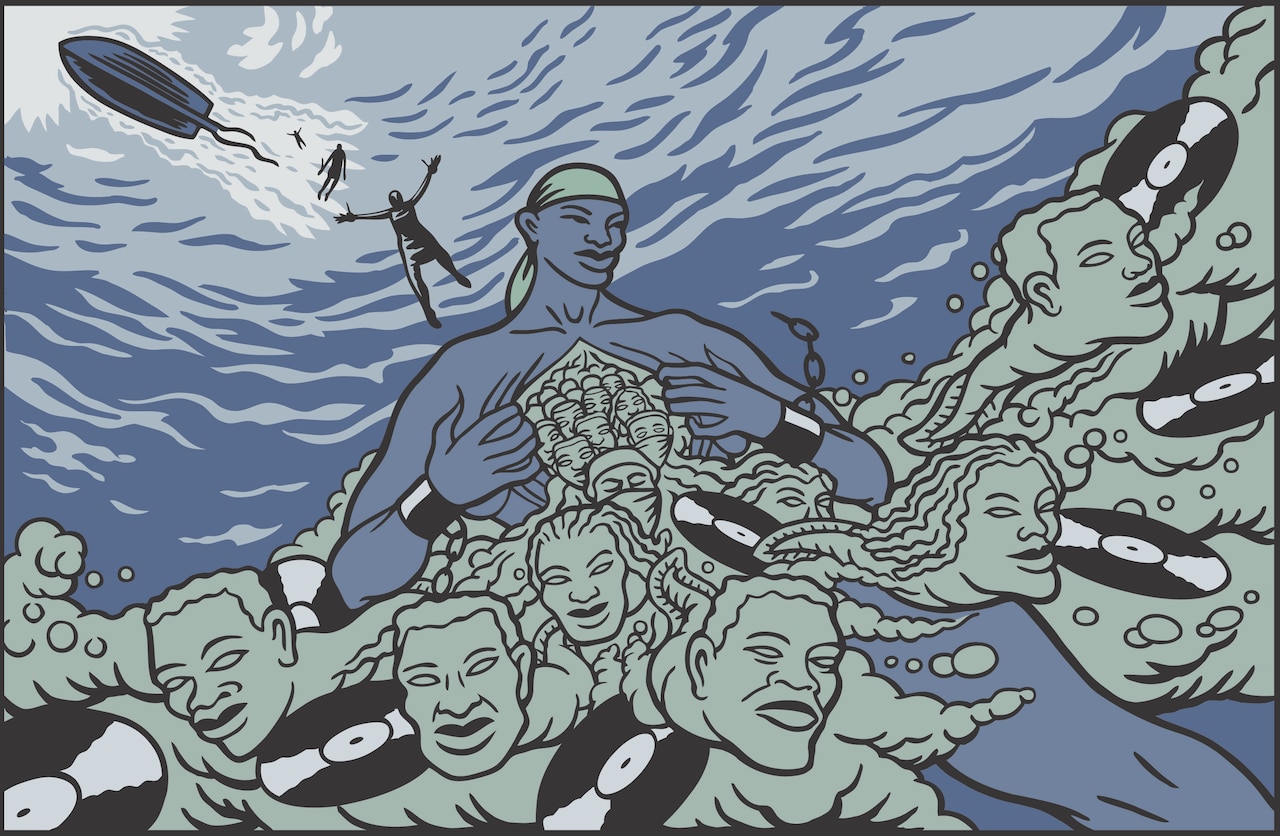 Both James Stinson and Gerald Donald were raised in Detroit's hardscrabble east side and apparently met while students at Charles F. Kettering Senior High School, now closed, which was located on Van Dyke near Interstate 94 and whose school motto was "Go Hard or Go Home." Stinson first heard electronic music in the early 1980s, riding around on his bike with a radio when Cybotron's "Alleys of Your Mind" came on. "It was the sweetest sound I had ever heard at that time," he told interviewer John Osselaer for the TechnoTourist website in 2002. Like most of Detroit's future techno producers, Stinson grew up listening to the mind-expanding radio DJ the Electrifying Mojo. The concept of Drexciya first came to him while still in high school. "One night I could not sleep, cold sweat, tossing and turning and around 3 AM September 18, 1989 I stood up and said 'Drexciya,'" Stinson told Osselaer. "It felt like a tidal wave rushing across my brain. All kinds of ideas were coming out."
Despite this eureka moment, it took three more years of experimenting before Drexciya was ready to be unveiled to the world. In 1991, Stinson tried his hand at electro-backed hip-hop under the name Clarence G on the self-released Hyperspace Sound Lab EP. Donald put out an EP as Glass Domain that same year, as well as the 12" Balance of Terror EP as L.A.M. (or Life After Mutation) on Robert Hood's Hardwax label in 1992. This latter record featured blistering, aggressive techno tracks like "Radius of Infliction" and was a particular favorite of Detroit DJ Jeff Mills, who was so impressed he reportedly had Donald sign his copy of the release.
It was Mills' partner in Underground Resistance who would prove to be the most crucial figure in Drexciya's evolution. "Derrick May called me and said he had some music that he thought would fit with what we were doing at UR," says "Mad" Mike Banks, whose first impression of Drexciya was of "vicious lo-fi synth movements while being recorded. A general lack of fear. No concept of anything popular. Definitely UR territory." To Banks, it was the pair's drum programming that made them stand out from what was happening at the time. "The Korg Mono/Poly and the use of clock timing from the 808 versus the other drum machines being used in the early '90s. The 808 is stiff, it has no swing to loosen the timing. Black precision. The timing made it distinct."
Brendan Gillen was working as music director at the University of Michigan's freeform radio station WCBN-FM in 1992 when he got a package from Submerge with Drexciya's debut 12" Deep Sea Dweller, released on the UR-related label Shockwave Records. "I was blown away, and I called Mike up right after I received the record. I was like 'What the fuck, this shit is amazing, how can I get these guys down here onto my radio show?'" says Gillen, AKA BMG, the founder of the Interdimensional Transmissions label. "For me it had a way of expressing the emotions of techno that I hadn't heard before. The music itself seems confrontational. It was obvious to me, the college music guy, how revolutionary they were when I heard their first record. There were almost Black Sabbath riffs on that shit. There's something really special there, and there's an outsider viewpoint, a unique path within techno that nobody else did, which I think is what people really relate to with it."
I'm certain that they meant the records to be the personality that represents the band. It's attempting to communicate through this mythology and coded, secretive discussions of where they're coming from.
In Gillen's view, the first Drexciya records have an immediacy and rawness, with no concessions made to what a DJ might technically need from a record. "Drexciya songs will have a 13 bar intro, or a six bar breakdown," says Gillen. "In techno, things usually have to be divisible by four, and Drexciya doesn't care about that. They leave that far behind. It combines all the things that add up to Detroit techno, from pre-"Sharevari" to Derrick May's "The Dance" and "Strings of Life," all those influences, but it puts them together in its own way. None of the original Detroit techno creators would have made the story in that way but it comes from all the same sources, yet it has this incredibly emotional, unique, dirty feeling. It doesn't feel perfect. A lot of Detroit techno still feels in the vein of aspirational and Drexciya doesn't seem to give a fuck about that. That's pretty punk rock within electronic music."
From the start, Drexciya were also supplementing their music with a piecemeal cosmology, devising oblique strategies to reveal their hidden messages. Sometimes the clues were in the songs themselves. On 1993's Drexciya 2: Bubble Metropolis EP, the title track featured a woman's voice giving docking instructions: "This is Drexciyan Cruiser Control Bubble 1 to Lardossian Cruiser 8-203X, please decrease your speed to 1.788.4 kilobahns." The end of "Aquabahn" (from 1994's Drexciya 4: The Unknown Aquazone EP, which Gillen considers their masterpiece) contains a backwards-masked message that sounds like "I fuck my artificial bitch." Other times, to even listen to the records demanded a physical engagement: On the Deep Sea Dweller 12", the music was accompanied by the words "TECHNO FROM THE DEEP" etched into the inner matrix grooves in wiggly letters on side A, while side B played from the center out, with "DEEP H2O" inscribed on the outer edge of the vinyl. 1996's The Return of Drexciya EP had three songs that played at 33 RPM, while the second song on side A, "You Don't Know," played at 45 RPM, and the center of that side was inscribed "You Don't Know What Lurks In The Fog."
"They put in weird little references like that throughout it, and I find that to be so enriching," says Gillen. "All that kind of stuff is part of the Detroit thing where the records are art, and I'm certain that they meant the records to be the personality that represents the band. It's attempting to communicate through this mythology and coded, secretive discussions of where they're coming from. These are records without 'covers,' but the labels, the groove art, the messages in the grooves, the ways the grooves are cut, and the little sheets or statements they would include are little extra gifts. They all add up to this massive story, and I feel that no other artists other than Underground Resistance played this medium better than Drexciya."
To the standard electro palette of analog synths and 808s, Drexciya added a bubbly variety of wet-sounding keyboard lines, plus echoey sonar pings, depth charges and diving sounds. Vocals, while infrequently used, were usually distorted with voice processing. The group apparently recorded their music live, but never played an actual concert, though there were plans for a Drexciya gig (on a bill along with Dopplereffekt and Ultradyne) during the 2001 Detroit Electronic Music Festival weekend. "I know they had rented a hall on Gratiot," says Banks. "It was shaping up to be the after-party of the year, but they pulled no permits and the cops showed up. That's about as close to a Drexciya live show that ever happened."
Remarkably, songs like "Aquatic Bata Particles" (which was initially released by Aphex Twin on his own Rephlex imprint in 1994) got Detroit radio airplay on WGPR and WJLB mix shows, while club DJs like Sherard Ingram spun Drexicya cuts in biker bars and booty sets. It took a few years after his initial request, but in the mid-'90s Gillen was finally able to entice both members of Drexciya to come to WCBN's Ann Arbor studios for an appearance on his techno-themed Crush Collision radio show. Gillen agreed to pitch-process their voices to camouflage their identities, but the pair still showed up in costume, with one wearing a balaclava over his face and the other sporting the half-black/half-white facial makeup worn by Frank Gorshin in the 1969 Star Trek episode "Let That Be Your Last Battlefield." "I was like 'It's radio – nobody's going to see your face paint,'" recalls Gillen. "But it meant everything to him – he didn't want anybody to know who he was."
It was 1995's Aquatic Invasion EP that exponentially upped the myth-making quotient. On the matrix label of side B was an entire paragraph communiqué credited to "The Unknown Writer," declaring that "Drexciyan Tactical Seaforces received orders from UR Strikeforce Command, for one final mission" in which a "final mighty blow will be dealt to the programmers. Aquatic knowledge for those who know." On the other side's center label was Detroit artist Frankie Fultz's illustration of a group of "Drexciyan Wavejumper commandos somewhere in the Atlantic" launching spears at something under the sea. Fultz's Wavejumper image has since become iconic, serving as the group's de facto logo (and later adopted by Clone as the artwork for their four volume Journey of the Deep Sea Dweller reissue series that compiled the music from their initial eight EPs). "They gave me the title of the record and they let me listen to it," remembers Fultz. "It just reminded me of some guys doing some scuba-jumping from helicopters, and that's how I came up with the artwork." Fultz says he also put together an entire book of illustrations he did for the group, including many unreleased pieces, which he believes is currently in the possession of Stinson's widow.
In 1995, Drexciya also released The Journey Home EP on Warp, and around this time Stinson granted his first-ever print interviews. The initial one, to Dave Mothersole in Melody Maker, was memorably combative, with Stinson (identified only as "James") criticizing Canadian DJ/producer Richie Hawtin for throwing parties in Detroit and bringing suburbanites and others of the "Caucasian persuasion" downtown (possibly the subtext of the "DON'T LET US FIND YOU IN DETROIT" warning that had been etched on the Submerge version of the Drexciya III: Molecular Enhancement EP). A 1997 interview with Tim Barr for Muzik was more illuminative about Drexciya's intentions. "A lot of electronic music is straightforward, it doesn't take you on an adventure," said Stinson. "Too many records just go from point A to point A. Our material zig-zags. We want to take you from point A to infinity. The music is there to implant in your imagination and let your psyche take over and run wild."
The Muzik article appeared in conjunction with the 1997 release of The Quest, a two-CD compilation on Submerge that collected selected tracks from the Detroit label 12"s. The album was a landmark in Drexciya's career on several levels. Apparently it was intended as a final statement from the group, who associates say had stopped working together by the time of its release; issued on CD, it also made Drexciya tracks widely available for the first time to listeners who weren't techno vinyl collectors. Most importantly, the album packaging contained the most overt explanation of the Drexciyan mythology ever officially proffered. The liner notes contained four world maps: "The Slave Trade (1655-1867)," "Migration Route of Rural Blacks To Northern Cities (1930's-1940's)," "Techno Leaves Detroit, Spreads Worldwide (1988)" and "The Journey Home (Future)," which predicted a return pilgrimage from North America and South America back to West Africa. There was also an essay, again credited to "The Unknown Writer," which laid out the Middle Passage origin story in its boldest form yet:
Are Drexciyans water-breathing, aquatically mutated descendants of those unfortunate victims of human greed? Have they been spared by God to teach us or terrorize us? Did they migrate from the Gulf of Mexico to the Mississippi River basin and on to the Great Lakes of Michigan? Do they walk among us? Are they more advanced than us and why do they make their strange music? What is their quest? These are many of the questions that you don't know and never will.
If Discogs can be trusted, "The Unknown Writer" is one of the aliases of UR spokesperson Cornelius Harris (along with "The Ancient" and "Atlantis"). "The thing about mythology is, it does take on a life of its own," says Harris, without acknowledging nor denying his authorship. "It's easy to say that James was the point person for the mythology, but the thing is Mike [Banks] contributed a lot. There are other folks who contributed towards the mythology, and so it becomes difficult to talk about because there was a lot of back and forth. There were times that I'd say something to James and he'd just go on this 20 minute speech about Drexciya, but then there would be other times when it would sort of go in the other direction and he would almost want to distance himself from it, and then other folks would kind of get back to the raw side of it. I think why the mythology is so dense is that even though a lot of it came from that person, it wasn't all from that person. And I think that's kind of how you build a world: you've got a lot of people in that world, a lot of people contributing to that world."
In a sense, to be a Drexciya fan was to build the mythos by yourself.
A key contributor to the dissemination of Drexciyan lore was British writer Kodwo Eshun, who wrote a hugely influential 1997 article on The Quest in The Wire entitled "Fear of a Wet Planet." "They seemed so far ahead of everybody else and so out on their own, I just totally fell under their spell," says Eshun, who would also write about Drexciya in his 1998 book More Brilliant Than the Sun: Adventures In Sonic Fiction. "They just seemed to epitomize everything I wanted from techno at that moment in time. A lot of the Detroit people who were more popular, for example Kenny Larkin and Carl Craig, they were fine, but they didn't have the kind of remoteness and the distance and the foreboding, intimidating quality that Drexciya had. They were more approachable, and all too human, whereas because Drexciya weren't around, I could project all kinds of extra-human desires onto them – I could imbue them with so much fantasy, so much longing, so much feeling – so that they became really an epitome of what I wanted, which was this notion of sonic fiction, that relation between science fiction and the organization of sound."
Eshun was particularly struck by Drexciya's song titles, which alluded to bizarre characters like Darthouven Fish Men, Mutant Gillmen and Dr. Blowfin; unfamiliar phenomena like Hydro Cubes, Aqua Worm Holes and Aquatic Bata Particles; and strange places like the Red Hills of Lardossa, Positron Island and Danger Bay. "It's a super-evocative, imaginative geography, the actual fiction of the names, the map being created and being filled in from record to record," says Eshun. "It was a world that was only being filled in partially, track by track, and you were doing a lot of that navigating, with the help of the music and the track titles. In a sense, to be a Drexciya fan was to build the mythos by yourself."
"When The Quest came out," Eshun continues, "it was a kind of magnificent monumental mythology and then the map, which gave it this epic, world historical sequence of evolution. When you look at it now, it's just one page of one CD, an insert, but it was a lot. It was enough to just in a way take the fantasies that you projected and then scale them up to give them this kind of world historical dimension, and the effect was to really take over your head and just occupy the map that the music had built."
For Eshun, the science fiction aspect is a key component of Drexciya's mythology. "In an American context, questions of futurity are absolutely critical: for African-Americans, Latino-Americans, Asian-Americans and all diasporic subjectivities, science fiction is by no means escapism. It's the reverse: science fiction is a kind of theory of escapology which enables you to diagnose the traps that society, especially a society based around police power, based around white supremacy and based around a kind of aesthetic hierarchy which continually refuses to accept African-American aesthetic projects, refuses to give them their due. Under these conditions, science fiction takes on a critical and political role."
Sci-fi had already potentially been a key influence on the members of Drexciya. One probable antecedent was Parliament's 1978 album Motor Booty Affair, whose vinyl gatefold edition came complete with Overton Loyd-illustrated pop-up cardboard figures of mutant characters hailing from an undersea kingdom of funk; in one image, the banner "We Gotta Raise Atlantis To The Top!" is waved from the ocean floor. As adolescents in the early 1980s, Stinson and Donald would likely have come across Marvel's 1966 animated series Prince Namor the Submariner on the Detroit area UHF station WXON after school on weekday afternoons, as well as syndicated reruns of the mid-'60s sci-fi series Voyage to the Bottom of the Sea, where an all-white cast traversed the ocean depths in the nuclear submarine Seaview. More contemporaneously to Drexciya's conception, James Cameron's 1989 film The Abyss floated the concept of a liquid-breathing apparatus using oxygenated perfluorocarbon fluid, itself perhaps based on the actual news that doctors at Temple University had used a "liquid ventilator" in an attempt to save a premature baby. (Both of these ideas are alluded to in The Quest's text.)
To Gillen, Drexciya ultimately used sci-fi as a self-empowerment vehicle, much as Juan Atkins had proposed in Model 500's "No UFOs." "It's for a neglected group of people in Detroit that weren't encouraged to have an imagination, to spur their imagination," says Gillen. "I think that's the greatest gift that they've given: the message 'Think beyond your boundaries. Don't be stuck here.'"
Stinson himself achieved a measure of escape from Detroit during the latter part of Drexciya's career by working as an interstate truck driver, making music with a MIDI controller in the cab of his rig during long journeys on the road, from which he would often call friends and play his compositions over the phone. Due to Drexciya's embrace of secrecy, however, biographical info like this was withheld during Stinson's lifetime, and those who knew the pair are still reluctant to divulge details on-the-record. Gillen, for example, continues to honor Drexciya's cultivated mystique by keeping the mundane details of their personal existence to himself: "Drexciya is like a music project from the thought plane of existence and it doesn't matter who is involved and when," says Gillen. "Drexciya the concept is the project and the two guys that you know of that worked on it all the time were servants of that thought. Until the story of what it is as an idea is fully communicated, then I don't think it's important to talk about them as people, because I don't think that people fully understand what the idea is. Drexciya should be mysterious, like the creation myth of the Dogon. It shouldn't be a butterfly pinned to a board – it should be a butterfly that you never actually catch."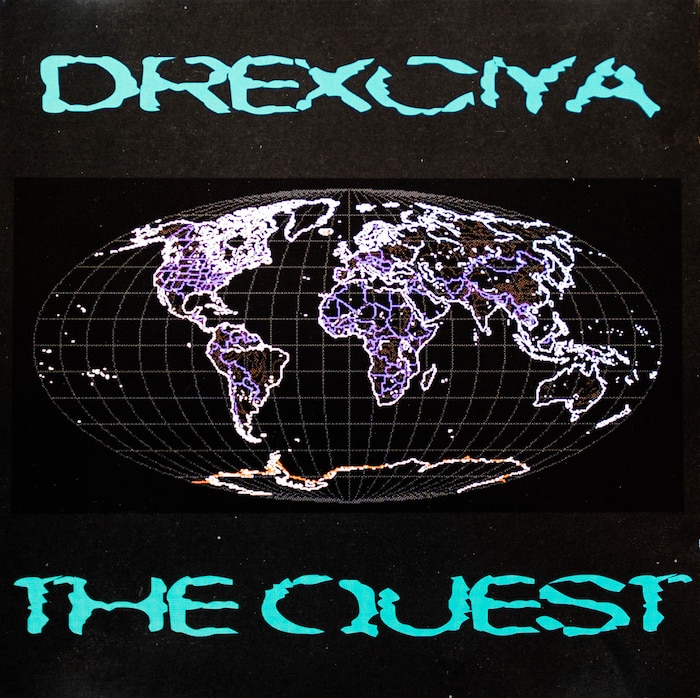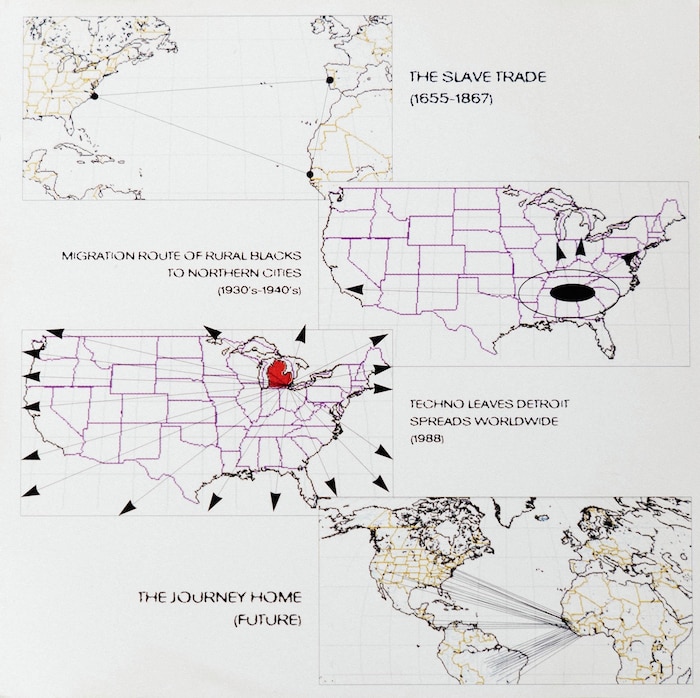 The final track on The Quest was titled "The Last Transmission," and by 1997 Drexciya's mission was apparently accomplished, leaving Donald free to focus his energies on Dopplereffekt and other solo projects like Japanese Telecom. Drexciya's ultra-rare Uncharted EP was released in 1997 as part of UR's S.I.D. (Somewhere In Detroit) series, available solely at their appointment-only Motor City record store. A remix of Underground Resistance's "Electronic Warfare" surfaced in 1996, and previously unreleased Drexciya tracks appeared on a couple of compilations, 1996's Eddie "Flashin'" Fowlkes-curated True People: The Detroit Techno Album on React and 1998's Interstellar Fugitives on UR.
[Stinson] was really upset at the time about the Star Wars movie [The Phantom Menace] because they had an underwater city and he actually thought that they stole his concept.
The latter album featured illustrations by Detroit artist Abdul Qadim Haqq depicting the roster of UR personalities as a confederation of comic book characters. For Drexciya, however, Haqq fashioned a spiky sphere, evoking a virus or spore, a sea urchin or even a naval mine. Where Frankie Fultz's Wavejumpers look militaristic, the Drexciyan warriors Haqq painted look more bio-organic. Haqq lived only two blocks away from Stinson's studio in the basement of Donald's grandmother's house on Crane Street in Detroit's lower east side, so Stinson would come over for extensive conversations about the concepts behind Drexciya and what the artwork should look like. "We discussed life under the sea and he told me how the bubble metropolis would be set up," says Haqq. "He was really upset at the time about the Star Wars movie [The Phantom Menace] because they had an underwater city and he actually thought that they stole his concept. But I was like, 'Hey, we'll just do something else.' I think what we did was even better because it was actually a more circular bubble kind of thing. Then I told him I liked to watch a lot of Discovery Channel and underwater specials and that's where I got the squid concept for the Drexciyan Cruiser. We just had a really good vibe discussing the different concepts and how they would power the city and the aqua wormholes."
Haqq's painting, which would be used as the cover art of Neptune's Lair, Drexciya's 1999 "comeback" album, portrayed a number of Drexciyan cruisers coming out of a vortex-like aqua wormhole lurking beyond a bubble metropolis, which had tentacles supplying energy and nutrients from the ocean floor to sustain the city and feed the Drexciyans. In another piece, Haqq painted five Drexciyan warriors returning from battle, with the Red Hills of Lardossa in the background. Stinson gave him guidance on the officer structure of the squadron. "The lead warriors in front with the capes are the leaders, with the golden helmets," says Haqq. "The lower ranking officers with the blue helmets are further in the painting, and veils represent the lower ranks." The latter artwork was featured inside the album, and bore the Drexciyan credo: "Experiments must continue at all costs, even if it means death."
Carola Stoiber, who ran Berlin's Tresor label during the 1990s, visited Detroit at the end of that decade to discuss the potential of releasing Drexciya's work. She met Stinson, who took her to Detroit's island park Belle Isle for an afternoon of fishing while discussing the financial terms of the arrangement. "I was sitting there and thinking, 'What am I doing here? I'm actually doing a deal while fishing!'" recalls Stoiber. "It's like fishing for Drexciya or something!"
The agreement they landed would lead to 1999's Neptune's Lair and 2002's Harnessed the Storm coming out on Tresor. Whether it was Stinson and Donald's time away from each other or just their personal evolutions, the aggression in Drexciya's music had mellowed somewhat. In a 2002 conversation with Richard Brophy, part of a relative flurry of interviews Stinson gave in his final year, Stinson admitted as much. "We used to be very angry and release frustrations through our music. I think we've replaced it with positive feelings," he said. "We believe electronic music has a healing power."
Despite the stylistic shift, Stoiber feels the Tresor albums are "classic, intelligent, all-time electronic music." Drexciya's work, says Stoiber, is "not connected to this hype or that hype or whatever is hip in this moment. They just did what they had in their heads and in their stomachs. That's why it's so special, because you can hear that it's not connected to anything that was out back then."
Later in 2002 came another album release, this time on Clone. Grava 4 found Drexciya exploring not the ocean depths but outer space, with titles like "Cascading Celestial Giants," "700 Million Light Years From Earth" and "Astronomical Guidepost." "Sun Ra and George Clinton both kind of extended the reach of the mythical dreamscapes of black science fiction to not just space, but to Atlantis," says writer Greg Tate, author of the recent essay collection Flyboy 2. Drexciya reversed this trajectory, starting out on the ocean floor and ending up sailing the cosmos, even purchasing the naming rights to a Drexciya star via the International Star Registry: celestial address RA 18h 35m 37.73s D 37° 22' 31.12", located in the sky near the constellation Lyra and its luminous Vega, itself the second-brightest star visible in the Northern Hemisphere.
"Drexciya's music developed from very personal, powerful and energetic Afrofuturistic music reflecting the energy, struggles and fantasies of these young men in Detroit," says Clone Records founder Serge Verschuur, "to a more mature, thoughtful and intellectual artform. So basically from the vulnerable Drexciyan babies able to adapt to the circumstances and breathe underwater to the strong Wavejumper warrior to owning a private piece in the galaxy. This Drexciyan star could very well be the private hangout of James Stinson these days."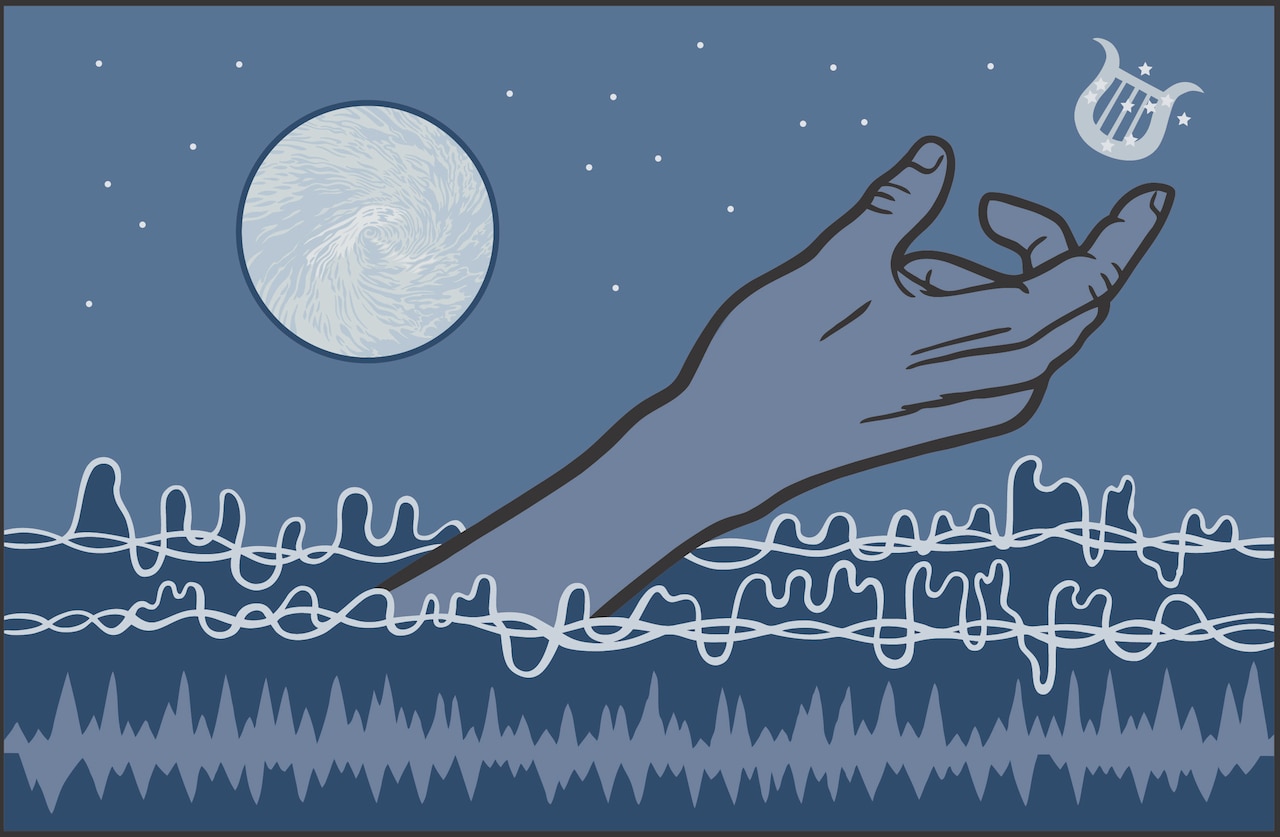 In the last months of his life, Stinson suddenly became extremely prolific, which led to a series of releases he termed the "Seven Storms." ("Over the course of a year me and my partner created one hell of a storm as far as how many tracks we were making and how fast we were doing them," Stinson explained to Liz Warner). In 2001 Stinson had released a pair of pseudonymous albums, Lifestyles of the Laptop Café as The Other People Place on Warp and The Opening of the Cerebral Gate as Transllusion on Supremat. Stinson's death in September 2002 hardly stemmed the tide: Appearing posthumously were another Transllusion album (2002's L.I.F.E. on Rephlex), Lab Rat XL's Mice Or Cyborg in 2003 via Clone and Shifted Phases' The Cosmic Memoirs of the Late Great Rupert J. Rosinthorpe, also released in 2002 via Tresor. At least, the Shifted Phases album is widely believed to have been by Stinson. According to Stoiber, however, Donald gave Stinson the completed album as a wedding present, "so it's a Gerald record." (Abstract Thought's Hypothetical Situations, released in 2003 on Kombination Research, is also thought to be by both Stinson and Donald, but at this point, who really knows for sure?) "Even for us it was sometimes a mystery what he did," says Stoiber of Stinson, "and how much the second one always was influencing or working on that or this one is unclear."
According to the death notice published in Detroit newspapers, Stinson left behind several children and two former wives, as well as a grieving techno community that has continued to sing his praises. In 2004, Detroit's DJ Bone released the single "R.I.D.E. (Rest In Drexciyan Eternity)," while in 2003, the UR-affiliated electro group Aquanauts – led by James' brother Tyree Stinson – put out the "Spawn" EP, the matrix of which featured the inscription "030 U R GONE BUT NOT FORGOTTEN - THE X-PERIMENTS WILL CONTINUE AT ALL COSTS EVEN DEATH. YOUR WORLD WILL LIVE ON THRU US." Sherard Ingram, who had been tapped by Stinson to become the touring "Drexciyan DJ Stingray" (and gigged as such in London and Dublin on 2002's Warp Magic Bus Tour), continues to play Drexciya tracks in his current electro sets as DJ Stingray. Over the last 15 years, Gerald Donald has released scores of records on his own and with other collaborators under a dizzying number of project names; listing all of them here would require a Teutonic translator. Many of them continue in the same spirit as Drexciya, though in recent years reflect a more ambient, often beatless vibe.
Inspired by Drexciya's music and mystique, Stephen Rennicks started the obsessively thorough Drexciya Research Lab website in 2005 and continues to add to it regularly from his home in the Irish countryside. Besides updates on the latest Drexciya reissues, Donald's spinoff projects and theories about the "Seven Storms," Rennicks has created a crucial archive of all of Stinson's existing interviews to keep them circulating. "There was very little online about Drexciya and their offshoots at that time, so I thought it would be a good way to connect with other fans and create a research, speculation and information hub about them and closely related projects," says Rennicks. "I think I and probably a lot of other fans around the world felt a natural curiosity and desire to put some kind of order on this ever-growing catalogue of amazing music, so comparing notes with my friends began that process."
But the greatest tribute to Stinson's vision may be in the proliferation of creative projects Drexciya has inspired in disciplines more than 20,000 leagues from the music scene. Los Angeles visual artist Edgar Arceneaux (who collaborated with UR on the 2013 film A Time To Break Silence) displays the influence of Drexciya in works like his proposed book-length project Mirror-Travel In the Motor City with Julian Myers, which relocates the underwater city of Drexciya to the bottom of Lake Michigan, and his 2011 wall-sized drawing The Slave Ship Zong, which features roiling waves bubbling over with hundreds of pairs of eyes, which Arceneaux says is "tied to the Drexiyan mythology of the transformation of bodies becoming an accelerated evolution of humanity." The New York and Rotterdam-based visual artist Ellen Gallagher, whose work is included in the collections of the MoMA, Whitney and Metropolitan Museum of Art, has since the late '90s devoted her ongoing series Watery Ecstatic to exploring the Drexciya mythos. Gallagher's work often deals with African-American identity, but the Watery Ecstatic series also reflects her years studying on an oceanographic research vessel, depicting finely detailed undersea creatures such as in a 1997 oil, ink and gesso painting called Drexciya, where tiny black female heads swim like schools of fish.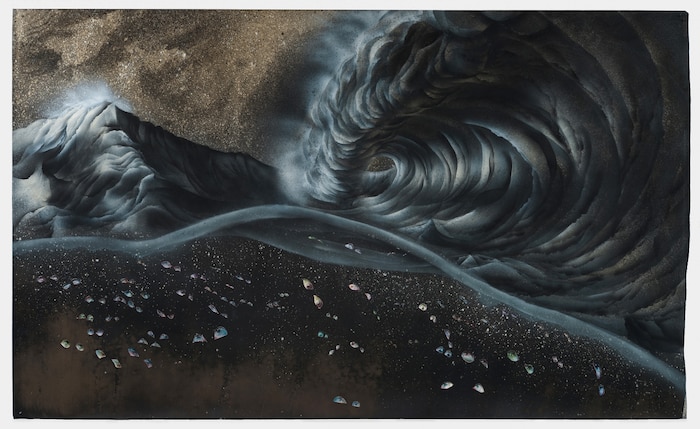 "I don't know that people like Ellen Gallagher spent that much time listening to Drexciya music," says Greg Tate, who wrote the catalogue for her 1998 show at New York's Gagosian Gallery. "But the myth itself was just so provocative and it dovetailed with a lot of people's interests in figuring out how do you tell these stories, like Octavia Butler did, and not get mired in the clichés of the violence in the narrative or the telling? How do you actually make it something that just draws people in, in this way where they kind of forget they're being told this story about the Middle Passage transatlantic slave trade. How do you not make it academic?"
Drexciya's mythology has roots in legends about the Igbo, says Tate, "the Africans least preferred for the slave trade because they were known to jump off ships and drown themselves. There's even myths about them not drowning but walking or flying back to Africa." Tate remains fascinated by the inwardness of the Drexciya project, "the solitude that they built around themselves. No pun intended, just their submergence of identity and selfhood and pursuit of recognition. Because obviously there's something incredibly oblique about techno as a form because it's so instrumental and just so brutally minimal – it's so much about kind of the erasure of the human. And the thing with their myth is that they actually bring this quality of redemption and even reincarnation. It's kind of the one acknowledgement within techno of human tragedy, of black tragedy and trauma."
They did something to really kind of enrich the whole project of black futurist thinking, post-George Clinton and post-Sun Ra.
"It's just a brilliant space to intervene in, in terms of creating an alternative kind of redemptive narrative. It's one that's just driven by this pursuit of the imaginary as a justification or motivation for a particular kind of music-making. There's a quality of ministry and redemption and enlightenment built into it; I mean, they're schooling people on the alternative of a black futurity as a way of rethinking what happened during the Middle Passage and what kind of powers black people acquired, powers of reinvention and salvation and so forth. They did something to really kind of enrich the whole project of black futurist thinking, post-George Clinton and post-Sun Ra. In some ways you can say it's palpable to Tolkien or Stephen King or Octavia Butler. It's like these people they created, these entirely imaginative realms – they've just completely enchanted and enraptured people, yet also have this resonance with the social, with the political. 'Cause at the end of the day, you can't take the slave trade out of the appeal of Drexciya to a radical black imagination or the people interested in radical black imaginations."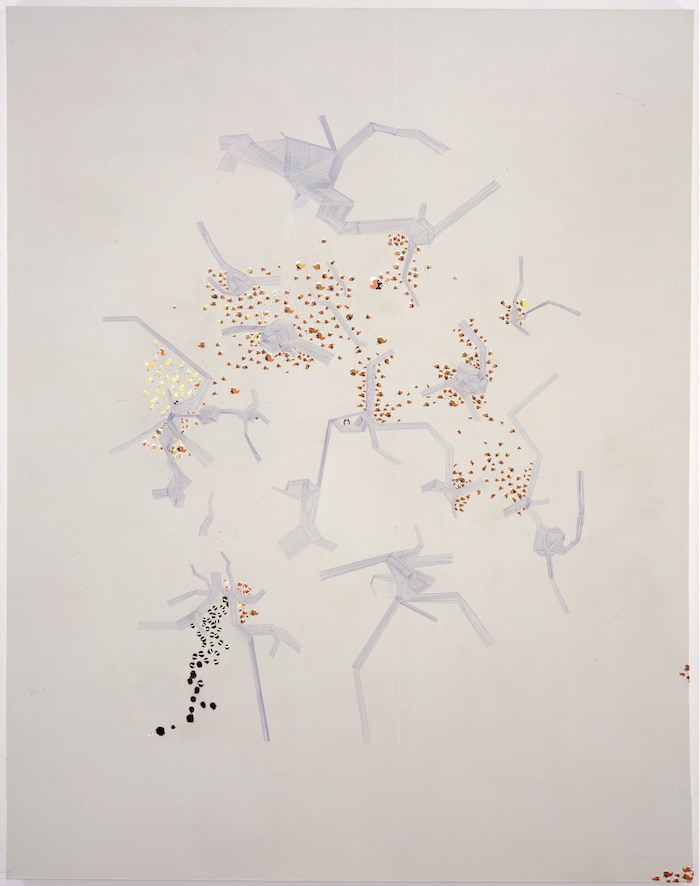 When Kodwo Eshun began creating his own visual art as part of the Otolith Group, he immediately returned to his fascination with Drexciya. In the 2010 film Hydra Decapita – which began from the premise of making a connection between the Atlantic slave trade and the financial crash of 2008 – the plot strands include the texts of a Russian translator who becomes possessed by her attempts to decode Drexciyan mythology; a woman singing the words of John Ruskin's 1843 review of J.M.W. Turner's 1840 oil painting The Slave Ship (depicting the 1781 Zong massacre in which 133 slaves were tossed overboard to collect insurance claims); and a male American voice discussing supernovas and liquid planets who declares "There is no more Drexciyan dimension; that dimension is closed, like a wormhole, like a stargate."
The last speaker, it turns out, is Gerald Donald himself, identified in the credits only as "Remnant of a Hydrogen Element." Eshun traveled to Donald's home in Bavaria in 2010, meeting him daily in a park over three days to discuss Drexciya without an audio recorder. After that, Eshun read Donald every Drexciya song title and recorded Donald's responses to whatever would come into his mind, "improvising a fiction from the name of the track itself," says Eshun. "The things he said were fantastic. He did more than just riff or improvise – he just built the mythos in real time in front of me. The capacity to fabulate was just exceptional and it suggested to me that he and James had gone so deeply into the act of world-building in their music, they'd trained themselves in that capacity so attentively, that years after the end of the Drexciya project, he could, under the right conditions, just snap back into it."
In their unrecorded conversation, Donald revealed to Eshun that he and Stinson would fantasize about doing live shows involving holograms and all kind of light effects. "He said how he and James would imagine themselves in a submersible at the bottom of the ocean before they would make any music," says Eshun. "They would just imagine themselves in this metallic vehicle at the bottom of the ocean with all this pressure creaking down on them, and it's pitch dark, and then they would switch on the lights and these jets of light would be like search lights sweeping across the ocean, the seabed of the ocean floor. And they would just think themselves into this space, and then they would make music in that state of mind. So I interpreted that as a sense of isolation and insulation, that they would make music from inside that world."
Hydra Decapita isn't the only film to have waded into Drexciyan territory. In 2010, Ghanian-American artist Akosua Adoma Owusu filmed an experimental documentary called Drexciya in Accra, Ghana, linking the myth to, she says, "Hurricane Katrina and the fear of water in African and African-American culture." In 2012, German filmmaker Simon Rittmeier shot a sci-fi short titled Drexciya in Burkina Faso, tying the mythos to the ongoing Mediterranean human trafficking crisis; in this case, it's white refugees fleeing chaos in Europe by seeking refuge in Africa, home of the fabled city of Drexciya. Indeed, the Drexciyan mythos has permeated the art world to such an extent that in her 2013 essay "The Mundane Afrofuturist Manifesto," Los Angeles artist Martine Syms called for a moratorium on Afrofuturism tropes which she deemed clichés – including aliens, portals to Egyptian kingdoms and "no more deep dives to Drexciya." In an academic paper published in 2016 entitled "Deep Sea Dwellers: Drexciya and the Sonic Third Space," Boston-based educator Nettrice Gaskins added a fascinating new twist to Drexciya scholarship by connecting the dimensional jump-hole described by Stinson to the Kalunga line, "a watery boundary between the world of the living and the dead in religious traditions of the African Congo."
Two decades on, the fountain of creativity unleashed by Drexciya shows no sign of running dry. While attending a conference last summer outside Madrid, Eshun came across a publication by the young Spanish artist Magui Davila, Interstellar Fugitives: a cosmic memory & astronomical guidepost of Drexciya. Inside the zine, Davila had drawn a fold-out star map dotted with Drexciyan geography and track titles, as well as a link to two of her own mixes. "The idea that an artist probably in her early 20s clearly had come to Drexciya by her own path and had come up with this kind of artistic rendition complete with maps and place names was very striking to me," says Eshun. "It's just a small example of how they continue to impact artists of all kinds in very unexpected ways. I was kind of moved, actually, as well as amazed and impressed, and it suggested to me that the spell of Drexciya – the capacity to encharm and to summon world-building – has not diminished by any means."
Header image © Mark Dancey