The Secret Golden Age of Gay Mardi Gras Balls
From 1958 to the mid-'80s, the gowns were long and the feathers flew. Marke B enters the underground world of New Orleans Carnival queens and kings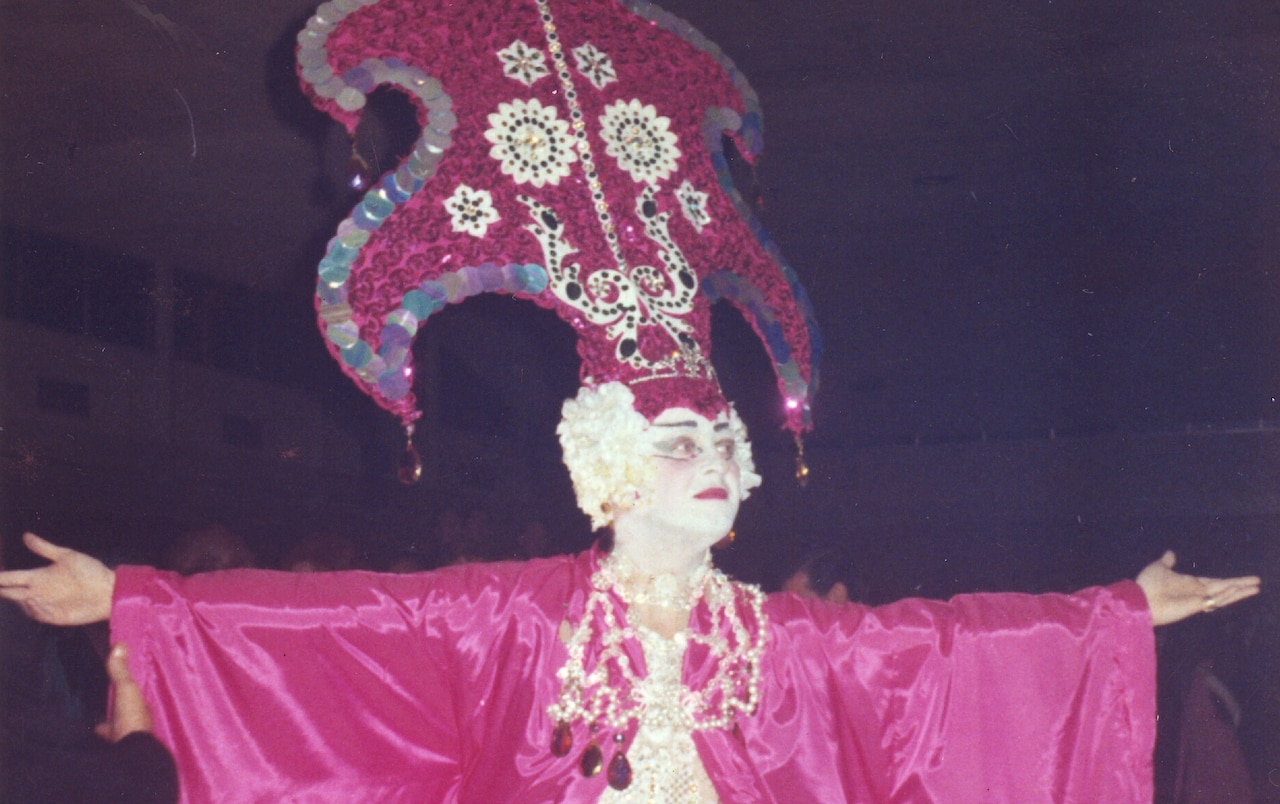 The flamboyant costumes, the arcane customs, the melding of the genteel to the occult, the heaping rainbows of beads: New Orleans Mardi Gras seems almost inherently, stereotypically gay. Yet one of the United States' oldest continuous nightlife customs, the Mardi Gras ball, stretching back to 1743, was a resolutely straight affair, as far as we know, until the late 1950s.
Every year, revelers of all types fill the French Quarter to celebrate Carnival, and Mardi Gras krewes parade through the city, invoking mystical rites and summoning unruly spirits. But, by the mid-19th century, the elaborate balls that traditionally preceded the debauchery had become emblems of high society and landed gentry. In the streets, a dazzling pagan pageant melted divisions between race, class and gender. In the ballrooms, as the old-line, upper crust krewes enacted increasingly ossified courtly rituals, exclusion reigned.
It was only a matter of time before gay men breached the ball divide with high camp flourishes, dazzling drag subversion and feathered headpieces that often towered five or more feet in the air.
"We did it to make fun of the straight balls, for being so exclusive. 'You can't keep us out!'" Mike Moreau, AKA Opal Masters, first Queen and Empress of the 52-year-old Krewe of Amon-Ra, said. "And for the sense of camaraderie, because we were doing something daring. We were being so harassed in the bars by police, we just wanted somewhere to dance, to be together. And of course there was the pageantry and glamour of it all. So we set out to make our own balls, with our own krewes."
It was like a thousand sparklers had gone off when those flashlights hit those sequins.
In 1958 the first explicitly gay krewe, the Krewe of Yuga, held its first mock ball in an Uptown home, with a krewe Captain, a Queen (the "Yuga Regina"), a King, debutantes and maids. The ball was a decisive move from raucous, private gay gathering to deliberate, drag-filled parody. The Yuga Ball proved so popular that it quickly outgrew its cramped quarters and suspicious neighborhood, increasing in opulence and spawning an off-shoot, the Krewe of Petronius. The annual return of the Yuga Regina and her court became the most anticipated gay event of the season, and gowns were sewn and sequined for months in preparation. Young clarinet legend Pete Fountain of the Dukes of Dixieland, serenaded attendees of the third Yuga ball, held at Mama Lou's jazz camp on the Lakefront (although the long boardwalk to the club proved too challenging for many partygoers trying out their high heels).
Then disaster stuck, when the site of Yuga's fifth ball, in 1962, a daycare school in a wooded, semi-secluded area, was raided by police. Attendees were rounded up and arrested, some reportedly losing their jobs and homes. Those who fled into the woods, their gowns streaming behind them, were chased down by mounted police and K-9 units. According to historian and photographer Howard Smith, "A legend persists of the arrest of Carlos Rodriguez, the first Queen of the Krewe of Petronius, crowned the week before, whose sequined bathing suit sparkled beyond words when the glaring police lights flashed."
"It was like a thousand sparklers had gone off when those flashlights hit those sequins," Albert Carey of the Krewe of Armeinius told Smith. "Almost 100 were arrested, cuffed, fingerprinted and held for bail. This had been the most glamorous and extravagant Yuga ball the world had ever seen, and its last."
But the gay ball stake had been planted, and several more krewes sprang up, willing to carry its glitter-festooned banner.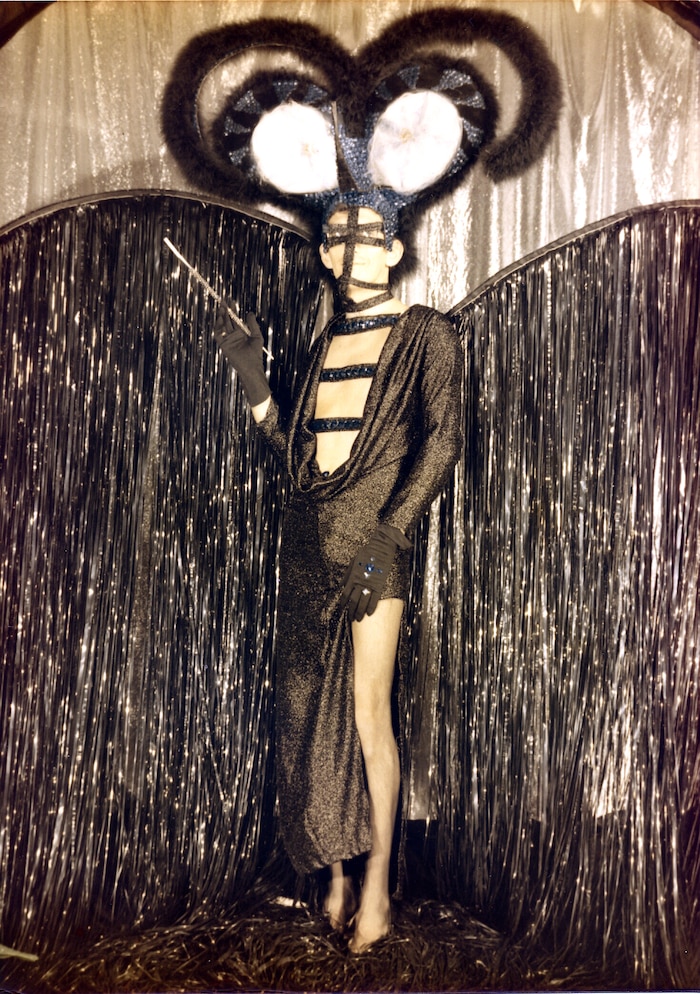 The origin and history of gay Carnival krewes is the subject of an extensively researched, forthcoming book by Smith, the first of its kind, due in February from University Press of Mississippi. "It was not a great time to be gay in New Orleans – but it was also a great time to be gay in New Orleans," Smith said. "The nationwide Lavender Scare and government purges of homosexuals in the early '50s had brought many gay people out of the shadows, into the glaring light. There was all this suspicion and criminalization. But it also meant you had to stick together, and so these communities were forming." New Orleans, with its Carnival and tourist trade, had a reputation for being a tolerant city, and so its gay population began to grow exponentially.
According to Smith, a tightknit gay culture formed around several Bourbon Street bars like Miss Dixie's Bar of Music and Bourbon House, which, like bars around the country, protected their gay patrons with "pay-offs and backdoor deals." (Miss Dixie herself stepped in after the 1962 Yuga Ball bust, enlisting lawyers and posting bail with cash from her registers.) Along with the Starlite Room, Mack's and the Rendezvous, these spots formed a gay bar-hopping circuit that attracted luminaries like playwright Tennesee Williams, author John Rechy and fashion photographer Jack Robinson. (Still, there was danger: Fag-bashing gangs roved the streets. In 1957, a man named Fernando Rios was dragged from a bar, and died after he was beaten. Three Tulane University students were acquitted of his death. Later, in 1970, a deranged man started a fire below gay bar UpStairs Lounge, which killed 32 people.)
As the gay community grew more publicly visible, it developed its own underground network to express itself away from watchful eyes.
It was an interest in Robinson's photography that led Smith to research and preserve gay krewe roots. Smith, a farm boy from Arkansas, had moved to New Orleans in the 1970s and spent more than 20 years on the gay ball scene. "When I got to New Orleans, the gay culture there was something very special, it was unlike anything I had seen, or would see anywhere," he recalled. "It was very tightknit, and had these traditions that went pretty far back." Later, after he moved to Los Angeles, Smith discovered "a treasure trove" of photographs of gay New Orleans by Robinson. "I saw some of his published photos of what I recognized were these totally done-up queens walking around in broad daylight in the French Quarter during Carnival – and something clicked. It was like, here was the missing link between the McCarthy Era repression of the gay community, and how it led to the birth of the gay krewes. I contacted Robinson's estate and they had whole boxes of negatives of his pictures of gay New Orleans at that time."
In these pictures, Smith saw how gay men had found ways to express themselves in public by going around the law. Wearing masks and disguises outside of Mardi Gras and Halloween or off of theatre stages had been illegal since 1924, in an attempt to thwart a resurgent Klu Klux Klan. And "cross-dressing" was often cited as a violation of decency codes. So drag queens could (mostly) hit the street in all their finery one or two days a year. But gay krewes, by providing a network of theatrical stages for elaborate court tableaux that presented several people in "costume," allowed queens and their escorts to dress as outrageously as they wanted.
"The gay community was very smart," Smith said. "As it grew more publicly visible, it developed its own underground network to express itself away from watchful eyes." That network included krewes like Petronius, Amon-Ra, Armeinius, Apollo, Ganymede, Olympus and eventually Celestial Knights, David, Polythemus and a lesbian krewe, Ishtar. There were even some flagrant moments, such as when the Krewe of Petronius applied for an official charter from the State of Louisiana. "It was so funny, "Smith said. "The straight, old-line krewes were all made up of men, and so was Petronius, so the State granted the charter. Little did it know about the queens it had just enshrined."
Unlike other krewes, gay krewes did not parade in public (for obvious reasons in the beginning). Another difference was in the adoption of outlandish ball themes. "Creating themes was a way of turning these traditions into an artform," Smith said. "You might have Camelot, with knights in armor and Guinevere in chain mail. Or Las Vegas, where each person on stage would dress as a different casino." The themes grew more outlandish, and the costumes taller, as the krewes tried to outdo each other. "I vividly remember one Amon-Ra ball where the theme was 'Picnic Fantasy.' These queens took foam rubber and painted it Day-Glo colors, so you had these huge grasshoppers, ants, crickets, moths and snails coming out on stage. The Queen herself was a giant butterfly whose wings were the actual stage curtains. When you're tripping on acid, this stuff messes with your mind!"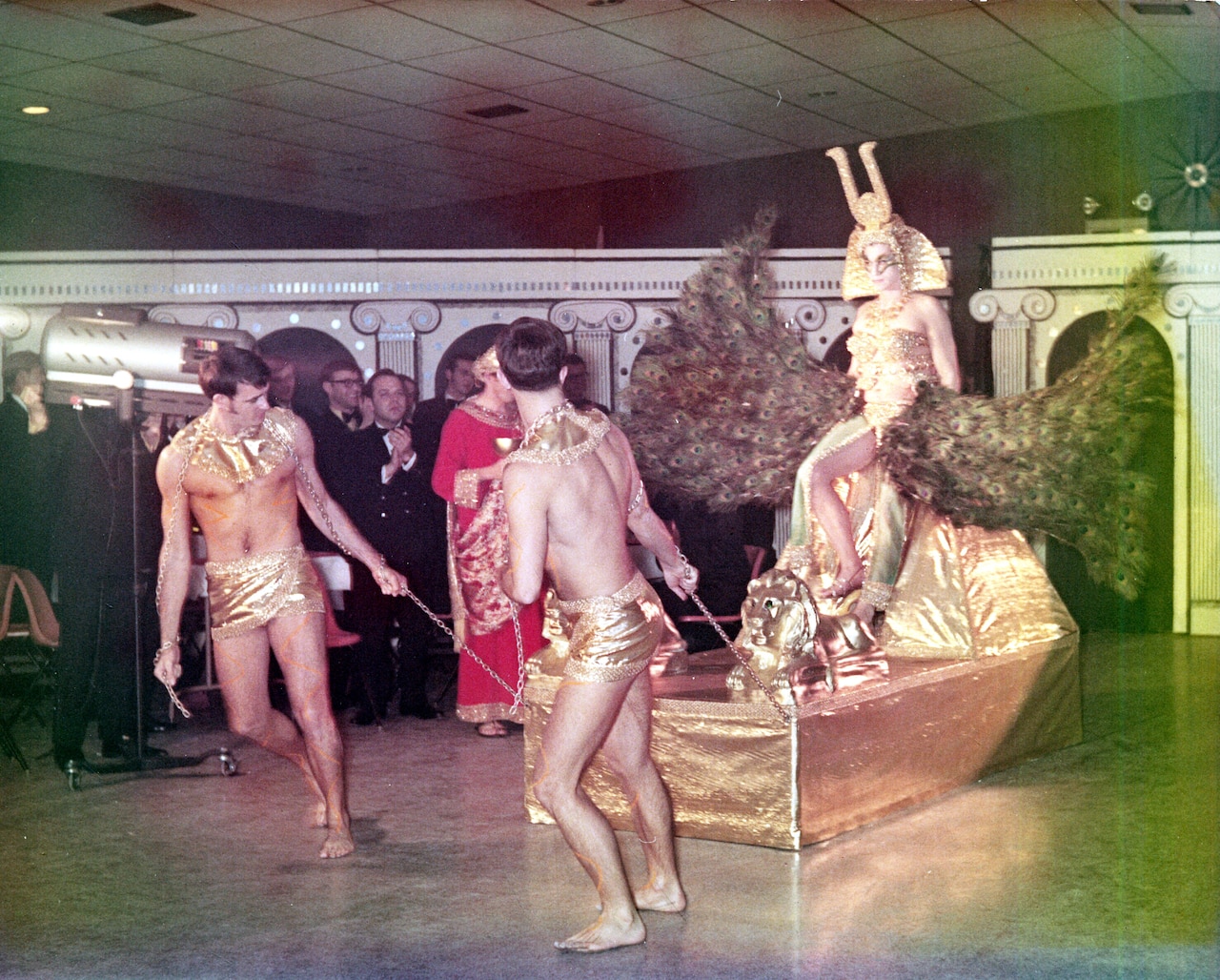 Despite the gender-bending onstage, the balls themselves were very rigid in their codes. Early balls were by invite only, partly for protection but also, cannily, to make them the most coveted ticket in town. Many balls didn't support drag, per se: Male attendees were expected to wear tuxedos, and you could be turned away if you showed up in drag and weren't part of the production. Each year, as with traditional krewes, a Captain chose the theme, the King, and the Queen, and was usually the first to take the stage. Partygoers would be seated at tables with customary king cake and champagne. The Queen and King would parade around the stage, and strike various poses with their court, often to bombastic recorded music like Mussorgsky's "Night on Bald Mountain."
"But once all that was over, we just couldn't wait to dance with each other," Opal Masters of Amon-Ra recalled with a laugh. (She remembers appearing at a "Night in New Orleans"-themed ball as the Canal Street Ferry, with a giant paddle boat on her head.) Rock, funk, disco and bathhouse favorites – but, surprisingly, not much jazz – would be played, as tables were moved to make space for couples dancing.
Despite the gay krewe balls being mostly the province of men (and white men at that), there were women, too, at the balls. "In the early days, after Yuga was raided, we didn't reveal the location of our ball until three days beforehand," Masters said. "We hired two guards, one out front and one at the top of the stairs. We developed a whistle system as an alarm, and we made sure we invited plenty of our women friends. If the whistle blew, we ran back stage, tore out of our dresses, and grabbed the first woman we could on the dance floor!"
The gay krewe scene grew, and became more competitive, throughout the '70s and into the '80s. There were more than a dozen gay krewes operating in 1985, according to Smith. He marks that year as the height of the ball scene – krewes had graduated from longshoremen union halls (the only ones willing to rent to them) to civic auditoriums, and tickets were sold to huge crowds. It was a short-lived zenith: AIDS soon killed off two-thirds of the krewes, a devastation from which the scene has yet to recover. Smith recalls, "We lost almost everyone, seemingly overnight. And with them was lost so much of the history of this culture."
Still, the remaining krewes soldier on. Today, they draw regular crowds eager for glitzy spectacle and a taste of tradition. A touching 2011 documentary about gay krewe history, The Sons of Tennesee Williams, sparked renewed interest. Inspired by Smith's book research, the Louisiana State Museum, under Carnival Collection curator Wayne Phillips, has started to collect the costumes, sketches, flyers and photographs of the gay krewe scene. "There's so much that no one thought to collect before, that's now just being realized as very important history, in terms of the overall story of Mardi Gras," Phillips said. "As the original gay krewe members grow older, we're trying to preserve as much of their story as we can. It's heartbreaking to have to turn away some of these fabulous early costumes – but many are just too huge!"
Last year, a lively panel was convened at the museum that brought together a dozen of the original gay krewe members to talk about their experience and bring the tradition out of the shadows. It was covered by major press, but wasn't without its drama. "These are survivors of a close-knit scene who share more than a half-century of experience," Smith said with a laugh, "and some of the old rivalries still burn pretty bright. Some almost refused to share a stage with each other. I could definitely write a second book called The Ball Bitch. And who would expect any less from a roomful of royalty?"
As the krewe scene passes into a shimmering twilight, younger queer people have found different ways to connect to the Carnival spirit. DJ Mark Louque, AKA Father Figure, throws underground techno parties with fellow DJ Brett Labauve, AKA Bouffant Bouffant, that he feels continue the "secret society" tradition of the krewes, without the lacquer of pageantry. "Back then, it was fun and edgy to see men as both king and a queen and important for the community to pretend it was rich, powerful and important, if only for one night," Louque said. "We are continuing the rituals in our own way. There isn't the same interest in pretending to be a society queen or throwing a 'proper' ball."
The younger queer Carnival scene now seeks to connect more to the celebration's pagan roots, combining social protest and rave tradition with Burning Man and Radical Faerie aesthetics. "We're more about being loud and creating a new energy," said Louque, and cites the activist-minded Krewe of Eris (named after the goddess of dischord) with its sunrise rituals and clashes with police, as an example. "The gritty, punk, queer sect of our community would rather parade, and be heard and seen, and say 'fuck these elitist ideals.'"