Interview: Amp Fiddler
The Detroit producer, keyboardist, singer and collaborator of George Clinton and Moodymann weaves tales of riotous '80s funk and '90s R&B
For Joseph "Amp" Fiddler, it's been a lifelong journey of musical discoveries. After starting out in the group Enchantment, he became spellbound in the early '80s by the sounds of Parliament and Funkadelic – and through hard work and determination, it only took two years before George Clinton hired him as a keyboard player.
Under Clinton's glittering wings, from the mid-'80s to the mid-'90s, Amp Fiddler surveyed the tones and textures of dance music's relationship with funk, soul and R&B, and brought his knowledge into the studio, working with house and techno producers like Moodymann, Carl Craig and Theo Parrish, and pop and soul masters like Maxwell, Prince and Sly & Robbie. As well as becoming a seasoned collaborator, over the years Amp Fiddler has released dozens of singles and EPs and five solo albums, the most recent being 2016's Motor City Booty, a riotous adventure through electronic funk. Oh, and he introduced J Dilla and Q-Tip to the Akai MPC. In these excerpts from his densely-packed Fireside Chat, Amp Fiddler regales host Jeff Mao with studio tales that cross four decades.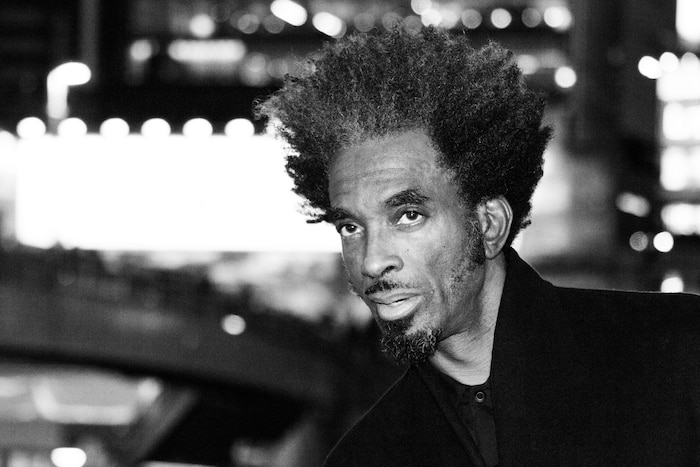 Childhood
My mom bought a piano before I was born. I'm the youngest of five; everybody was involved in music in one way or another. My older sister was constantly playing Motown. My sister under her was a hippie, and around the time that I was coming up she was bringing Black Panthers in the house and listening to all kinds of obscure music from rock & roll to blues to soul to funk. My brother under her was a jazz head and had a big record collection. I went to Federal Department Store with the brother who was next to me, Bubz, and my dad. I wanted a pogo stick, my dad said, "No," and instead he bought my brother a bass guitar. I watched Bubz playing bass for a year, he really got good. Musicians were coming by the house all the time and I was like, "Wow, this is cool." As I got older my mom kept asking me if I wanted to take [piano] lessons. I went one day and I was like, "No, I can't do this. This is terrible." I hated it.
Everybody in my neighborhood was playing some kind of instrument. Garage bands [were] very prevalent at that time and everybody was jamming and playing together, so my friend Bill and I would go and steal pedals so that he could come back to the house and freak the guitar out and get some wild sounds. I was like, "Man, I'm tired of stealing shit. We've got to stop this." I saw this sign saying [piano] lessons were seven dollars for half an hour. I signed up for lessons with this old lady, Ms. Whitney. She was about 87. I studied with her for a year and a half, and then I started going to college.
Enchantment
My first year in college I met the singer with Enchantment, who was the brother of a friend. He got me auditioned, and that was it. I was done with college, I was totally into music, [but] I was horrible. I was practicing all the time, [but] messed up the first gig at the Masonic Temple. It was a huge venue and it was packed and [I] kind of shuffled in with the band. I had my synthesizer and strings on sampler [but] the button was broken. I was super nervous and as soon as I started playing my parts the sound would go loud real fast, so all my friends out front [were] all looking back yelling at me, "Turn that thing down!"
I was great with my brother, we were jamming all the time in the house, [but] it took me a while to really get [my head] around playing with a band. I was probably three years [into] playing [before] I was really getting the funk. We did a little tour to Europe playing with Was (Not Was). I'd never been overseas before. It was a big breakthrough, it really opened my eyes to the world.
Around the same time I recorded "Spaced Outta Place" with some guys in the neighborhood. I loved to play piano but I really started getting synthesis. I was buying 4-tracks all the time so I was always recording. We started jamming together and they heard something they liked, we recorded it and that was the song. It was my first single.
P-Funk
I'd met Clip Payne because his brothers used to live in the house that I was raised in. I met Andre Foxxe. I met Mallia "Queen of Funk" Franklin who was from Brides of Funkenstein and Parlet. I met Chris Bruce, an amazing bass player, and we played a gig [with] Mallia Franklin and Garry Shider. I met Junie Morrison at Mallia's house, I met Bernie Worrell. These were all guys that were associated in some way with George Clinton.
They called me in because Jerome Rodgers couldn't make it, [and] I knew most of his songs. Dennis Chambers was the drummer, Maceo Parker was the music director, Fred Wesley was there, Michael Hampton, Eddie Hazel, The P-Funk horns, all the most amazing musicians. It was chaos for me because I didn't know what the hell I was doing. I knew some songs but not everything, and the ones I didn't know I just kind of ad-libbed, and they were cool with that. After that, I started doing sessions; the first was "Do Fries Go With That Shake?" That was the biggest breakthrough in my career, just like a dream come true. I always [had a] vision of myself being in a band [but] I would never thought I would get that gig, because everybody wanted that gig.
I think that what got me the job was that I was consistent in practicing and recording and having the right kind of vibe. I just want to keep learning. All the other keyboard players were at [odds] with each other [and] couldn't get the work done because they were so busy going at each other about egos and bullshit. I was like, "Yeah man, cool. Show me what you got, let me learn it. Show me where I need to punch in." I was smart, like, "I'm not trying to be the baddest guy around, I just want to get my shit together and get on." [George] understood the way I thought and [I] understood what he wanted and needed.
There were many really cool sessions with P-Funk, and when I first got there Garry Shider was there recording. He had all these vocalists, like nine people or some shit, and it was amazing to me because he not only gave everybody their notes, they were lines, and they [all] remembered them. For me coming in as a learning musician, it took me for a spin. I couldn't understand how they were remembering all this shit, crazy harmonies intertwining. Later as I started singing I started to understand how counterpoint worked, how harmony worked, but that day there was a lot of people in the studio. United Sound was a big place but it was always like a party in there, people all around the mixing board, people downstairs, it was crazy. Like, how the hell did he get any work done with all these families, people, friends, ladies in there?
I met Prince. "P-P-P-P-P-Pri-Pri-Pri-Prince. How are-are you? N-n-n-nice to meet you."
Prince
I heard George talking on the phone with Prince but I couldn't talk George into letting me speak to him. He was like, "Just keep on playing." We were in Detroit when we did the session for "We Can Funk" for Prince. I was excited just to be in the studio with Bootsy and George doing the song for Graffiti Bridge regardless of the fact that Prince wasn't in the studio when we did it.
I didn't need to be in the studio with Prince because I had already met Prince that year when I was in LA at Sheila Escovedo's birthday party. Herbie Hancock and George Duke were there, everybody was there. And then I met Prince, "P-P-P-P-P-Pri-Pri-Pri-Prince. How are-are you? N-n-n-nice to meet you." He was really cool, he just made me chill out and relax. Another time we played in Paris and lo and behold Prince comes on stage, plugs in the microphone – next to me – and kills it. Those were the best experiences that I had.
Mr. Fiddler
My brother and I were always interested in doing projects, we were always into music of the '40s and the '30s, Cab Calloway and Duke Ellington and Louis Jordan and all that funky junk stuff, that era with the horns. My idea was to incorporate that with funk. I started doing that around '82, '83, and that's when I started singing, because I was into fashion so much [that] I knew I wasn't going to find anybody to pull off the concept as a singer for what I wanted, so I had to learn to sing.
I had a full demo ready. I had pictures, the whole package. Mr. Fiddler was based on the '40s, new jack swing and funk. This guy Tom Vickers took me to Ed Eckstein at Polygram, and I presented to him and he loved it. From then on I was just writing all the time. I was buying 4-tracks then I built up from cassette to reel-to-reel.
I got turned down at Polygram. I wouldn't go the straight and narrow, I still made my demos leftfield and they didn't like that. This kid over at Elektra loved it but the family of people around him at Elektra didn't love him. So we finished the record, but they wouldn't promote it.
J Dilla
Around '86, '87 I went to California for a while. I was in a live-in hotel and I had all my friends come and record. I had my 4-track set up, keyboards, microphones, so we just recorded all day. We started calling it Camp Amp, and when I got back home I kept the name.
I was in the the basement all the time with the windows wide open and anybody walking past could hear music banging all the time. This kid came by like, "Hey man, you're recording all the time and we make hip-hop, and I got a whole crew, have you ever thought about making beats for some rap, because we need some help." I said, "OK. Come back tomorrow with your whole crew and I will see what I can do." They came back, it was about seven guys and they called themselves Ghost Town, and each guy had a different kind of group within Ghost Town. Slum Village was just one of them. I recorded all of them together and when they came back I was like, "I don't have time for doing this with you guys all the time, but I would love to have you use the studio and finish your project, but you need to find somebody who can make your beats. If I am going to help you make the beats then you are going to have less time to record." They were like, "Well, James can make beats."
I showed Dilla how to sample and how to use the MPC60. He was at my house all the time. He would come by on days that I wasn't working and ask to work.
So I met James (Yancey, AKA J Dilla) and he showed me what he had been doing. I was like, "Damn, how are you making a beat with two cassettes?" He showed me how he was making beats, cassette to cassette, looping the cassettes. That's how the whole thing started. From the demo deal at PolyGram I had also bought an MPC60, one of the first ones, so I was sampling all the time. I had tons of records in the basement. I showed Dilla how to sample and how to use the machine. He was at my house all the time. He would come by on days that I wasn't working and ask to work, and call me when he needed some help. It wasn't easy if you didn't know the technology. Sometimes that equipment was like Chinese arithmetic because the manual was horrible, but he learned really fast.
He cut so much music together from so many different records to make it magically work like a puzzle or a picture. That was some hell of a talent to do that alone. When he started chopping up samples and the loops into beats and making his own beats he had a rhythm like nobody else I ever heard.
I ended up helping him when I introduced him to Q-Tip, which catapulted his career. I really didn't expect anything, because I did that out of the goodness of my heart. I just wanted to see Detroit get on the map of hip-hop. It was something that really hadn't happened big for Detroit, especially in a way that represented that real shit.
When I did "Waltz Of A Ghetto Fly" I was thinking about him. God gave me that rhythm from Dilla through a brother named KD, a friend of mine, who said, "I was in the shop today and some cats came through with this bag of zip [drives], sold them to me for a bill, and you can have them if you make me some beats. I took the zips home and put them in and they were all Dilla zips. I called [Dilla] and he said when he moved into a bigger house the movers stole some of his stuff. He said, "You know, I never really shot anything back at you, so I want you to have them." So out of that bag of zips, the first track that I decided to use was [without] knowing he already used that track with Q-Tip for Amplified.
Dilla has had a track on just about every album that I have done. It's amazing to me that I have been able to pull something from his music that really works for me on every record to this day.
Waltz Of A Ghetto Fly
I stepped away from P-Funk because I wanted to raise my son, and it was a chance to make a change and try something different. I felt like ten years was long enough. My brother, me and DJ Dez did the track "Waltz Of A Ghetto Fly" together. I came to New York one time to visit my sister and I saw a guy in the street in Harlem, he just had a super fly waltz, and I was like, "Damn, that is the world's biggest ghetto fly right there."
"Waltz Of A Ghetto Fly" to me was just the essence of a Detroit player walking down the street. The rhythm and soul that people have. When I was a kid I used to watch guys walk down the street, always in sharp suits. They dressed like the Temptations every day, and they had attitude when they walked. It's like they were almost dancing.
Afro Strut
I created [a song] and Tony Allen had played played on it, so I thought "Afro Strut" would be a great title. The evolution of Afro Strut was that I had finally had success with a solo album (Waltz Of A Ghetto Fly) and the freedom to create and build. I was really becoming a singer. I had started taking vocal classes and getting better. My writing was better. I felt like everything was coming to fruition with becoming an artist in my own right. I had a record company behind me and they were willing to do whatever it took to be as successful. I was happy. My afro was taking a strut across the planet again.
Inspiration Information was a challenge because we didn't have much time. It was like, "We're going to throw you in the studio with Sly & Robbie in a week, go get some songs together." We took a flight to Kingston, and here I am in the studio with Sly & Robbie. It was a dream come true because before I went on tour with George Clinton and Was (Not Was) I was in a reggae band. My dad was from Saint Vincent so island music was in my heart and blood. Sly & Robbie were so innovative and cool, they were down for doing anything. The whole thing was a bomb experience but Strut Records couldn't handle it. They didn't know what to do. It was a shame that that record didn't get the love that it should have. That was a good experience that we got, so no regrets. The music is still here. It will always be here.
Moodymann
When I signed with Play It Again Sam, my brother Bubz and I were doing sessions in Detroit for Kenny Dixon Jr. He was a brother making some different kind of music, dance music. I'd been talking to my label guy because I was making Waltz Of A Ghetto Fly, and he kept saying, "You gotta meet Moodymann. Do you know who he is?" I was like "Nah, I haven't met Moodymann." He's like, "I'm surprised you haven't met him. You've got to meet Moodymann," so I was like, "OK, I will put the word out." Lo and behold, one day Kenny brings these records over for us, I was like, "These are your records? You're Moodymann? My boy has been telling me that we need to hook up for the longest. We have hooked up for the longest already! I need to make a record with you!"
The first one that he brought was "Love & War," me and Bubz both played on that. My son was amazing, he played trumpet on it and my brother played bass. We have been friends since then and making music. It's different than J Dilla but with the same kind of vibe in a way, people who are just so innovative and creative and constantly changing in a positive direction. My new record is on Mahogani Music, and there's a Dilla track on there that my brother Bubz wrote to, so here we go again.
Detroit
I have been a part of a lot of Detroit music in different ways. We are all passionate and we are a community of musicians that respect each other and love what we all do. I have friends who just happen to be musicians and producers, and we all respect each other so much that we share the music with each other with no boundaries.
I've just been putting out music that was in my computer after my son died, and my brother died, and my sister. That pushed me to get rid of all the music that was there, and then I can create a new palette for some new music, flat out new.
I think what creates the love and makes the music so successful is that we are not really tripping about how much we have to pay [each other] to play on something or any of that nonsense, it's always about, "I need you to do this for me, and it's going to be great." Experience is the pay off for it and the music is the pay for it. Omar-S lives right around the corner from me, so I could ride my bike over there and jam with him at any point. That's the beauty of it, it's an adult community of musicians and producers that are artists. Our unity is what makes the city amazing, I think that's the magic of Detroit.
Faith
In the future I want to push the spectrum more. I have to take advantage of that, because lately I've just been putting out music that was in my computer after my son died, and my brother died, and my sister. That kinda pushed me [to] get rid of all the music that was there, and then I can create a new palette for some new music, flat out new. That's what I look forward to.
I am maintaining my faith as a creative person. I figure the creator must have a purpose for me, so I have to stay focused and keep my faith that everything is going to be alright. I'm always trying to be positive about the future of what is possible because I've got so much more to learn.