Interview: Ikonika
The UK bass manipulator breaks down her latest album Distractions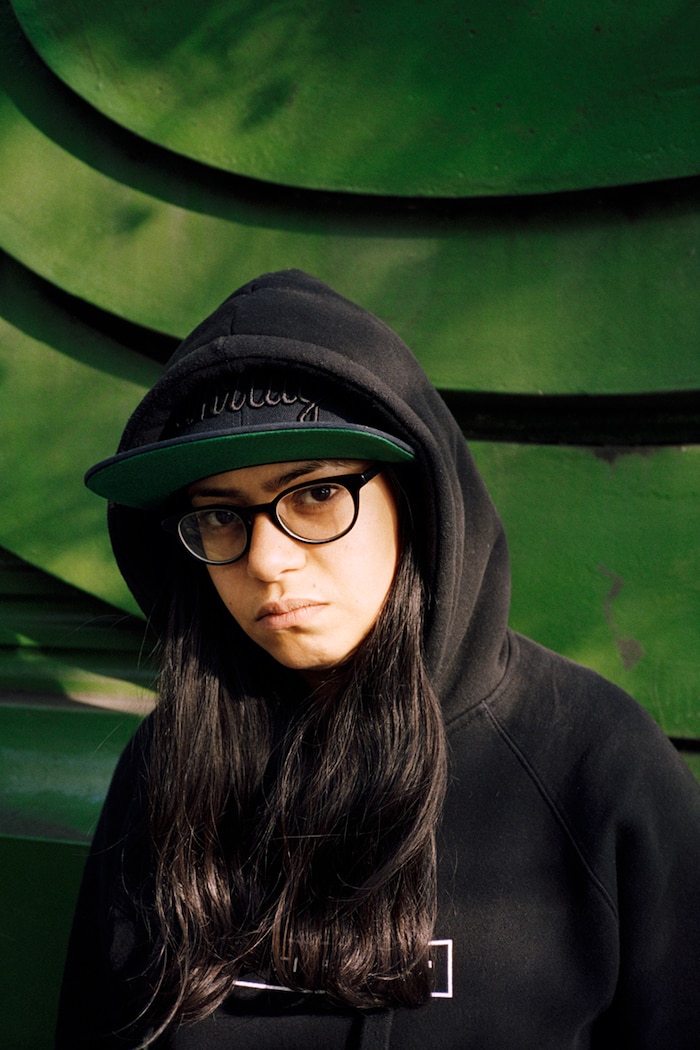 The latest LP from Hyperdub staple Ikonika, Distractions, finds her slowing down the tempos and exploring rhythms pulled from the realm of hip-hop and R&B. In the interview below she offers her behind-the-scenes perspective on the making of the album to Shawn Reynaldo, host of Red Bull Radio's First Floor.
It's been three years since your last album and almost two years since you had a proper release, but now you have this new record, Distractions. Given the long wait for the album, is it safe to assume that the album title was meant to be taken literally?
I think the PR had some alternative facts in there. I thought of the name Distractions before I even had any demos or music ready for it, because I was a little distracted with a concept, a starting point, and then gradually it started to make more sense. Kode9's album came out and that was called Nothing and I don't know, I think there were some sort of similarities going on between us. That's why it's called Distractions.
In the course of making the album you got into a bad car accident. Did you find that it specifically affected your creative vision for this album?
Yeah, it was the scariest thing I've ever experienced. At that point the album was wasn't really taking shape. I would say everything was still in demo form. After that crash when I couldn't walk around, I started thinking that I really needed to get back at work. I needed my music. [As] soon as I kind of healed up, that's when the demos were starting to come alive and that's when a story was developing.
It does have a lot of dark tones, I'm not gonna lie. I guess I just wasn't feeling that happy.
Listening to the music on the album, it definitely doesn't have the same sort of carefree '80s bounce that the last album, Aerotropolis had. Was that intentional?
Perhaps, but I never really think about these things, I just let my body play the keys and it forms from there. It does have a lot of dark tones, I'm not gonna lie. I guess I just wasn't feeling that happy.
Another thing about the music that jumped out at me is that the album doesn't really have any four-to-the-floor club tracks. Your previous records have always had a lot of DJ-oriented songs in the vicinity of 130 BPM, but this one's different. What changed?
I think I was just trying out different tones, and I don't want to use the word emotional, but an emotional quality just kind of got [in] there. I was using a lot of really brassy sounds and heartstring kind of presets, and a lot of reverb.
What is your interest in pop-oriented music? Let's include hip-hop and R&B in that realm. I ask because the album has a number of vocal collaborations on it and even the instrumental tracks tend to veer in that direction.
I always keep falling in love with modern R&B or reminding myself that this is a big influence and was the first music that I ever listened to. I just wanted to make that side more prominent with this album.
It's funny that you mentioned that R&B was the first music that you fell in love with, because in previous interviews people are always asking you about the time you spent listening to metal and hardcore and how you played drums in a band. Did R&B come before you fell in love with heavy rock & roll?
Yeah. I got into metal and hardcore when I was about 11, when I started playing the drums and realizing [that] in order to play the drums I could only be in rock bands. There wasn't anybody that wanted to be in an R&B group or that kind of thing. That's how I got into metal and hardcore and that stayed with me until my early 20s, but R&B has always been in my house and it was always what my older sisters were listening to. Obviously I wanted to be them. That's where that comes from.
I don't know if I've got enough talent to sell out so Hyperdub always keeps me in check and humbles me.
The new album is coming out on Hyperdub, a label that you've been working with for a decade. What's your relationship with the label and what keeps you working with Hyperdub and Kode9 after all of this time?
I like the fact that Hyperdub's independent. I don't know if I've got enough talent to sell out so Hyperdub always keeps me in check and humbles me. I was a fan of Hyperdub before I was signed to the label.
Your first record came out in 2008 and it was part of this late dubstep, early bass music era. Does it bother you that your name and work will seemingly always be tied to that particular time of music?
Kind of, yes. Even looking back I don't think that the first album was particularly dubsteppy, what people call "post-dubstep." I wish that people would just see me as maybe a hybrid producer or just someone that just likes synths.
Looking at the UK-based sphere, there's still lots of stuff going on but it feels all a bit disjointed, or a least lacking in the same energy that existed when labels like Night Slugs were coming up. Where do you think UK-based music is heading?
I really don't know because grime is as big as it has been ever. Loads of new kids like J Hus and like Belly Squad are taking parts of Afrobeats and combining it into a whole new kind of London sound. That's hopefully where it's going to go. A lot of us have been taking it down to like 100 BPM, that's kind of on trend at the moment. I play a lot of that kind of stuff in my sets as well. So we'll see what the newer kids are going to do, but I'll hopefully still have an ear to the floor on that kind of stuff and still be playing my part with newer underground sounds from London.