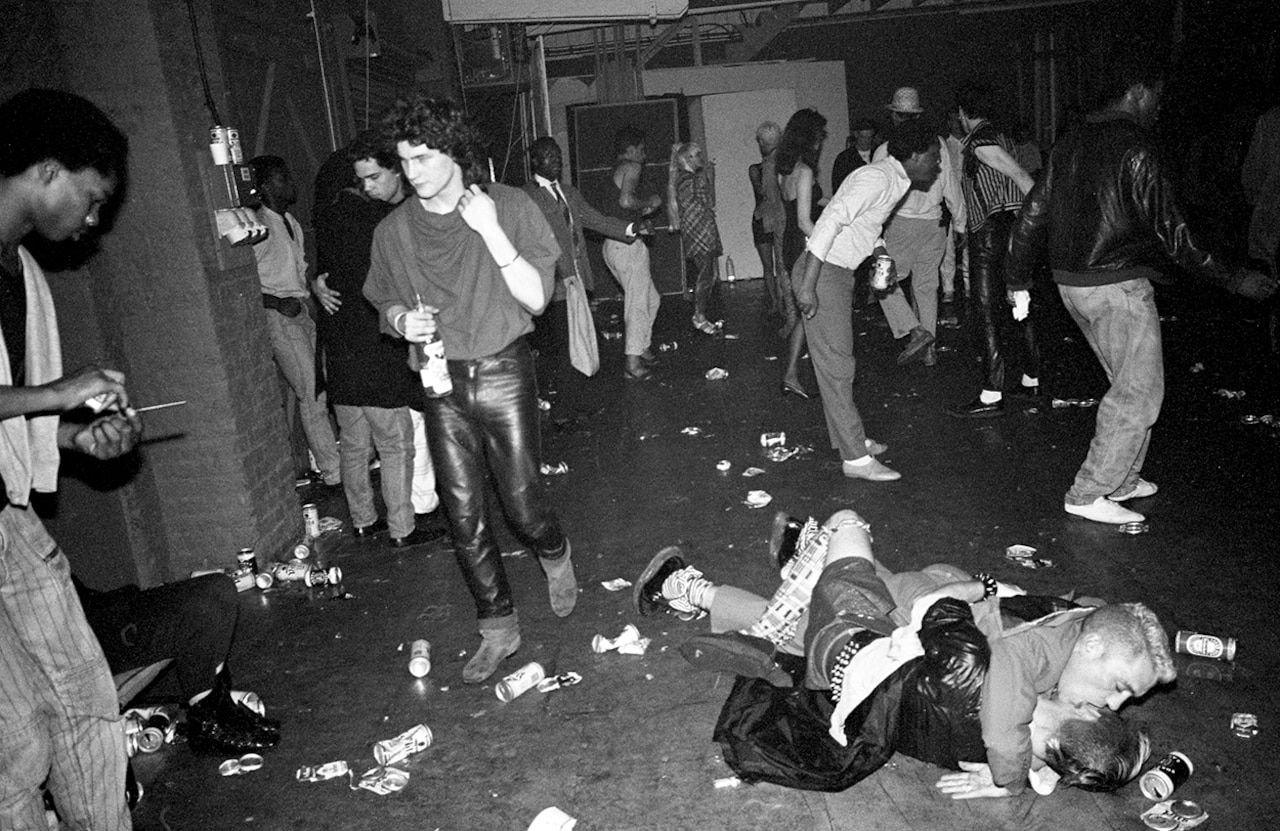 London Warehouse Parties Pre-Acid House: An Oral History
London in the late 1970s was a capital city in name only. Its grimly dank streets housed pubs that closed at 11 PM and clubs that shut promptly at 3:30 AM. 24-hour stores were a novelty and McDonalds was still seen as an exotic luxury. Oxford Street was deserted by dusk. But there was a beacon of life: Soho, then still a lively place teeming with clubs, clip joints, knocking shops, boisterous gay pubs and illegal drinking dens.
It was Soho that launched the careers of an array of '80s stars, from Boy George and Steve Strange to funk progenitor Barrie K. Sharpe and Britain's first superstar DJ, Jay Strongman. In tatty basements, converted restaurants and decaying theatres, a new wave of promoter transformed these unlikely spaces into legendary parties: Blitz, Club For Heroes, Mud Club, The Wag.
The warehouse scene – or rare groove, as it later became known – helped changed London nightlife.
But constricted by licensing laws and closing times that were fun-averse, promoters began to take risks. The Wag's Chris Sullivan, inspired by a visit to New York, claims he was the first to throw a warehouse party, and he may be right. But lodged in most people's memory is the birth of the Dirtbox in Earl's Court, notable for what was then – and still is now – considered a London outpost, mainly home to itinerant Australians and a plethora of gay clone pubs. Dirtbox was held in an old West Indian drinking den, up some stairs above a chemist's shop. It was, naturally, a death trap. Jay Strongman and Rob Milton were the DJs and its soundtrack, a kooky mixture of revival funk and rockabilly thrown together with hot rap, go-go and electro imports, was both catalyst and template for much of what would follow.
The warehouse scene – or rare groove, as it later became known – helped changed London nightlife. It democratised the capital's (straight) nightlife which, until the 1980s, had mainly been controlled by a small coterie of fashion mavens, whose door policies made Albanian border guards seem lenient by comparison.
In King's Cross, alcoholics littered the pavements, while the police sirens created a constant nervous soundtrack. Behind the station, among the dilapidated buildings, Victorian grime and prostitutes, two Irish brothers, Noel and Maurice Watson, started throwing parties in a disused school in Battle Bridge Road – itself an area of historic interest, where Boudica fought the Romans (the road no longer exists). For one year, every Saturday night the Watson brothers, alongside Rip, Rig & Panic's Sean and Andrea Oliver and Neneh Cherry, packed out the venue to dangerously high levels. The Watsons later collaborated with fashion store Demob in hosting hugely successful parties in Islington's Rosebery Avenue before running Delirium, one of London's most important early house nights.
Previously ignored working class districts like Old Street, Hackney Road, Wembley, Bermondsey and even posh Hampstead became playgrounds for eager clubbers. Black promoters, excluded by an unofficial colour bar in many West End clubs, threw parties in empty properties, warehouses and anywhere else that could fit 500 clubbers, a bar and a soundsystem. Estate agents, whose access to fresh locations was unparalleled, became everybody's best friend: borrow key for the weekend, throw party, hand key back Monday.
At Norman Jay's moveable feast Shake 'N' Fingerpop, the soundtrack was a revivalist's feast of American funk and soul: Leroy Hutson's "The Ghetto '74," The Voices Of East Harlem's "Little People" and "Impeach The President" by the Honey Drippers. In fact, politics was a core part of young clubbers' lives then. The decade was defined by its upheavals and strikes: the miners and steelworkers, the poll-tax riots. And although many of the promoters were mini-entrepreneurs, there was a general air of dissidence, often reflected in a playlist that included Gil Scott-Heron's anti-Reagan song "B-Movie," Junior Murvin's "Police & Thieves" or Brother D with The Collective Effort's "How We Gonna Make The Black Nation Rise?"
All of this collective disorder was documented by the twin house journals of '80s raving: The Face and i-D. Both magazines launched in 1980 and many of the scenesters that directed the flow of trends also frequently documented it in the pages of both, with Jay Strongman's byline regularly appearing in The Face and the Watsons charts a permanent fixture in i-D, pored over religiously by exiles in the shires.
But perhaps the most important byproduct of the warehouse explosion was its inextricable links to the birth of Kiss FM, now a legal, commercial station, but originally London's greatest pirate station. Launched in South London in 1985 by wiley Gordon Mac alongside stalwarts of the scene – Jonathan More and Matt Black from Coldcut, Norman Jay and Jay Strongman – Kiss became the mouthpiece for London youth, soundtracking its culture, documenting its changes and, perhaps most importantly, becoming a key news information outlet for every great party within Greater London.
As the warehouse scene became more untenable, partially as a result of the police finally catching up with swift moving club activities, promoters got more creative. Nicky Holloway, who'd started off doing small parties at the Royal Oak in Tooley Street (it's now the Hilton London Tower Bridge), then threw a series of fantastic parties at the London Zoo, Lord's Cricket Ground and the Natural History Museum, while Westworld threw increasingly theatrical parties in licensed venues like Brixton Academy, which included boxing rings and fairground rides, anticipating the production values of outdoor raves a few years later.
Fearful of police reprisals and sequestration of equipment, promoters eventually began to move back into licensed premises. Soul II Soul's residency at the Africa Centre was the most notable, while the rare groove scene reached its apogee at the Town & Country Club (now The Forum) in Kentish Town, when it hosted one of the great nights in London's dance music history: July 1988 with The JB's with Bobby Byrd, Marva Whitney, Lynn Collins and Vicki Anderson, all of whom had had their careers exhumed by warehouse DJs, amid a sea of dancers dressed like the Bisto Kids.
Out of this crazily disparate scene, which planted the roots for acid house in London, came record deals for the all-conquering Soul II Soul, Diana Brown & The Brothers, Young Disciples, The Brand New Heavies and Push (an early version of which featured Seal on vocals). It made stars out of Norman Jay, Judge Jules, Coldcut and Jay Strongman and, more importantly, created a generation of club-hungry dancers, designers – both graphic and fashion – musicians, chancers and romancers, setting in motion a movement that eventually changed London itself.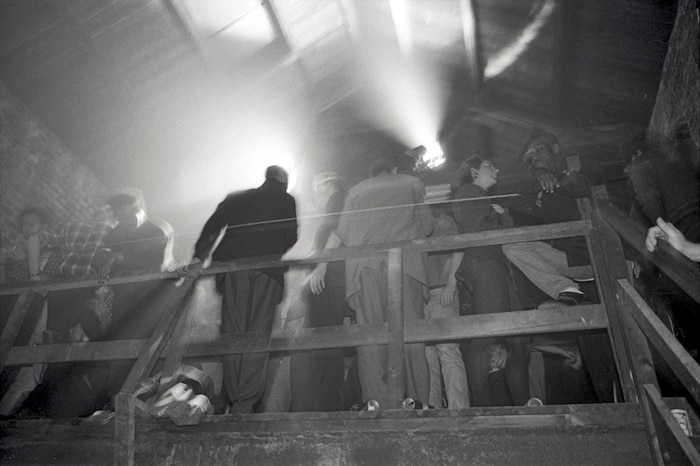 Terry Farley
DJ/Promoter, The Raid
Terry Farley
Funny thing about the warehouse scene was most of the parties happened weren't actually warehouses at all – they were old houses or film studios or old industrial units – and also very few of the rare groove records that got played were actually rare. The parties were in dilapidated, ex-industrial areas like the Docks, Hackney Road, Old Street and Curtain Road (which had a lot of warehouses because of the commercial rag trade) Lots Road in Chelsea and even places out in the suburbs, like Wembley. It was a reaction against the West End and the license laws. People wanted to get away from the restrictions of the West End. It was very hard to get into clubs for the majority of people. Taking drugs was another issue – there were a lot of people at the end of the '70s who were taking gear and security was lax in warehouses. I remember going to Billy's in about 1977 and that opened until 4:30, which seemed really late, but if you went to a warehouse party you could go on well after the sun rose.
Marion Sparks
Warehouse punter and founder of Darling Dept PR
Marion Sparks
I was friends with Paul Daley from Leftfield. We both grew up on the south front at Ramsgate. My initial introduction into the club scene was the nightclubs of Margate. People used to come down from London to go there, especially bank holidays. There was a wonderful club on Margate seafront called the Bali Hai, like a tiki bar in an episode of The Flintstones. I remember being in there on a bank holiday and a crowd had come down from London, people like Johnny Rocca and Chris Sullivan. The place went ballistic. We were listening to Gary Glitter, "Rock and Roll (Parts 1 & 2)," the B-52's "Planet Claire," and there were people dancing on the bar and on the roof of the bar. For me it was like: "Right, that's it, I'm moving to London." So I moved to London and three weeks later Paul Daley followed me. We were desperate to fall in with that crowd.
Swede Mahoney
Wife and partner-in-crime to club promoter Dave Mahoney
Swede Mahoney
I met [promoter] Dave Mahoney down in Margate. Everyone used to go there and Bournemouth on the bank holidays. That was in August 1980. Dave started doing Billy's with John Quinn and Perry Haines, who started up i-D magazine. They used to do a Friday i-D night. Then after that Dave started doing warehouse parties and I started working with him. We used to go and see venues all the time or we'd be looking for props. We were always out looking for venues, looking in magazines, asking people.
Jay Strongman
Resident DJ at Dirtbox and Mud Club and '80s superstar
Jay Strongman
The working conditions at the Dirtbox were bloody primitive, but it all seemed to fit in with the whole Hard Times vibe that was happening. Everyone hated the whole Camden Palace nightclub style of chrome and mirrors so the warehouse scene was a reaction against that... kind of like getting back to basics with the decor and the music and the clothes.
Rob Milton
Dirtbox promoter
Rob Milton
The first warehouse party in London is an ongoing debate. If you ask Chris Sullivan he claims he did one back in '79/'80. I have no idea who the DJs were. But I think it's safe to say the soundtrack would have had a predominantly Blitz/New Romantic theme. The first one I remember going to was a Dave Mahoney party near the Kings Road (probably Lots Road). I don't even remember it having a name as such, just "warehouse party" photocopied on a piece of scrap paper. I remember it well 'cos I ended up in hospital needing ten stitches in my hand after falling through a glass door!
Dave Dorrell
NME writer, DJ and promoter
Dave Dorrell
Dirtbox were really the progenitors of naughty illegal warehouse parties in London. Room over a chemist on Earl's Court, and the music they were playing was a cross between northern soul and electro and rap, a few alternative bands and a bit of James Brown.
Hector Heathcote
Resident DJ at The Wag
Hector Heathcote
Although I was quite well-known in the Midlands, my name didn't mean shit in London, so I had to start again. I ended up playing at all the Blue Rondo á la Turk gigs, one of which was a squat party in Shoreditch or Spitalfields, which was possibly one of the first warehouse parties in London. They played live, I DJed all night. It was a royal wedding-themed party, because it was the night before Charles and Diana got married. I got a cab there and there were already throngs of people camping out on the pavement for the wedding!
Jazzie B
We changed our name to Soul II Soul in 1982. We did Dougie's Hideaway on a Thursday night on Junction Road near Archway – all the birds free. Velvet wallpaper and red carpet. It was at the top of our road at the back of these flats. It had been an old blues place. They used to call it the 21s. It was so naff. We went in there with silly string and streamers and everything and he made us stay until five o'clock in the morning cleaning it all up. Busiest night the geezer ever had, but he got pissed off 'cos there was all this silly string there.
Marion Sparks
The huge turning point for us socially was, Paul Daley was training to be a hairdresser in Ramsgate, so got a job working in Visions in Kensington Market. Paul had one haircut that he did and that was a flat-top, obviously! The salon was run by Dave Henley, who was in Pressure Drop. In those days, everybody passed through Ken Market. You've got Jay Strongman running Rock-A-Cha, looking all cool and zooted up, you had another couple of characters that used to do the Something Else warehouse parties, Scotty and Malcolm – they were in Strip, a vintage emporium.
Norman Jay
Radio and club DJ
Norman Jay
Early on, when the warehouse parties were just starting, punks in the docklands were doing these all-weekend-long parties. They were wicked. No security and no violence. But the music was hideous! It was a mad mix of punk, reggae, rock, rockabilly, everything thrown in. I wanted to do the same only with good music.
Terry Farley
The Face's Hard Times edition just blew up the whole scene. One minute there were a few people in the know in half a dozen clubs in the West End, then suddenly there were thousands of people walking around in ripped jeans and rockabilly haircuts. It was brilliant. I take my hat off to Robert Elms, who wrote that piece. It was so well-written, like a political manifesto for clubbing: "This is how we're going to do it now." It was a sea change in London clubbing. We'd had eight years of the southern soul scene and the West End and it was time for something to come along and sweep it away.
The atmosphere was lager, sulphate, soul music, rock & roll, really bad toilets, terrible plumbing.
Dave Dorrell
The earliest warehouse parties I played at, I can quite clearly remember playing Fearless Four and Spoonie Gee next to Public Image and then Spear of Destiny or something; and then moving it up with "The Payback" or something by James Brown, and it would all just flow. If you look at it as a kind of mirror of what was going on in the States, it makes sense, 'cos you go to New York at the time, they're all playing an electro track followed by Yello, followed by the Comateens, followed by some other whitebread alternative band.
Tony Trax
Co-promoter/DJ at Bazooka Joe's
Tony Trax
I joined up with a guy called Carl Hunter and we started doing something called Bazooka Joe's, which was the same type of thing as Westworld and the Zoo. Big parties. We did the Diorama in Regents Street and St. Martin-in-the-Fields. We always did parties under the guise of something else. We'd pretend it was a film shoot and it would change from a film shoot into a full-blown party. That was the only way to get venues.
Jazzie B
First warehouse I remember going to was Bazooka Joe's, under the Westway. There were movies showing in one half and they had these disco lights at the other half, the DJ in the middle, and it was like in a boxing ring. First time I seen two chicks DJing – blew me mind. It had to be about 1983. The scene was off the hook. Proper scene, proper New York. It was all American, it was all fashion. Incredible.
Marion Sparks
You know that scene in The Wild One where they all rock up into the small town? That was the atmosphere at the Dirtbox. It was like a re-creation of that kind of carnage. I don't know how they made any money because I don't ever remember parting with any to get in. You took your own beer, so they weren't make anything on the bar. They were doing it for the love of it, really. And the atmosphere was lager, sulphate, soul music, rock & roll, really bad toilets, terrible plumbing... There always seemed to be some sort of flood with everyone walking 'round in three or four inches of manky water. Dreadful. Some of the places were total deathtraps.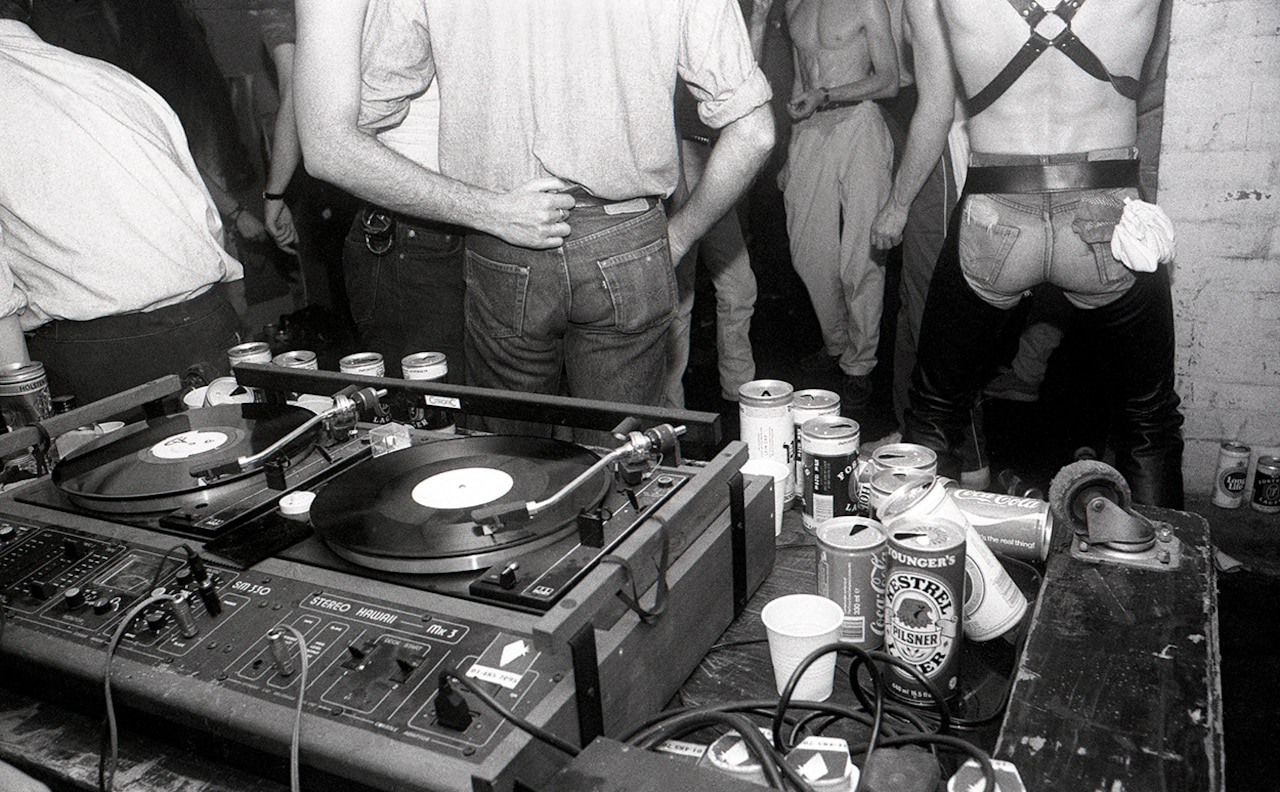 Jay Strongman
The air-conditioning in most of the places we did was nonexistent, so when the place filled up condensation would drip from the ceiling onto the decks and the vinyl. One place we did had a huge clump of electrical wires hanging from the ceiling just next to the decks. Everyone told me the wires were dead... Luckily I didn't touch them until the very end, when I brushed them with the back of my hand and the shock sent me flying against the wall! Good times, but the health and safety aspects were sadly lacking.
Dirtbox was at best squalid and at times uninhabitable. In fact, one party we did on Kendal Place near Baker Street was like a building site! You knew who'd been partying at warehouse parties back then – when you went to Camden Market the next day, you could spot the shoes that were covered in muck. The emphasis was on partying, and it wasn't about the décor or the light show. A damp dark room with one red light bulb, a booming soundsystem and a reputation was the prerequisite for success back then. It was risky and addictive. "Will it get shut down? Will there be any toilets? Will I fall through the floor? Will I get arrested?" But because you knew all the right people were there you had to go. It really was living on the edge.
Pete Heller
Warehouse punter, later DJ
Pete Heller
I was a big Jay Strongman fan. He looked so cool with his flat-top and his bomber jacket. I used to go beg him to tell me what the records were: "Oh, this is Chuck Brown & The Soul Searchers." I was heavily into collecting these records. And because no one was buying the hip-hop records from Our Price, where I was working, I used to steal them. So I had a fairly decent collection of imports. I got my hair cut at Vision in Kensington Market, which is where Paul Daley [later of Leftfield] used to cut hair. At the time he was a conga player. He was like, "I'm not sure about this Trouble Funk, it just goes on and on." "Yeah, but that's what's good about it!"
There was no DJ culture then. They were just blokes who played records. But I found them intensely glamorous. That whole music and club scene was very "other" then. It wasn't the mainstream. I loved this period.
Terry Farley
It felt brilliant. It felt lawless. There was a huge buzz going to a party in Lots Road, just as an 18-year-old would have felt going to their first acid house party in Southwark six years later. Being somewhere where you're not constrained gives people a freedom. I think that's what the warehouse party scene did: it allowed people to express themselves; allowed people to dress how they wanted, because there was no one on the door, like Philip Sallon at the Mud Club or Ollie at the Beat Route, turning people away. It was more varied than in a trendy club in Soho. There was a greater social mix. You had a much better fashion mix – London was awash with tribes back then – and it was really cool to go to a warehouse party and see some goths and rockabillies and a few casuals in the corner keeping their heads down.
Gary Haisman
London all-time face
Gary Haisman
Back in the '70s the only afterhours drinkers were basements in Soho run by older white cockney criminals or black-owned blues and shebeens. Come the early '80s Phil Dirtbox changed that. He put on the first Dirtbox in Earl's Court for a predominately white trendy crowd. I also loved his afterhours Rooster Fish which was down an alley opposite the Astoria, and it was one door in, one door out. If anything had happened in there, God help the people, but you were chemically in mind and it was a great place to go once the legal places had shut. A pound to get in, with one tiny bar, a small room to dance in and one cubicle as the toilet. First time I went there, Wayne Sleep, the ballet dancer, was in the corridor downstairs with one foot on the ceiling and one foot on the floor, which at the time I thought was remarkable. You would get all the characters in there: Philip Treacy, the hat designer, and all the Saint Martin's fashion crowd. There was always Manyanas in Chinatown which was amazing as well; another one-door-in, one-out job.
Noel Watson
Promoter/DJ, Battle Bridge Road and Delirium
Noel Watson
Sean Oliver was the DJ with me and Maurice and we ran the Battle Bridge Road warehouse parties. We ran an illegal warehouse party there for about a year. Jazzie B would come. Nellee Hooper would come. Malcolm McLaren would come and bring us white labels of "Buffalo Gals." The Sex Pistols and the Clash would hang out; Neneh Cherry and Andrea Oliver would do the bar for us. I would give them £500 and they'd go down to Acton to get all the booze and set up a bar. They'd be on one side of the stage with the bar and me and Sean and Maurice would be on the other side DJing. The only lights we'd have would be above the bar and the turntables. The rest would be pitch-black. We put army camouflage netting all over the ceiling and the walls.
Paul "Trouble" Anderson
DJ and dancer
Paul "Trouble" Anderson
1980 was the birth of electro and all that breakdance, spin-on-your-head business. I loved it. I was responsible for electro in London, the first DJ to play "Planet Rock" at the Electric Ballroom. I still have it and would never part with it. I still play it sometimes. I got it from Bluebird Records: Abby Shah sold it to me. Tommy, the boss, was about to send it back because he'd never heard this sound before – it was a brand new sound – but he said, "Paul Anderson will break it..." I played this at the Electric Ballroom and everybody freaked, and that was it, that was the birth of it in London. There were a lot of guys around who were playing electro in those days. Mastermind and DJ Herbie, he was fantastic... I learned quite a lot from him and Davie J and Matt Select. But Herbie was the DJ, he was the main man – he did all the Street Sounds electro compilations. He was like our early Jazzy Jeff. It was all new, everybody was getting into it and everybody wanted to be a scratch DJ.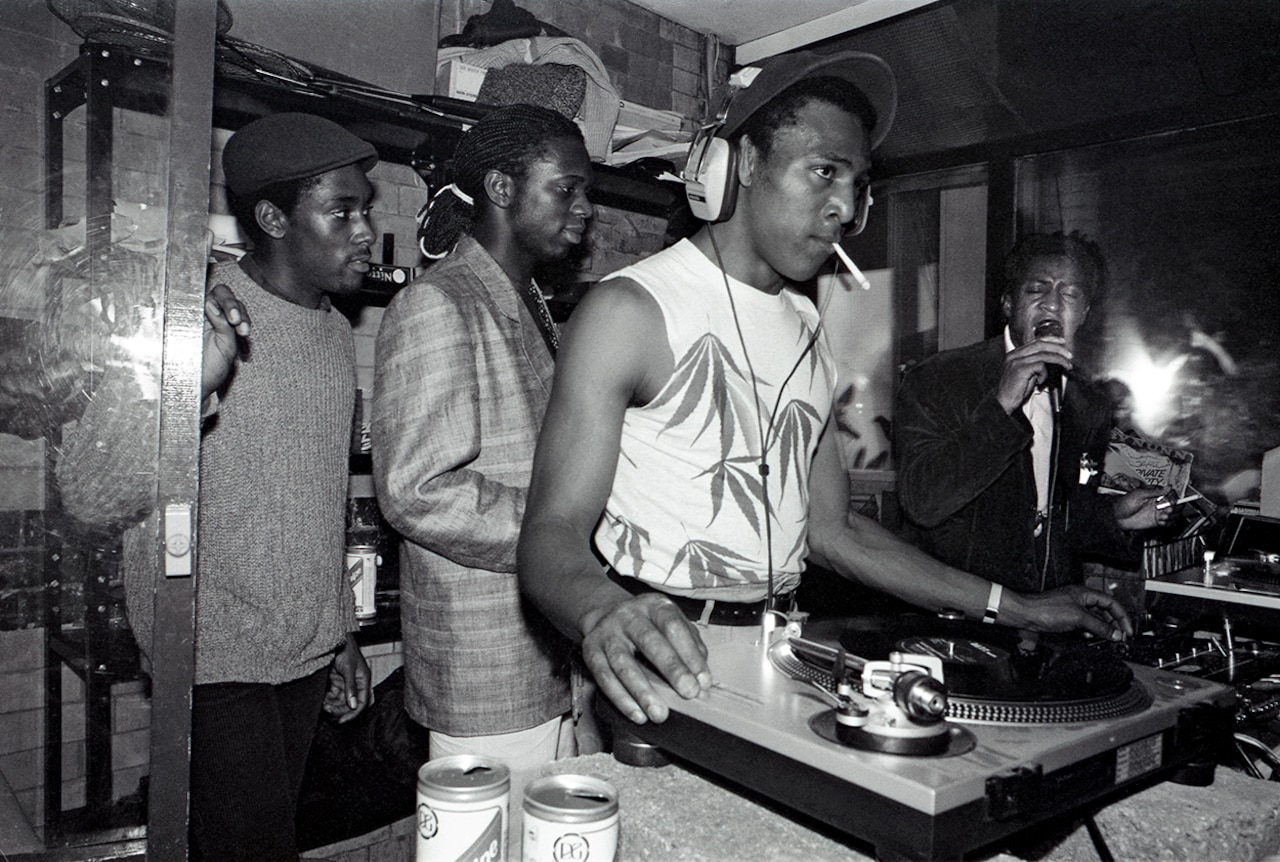 Noel Watson
We introduced electro in the warehouse party scene before house. That got a fantastic reaction straight away. "Pac Jam" by the Jonzun Crew was huge, anything on Sunnyview was huge. Egyptian Lover. It was a new genre, it was innovative. The Smurf thing was big, too, and the kids danced to them, so they were dance records. A lot of hip-hop then was very dance-orientated, so that's why we picked up on it.
Norman Jay
Battle Bridge Road gave me the inspiration to do my own. But that's just the way it was then. If black guys were having a party like that, we'd have had every Old Bill in London on us. They were white kids, they could fucking do anything... and they did! Illegal parties, with everyone openly doing gear... that ran for months. So I thought, before I go steaming in, I'll do my smaller house parties, and come fucking five o' clock in the morning there'd be a ring of Old Bill at the bottom of the road. We always attracted them.
There'd be rastas there, there'd be rockabillies there, there were queens there, trannies and pop stars.
Noel Watson
Barrie K. Sharpe used to come down and throw things at us because we would never let records finish! We'd cut them up. Maurice was an incredible cutter, mixer and scratcher. He could do everything, transforming, the lot. So the kids would come and watch. Nellee [Hooper] and all the Wild Bunch, the Massive Attack boys like Daddy G., would hang out onstage and watch us cut. We'd be cutting up all the old JB's stuff, the old breakbeat records like Herman Kelly's "Dance To The Drummer's Beat."
Terry Farley
Somehow, the old records that were getting played seemed to fit with the clothes we wore. All the amazing early hip-hop coming out then was also related to that early 1970s funk sound, too. If everyone's dressed like a '70s Jack Nicholson movie character you wanted raw funk. Alexander O'Neal: polished soul, suited wine bars – not dirty warehouses.
Dave Dorrell
I played on the warehouse scene in London. I played at Tree House. I'd played at ESG. When I first met the Wild Bunch, Nellee and stuff, Nellee would come up and stay, or I'd go down to Bristol and we'd hang out. There was Maurice and Noel Watson, who'd spent time in New York and had come back and were really getting the scratching thing on the go. There were people like Jay Strongman, who I thought was the first person that had a starring role. My brother had been out in New York for a week, went to Tommy Boy, and come back with five – five! – Tommy Boy fucking test pressings! People would go mad to get the original fucking pressings. There'd be a frenzy to get these crumbs off the table.
Patrick Lilley
Promoter at Circus, High On Hope and Queer Nation
Patrick Lilley
Suddenly it was all about finding crazy lawless places. The hedonism was getting extreme, with recreational drugs becoming a lot more prevalent than at any time since perhaps Soho's early '60s, Mod pill-popping heyday. This "chemical state of mind" meant the West End's club closing times of 3:30 AM (if you were lucky) wasn't enough, and somehow drinking a cold can of beer at 8 AM in an illegal basement or up four flights of broken dusty stairs in a disused office space to the sounds of Nina Simone seemed perfect.
We were dancing on a clubbing frontier of our own making. Myself and Jeremy Healy ran Circus, an itinerant warehouse party based on the JA shebeen idea. The first party was in a huge warehouse Haysi Fantayzee inhabited in Cleveland Street. We soon found venues in the most crazy places, such as Buckingham Palace Drill Hall and then a car park above Petticoat Lane in East London. We were the first people ever to do Bagley's in King's Cross. We wanted a party for everyone we knew and all the different types of people that we knew. So there'd be rastas there, there'd be rockabillies there, there were queens there, trannies and pop stars. It was a great mixed-up affair and Jeremy was the primary DJ.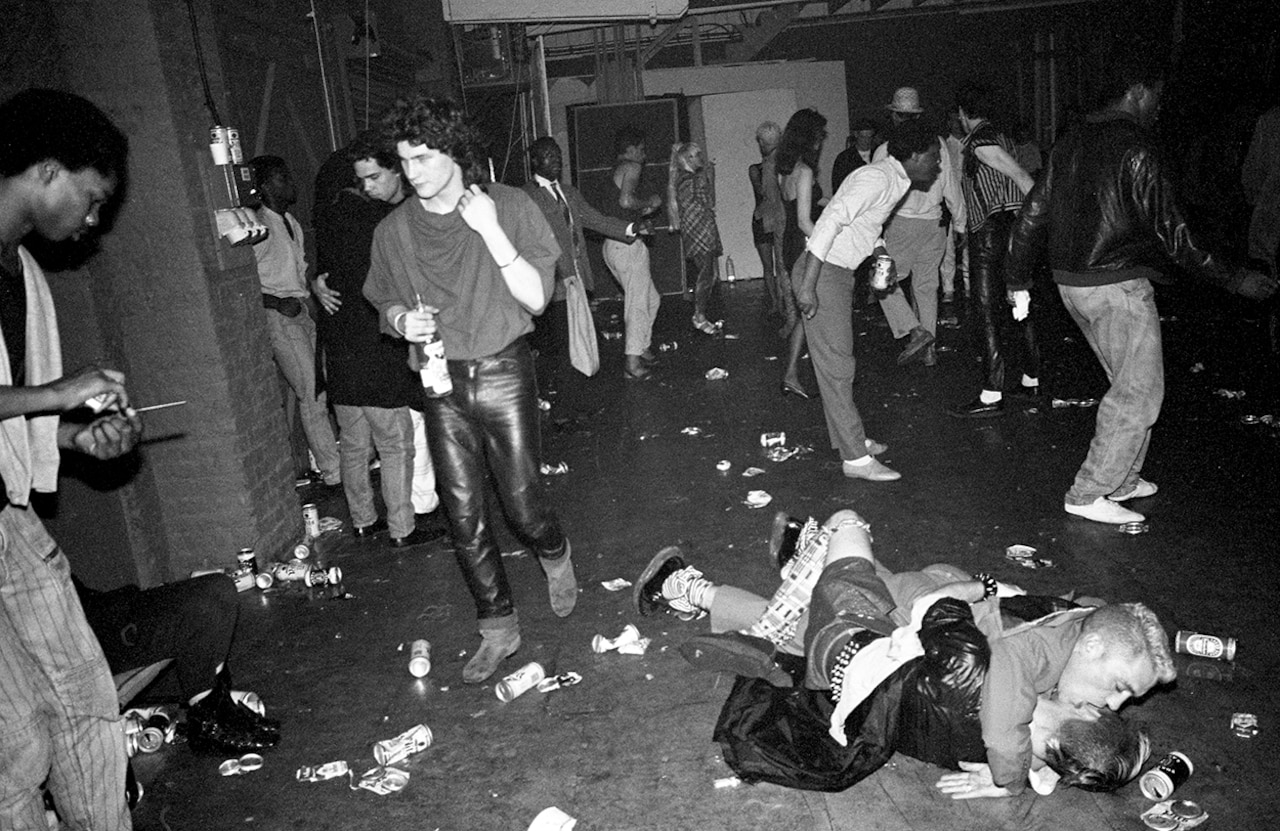 Norman Jay
I realised I couldn't do [a party] under the Good Times name, because of the expectations we would've had [as a reggae sound]. So I came up with Shake 'N' Fingerpop. It would be a party, not a music thing. No DJ's name. Definitely no music policy stated. The first one I did was in a carpet warehouse in Acton on New Year's Eve 1985: Over a thousand people turned up with little advertising. I did half a dozen around the [Ladbroke] Grove. I did a huge one in a big empty school on Hampstead Heath we called Amityville. That party was legendary, because it was the first time the Hooray Henrys, Sloaney girls and middle-class white people turned up. These lovely-looking birds with posh accents, Jeeps and everything.
We had three white public schoolboys – Ed, Bill and Nick – who became Manasseh. Derek B. played on the top floor, doing new stuff, Manasseh on the middle floor playing dub reggae and us downstairs playing the hippest black music you ever heard. Over 2,000 people turned up. The next day it was in the Sunday Times with them declaring it an "all-night sex and drugs party." The legend was born. There were a lot of influential people there that night, fashion editors, journalists. So then I started getting these calls from The Face, Arena and Simon Gough, who was then at the NME, wanting to interview me. During this time I was doing the Rare Groove Show on Kiss FM on a Saturday afternoon, and it was doing so well and was so hip it made you sick. I'd give coded messages about where the next party was.
Terry Farley
Kiss was absolutely massive. On Saturdays we would walk up and down the King's Road and Oxford Street, buying music and clothes, and every shop had Kiss on. So suddenly you were hearing the same DJs who were playing at the warehouse parties and they were playing the music you could hear there, too. Kiss nailed it, completely.
Noel Watson
I loved the fact that Mud Club people like Philip Sallon and Fat Tony would also come to our parties at Battle Bridge Road. Mark Moore was pushing the gay thing musically, which was great, with a more disco slant. He turned me on to a lot of records I knew nothing about. We had a friend called Tom Binns who designed jewellery for Vivienne Westwood during that Nostalgia of Mud [King's Road store] period and he was giving us tapes off Malcom McLaren of the Supreme Team's New York radio show, which we studied. We went out and brought two decks, a mixer and a DMX drum machine and locked ourselves into a room in our flat in Westbourne Road and practised 24/7. I couldn't get Maurice to leave that room. He could do anything with his hands. Apart from being a tailor he could make stuff from wood, and he used that natural ability to copy what was on those tapes. He could transform as good as the New York DJs and would even write things on the vinyl so he would know where the break was.
Patrick Lilley
Jeremy used to do scratching. Jeffrey Hinton taught him how, as far as I can remember. Jeremy had done the cloakroom at Planets, which was Philip Sallon's club, and our friend Richard "Dancing Dick" Breslaw was the DJ. After Richard had a car accident Jeremy filled the spot and got his first break as a DJ. Philip Sallon had been omnipresent at all those places that I'd been to, and still is to this day. At four o' clock in the morning you're still quite likely to run into Philip. We had seen what Steve Strange and Rusty Egan had done, so it was really just a reflection of that scene getting bigger and able to support a couple of parties of different types. Steve and Rusty had gone on to do the Camden Palace. They'd done Club For Heroes on Baker Street and then the Palace.
The black-run parties always got busted. Yet the white ones, like Battle Bridge Road, even the ones that used to go on in Curtain Road, never had the grief we got.
Noel Watson
We did Battle Bridge Road for about a year and then the police turned up one night and they busted the club. They sealed off the whole road and wouldn't let anyone down. It was packed every week. Every Saturday night. We handed out little paper flyers in black-and-white that Sean would do. They used to have all these little bizarre things from art books, very obscure imagery, and we'd just hand them out to people we knew. It was amazing, totally amazing.
Marion Sparks
There was this guy, Dave Mahoney, he was to die for. I adored him. He was incredibly charming. Think he did a runner once, and everybody was excited about this club he was doing and then it didn't happen. It was a bit like, "Oh no, the shine has come off Mahoney now, what we gonna do? Are we going to be able to forgive him?" And then he threw a massive party with coaches laid on which took us on a mystery tour. We'd been on mystery tours of Dave's before that had ended up in absolute disaster in the middle of nowhere, but this time he took us down to Chislehurst Caves and threw the most enormous fantastic party in the caves there, and it will forever go down in history as one of the greatest parties ever.
Swede Mahoney
For his 25th birthday, he organised a coach party to Chislehurst Caves. It was the Shillelagh Sisters playing with Jacquie O'Sullivan, who was later in Bananarama. It was just mad. We ordered coaches that went from the Spice Of Life in Soho, then there were some coaches going from the Queen Vic in Ealing. There were six coaches in total. They all met at Chislehurst Caves. There was a tour guide who was helping people down there because it was pitch-black, so they had to follow this guide. The problem was lots were tripping, so they'd disappear down these alleys and there were people screaming – and getting lost. The tour guide wasn't happy at all. So many people did acid in those days.
Jazzie B
Some guy comes along and says, "I'm an estate agent, I know what you need." He was a really cool Jewish guy and he's got all these keys, so we went round all these places, massive warehouses. "Oh my God, you could have a football game in here..."
Anyway, we found this warehouse in Curtain Road and he just gave us the key. He just wanted to be with us. Inside there was no electricity, but that was no problem. One of our crew, who was a sparks [electrician], got on the nearest lamppost, got one of them big fuses, connected it up, ran the wires back in and – bosh – we were off and running. We needed someone to man it, because the Old Bill or neighbours coming out seeing a bunch of black guys, you know, that won't last. So this fucking Jewish guy came in a fucking razor-sharp whistle [suit]. He was hilarious: tie on, nice brogues, standing at the fucking gate. Everyone thought he was the Old Bill. "Nah, he's our mate, he's our mate. Look, he's sweet." Anyway, Old Bill turned up and he's just large like you can't believe. Talking to the police [super posh accent], "Well, daddy's away." That was how the whole thing for Soul II Soul began.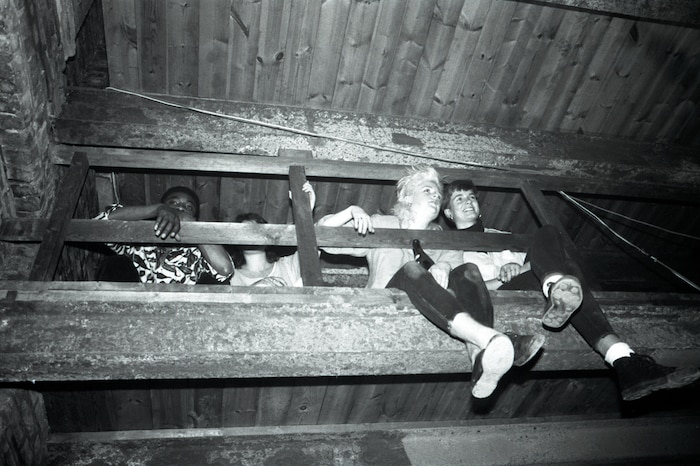 Norman Jay
The black-run parties always got busted. Yet the white ones, like Battle Bridge Road, even the ones that used to go on in Curtain Road, never had the grief we got. We would be playing up Hackney Road surrounded by police, yet down in Curtain Road, fucking thousands of people going mad and there's not an Old Bill in sight. So I said to [DJ Judge] Jules, "The only way around this is if you front them." He was terrified of that. I gave him a script, telling him what to say, and I said, "When you're talking to them, use an Oxbridge accent on them and don't look away. You look 'em right in the eye and you tell 'em." And it worked for us all the time. We never got bothered after that.
My mate [Young Disciples'] Femi used to go to college with Jules, because they were both at LSE [London School of Economics]. Femi said he had a good crowd. The main thing was, he was white. His crowd would help the racial mix of the crowd, to make it more socially acceptable to the police. Anyway, I went down to check him out one Friday, and as sure as Femi's word was, he played abysmally. He was crap. The vibe, however, was really good. He played a mishmash of black records, which I owned and liked, but in a very amateurish sort of way. But his heart was in the right place. I approached him about doing parties and he said he was doing something with Soul II Soul the following week in King's Cross. Jazzie was astute: get in with some white dudes and your party won't get busted. It was basically Jazzie's party, with Jules fronting it.
Judge Jules
DJ/Promoter, Family Funktion
Judge Jules
The police always came along. I remember doing another event where we had pretty much a room full of money and a senior police office was patrolling the venue at about six in the morning after the event was over. There were five of us sealing the door and there was this irate senior policeman trying to find the organisers of the event. If he had found us we would have been bang to rights and caught with the evidence.
Mark Moore
Resident DJ at Mud Club
Mark Moore
I got caught up in a police raid many a time. Once, me and Colin Dale were doing a warehouse party and I was elected to sweet-talk the police, as I looked young, fresh-faced and innocent... not to mention white. I managed to talk them out of arresting us and confiscating the equipment, but they did end the party. I then had a bunch of people, in front of the police, demanding their money back. By then the cash had been given to the people who supplied and set up the soundsystem, so there was no way of getting that back. I managed to save myself from being lynched by putting the mob on the guest list for the Mud Club that week. They were happy.
Nicky Holloway
DJ/Promoter, Special Branch
Nicky Holloway
It seemed to me that 60-70% of our people were coming from the home counties. In those days London was actually no man's land. There were derelict buildings and darkness, there was no galleries like there is now. Even around Old Street it was like a ghost town at night, there was never anyone around there. We probably found it harder to get people to come from the West End than we did from the suburbs. People in the West End were going out in the West End; they were not interested in a jazz pub in South London. But when we did the one-offs, like we did at the London Zoo, they came to that. Our hipper crowd probably came to my one-off and warehouse party things more, like we did that Crunchy Frog thing down at Rotherhithe and we did a warehouse at Boundary Row, near Waterloo station. We were now getting a cooler, more urban crowd when we did warehouse parties and one-offs in funny places. When you do a party in a place like the Natural History Museum or London Zoo, there's a sexiness to it and people come because of that, don't they? Rather than just the normal club night.
Patrick Lilley
I think the first Circus was in 1982. I had lived in squats with Jeremy [Healy] and Boy George at Warren Street and Great Titchfield Street. George was a handbag thief, I was a shoplifter and our friend Jeffrey Hinton was a drinks thief. We were quite successful at procuring what was needed for a good night out. We divided into two camps. George and Jon Moss, from Culture Club, and Jeremy, Kate Garner and I were the Haysi Fantayzee gang. On the night Fantayzee signed a record deal there was a huge party on Cleveland Street, in the warehouse the band were based in. I remember Jeremy used to put film soundtracks into the music, like the soundtrack to Apocalypse Now, the helicopter noises and stuff like that, mixing stuff that shouldn't be put together and then playing really odd stuff next to it. It wasn't electronic, and it wasn't funk. It was more eclectic. It sounds wrong – it doesn't sound great when you say someone's eclectic – but it was far more of a journey.
Terry Farley
To start with I'd been playing soul clubs in the back room, playing records that people didn't dance to. Paul McKee and myself used to do tapes for Demob in Soho and they asked us to play. Big thing for me. Maurice and Noel Watson were playing and I was doing the warm-up. I was playing the sort of stuff that early Jay Strongman would have been playing. Then they came on and played two hours of records I'd never heard. They were all new New York labels like Sleeping Bag, that real sort of tribally sound. I asked them where they'd got them from and they were like, "Oh, we got them from New York."
That was my first house moment, listening to those two play. It was a warehouse with a lot of crazy people in it. It was quite fashion-y. Londoners' negative response to house music wasn't the fact that they didn't like it, it was due to the rare groove scene. It was so enormous and so good. It wasn't they didn't like it, they just didn't need it. It was probably the best it had been since ['70s Soho club] Crackers. Suddenly the dancing was important again. Even though the clothes were '70s-related, they were good. It got back to being credible again.
Noel Watson
Rosebery Avenue got closed down by Paul Foot from the Daily Mirror. We turned up and he had organised a crowd with placards, photographers and policemen who tried to nick Chris Brick, and we all had to make a run for it. Basically we were run out of the area. We must have done about ten parties in there. Don Letts even shot the video in there for Freeez's "I.O.U." [featuring Paul Anderson and crew]. Everyone came along. You'd get Sade dancing alongside Carl and Suggs from Madness and Malcom McLaren. We managed three months before it got busted. Big tunes down there were things like Talking Heads, early Run-DMC – especially "Sucker MCs," which we'd cut up – Devo, Public Image Ltd, Roy Ayers, Funkadelic and the Slits. We felt like it was a reaction against the purism of the South London soul boy scene and the trendy West End scene as well. We were all dressed up but we were more radical in our dress. We were still punks in our attitude, if not in dress, but the soul boys especially were a bit aggressive towards us, so what we played at Rosebery was a reaction against all that.
Rob Milton
By the end of 1984 there was already a dark element starting to creep in to the warehouse party scene. You have to remember that this autonomous collective were largely unpoliced and had only one or two bouncers on the door. What started out as basically a party for your mates was already attracting an outside element that was looking for trouble. This mainly came from locals who found out about the event. This seemed to escalate at a rapid rate and consequently affected the whole scene, for a while forcing us back in to clubs and strip joints.
Without the rare groove scene, London wouldn't have exploded in the way it did when house came along.
Jay Strongman
Earl's Court Road on a balmy summer night: It's 4 AM and police vans with flashing blue lights are lined up outside the Dirtbox, the cops are trying to get up the stairs to the club and someone has set off a fire hose. Everyone's drunk and soaked (except the cops, who are just soaked) and it's like a Fellini movie... People dancing in the street, empty cans of Red Stripe and music on a ghetto blaster.
It was the last night of the Dirtbox at that particular venue and the club's manager didn't bother telling anyone until late in the night, and then things went kind of crazy. I remember someone setting off a big fire extinguisher and rolling it into the DJ box, and then someone unraveled a huge, coiled-up fire hose and turned it on as well. There were people running downstairs to escape the water and cops running upstairs to turn it off. It was all good clean fun until a van load of Special Patrol Group cops arrived and started roughing people up. This one was above the local chemist's, up three flights of stairs past the doors that said "French Model" and "Strict Wardrobe Mistress," and it was in an old West Indian drinking club at the top of the building. Sade played that night when the band were still called Pride, and I think that was the hottest club night I'd ever witnessed.
Trevor Jackson
The most memorable parties for me were the warehouse parties in London, Mutoid Waste Company, Family Funktion and Shake 'N' Fingerpop. I remember going to a Shake 'N' Fingerpop and Family Funktion party in Bear Wharf Garden; walking 'round trying to find it. It was on the Southbank, where the huge Schrager hotel is. They took over this place and were cutting up "Peter Piper" [by Run-DMC] with "Faith, Hope And Charity" by Fun Boy Three downstairs. And upstairs someone from Soul II Soul was playing "Love Can't Turn Around," which was probably the first time I heard a house record in a club environment. It was nuts.
Rhythm Dr.
DJ/Promoter, Three As
Rhythm Dr.
We started doing this "three As" club in Covent Garden with Artists Against Apartheid. It was in a youth club which is now Belgo restaurant. The entrance was opposite Pineapple Dance Studio. Jerry [Dammers] found it and asked me to do it with him, so we wrote the youth club a letter. There was no alcohol but people brought their own. It was in these arches; a beautiful place. (If you see Quadrophenia, there's a youth club at the start – that was it.)
I met everybody there, 'cos everybody wanted to DJ there for the cause. Tim Westwood, Soul II Soul, Kid Batchelor all came in on it. The three As was fantastic. Lasted for about nine months, every Friday. The music was a real mix. At that point in time I saw no difference, but it was just at that period when it seemed that you had to play house or hip-hop or rare groove. But we didn't. I was mainly pushing the house and Jerry was mainly pushing the hip-hop and rare groove, but I used to play bits and pieces as well. All the guest DJs, from On-U Soundsystem to Tim Westwood, played a spectrum of music. It didn't matter. Sadly, it got closed down by the police. They threatened the committee of the charity that ran it. If we opened the next week they would raid it, so that was the end of that.
Patrick Lilley
As the money flowed in and more and more people wanted in on the warehouse blueprint, things got bigger and cleaner (those remembering how you would still be blowing dirt and dust out of your nose days after a weekend out will confirm that "cleaner" was a good thing). This was the era of Westworld, a total mix of music, fashion, ages and races, run by Graham Ball and Joel. They picked up the baton that we dropped and did it brilliantly. They hired me, as a leftover from Circus perhaps, to do the press. They did Westworld, Wetworld (a swimming pool party at Fulham Baths), Miami Is Your Friend and Enter The Dragon. They brought so much to the party between them. I think a great deal of it came from Joel Coleman, the imagination, and what Graham was good at was doing the bits that no one else wanted to do. Joel had fantastic ideas for décor and gifts and objects and all these wonderful things that you could attach to a flyer, like putting a sticker on orange paper, then it becomes a flyer for a club.
Terry Farley
Without the rare groove scene, London wouldn't have exploded in the way it did when house came along, because you already had everything there. You had the soundsystems, you had the people in the clubs. They just switched the music and, instead of there being a thousand people, suddenly there was 10,000. It was already there.
Marion Sparks
The Dirtbox had that wonderful pop-up spirit and I'm sure it had an effect on people. It was for everyone. Anyone could go and start something. It gave people a DIY, have-a-go spirit.
Norman Jay
I did my last warehouse rare groove party on New Year's Eve 1987 down by Southwark Bridge. I did it with Linden C in the old Telecom buildings. My sister used to work there and I knew it had been derelict for months. I did it on the tenth and eleventh floor of that building. I remember telling everybody, "This is the end of an era." I can remember saying that on the mic: "This is the end." I was tired of playing the Jackson Sisters' "I Believe In Miracles;" I'd got tired of playing [Maceo & The Macks] "'Cross The Track." It was at a time when those records had all been reissued and were ready to go pop – that's how big was the scene then. I knew it was time to move on. I'd been in New York that summer – I came back three days before the closing of the Paradise Garage, and after buying tons of house and New York garage and loving that vibe, then having to go back to a retro thing… It was difficult. You can only do where your head and your heart's at.

Interviews conducted by Roual Galloway, Terry Farley and Bill Brewster.

Header image © Dave Swindells