Nightclubbing: Oscillate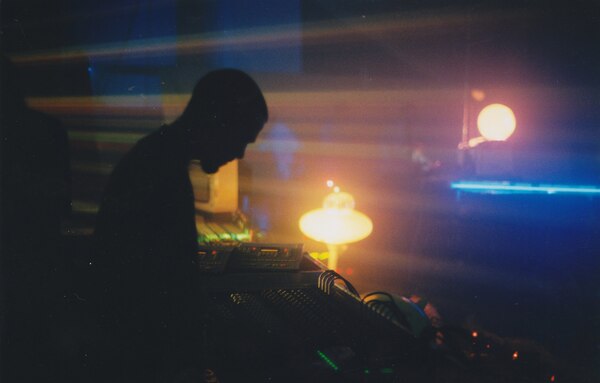 The Birmingham event was an oasis of experimentation throughout the '90s, welcoming the likes of Autechre, Plaid and more
In a 2016 interview Sean Booth of Autechre declared, "Oscillate, fucking legendary night that, doesn't get nearly enough props."
Helmed by Bobby Bird and Scylla Magda, Oscillate was a party that responded to the rise of the chill-out room, free festivals and rave culture, creating a space in which live experimentation and musical discoveries could blend into one amorphous, inviting whole. Based primarily in Birmingham, the night nurtured leftfield abstractions of dance music such as electronica and ambient techno, making them the central tenet of the night rather than a side-attraction.
That said, while they may have eschewed formula and functionality in the flow of their events, it was far from a pillow-strewn sleepover. Amongst the impressive list of guests that appeared between 1992 and 1997 were Autechre, Plaid, Ultramarine, μ-ziq, A Positive Life, Burnt Friedman (as Nonplace Urban Field), Spacetime Continuum, Locust and many more besides. The adventurous potential of the music was the motivation for the events, but equal importance was placed on the atmosphere, guided by team member Fosit Forsythe's homespun installations and a warm, intimate approach to lighting and visuals.
The artists were completely out of sight, you didn't know who was playing... It was so refreshing.
Bird and Magda had been active in music long before Oscillate took shape. Both were in new wave bands such as Vision Collision and Ackee (occasionally joined by Forsythe), and Bird played guitar for Ranking Roger & The Beat amongst other ventures.
At a certain point, though, "I'd had enough of working in studios and having just to watch what's going on," says Bird. "I don't know precisely when it was, but I began to realise that electronic music had an awesome power, because you were producing it, writing it and making it."
As electronic music culture started to take shape in the late '80s and early '90s, Bird and Magda finally got the opportunity to experience it firsthand at Fund-de-mental, a series of parties held in a rehearsal room complex in London that placed particular emphasis on live sets and visuals. "The artists were completely out of sight, you didn't know who was playing," recalls Magda. "It was a step away from ego-driven bands. It was so refreshing."
Returning to Birmingham, they looked for equivalent events but struggled to find anything that inspired them. The club scene in Birmingham at the time was dominated by handbag house. The alternative music community that orbited around the Moseley and Kings Heath area of Birmingham, meanwhile, was feeding off a very different kind of energy to get its kicks on a Friday night.
"A lot of us grew up on punk and dub at the same time," says Dave Wheels. "You'd go to the pub and see a punk or a post-punk band, and after closing time you'd go down the road to a dub, blues party." Bird agrees that the West Indian blues party culture in Birmingham had a strong influence on the various members of the Oscillate collective.
"Blues parties used to happen all over," Bird recalls. "I went to one in a block of flats on the eighth floor. You go in and all the lights are off and there's a massive soundsystem, and the only lighting is the ends of the spliffs. That's a big tradition in Birmingham."
Around this same time, Bird was also putting together a bedroom studio and exploring electronic music production. This eventually manifested as Higher Intelligence Agency, an amorphous entity with Bird at the helm and joined at different times by Steve Savale, Fosit Forsythe and Dave Wheels. The first HIA material to see the light of day was a track called "Ketamine Entity" that appeared on Ambient Dub Volume 1, a compilation on Birmingham label Beyond Records, in 1992.
Inspired by their visits to the Fun-de-mental parties, Bird suggested to Magda that they try and do their own event, and Magda found a small back street club in the centre of Birmingham called Jasmyns. "'A total ambient groove,'" Magda reads from the first flyer. "'Live mixing, programming, lights, film, DJs. A solid motion chill-out for maximum mental hygiene.' I have no idea what that's supposed to mean!" she laughs.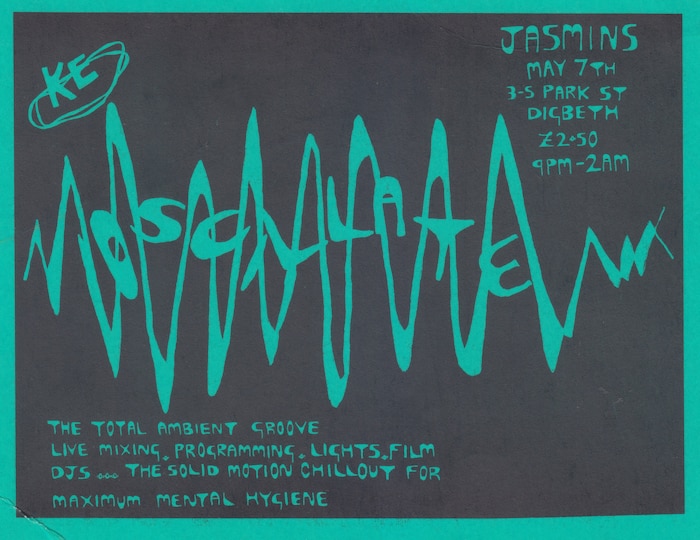 The musical set-up at the party was a hybrid of turntables and studio gear. As well as wanting to experiment in a live setting as HIA, Bird also notes that – by 1992 – they didn't collectively have a lot of records to play that shared their musical vision. Compared to the dogmatic rhythm and tempo of most club nights, the self-styled "non DJs" at Oscillate would change pace and mood, often using the studio hardware to create on-the-fly swells of delay and reverb to smooth out the transitions.
"With the Birmingham crew it seemed to be a lot of dub reggae mixing in with the whole acid house and trippy dance music thing," says Orbital's Paul Hartnoll, who was a regular attendee and occasional DJ at Oscillate.
"We just kind of weaved the tracks in and out and the sounds that we had," Wheels recalls. "If it was a track that was obviously danceable, Bob or Fosit or Steve might send it to a Space Echo and totally dub out the end of the track. Underneath that, perhaps an ambient track would be building but by the time the link or the bridge had dropped away, no one was itching to carry on the thing that happened before because we'd moved somewhere else."
In between the records, sections of improvised hardware jamming all fed into the cyclical relationship between HIA and Oscillate. "They're a big part of each other," Bird explains. "Oscillate was like the playground where you could bring out your live arrangements and try them out. Compared to working alone in a studio, you do one live performance and it's like working for two months in the studio."
Magda stresses that Oscillate viewed themselves as a collective working towards a shared purpose, but by and large the responsibilities were defined: Bird, Wheels and Savale were focused on the sonic element of the party, Mark Bunegar designed the flyers and Magda was in charge of organisation. Fosit Forsythe was, according to Wheels, "a vibe controller."
"Fosit made spaces interesting by using things that people would throw away," Wheels explains. "You might have typical elements like silk parachutes, but also some very odd things like a car boot full of lampshades, with absolutely loads and loads of fairy lights. He would make the space much more twinkly and cosmic. Whilst Fosit didn't play records he would occasionally be on the mic. He would do sculptures."
"We were just improvising, trying stuff out," recalls Forsythe. "I would have some different ideas about where to take it visually. It was like a ritual. I would listen to Autechre's music, which is quite spiky, and I would see crabs and sea urchins and things. It was also the colours of the music in Oscillate as well, because I did the lighting. We'd go into these yellow periods of the night, when the yellow lights would work best."
From a modest turnout of about 20 for the first session at Jasmyns, word quickly spread. Wheels credits the Ambient Dub series with helping draw attention to what was happening in Birmingham. Beyond Records had originally placed an advert in the back of Melody Maker seeking demos, and Bradford-based duo A Positive Life had been one of those to respond and get signed.
"It spread beyond Birmingham very, very quickly," says Wheels. "When A Positive Life came down to play, the first time they brought 10 or 15 people with them, and that would just increase every week. Every time we brought someone down for the first time to play they would bring some friends."
By mid-1993 Oscillate was thinking about hosting parties in different spaces, starting with an Orbital gig on June 5 at The Dance Factory, a warehouse venue at the back of The Institute, just as the duo released their celebrated second LP, The Brown Album.
"When we got to Oscillate and realised it was our kind of people, it was brilliant," recalls Hartnoll. "There were more dressed up people, but then students and quite crusty looking people as well, and everybody was mixing together.
"These two really young guys came up and said, 'Here's a tape. We just started a band. We've got our first record coming out on Warp,'" he adds. "We said, 'Fuck, that's brilliant. We'd love to be on Warp.' And when we said, 'What's your name?' they said, 'We're Autechre.' We were up from Sevenoaks [south of London]. They were down from Sheffield. People traveled to go to things like Oscillate because there weren't many clubs with that forward-thinking state of mind."
Following the Orbital gig, Oscillate moved to Bonds in August 1993 and proceeded to hold events every fortnight. The 700 capacity venue was a throwback to nightclubs of the '80s, adorned with garish painting on the walls outside, and equally tacky on the inside.
"It wasn't a very nice looking club at all," recalls Bird, "but Fosit would arrive and completely transform the place. He'd hang bed sheets, then he'd project lighting onto them. He'd build his sculptures. Initially it was very low-tech and very DIY, but it really worked."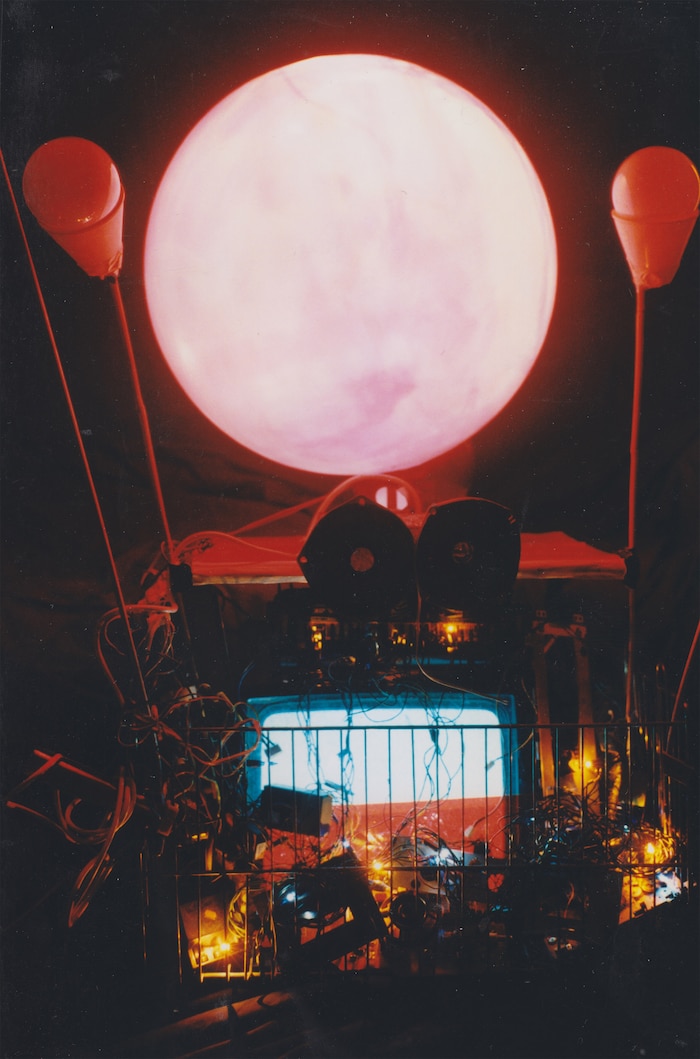 Forsythe's sculptures tended to take centre stage, while the live acts and DJs would be stationed to the side or at the back of the room. "The night Paul Hartnoll DJ'ed at Bonds unannounced, I remember one of my friends getting trapped in one of Fosit's drape sculptures," remembers Tim Watkins, "and he was dancing inside it for the whole night."
Aside from the decor and lighting, Oscillate took pride in hiring in sound for every event they put on. As an experienced sound engineer, Bird was well versed in optimising sound for any given space, and Magda recalls that they had a reputation as something of an "audiophile club." The party was also an early adopter of projected imagery. As well as notable AV performances from guests, Magda explored her own interest in visuals. "I started projected things like documentaries about squids," says Magda. "It really seemed to blend in with the lighting. You did feel it was a different language going on with the electronic music and the lighting and visuals."
On the night that The Orb's Alex Paterson DJ'ed, in lieu of any other live acts, Magda happened upon an elderly contortionist performing on the street in Birmingham city centre. She offered him a flyer and he turned up, wrapped himself up in chains and then escaped on the middle of the dancefloor as Paterson played records.
In pursuit of a comfortable, convivial atmosphere, the crew even hung fabric sheets to create a café space selling tea and cake in the club, where partygoers could sit and talk while still hearing the music. "Some friends of mine would go straight to the café after driving for an hour and a half to come to Oscillate," recalls Wheels. "They would have tea and cake and maybe a joint. They said there were some Oscillates where they never even left the café."
"The club owner and the bouncers couldn't believe what was going on," Magda remembers. "I would like to add though that they were always very understanding about all the strange things we brought into their club."
The inviting atmosphere didn't go unnoticed. "Oscillate worked as an antidote," enthuses Tim Watkins, who first started going to the parties in 1993 when he was still at school. "The other side of Birmingham is that it's this gnarly post-industrial wasteland. We would go into this club with the smell of strawberry incense and loads of brilliant art and sculptures, and the light shows, and of course the music... but the smell was just taking me to another world."
"It felt like a safe environment," says Karoline Rerrie, who was a dedicated attendee from early on in Oscillate's tenure at Bonds. "Sometimes, as a woman going to clubs back then, it could be quite intimidating and quite male, but I don't remember that from Oscillate."
I clearly remember trying hard to stop people dancing and not being able to.
On one occasion Mixmaster Morris played all night at a special one-off ambient Oscillate, where everyone was instructed to bring inflatable beds and cushions. "I clearly remember trying hard to stop people dancing and not being able to," remembers Morris. "I think a lot of them were twatted and very enthusiastic, and I couldn't get them to sit down."
While many considered Oscillate a mellow alternative to more frenetic house, techno and hardcore nights at the time, it was far from a soporific affair. "The crowd danced to all sorts of strange rhythms," explains Magda, "but there was dancing all night. It wasn't an ambient club."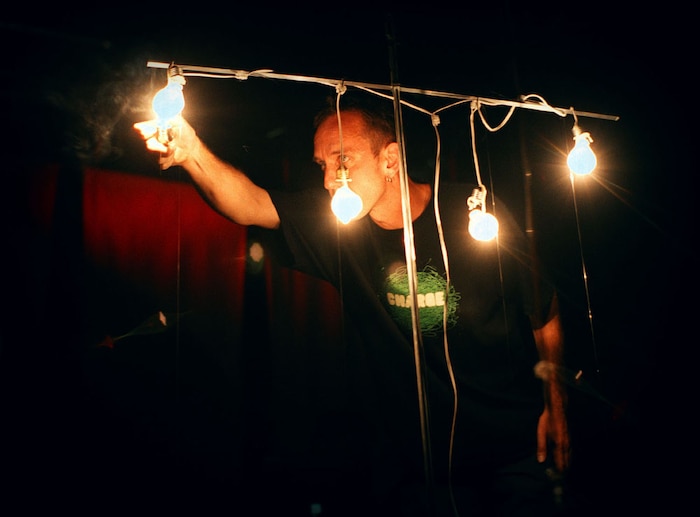 "Some of my friends would take the piss about it being so ambient," says Watkins. "Whale noises and that sort of thing, which, it really was at the start of the night. I can remember at Bonds the first few times, getting there early, really enthusiastic, sitting down crossed-legged on the dancefloor with some very gentle background music thinking, 'Have we come to the right place?' Then, at one in the morning, it's a totally storming dancefloor. Everyone's going mental and it's packed. It really did take you on a journey."
It was at the Mixmaster Morris night at Bonds that local sound and performance artist Jony Easterby also performed a suite of pieces involving molten metal dropping into a tank of water, and a flash bulb-rigged "light tree" that left an imprint of a spiral on the attentive audience's retinas. The installation was rigged with contact microphones that Bird mixed live. Easterby would go on to be a recurrent figure at Oscillate events, fusing his skill in crafts such as ice sculpture with various forms of sonic experimentation.
Autechre, meanwhile, played one of their first ever live shows at Bonds in 1993. "Autechre first came to Oscillate when it was at Jasmyns," recalls Wheels, "and they were about 20 years old. I remember sitting around the table with them and they said they didn't think they could do their stuff live. Bob was sitting there saying, 'Course you can. You just take the gear out the studio, blah, blah, blah.' They came to Bonds and brought all their gear and they hadn't brought any stands, so all their synthesisers and machines were just on the floor."
Norwegian artist Biosphere's audio-visual performance at Bonds in March 1994 was fondly remembered by many of the Oscillate regulars, who suggest that it was a highly anticipated appearance compared to the more obscure nature of many of the bookings. "It got really busy once Biosphere played, that was a real change," says Watkins. "There was a track he played that night ["Novelty Waves"] that later ended up on a Levi's advert. There were little flashes where this secret world would almost wave at the mainstream."
Oscillate's popularity grew in line with the rising interest in electronica throughout 1993 and 1994. At the same time, Higher Intelligence Agency were becoming an increasingly in-demand live concern elsewhere in the UK and Europe. They released the Colourform album and their inclusion on the seminal Artificial Intelligence compilation on Warp Records confirmed their presence in the burgeoning electronica movement. As well as the Megadog events in London, Herbal Tea Party in Manchester had also sprung up as a sympathetic outpost, and so the weekend in between each event at Bonds would invariably find HIA and the wider Oscillate collective on the road.
"We started doing Oscillate in other places when HIA was on tour," says Wheels. "We wanted to curate our own space rather than play in the middle of a techno lineup or whatever, so some of our friends might come and play as well, and of course Fosit would be there. A third of the van would have the studio in it, a third of the van was full of Fosit's materials and then the other third of the van was five or six of us all zipping up and down the country and abroad doing these events."
One of the most fondly remembered events Oscillate organised abroad was at the Triple X Festival in the first weekend of August 1994. The wide-ranging arts festival approached Magda and Bird to put together a party in the striking, cavernous Gashouder in Amsterdam. "I organised the lineup for that and even drove the minibus there," recalls Magda. "We had Orbital, Autechre, Pentatonik, Micky Mann… Someone on the bus said, 'If you crash the bus now, half of England's electronic acts will be killed!' I was like, 'Thanks.' I hadn't driven a minibus before."
The Gashouder was a vast cylindrical structure that could hold up to 2,000 people. The Oscillate team built a stage in the centre of the space with a circular PA pointing outwards. As well as the aforementioned British artists, Sun Electric played live while Bird and Wheels DJ'ed in between sets before Mixmaster Morris took over to play an ambient set at 4 AM. Chantal Passamonte's Telepathic Fish crew arranged a chill-out space, with Open Mind Collective and Thomas Fehlmann DJing, Jony Easterby making ice sculptured seating and an early form of Ninja Tune AV act Hexstatic doing visuals.
One of the distinguishing features about organising an event in a gas holder was the sonic challenges the space presented. "A huge rig would have been suicide in that sort of place," says Bird. "It had this massive reverb that lasted for 12 seconds. We were thinking, 'This is going to be a disaster, isn't it?' but because the rig was in the middle, it was the same sound all the way around the room, so your brain got used to it. I remember Orbital did a great set – it was all melodics. They really made it work in the space."
"I remember Rob from Autechre coming up to me after his soundcheck," says Paul Hartnoll. "He said, 'Oh, that was just great. We worked it out. If you play everything at 123 beats per minute, the slap back on the building is in time with the music, so we're gonna do the whole set at 123 beats per minute,' and I just thought, 'You lucky bastard.' They were all drum machine based. We couldn't timestretch our samples, loops and breakbeats."
More than 100 dedicated Oscillators were booked on buses to Amsterdam and back, while artists such as David Moufang (Move D) travelled from across Europe to attend the event. Dave Wheels remembers playing "The Beyond Within," a track by Moufang's group Deep Space Network, on CD.
"[David] came up on the stage to say thanks," says Wheels, "and at the same time someone else jumped on the stage, put their drink on the CD player and it just skipped to the end of the track. Oscillate being Oscillate, we just skipped back to the beginning and played it again from the start. And that's also a very kind of dub soundsystem way of doing things, right?"
Back in Birmingham after the rush of the summer, Oscillate was seeking to move on from Bonds. Magda recalls that the security started to treat their crowd differently as the size and regularity of the events grew, leading to unwanted attention from unscrupulous door staff. Additionally, the Bonds closing time of 2 AM was a strain, with the club promising to extend the license but never quite managing it. For a brief spell in late 1994 / early 1995 Oscillate moved to the Moseley Dance Centre, and hosted the likes of Deep Space Network, Tim Wright's Germ project and A Positive Life.
"It didn't have quite the right vibe," says Magda of the new space. "There was an absolutely crazed old guy who ran this sort of dance school there with his wife. He'd come out at the end of the night and put the lights on and wave a machete around."
At the same time, Oscillate also drastically scaled up to less frequent parties at The Que Club. The old Methodist Church on Corporation Street would go on to become a key fixture on Birmingham's clubbing landscape, but Oscillate was one of the first parties to make use of the vast space.
"It was cavernous," says Wheels. "It was one almighty room with a huge organ at one end, and around the outside of the room were cloisters with different rooms off that. We had close friends from Stafford, Manchester and Bradford that would come early and help us carry [speakers] up the flights of stairs. I remember teetering on four-metre wooden ladders hanging up parachutes. We all mucked in and took on the challenge of doing to that space what we'd done to the others."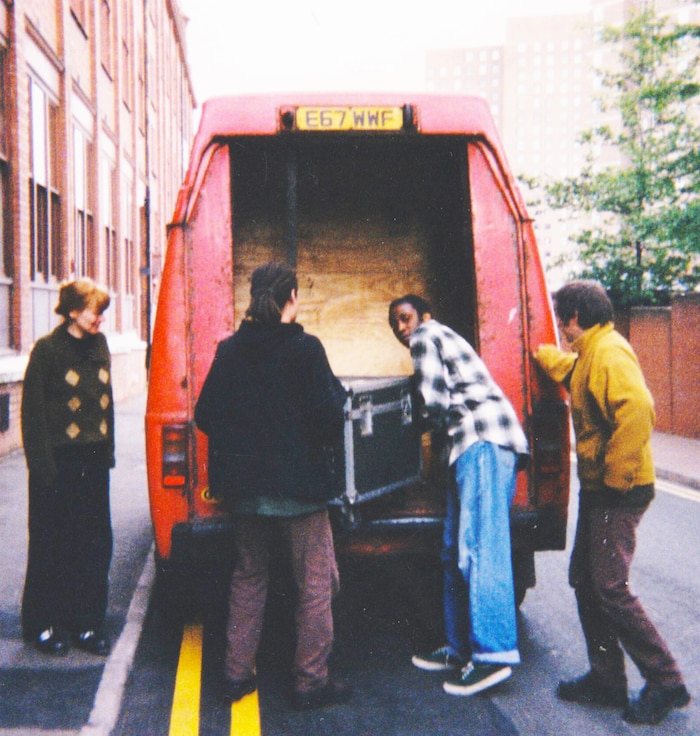 "For me, it was like moving from a little room to an auditorium," says Forsythe. "The idea of making a space like that intimate was even more fascinating. We could hire vans so I could bring bigger sculptures and more elaborate installations."
The larger scale events required a bigger PA, and Magda and Bird still insisted on bringing in their own system rather than using the in-house PA (which Bird succinctly describes as "fucked"). The bigger operation also meant more money was involved, which in turn added pressure to the organisation of Oscillate.
"It was very expensive to put everything on," says Magda. "It changed the atmosphere a bit, because Bonds was a really nice size, actually. A lot more people came to The Que Club just because they'd heard about Oscillate in the press rather than because they were really into it."
With huge silk parachutes dropping the ceiling down and Fosit's twinkling sculptures positioned on stage, the team were still able to create the cosy, psychedelic atmosphere their parties had become known for. Any live acts would be positioned to one side, out of clear sight of the crowd, while the DJ set-up was at the back of the dancefloor. The many side rooms at The Que Club gave a greater scope for additional attractions, such as a room that had nothing but suspended fabric and a mirror ball with one spotlight for people to sit and chat under. Cloud23, an audio-visual collective of students from Bournemouth, were drafted in to take care of a second room, while Resonance from Loughborough introduced webcasts. With a 6 AM license, it was an opportunity for Oscillate to stretch out and create an even more immersive experience for the attendees.
"I really liked The Que Club," says Stefan Pierlejewski of A Positive Life. "Strangely, even though it was a huge venue, there was a good soundsystem to fill it and you still felt some contact with what was going on."
"Sun Electric were totally amazing," Watkins recalls from the first party Oscillate threw in the main hall of the Que Club. "There was something about the lighting in that place, when it was summer, with the dawn coming through these stained glass windows whilst everyone's still raving, which was just amazing."
As Oscillate reached its peak of popularity with the grandeur of the Que Club events, it mirrored the evolution of the electronica scene orbiting around labels such as Warp and R&S sublabel Apollo, as it moved away from its dance music roots. The early techno experimentation of groups like The Black Dog was pushing into more adventurous territory, and in fact when The Black Dog split, Andy Turner and Ed Handley played one of their first live gigs as Plaid at Oscillate in May 1995.
Meanwhile the striking progression of Autechre's music from debut album Incunabula to Tri Repetae in 1995 was reflected in their repeated appearances at The Que Club. Tim Watkins remembers them performing their infamous Anti EP on a quadrophonic speaker set-up. By the time they played there in support of their daring fourth LP Chiastic Slide in 1997, they (and many of their peers) had become a sort of emblem of fearless futurism, using technology to its full potential to break away from the familiar musical structures of old.
Apollo Records-affiliated artist Locust drew praise for his forward-thinking approaches to the audio-visual format in his performances at The Que Club. The British ambient producer used multiple screens and accomplished sample looping synced to his music in a technique that would be echoed by artists such as Coldcut and DJ Shadow years later.
I spent all night looking at Jony Easterby putting microphones in helium balloons and exploding them through an echo unit.
"'Hope you enjoyed the last Oscillate,'" reads Magda, looking at one of the regular newsletters they used to send to the Oscillate mailing list. "Wasn't Locust amazing? We've got one more Oscillate to go this year and we've decided it's going to be the last at The Que Club. We've realized we want to go smaller instead of bigger. Doing Baskerville Hall reminded us of how much we enjoy doing more off the wall things.'"
The Baskerville Hall event Magda mentions wasn't exactly an official Oscillate. In the summer of 1995, Sean Booth and Chantal Passamonte asked the crew to organise a party for their wedding, and they settled on Baskerville Hall near Hay-On-Wye in Wales. The stately home-turned-hotel had already been a popular party spot for events such as The Big Chill, with ample event space inside for the party and spacious grounds for attendees to camp. The event was only advertised to the Oscillate mailing list (with no mention of the associated wedding) and featured Autechre and Plaid playing live, Sean and Chantal DJing as well as Mixmaster Morris, Paul Hartnoll and HIA.
"Even though it was a wedding party, if anything, it was more wild," says Bird. "It's like putting on a party, but you're part of the party and you don't have to go home at the end of it."
"Baskerville Hall was amazing – this crazy stately home taken over for the weekend by crazy people," recalls Pierlejewski. "I spent all night outside looking at Jony Easterby putting microphones in helium balloons and exploding them through an echo unit."
In January 1996, Oscillate moved to The New World Club in Walsall, eight miles northwest of Birmingham, having struggled to find the right kind of space in the city centre. The first event featured Jonah Sharp as Spacetime Continuum, while subsequent events up to the middle of 1996 saw Subtropic, Spring Heel Jack and Schematic all performing.
We were really upset when Oscillate finished.
"I always got a really strange vibe about the New World Club to be honest," says Pierlejewski. "I think the scene was changing. Drum & bass coming in really fractured the scene and a lot of people were struggling, including myself, to find where you fit."
"We did feel that the times were changing," says Magda. "I was starting to get a bit exhausted organising everything. Everyone was moving off doing new things. Dave was moving to Nottingham. Fosit was doing his installations and he'd moved off to London."
"Oscillate was winding down and within a short amount of time I'd heard Basic Channel," says Wheels. "Suddenly there was lots of what would go on to be called minimal and microhouse. I remember hearing all that for the first time and thinking, 'This is amazing.'"
"The early Oscillates had some momentum from ambient being popular," considers Rerrie, "even though it wasn't an ambient event. Then, I don't know what happened. There was still amazing music around – after Oscillate for me it was clicks and cuts [minimal]. I loved it, but I didn't have a club to associate it with. We were really upset when Oscillate finished. It was a bit of a loss. It was such a different time as well. You think, 'Could it have happened now?'"
"Everything has its lifespan, doesn't it?" says Watkins. "I think maybe, because it became so popular, there were people who just wanted more of the same, but that's not what it's about. I think Bob and Magda tried to not be so affected by those influences and stick to what they believed."
With the core crew heading in different directions both geographically and creatively, the final Oscillate events moved away from the club and demonstrated the more arts-minded direction Bird and Magda were heading in.
The sound of HIA was becoming increasingly experimental and ambient, as typified by the Polar Sequences collaborative album with Biosphere, performed at the top of a mountain in Norway in 1995. By way of response, Bird and Magda invited Biosphere to Birmingham to perform a follow-up album entitled Birmingham Frequencies, which took place at the top of the cylindrical Rotunda tower block in the city centre in 1997. As well as the musical performance, the event was also a chance for Magda to reconnect with her creativity, projecting abstract visuals on the curved walls of the building.
In 2001 Bird and Magda formed the Modulate collective – a mixed media project focused on electronic music and abstract art. The spirit of Oscillate very much continued with their ensuing events, bringing artists such as Monolake, Vladislav Delay and Jan Jelinek to perform in unusual spaces around Birmingham. Between 2003 and 2012 their repeated late night woodland takeovers at the Shambala Festival in Devon (and later Northamptonshire) featured live performances from Bird and others, and in 2012 they featured HIA live and an Oscillate Soundsystem set in tribute to 20 years since the first events at Jasmyns.
Nowadays, you're more likely to find Bird working on site-specific multi-speaker installations than playing in a club, but the influence of Oscillate's tenure through the '90s is still felt by many in the electronic music world. What started as a group of friends experimenting with drum machines, effects units and a small clutch of records grew into a multi-faceted magnet for all kinds of creative expression, from extravagant sculpture to sound art and beyond. More than anything, the event was a product of its time, borne out of naïve experimentation and lovingly adopted by a large crowd for whom the thrill of live, experimental electronic music was a wholly new experience.
"What was amazing to us about all the people and the artists playing their live sets was this amazing integrity," says Watkins. "There was something deep and spiritual about that music, with people from all walks of life united. I missed the second summer of love by a few years, but it did feel like Oscillate had that spirit."
Header image © Scylla Magda // Autechre at Oscillate