Britain's First Dance Music Boom: The Soul All-Dayer Scene, 1975-86
When the story of how Britain fell in love with underground club culture is told, it tends to follow a familiar narrative. The initial focus naturally falls on the Northern Soul scene of the late '60s and early '70s, which effectively created the blueprint for modern club culture by promoting the idea of dancing all night to obscure music played by DJs whose reputation was built on their ability to champion records their rivals didn't own.
The story then moves on to the rise of house music, ecstasy culture and the rave movement at the tail end of the 1980s. It was during this period that dance music became part of the fabric of British culture, in the process sparking the rise of the "superstar DJ," colossal events and a boom in music production that continues to this day.
The problem with this story is that it doesn't mention what came between the high point of Northern Soul and the mass movement of the late 1980s that cemented dance music's place in the hearts of the British public. Yet it was during this decade that the roots of Britain's underground dance music culture were strengthening at a rapid pace. This was the era of the soul all-dayer; sizeable events that initially attracted Northern Soul purists but would eventually draw in dancers from across the nation, often from very different social backgrounds.
Over the course of 11 years, the all-dayer scene gave Britain the cult of the DJ, the UK's first dedicated dance music festival and served as a breeding ground for future pioneers of homegrown dance music. And, with little fanfare, these "all-dayers" turned dance music from a niche interest into something embraced by those in both the suburbs and inner cities, laying the foundations for all that followed.
It is a story in three distinctive parts, linked by a handful of groundbreaking DJs and promoters. It begins in the North West of England during the most fractious period in the Northern Soul story, shifts to London and the South East, and then returns to its northern heartlands on the eve of the rave revolution. This, then, is the previously untold story of Britain's first underground dance music boom.
Putting on the Ritz
By the summer of 1975, the previously united Northern Soul scene was in the midst of an identity crisis. The patience of its obsessive disciples was first tested by the closure of two of its most iconic venues, Manchester's pioneering Twisted Wheel Club and the Golden Torch in Stoke. The former was a victim of Britain's then archaic licensing laws, while the latter had been shut down by police following histrionic media coverage of the amphetamines-fuelled antics of some of its dancers.
To compound these blows, a schism was beginning to open up between some of the scene's leading DJs and a portion of the paying public. For a significant number of white, working class men who populated "all-nighters" at the world famous Wigan Casino, the Winter Gardens in Cleethorpes and other smaller venues dotted across the north of England, Northern Soul would always be very narrowly defined as a style. They wanted to hear DJs playing obscure, hard-to-find soul records – mostly from in and around Detroit – that boasted a stomping backbeat.
If they visited the Wigan Casino to hear Kev Roberts or Richard Searling play, that's exactly what they got. Yet if they ventured to the Highland Room at the Blackpool Mecca, another legendary Northern Soul venue, their stomping favourites would not always get an airing. There, DJs Ian Levine and Colin Curtis had other ideas.
"From '73 onwards, the music changed in America and it really gave us a fantastic armoury of records to play," Colin Curtis says. "We'd decided that there were records that were as good, if not better, then the Northern Soul records we were playing at the time. Along was coming a new form of dancefloor music that we were very excited about."
At the Ritz you had a clash of cultures. You'd have traditional Northern Soul dress versus Hawaiian shirts and plastic sandals.
Curtis and Levine's playlists included records from the emerging Philadelphia soul, jazz-funk and disco scenes, as well as more traditional "Northern" favourites. While some of the Mecca's passionate regulars embraced the duo's risk-taking record choices, others accused them of ruining the scene. As far as these dancers were concerned, the choice was between Northern Soul and "modern soul," and anyone who embraced the latter was a traitor to the cause. As the sew-on badges screamed: "Keep the Faith."
Away from the battlefield that was the Highland Room, something else was stirring. There had been occasional "all-dayers" since the turn of the decade, but the number and frequency of events was gradually increasing.
These events were usually run by veteran Northern Soul diehards and often took place in historic "ballrooms" – pre-war complexes with multiple dancing spaces, grandiose décor and capacities of between 1,500 and 2,000. Two such venues, Birmingham's Locarno and the Palais in Nottingham, regularly played host to popular Northern Soul all-dayers.
A promoter barely into his 20s, Heart of England Soul Club co-founder Neil Rushton, revolutionized the northern all-dayer scene with a deliciously simple, but innovative idea: instead of appealing solely to "keep the faith" disciples, he would run events that featured DJs from both sides of the Northern Soul/modern soul divide.
After successfully testing the formula at events across the Midlands, he made a bold play by switching his all-dayers to the city that first spawned Northern Soul: Manchester. His chosen venue was the Ritz, a historic Mecca ballroon on Whitworth Street West. It was here that the future direction of the British all-dayer scene would begin to take shape. From the start, the days of Northern Soul were numbered.
"When I had the opportunity to promote the Ritz, there were a lot of great new records around," Rushton told Bill Brewster in 1999. "I didn't want it to be just the '60s soul that I loved but I didn't want it to be just the current stuff, either. The reason why it worked so well wasn't because the battle lines were drawn, it was actually because it was the first place to combine everything. We were the first venue to take the blinkers off."
Naturally, not all of the dancers at the early Ritz all-dayers shared Rushton's enthusiasm for new American soul. To begin with, the schism within the Northern Soul scene was all too apparent.
"It all crystallized at those all-dayers," Ian Levine explained to Bill Brewster back in 1999. "All the Blackpool crowd came because me and Colin played and all the Wigan crowd came because Richard Searling DJed. It was like two football crowds: Manchester City and Manchester United. All of these Wiganites with their singlets and baggy pants were shouting, 'Fuck off! Get off! Play some stompers!' It was all getting quite nasty."
Enthusiastic young dancers thought little of travelling hundreds of miles to attend a hyped all-dayer.
Rushton has similar memories. "Eventually you did have a situation where there would be people from Wigan pilled out of their heads from the night before, barbed out at the Ritz, picking arguments," he explained to Bill Brewster. "But it was never as bad as at the Mecca. At the Mecca you had a guy from Wolverhampton running a banner through the venue saying, 'Ian Levine Must Go.' There was never a fight at the Ritz all-dayers."
Although the Ritz had competition from events in Bradford, Leeds, Nottingham, Birmingham and Burnley, it quickly became the focal point of the northern all-dayer scene, both for stomper-seeking soul veterans and modern soul enthusiasts.
"At the Ritz you had a clash of cultures, a clash of people's opinions and a very interesting dancefloor would result from that," Colin Curtis says. "You'd have traditional Northern Soul dress versus Hawaiian shirts and plastic sandals. There was a definite visual change: the bowling shirt versus the Hawaiian shirt, if you will."
Once Curtis finally quit the Blackpool Mecca, he found himself a weekly residency alongside John Grant at Rafters in Manchester. Here, as at the Ritz, he could champion new music; an approach that alienated some of the white, working class dancers that had been the bedrock of the Northern Soul scene. As a result, the racial make-up of his crowds changed.
"By the time I left Blackpool Mecca I would say that on an average Saturday night, there would be six black people in the Highland Room," Curtis says. "On an all-dayer, at that particular time, there would be a dozen. Within six months of my Rafters residency I was playing to a 70% black crowd. That crowd started coming to venues like the Ritz, so from '78 onwards the all-dayers had changed. The mixed race attendance increased dramatically."
It wasn't just at the Ritz where attendances were booming, either. By this point Rushton was able to book out the entire, 3,500 capacity Blackpool Mecca complex to host extra-large all-dayers. These would feature headline live acts, such as Brass Construction, joining Ian Levine and Colin Curtis in the main room, with Northern Soul selectors relegated to the smaller Highland Room.
The increased emphasis on contemporary soul, disco and jazz-funk records not only helped attract a younger, mixed race crowd, but also dancers from further afield. As their rave era successors would later do, enthusiastic young dancers thought little of travelling hundreds of miles to attend a hyped all-dayer.
One such dancer was Cleveland Anderson, a soul-mad Londoner who would later become a successful jazz-funk and house DJ. "The Ritz was really good – everyone would descend on Manchester," he told Bill Brewster in 1998. "On the back of that, all-dayers started popping up everywhere. One week it would be Manchester, the next Birmingham, Nottingham or Leicester. There would always be some all-dayer to go to."
It wasn't just dancers who would travel, either. On rare occasions, DJs from down south, such as Goldmine, Canvey Island resident Chris Hill, would also be asked to take to the turntables. It was the shape of things to come. While the all-dayer circuit up north continued to bubble along, it would be down south that the scene moved to the next level.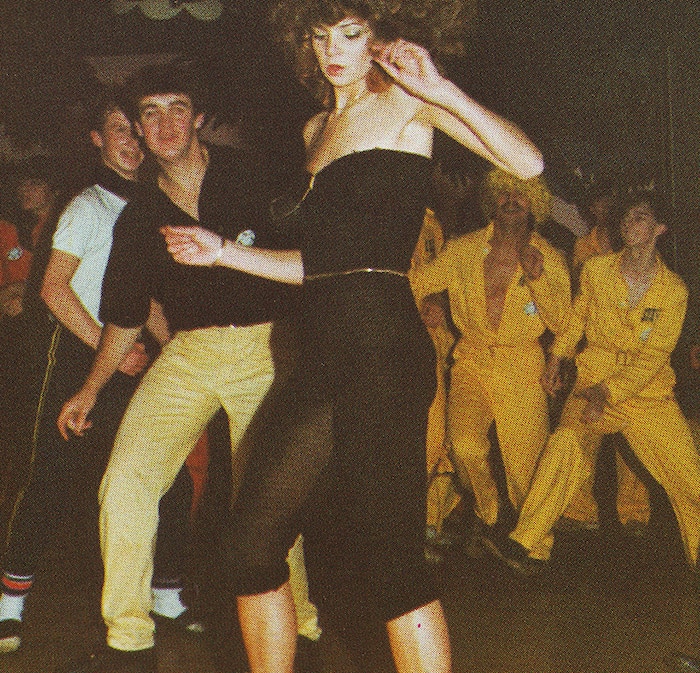 The Rise of the Mafia DJs
In August 1977, DJ Chris Brown suggested to his friends Pete Matthews and Colin Griffin that they book fellow selector Chris Hill to appear at their latest all-dayer at the Top Rank suite in Reading. Hill had spent much of the decade making a name for himself, first as resident DJ at the Goldmine and later at the Lacy Lady in Ilford. The Essex-based DJ had built up a significant following and it wasn't unusual to find coach loads of people turning up to his gigs from as far afield as Newcastle and Scotland. Those who read the monthly scene bible Blues & Soul were well aware of his exploits.
By August 1977, the popularity of Chris Brown's jazz-funk room at the Reading all-dayers was beginning to dwarf that of the Northern Soul-focused main room. The stage was set for one of the most famous moments in the history of the all-dayer scene.
"Chris came with a couple of coach loads of people, which really boosted the crowd," Chris Brown says. "It was ridiculously busy in that jazz room – you wouldn't want to spend too much time in there because it was overflowing and sweat was pouring off you. Chris Hill spotted the opportunity and led a conga line out of the jazz room, across the balcony and down the stairs into the main room past all these Northern Soul fans. It really pissed them off, but it was the turning point."
Hill didn't stop there. He waltzed onto the stage, took to the mic and slapped a record onto one of the turntables: Idris Muhammad's "Would Heaven Ever Be Like This." One punter, a northern soul head known as "Cockney Mick," was so outraged that he jumped on stage and smashed up the record.
"It's ironic, because that record became a Northern Soul scene classic," says DJ, percussionist, author and jazz dance historian Mark Cotgrove, better known as Snowboy. "When Cockney Mick did that, the crowd all surged towards him and Chris Hill stopped them. He told Mick that he better get out because the crowd would kill him."
At the following event, Matthews and Griffin switched the rooms around. Chris Hill was joined in the main room by two of London's most popular soul DJs, Capitol Radio host Greg Edwards and BBC London's Robbie Vincent.
"The place was absolutely rammed solid," Brown remembers. "I think 5,000 people turned up to a place that only held 2,000. That was it – after that the all-dayers were really, really busy."
Naturally, Chris Hill was in the thick of the action. He epitomized the newfound swagger of the fast-rising jazz-funk scene. As a younger man, he'd intended to be an actor, but turned to DJing instead. He brought that sense of showmanship to every set he played, though most dancers were attracted more by the quality of the imported, not-yet-released records he played.
"Sometimes Chris's showmanship overshadowed his vast musical knowledge," Cotgrove says. "He had been a first generation Mod who had lived that Soho jazz life. He was swapping blues records with other guys at Ford in Dagenham in the early '60s. His knowledge of black music was enormous."
Hill was undoubtedly a trailblazer. He was arguably the first British DJ to recognize his value to venue owners and event promoters, even going so far as to negotiate his own wages – something previously unheard of on the British club scene.
"Chris realised his pulling power," Cotgrove says. "He was the first DJ to turn around to a club owner and say, 'I'll have the door, you have the bar.' Nobody had the neck to do that before, but Chris knew he was going to pack the club out. In 1978, he was taking home £500 on a Saturday night at a time when other DJs would be earning £30 a week."
As the popularity of the jazz-funk-focused southern all-dayers increased, Hill demanded higher wages for the other DJs. Those who played regularly at the gigantic, 5,000-capacity all-dayers at the Top Rank in Purley – among them Chris Brown, Froggy, Sean French, Greg Edwards, Robbie Vincent, Brother Louie, Jeff Young and, later, Pete Tong – had each built up a large following through their club residencies.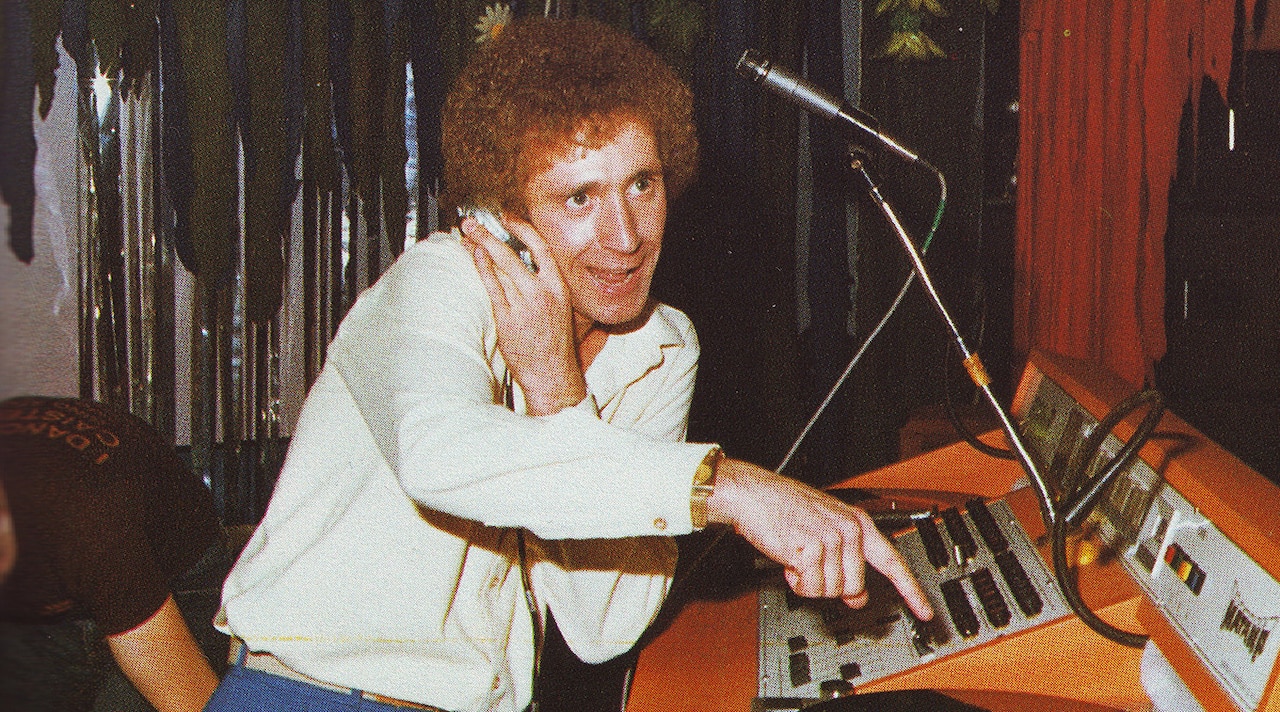 Their crowds were every bit as loyal and enthusiastic as those who followed Hill around – even if some of them were attracting more of a white, suburban crowd than the inner city black kids who were beginning to dominate all-dayer dancefloors up north. Collectively, they became known as the Funk Mafia or Soul Mafia and were undoubtedly the superstar DJs of their time.
Given this combined pulling power, it was perhaps unsurprising that their all-dayers were such a runaway success. "The kind of people that were coming [to Purley] were travelling distances to be there," Chris Brown says. "It was people who would go week in, week out, to a dozen or so clubs in and around London. That didn't include your average disco-goer. You would only react to the kind of music we were playing if you heard it at one of those clubs, or on specialist radio shows like those done by Greg and Robbie."
Now that leading soul DJs in the North and South were all pulling in a similar direction, jazz-funk began to dominate Britain's clubs. Commercial club DJs were embracing the same kinds of records played by Chris Hill and the rest of the "Mafia DJs" too, but few could match the quality of the "up front" imports that the collective was championing.
Whereas Northern Soul had been about the old and overlooked, jazz-funk was driven primarily by contemporary American imports. The DJs who could get their hands on exclusives had a big advantage over their rivals.
"Everyone will champion their local DJ and say that he played the most up front stuff, but Chris genuinely did," Mark Cotgrove says. "The only importer of 12" singles in the UK at the time told me that he'd go to the airport two or three times a week to pick up shipments. On the way from the airport to his warehouse, he'd stop at Robbie Vincent and Chris Hill's houses. The records had not even got as far as the warehouse, let alone the shops. You can't get any more up front than that!"
If Vincent, Hill or Greg Edwards championed a record, it would soon become a "must-have" for the passionate record collectors and lesser-known local DJs who formed the backbone of the all-dayer crowds. "From a southern perspective it was all about Robbie Vincent and Greg Edwards's radio shows," Cotgrove says. "People used to record those and listen to them all week. They'd hear stuff on those shows that they'd not hear in the clubs for weeks."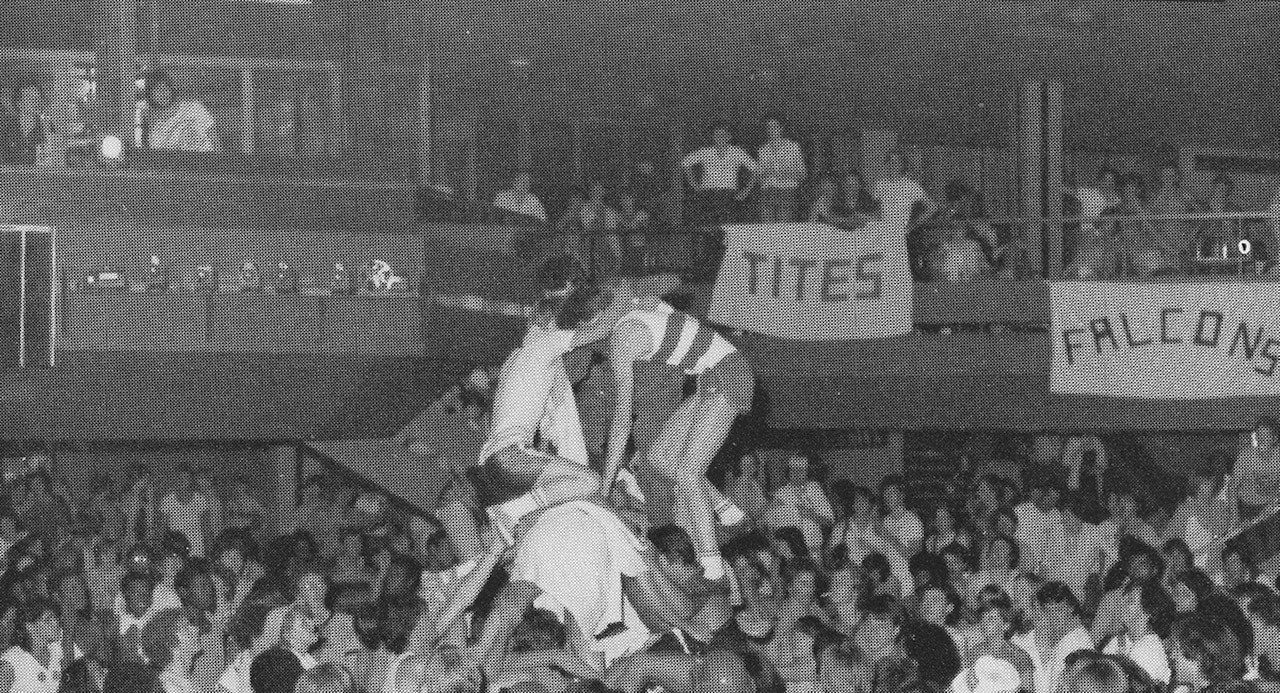 Weekenders and Festivals
Through his BBC connections, Robbie Vincent was regularly asked to DJ at Radio 1 Roadshow events at seaside holiday camps. After appearing at one of these in east coast hotspot Great Yarmouth, a regular summer destination for those who lived in Essex, he contacted a friendly promoter with a proposal.
"Robbie went to Adrian Webb, who managed the Southgate Royalty, and said he'd had this idea," jazz-funk and soul DJ Bob Jones told Bill Brewster back in 1992. "He did these retro weekenders for Radio 1, as he was originally a rock DJ. So, Adrian Webb formed a company called Showstoppers and the rest is history."
Webb and business partner Johnny Morris formed Showstoppers to promote the first National Soul Weekender at a holiday camp in Caister-On-Sea, just north of Great Yarmouth, in April 1979.
"At the first Caister, they got about 600 to 800 there," Bob Jones says. "The second grew to 1,200. The following year, they did 4,000. I played at the third one and the fifth one. We were the B team – myself, Mick Clark, Mickey Peck, Pete Tong and Jeff Young. The whole thing just gelled."
Flush from the success of their early ventures on the Norfolk coast, Showstoppers decided to put on an even more ambitious event on May 28th, 1980 – a bank holiday Monday. Hosted in the grounds of Knebworth House in Hertfordshire, a venue previously known for hosting large-scale rock concerts, the National Soul Day was the biggest single dance music event to take place in the UK up to that point.
In the end, 12,000 people packed in to dance to soul, disco and jazz-funk. Top of the bill were live acts GQ, Lonnie Liston Smith and Light of the World, with the Mafia DJs not far behind.
"It was a really important moment," Chris Brown says. Brown had persuaded the Showstopper organization to add two of the leading northern DJs to the bill, Colin Curtis and his Rafters partner John "TNT" Grant (so-called because he was prone to letting off fireworks on stage).
"I was trying to knit the country together and stop that North-South animosity," Brown says. "At the end of the day we played the same music to the same kind of people, the only difference being that people had slightly different accents."
Curtis has fond memories of his experience at Knebworth. "As we arrived at the site, we realised it was a huge event," he says. "When we came out on stage [we could see] it was the biggest crowd we'd ever played to. It stretched all the way to the back of this huge marquee. I can't remember whether we played 45 minutes or an hour, but John and myself had a great time. Then it was back up north to a bollocking from Neil Rushton for being late to the all-dayer at Blackpool Mecca!"
It looked like an archetypal Western brawl – there were tables and chairs flying everywhere.
Another in the crowd that day was Mark Cotgrove. His memories are not all as rose-tinted. "I remember going in to this enormous café area," he says. "It looked like an archetypal Western brawl – there were tables and chairs flying everywhere. It was basically a riot, caused by huge amounts of undesirables. Most people that went to Knebworth never knew that went on, but it involved hundreds of people. I took one look at it and got the hell out of there."
These problems, albeit relatively small in scale, were a reflection of the changing make-up of those attending big all-dayers and weekenders in the south of England. What began as an outlet for underground soul fans to hear the records they loved was being taken over by a much more mainstream crowd.
"There were coaches galore from everywhere," Cotgrove says. "It was hard to see how anything bigger could have happened, or where it would go from there. The problem after Knebworth was that there were so many all-dayers taking place that it had reached saturation point. It was killing the clubs – so much so, in fact, that Chris [Hill] did a free tour of the clubs in the South. He didn't charge a penny and it was free to get in. That was his idea to try and encourage people back into the clubs. The tour did work, but it didn't save the scene as it was."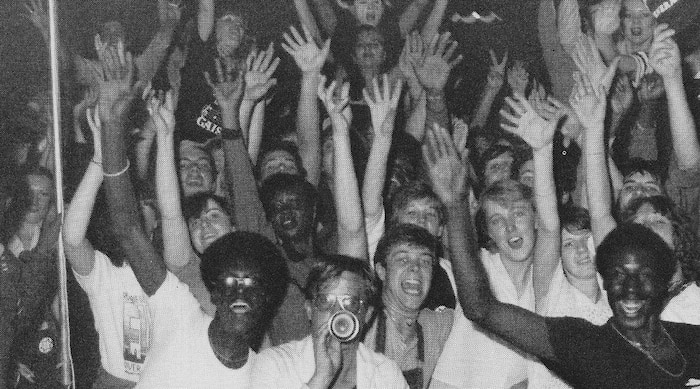 The North Will Rise Again
As the southern all-dayer scene slowly began to implode from 1981 onwards, things were looking far healthier in the Midlands and North. While there was nothing to rival the size of Knebworth or Caister, smaller events occurred more frequently throughout the year.
"The events were almost every weekend," Greg Wilson says. "I could easily do three Sundays a month of all-dayers. The biggest all-dayer in the North in that period was Clouds in Preston. It was seen as neutral territory. They'd bring in DJs like myself, Colin Curtis, Mike Shaft, maybe somebody like Pete Gurley from Sheffield. When you were added to the lineup there was a feeling that you'd made it."
The top DJs in the North and Midlands were every bit as popular in their own way as those down south. If a punter saw the names of their favourite DJs on an all-dayer lineup, they were far more likely to hop onto a coach and make the journey over the Pennines, or down the M1 to Nottingham.
"What Jonathan Woodliffe and Colin Curtis did for the northern all-dayer scene was immense," says Winston Hazel, a regular all-dayer dancer from Sheffield who later co-founded the legendary Jive Turkey club night. "There were other DJs who were equally good, but they were the DJs that the all-dayer crew followed. If Jonathan or Colin played anywhere, people would travel. They had the funkiest dancers wherever they played, all the new styles."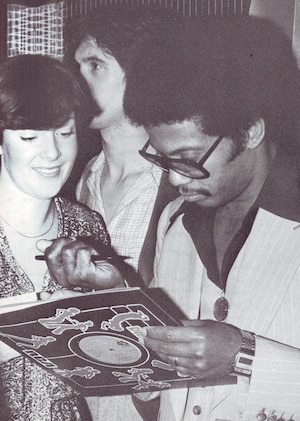 From 1982 onwards, Jonathan Woodliffe was resident DJ and promotions manager at Rock City in Nottingham, a venue that Hazel describes as "the Mecca of the all-dayer scene in the North." Thanks to its cutting-edge video screens, lasers, a booming soundsystem and an ability to book the freshest live acts (think Cameo, Mtume, Slave and Trouble Funk), Rock City held a special place in the hearts of dancers. Other popular venues included the Hummingbird and the Powerhouse in Birmingham (previously the Locarno, now refurbished for the '80s) and Tiffany's in the Merrion Centre in Leeds.
The dancers making the pilgrimage to these 1,500 to 2,000 capacity venues were amongst the most dedicated around. Often from inner-city suburbs such as Moss Side in Manchester and Chapeltown in Leeds, they travelled primarily to show off their dance moves.
"The dancers were kids who through the week were being racially abused – there was no education, they had shit job prospects and everything was a pressure cooker just pushing them in," Greg Wilson says. "When they went out to dance, they were somebody. Dancing was absolutely crucial to the well-being of the community and to your status within the community, particularly for the kids who pushed it further and were in a jazz fusion crew, or went into breakdancing later."
In the early '80s, being a dancer on the all-dayer scene was a genuine lifestyle choice for those involved. Throughout the week, Winston Hazel and his contemporaries would daydream about their next chance to dance. When the big day arrived, they'd get on the coach with the rest of their local crew. The all-dayers were like a meeting of the tribes.
"You had some crews like the Convicts, Brute Force and a few others who were, in terms of freestyle dancing, the funkiest on the scene to my mind," Hazel remembers. "I always looked up to them and thought, 'Wow.' These people would meet on the dancefloor ultimately and the styles were off the scale. The improvisation was amazing."
The growing battle mentality and "respectful tribalism," as Hazel calls it, was reinforced by the way dancers from different cities dressed. "Every city's posse, whether they were just punters or [serious] dancers, was part of that," he says. "The Sheffield crew had its look, Birmingham had its look, Leeds had its look, Manchester had its look. You'd always take at least one change of clothes because it always got hot and sweaty."
With such clued-up and enthusiastic dancers flocking to the all-dayers, the DJs had a responsibility to meet their needs. That meant adapting to trends and championing only the newest, freshest sounds. By 1983, that meant New York electro.
"As a DJ, you had to stay ahead of the game," Jonathan Woodliffe says. "The dancers were very demanding. They specifically wanted new, fresh, current records – nothing old, like disco. It had to be new. That's why the proto-house and house records were embraced so readily when we started playing them."
Woodliffe and Colin Curtis were amongst the first DJs in the UK to champion Chicago house music and got an eager response from their dancefloors. "They were the right tempo for what they wanted," Woodliffe says. "We didn't go, 'That's a house record.' We just bought it as a new release, listened to it and played it on its merits. It was like a breath of fresh air suddenly, because we were hearing something that was different again. America had yet again come up with something else for us to play."
When Larry Sherman brought some Chicago artists and DJs over to the UK for the first time in 1986 – Marshall Jefferson and Larry Heard included – the tour took in three venues: the Limelight club in London, the Hacienda in Manchester and Rock City. The latter date was on a Sunday as part of a special all-dayer that drew in dancers from across the North and Midlands.
"It was an amazing day," Woodliffe remembers. "There were 1,700 people there. When they played on the Sunday at Rock City, I asked them where they'd been the night before and they said they were down at the Limelight, and that it wasn't very busy. We had been playing the records enough for people to want to come and see those acts."
The Roots of the Rave Revolution
Perversely, it was the rise of house music and, later, ecstasy culture that caused the eventual demise of the all-dayer scene. Events became few and far between from 1986 onwards, and by the summer of 1989 had been replaced by a new style of large scale event: the illegal rave.
Like the southern all-dayers, festivals and weekenders that had preceded them, the so-called "orbital raves" that began appearing in the countryside around London attracted huge numbers of punters from across the country. Crowds were young, but mixed, with plenty of white, middle class suburbanites flocking to get their first taste of acid house culture. This inevitably spilled over into regular clubs, sparking the kind of boom in underground dance music culture that the early all-dayer pioneers could only dream on.
"'Round 'Summer of Love' time was the final nail in the coffin of the all-dayers," Woodliffe says. "It was a tidal wave. The turning point was the drugs and the new easy availability of technology. The two things went hand in hand to change clubland forever."
By now, many of the original southern all-dayer DJs had vacated the scene, but some of the younger "Caister DJs" – the likes of Pete Tong and Gilles Peterson – were becoming major names in their own right. Both would become stalwarts of BBC Radio 1, with Tong championing dance music and Peterson indulging his love of jazz and soul.
Elsewhere in the UK, things played out a little differently. In the Midlands and the North, many of the scene's most dedicated dancers were by now becoming successful DJs in their own right. There was Winston Hazel at Jive Turkey in Sheffield, George Evelyn and Kevin Harper at Downbeat in Leeds, and Tim Garbutt in Lincoln, Harrogate and later Leeds.
All of these DJs, along with a trained dancer from Leicester named David Duncan, went on to make important or successful house or techno records. Hazel teamed up with Robert Gordon and Sean Maher to form Forgemasters and release the first record on Warp, "Track With No Name." Evelyn and Harper formed Nightmares on Wax and produced bleep anthem "Dexterous," Garbutt had massive hits as part of Utah Saints and David Duncan produced "Pressure Dub" as Ability II, one of the defining records of the bleep techno era. Although he would make his mark a little later, Goldie had once been a regular dancer at Rock City electro all-dayers, too.
Then there was Moss Side's Gerald Simpson, a stalwart of the all-dayer scene throughout the jazz-funk and electro period. He can claim to have made what many consider the most influential British house record of all time, 1988's "Voodoo Ray."
"Many people see "Voodoo Ray" as a reaction to Gerald visiting the Hacienda for the first time," Greg Wilson says. "In reality, it was Gerald and his contemporaries that brought house music into the Hacienda in the first place," Greg Wilson says. "People like Foot Patrol and those guys – they were the ones who were dancing to it, right at the offset, at clubs like The Playpen and The Gallery and Legends in Manchester. It was embedded in the culture in the North and the Midlands in a way it wasn't in the South at that time."
Header image © Courtesy of Chris Brown