The Significant Storytelling of Analog Africa
Amaya García explores the excavation efforts of the Frankfurt-via-Tunisia reissue label on the occasion of their tenth anniversary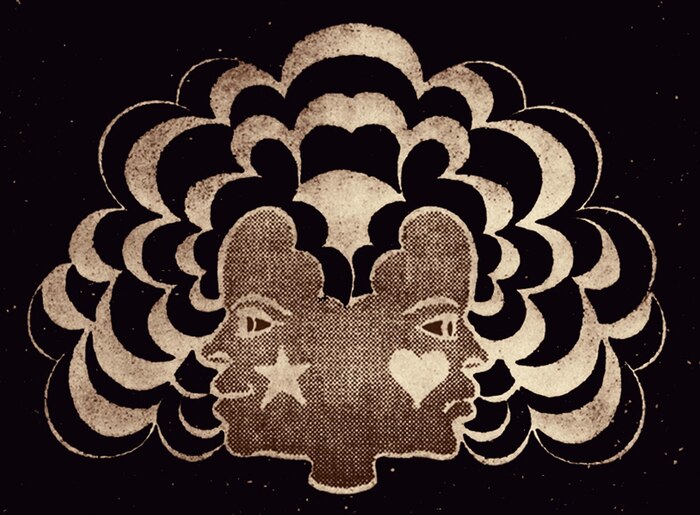 Africa has never ceased to be a hotbed for innovative sounds. Whether it's the newest strains of electronic music from the past two decades – South African styles like kwaito, qqom and the ruthlessly fast Shangaan electro, Angolan kuduro and Egyptian electro chaabi – or more traditional genres like Congolese rumba and soukous, international DJs, record collectors and music fans remain curious and have embraced with open arms the depth of talent, ingenuity and innovation coming out of African countries. The well of music is seemingly endless, and plenty of musicologists and researchers find themselves going to street markets and parties in African music meccas like Senegal, Nigeria or Morocco, and returning time and time again to hunt down sounds that have been rarely heard outside of the continent. To this day, most of the music remains hyperlocal, or in the best cases regional, yet completely inaccessible to those who can't make the trip.
Most of these researchers and diggers are constantly looking for ways to get the music to outside ears. A prime example of this is DJ and researcher Samy Ben Redjeb and his label, Analog Africa. Founded in 2006 and with 28 releases to date, the label functions as a trail through the footnotes of Western African music and its biggest (and often forgotten) players. Ben Redjeb painstakingly searches for these artists in countries with big music industries like Benin, Zimbabwe, Congo, Senegal and others with smaller but equally important influence, like Cape Verde and Burkina Faso. He not only peruses thousands of records and cassettes, but unearths compelling histories that highlight local folklore in a bid to eradicate often misguided ideas about these countries and their cultures.
With Ben Redjeb's extreme attention to detail, these stories become an entry point into the idiosyncrasies of several African nations.
Ordinary tales become extraordinary in Ben Redjeb's hands. For example, the story of an Argentina-bound cargo ship from the Spanish crown that bumped into a rock in the Cape Verdean island of São Nicolãu, leaving behind a ton of instruments – like electric keyboards and the space echo – became the legend of the hypnotizing mixture of rapid percussion, swaying, tropical guitars, accordions and synths that Analog Africa dubbed the "cosmic sound" of Cape Verde. Other stories are impressive in their own right, like the tale of Shadow, a young boy from Tobago who revolutionized the calypso world by prominently featuring electric bass and horns during the '70s and '80s, but who wasn't allowed to win a highly politicized calypso competition in the islands until the year 2000. The meteoric rise of the Green Arrows in Zimbabwe is an interesting story as well, with the group going from bar band to superstars in just a few years. Because of their popularity, the wedding of the band's founder, Zexie Manatsa, became a 60,000 attendee affair that allegedly ruined Zimbabwean Prime Minister Bishop Abel Muzorewa's political rally right before an election in 1979. With Ben Redjeb's extreme attention to detail, these stories become an entry point into the idiosyncrasies of several African nations.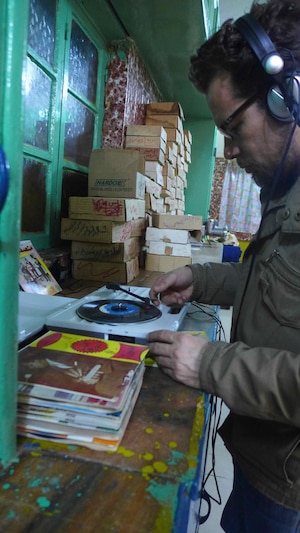 Born in Tunisia but raised in Germany, Ben Redjeb became interested in African music while travelling back and forth on vacation and work stints, but turned it into a serious passion after a sojourn in Senegal, where he set up a club night in a hotel in the capital, Dakar. There, he realized that his perception of African genres was riddled with European music industry clichés. "We were fed stuff that wasn't reflecting the reality on the ground, the sophistication of the music, the advanced way of playing, the futuristic sounds, the dexterity of the musicians," says Ben Redjeb via Skype from Frankfurt, Germany. "All this wasn't really reflected in the music that was reaching Europe. Basically, my goal was to try and make this [music] available, and to show that it was much more advanced and much more sophisticated than what we thought."
On the surface, this argument could qualify as part of the "Western saviour" narrative that plagues many other labels restoring or publishing unreleased African music in Europe and the Americas. Considering Ben Redjeb is Northern African, I asked him if this was an argument that he had encountered during his years running Analog Africa. Has anybody challenged him on this matter? The short answer is no.
"I haven't faced any challenges on this matter, but I wouldn't be too worried about it either," Ben Redjeb writes in a follow-up email. "The artists are the ones whose blessings I need. They are the ones that give me the green light to go ahead and, once I have that, what others think is not very relevant. What is the alternative to what labels like ours do, anyway? Doing nothing and hoping for others to do it? Besides the "Western saviour" narrative is made by Westerners themselves and generally from the comfort of their sofas while the artists in Africa very much support our initiatives. To know that their music will have the chance to cross borders is something they are happy about."
The label's inaugural release very much follows Ben Redjeb's ethos of showing advanced musicianship from some Africa's best known artists. It also became the gateway for Ben Redjeb to trace a musical trail across Western Africa. 4-Track Recording Session, by the Green Arrows, is a master primer into the catalogue of one of the most important musical acts in 1970s Zimbabwe. Zexie Manatsa, the bass player and founder of the band – a six piece he formed with his brother Stanley Manatsa – was Ben Redjeb's contact, and he gave him a window into the world of "beer music," Zimbabwe's version of bar bands. "When I met him, first I was in love with the music, but then what happened was I fell in love with the man himself. A really strong friendship developed between us, and that's when he started telling me the whole story, getting into more detail," Ben Redjeb recounts.
In two years, the two met a handful of times, and from there Ben Redjeb began writing the band's history, settling on the 20 tracks that would form the compilation. The Green Arrows' place in Zimbabwean history is undeniable, allegedly having been the first band in the country to record an LP. Their music is a funky mixture of jangly guitars, raspy vocals, mellow percussion and deep bass, with a political edge hardened amidst the country's struggle for independence, granted by Britain in 1980. "[The Green Arrows] were a band that was instrumental for the development of modern music in Zimbabwe," Ben Redjeb explains. "It wasn't just a pop band. It was a band that has influenced so many others and had a big influence in the music industry of the country. So, for me, it became natural to write the history of the people that are involved in the music as much as worrying about the music itself."
4-Track Recording Session by The Green Arrows
4-Track Recording Session, like most Analog Africa releases, took at least two years to compile, research, master and press, and spurred Ben Redjeb to dig deeper and keep researching lesser-known Zimbabwean music. He returned to the country in 2006 with plans to keep compiling Zimbabwean music to make a series, but the political and social situation of the country had worsened. It was the time of President Robert Mugabe's government-sanctioned Operation Murambatsvina, which was essentially a large-scale campaign to clear the country's slum. It resulted in the devastating displacement and loss of income for 700,000 people, according to United Nations estimates. "People were really struggling to make ends meet, some people were struggling to survive, to get food, and there was a lack of petrol, so I couldn't move," he says. The timing was terrible, and he promptly returned to Germany. There, a chance encounter with the music of Gnonnas Pedro, a salsa singer who would later be featured on the compilation Legends of Benin, would turn his efforts toward the Western African coastal nation of Benin – a move that would define the direction of the label and bring to the forefront music from a nation barely known to casual music fans.
"I talked to a lot of record collectors asking if they had more music from that country and they didn't have much," he says. "Most of the people thought that it wouldn't be a good idea to go there, but when I arrived in Benin I realized it was a goldmine for music, especially due to the Satel record factory that had opened its doors in 1973… Because of that factory, so many bands had come to Benin to record and press their records, and that basically generated a whole industry. Before, all the labels and recording companies in neighbouring countries [Togo, Ghana, Burkina Faso, Niger] had to ship their masters to Belgium or France to have them printed and pressed. [After Satel], they could just go to Benin, do the recording there, do the pressing there. Basically, it became a very important mecca for records. But it was an industry that was closed to itself and didn't have a chance to get out of the country."
After finding "so many stacks of untouched records," Benin became the focus of Analog Africa. In less than three years, Ben Redjeb returned eight times and heard thousands of records. The fruits of the research dominated the label's early catalogue, with two compilations – African Scream Contest: Raw & Psychedelic Afro Sounds from Benin and Togo 70s and Legends of Benin – as well as four records from the superstar band Orchestre Poly-Rythmo De Cotonou: The Vodoun Effect: Funk and Sato from Benin's Obscure Labels 1972-1975, Echos Hypnotiques: From the Vaults of Albarika Store 1969-1979, The 1st Album (1973) and The Skeletal Essences of Afro Funk 1969-1980. Poly-Rythmo achieved legendary status in Western Africa, not only because of the sheer amount of their output – more than 500 recordings in little more than a decade – but also because of its reinvention of Beninese Afro beat.
Since both Benin and Togo are sandwiched between two gigantic cultural powerhouses – Ghana and Nigeria – autochthonous styles and percussive patterns like sakpata, sato, agbadja and tchenkoumé have been rarely heard outside of the region. In that sense, African Scream Contest – named after James Brown's influence on the music of 1970s Beninese youth – is a music lover's dream. One of the artists featured here is Vincent Ahehehinnou, whose track "Ou C'est Lui Ou C'est Moi" never saw a release in Benin. Recorded with Orchestre Poly-Rythmo de Cotonou, his music – with mellowed-out, highlife-like guitars, psychedelic synths, French chanson and a Cuban sorongo clave – is representative of the influences that swept Beninese culture in the 1970s. Ahehehinnou was Poly-Rythmo's singer and, according to Ben Redjeb's liner notes, after he was pushed out of the band by the Albarika Store label manager, Adissa Seidou, he released the solo EP Best Woman, where he kept playing his singular take on Afro beat. That record was out of print for nearly 40 years until it was reissued by Analog Africa.
African Scream Contest also features musicians Lokonon André & Les Volcans, whose song "Mi Kple Dogbekpo" opens the record with James Brown-like shouts and a fusion of distorted guitars and rapid percussion. Funnily enough, Lokonon André is the protagonist of one of Ben Redjeb's craziest stories and is partly responsible for finding more than a few of the musicians on the compilation. "He's very mobile and he knows the music scene very well, and he said he was going to help me find the artists I was looking for," Ben Redjeb explains. "I gave him a list and after a few days, he comes back and he tells me he found everybody. I had spent two years trying to find five of those musicians on the list, so I was very surprised. I said: 'Lokonon, how did you manage to find these people?' And he says, 'Well, you know I was a musician for the police force. Do you remember I told you I went to Russia [with the police]? When I went to Russia I was trained by the KGB in ways of locating and finding people.' So, basically, Lokonon used skills taught to him by the KGB to locate these musicians. Some of them he didn't know personally and I don't know what he did to find out, but he found them."
African Scream Contest also brought back into the spotlight one of Benin's best-kept secrets – Orchestre Poly-Rythmo de Cotonou, whose music is highly influenced by the vodoun polyrhythms known as sato and sakpata. In the liner notes, Ben Redjeb describes their music this way: "Sato, an amazing, energetic rhythm is performed using an immense vertical drum, and Sakpata, is a rhythm dedicated to the divinity who protects people from smallpox. Both rhythms are represented [in their music] mixed in with funk, soul, crazy organ sounds and psychedelic guitar riffs." The rhythms are hard to define mostly because they belong to secretive vodoun rituals. In the case of sato, those rituals are performed annually in memory of the dead.
Founded in 1968 by musician Melome Clement, the band – while always incorporating traditional rhythms – functioned as something of a live jukebox, with versatile musicians that would play any and every style that was in vogue at the time. "Melome was quite clever because, during the band's first years of existence, what he would do is, every time he saw a musician that would play better than the ones he had in his band, he would replace them," Ben Redjeb explains. "He would still keep the other musician, but find something else for them to do. […] The idea of the band was to play all types of music. Whatever the people wanted to hear, he would play. That's why the musicians were very versatile."
Orchestre Poly-Rythmo are strongly connected to the history of the Beninese record pressing plant Satel. Since the company also had a recording studio, they essentially became the house band, playing with almost every artist that would travel to Benin to record. WhilIn addition to influencing their immediate neighbours, the orchestra is also symbolic of the circular flow of culture between Africa and the Americas, a theme that comes up constantly in the Analog Africa catalogue.
"What was characteristic of Poly-Rythmo was that they would be influenced by a lot of music from North America – like soul and funk – and they would play it their own way," Ben Redjeb says. "They would also be influenced by Latin music. They were very good at Cuban music, pachanga, and traditional Beninese music like sakpata, sato, agbadja." While previously well-known in West Africa, Orchestre Poly-Rythmo de Cotonou has just recently been heard by the masses outside of the continent, their influence becoming ever more apparent in countries like Colombia and Brazil. Seeing the influence of Western African music on a country like Colombia, Analog Africa later set their sights on releasing classic gems from the Caribbean coast. This resulted in the compilation Diablos del Ritmo: The Colombian Melting Pot 1960-1985 and the record Mambo Loco, a tropicalia classic by the revered Aníbal Velásquez Y Su Conjunto.
All my thoughts were aiming towards one task – to make sure I repay a city that has welcomed me with open arms and shed a different light on a country that deserves much more than its reputation, by releasing music that will blow your mind.
Ben Redjeb's journeys have also taken him to Angola, Burkina Faso, Senegal and Cape Verde, often bringing to light forgotten or otherwise forbidden music –as was the case of Cape Verdean artist Bitori's output in the funaná genre. The music was banned in the archipelago after being considered "too African" and favourable to the independence struggle by Portuguese colonial authorities. Its prohibition extended to recordings and public performances. After Cape Verde gained independence from in 1975, the genre thrived, but it wasn't until the mid-'90s that it was recorded in its original form.
Most recently Ben Redjeb has spent time in Somalia, after four years of trying to find a way to travel there safely, due to the dangerous conditions created by the Al-Qaeda-affiliated terrorist group, Al-Shabaab. Spending 24 days there surrounded by security that hindered his movement, he was able to delve into the archives of Radio Mogadishu, the Somalian capital's broadcasting system, and left with hundreds of cassettes of Somalian music. "Mogadishu was one of the most beautiful cities in Africa and had an incredibly vibrant music scene," Ben Redjeb says. "Sitting in that plane taking me back to Frankfurt, with valuable cargo of hundreds of cassettes and the songs I received from Radio Mogadishu, all my thoughts were aiming towards one task – to make sure I repay a city that has welcomed me with open arms and shed a different light on a country that deserves much more than its reputation, by releasing music that will blow your mind."
In that sense, Ben Redjeb could be considered a conservationist, but he doesn't always see it that way. "I tend to think that, for somebody to conserve music, he's gonna record everything, no matter if he likes the music or not. In my case, it's different. I just showcase the music that moves me. […] Now to talk about rescuing music when we are releasing a mere 14 songs from a country that has produced thousands of tunes, I don't think that's the case. There are others that are digitizing whole libraries that deserve the title of conservationists much more than we do."
Ben Redjeb takes great care in making sure the music he puts out on his label is beneficial to the artists he showcases. He presents Analog Africa's catalogue on DJ sets around the globe, and some artists, like Bitori, have managed to tour Europe and have a second chance at their careers. "I see my responsibility as trying to present the music in the best way, give it the credit it deserves, a good mastering… try to reflect as better as possible the history of that country's music industry, the history of its people."
He sees his labour as just one link in the chain, but in a grander scheme, he hopes the music functions as an ambassador to the rest of the world. With his recent work in Somalia and the recent release Pop Makossa: The Invasive Dance Beat of Cameroon 1976-1984, he hopes to further that mission. "I'm just starting something in the hopes that people will take it from there and start to build on that... That they're influenced by the stories to dig deeper and get intrigued. Music was probably the best ambassador for Colombia, for example. So many people have been influenced by the music, traveled there, have seen that it's not as bad as it looks. If I could help with the music, at least for one country, to give it a better image of the place, that would be wonderful."