Fresh Kid Ice on 2 Live Crew's Early Years
In this excerpt from his autobiography, the Asian rapper remembers how the group came together
We were saddened to hear that 2 Live Crew member Fresh Kid Ice passed on today. RBMA contributor Jacob Katel worked with Ice on his 2015 memoir, My Rise 2 Fame, and has graciously offered up this excerpt from the book. As one of the architects of Miami bass – and an important champion of free speech – we're proud to shine a light on his career.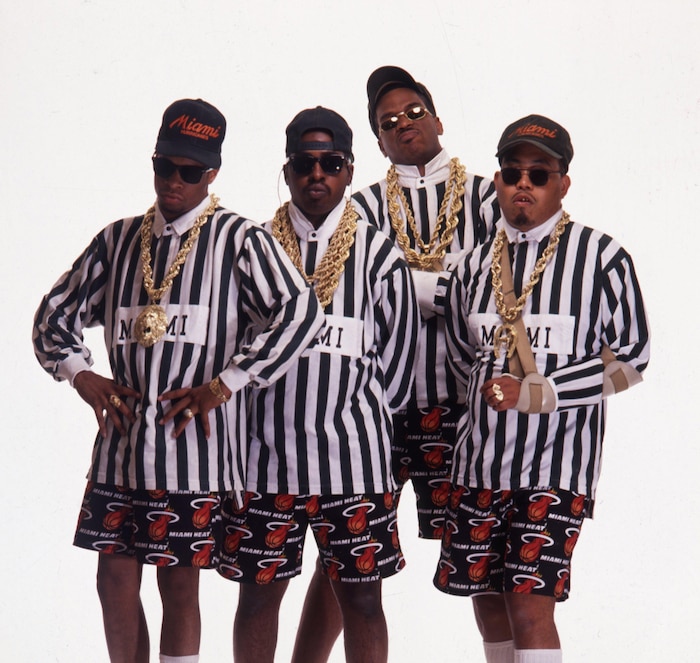 Miami Bass was a way of life for young people letting loose and having fun. But it almost all ended way too early for me one hot summer night at Big Daddy's 8600, a club on 86th and Biscayne. That's where everybody used to go every Friday night. It was the number one spot in the city for fine ass hoes in daisy dukes, dope dealers, University of Miami football players, killers and people just looking to drink and have a good time. I was partying there with my friends the night before Mother's Day, 1988. And it nearly killed me.
It all started when my boy Alton Conley, AKA A.C., met some girls and set up a date. All he needed was a wingman. Unfortunately, that ended up being me.
After going to a couple of clubs, we went to South Beach around three in the morning until some cops chased us off and told us to get the hell out of there. We all got into Alton's Camaro Z28 and I fell asleep in the back seat. We were speeding west on the 112 when Alton fell asleep at the wheel. Supposedly the girl in the front seat saw what happened, but didn't tell anybody. She just put her seatbelt on and prayed.
We crashed so hard they're still finding pieces of that accident all up and down the highway. Me and the girl next to me were thrown from the vehicle. I skidded across the cement like a steel scrap off A.C.'s Camaro. The girl next to me flew out the window and the car's engine landed on her head. Somehow we all survived.
My arm and shoulder were severed from my body in what's called a brachial plexus injury. My arm's entire nerve network, from the tip of my left finger to the base of my spine, was ripped, torn and shredded. All my friends thought I was surely dead. They were all saying, "Yo, I don't think Chris gon' make it man."
This happened right when our first album, 2 Live Is What We Are, was on its way to selling half a million copies off the strength of "Throw The D," "We Want Some Pussy" and "Get It Girl." Our second album, Move Somethin', was getting ready to drop.
People wonder why I wear an arm brace on stage. Well, the truth is, I've been wearing it since 1988. The effects of this car wreck have followed my career since. It's been rough, but I'm a survivor. Through all of the lawsuits, fights, alcohol, horny freaks, wild nights, Supreme Court victory, free speech heroics, pioneering hip-hop, years on the road, sleeping on floors, marathons in the studio, spending money, making hits, taking gambles, making babies, raising a family, fucking outside my marriage, selling millions independently, two strokes that almost killed me, Diabetes II, ruining my liver, flipping cars, collapsing my lung, coping with encephalopathy, bleeding out and almost dying on the floor of my own house and living out of a suitcase, it has been one hell of a journey.
The truth of why I did it is simple. I love music. I've always been proud to be able to provide for my family and my staff's families this way. I have four kids and three grandkids and I love them all, as I do all my family. Going to jail for my work, fighting for the freedom of speech, setting a legal precedent for parodies, co-founding one of the most influential hip-hop groups of all time, putting Miami Bass on the map around the world, and influencing the talent of others for the love of music has been a true blessing and I wouldn't change a thing.
I've always stood in awe of the power that music has to bring people together.
When we first started the group with myself, David Hobbs and Yuri Vielot, all we had was a collection of records, a couple of pieces of equipment, love for the music and free time, so we started throwing our own parties on March Air Force Base in Southern CalIfornia and out at parks in the community.
There was a spot called Highland Park where we used to like to jam. We always had a good time setting up the speakers, the turntables, and the BBQ's, inviting our friends out and meeting new people. I've always stood in awe of the power that music has to bring people together, and that's one of the things I've always loved about it.
But while it was fun to hear other people's music, nothing could keep me from constantly thinking about making my own. Mr. Mixx was rapidly gaining confidence in his party rocking skills too. And Amazing Vee was down for the cause as well. Finally, we decided to record our own music just to see what would happen.
We were sitting in the dorms one night rapping when we came up with our name. Mixx was behind the decks, Vee had his arms behind his head and his feet kicked up, and I was pacing around with the mic in my hand freestyling. Everybody was off in their own world until I dropped a line that said, "We're the motherfuckin crew," and somebody said "Yeah, the 2 Live Crew," and everybody stopped and looked at each other, and that's when we knew what to call ourselves.
From there, Mixx programmed some beats, we saved up some money, and we went to Claremont Studios and recorded the songs "Revelation," and "2 Live," which everybody called "Beat Box."
The bass on it was something different for the time. When a lot of people were making early forms of hip-hop, they used the Linn Drum, which wasn't deep, it didn't have any real power in its kick. But we came into it with the 808 drum machine. At the time people called its sound cheap and dirty, but it became the sound of the South because of the bass, that 808 kick and the boom.
We also accentuated those elements through mastering, brightening the snares so that they were slamming to keep people on beat. We knew we had to have it to where the kick would be hitting so hard, you could feel it in your chest. The boom would vibrate the walls so that you had to pay attention to the sound.
We didn't have enough money to purchase our own fresh tape, so we did the next best thing and borrowed some stock tape to record and mix on. In the days before digital, everything was recorded to magnetic tape through reel-to-reel machines.
Next, we took the masters to Macola Records in Santa Monica. They were a company that would press 500 copies of your record and let you put your own label on them. Later on that's where Eazy E and NWA got started. Macola was the first manufacturer and distributor for Ruthless Records. And as we were getting in the game, Ice T, Too Short, Egyptian Lover and Dr Dre's first group were going through Macola too. In fact, just about anybody who had $1,000 for 500 records in the area at that time went through them.
Our record label was Fresh Beat Records and Macola shipped our 12" to the promoters they worked with. We made mailouts for the distributors, the DJs, and radio stations, but it was hard because nobody played rap, just R&B.
Somehow our record ended up in Miami in the hands of Nick Salerno, a record promoter who worked for Macola, through Henry Stone. He greased some wheels with his cronies and got it out to the club DJs where it became popular quick.
I had a line in "Beat Box" that said "Like Luke Skywalker, I got the force, whenever I rhyme, I am the boss," and that caught a guy named Luther Campbell's ear. He was a DJ and concert promoter in Miami, Florida... He called himself Luke Skyywalker.
He began calling Mixx's mother in California, and leaving a pager number to call back. He said he wanted to book the group for a show down in Miami. At the time we had done a few parties, but never a real live performance, let alone a headline gig out of state.
Luke and his crew would pool up money from working and throwing parties to bring underground artists in for cheap. We worked out a deal, flew in on a Friday, and went and performed at the original Pac Jam Skating Rink off 199th and US-Highway 441, in a Northwest Miami neighborhood called Carol City. That's the area that Rick Ross, Flo Rida and a bunch of NFL players are from. The club was full of kids and the DJ had them so amped up they were practically bouncing off the walls.
It was my first real time really in Miami, and it reminded me somewhat of Trinidad with the heat, excitement and the wild crowd. The dancing was a sight to see. They were booty shaking like I'd never seen before. There was also a dance called the "Ghetto Jump" where the whole crowd would jump at once.
The DJs would work the crowd into a frenzy by talking, growling and yelling over records, putting in local references to their schools and neighborhoods, and commanding the room with raucous call and response chants. That was called "regulatin'" and when the DJ's regulated on the mic, they drove the kids practically insane.
We were surprised when we got there that the kids knew the words to our record already and sang right along with us. After that successful trip, we started going back and forth to Miami quite a bit. We'd fly in on a Friday at 8 PM, play three shows, party with fine ass Miami girls, and fly back Monday at the stroke of midnight to be back to work in the Air Force at 7:30 AM.
The Pac Jam was a special place in a special time.
Liberty City is where we all took our talents to the next level.
Playing parties is where Luke got his training as a hype man, and perfected the art of call and response. We got a lot of good practice there too. And besides just performing, we got to experience the ways that DJs played our records, and other people's records too.
This inspired me to start the Miami Bass DJ's with Greg Allen. We put together some money and bought some nice bass bins and amps and then had a team of DJs working parties for us all on the south side, where Kimbo Slice and his people are from. That's the first company to use the words Miami Bass. Trick Daddy's father used to throw events down south and my DJs would DJ for him.
Miami DJ's would funk records in real time with bits and pieces of slogans, ad libs, fill ins, accents, highlights, shouts and guttural noises they made up while also changing the lyrics to each song in perfect time – all while mixing, cutting and scratching. In Miami, the DJ was an MC and a hype man too. He controlled the records and the microphone at the same time. The music was a bass-heavy mix of R&B, electro, soul and dance from the rich history of local rhythm and blues traditions that mixed Caribbean, Latin and pop music and beats into the new production styles that were coming from the streets, the studios and the machines.
On top of all the fresh beats, bass and sweat making everybody go crazy, the Pac Jam had its own ghetto style visuals for the show.
Marvelous JP who was a local MC and character came up with a trick, this pyro thing, his own home made explosive with a piece of wood and a bucket. He'd put a positive wire here and a negative one there, then plug this cord into the wall and come out and tell people, "Hey, we ready to drop a motherfucking bomb in here," and BOOOOOOM. There was a big noise, the walls shook and then everybody would be coughing from the powder in the air.
We took a couple of those on the road before to use at shows, but then we got in some trouble for having that illegal powder. Nobody used to have that type of shit except in the Pac Jam. And if they put too much powder in it, the container would fly up in the air and hit someone in the head. It was like making your own damn grenade launcher.
The Pac Jam was a special place in a special time. It was our proving grounds, our first and most loyal fan base and the place where we learned some of the most important methods of performing. The club long since ceased to exist physically, but it will always be in the hearts and minds of everyone who ever went there.
If 2 Live Crew didn't work out in six months, I was gonna go into the medical field with my Air Force Medical Lab specialist training. In May of 1986 I got out of the military and we moved the group down to Miami. Luckily, people liked our music.
We drove from California to Miami in Mixx's big old 1977 "deuce and a quarter" Buick. Those cars are over 225 inches long, which is how they get the name. I used my travel money from the military to fix up the car to make sure we got down there.
When we arrived, we stayed on people's floors and couches for like a week or two and then we found a split two bedroom in Allapattah right down the street from Jackson High School and a block or two away from Starforce99 radio station.
Allapattah is a Dominican area between the Dade County Jail and Liberty City. That's a real rock and a hard place. Out front of our building, the neighbors was serving up crackheads in broad daylight. Shit was wide open.
Miami in the '80s was no joke with the dope. There was trap houses all around us. And little one-night and even one-hour "fuck shops" that people would be staying in. Shit like that. I didn't have a car. Didn't really need a car. If I had to get around, Mixx or someone else would drive or I would ride a bike, which was a fun way to exercise and get to know the area.
We were out there in the streets. We claimed Miami like it was our own. That's all we know. Everybody should have their own hood where they feel comfortable. We were comfortable everywhere. We used to walk around the streets like it was nothing. We rode bikes a lot of places.
By the time we moved down, we'd already been playing shows in Miami for two years. And our records were still popular. Basically, we were getting show money and "Throw The D" was popping already cause we put that out before I even got out the military. We dropped that in February and we moved down in May. And when the wax started hitting the record pools, more things opened up cause it got around the country. We sold 500,000 copies of "Throw The D" around the country and went Gold out the gate. It really helped us to get love from the DJs.
All we had was three beds and a little TV, a couch and the rest of the space was to hold equipment for us to work from. All we did was make music. That's all we did. When we first came to Miami, all we did was make music night and day and day and night.
Back in 1989, I was working hard. We all were. And I was happy with my little 190 Benz and my Hyundai. I was comfortable, my family was taken care of, I had a little money in my pocket, the label was blowing up and it felt like we were on top of the world.
Then Broward County sheriff Nick Navarro obtained a copy of our album...