Inspired, intolerable, inimitable. When talking about the legacy of the Australian composer we are forced to confront beautiful and innovative music from a man with reprehensible beliefs. Loving it, writes Matthew Guerrieri, isn't easy
"Colonial Song" is Percy Grainger in 1911. He was a star at the time, as he would be throughout the early decades of the 20th century, as both a concert pianist and a composer, an Australian boy made good on a worldwide stage. The composition sums up the stuff of his stardom, the ardency, the lush harmonies, the long arches of melody: late Romanticism, filled to overflowing. This is what makes one – what made me – fall in love with Percy Grainger's music, moment-to-moment indulgence somehow shaped into disciplined elegance.
Gliding chords on a "reed box tone tool" is Percy Grainger in 1951. By then, stardom had, in many ways, passed him by, and while he continued to perform, he increasingly holed himself up in his house in White Plains, New York, building complicated electro-mechanical contraptions, trying to realize what he called "free music": eschewing what he heard as the tyranny of regular rhythms, of discrete pitches, of conventional harmony.
Grainger had first conceived of such music in his early days as a touring virtuoso, riding the train across the richly bleak, beautifully monotonous Australian landscape. The reed box tone tool was a long sheet of brown paper tracking past a matrix of harmonium reeds, tuned in eighth tones, 48 to the octave, while a trio of repurposed vacuum cleaners pumped air through holes punched in the paper. The insistent nasal howl undulates and slides, familiar triads transformed into an unearthly whistle of sound through constant fluctuation. The contrast with "Colonial Song" is strikingly wide – or so it would seem, to anybody but Percy Grainger.
Grainger was born in Melbourne in 1882, and he made his mark quickly. Fellow Australians collected funds to send the young piano prodigy to Germany for that classical music necessity, a European education. (Grainger ended up hating it.) He became a sensation in London and, later, the United States, where he moved in 1914. One of his compositions, an arrangement of an English folk song called "Country Gardens," became a bona fide hit. He toured almost constantly, performing recitals, appearing with leading orchestras and attracting publicity wherever he went.
Grainger was what journalists today call "great copy." He was tall and striking, with a shock of golden hair and a clutch of irresistible eccentricities. He invented his own version of English, eliminating words with Greek or Latin roots in favor of made-up Saxon or Scandinavian-derived synonyms. (This included replacing the Italian lingua franca of music notation – molto rallentando, for instance, became "slow up lots.") He home-made clothes out of bath towels in wild geometric patterns. He had a passion for physical activity, sometimes hiking from town to town on his tours. (More than once, Grainger arrived for a concert only to be mistakenly arrested by the local police as a vagrant.) And he was volubly opinionated, in both interviews and correspondence. For a time, Grainger was a celebrity.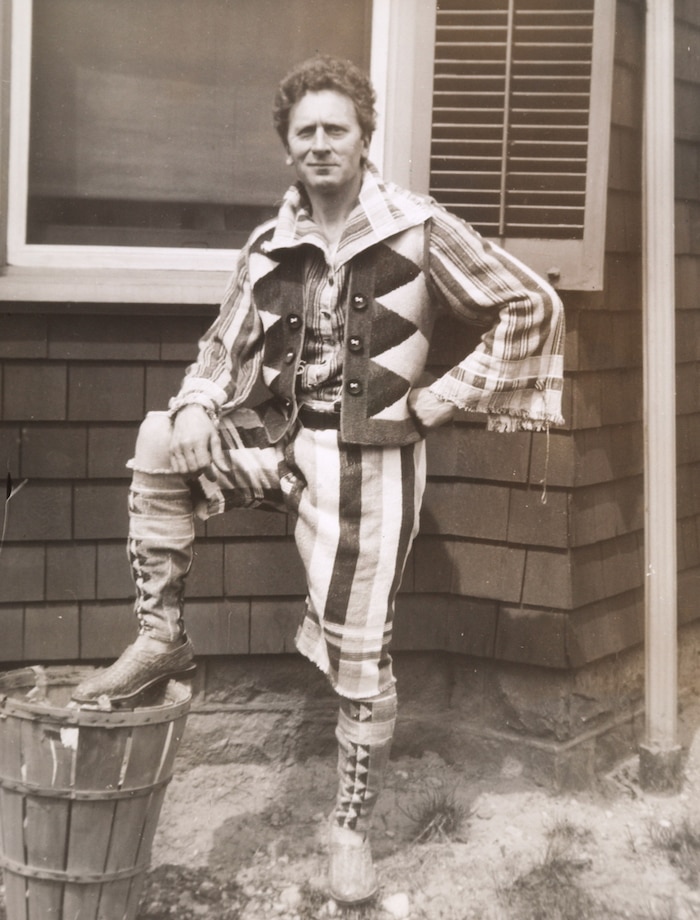 But Grainger was a singular and serious musician. His technique at the piano was athletic, with a finely calibrated touch. He was an ethnomusicological pioneer, recording and transcribing folk songs wherever he went. His compositions were both bounteous and deft, their kitchen-sink approach and structure balanced by Grainger's zealous sincerity. Even as his own music evolved into electronic experiments in alienated sound, Grainger's stubborn, singular conception of music persisted. If you believe him, all of it – the piano showpieces, the folk song arrangements, the orchestral spectacles, the free music – was the same music, the same design, the same grail.
Percy Grainger would have had you believe a few other things as well.
If you love Percy Grainger's music, what do you do with this?
We've all done it. Treasure enough music and you can even become proficient at it. Compartmentalization, that is. A favorite artist, performer, composer is revealed as fallible, as horrible, as bigoted, or cruel, or monstrous. There's the personally abhorrent: Gary Glitter abused children; Ike Turner beat women; R. Kelly... R. Kelly. Phil Spector killed Lana Clarkson. There's the politically suspect: Eric Clapton supported Enoch Powell; Richard Strauss dallied with the Nazis; Richard Wagner… Richard Wagner. Everyone has their own list. So we wall off the music from the person. It's the music, after all, that matters. And we can separate it from its creator, and from their messy, flawed self.
But what if you can't?
In early 1939, as the world careened into war, into its reckoning with nationalism and militarism and racism, Grainger wrote a long letter to his longtime friend, composer Roger Quilter. The rampant cruelty of the Nazis had distressed the sensitive Quilter to his core, compelling him to offer financial assistance and shelter to Jews trying to flee the Reich. "It stands to reason," Grainger wrote, "that such a very loving, tender & warm nature as yrs (so fully forth-shown in yr music as to leave no doubt of it in any music lover) would answer as you do to Jewish suffering & act as you do." Grainger then begins to list everything he finds admirable in the Jews, and to mention his kindnesses to his Jewish secretary – a miscellany that practically telegraphs the approaching objection to Quilter's compassion:

No, my horror at the helping hand held out to the Jews has nothing to do with dislike of Jews or due to any feeling on my part that Jews behave badly. My horror arises out of a wish to see nature realise her dreams – horror at needless destruction of nature's dreams. I do not pretend to understand nature, or even to sympathize with her aims. I do not know why nature should give birth to dreams like peace, kindliness, impersonality. I will not say that I am sure I really share these dreams myself. I think I would always prefer to see some cruelty practiced (provided it had a sexual color: for instance to see a child or a woman whipped or otherwise ill treated) than any kindness I can imagine. But I am passive in the hands of nature. I bow to her aims & dreams, as far as I understand them. And I can see that nature has given birth to peace, kindliness, impersonality, tenderness, wistfulness, etc, in one race: the Nordic.

The Nordic: Grainger's racial ideal then, before and ever. (Hence his "blue-eyed English.") And, in Grainger's estimation, nature's gifts to the Nordic race are being squandered: the Nordic penchants toward proud aloofness and propriety are endangering their very existence. Other races are "eager to breed, work & get on with each other & WITH US, which is the worst of it! For they are deadly to us, while we are not deadly to them." He goes on:

After all: why do the Jews, the Germans, the Italians, the Japanese seek our lands? Because they like the fruits (prosperity) of our Nordic impersonality (peaceableness, wistfulness, dreaminess), altho they do not understand its roots.... Is it any use having the sane & the insane mix freely together, pretending that both are equally sane? From a Nordic standpoint we Nordics are sane & all the rest (in that they are greedy and fightfinded) are insane. And all the rest (of the insane breeds) agree with us up to the point that they want to inhabit our countries & want to hold the jobs created by our sanity.

And on, and on. This is Percy Grainger at his worst, at his most callous, most oblivious, most irresponsibly sociopathic: a fever-dream vortex of prejudice, sexual obsession and cracked logic. And if it is one of the more extreme examples, it is hardly the only one: Grainger's voluminous correspondence finds the composer repeatedly expounding his racial theories. If you love Percy Grainger's music, what do you do with this?
It is easy to trace the origins of Grainger's notions. His mother's family – the Aldridges, as Nordic as they come – regarded swarthier folk as their inferiors; Rose Aldridge's mother warned her about marrying John Grainger, a handsome architect and music-lover from Adelaide, on the basis of John's dark brown eyes. (Indeed, the marriage proved stormy – Rose proud and disdainful; John a Jekyll-and-Hyde, a decorous burgher who could turn into a womanizing drunk, gone for days. They eventually separated, John leaving Rose with Percy and a case of syphilis.) The young Percy's obsession with the Icelandic Saga of Grettir the Strong – to the point of identifying with its courageous, impulsive, outlaw hero – seeded a lifelong fascination with all things Scandinavian, which, in turn, decisively shaped his musical pursuits. (The Norwegian composer Edvard Grieg, for example, upon meeting Grainger, felt a near-familial kinship; Grieg's Piano Concerto would become Grainger's standard-repertoire calling-card.)
And his extolling of all things Nordic, while filtered through his own unorthodox imagination, drew on writers and ideas that were in wide currency in the 1910s and 1920s. Compare, for instance, Grainger's characterization of the Nordic race with that of writer Lothrop Stoddard, whose books and articles dividing and subdividing the world's population by race-based proclivities were popular and fashionable enough to be satirized by F. Scott Fitzgerald in The Great Gatsby. This is from Stoddard's 1914 article "Racial Realities in Europe," which Grainger liked so much that he clipped it out and carried it around with him:

None of the primitive Nordic tribes had despotic rulers, while modern constitutional government was developed by the Nordic English and has not been really successful except among peoples with a strong strain of Nordic blood.... Where the Nordic establishes himself among other races he is instinctively aristocratic. Feeling himself the ruler and the superior, he prides himself on his race and seeks to guard the purity of his blood.

Is it any comfort that Grainger's racism was hardly unusual in his day? Does that make it simply disappointing, rather than deplorable?
Other caveats are available. By all accounts, Percy Grainger was, in his actions, extraordinarily generous and considerate. Consider just one story: In the summer of 1919, Grainger taught a piano course at the Chicago Musical College. While he was there, a black man, Eugene Williams, was stoned to death while swimming at a segregated beach on the city's south side. The killing set off a week of rioting that left nearly 40 people dead, and kept many of the city's black residents barricaded in their homes – including one of Grainger's students. Grainger sent the girl and her family food and arranged for protection when she went out. Performing in the course's final concert, the girl dressed all in black, while Grainger, conducting the orchestra, dressed all in white, a symbolic gesture of protest and solidarity that was not lost on the audience. And that is but one example; one could cite dozens more.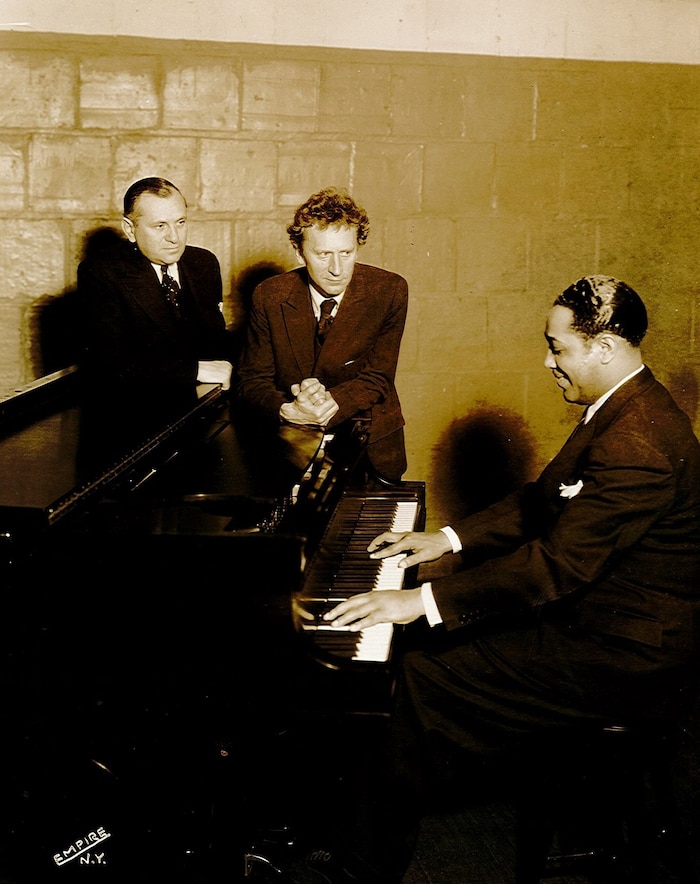 Even musically, Grainger was an inconsistent racialist. He advocated for the music of Duke Ellington at a time when many in the classical music world, especially in America, regarded jazz with suspicion. He himself performed and recorded works by the African-American composer R. Nathaniel Dett. One of the most-programmed works in his later recitals was his own, highly-embroidered arrangement of George Gershwin's "Love Walked In," one of a number of songs by that Jewish composer that Grainger admired (and arranged).
Was Grainger's racism just a tic? An anomalous, unrealized compulsion? In many aspects, Grainger was mentally maladjusted, if not unbalanced. Rose Grainger's devotion and protection of her son smothered him, and Percy welcomed the smothering. Their closeness was so insular and consuming as to warp Grainger's outlook. Rumors of incest contributed to Rose Grainger's syphilitic mental breakdown and 1922 suicide, which took no small toll on Percy. Grainger's most sympathetic biographer, John Bird, concluded that he was mad.
One of the most appealing things about Grainger's music is its combination of cozy familiarity and vague, exciting weirdness. His reworking of the Irish reel "Molly on the Shore" clings tightly to its whirling tune while everything around it goes out of focus, the harmonies getting more hazy with each repeat. His folk song arrangements scrupulously reproduce the melodies he recorded on his excursions – Grainger goes so far as to footnote when he has altered a pitch – but also their rhythms, every one of his old folk singers' wayward tempi and slight hesitations carefully translated into polymetric precision, an effect both charming and edgily alienating. (One of his most frequently-played works, his band suite "Lincolnshire Posy," is rife with this sort of thing.)
From the beginning, Grainger went against the grain. In his student days in Frankfurt, other students laughed at his music – its churn of impressionist harmony, its impractical, unruly rhythms, its obstinate yet formless momentum. Later, he would show a penchant for unorthodox and deliberately unrealistic ensembles. (His 1916 "music for an imaginary ballet" The Warriors augments a large symphony orchestra with a battery of then-exotic mallet percussion, not to mention three pianos. Grainger also arranged the work for 30 pianists playing 19 pianos.) He often waited years for performances of his music: Grainger's unusually large catalog for wind ensemble was a result of his discovery – ironic, in light of his pacifism – that military bands had both the inclination and the top-down discipline to realize his more complex ideas. He could have made it easier on his career, and his music. But Grainger knew what he wanted.
There might be no better example of the power of Grainger's committed peculiarity than this performance of his "Tribute to Foster" – an elaborate fantasy on "Camptown Races" (which Grainger remembered as one of Rose Grainger's favorite songs) – at the 2000 Last Night of the Proms, with Andrew Davis conducting a much-augmented BBC Symphony Orchestra and hundreds of singers. If the spectacle of a stage full of white people in evening dress plumming every vowel of Foster's echt-minstrel dialect to an audience dotted with homemade Union Jack hats all-too neatly sums up the dubiety of Grainger's music, the fact that it works anyway is testament to his achievement. The layers of brittle syncopation, the roaring embellishments, the halo of purring wine glasses around the central lullaby, the wonderful, eerie disintegration at the end: Grainger is insistent that the music is going to go the way it goes, and the spell is gradually, inevitably cast.
The key to Grainger's music is that every one of his pieces, from the smallest folk song arrangement to the largest orchestral extravaganza, is, in some strange way, the apotheosis of itself. His pieces are saturated with themselves, full of themselves in every sense. (Even at his most playful: Grainger's "In Dahomey," a "cakewalk smasher" after Will Marion Cook's Broadway musical, isn't so much a novelty ragtime number as novelty ragtime-ness, distilled, refined and concentrated.) The conception always feels clear, because the single-minded pursuit of it is so determined. His vision is distinct, individual, unsullied, pure.
Where have we heard that before?
For years, the most notorious thing about Grainger was not his racism, but his sex life. He was a sadomasochist with a particular fetish for whipping and being whipped. He kept written and photographic records of such sessions, whether self-flagellation or with a partner. Occasionally, his exercise would run to burns and cuts. (He once sent a lover a letter smeared with his own blood.)
Grainger was publicly discreet about his sexual preferences, but open about them to friends, lovers, even his mother: while Rose Grainger stifled more than one of Percy's relationships with her omnipresence, when she herself would propose that Percy marry, he could shut down the conversation by reminding her of his proclivities. "I feel so ashamed of having a child with such fancies as you have," she scolded. (After his mother's death, Grainger did marry, wedding Ella Ström in 1928 during a Hollywood Bowl concert – a few weeks after laying out, in a letter to his fiancée, his sexual desires and fantasies at comprehensive length.)
It is perhaps a sign of progress that such knowledge is not as shocking as it once was, that it is Grainger's racism that now troubles us more. But the point is this: We know all this because Grainger wanted us to know. From an early age, he saved everything, dreaming of the museum he eventually built in Melbourne (literally; on trips to Australia, Grainger would visit the museum-in-progress and lay brick). Letters, scores, photographs, clothing, whips – they all went to the museum. He was convinced that his life, his habits, his music, his theories were all worthy of posterity, that time and history would come around to where he was. That letter to Quilter? Grainger knew it was going to be preserved, intended it to be. He was writing to the future as well as to his friend.
And Grainger never denied what he knew others would consider his darker side. In fact, he often seemed to invite attention to it. ("Knowing him to be perhaps the most gentle man alive," his publisher Eugene Weintraub remembered, "I was flabbergasted and pained when he said, 'I am full of violence.'") What Grainger said about his music might well apply to his life: "I do not mind being 'found wanting,'" he wrote, "as long as I am 'weighed in the balance' first." Grainger not only considered his music all of a piece, he insisted that it was inseparable from the man. We might wish to excise Grainger's music from the rest of his personality. Grainger himself wanted everything to go on the scale.
For Grainger, the years after World War II were increasingly bitter. He was thousands of miles away from his museum, years removed from his salad days as a virtuoso. That his reputation was that of a composer only of light music and folk song arrangements was particularly irksome. ("Country Gardens" had become a particular albatross, and his performances of it became increasingly – and, one suspects, purposely – obstreperous.) He and his music had become divorced from the classical music mainstream; he was reduced to playing concerts in backwaters, college halls and gymnasiums, often forgoing a fee in exchange for a chance to program his own music. And then he would return to White Plains, to pursue his "free music."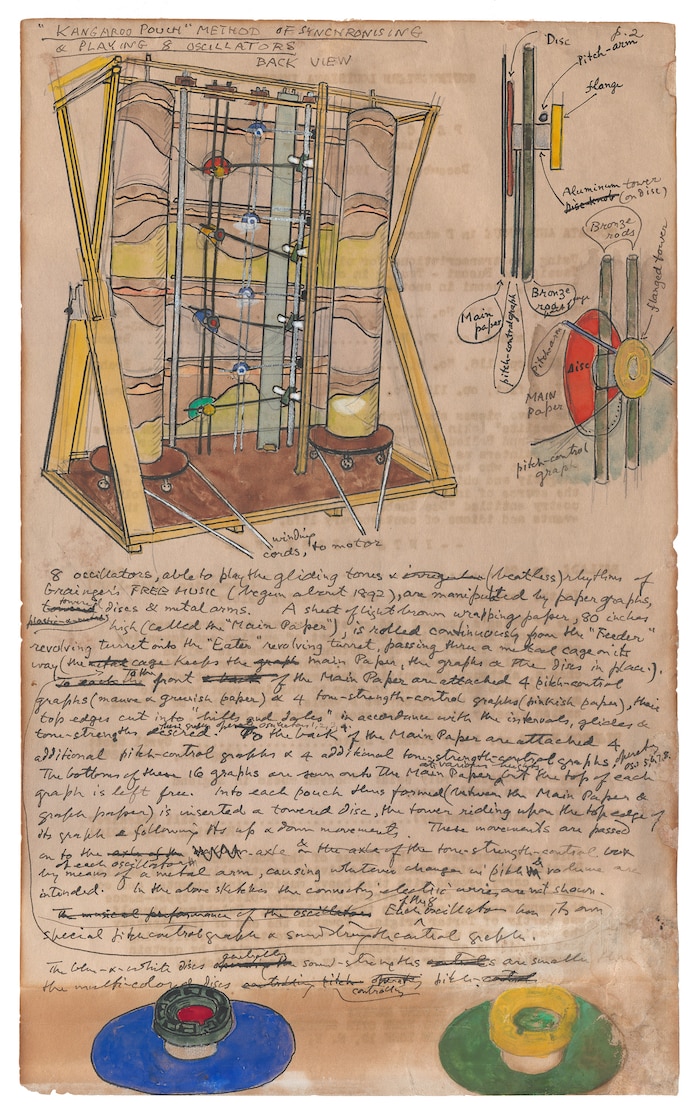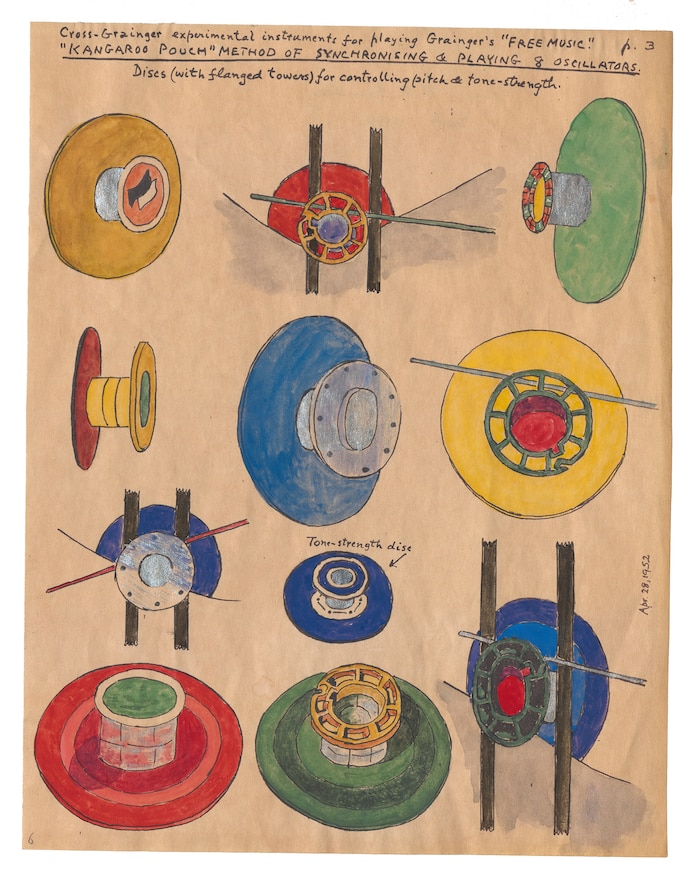 By the 1950s, the house was overrun with free music machines, developed in collaboration with physicist Burnett Cross. The "Kangaroo-Pouch" machine (so-called because the sound patterns, now rendered as cut-out paper contours, were then attached at the bottom to a pre-existing roll, forming a long, scrolling pocket) replaced the reeds with vacuum-tube oscillators. Grainger's final design switched out the paper rolls for clear plastic on which tone patterns could be painted, blocking or allowing light to trigger photosensitive controllers. It was an idea that would have put Grainger in the mainstream of electronic music – Evgeny Murzin's contemporaneous ANS synthesizer used a similar principle, as did Daphne Oram's later Oramics devices – but Grainger, for all his curiosity and knowledge of electronic developments, remained aloof from the community. As ever, his own vision would be his guide, for better or for worse.
His death in 1961 began a process of revelation, re-evaluation and reckoning that has never really ceased. (Many of the more startling divulgences only came, by Grainger's stipulation, once he had passed.) It can sometimes seem as if his music is in danger of getting lost in his biography. But with Grainger, one of the most idiosyncratic musicians of all time, music and biography are not so easily divorced. "I think the entire musical world," Grainger wrote, "is entirely oblivious of the whole world of bitterness, resentment, iconoclasm & denunciation that lies behind my music."
That his music, wondrous as it can be, seemed to spring from the same drive that compelled him to espouse the inexcusable, is perhaps best reconciled as a reminder that impulses are just that – impulses, requiring transformation into action – and whether the action is gainful or awful is, ultimately, something we can choose. To encounter Grainger is to encounter an inspired, intolerable, inimitable figure who, with untoward self-assurance, believed to be deserving of honor every thought that came into his mind.
Header image © Grainger Museum, University of Melbourne