When Techno Was House
Jacob Arnold looks at Chicago's impact on the birth of techno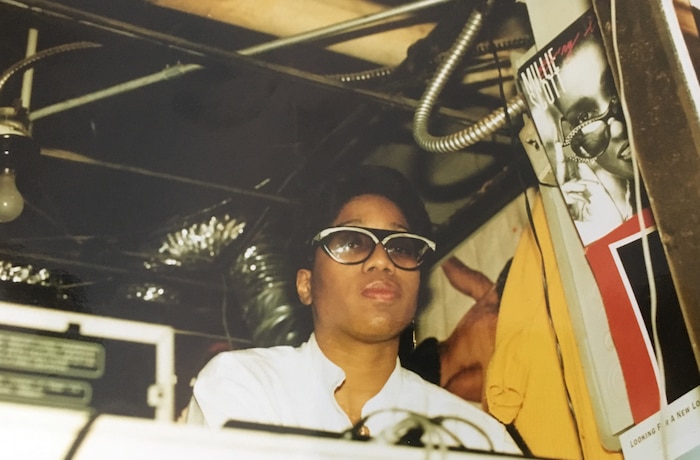 Techno and house are widely regarded as distinct musical genres these days, but in the beginning, there was more overlap than anyone might realize. While Detroit artists eventually developed their own style, the Belleville Three (Juan Atkins, Derrick May and Kevin Saunderson) have always acknowledged Chicago's influence and the fruitful musical dialogue between these two Midwestern cities. (According to DJ History's Bill Brewster and Frank Broughton, the genre-defining 1988 compilation Techno! The New Dance Sound of Detroit on UK's 10 Records was originally going to be titled The House Sound of Detroit.)
Chicago and Detroit's dance scenes had much in common in the early '80s. After the decline of disco, competing DJs and promoters in both regions held preppie parties where African-American teens danced to New Wave and synth-pop imports. The two cities, some four hours apart by car, both enjoyed late night radio personalities experimenting with freeform formats on traditionally R&B-focused stations. At the same time, DJs at gay clubs reached a crossover audience of straight youths intrigued by innovations such as beat-matching and remixing.
Almost overnight, house music became a lucrative business opportunity, and Detroit artists took notice.
The first electronic records in Detroit, 1981's "Sharevari," by A Number of Names, and "Alleys of Your Mind," by Juan Atkins and Rik Davis as Cybotron, pre-dated Chicago house records, but they didn't open doors for other artists. Chicago's music scene was similarly slow to start, but sudden success overseas resulted in an explosion of interest.
House music's first big hit came from Chicago's J.M. Silk. "Music Is the Key," released in September 1985, sold some 85,000 copies in the US alone, rising to No. 9 on Billboard's dance chart despite D.J. International's struggle to meet demand. The following year, J.M. Silk signed with RCA and London Records and hit No. 1 on the UK Singles chart with "Jack Your Body." Almost overnight, house music became a lucrative business opportunity, and Detroit artists took notice.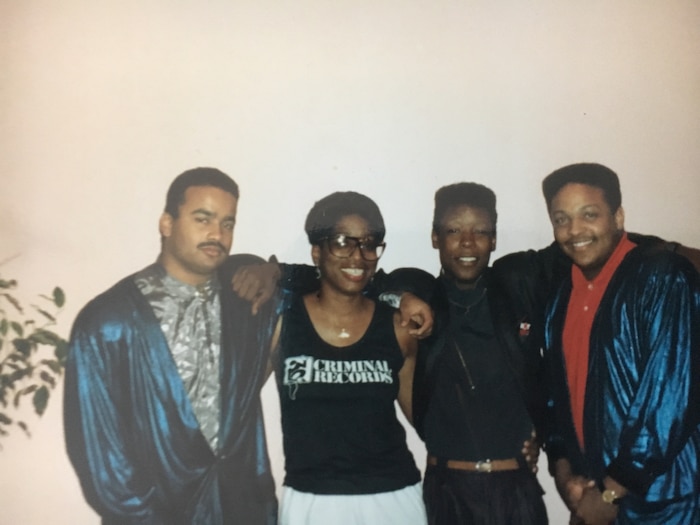 A handful of unofficial ambassadors introduced the sound of Chicago house music to the Motor City. Detroit native Stacey "Hotwaxx" Hale was one of the first DJs to play house music on the radio there, originally providing mixes for The Electrifying Mojo's show on WGPR. "Chicago's like my second home. It always has been," Hale explains. "I would go there and load up records from D.J. International and from Trax and bring all of those records home and play them."
Hale was always drawn to new music. At 16, she began making reel-to-reel tapes of continuous dance tunes for basement parties. A visit to the Chessmate, where Ken Collier, Duane Bradley, Renaldo White and Morris Mitchell spun, first exposed her to live mixing. (In a 1995 interview with Terrence Samson, Ken Collier described DJ Frankie Knuckles at the Warehouse in Chicago as his inspiration.)
At 17, Hale bought DJ gear and taught herself how to mix, leading her to spin at the Circus Lounge and Club Hollywood. She won the WJLB Motor City Mix competition in April 1985, including the first Chicago house track, "On and On" by Jesse Saunders, in her set. Hale's win led her to DJ on Detroit's famous dance TV show, The Scene, and to provide radio mixes for WLBS, WJLB, WHYT, and WDRQ, not to mention spinning at Detroit nightclubs such as The Lady, Studio 54, Cheeks and The Warehouse. Hale would later work on basement tracks with her friends Steve Hurley and Keith Nunnally from J.M. Silk and create her own remixes.
Chicago was taking over the world as the new club sound. There wasn't a genre called techno yet.
Detroit's Derrick May was exposed to Chicago's embryonic house scene while visiting his mother in the early 1980s. May listened to mix shows on WBMX and WGCI where DJs were spinning Italo cuts like "Feel the Drive" by Doctor's Cat. "When I heard this shit, it was like a beacon. It was like a lifeboat," he describes in an interview with Bill Brewster and Frank Broughton.
May brought Italo records from Chicago to Detroit to incorporate in his DJ sets. "That's what gave me my edge," he explains. The staff at Importes Etc. told May about the Power Plant and the Music Box. At the former, he heard Frankie Knuckles play unreleased Jamie Principle songs off reel-to-reel. At the latter, Ron Hardy's raw power inspired him: "It changed my life," he tells Brewster and Broughton. "He painted it out simply: it's all in your soul. Whatever you feel just let it out."
In the early 1980s, Derrick May tried telling Juan Atkins about Chicago house music, but according to May (speaking with Brewster and Broughton), "Juan didn't care for Chicago – he thought the whole Chicago house music scene was gay. He was not with it at all." Nevertheless, in 1985, May drove Atkins' Model 500 records to Chicago to promote them, taking many of his friends, including Detroit's Music Institute founders Alton Miller, George Baker and Anthony Pearson (AKA Chez Damier) on regular trips to the Music Box. May brought Kevin Saunderson to the Music Box, too. The experience inspired "Bounce Your Body To The Box," which Saunderson created with Santonio Echols.
Santonio Echols was raised in Detroit. As a kid, he attended Direct Drive and Charivari parties, admiring the DJ skills of Eddie Fowlkes, Steve Dunbar, Ken Collier and Jeff Mills. Echols himself began spinning at the age of 18, citing musical influences like Juan Atkins, Kraftwerk, George Clinton, George Duke and James Brown. Echols' break came, indirectly, when his twin brother joined the same fraternity as Kevin Saunderson at Eastern Michigan University. One night Echols contributed his speakers to a party where they were damaged. Saunderson said he would make it up to him by helping him make music, and Reese & Santonio was born.
Echols composed the drum parts to "How To Play Our Music" on his own equipment, then the duo completed the track in Saunderson's home studio. With its distinctive roving bassline, double-time snares and catchy vocal declaration, 1987's "How To Play Our Music" is a pivotal house/techno crossover track.
Asked if the music was house or techno, Echols explains that the tempo was a bit faster, but he and Saunderson fused Juan Atkins' Model 500 sound with what Chicago house artists were creating. "We tried to combine the two sounds together and create our own sound out of Detroit," Echols explains.
Echols and Saunderson's follow-up singles in 1988, "Bounce Your Body To The Box" and "Force Field," were both big records in Chicago. "We drove to Chicago, and as soon as we got into Indiana, we started switching to GCI, BMX, and they were playing both tracks on different stations," Echols remembers.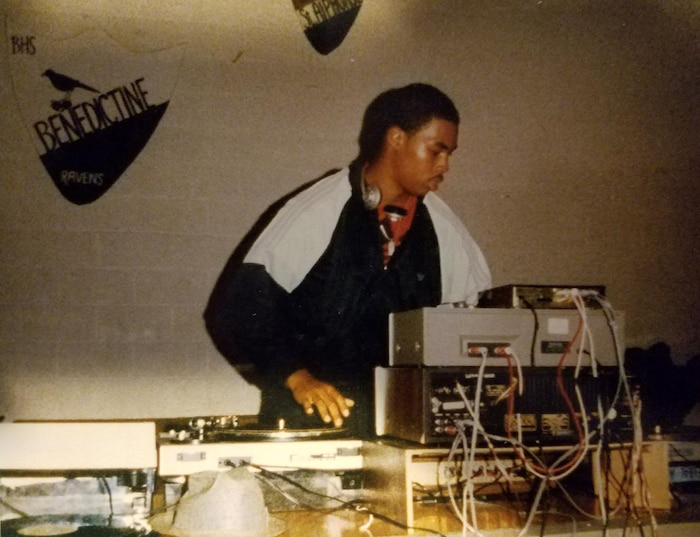 Buy Rite Music, opened by Cliff Thomas in 1980, was one of the few stores in Detroit to sell a wide range of Chicago house music. 15-year-old Rick Wilhite was going by the name DJ DOC when he began working there part-time in 1985. "The owner wanted to have a DJ that could mix the music in and give an example of what you could do," Wilhite recalls. "Because house was a brand-new genre of music." According to Wilhite, Chicago records sold well in Detroit. Among the biggest hits in 1985 and 1986 were Chip E.'s "Jack Trax," Adonis' "No Way Back," Mr. Fingers' "Washing Machine" and Farley "Jackmaster" Funk's "Give Your Self to Me."
When Derrick May started making music, his goal was to create records Farley Funk, Ron Hardy and Frankie Knuckles would play, since he knew a hit dance record in Chicago could sell thousands of copies. He succeeded in 1987 with "Nude Photo" and "Strings Of Life" on his own new label, Transmat.
Thomas Barnett was just 18 when he and May created "Nude Photo." Barnett was working as a security guard for a building where Chez Damier was a pager salesperson. One night Damier heard Barnett playing a tape of his band's music and offered to introduce him to Juan Atkins. Barnett paid for studio time, then found himself with Damier in May's apartment "in a bad area of town" with all of his equipment on the floor. "Nude Photo" was born.
"Chicago, in early 1987, it was taking over the world as the new club sound," explains Barnett. "There wasn't a genre called techno yet. There was house, and acid house was just beginning to pick up. 'Nude Photo' was actually categorized as acid house at the time."
Acid house was the bridge connecting Chicago and Detroit's developing styles, as evidenced by Chicagoan K-Alexi Shelby's All for Lee-Sah EP on Transmat, which varies from the bubbling, sexy title track to hard, stripped-down synth squelches on "My Medusa." Shelby describes the latter as "pure rawness," explaining, "It's nothing but 303 and the 6[06]," but the 303 was run through one of Farley's old effects pedals.
Shelby, who as a kid used to sneak into the Music Box to hear Ron Hardy spin, met Derrick May through a friend at Importes Etc. At the time, Shelby was living with Mike Dunn, Marshall Jefferson and Bam Bam. Through aliases such as Risque III and Club MCM, Shelby explored the harder side of house. "His stuff on Transmat is clearly techno," asserts Wilhite. "It's all cold."
There are countless examples of Chicago-produced tracks with the sound that would come to be known as techno, mainly on underground labels such as Dance Mania, Saber Records, Chicago Underground, Muzique, Future Records, House Nation and Target. Larry Heard's releases as Gherkin Jerks and The Housefactors were especially ahead of their time. In the late '80s, there were simply more Chicago producers and labels than Detroit ones, resulting in a wider range of styles.
"To me there's only two kinds of music," proclaims Thomas Barnett. "There's stuff you like and stuff you don't like. There's a million different names. I think it's more for academia and writing and journalists explaining it, because how else are you going to explain something other than listen to it?"
Juan Atkins shrewdly recognized the need for Detroit artists to establish their own identity.
At times, Juan Atkins has taken credit for inspiring house music, but in early interviews, Atkins confessed he was influenced by Chicago, too. "I started with the electro thing... then rap came in strong, but it was too down-tempo for me and I started to pick up on the music that was coming out of Chicago," Atkins told Jonathan Fleming in What Kind of House Party Is This? "Me and my friends, Derrick May and Kevin Saunderson, then took that flavor and put the Detroit flavor on top of it which was like techno."
So how did techno become associated with hard instrumental tracks and house with slower, more vocal-friendly tunes? According to Derrick May, Juan Atkins pitched the term "techno" to UK journalists Stuart Cosgrove and John McCready, and they ran with it.
Atkins shrewdly recognized the need for Detroit artists to establish their own identity. Ultimately, he reclaimed Detroit electronic music, steering it away from its relationship with house and back towards the cold, futuristic vision he and Rik Davis established with their early Cybotron records. Subsequent producers like Underground Resistance and Drexciya took Atkins' concepts even further, shunning house music's overt disco roots.
Since the late '80s, dance music has splintered into countless specialized sub-genres, with labels that can be contentious and confusing. The establishment of the term "techno" served a purpose, but it's important not to rewrite history. There have always been Detroit DJs and producers inspired by house and Chicago artists whose sound could be labelled techno, proving the open flow of ideas transcends artificial boundaries.