Give The Drummer Some: Frankie "Kash" Waddy
J-Zone speaks to the man who played with Parliament-Funkadelic, James Brown and more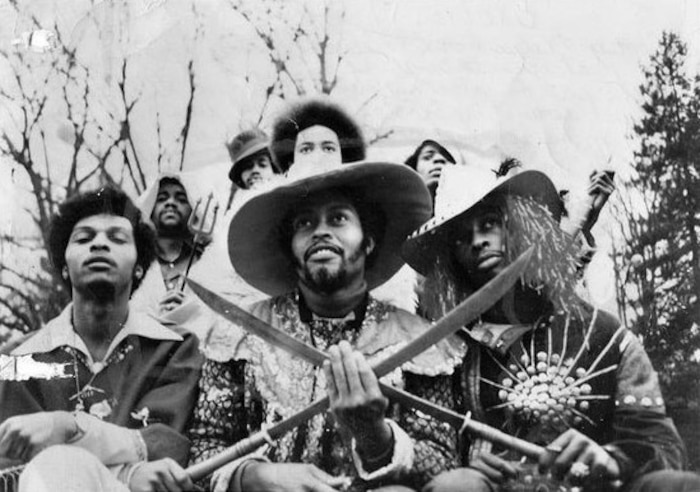 The colossal empires of James Brown and Parliament-Funkadelic changed black music in the 1960s and '70s, when their bands packed stadiums and helped cement the term "funk" as both a genre and household name. Two decades later, both bands returned to dominance in a different way – their back catalogs became the foundation for late '80s and early '90s hip-hop, proving their tunes to be timeless.
The sounds, laws and lifestyles of James Brown and Parliament-Funkadelic were miles apart, but both demanded musicians to have extraordinarily high funk IQs and feel for the groove. Horn masters Fred Wesley and Maceo Parker were able to work in both universes, and the rhythm section of bassist William "Bootsy" Collins, guitarist Phelps "Catfish" Collins and drummer Frankie "Kash" Waddy likewise had a lock so special that it moved both George Clinton and the Godfather of Soul. The trio could groove plenty well on their own, too, as evidenced by their collaborations as Bootsy, Phelps & The Complete Strangers, the Houseguests and a number of other groups.
Still busy and laying it down today, Kash Waddy talks here about the differences in playing for two iconic groups, the pitfalls of the music business and what makes Ohio such a funky state.
Ohio played a huge role in the development of funk music. The Ohio Players, Slave, Lakeside and guys like Bootsy, Catfish and you were all instrumental in this. James Brown's record label and recording studio, King, were also located in Ohio. What was it like growing up in Ohio with funk just becoming established in the '60s, and what do you think made the state such a hotspot for funk talent?
Bootsy and I have this thing we say in our stage show: "Funk is making something out of nothing." That's been the basis of our whole career. [Coming up in Cincinnati], we had no backing, no financial support and no local support, because Ohio didn't cater to musicians. It's a factory town, that's how people made their living. Musicians were like aliens. People would tell us "get a job, you're not going nowhere" until they saw us with James Brown. But we had nothing. Bootsy, Catfish and me – we always had a couple of horn players, but we could never afford a keyboard player or a second guitarist. The first keyboard player we played with [years later] was Bernie Worrell! So as musicians we had to play really strong and tight and play all the different nuances in the songs so people could still recognize them. Being limited like that, it enhanced us and to compete with other bands, we had to come with it. Something else I noticed about Ohio and the Midwest – the industry would always go to Cincinnati to get musicians to put in bands. We just had that flavor.
I remember that's the first time we heard we were bad. James Brown kept saying "y'all bad, y'all bad!"
When did you start playing drums and who were some of the drummers that you watched closely growing up?
I started playing seriously when I was two! My folks knew something was going on they couldn't understand because they weren't musically inclined, but they knew it was real. I'd get a new toy set every Christmas. When I got to junior high school, I learned to read music so quickly that I surpassed the older drummers.
Around [that time], I went to a drum shop in Norwood, Ohio and they had an album cover in there with a drummer on it. It was Buddy Rich, but I didn't know who he was. I got into this cat and followed him for his whole career. He was the most important drummer to my career; he was phenomenal. He was insane and an egomaniac, but he was badass.
It seems lot of the early funk drummers were inspired heavily by big band and bebop cats. Did that come in handy working with James Brown later on?
Yep. Watching Buddy Rich, I saw how a drummer could conduct an orchestra. With James, everything he did was a cue. All the dynamics and hits were cues. When I was a youngster, I'd listen to jazz even though we were playing something else. But I'd get some of my licks from jazz.
The first band you were in was called the Pacemakers, which included Bootsy, Catfish, and horn players Robert "Chopper" McCullough and Clayton "Chicken" Gunnels. How did you guys first get together?
Just out playing somewhere. We were kids. When we found the guys that were a good fit, we would practice and rehearse everyday and play when we could. We'd get a truck and leave town and catch hell. Sometimes we'd never get paid and come back limping. But the next day we'd have big grins on our faces like we just killed 'em.
How did you get on James Brown's radar?
Down the street from me was a [producer] named Gene Redd.
He discovered Kool & The Gang and produced a bunch of hits in the '60s.
Right. And he worked at King Recording Studios. That was my lead-in to King [Records]. Bootsy went to a junior high school named Sawyer and I went to Samuel Ach. We would [meet up and] go down to King Recording Studios after school as opposed to running around. We'd get on their nerves until they let us get in and do something. That's when we saw James Brown's operation. He had a management company, his own [vinyl] pressing plant, his own label and he owned radio stations. All power. He'd record a single every two weeks, give it to his radio station and they would break it nationwide. James had heard about us and actually came and jammed with us in little clubs. I remember that's the first time we heard we were bad. He kept saying "y'all bad, y'all bad!"
So the story goes James Brown already had you guys in his back pocket at that infamous band meeting backstage at a show in March of 1970.
That was being naïve. James knew all along he might need a band, because he knew he was having trouble with his band, our idols. Fred Wesley, Maceo Parker, Pee Wee Ellis... We idolized those cats, man. We had no idea that at some point we'd be replacing them. If we had more sense, we may not have gone for it but we didn't know any better.
What exactly happened that night?
James and the band had a Mexican standoff. They were in Columbus, Georgia at the National Guard Armory, the place was sold out [for the night] and the band was threatening to quit if James didn't meet their demands. James wouldn't give in, so while he was battling back and forth with the band, he had Bobby Byrd sneak out in James' private Learjet and come get us [from Cincinnati]. James had his eyes on us but we didn't know it, he did. Bobby came and got us in a limousine and we got in the Learjet and went to Columbus. We had never even been in an airplane before.
We got to the venue and on one side of the hallway is James Brown and on the other side is our idols. James wanted to show these guys he wasn't going to submit to [their demands] and them wanting to blow off the gig. We didn't know what was going on. It was sad because while his old band was sitting in the dressing room, here we come going straight to the stage. We're looking into their room in awe because they were our idols. We had no idea we were coming in and helping James cross those guys out.
What was that first show like?
Everyone was playing his music anyway, in every city. So he'd just count off a song like "Black And Proud" in F sharp, one, two, three, four..." and we did the whole show like that. It was the biggest stage and crowd we'd ever seen. I remember we were so used to playing small stages that we huddled around each other in one small spot even though we had all the room in the world.
I can't imagine the Pacemakers had the time to rehearse the way James Brown typically rehearsed his bands.
James loved it. He was raving: "Man, y'all killed me!" He offered us $225, and then he said, "Nah, I'll give you $300." Then he [kept raising the offer] until he got to $500. We were trying to figure out how to split it up and realized he meant $500 for each of us and we hadn't [officially] been hired yet. And we had a truck full of brand new Vox equipment.
The night before that show, we played this place in Cincinnati at a place called the Wine Bar and we made $15 in total. We were driving a Dodge Dart station wagon and were so skinny and starving so badly we could all fit in it with all our equipment, including the drums. That goes to show you how one day can change your life.
James Brown snuck and taped us, then came back and had us play what he already heard us play like he wrote it.
You guys became the original lineup of the J.B's. Bootsy, Catfish, McCullough and Gunnels recorded and toured consistently with James Brown for most of 1970. The drum chair seemed to be a lot less stable. Jab'o Starks is on a lot of the recordings and in the videos from that time period, but Clyde Stubblefield was in and out numerous times. Then there was Don Juan "Tiger" Martin, who was also from Cincinnati. James was known for being very particular about drummers. He typically had a bare minimum of two on stage throughout the '60s and '70s.
I didn't stay that long, I couldn't take it. Tiger Martin came in after I left. James wanted the guys to have a cat from Cincinnati, and we were buddies. And hey, that's fine, because I saw some stuff in James... I was looking at grown-ass men cry everyday. There's guys talking about they were with James for 28 years and I'm saying "Good God." [Laughs] I quit before the guys did because James had a dirtiness to him. He liked to break people down. We were very perceptive because we were young, but the [older] guys who were with him already, they were very sad. Just broken. Those guys would break down and cry at the drop of a hat. James was very dogmatic that way. He was a tyrant to me. He was badass, but he brought a lot of grief and a lot of sorrow to a lot of people.
A lot of people don't know Jimi Hendrix wanted us to be his band. At the time he was looking for a black act. He came from the black side of things, with Little Richard. He wanted to go back from the Jimi Hendrix Experience, but his deal was we'd have to quit James, because back then one artist wouldn't take players from another. We thought about it and I was game, but the guys didn't want to do it. [Jimi] ended up getting Band of Gypsys.
The one James Brown-related record you were credited on was one of the most sampled and a legendary heavy funk favorite, "The Grunt." That record introduced the world to the new era of James Brown funk and the J.Bs. What can you remember about putting that song together and the recording session?
The Pacemakers did original material and "The Grunt" was part of our set. We recorded it after we got with James, but we had brought it with us, we wrote it. He gave us publishing on that one. We recorded it at King Recording Studios.
The horns on that song are pretty wild and instantly recognizable. Talk a bit about McCullough and Gunnels, the horn section.
We'd all listen to jazz. [McCullough] was pretty clever, he brought that whole Coltrane thing in. And [Gunnels], he was really strong and dynamic. Good to watch, too – he was a really good showman.
Did you play on anything else while you were with James Brown?
We did a lot of recording but to be honest with you, I don't know what he did with all that stuff. He played a lot of games with us, man. He snuck and taped us, then came back and had us play what he already heard us play like he wrote it. He hired a composer named Dave Matthews for one reason. James told him, "I want you to compose and copyright everything these boys play." Meaning once we walked out that studio, James owned it. [Matthews] told me years later when I ran into him at the Hong Kong Jazz Festival. You could see the sadness in his face when he told me this because they were taking advantage of these young black kids who didn't know any better. But he didn't want to say anything while James was still alive. My jaw was on the floor.
Wow. After about a year, everyone else he flew in from Cincinnati that night left. The Pacemakers reunited and changed names twice and recorded as the Houseguests and Bootsy, Phelps & The Complete Strangers.
The Houseguests came first. We did a lot of traveling as The Houseguests.
The Houseguests only single, "My Mind Set Me Free," is a very rare and expensive 45 today. Houseguests is also the name of the record label. Did you guys press and self-release that 45?
Yeah, man. We had no backing. Everything we did we had to do on our own.
How did you guys eventually land on George Clinton's radar?
By way of [Parliament-Funkadelic vocalist] Mallia Franklin, George Clinton saw us and hired us, so we went from Houseguests to Parliament-Funkadelic. He needed a new band and a new direction. The deal he made with us was if we [helped him with Parliament-Funkadelic] he'd help us do what we needed to do. The first project we came in on was America Eats Its Young and the first song I recorded with George was "My Baby Calls Me Pussycat."
You were drumming both live and in the studio with Parliament-Funkadelic throughout the mid-'70s, before Bootsy went solo. Can you recall specific songs you played on and what a P-Funk studio session or show was like from the drum chair?
I played for over ten years, four hours a night, no break, a minimum of 250 dates a year. You're a drummer so you got to know... No soft touch either! I would never do it again, though. It's crazy. We did so much of both [live and recording] that I don't remember everything. I played on "Bop Gun" and that was a special session for me. That [original] song was about 30 minutes long. I [also] came up with that line: "Have you ever seen such a sight in your life? Three blind mice!" I hear people singing that till this day, but I never got credit for that.
Sir Nose D'Voidoffunk!
I realized the best business wasn't taking place when it came to recording stuff, so I pulled back from it a little bit. I didn't want to continue to be one of those "I didn't get credit for this and this." There was enough of that already.
Bootsy was becoming a star by the mid-'70s and he eventually took on a solo career. Bootsy's Rubber Band – Stretchin' Out is another funk classic and by then you were the Rubber Band's primary drummer. Did that feel like an extension of P-Funk or was it more special being Bootsy was a long-time friend and bandmate who was now a bandleader?
It was all under the P-Funk hub, but we got to go in our own direction. All that Houseguests and Complete Strangers stuff we did never got exposure. So a lot of that stuff we brought over to the Rubber Band. "Another Point Of View" was Houseguests stuff.
"I'd Rather Be With You" is unique because you thought to drop the hi-hat entirely until the song was half over. Did stuff like that happen spontaneously or were you loosely charting stuff with Bootsy?
That's a funny one. We were meticulous about rehearsing, but that's one song we never rehearsed and never talked about. It started as a ballad and built to a rock opera, and then it dwindled back down to a ballad. We never talked about that song after shows. This went on for years, and we critiqued everything. That song just plays itself.
Bootsy is also playing drums on some of those albums. A lot of people didn't know he was a drummer.
Bootsy has a great feel. It wasn't like he was a killer drummer, but wanted to lay some pocket on stuff.
You also played on an obscure 45 called "Get Down People" by 400 Years Of What? around 1976-77. That song has a really nasty, funky drum break from you and the original pressing is also popular amongst collectors. What's the story behind that band?
We went into chill mode with the Rubber Band for a minute, and some guys sought me out to come and do some drumming. They were sweet guys; they were like a garage band. When I got with them they were playing one weekend a month, but they had a van. I said "Let me make a deal with you. Give me the van and let me see if I can conjure up some work." I had them doing private parties, clubs, television. I like those guys; those are my brothers.
The 1980s weren't too prosperous for a lot of funk bands, P-Funk included. With the advent of disco, a more electronic sound and the emergence of hip-hop, only a small handful of funk bands like Kool & The Gang and Cameo were able to really navigate the '80s.
One thing I did in the '80s that was unique and very cool, have you heard of the group Sly Fox? They were the first biracial male duo signed to a label in this country. It was Gary "Mudbone" Cooper [from Parliament-Funkadelic] and Michael Camacho. They had a song called "Let's Go All The Way." That song hit hard, it was #3 on the charts. We went out on the road and did well. P-Funk wasn't doing much, but [Sly Fox] ended up in a whole other market because it was an MTV hit.
Other funk drummers I've spoken to say the '80s were rough unless you were really playing like a drum machine and could work the metronome. But you were pretty schooled with good pocket and could read charts. Did you do any studio drumming?
You know what's funny? I definitely could read, but the only time I read a chart was with James Brown. It was for a duet with Vicki Anderson called "Let It Be Me" for a casino type thing. I was waiting to be able to use charts more, but it never came around.
I didn't like [the metronome] because it ain't no feel there. It's like ball busting; you can't get too caught in the groove because you lose your meter. But now I can tell the engineer to give me the [metronome] how I need it so it can feel good. But I had to make it work, because everyone had gotten crutch-y.
Hip-hop helped bring sampling to the forefront as a musical tool, and in 1988, Public Enemy liberally sampled pieces of "The Grunt" to propel their sound and create It Takes A Nation Of Millions To Hold Us Back. That album is widely recognized as the most important hip-hop album ever made. Were you aware of the role James Brown and P-Funk samples – and "The Grunt" in particular – were playing in hip-hop at the time?
We were busy then, so we wouldn't listen to the radio or watch TV because we didn't want to be distracted. We became aware of it when [sampling] became a business. A lot of the hip-hop guys didn't understand it was business – you can't just take someone's intellectual property just because you like them without dotting i's and crossing t's. We had to do that with Dr. Dre and those guys. At first, they thought we were screwing with them, until it happened to them and [they had to sue people]! See how it works? [Laughs]
How did you feel about it initially?
I used to be mad at [hip-hop artists] because [I felt] they were intimidated to start music from scratch. Then one day Ice Cube told me, "Kash, all we need y'all to do is keep doing what y'all do so we can keep doing what we do. Then we all make money." If that's your music theory, meaning we keep writing from scratch and they sample, I [realized] I can't really be mad at that. Then P. Diddy came with "If it hit before, it'll hit again!" [Laughs] But I needed that from Ice Cube. They realized they couldn't do it with just a rapper and a drum machine, and the melody came from the samples.
The funk came full circle.
My dad was in the hospital and he never really talked about [music]. We were having and conversation, and he said, "I see what you're doing now. Those [royalty] checks don't stop coming, do they?" He was talking about "The Grunt." He said "I understand; I see how it works now." He gave me approval and let me know I did good.