Atlanta's Leonce on Making Queer Beats in The South
The Fade To Mind associate blurring grime, snap, vogue beats and more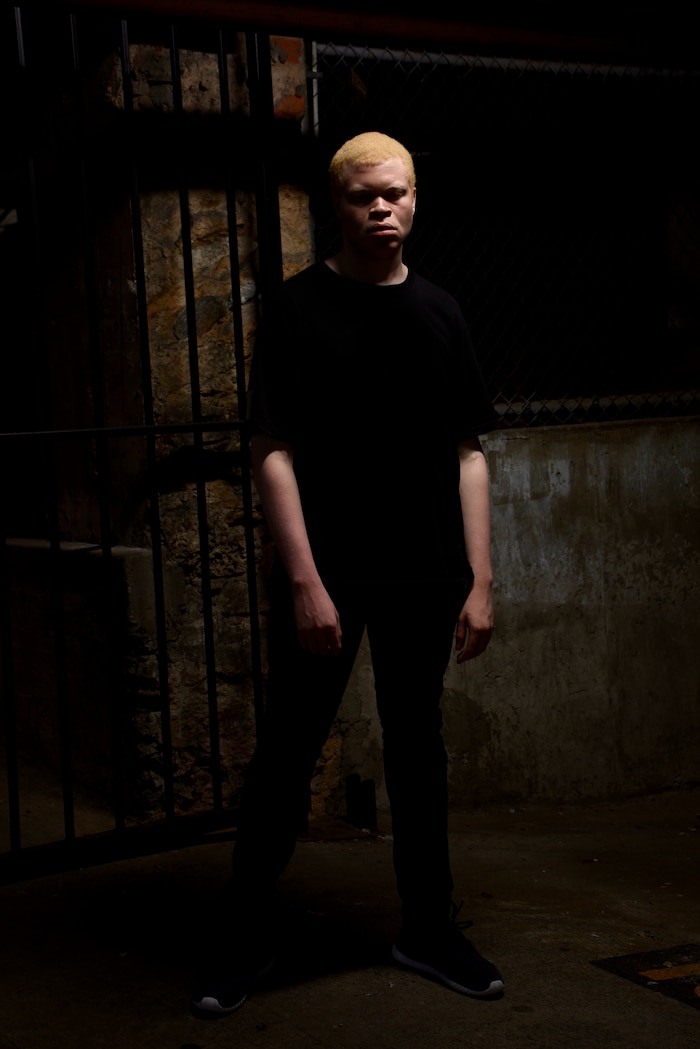 "Many of my tracks have told a certain story of myself, which is necessarily about growing up as a queer person of color in the South, or growing up here general," says Atlanta-based producer, DJ and promoter Leonce. "I compose very fast in the studio, jamming out ideas I can run with, and there's some rebellion in that, making something unexpected but also mysterious and dark and raw. When you're an artist watching all the shit popping off in the world, you can't help being directly affected by that, it necessarily all comes out some way."
The 24-year-old signed last year to the Fade To Mind label, and has so far released an EP and an album, Insurgency, which came out in March 2017, as well as two mixtapes, including Heatwave 2, which dropped this August. Like many of his labelmates, Leonce operates in an eerily scrambled zone of trap, R&B, grime and percussive house, the occasional trippy flute pattern or klaxon squadron stabbing through the sinister atmosphere. But his take is necessarily different, as he expressly describes his approach to DJing and producing as "weaponized resistance" against the bigotry he often faces on a personal level, as well as against the assembly-line approach to house that he hears in the clubs – both gay and straight, underground and mainstream.
"There's so much musical innovation in the South," Leonce said. "We're innovating over and over, and yet we're constantly having to prove ourselves, that we're somehow good enough for the world stage. I feel that it's been like that since the 1996 Olympics – all eyes were on us, but then they slipped away and we've had to fight harder and harder for legitimacy on the world stage and in the music industry. There's a sense of constant erasure. So many people here deserve more recognition. As a black, queer artist, that puts me and people like me in a very specific position, which can run you down. A lot of artists move away from the South. But each new record I make gives me more perspective on what we have going on. We aren't afraid to experiment here. That's a very valuable quality to have."
I like to subvert house and take it to an unexpected, more personal place.
Leonce's music doesn't wear its queer heart on its sleeve in stereotypical ways. There are no diva samples urging transcendence or coy, code-switching titles begging for hashtags. But the instinctual feeling of constant improvisation and quickness, as well as Leonce's sinuous, updated allusions to queer genres like vogue beats, New Orleans bounce and rough, early house, is definitely relatable to a queer audience. There's a certain quietness, too, to many of his tracks. "I like to subvert house and take it to an unexpected, more personal place," he says. His compositions snake, side-eyed, along the dancefloor's edge, duckwalking and giving you hands, all the while bodied for epic battle.
Growing up in New Orleans, young Leonce Nelson was an early observer of the different ways different audiences responded to music. "I felt like white kids and kids of color, at least from what I've seen, have a different relationship to the music their parents listened to. For white kids it's something corny to rebel against or, later, embrace ironically. For most black kids, it's more romanticized, a relationship to the past and overcoming racial bullshit. I listened to a lot of things. I knew all the classic, older hip-hop stuff from the previous generation, but was also into weird – for where I was coming from – stuff like Nine Inch Nails and really old Warp records."
When much of Leonce's family was displaced by Hurricane Katrina, he moved to Atlanta with his mother in 2007. There he was exposed to trap and, more influentially, to snap music, the microgenre that came out of the Bankhead neighborhood west of downtown Atlanta in the early 2000s and lent trap its rolling snares, 808 claps, spacious production and other sonic signatures. Regional snap hits like Dem Franchise Boyz' "White Tee" and D4L's "Laffy Taffy" offered a light-footed (and, with portable Casio flourishes and bouyant chants, light-hearted) alternative to the South's long-dominant genre, crunk. "Snap was a small but powerful moment that shared a lot of sounds with grime, which I had never heard of, although people classify a lot of the Fade To Mind music as contemporary grime," Leonce said.
That idiosyncratic overlap of grime, the UK's electronic-laced underground rap genre, and Atlanta snap connected with Leonce's musical interests. But there was one more sonic piece that would spur him to make music: vogue beats. Leonce credits prolific Atlanta producer Divoli S'vere as one of his mentors. In the early 2010s, along with producers like Qween Beat Productions' MikeQ from New Jersey and DC's Vjuan Allure, S'vere was one of the architects of the vogue beats revival, updating voguing and ballroom culture with a creative flurry of new tracks, whose repetitive samples and handmade feel also strongly reference Chicago footwork.
S'Vere also brings a Baltimore club music flavor and openness to pop culture to his productions. (He claims Britney Spears and Lady Gaga as well as avant-garde fashion as touchstones.) S'vere provided the samples for two of Leonce's most affecting tracks, "Click Clack" and "Shadows." "One of my favorite tracks of all time is Masters at Work's 'The Ha Dance,' and I'm much more influenced by classic vogue records than the newer stuff," says Leonce. "Although often I operate in a gray area where ballroom and house meet, and it's interesting to see what can tip it in either direction."