The Unsung Heroes of Early Memphis Rap
Torii MacAdams on the influential and underrated artists who have had a lasting impact on the city's dynamic scene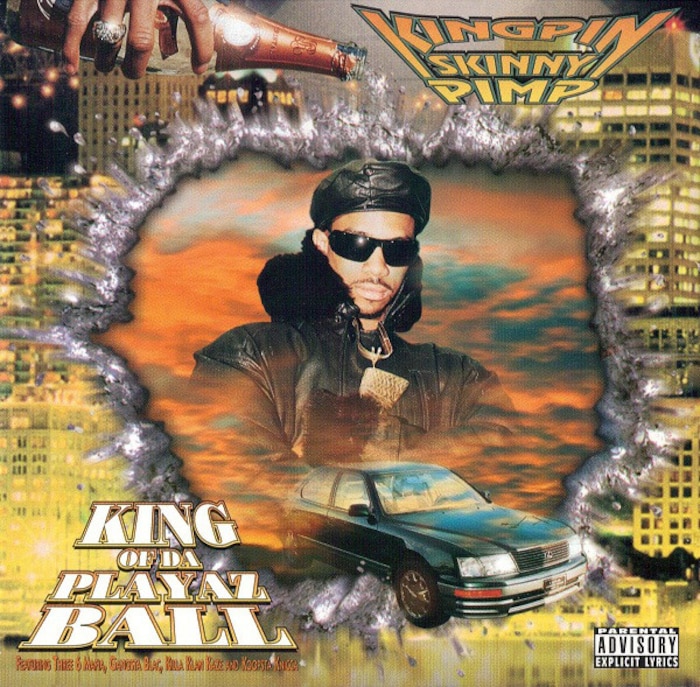 In Memphis in the early 1990s, if you needed to know exactly which songs your pals gangsta-walked to on a balmy Saturday night, you could buy a cassette of the mix. If you wanted to know approximately which crimes your nearest dope boy was committing, you could buy a cassette for that, too. These crackling, sibilant tapes were often unmixed, unmastered and free of art of tracklists, though they contained plenty of too-wild-to-be-true confessions. Helpfully, if you wanted to book an artist, their phone numbers were usually printed on the tape. It was lo-fi music from an embattled city made for – and by – people on the margins. It happened in tumbledown shotgun shacks, in dizzying roller rinks and in parking lots jammed with peacocking young men and their thudding subwoofers.
Of those rappers who came of age in the early and mid-'90s, a few became stars: Three 6 Mafia, 8Ball & MJG and, to a lesser degree, Project Pat. In the twinkling Memphis rap cosmos, though, they are just the brightest of seemingly endless celestial bodies. Below are a few names that are indispensable to any discussion of Memphis rap – more lodestars to help you chart the constellations. And if you want to argue that DJ Zirk, Blackout, La Chat, DJ Sound, Shawty Pimp, Tom Skeemask, the Gimisum Family and Lil NoiD should be here, well, you're not wrong.
DJ Spanish Fly
It was DJ Spanish Fly's dextrous fingers that first gave Memphis rap its shape. Fly, who DJed at the city's first club to play rap, Club No Name, as well as No Name's successor Club Expo and the Crystal Palace Skate Rink, molded listeners' amorphous preferences into something concrete: they liked electro, he gave them rap.
According to an interview with Red Bull Radio's Noz, Spanish Fly sold his tapes – too many undocumented Volumes to number – at the front window of the clubs where he'd DJ. Although any rap about blowjobs and drugs was deemed club-inappropriate, Fly knew that some of his audience, grooving to Newcleus's "Jam On It" or Strafe's "Set It Off," were eager for harder material. On his Volumes, Fly would sneak his own songs between hits and found that buck jumping kids enjoyed his music as much – if not more – than they did Run-DMC or LL Cool J.
On the claustrophobic "Getting Away With The Medicine," Fly raps about a dope-dealing paranoiac running from the police over Geto Boys and Isaac Hayes samples – like Scarface, the unnamed second-person protagonist is "pushing rocks on the block." "Smokin' Onion," which borrows the motley "oooh" chant from the Beastie Boys' "The New Style," is a tribute to – you guessed it – smoking weed. Fly's work is Memphis, but Memphis at the very beginning of its transition to darker, subterranean grooves. In isolation, his rigid rapping style was no revolution – it owes a lot to New York – but his hammering 808's and lurid subject matter catalyzed a shift away from Yankee sensibilities. Boundaries were pushed, if not entirely shattered.
DJ Squeeky
If Spanish Fly was a blunt catalyst for musical change, DJ Squeeky was the precision instrument. Squeeky's thundering, rat-a-tat beats define the early era of Memphis rap. Skinny Pimp told Atlanta's Hot 107.9 that "Squeeky is the first producer I ever heard make those hard beats with [impersonating hi-hats] ts-ts-ts-ts, so everybody really came up off of Squeeky's sound… To me, Squeeky was the first one to have that gangster sound with the bass."
For a brief moment, much of Memphis's premier rap talent was backed by Squeeky's SP-1200 and Roland keyboard: 8Ball & MJG, Skinny Pimp, Tom Skeemask, DJ Zirk (and Zirk's 2 Thick Family), Al Kapone, Ruthless Ass Niggas and Criminal Manne all passed through the producer's Orange Mound bedroom studio. Squeeky would argue convincingly that his hegemony was only broken not through superior artistry, but theft and mimicry.
Early editions of DJ Paul and Juicy J mixtapes were just that: their mixes of others' music, notably the work of Squeeky and company. This didn't engender a wellspring of goodwill – they were essentially bootlegging their older, more established competition. In the same interview with Hot 107.9, Skinny Pimp claimed that 211, armed with a Tec-9, and he, armed with a toxic Jheri curl, once called Juicy J to demand money for this offense. Juicy acceded and, after a hurried, whispered discussion, 211 and Skinny Pimp demanded a princely sum: 30 dollars. The trespasses became more egregious when the future Three 6 Mafia members teamed up and began placing self-produced music on their tapes – or, more accurately, music cribbed from Squeeky's mixtapes.
In a 2012 interview, Memphis Flyer writer Louis Goggins asked Squeeky why he'd never collaborated with the Triple 6, and whether they were explicitly competitors. Squeeky answered bluntly, "It really wasn't a competition, it was an issue with them re-making my music. They were really on the 'stealing people's music' thing back then. Their whole style, their beats, hooks, everything were based on shit I did...That's how they got started." His point is a fair one, if over-exaggerated – DJ Paul did copy Squeeky, notably on Playa Fly's "Slangin' Rocks" and Skinny Pimp's solo version of "Lookin' For Da Chewin'" – but some of Squeeky's own building blocks were Spanish Fly's slowed electro experiments.
Gangsta Pat
Memphis rap is inextricable from the city's greater, ever-vibrant musical continuum. The genre's origins lay as much in sweaty Beale Street juke joints and smoke-filled sessions at Stax as they do in Spanish Fly's bedroom tapes, and Gangsta Pat is partially indebted to the former. His father, the drummer Willie "Too Big" Hall, was a Stax house musician who played with the Bar-Kays, Isaac Hayes' band The Movement and Booker T. & the MG's. Pat inherited his father's musicianship and, eventually, the internal strife of his family's financial and emotional fluctuations. According to Pat's self-produced autobiographical documentary, Gangsta Pat: Biography of a Gangster Rapper, after a period of emotional and physical abuse his parents divorced, leaving he and his mother bereft.
After spending much of his adolescence running afoul of the law, Pat's rap career began in earnest when Miami-based On Top Records began distributing his 1990 debut, "I'm Tha Gangsta / Shootin' On Narcs." (If either song sounds specifically Memphian, it's the latter with its chunky bass. "I'm Tha Gangsta" could otherwise be a D.O.C. outtake.) Later in the year, On Top released his album, #1 Suspect, whose regional popularity earned Pat the attention of Atlantic Records.
In 1991, Atlantic re-released #1 Suspect. It was both the first Memphis rap record issued by a major label and the last record Gangsta Pat would release on Atlantic – he was dropped shortly thereafter. If Pat was bowed by his failure, it didn't last. Between 1992 and 2001 he recorded nine albums, cementing him as a bona fide regional star. When asked by Nah Right about Pat, rapper and one-time record store owner Kingpin Skinny Pimp responded: "Gangsta Pat… had [his] own little style and it was so valuable, but nobody really knew its worth, or if they did it wasn't out there for everyone to really hear it... You could sell a Gangsta Pat tape in Mississippi or in Arkansas for $25 or $30. People wanted it so bad...They just wanted it because the style was so unique. All his shit was hard as fuck. It was real gangsta-ass music."
Al Kapone
The 2005 film Hustle & Flow stars Terrence Howard as the permed DJay, a Memphis pimp-turned-rapper whose homebrewed recording sessions yield songs like "Whoop That Trick" (he's discouraged from naming it "Beat That Bitch"), "It's Hard Out Here For A Pimp" and the titular "Hustle & Flow (It Ain't Over)." In an eternally surreal moment, "It's Hard Out Here For A Pimp," written by DJ Paul, Juicy J and Frayser Boy, won Best Original Song at the 2006 Academy Awards. Memphis rappers hoisting gold statuettes is an enduring image, but they weren't much involved in the making of the film. Al Kapone was.
During pre-production, Al Kapone got wind of the oft-delayed film's newfound momentum and rang director Craig Brewer, who coincidentally had been expecting a call from DJ Paul. Brewer offered Kapone a role in the film, but after realizing he was speaking to the wrong Memphis rapper, offered both an awkward apology and an exciting opportunity: 24 hours to write a song for the film. By the following afternoon, Kapone had written, recorded and mixed "Hustle & Flow," even going so far as to hire a local singer for the chorus. Impressed, Brewer and producer John Singleton enlisted Kapone as a local rap factotum. Kapone ended up writing "Whoop That Trick," making a cameo in the film and placing his "Get Crunk, Get Buck" on the official soundtrack.
Kapone's unexpected quasi-stardom was hard-earned. The masters of his unreleased, unreleasable first album (as part of group Men of the Hour) were stolen; his 1992 debut, Street Knowledge, Chapters 1-12, had some unfortunate rock influences; and it wasn't until his third effort, 1994's Sinista Funk, that Kapone began to capture the eerie, haunted qualities of Memphis. "Cold Hearted Killa"– with its heavy, predatory breathing, Menace II Society sample and rapped scenario in Kapone kills someone on Halloween while dressed in a Barney costume – crystallizes the city's often absurd subgenre.
Somehow, Kapone's appearance in an Academy Award-winning film isn't the strangest part of his career. In 2012, Kapone, with some help from DJ Paul, recorded "George Flinn," an enthusiastic endorsement of a Republican congressional candidate of the same name. Asked by the Memphis Flyer why he'd endorsed the conservative radio magnate (who was soundly trounced), Kapone replied "I did it because I felt like he supported not just me, but through his station, he supported the Memphis rap scene."
Playa Fly
In a grainy, early 2000s interview with MemphisRap.com, Playa Fly, then recently released from prison, was asked by an interviewer how he'd begun rapping. "One day I was walking down Orleans [Street] in South Parkway… when I had some crack in my hand," Fly says, lap blanketed by an oversized promotional t-shirt. "I looked at my hand, and looked at the sky, and said 'God, is this all you got for me to do for the rest of my life? Within that week me and a guy from my hood got wit' a local DJ, went by his crib and recorded a song."
Whether this story is true or not doesn't matter – a desperate entreaty to God, eyes to sky, palm full of crack rock, is an unbeatable deus ex machina in a dope boy rapper bildungsroman. Divine providence aside, Playa Fly's life was always angled toward music. Like Gangsta Pat, it was Fly's birthright: his father, William "Billy Boy" Young, was a singer in the Ovations, a somewhat acclaimed soul group in the 1960s and '70s. (In an interview with Hot 107.9, Fly describes his father as a hustler, a Muslim, a partier and a man eager to mentor his son.)
The "local DJ" who Playa Fly spoke of was likely DJ Paul of Three 6 Mafia, who produced the entirety of Fly's first EP, 1994's From Da Darkness Of Da Kut. The following year Fly joined the inchoate Mafia for their official debut, Mystic Stylez. Then things fell apart.
The title "Triple Bitch Mafia" is, if not particularly witty, dazzlingly efficient in conveying what Playa Fly felt about his former Three 6 Mafia groupmates. While the reasons for Playa Fly's acrimonious ejection from the group are unclear, the result was seven minutes of withering insults and explicit threats. Fueled by "funk" – cocaine, in South Memphis parlance – Fly was a drawling hellion, whose "Nobody Need Nobody," "Funk-N-Bock" and "Ghetto Eyes" are standards. Alas, a seven-year prison sentence for possession of narcotics derailed his career. If his 2016 arrest is any indication, Playa Fly is still battling his demons.
Kingpin Skinny Pimp
1993 was an eventful year for Kingpin Skinny Pimp. DJ Squeeky's Volume 4, which featured Skinny Pimp on fellatio paean "Lookin' For Da Chewin'," was released. Soon after, he and 211's Pimps & Robbers was issued by Outlaw Records. On the song "Got Damn Police" the duo, using street nicknames, shit-talked specific members of the Memphis Police Department. After the local news ran a story about the song, Outlaw pulled it from the album. And, finally, during a rough 'n' tumble night at Club Memphis, Skinny Pimp supposedly pistol-whipped Squeeky, previously a good friend and mentor, and during the fracas 211's scalp was grazed by a bullet.
Understandably, the supposed pistol-whipping dissolved Skinny Pimp and Squeeky's partnership. The two had beefed with the younger, rambunctious DJ Paul in the past, but Skinny Pimp quickly joined forces with his former foe and sparked a series of scuffles and diss tracks. The shift in allegiance would prove to be mutually beneficial. Skinny Pimp – already a local star from his work with 211 and Squeeky – enhanced the reputation of DJ Paul's nascent Prophet Entertainment with appearances on his mixtapes and Mystic Stylez and, according to Paul's comments in a Nah Right retrospective, expanded the producer's instrumental palette. In return, Paul produced Skinny Pimp's criminally underrated King Of Da Playaz Ball.
King Of Da Playaz Ball is an essential Memphis album: Paul's instrumentals (Juicy J and Lil' Pat are co-credited, albeit without a precise apportioning of responsibility) are like the green-red flickers of dungeon torches lighting the way for Skinny Pimp and his tongue-twisting, double-time verses. Alas, the gifted and deeply duplicitous Paul put paid to what should've been a fruitful relationship when, during an emotionally and financially difficult time for Skinny Pimp, he convinced the rapper to sign away all of the rights to Playaz Ball for $10,000 – a pittance relative to the album's success. (Paul's centrality in "ana" – local slang for "animosity" – is a recurring theme in Memphis rap's diffuse oral history.)
Tommy Wright III
After an April concert in Los Angeles, a shouting host from AllInRadio.com grabbed Tommy Wright III. Squeezed between uninformative "man's" and "y'know"-filled platitudes was a telling quote: "Don't call it a comeback. I just went to jail a lot."
Despite his fastidious vlogging – titles include "Tommy Wright III Having The New TV Phone Installed For His Dad" and "Tommy Wright III Escapes Drug Bust by Memphis Cops with Seconds to Spare" – there's an inscrutability to the permed rapper. He hasn't done an in-depth interview since 2000, so his vertically-filmed cellphone videos are the nearest thing to insight we have into his life. Rather than provide answers, though, they typically demand questions: Is he actually hiding from the police in a cramped juke joint? Why did he videotape his late grandfather's doctor's visit? Who set that mattress on fire? Context is always just beyond the periphery.
In his prime, Wright III was one-man gangster rap cottage industry. Between 1992 and 2000, he released five self-produced solo albums, two more with group Ten Wanted Men (which once featured a wanted woman, La Chat), owned, operated and produced the entirety of Street Smart Records' discography and previewed – if possibly never distributed – a street documentary, Behind Closed Doors, for which there's also a soundtrack. On the boards, Wright III was a cowbell aficionado and chunky bass savant; on the microphone, he was a murder-mad, speed-rapping goon, his lyrics permanently on the verge of grotesque.
Thanks to nameless internet denizens and an unlikely cache in skateboarding culture – board company Shake Junt was named for a Lil Gin song of the same name, and the brand named their first video, Chicken Bone Nowison, after the refrain from Wright III's "Killa By Nature" – his music has been preserved, albeit in fairly lo-fi form. There's charm in the distortion and the sometimes distant vocals: shitty audio is the closest most will come to owning a dubbed Wright III tape, which is, ironically, the spiritually purest form.