Atlanta's Patchwerk Studios: An Oral History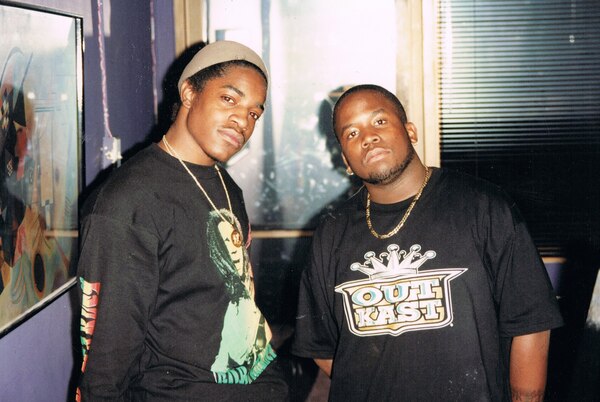 Outkast, Gucci Mane, Young Jeezy and more have passed through its doors. The inside story of the massively influential hip-hop hub
Patchwerk Studios has been ground zero for Atlanta's hip-hop scene, long before anyone took the city's cultural contributions seriously. OutKast was there, meditating over what the South possibly got to say. The local radio host known as Chris Lova Lova became Ludacris, the rapper whose proposal to have sex on Georgia Dome's 50-yard line went platinum. The holy trinity of today's trap rap – T.I., Gucci Mane, Young Jeezy – shaped its early sound in the bunker-like facility.
It all began, though, in California with a talented college football player named Bob Whitfield. Early on, Patchwerk was a record label – perhaps best known for releasing some of Ras Kass' first tunes. When Whitfield was drafted by the Atlanta Falcons in 1992, however, the writing was on the wall: Patchwerk was going to eventually move to the South. Even since, it's been one of the most important hubs in a city that has emerged as the home of hip-hop. This is its story, so far.
CURTIS DANIEL
Co-founder and co-owner
CURTIS DANIEL
My mom had Grandmaster Flash's album. I used to play that record and try to scratch on her turntables. Bob [Whitfield] was trying to be the biggest breakdancer in Carson. Sometimes I look back and think, we were involved in hip-hop's whole lifespan. It was innovative, cutting edge.
BJ KERR
Everybody at school knew me as an entrepreneurial type. I never did anything in music, but I owned a hip-hop clothing store. We sold Cross Colours, Karl Kani. We did airbrushed jackets with rhinestones. A lot of people came through. I was friends with Shock G and the cats from Digital Underground. I met Tupac, made jackets for LL Cool J.
CURTIS DANIEL
The city of Carson is one of those rare places where black people are financially doing better than others. We grew up with two parents. The homeboy that went to Stanford is the highest paid lineman in NFL history. I went to Michigan State on a football scholarship. We got the best rapper on Earth. That's how naïve we were.
BJ KERR
Bob knew he was going to play football and get a lot of money. People like Russell Simmons and Puffy were making a name for themselves. There was some article about how Jermaine [Dupri] was the youngest person to get a label deal. Bob was like, "Shit. I'm younger than Jermaine. I could be the youngest."
CURTIS DANIEL
We had a friend, Ras [Kass]. We all grew up in a neighborhood called the Patch and were CPG – Cabbage Patch Gangsters. One day we were sitting in my mom's family room playing dominoes. Ras played a song. I'm like, "Who the fuck is that?" He was known for dancing and drawing. He played a second song. I said, "Whoever that is may be the best rapper I've heard in my life." He played a third song and told me it was him.
BJ KERR
Bob thought, "Let's get an artist, get him popping, try talking to some labels and get them to give us a studio."
CURTIS DANIEL
Bob had some equipment sitting in his house. I call Bob and said, "Man, you ain't doin' nothing with that. Let him use it." Our whole idea was to let [Ras] cut a few songs and get a record deal. Well, when we went to get a record deal, nobody was checking for him – but we thought he was dope. Bob was like, "We'll do it ourselves."
BJ KERR
The label was run out of my apartment with just a couple of employees — kids stuffing envelopes and making phone calls. I had three bedrooms. Two bedrooms were offices and one was just storage; the whole room was full of records. We were buying from Rainbo Records, putting them in the trunk and going to stores through an independent distributor.
CURTIS DANIEL
Once we put out a single ["Remain AnonymouS"] it created a bidding war. Ras signed with Priority.
KAWAN "KP" PRATHER
Head of music at i am OTHER, member of Parental Advisory
KAWAN "KP" PRATHER
As a hip-hop head, you know that Ras was an official MC from the West Coast. He wasn't pop. That had something to do with [Patchwerk's] credibility.
BJ KERR
Ras got the deal in '95. I was still in LA figuring out how the business was going run. Nobody learned about studio biz: Where is the money made? Do you make percentages on engineering fees? We were recording a lot of artists and moving them to Atlanta. At first we were just flying back and forth. But housing was real cheap, especially compared to LA.
CURTIS DANIEL
After we did Ras' first album [Soul on Ice], we spent over $300,000 in studio fees. So again [we were like], "Shit, we should build our own studio." I was 21, Bob was 22. Ras says his mom faked his birth certificate, so maybe he was 19 or 18.
BJ KERR
It was just a little independent label. After Ras and a couple of independent records, we didn't do anything else to push the artists. We managed a couple of producers. We managed Nicci from Brownstone when she went solo. But none of that stuff blew up.
CURTIS DANIEL
With the label, I never saw the high point. Another gentleman, BJ, was running the label and I was running the studio. I always looked at the label like, "Man, y'all just spend fucking money." Y'all gotta go to the radio station and take big boy a bucket of chicken and buy him some Jordans? That's some stupid shit. I'll plead ignorance because I wasn't on that side, but they weren't ever making money to me.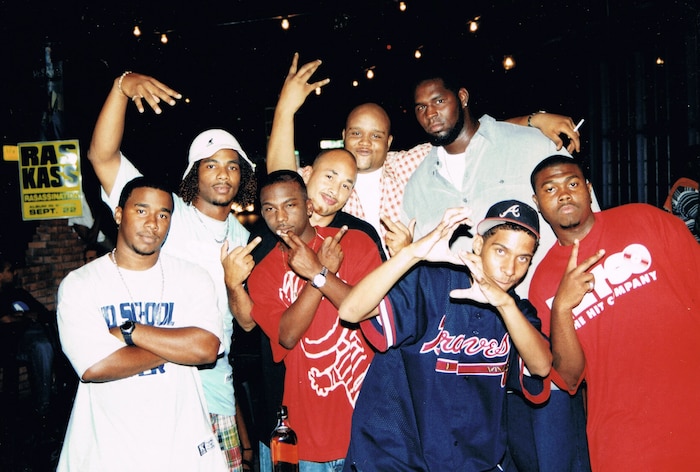 BJ KERR
Bob had a friend who could rap. That's what made him want to start a label and studio. And he just ended up in Atlanta because he got drafted by Atlanta. Atlanta ended up being the hotbed for hip-hop, but back then it wasn't.
CURTIS DANIEL
If you wasn't with So So Def, you couldn't work in Jermaine's studio. If you wasn't with Bobby Brown, you couldn't get in his studio. If you wasn't with Dallas Austin – it was cliqued out. The only way we got in was Bob playing football.
DEE DEE MURRAY
Former manager, Organized Noize Productions
DEE DEE MURRAY
I was going to Patchwerk, the house, before it was a public place to record. I was working with OutKast for their second album [ATLiens]. We were looking for places for them to write and record without interruption – an intimate studio that could be their own and allow the guys to creatively be themselves. This was before Big Boi purchased Stankonia. There was no real home for us other than the Dungeon, which was Organized Noize's studio. But they had other clients to focus on, and OutKast was beginning their production career.
CURTIS DANIEL
We were in a converted house less than a quarter mile away on Hemphill [Avenue].
BJ KERR
I think it was $500 a month. It wasn't a nice house, but we had a house.
DEE DEE MURRAY
Patchwerk had to court the Dungeon Family crew. The guys were like, "Who have they recorded?" They had no reputation, no references. They had to be wooed: tickets, football games, Bob coming to the studio, Bob establishing a relationship with the guys.
RICO WADE
Producer, Organized Noize Productions
RICO WADE
I don't know how they found out I was a Falcons fan. But they were smart for that. Bob gave me his jersey. He gave me some tickets, though I already had season tickets.
CURTIS DANIEL
I talked to Dee Dee and was like, "Who wants tickets to the game?" Came back with more than 23 tickets. I made them do a tour. We all went to the game – OutKast, Goodie Mob, TLC, Society of Soul. Most of them parked their cars at the studio, came back after the game and started recording.
DEE DEE MURRAY
I remember it being all shiny purple and black. Bob Whitfield's mom, I believe, took on the decorating.
CURTIS DANIEL
If you look at the "Soul Food" video, all the studio footage is of our old studio. That's why it's purple.
RICO WADE
There's a button on a mixing console you can mash and talk to the artist inside [the booth]. They didn't have one of those, they had walkie-talkies. Like, are we paying full price for this? When we started shooting the shit, I was like, you gotta fix this.
DEE DEE MURRAY
Some vocals had gotten erased from a session. They were like, "I can't do this anymore. Fire the engineer." We really had to do some damage control. Bob had to step in and be like, "This will never happen again. We'll credit you time."
RICO WADE
It wasn't a professional studio yet. And [Curtis] didn't allow no smoke, and we really liked to smoke.
DEE DEE MURRAY
Curtis would be the first person to be like, "Dee Dee, I do not know." We would have these very, very long meetings about our expectations. He took notes – you only had to tell him once – right down to the very last detail on how you catalog your tapes. So when I come back like, "I need the 'Elevators (Me & You)' master," they can quickly pull these things for me.
KAWAN "KP" PRATHER
There was always a certain amount of regulation, with a very "this your mom's house" vibe to it. You found designated places to go smoke. But the staff treated people so well that you appreciated being in there. I got a picture that someone sent me from that house, where I was getting a manicure in the lounge. We lived there. We did music. We got haircuts. We ate. We kicked it.
BJ KERR
We would go into studios. I was from LA, so I was like, "I'm going to be in town. What's your rate? What does that include?" We wanted it on paper. "Do you have a list of all your equipment? Don't you have a list of how much this equipment is per hour?" We asked other people, "What don't you like about Bosstown?" Basically we're secret shoppers. We would book a bit of time to see what it was like. Were they on time? Did they keep good records of session reports? We used to make a lot of money selling tapes, two-inch reels for $300. In LA you can buy them all over, but the only place in Atlanta that sold them was Guitar Center.
CURTIS DANIEL
Literally we worked together with Organized Noize. A man's strength is knowing his weakness. We didn't know nothing. They had been around the world recording in LA and mixing in New York. They would tell us what we were fucking up on, and we would fix it right then. "Y'all ain't got no TV." Boom. "Y'all ain't got no pool table." Boom. "Y'all need to have a lounge where we can smoke." Boom. They probably felt like, damn, this the first time we can ask for something, and people were doing it. We made it comfortable for them.
KAWAN "KP" PRATHER
It was the place where we put together random ideas to make records that affected culture and history and shit – a laboratory. We started going into "real" studios like Doppler that were super pristine and felt so professional, you knew you were on the clock. Patchwerk's vibe was so cool that people wanted to create there. We used to do music at the Dungeon. But OutKast albums, Parental Advisory albums – we did everything in Patchwerk. You didn't feel rushed.
When people saw two young, black men running a studio, that planted a seed in they head that they can do it [too].
DEE DEE MURRAY
Once ATLiens came out, people started studying the credits. "This is where OutKast works? That is where we're going to work." Even before they moved into the big building, we had to fight for studio time. It's me, Curtis! Your girl! How are you gonna tell me that you don't have studio time for me?
KAWAN "KP" PRATHER
We were booking out months at a time.
CURTIS DANIEL
When we were in the first facility, I noticed that all our clients were begging us to do more. The comment that got me was, "Man, when y'all gonna be able to mix? We're sick and tired of flying to LA and New York to mix our records." If you look at the year we built this room, which was 1999 or 2000, there was a big change of trajectory in Atlanta hip-hop.
MIKE WILSON
Co-owner and former engineer
MIKE WILSON
Bob Whitfield just leased the house and built a studio inside. So when the owner got a better deal from Georgia Tech across the street, he was like, "You guys gotta go." Bob never gets in a situation like this. Interestingly enough, he found a place a block away next to the McDonald's up for sale.
Other rooms in town had SSL 4000s, which were state of the art at that time. But we didn't want to be like anyone else. We want to be the studio Atlanta is known for. We decided to step it up and get the 9000. It allowed us to work with a bigger range of clientele that was used to working on SSL consoles at bigger studios in town here, and in LA and New York.
CURTIS DANIEL
We were playing in an entertainment softball league against this team. One of the dudes, when he hit the ball he ran, going from second to third, and was like, "Y'all ain't no real studio. Y'all ain't even got no SSL." I never replied to him. But that was so much fuel. It took another few years until we got one.
MIKE WILSON
It was probably about two years before we went out of the tape realm and went to doing everything in digital and Pro Tools, probably around 2000 or maybe close to 2004. But having that console back then allowed us to do so much more: symphony sessions, full bands and other stuff we couldn't do at the old place because of size constraints. We started getting Cash Money work. They were here constantly working. Their label started to take off. They were signing a lot of new artists and they wanted a place to handle everything they wanted to do.
KAWAN "KP" PRATHER
The people who were in the studio were of the culture. They were on the same ground that we were on, starting a business, so that same hustle applied. I had a session with YoungBloodZ to do a remix for "U-Way (How We Do It)" with Cash Money. Lil Wayne got on the record. When Baby was on his way, I was like, "I'm at the studio already, you want something?" Baby was like, "You gotta get me some Cristal." I hit Curtis. 20 minutes later, everything I asked for showed up, from champagne to cigars, no question.
BRENTSON BUCKNER
Defensive line coach, Arizona Cardinals
BRENTSON BUCKNER
They had a cookie machine where you could purchase the dough and bake your own cookies while you were in session. We'd get ready to leave the lab and Curtis would be like, "Man, I gotta go buy more cookie dough." Why? "Jazze Pha's eating the dough before we can even bake the cookies." He was eating the dough raw. These are the real stories people don't see. But that's how people go work and grind, because Patchwerk always felt like home.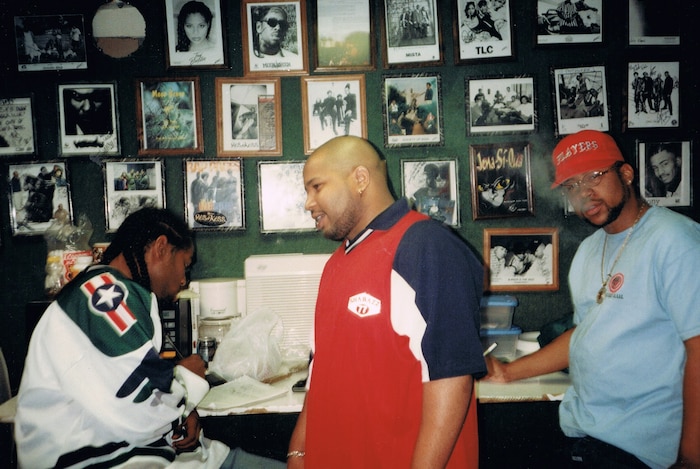 DEE DEE MURRAY
You'd see people like Ludacris coming through. Bun B, Pimp C, UGK. It started with the Southern rappers.
KAWAN "KP" PRATHER
We ran into Raekwon at Patchwerk while we were doing OutKast's [Aquemini]. We were working as PA, but I was also an A&R at LaFace. Dungeon Family, we're fans of Wu-Tang. I was like, "You know what would be dope? If you came to the Dungeon and got on one of these OutKast records." Running into him turned into "Skew It On the Bar-B."
BJ KERR
Too $hort and Erick Sermon were buddies. You had East Coast and West Coast people who ran into each other at Patchwerk and said, "Let's do something together." Ordinarily there was some kind of tension. Being in the South made us neutral ground. Normally L.A. Reid wouldn't be dealing with somebody like Steve Rifkind.
CURTIS DANIEL
Even when we were doing Cash Money, I would have to break [sessions] up. "Y'all been here 30 days. Y'all need to take a break so I can put this artist in here." I always saw the value in being diverse and having multiple client bases.
BJ KERR
Atlantic had a group called Nappy Roots out of Kentucky. Mike [Caren] sent them down and was like, "Their manager knows nothing about the music business. Can you watch over them while they're recording?" We were getting paid for studio time, but it's cheaper than flying to LA, driving to Atlanta. That's how Nappy Roots got their first hit. Jazze, me and him were cool. They had a girl singing the hook, so I was just messing around: "Jazze, what you think about the song?" He was like, "Awnaw, hell naw / Man, y'all done up and done it." Next thing you know, Jazze jumps in the booth.
MIKE WILSON
A huge single that came out of here was [Ludacris's] "What's Your Fantasy."
BJ KERR
Bob helped Luda out, as far as financing his early demos. He was a football player, and Ludacris was in radio, so they knew each other. Luda wasn't making any money. He was new at the time and HOT 97.5 [now 107.9] wasn't paying him much.
MIKE WILSON
Ludacris was a guy with a dream. He's writing these songs himself on the MPC. He's coming up here to pay out of pocket, by himself. "I got the songs. Track this out and I'm going to do vocals. Then I want you to mix it."
KORI ANDERS
Mix engineer, Patchwerk Studios
KORI ANDERS
Leslie [Braithwaite] mixed Idlewild here. It was cool because Dre was hands on with the mixing process. "Roll off some of that high end off this sound." "Bring these strings over here." He wasn't like a lot of artists coming in, saying, "That sounds good" and leaving. That was also the first time I met Janelle Monae. She was still signed to Big Boi and she had a record [with OutKast] on that album called "Call the Law." She was hands on with that mixing process, too. Janelle was brand new. But her sound was so much different from every other singer.
KAWAN "KP" PRATHER
"Green Light" by John Legend. Me and my production partner at the time, Malay, did this record and it was totally different. I brought it back to Atlanta and was like, "Malay, it needs somebody to rap on it. You know who would be dope? Dre." It was 2007 going into 2008. It had been a minute, and he doesn't just rap randomly. This was two or three days after Christmas.
A few days later Dre hits me: "Can you book a studio for tomorrow?" I hit Curtis. "Curtis, I know that's New Year's Eve. But I have Dre needing to do a verse on a John Legend record." Dre laid his verse here on New Year's Eve. We did a lot of the production and mixed it here. I can't imagine there being many studios that I could've called that last minute that would've understood the urgency. Most would say, "I'll give you time tomorrow," or "No." But Patchwerk understands Dre's temperament, the sensitivity of his creative, emotional, whatever you call it.
CURTIS DANIEL
You know all these people worked with us. But Ludacris wasn't Ludacris. Jazzy wasn't Jazzy. Jeezy wasn't Jeezy, Ciara wasn't Ciara. Lil Wayne wasn't shit. Nobody knew who they were. But they picked up the phone because they knew we were able to assist them.
KAWAN "KP" PRATHER
Curtis is our age. He understands who these artists are. Imagine other studios answering the phone. "I got this artist I need to book some studio time for." "What's the artist's name?" "Gucci Mane." "You mean Gucci Man?" "No, no, no. Gucci Mane with an 'e'." [Patchwerk] is like, "Gucci Mane? What time? Is Coach coming?" Not only do you know them in real life, but you listen to the music. You actually at the same clubs. You're in the same world.
DRUMMA BOY
The first record I made for Jeezy was "Standing Ovation." I mixed that in the A room with Leslie, the best mixing engineer in the game. Coach K was telling me, "This is going to be your first platinum." But the crazy part is what I had to go through. The original "Standing Ovation" beat was sold. Jeezy was like, "What did they pay you? We'll pay $100,000, $200,000," a hundred times more than what I got. I was like, "Give me the a cappellas and I will redo the beat." "It ain't gonna sound the same."
I stayed way in Stone Mountain, Georgia, so I am driving back and forth between Stone Mountain and Patchwerk – a 60-mile drive. I played the first beat and [Jeezy] said, "That ain't it, man." Mind you, he had to turn in the album [Let's Get It: Thug Motivation 101] by the morning. It's 1:30 a.m. I had maybe $300. I was not in the mood to blow gas like that. But I am doing whatever it takes. I went back home, did another version and took it back to Patchwerk. Jeezy was like, "It's close, but that ain't it." So I listened to the album all the way through and just studied the sound. The third version is what made the album. If you listen to "Standing Ovation," it is heavy horns and all about those "Aaaaa's." He wanted it to sound triumphant and uplifting. I just put my drums and bounce to it.
KORI ANDERS
I met Gucci probably sometime in 2004, before "Icy." I actually sat in the session when he recorded "Icy," which was actually a Jeezy session; Gucci came in and they ended up recording it. As an intern, I knew for a Gucci session, there is going to be a ton people and you'll have to go on a ton of food runs. You'll have to constantly come in a refresh the room. But the cool thing was that they didn't talk to us crazy. They might have left a mess for us to clean up, but they were still respectful.
DRUMMA BOY
I had all of my equipment set up in the B room. I had a lot of beats prepared for Gucci in a folder, because by the time he gets out of jail, he doesn't want to wait for anybody to make a beat from scratch. The first beat he pulled up, Gucci did "Normal" in the A room, the big room at Patchwerk. During that 20 minutes, I walked back into the B room with Wale, Roscoe Dash, Lloyd Banks and Waka [Flocka Flame] with all his people. I am trying to get to my equipment, but it's a full-blown party. So I tell the engineer to turn the speakers on and start making a beat.
Everybody is in there talking. I could barely reach my keyboard. So I start on my beat machine. You see people groove to the clapping. I had a kick and a hi-hat and started adding pianos – real simple chords because again, I can't reach my keyboard like that. I finish in five minutes. Everybody looking like, "You about to put Roscoe Dash with Wale and Waka?" I was like, women want to party and dance. You can't do "Hard in the Paint" all day, every day. Let's see what Roscoe comes up with. First words out his mouth were, "Girl, you got me moving." Girls in the room start dancing. You see another girl shaking their titties and ass in front of you, you're gonna learn to like that song.
KORI ANDERS
Mike WiLL was notorious for driving by and seeing what cars were out in the front. He would figure out whose car is whose and try to get in to meet Gucci. Once he got in, he was here. It'd be 5:00 AM and we're winding down, me and Gucci and whoever we were working with. Mike WiLL would pull up: "Hey, man." He would plug in his beats, and Gucci would be like, "Alright, let me knock out one more." I respect the work ethic.
I remember the first time Gucci decided to try to do something without a pad and a pen. Mike was here – "Ah man, you should try it," egging him on. I was skeptical. "Damn, Mike. If it ain't broke, don't fix it." That's how we did the No Pad, No Pencil mixtape. Mike WiLL would throw on a beat. Gucci might have stood for a second and pieced together the first four bars. But then he would go in the booth without writing anything. He would geek out like a kid at what he just said: "I don't know how I came up with..."
CURTIS DANIEL
There weren't any black people that were on the technology side of the business. Here comes me and Bob. For somebody that got a studio that may do rock or alternative, a group of ten black guys coming together with loud music and smoking was a problem. They didn't have hip-hop engineers. They didn't have lounges you could smoke in.
BJ KERR
In the early 2000s we would look at the Billboard charts for Hot 100 and Urban. We would say, "OK, he's from Atlanta. This producer is from Atlanta. That label is from Atlanta." Patchwerk was a big, big part of that. Either we recorded it, or a producer we worked with recorded it. A lot of early engineers at Patchwerk ended up starting their own studios.
CURTIS DANIEL
When people saw two young, black, 22 and 23-year-old men running a studio, that planted a seed in they head that they can do it. All these other people started opening studios because they saw it was doable. Our impact is huge. All these people that had all these rooms, they probably never would have done it because they didn't see it.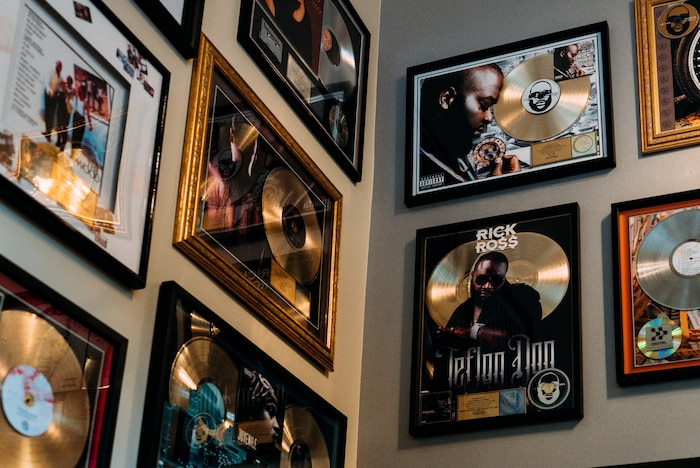 KAWAN "KP" PRATHER
LaFace, we were the premier label. But Jermaine had So So Def. DARP was its own space. So [Patchwerk] became the home to either LaFace or out-of-town work. People from out of town would come here and run into Atlanta artists. You start seeing random collaborations like Too $hort, Lil Jon and Ludacris because people were in the same space. If you walk down the halls and look at the plaques and think about the records, you realize that Patchwerk is the nucleus.
CURTIS DANIEL
What I'm most proud of are the first albums that we did. Those were important to launch Ciara's career, Jazze Pha's career, Goodie Mob's career, Jeezy, Akon. When you doing that first album, you gotta make sure the production is right, the lyrics are right, the performance. Sonically you need to be on par. We've done these people's first, second and third albums. But the first one is critical.
BJ KERR
To be honest, a lot of rappers who never left Atlanta learned a lot of stuff from Patchwerk. We were bringing microphones they didn't have here, at least in the rap studios. "Nah, you gotta get this piece of equipment." We were one of the first that had a vocoder.
DRUMMA BOY
Patchwerk was Gucci's safe haven. He felt protected. Anytime he wanted to work, Patchwerk was a central location. I would pull up the thumb drive full of beats, and he would knock out song after song after song. Anytime I would order food, he'd say, "Hey Drum, get me whatever you get." I'd pick up a Busy Bee's plate, a Piccadilly's plate. It was about eating good and making good music.
MIKE WILSON
What we did was make it to where, even if you're up-and-coming and it's your first time going to a recording studio, you can do it here. We have rooms that cost a lot of money, but we also have a tinier room to do vocal production and include an engineer that is very skilled at what they do. A lot of independent artists decided, "You know what, I don't need a big label to do this. I can do this. I can show that I can invest in myself."
CURTIS DANIEL
I let people come in and see our plans. I let all the other studios use our session reports. The thing that scarred me when I started, is that they tried to smash me and didn't want to help. I always said that if we ever got in the front in Atlanta, we were going to share information. I thought that if we had more than one great studio in Atlanta, it makes Atlanta better. I said that I'm gonna change the culture. That's what we did.
Header image © Courtesy of Laura Thompson